Found: A Golf Course Sinkhole That Could Be Part of a Secret Network of Caves
Johnny Morris is going to keep digging until he finds out.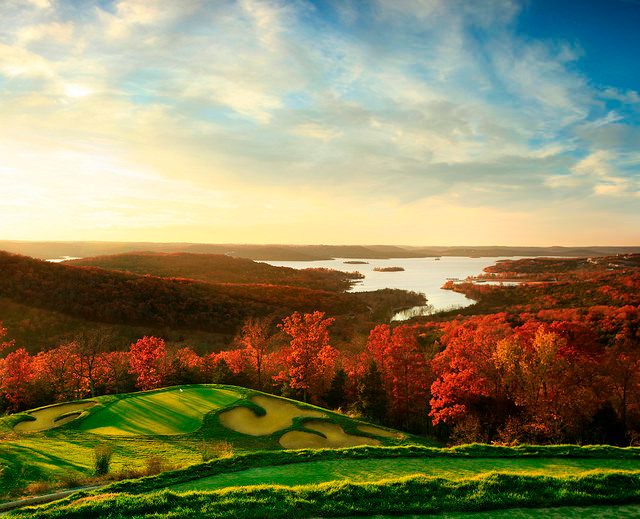 Is there a secret network of caves under this golf course? (Photo: Bransonmo/CC BY-ND 2.0)
Johnny Morris has a thing for caves and the money to indulge his love. The founder of the Bass Pro Shop chain, Morris once discovered a previously unexplored cave on the property where he built a golf course in 2014. Last year, though, a sinkhole opened up in the golf course, the Associated Press reports.
To most people, a sinkhole would have been a problem to be solved, by filling it in. But to Morris, it meant something different: More potential caves.
There was one clue—water was pooling in the sinkhole, and at the same time, the cave Morris had previously discovered had a new flood of water coming from it, the AP says. Perhaps that meant the caves were connected?
Since then, Morris has had backhoes excavating the sinkhole. They've uncovered limestone formations—sort of like stalagmites that had been buried under the earth in the pit, which could be an indication of a cave system. If there are more caves here, they could be ordinary, nothing-special caves (to the extent that any cave can be nothing special). Or this could just be a sinkhole. Or there could be a magnificent cavern under the golf course. The only way to find out is to keep digging.
Bonus finds: New worms, old larva
Every day, we highlight one newly found object, curiosity or wonder. Discover something amazing? Tell us about it! Send your finds to sarah.laskow@atlasobscura.com.