Found: Evidence of Shakespeare's Bold Social Climbing
He really wanted that coat of arms.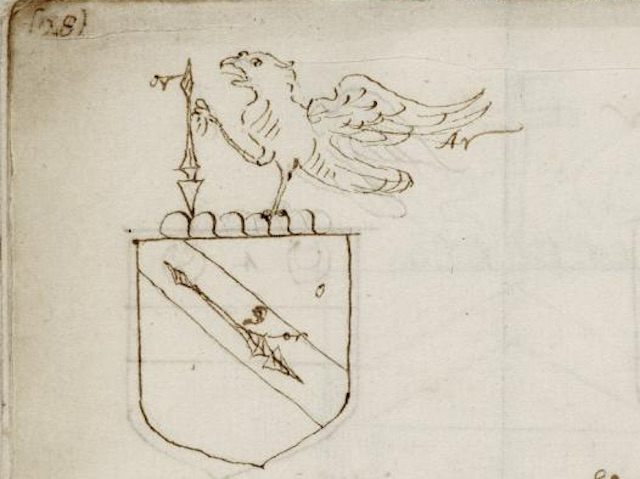 Coat of arms for "Shakespeare the player." (Photo: Folger Shakespeare Library/CC BY-SA 4.0)
William Shakespeare might have been an extraordinary writer, but he came from a fairly ordinary family. His father was a glover; his mother's family owned land. They were doing well enough that in 1575, John, Shakespeare's father starting working towards obtaining a coat of arms for the family—a unique symbol of social status recognizing his line as a worthy one.
Although the coat of arms was eventually granted to the Shakespeares, in 1596, the earliest well-known illustration of it was dated to around 1700, well after Shakespeare's death in 1616. But recently, the New York Times reports, Heather Wolfe, a Shakespeare scholar at the Folger Shakespeare Library in Washington, D.C., found "a dozen unknown or forgotten depictions of the arms," some dating back to around 1600.
These records solidify the association between William Shakespeare and the coat of arms and indicate how important it was to him that his family obtain this signifier of status. Even though the arms were technically for Shakespeares' father, still, they're often noted as arms for "Shakespeare the player." The documents also clearly link William Shakespeare the theater person to William Shakespeare who lived in Stratford-on-Avon, a connection that a handful of skeptics still doubted.
To find these records of the arms, Wolfe had to painstakingly look through records kept by the College of Arms, a British institution that traces its history back to the work of medieval heralds. She first started the hunt after seeing an image of the circa 1600 example in a book. Once she was looking for examples of the symbol, she says, "I just started finding them everywhere."
Every day, we highlight one newly found object, curiosity or wonder. Discover something amazing? Tell us about it! Send your finds to sarah.laskow@atlasobscura.com.