Found: Long-Lost Footage of Selena, the Pioneering Tejano Singer
A project documenting the overlooked history of Spanish-language TV turned up this haunting tape.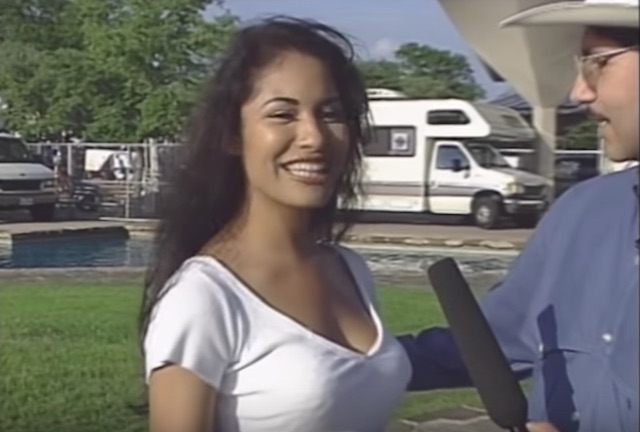 In a stroke of luck, the National Museum of American History has uncovered film footage, lost for more than two decades, of the singer Selena Quintanilla. A segment for Tejano USA, shot in 1994, the film shows the young singer talking about her "big year"—she had just won a Grammy and was on her way to the next level of fame and fortune.
After the singer was murdered in 1995, the production manager of San Antonio's KWEX-TV, which created the segment, "looked everywhere" for this tape, according to the museum. But he never found it. It was only by chance that the footage ended up in the hands of the National Museum of American History.
In the past couple of years, the museum has started work to document the history of Spanish-language broadcasting in the United States. Although the museum's collections include extensive television footage and artifacts, it only had a few items connected to the development of Spanish-language TV networks. By 2016, the curators had started a concentrated effort to collect "business records, traffic log books, photographs of station personnel, scripts, recorded television footage and promotional objects" from early Telemundo and Univision stations across the country.
As part of that initiative, Univision sent over an old TV camera, with an unlabeled tape included, simply to "show the format the camera had used," the museum reports. But when that tape was digitized, the museum found this long-lost footage.
Selena's rising fame coincided with the booming growth of Spanish-language TV networks in the late 1980 and early 1990s, when Telemundo and Univision emerged from the consolidation of smaller companies. The museum's growing collection on this chapter of American history will include oral histories about the growth of Spanish-language broadcasting, personal items from some of the networks' star news anchors, and artifacts from the Tanairi, a pioneering telenovela.
Decades after her death, Selena's work and story still have influence and power. The National Museum of American History is also running an exhibit about how she changed the history of marketing; Forever 21 is selling shirts with her face on them; and a new TV series retells the story of her life and death. This newly discovered tape is one more haunting artifact of her short life, another memory of what she might have done had she lived: "I see a lot of things happening, bigger things, for you," the anchor tells her.