Get Lost in the Stacks of These 10 Beautiful University Libraries
These stunning historic libraries will vanquish any academic dread.
Duke Humfrey's reading room at the Old Bodleian Library. (Photo: Diliff/CC BY-SA 3.0)
When interim breaks are over and there's no more frolicking at music festivals and sleeping till afternoon, it's time to hit the books again. The best way to ease this transition is to do so in a truly beautiful library. No need to hunker down in a dusty basement somewhere, not when there are so many lovely libraries in which to study. Careful though: The majesty of these rooms might end up distracting from the books themselves.
Imagine yourself as a medieval university student in one of these libraries, frantically flipping the pages of a book chained to its shelves while you scribble with a quill by the light of a dim lantern. Luckily, these old libraries have transitioned to include the conveniences of the 21st century, but the spirit of academia still thrives in their antiquated stillness.
Even if you're not a student, sing a fight song, don a lettered sweater, and get into the collegiate spirit in these hallowed halls.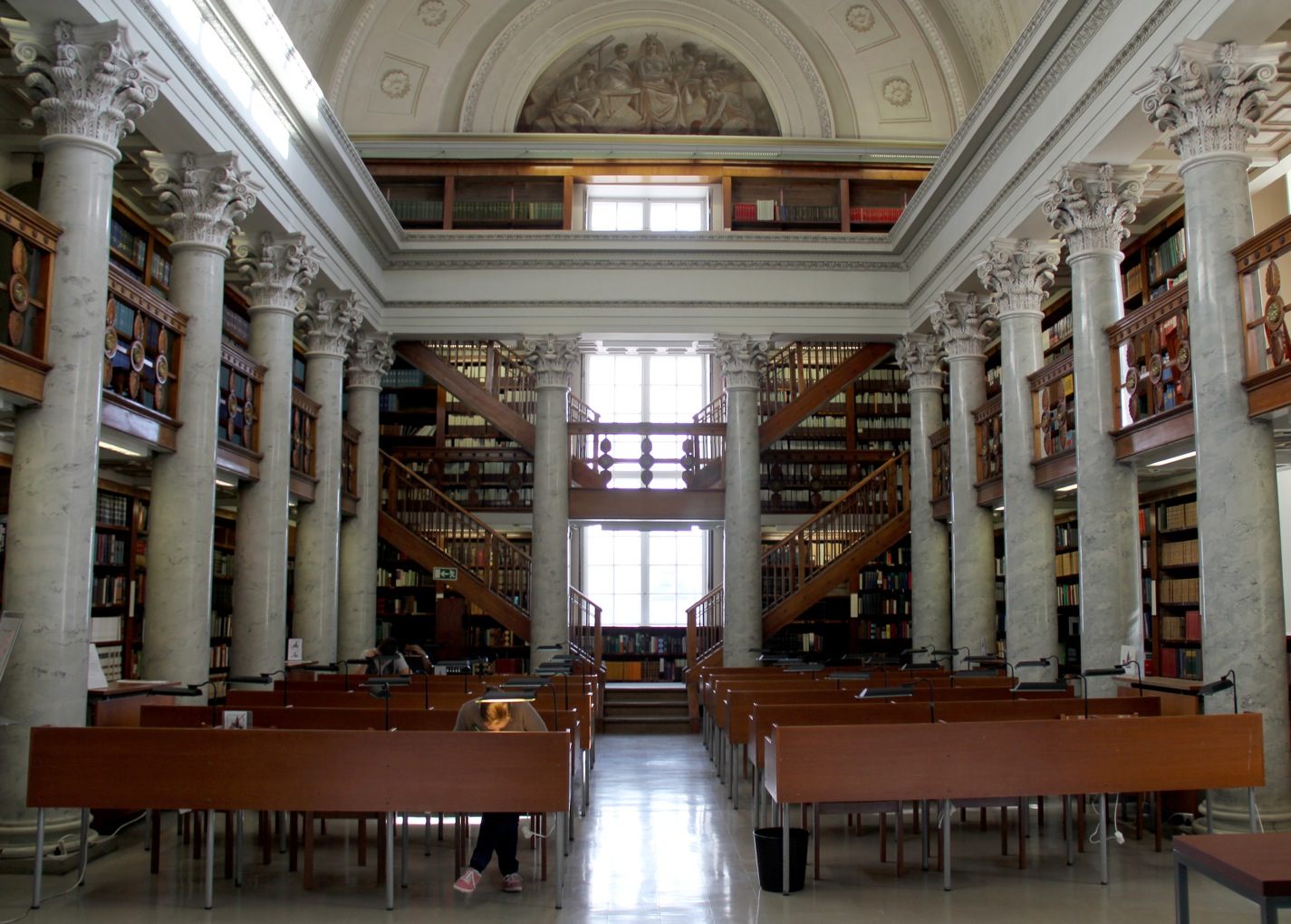 Though this library is part of the University of Helsinki, it is open to the public and any Finnish citizen may register to borrow books. The National Library is comprised of two buildings, the Fabiana and the Rotunda, which were built after a devastating fire destroyed a collection of 40,000 volumes on Finnish history. These buildings, which have been renovated continuously over the years, are a breathtaking combination of beaux arts architecture, art nouveau filigree, and modern conveniences.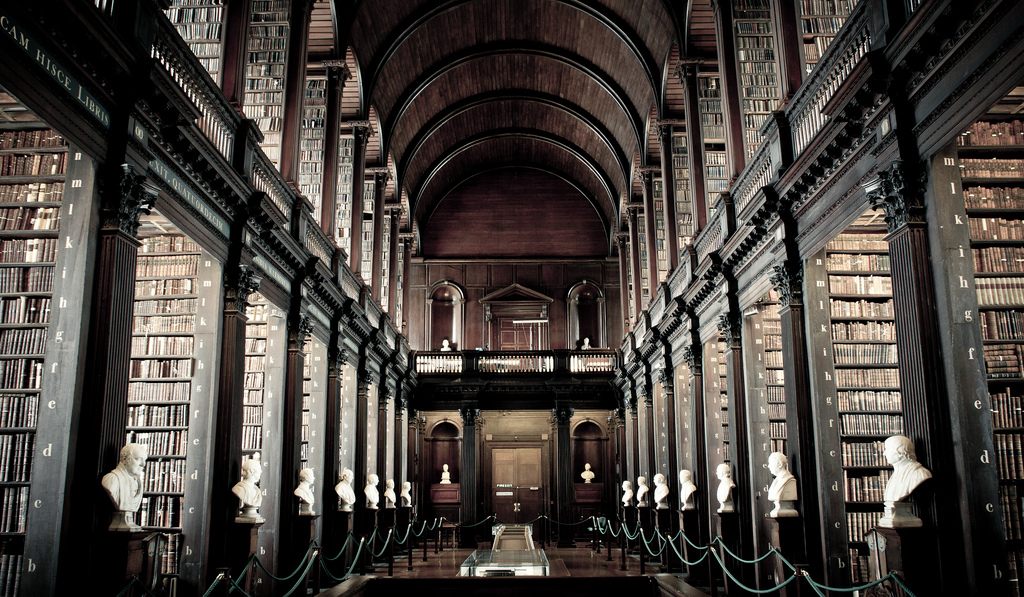 Trinity College's cathedralesque Old Library is equal parts museum and functioning research facility. It was built between 1712 and 1732 when the college was already 200 years old, and the Long Room (the library's main hall) houses some of the most important artifacts of Irish culture. Among these are illuminated manuscripts like the Book of Kells, which were hidden at the college during Oliver Cromwell's raids, and a medieval Gaelic harp.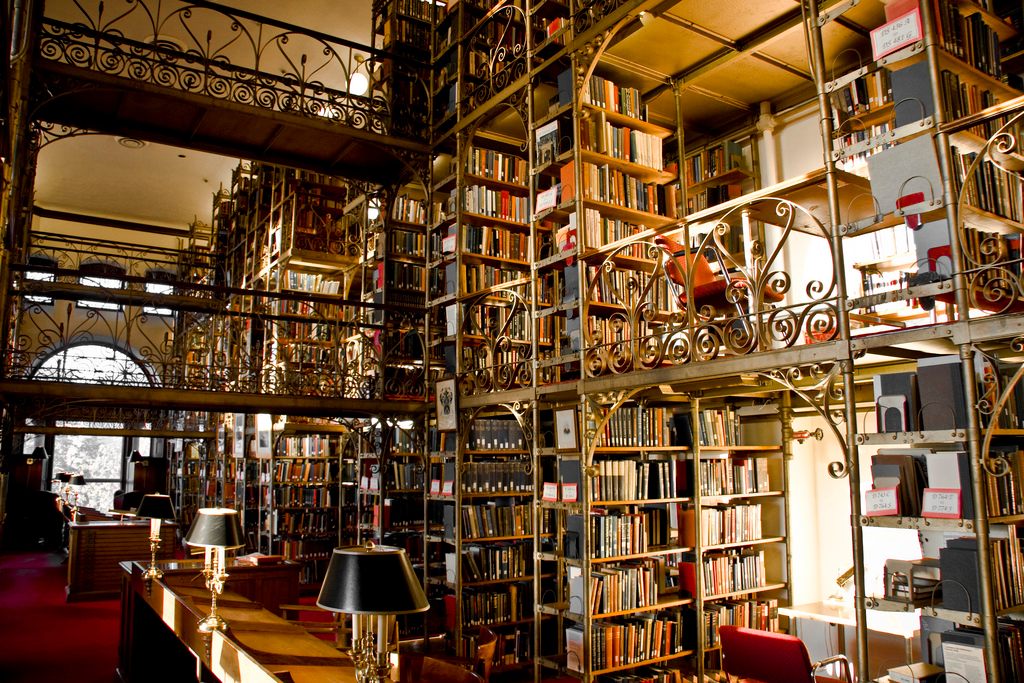 Andrew Dickson White, Cornell's bibliophile first president, donated his entire 30,000 volume collection to the college. Not only did this increase the college's number of books by a third, but it was left with the world's largest collection of architectural books at the time, around 4,000. Cornell's first architecture graduate was charged with constructing a library to house the books, and ended up building a campus gem. The library is intricately structured, with latticed walkways and ladders connecting the stacks which facilitate wandering.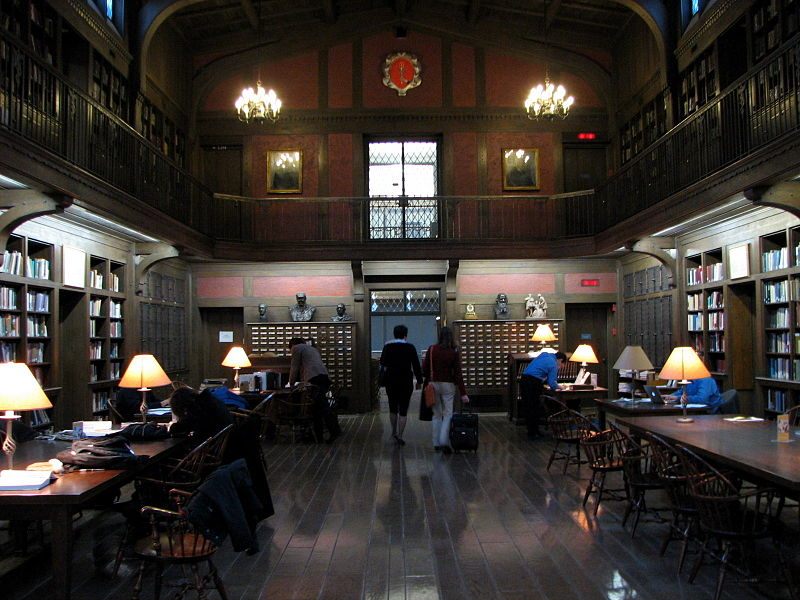 This medical library has chandeliers, dark wood, and all the other trappings of an old Ivy League library. It actually isn't as old as it might look (only built in 1941), but on the shelves are ancient texts dating back to the Renaissance and beyond, as well as novelties like historical tobacco advertisements. For added spooky old world flair, the basement houses the Cushing brain collection.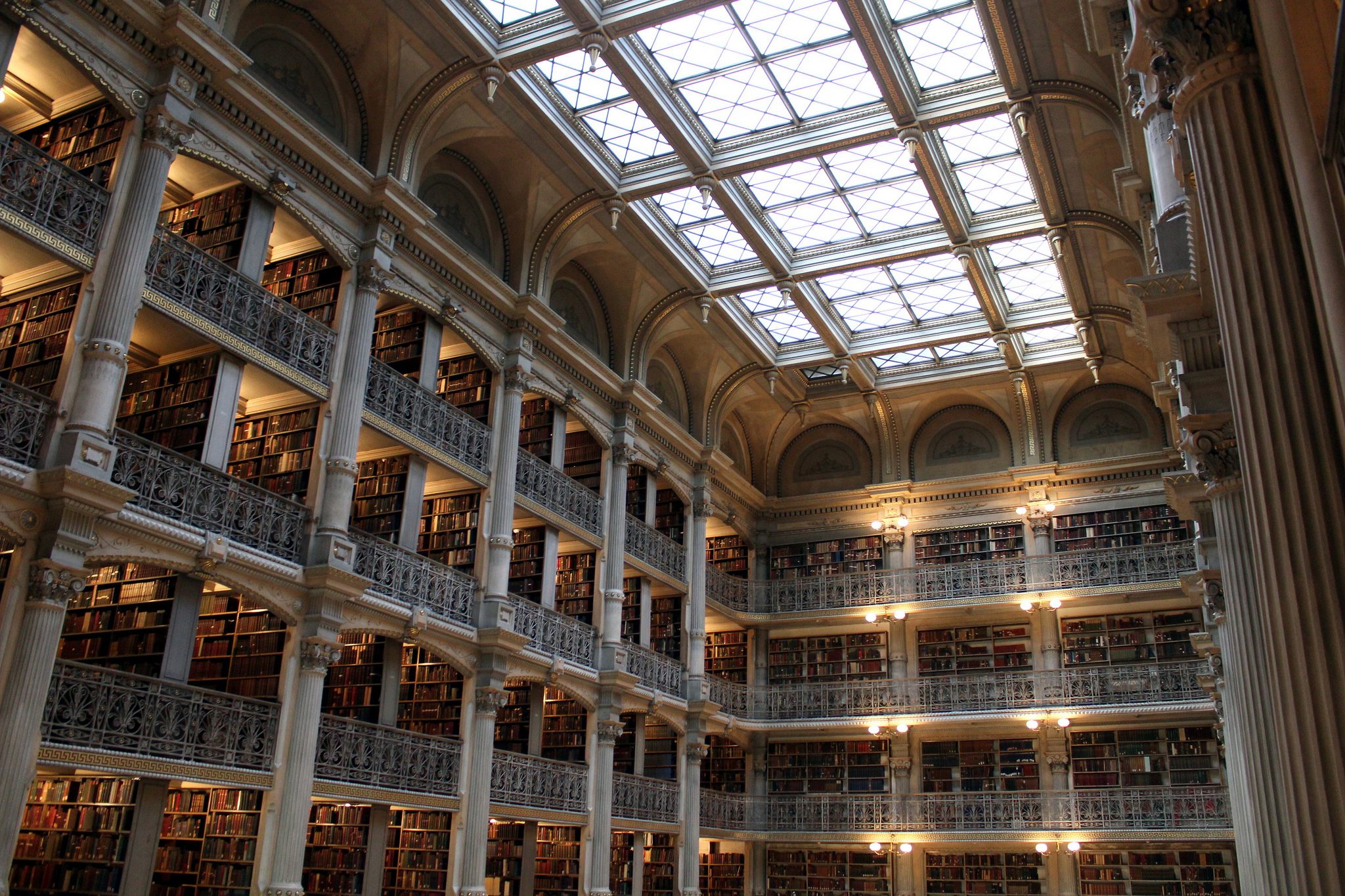 This "cathedral of books" was built in 1879 as part of America's first music conservatory. It's all marble and brass, with natural light flooding in from the glass paned ceiling, so no wonder it is frequently featured in films and television as a symbol of 19th century architectural beauty. It's now part of Johns Hopkins University, and though it does not circulate its collection, the library is open to the public.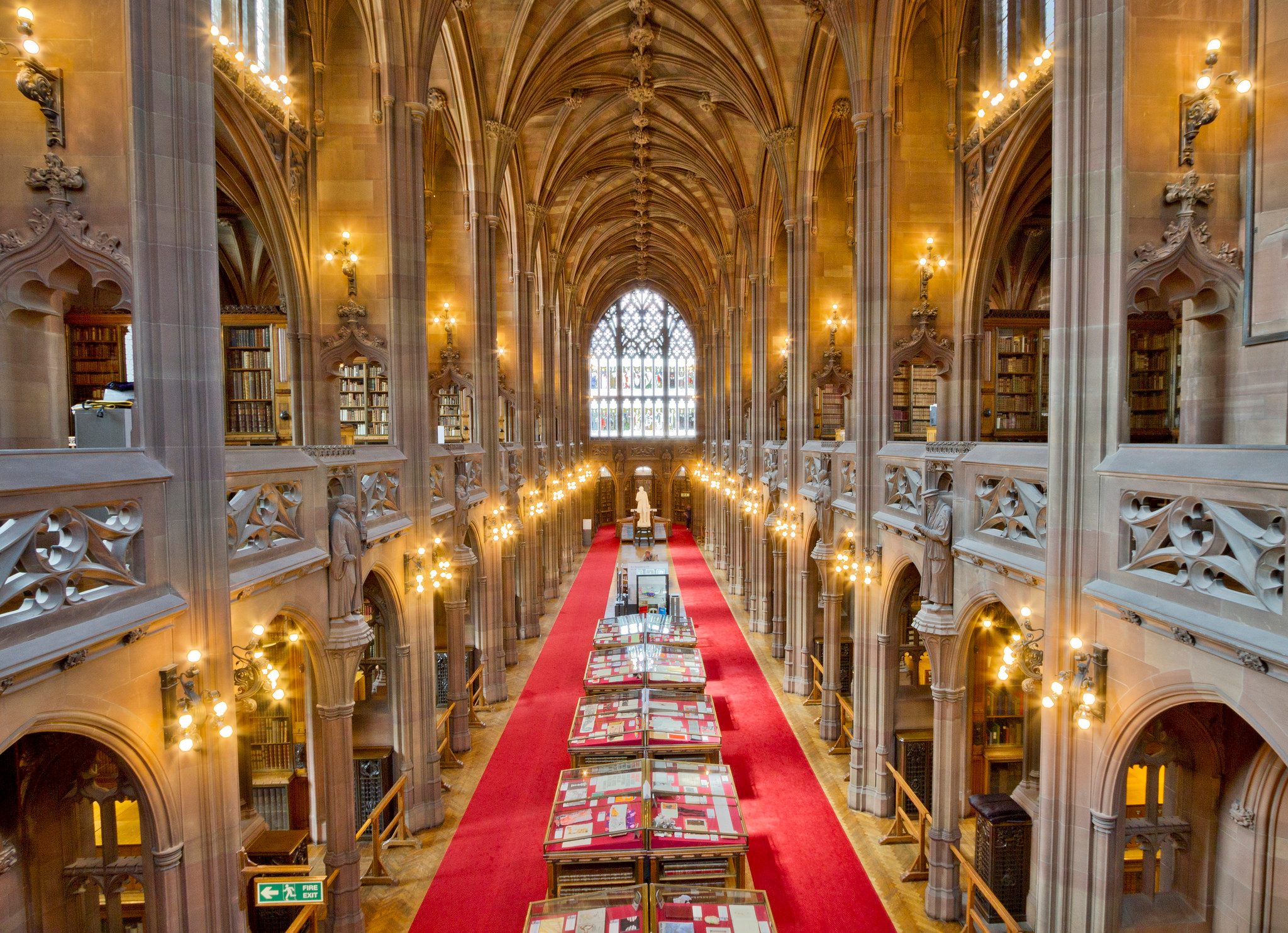 The man this library was named for was not an academic, but rather a Victorian textile magnate. After his death in 1888, his widow commissioned the library's construction as a lavish memorial to her late husband. It is considered one of the most remarkable examples of neo-Gothic architecture in Europe. Not only are the John Rylands Library's Hogwartsian charms striking, it is also the site of pioneering conservation techniques like air filtration. 
Unlike many of these libraries, the Library of the Sárospatak Reformed College is in a small town rather than a bustling hub of metropolitan activity. The college was founded as part of the Calvinist Reformation, and though the institution existed as early as the 1530s, the library building wasn't constructed until three centuries later in the 1840s. Its stately architecture reflects this era, with high windows and a trompe l'oeil domed ceiling.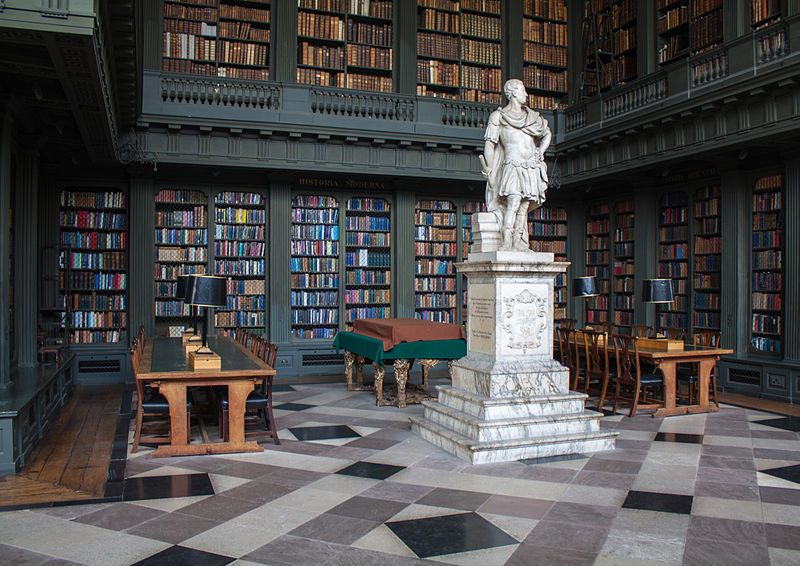 Codrington Library was built in 1751 and has been in consistent use ever since then. Oxford and its colleges are steeped in tradition and antiquity which can often be exclusionary. It comes as a pleasant surprise then, that Codrington is open as a "gentleman's reference library" to all Oxford students, rather than just the fellows of All Souls College.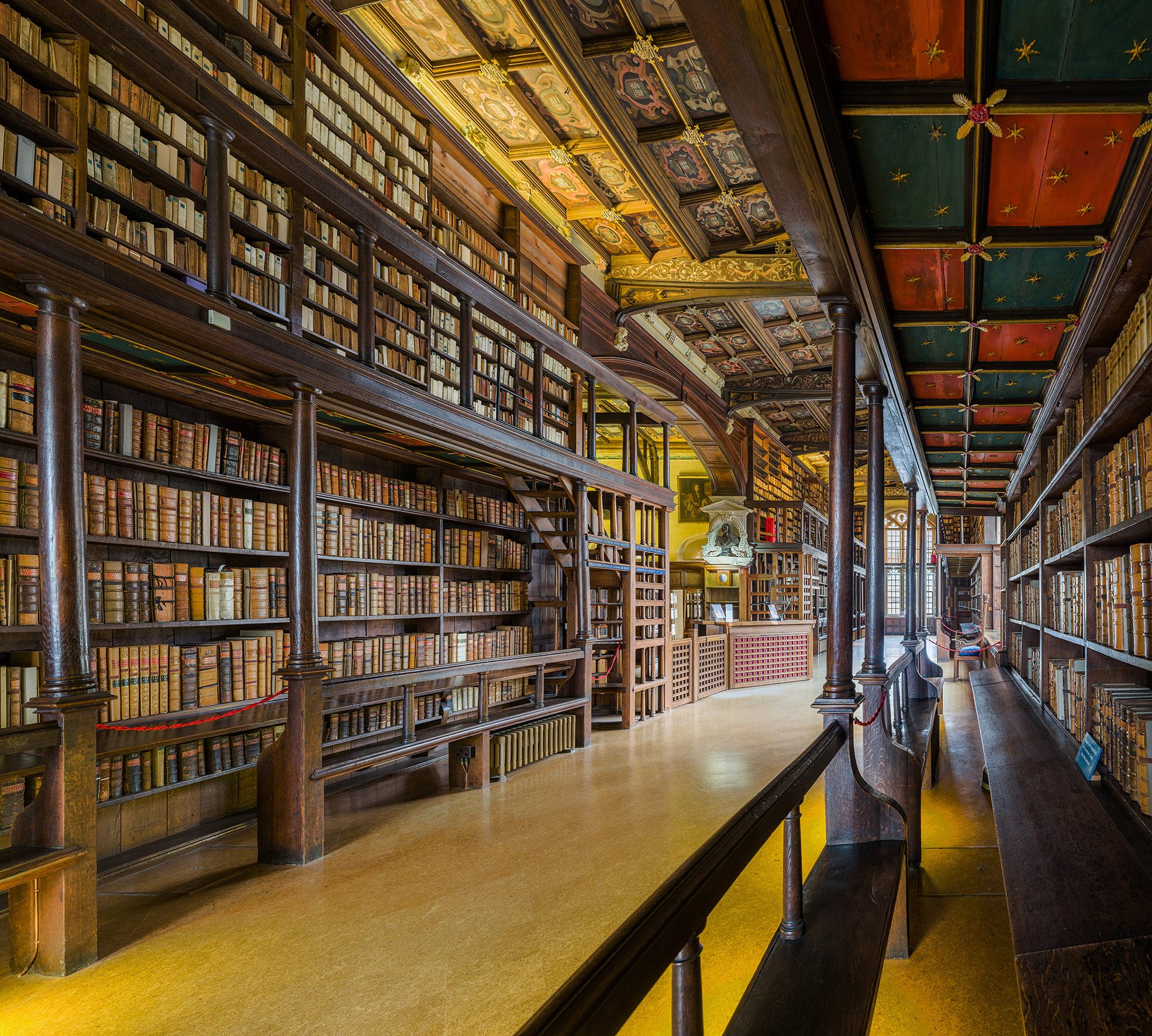 Duke Humphrey Plantagenet was "son, uncle, and brother of kings", which is a nice way of saying he was the only guy in his family who didn't get to be a king. Still though, he lived a life that epitomized medieval chivalry, particularly his education. Duke Humphrey (sometimes spelled Humfrey) was a patron of literature, translating many Greek and Latin works himself, and donated his 281 manuscripts to Oxford upon his death. These were mostly destroyed during the Reformation in an attempt to erase all traces of Roman Catholicism, but the library was reestablished when Sir Thomas Bodley financed a newer, larger collection. Today, Duke Humfrey's Library has but three books from its original collection, but its reading room retains all the charms of ancient academia.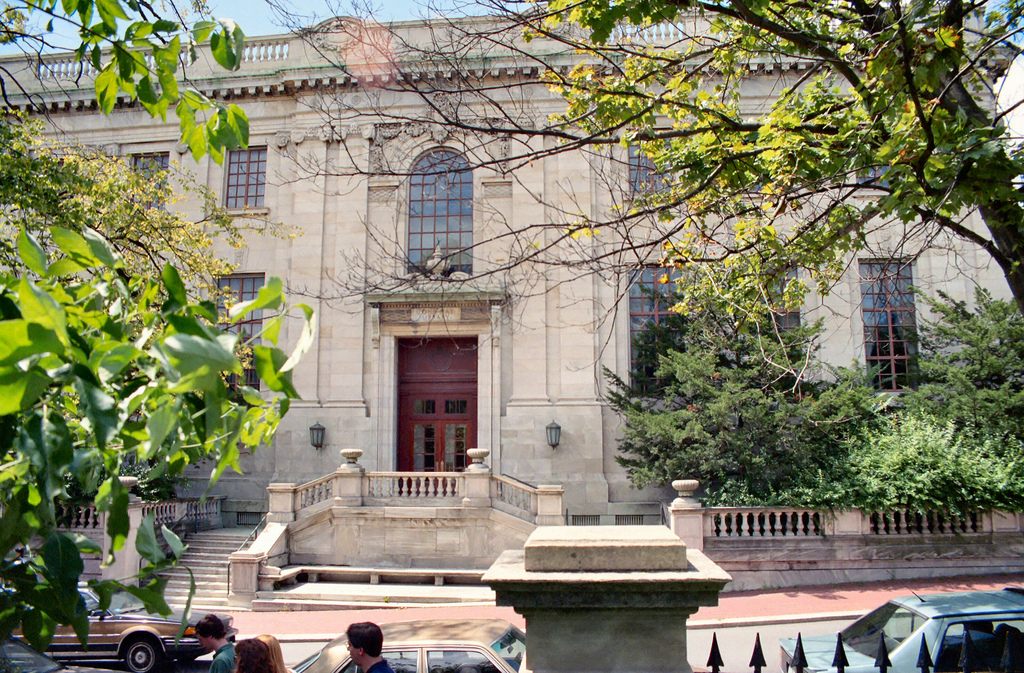 John Hay Library is a classic Ivy League library: prestigious, columned, and just a little bit stuffy, albeit beautiful. Its pristine white walls and dark wood tables are illuminated by natural sunlight from ceiling-high windows by day and by hanging lanterns by night. Its collections are equally impressive, containing original writings by H. P. Lovecraft and John Hay, personal secretary to Abraham Lincoln. Perusing through the stacks may result in a shock though: The John Hay Library hosts three anthropodermically bound books, otherwise known as books bound in human skin.