This Assortment of Candy Art Includes a Giant, Illuminated Gummy Bear
Bear in mind, it's not actually edible.
Part of the thrill of making art with gummy bears is wresting them out of the hands of viewers who try to take a nibble. Or so artist Kevin Champeny found when he was finishing his piece, "Gummy Bear Obsession," in front of several thousand people at the 2018 Adobe MAX show in Los Angeles. "Gummy Bear Obsession" is made of 15,000 sculpted and hand-cast tiny urethane gummy bears, glued to the fiberglass shell of a four-and-a-half foot tall mama bear that is mounted on a base. Light emanates from its center, shining through the individual bears to create one majestic, radiant gummy bear. Champeny laughs as he recalls begging people not to eat the gummies. "The fact that [the gummies] weren't real, it forced people to challenge their senses, to really challenge what they were seeing," he says.
Two years ago, Champeny, 44, was working for an aerospace company in Long Island, New York. "One day I walked in and I had to remove 20,000 square feet of concrete out of an airplane hangar," he says. "The next day I walked in to see a $100,000 scanning electron microscope on my desk, and I had five hours to learn how to use it." When a co-worker asked where he'd learned his high-level mechanical skills, Champeny explained he was an artist by trade. After seeing some of his artwork, the same co-worker encouraged Champeny to transition to a full-time career as an artist, and even became a business partner at his studio in Long Island.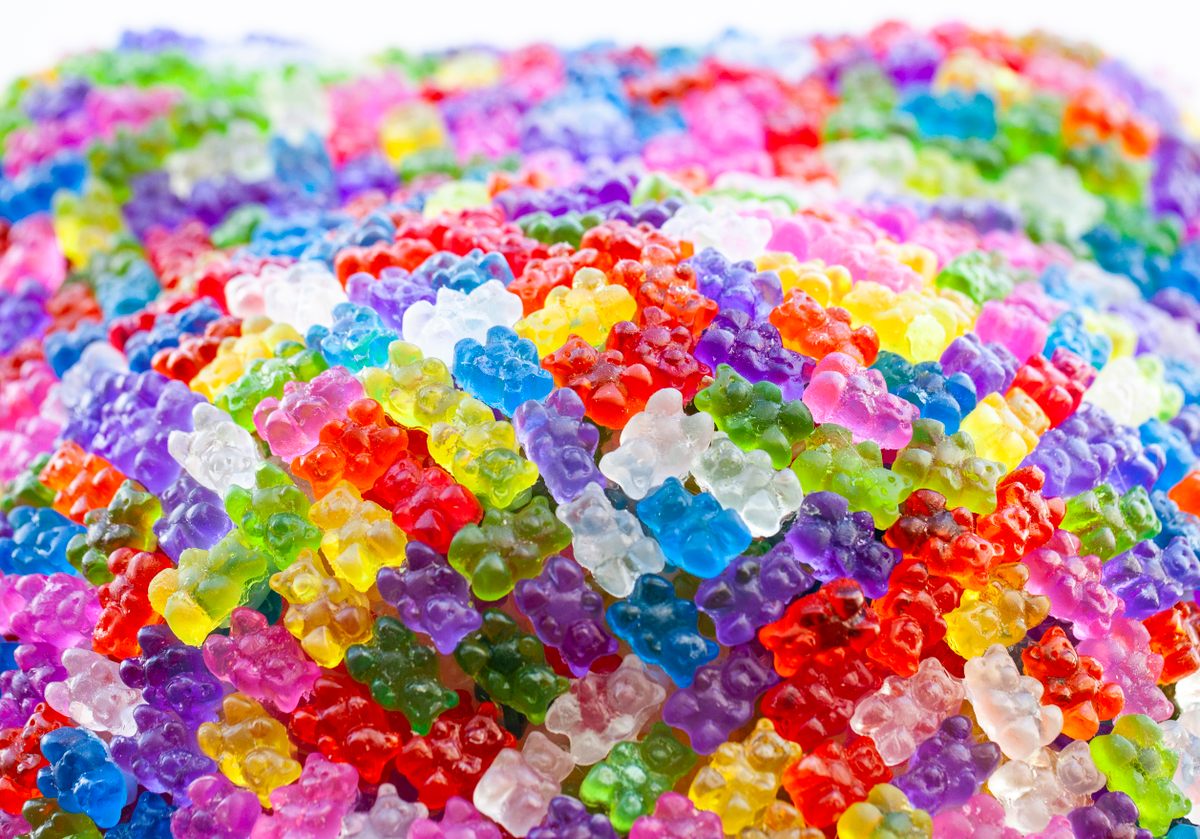 Champeny was born and raised in Beloit, Wisconsin, and attended Beloit College, where he graduated with a B.A. in Studio Art. He moved to New York City soon after, and worked at Utley's Incorporated, a prototyping shop in Queens that has been a major industry player in the packaging and model-making industry for over 70 years. It was here that Champeny sculpted the master prototypes for products as varied as the Patrón tequila bottle, Barack Obama's presidential china, and the Imodium A-D pill.
The unique shape of the iconic gummy bear inspired several of Champeny's works, which include mosaics, sculpture pieces, and even a commissioned chandelier made of multi-colored, hanging gummy bears.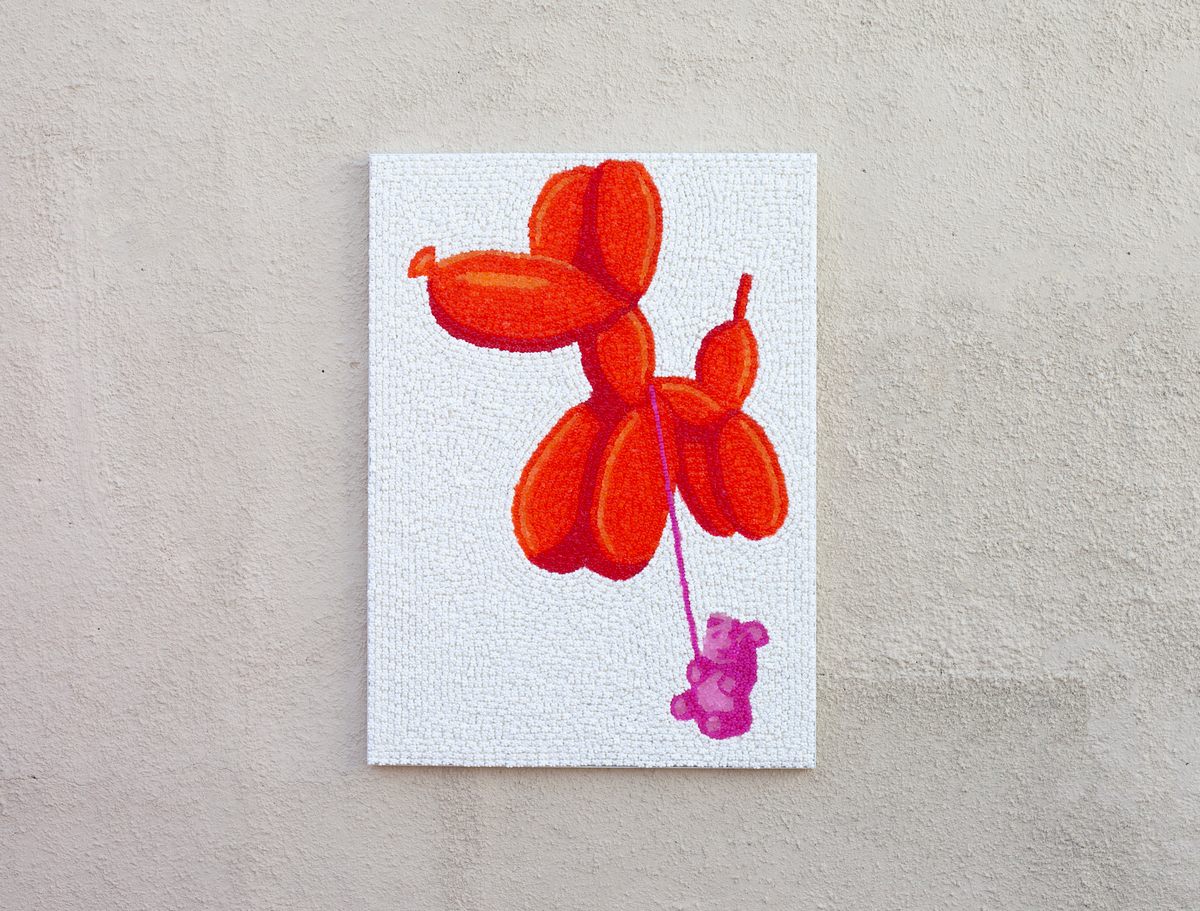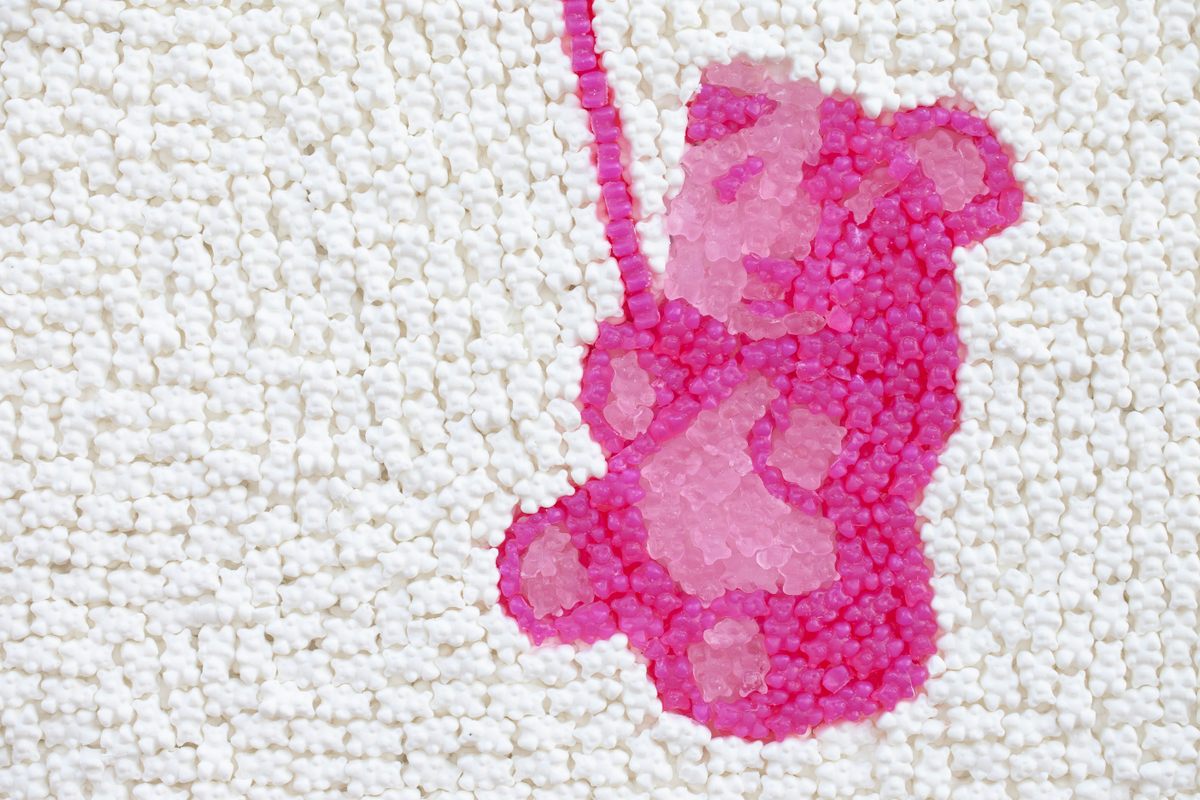 Champeny's art offers a counterpoint to social media culture, to the carefully curated version of reality offered up by Insta-stories and Facebook posts. His pieces, which blur the line between painting, sculpture, and photography, invite viewers to engage from a variety of angles, to move around, to interact with the pieces. They also offer a study in contrast: gummy bears that are hard to the touch and inedible, but look exactly like the familiar, chewy sweet; a mosaic skeleton on a large-format canvas that reveals thousands of sculpted flowers upon closer look ("What Remains"); a rendition of the Baroque Italian painter Guido Reni's "Ecce Homo," only this time with the portrait of Jesus Christ made of hand-cast urethane painkillers in a piece titled "Healer." According to Champeny, he wants "to challenge [viewers] to stop for a second and question, 'Is what I'm seeing real?'"
Champeny offers the example of his son, whose first introduction to candy was the inedible kind his father was making at his studio. Now, the young boy never eats a piece of candy without first asking if it's "real," to the bewilderment of his friends' parents. "But that was his introduction to the world," says Champeny. "It was to question everything, to challenge what you think is real, what you think is right and wrong."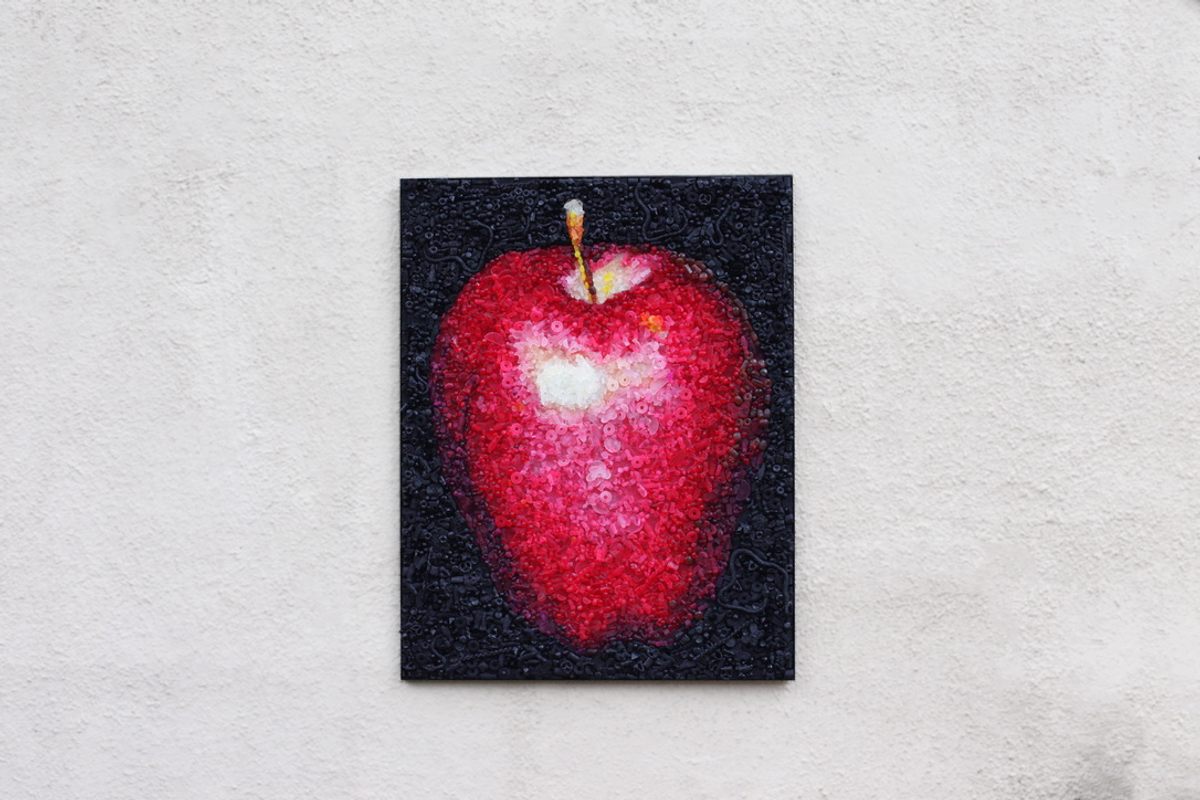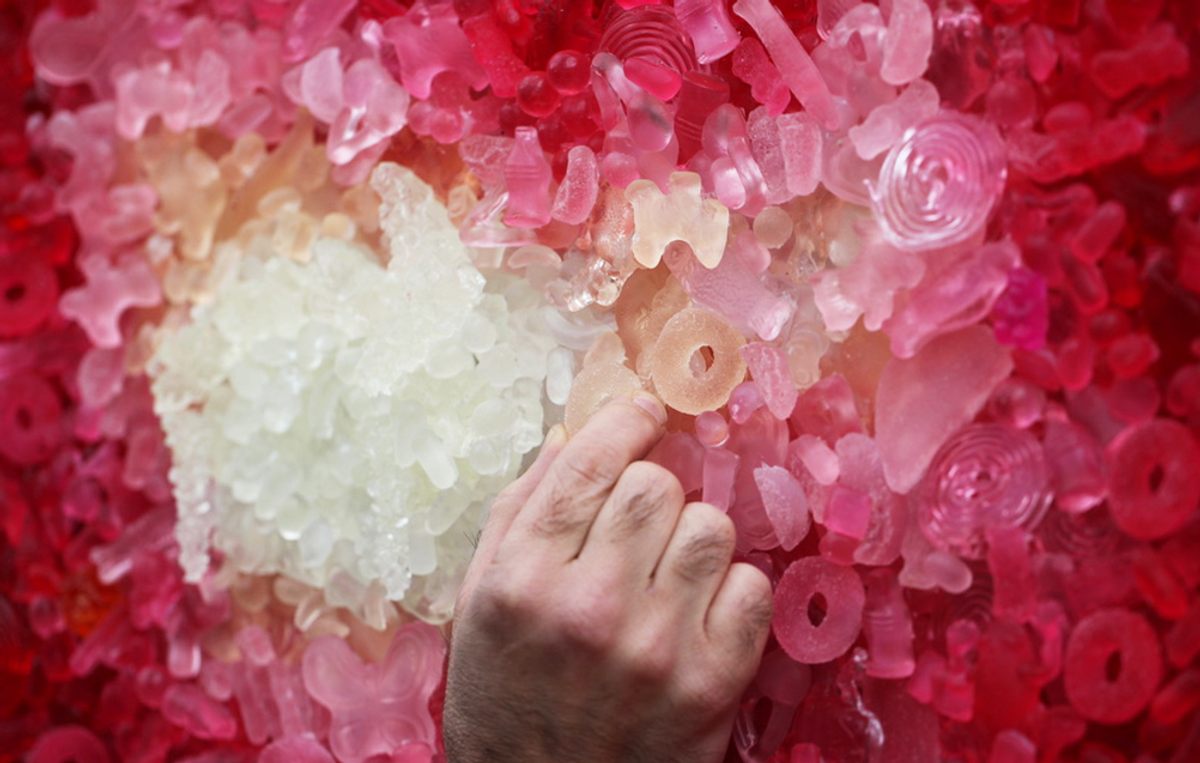 From afar, "An Apple a Day," made of 10,000 hand-cast pieces of urethane candy, looks almost like a hypermodern, 3-D, pointillist painting. Up close, though, viewers notice the candy detail: color-coordinated Swedish fish, licorice, and jujubes hot-glued together on a canvas. Champeny's goal was to create a sculpted approximation of a photograph of an apple that he'd taken, one that evoked its glistening, rubious beauty. While he is careful to note that he never wants to impose meaning upon viewers, the title of the work, which harkens to healthful eating, juxtaposed with the use of candy, is an invitation to a contrarianism that pervades his art.
Champeny starts all his pieces by hand-sculpting a master model in clay of the individual components of his mosaic. He then makes a silicone mold of the clay model, into which he casts his urethane pieces. The molds are cooked in a pressure pot quite similar to a pressure cooker. The artist then hand-dyes the colors of his urethane pieces and places them on canvas to make his mosaics.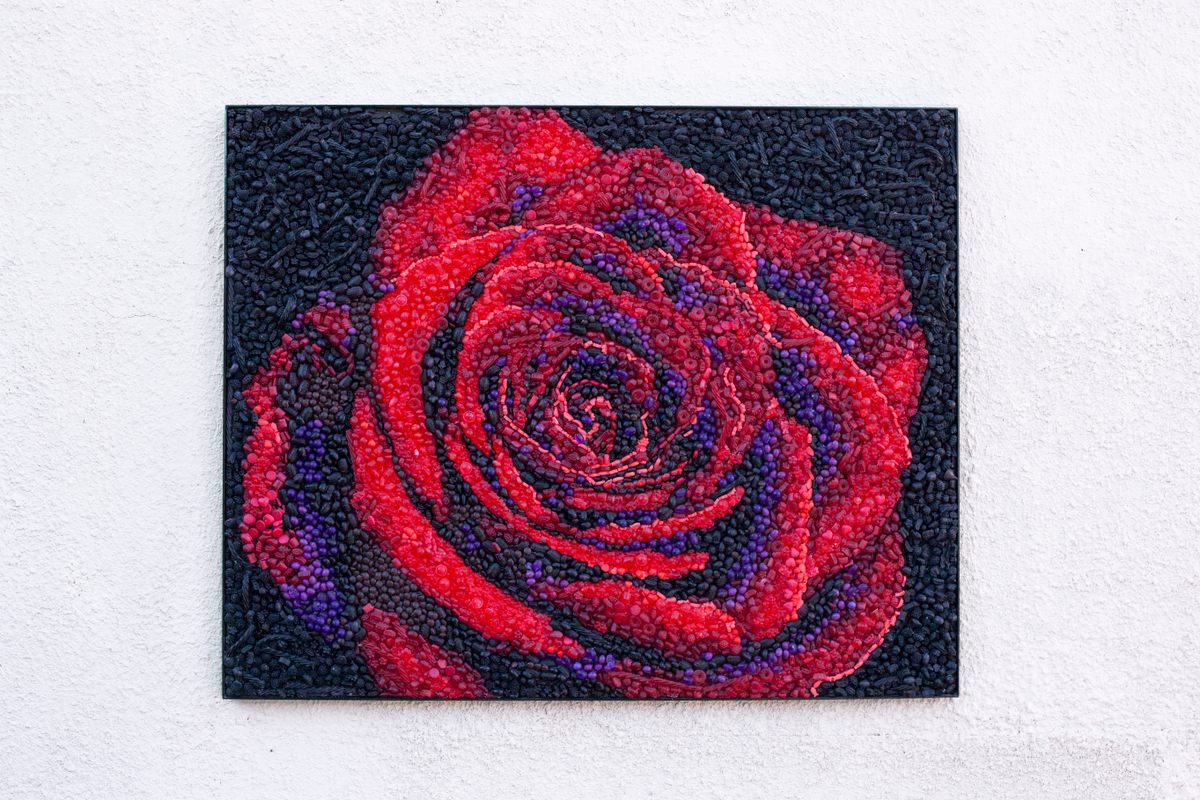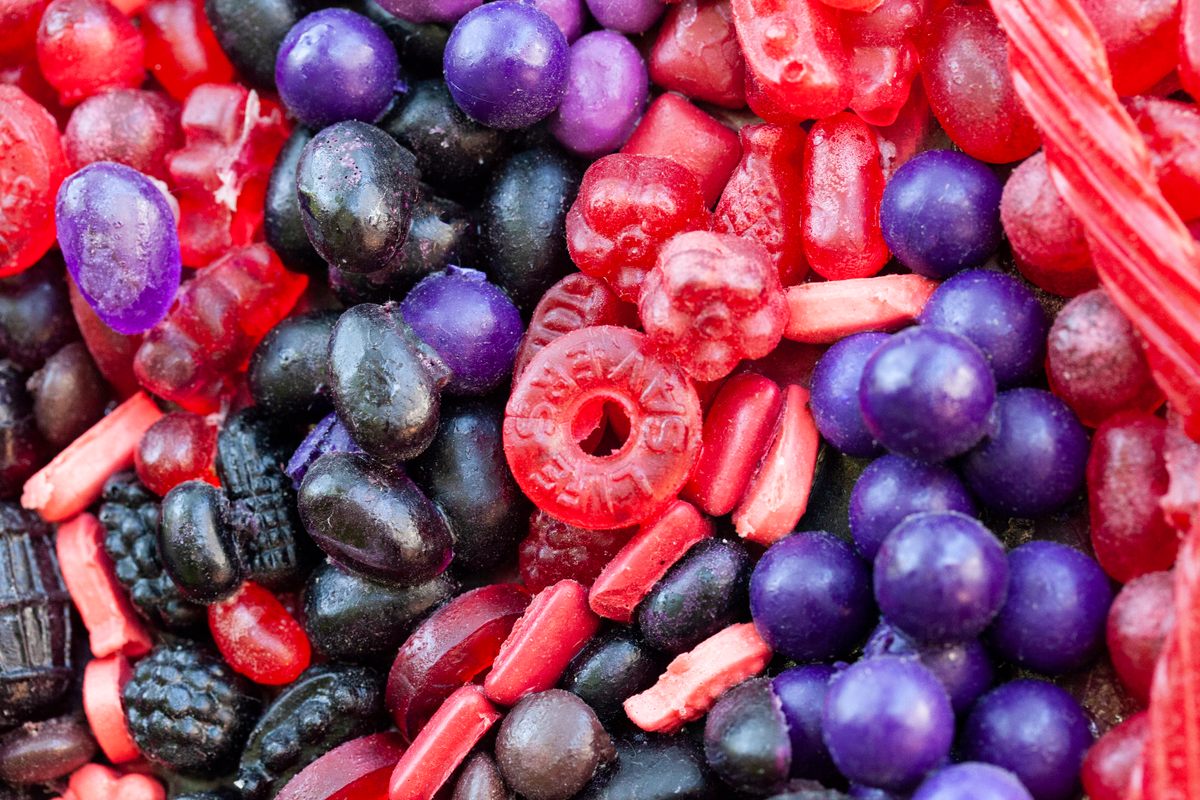 Champeny has showcased his work at several American galleries, and been an exhibitor at Art Basel, in addition to private showings. But his most memorable exhibit was when "A Rose By Any Other Name" was shown at the top of the World Trade Center last year. Two months before 9/11, Champeny had celebrated his first wedding anniversary at Windows on the World, the restaurant in the North Tower of the original World Trade Center complex. His family lost friends in the attack. "To have a piece 1,250 feet in the air, overlooking Manhattan, in quite possibly the most iconic building in the country," was a fascinating, moving experience, he says.
"Food in general transcends culture, transcends socioeconomic differences," says Champeny of his impetus to work with gummy and other candy replicas. "With candy, it brings up a lot of nostalgia, a lot of childhood memories." The artist clearly has a lot of fun with his candy art mosaics. Just please don't eat his pieces.
Gastro Obscura covers the world's most wondrous food and drink.
Sign up for our email, delivered twice a week.