Meet the Man on a Quest to Document Every Apple in North America
And the mammoth book he wrote about it.
"I wrote it out of frustration!" says Dan Bussey, of his 3,500-page magnum opus. In the time it takes an apple scion to grow into a fruit-bearing tree (around 10 years), multiplied by three, Bussey has been scouring the archives of every library and horticultural resource in the United States, poring over fruit bulletins, nursery catalogues, and pomological books. The outcome of diving head-first into this information avalanche is a book of such staggering breadth and scale that, all volumes combined, it weighs 32 pounds (equivalent to roughly 100 apples).
In 2017, Bussey published the product of his decades-long archival trudge: The Illustrated History of Apples in the United States and Canada. An illustrated hardcover set of seven volumes, each between 500 and 600 pages long, Illustrated History is a compendium of every apple variety that has appeared in print in any North American publication in the last two centuries. It lists more than 16,000 apple varieties, with names, origins, brief descriptions, and, on occasion, accompanying illustrations, all lifelike watercolors that come from a database maintained by the Department of Agriculture from 1886 to 1942. Bussey also included 9,700 found synonyms for the apples in the volumes, making it easier for enthusiasts to accurately identify different samples of the fruit. The book has been heralded as "a publishing marvel in the field of horticulture," and flipping through the green, cloth-bound volumes, laden with exquisite watercolors and charming anecdotes about apples named Cox's Orange Pippin and Pitmaston Pineapple, feels like a jaunt through the orchard of Time.
Bussey, 64, began his pomme-ological quest in 1989, while setting up an orchard in his hometown of Edgerton, Wisconsin. He'd grown interested in heirlooms in 1980, soon after reading the newly released book Apples and Man by Fred Lape, which bemoaned the loss of heirlooms and the poor quality of chemically treated supermarket apples. An aspiring homesteader, Bussey started with about a dozen heirloom apple trees on the four-acre grounds where he also hoped to build a house. When the trees bore fruit, yielding Golden Sweets and Spitzenbergs (rumored to be Thomas Jefferson's favorite apple), their rich flavors were epiphanic. "Oh my god, it was phenomenal!" Bussey says, of the aromatic Spitzenberg's sweet-tart taste. Soon, he was growing over 350 varieties in the orchard. In a lively example of his impetus for botanical acquisitions, Bussey says the orchard was well under way before he had even started construction on his house. "Priorities!" he says, chuckling.
At the time, he found little consolidated information about the heirlooms in his orchard, so he began keeping a record of his own findings, gathered during archival dives at the University of Wisconsin-Madison. He bought a computer with a 40-megabyte hard drive, solely to compile his data. "My watch probably has more information in it than that," he says. He still types his notes on WordPerfect, an early edition word-processing software, the continued use of which feels almost like an act of defiance.
Bussey struggles to explain his apple-centric pursuits. "I just really loved the names," he offers. "Some have interesting stories," he says, a little later. His mother taught him to plant and care for fruit trees, and his childhood home was built in the middle of the family orchard. "I've always been surrounded by apples," he says, recalling the smell of fresh cider in his family's kitchen. Later, in an email, he writes that it was probably the "little joys a researcher finds" coupled with "a certain degree of 'mania."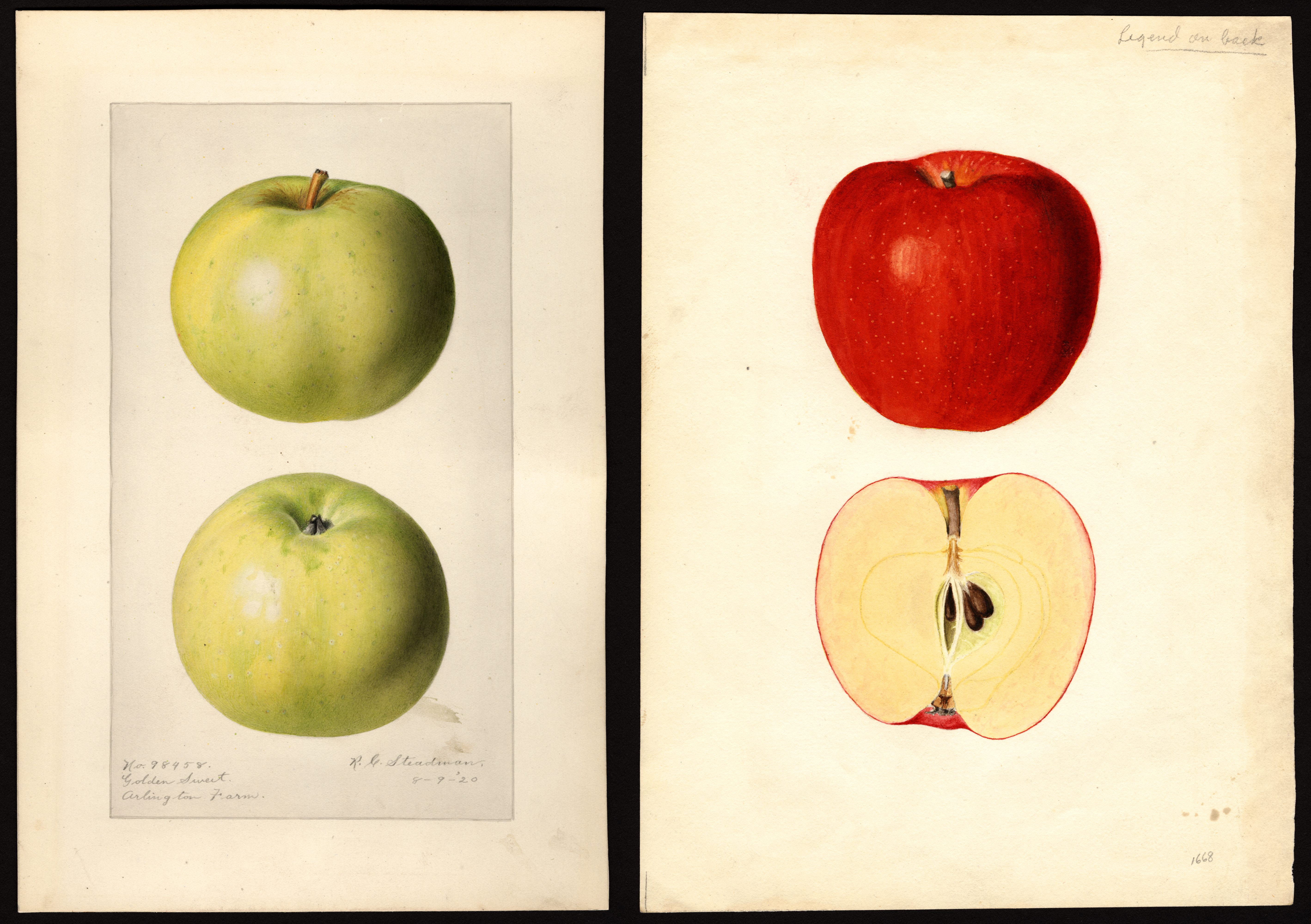 In addition to being an orchardist, Bussey made cider professionally for 24 years for the commercial orchards and amateur apple-growers of Edgerton. He even did a brief stint as a restaurant-supply salesman. Whenever time allowed, he traveled thousands of miles, "from New York state to Washington state," to look at materials in archives across the country. "I made it a point to keep doing this because I kept finding new things," he says, simply. As just one example of his extensive research, Bussey has pored over every report that he could find published by every horticultural society in every state in the U.S. "Just as I was beginning to convince myself I had enough material to work with, well, just then I discovered internet libraries."
Only about 20 percent of the apples documented in Illustrated History are still grown today, a phenomenon Bussey attributes to market forces driving up demand for certain varieties and pushing others out of existence. In 2012, he joined the Seed Savers Exchange, which preserves heirloom fruits, vegetables, and crops, as their orchard manager and apple historian. But when Seed Savers, along with university and commercial presses, passed on his book, Kent Whealy stepped in. A Macarthur Fellow and co-founder of Seed Savers Exchange, who had left the organization acrimoniously, and is widely believed to have been forced out, Whealy set up his own publishing house with the express purpose of getting Bussey's apple volumes to print.
"I'm so thrilled and just very grateful," Bussey says. It was Whealy who arranged the inclusion of the 1,400 illustrations from the USDA Pomological Watercolors database that make the volumes come alive. (The database is publicly available now, but at the time, Whealy paid his own money to access them.) Kent Whealy died in March 2018.
Illustrated History won the 2018 Annual Literature Award for "a significant work in botanical or horticultural literature," given by the Council on Botanical and Horticultural Libraries. John Bunker, an apple historian in Maine, called it "the most important book ever published in North America about apples. There has been nothing like it and there will never again be something like it."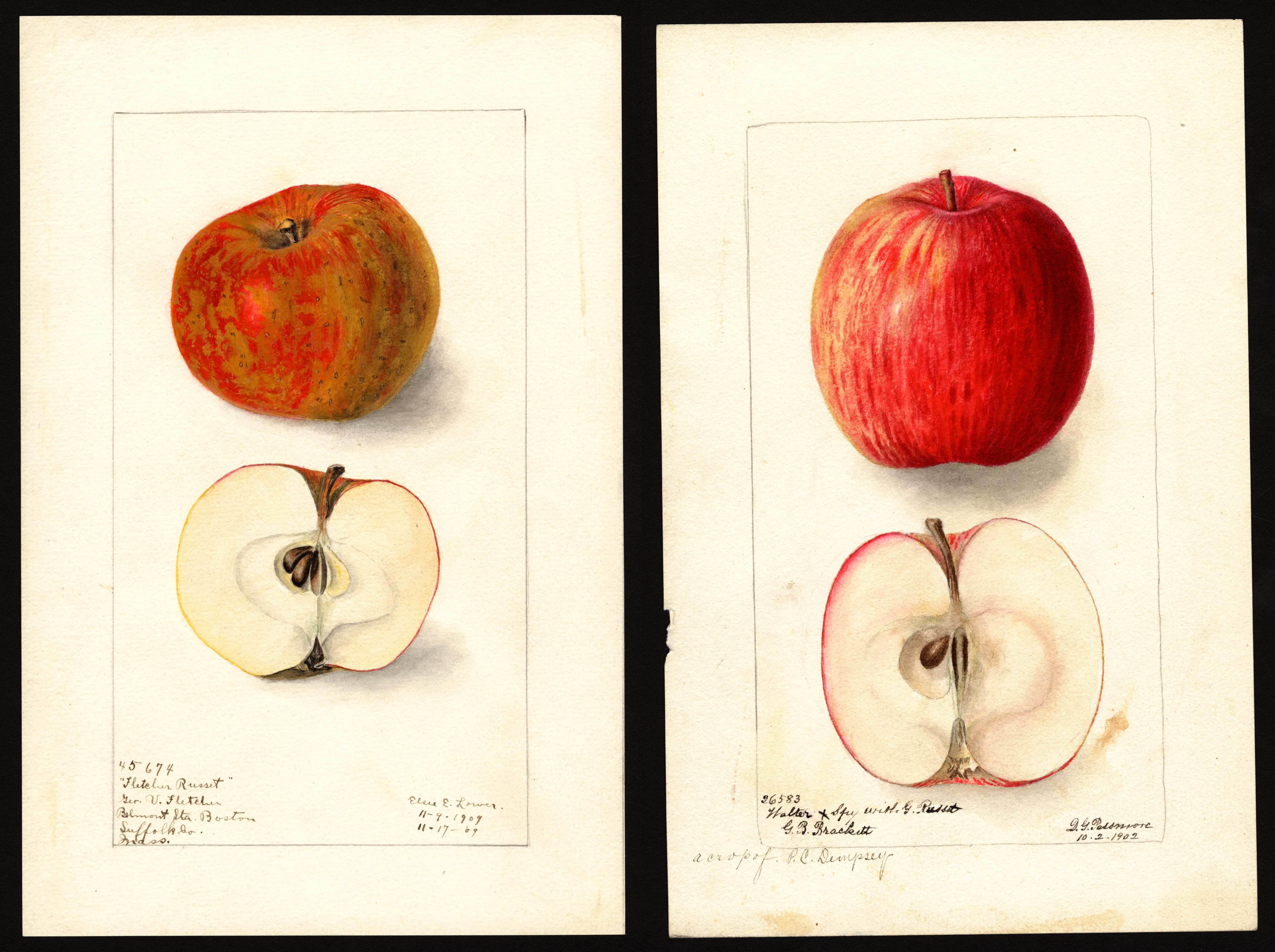 Having spent the majority of his life documenting apples, Bussey is still biting of the fruit of the tree of knowledge. His next book project will feature the stories of the people who brought these apples to North America. He's consulting with plant geneticists who apply DNA technology to identify apple varieties, and who have used DNA tests to build a genetic map charting the lineage of apples. The significance of identifying apple pedigree goes beyond its value within botanical or horticultural research. It tells a story of immigration, of the sorts of things people brought with them when they traveled to build a new life in a new country. Bussey hopes to tell the stories of some of these settlers, approaching the narrative through "the genetics of apple varieties that have traveled around in this country."
Bussey has discovered a couple of thousand more varieties since The Illustrated History of Apples was published. His favorite apple story is about the Southern Shockley, named after its originator Gideon Shockley, who spotted a lone apple tree while attending a friend's funeral. He took a bite of an apple that had fallen beneath the tree, found it good, and snapped off a branch that he planted back home. "And so he kept the Shockley apple alive, which was one of the classic Southern apples for many years," says Bussey.
In a career spent discovering 18,000 varieties of apples, one might think he'd have a more compelling tale. But that he chose to tell this one perhaps says more about Bussey than about the Shockley. The story of a man who happened upon a disappearing fragment of nature and nurtured it, who took a fruit that might have become extinct, and helped it flourish, echoes Bussey's own mission: to resurrect the past, to celebrate the bounty of nature, to tell the stories of apples and men.
Gastro Obscura covers the world's most wondrous food and drink.
Sign up for our email, delivered twice a week.