Once a Year, This Island Goes Completely Vegetarian
The Cheung Chau Bun Festival commemorates a Taoist ritual.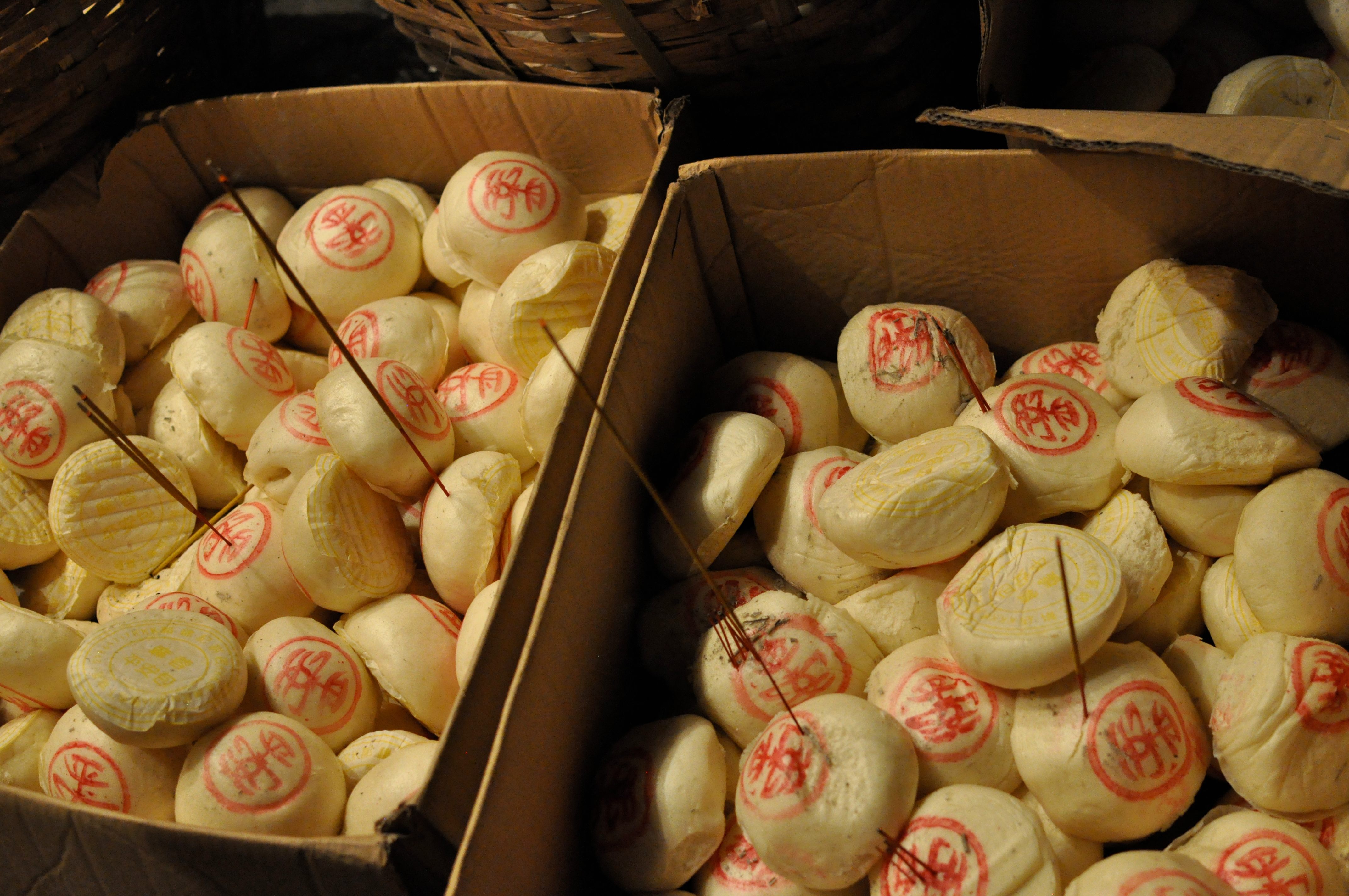 In the late 18th century, pillaging marauders and the plague spread through the islands of southern China and overran Hong Kong's waters. On edge (and understandably so), the local Huizhou people decided to do something about it. On Hong's Kong's Cheung Chau island—a small, dumbbell-shaped isle with a thriving fishing village—residents turned to the Taoist sea god Pak Tai for protection. They marched along the island's narrow streets, carrying a statue of the deity with them in hopes that it would both ward off evil spirits and protect them from further thievery and outbreaks.
The islanders eschewed all meat for several days as a sacrifice, and offered up sweet buns to Pak Tai. When the pirates disappeared a few years later and the plague ended, Chueng Chau made this Taoist ritual of asking the ancestral gods for continued peace, dubbed Da Jiu, into an annual event. Now, it's known as the Cheung Chau Bun Festival, and it's the island's biggest yearly celebration.
Hong Kong's Cheung Chau Bun Festival has since morphed from its religious ceremonial beginnings into a multi-day celebration that includes costumed kids, one of the most unique climbing competitions on the planet, and banging gongs. It all takes place each year in the fourth month of the lunar calendar, which typically falls in May. And like all good holidays, food comprises an essential part of the festivities.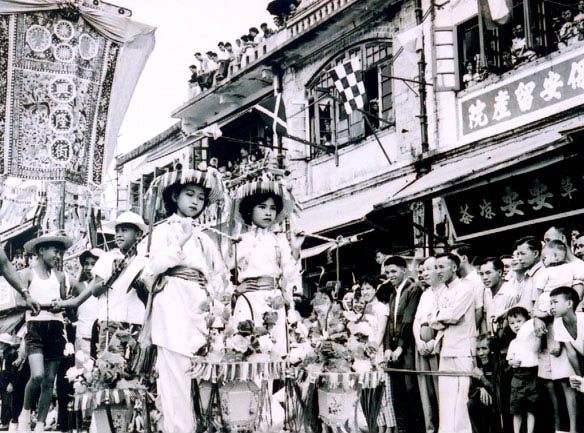 Or, in Cheung Chau's case, not eating certain foods. That's because during Cheung Chau, revelers eat nothing but vegetarian foods such as put chai ko, a steamed pudding cake, for three full days. It's an increasingly tough practice to implement, especially with the festival's growing number of visitors (organizers estimate the island's headcount swells up to 60,000 people for the event, which is almost three times its population). As mainlanders and tourists unfamiliar with this tradition began frequenting the festival, the practice fell out of favor for the last couple decades. But starting a couple years ago, the festival's organizers have been working overtime to see it doesn't disappear.
"The three-day vegetarian diet is one of the most important cultural aspects of the festival," says Eric Ho, Vice Chairman of the Cheung Chau Rural Committee. "And has been a part of it since the beginning." Despite Cheung Chau's stellar reputation for seafood, Ho says that at least half of the island's food suppliers agreed to substitute vegetarian options for typical meat-filled ones in 2017. Some street vendors replaced fish balls with fried turnip cakes, and local Chinese-run eateries known for their shrimp-filled har gow served vegetarian spring rolls. Western-style restaurants switched out steaks for spaghetti, and even McDonald's got in on the act, swapping its standard meat patties with mushroom-based burgers.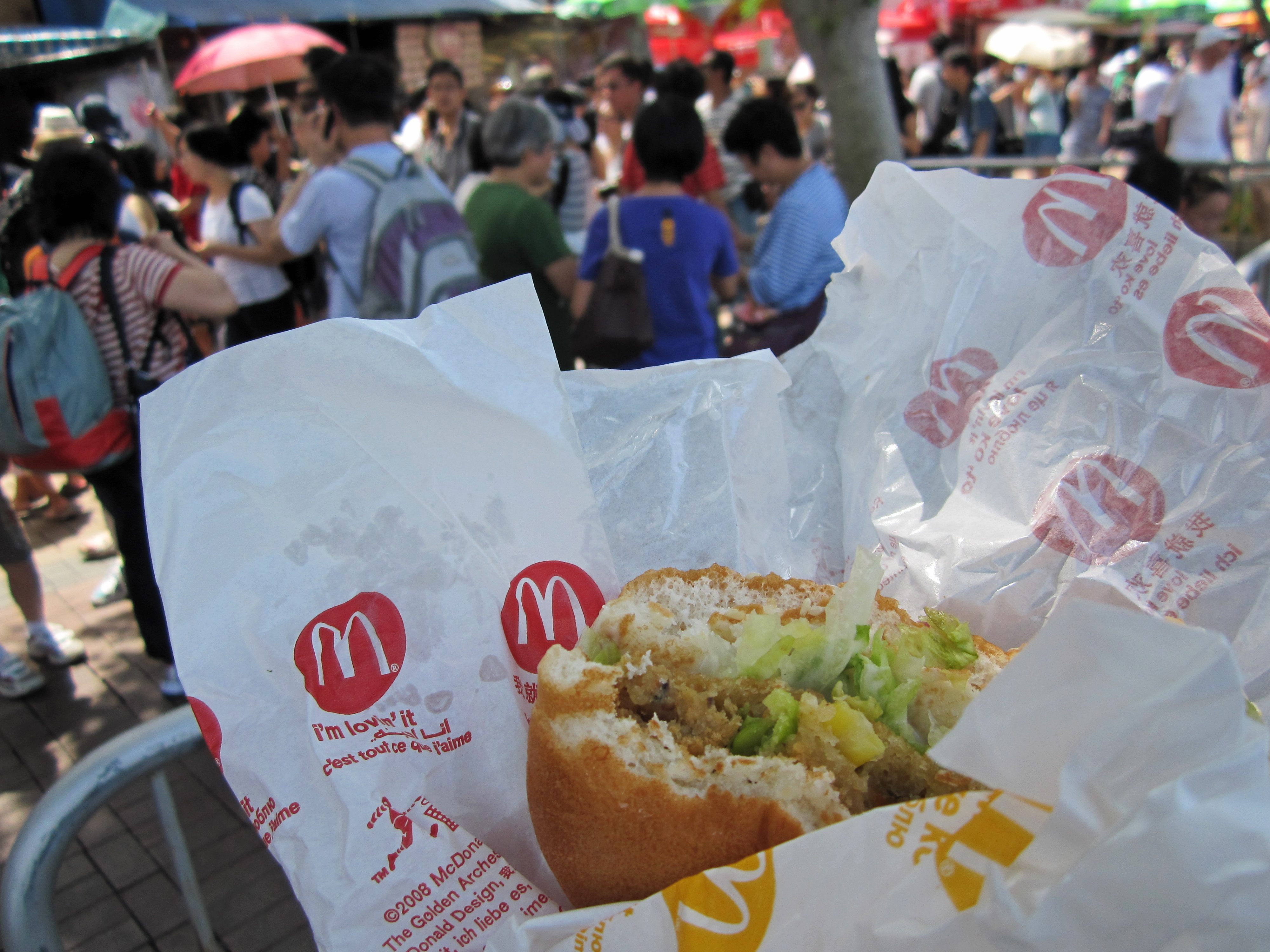 But sweet buns lie at the heart and soul of the Cheung Chau Festival. During the festivities, tens of thousands of steamed buns are made with three different filling types—lotus seed, red bean paste, and sesame—then stamped with Ping An, a Chinese character meaning "peace." The island's tiny Kwok Kam Kee Cake Shop churns out upwards of 10,000 buns a day, many of them as edible souvenirs. The others go towards decorating three mighty bamboo towers, erected in front of the island's historic Pak Tai Temple, which both greet festival visitors and act as an homage to Pak Tai. Approximately 20,000 plastic-wrapped sweet buns—all of them blessed by Taoist priests—cover each of the towers, all ready to bring good fortune to whoever eats them after the festival, when organizers distribute them.
For years, these "Bun Mountains" were also the official towers of the "Bun Scramble," a free-for-all climb. Hundreds of participants grabbed, nabbed, and snatched as many well-placed buns (the higher the buns were on the towers, the more points and good fortune they were worth) as possible using whatever means necessary in the allotted time. Some participants scrambled upward through the towers' interiors before punching their way outside, while others simply used their fellow competitors as climbing tools—trampling loads of sweet buns (not to mention plenty of hands and feet) on the way. The spectacle came to an abrupt end in 1978, when one of the towers collapsed mid-climb with dozens of people still on it. With approximately 100 people injured, organizers cancelled the scramble indefinitely.
More than 25 years later, however, Cheung Chau's organizers decided to revive it (thanks, in part, to the 2001 Chinese animated film, My Life as McDull, in which the movie's main character, a cartoon pig, is training to be an "Olympic-level" bun snatcher). This time, it would be a softer, safer scramble: One with restrictions and geared more toward athletes, such as rock climbers and personal trainers, rather than civilians.
Today there is only one climbing tower—a 60-feet-tall steel A-frame—and just 12 pre-qualified participants, including at least three women, each of them utilizing a harness for added protection. The event begins right before midnight, when participants have three minutes to collect buns worth varying points. Along with bragging rights, the two male and female participants with the highest number of points can earn the title of Bun King or Queen, providing they've won the event three times since 2016. Those who grab the most number of buns aren't forgotten either: they earn the lauded title "Full Pockets of Lucky Buns."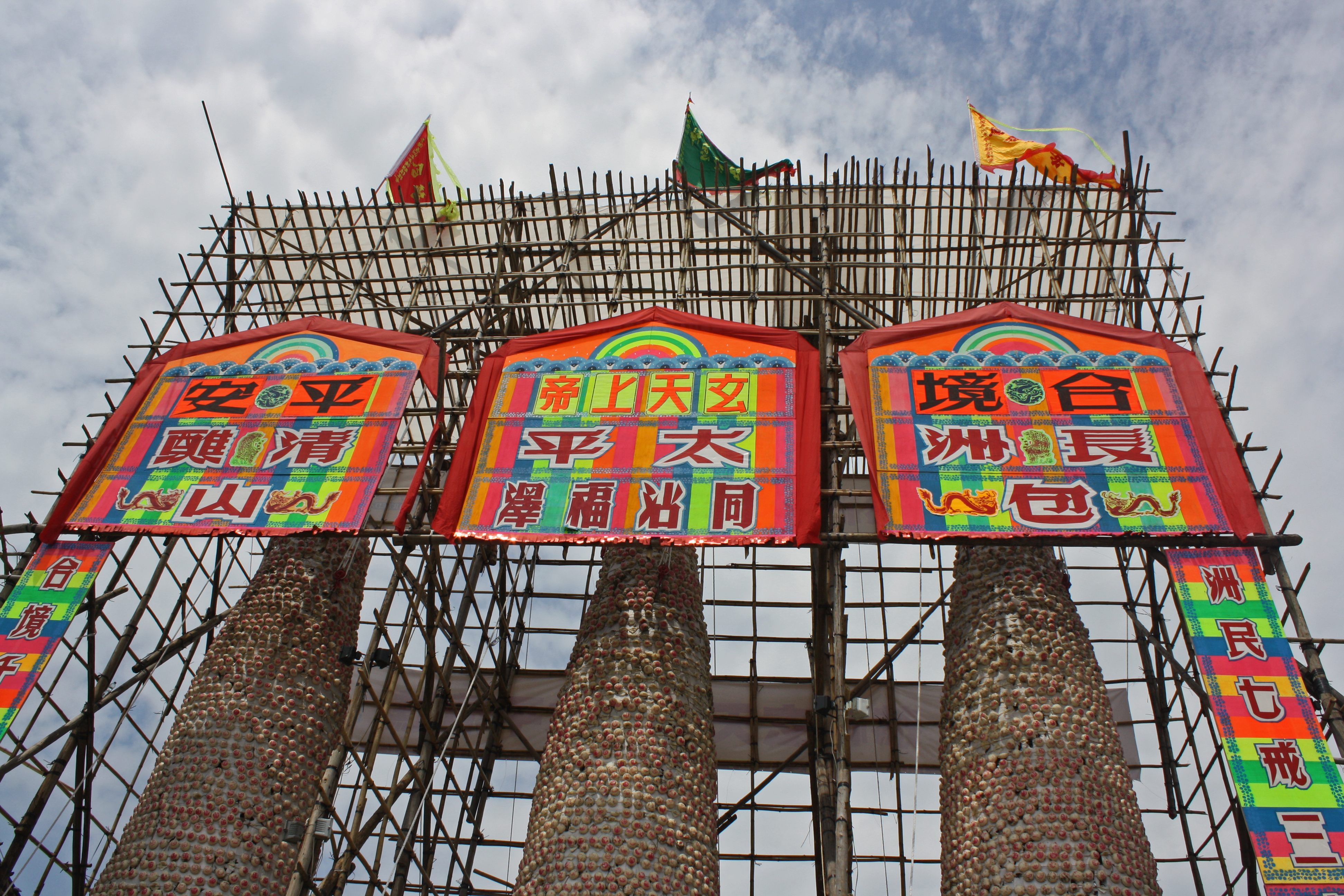 Since 2007, plastic buns have replaced the climbing tower's former edible ones, a switch organizers say is more aesthetically pleasing—not to mention less of a health violation. Still, the festival's three bamboo towers remain covered in bakery-made buns, each waiting for its individual moment to shine.
The festival's other activities range from burning papier-mâché deities to a Piu Sik ("Floating Colours") Parade, in which kids standing on seats atop steel rods—all hidden beneath their elaborate costumes—seemingly float through the air. But it's the culinary traditions that hold the annual celebration together. After the scramble, festival organizers distribute the towers' edible buns, each of them blessed with luck for the upcoming year.
As for foregoing meat, it's a tradition that organizers believe festival visitors will honor and welcome—as long as word continues to spread. Since UNESCO added Cheung Chau's Bun Festival to its Intangible Cultural Heritage list in 2011, the stakes are even higher. "[Eating vegetarian for three days] is not just a matter of paying respect to the local culture," says Ho, "but the practice is one of Hong Kong's most distinguishing features, and one that should be recognized."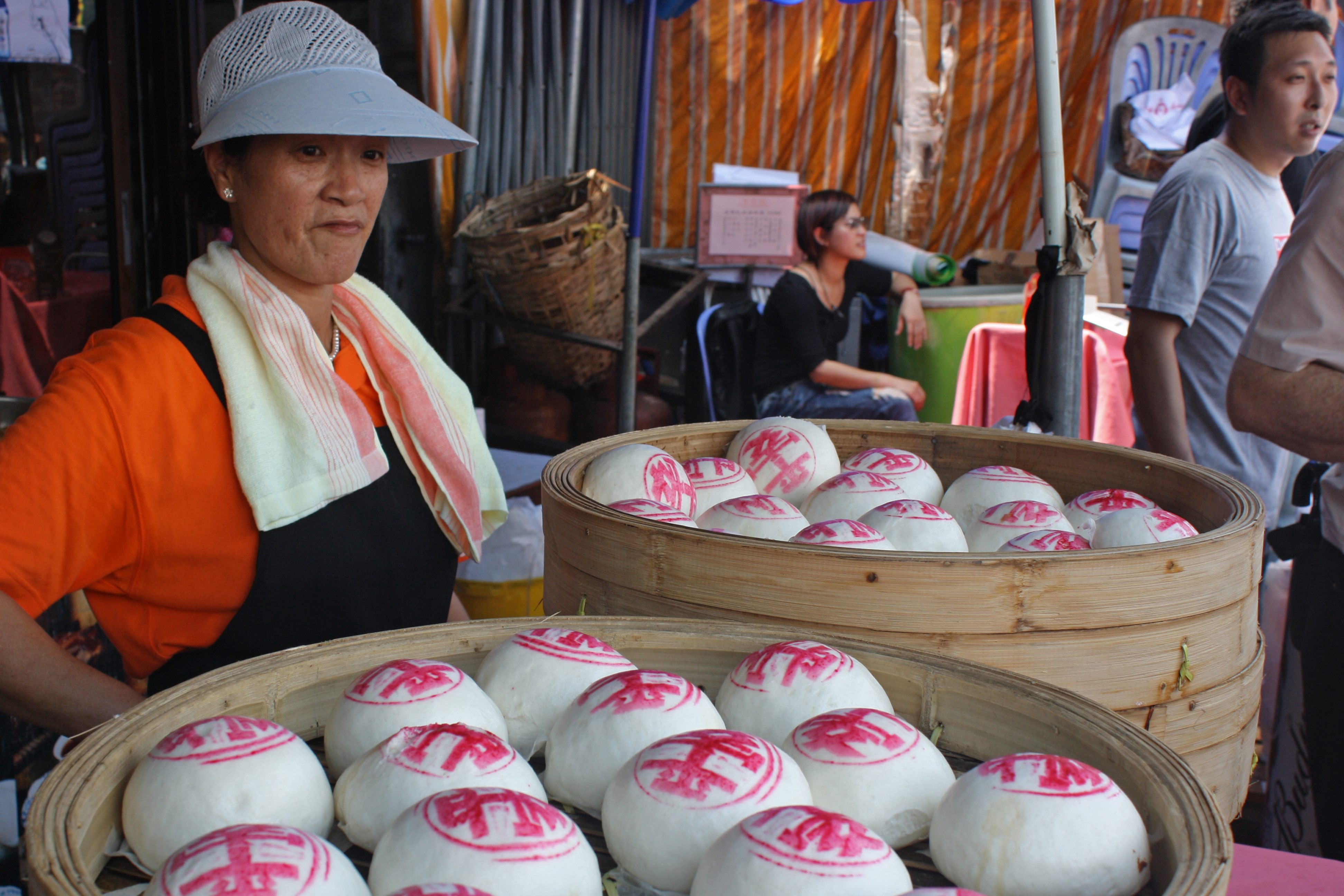 Make no mistake, though: When the bun festival is over, many of Cheung Chau's residents go right back to eating meat, says Ho, who admits that, since the '70s, "many restaurants even begin serving meat as early as 3 p.m. on the festival's last day, right after the parade is finished." Whatever the case, their two-and-a-half-to-three-day run at vegetarianism seems to be a wonderful palate whetter for the rest of the year.
Gastro Obscura covers the world's most wondrous food and drink.
Sign up for our email, delivered twice a week.