Aboard the World's First Hot-Air Balloon Restaurant
A Dutch master chef cooks meals among the clouds.
In the summer of 1896, Swedish explorer Salomon August Andrée prepared to reach the North Pole via hot-air balloon. His equipment included a custom-made stove that dropped below the balloon's basket, which would be lit with a string. "These precautions are taken to obviate the danger of having a fire too near the gas of the balloon," the New Zealand newspaper The Feilding Star explained at the time. Had Andrée possessed the foresight to position that contraption above the basket, his balloon may have stood out for reasons other than its infamous failure the following year, when it crashed and left Andrée and his team to perish in the Arctic.
It took over a century for the hot-air balloon kitchen to reinvent itself, this time with more success.
Creating hot-air balloon haute cuisine is the dream-turned-reality of Dutch master chef Angélique Schmeinck. After 25 years of restaurant experience (including a 12-year run at the Michelin-starred De Kromme Dissel) and several cookbooks under her belt, she found herself wanting to venture into new territory.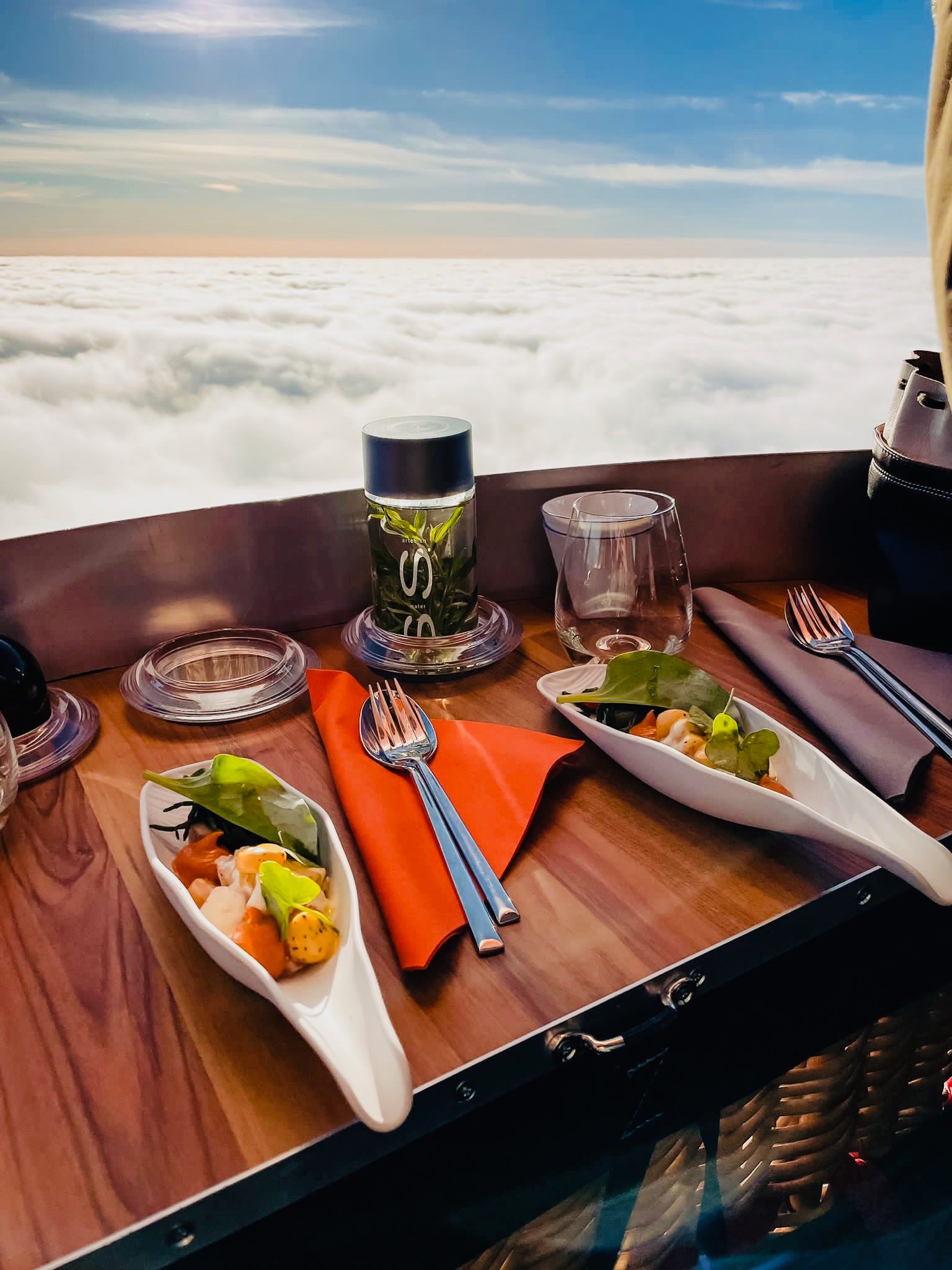 Schmeinck had her "Eureka" moment in 2003 when she saw a hot-air balloon and realized, "a hot-air balloon is actually a huge hot oven!" Excited by the opportunity to build her own restaurant from scratch, she called a hot-air balloon company for help. Two weeks later, they hoisted a customized bag filled with fish and chicken to the crown of a balloon via pulleys. The flame at the balloon's base brought the temperature to 194 degrees Fahrenheit (90 degrees Celsius), an ideal heat level for slow-cooked meals. When the balloon landed an hour and a half later, Schmeinck removed the fish and chicken. "I had tears in my eyes when I saw that it was perfectly cooked," she says.
That successful trial run was the starting point of CuliAir, the world's first hot-air balloon restaurant. Since her maiden voyage almost two decades ago, Schmeinck has hosted about 50 trips each year across the Netherlands. So how has she succeeded where Andrée' failed? Among the key advantages of her airborne kitchen are a cooking counter that hangs off the side of the balloon basket (and includes a camphor stove) and a pulley system attached to customized steel containers that allows Schmeinck to raise the food toward the balloon's flame and lower it. Her system needs to be efficient: On board, Schmeinck has an hour and a half to serve three courses to 10 people. "Organization is the most important thing," she says. Her kitchen is so well-designed that Schmeinck says she can find items blind.
Guests receive notification on where to meet mere hours before takeoff. CuliAir uses 20 different takeoff locations to accommodate the wide range of flying conditions. Weather can alter landing times or how high the balloon flies, an especially important consideration given the balloon flame's dual function as oven and engine. Higher elevations require a higher flame, which means an increase in cooking temperature. Since the food that Schmeinck cooks requires temperatures between 194 to 230 degrees Fahrenheit, she works with the balloon's pilot to ensure that course adjustments don't affect a dish.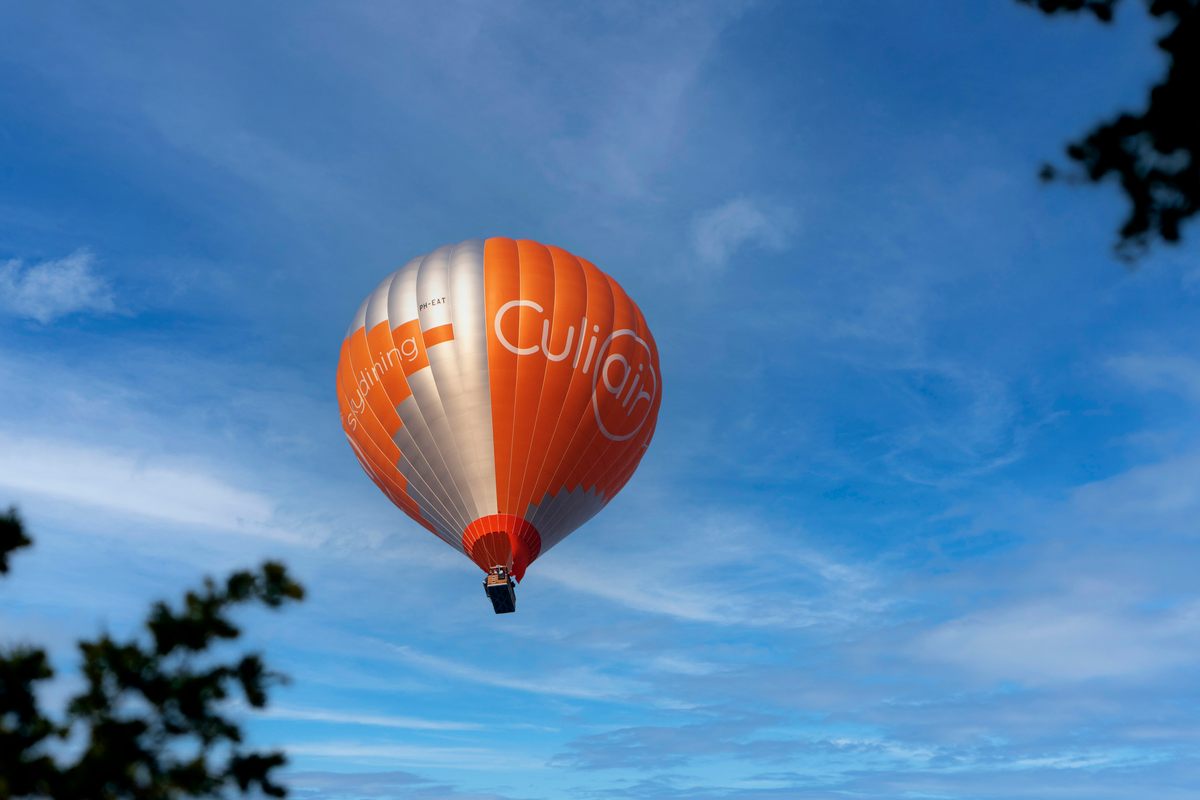 When guests arrive in the designated takeoff meadow, Schmeinck serves them an appetizer—such as melon, goat cheese, and dried capers—followed by champagne. Meanwhile, a ground crew sets up the large orange-and-white balloon and attached basket that can accommodate up to 12 people. The basket lays on its side, allowing guests to climb in and lay horizontally until the flame fills the balloon with enough heat to lift everything off the ground (and pull passengers upright). Once fully airborne, Schmeinck gets cooking.
The first in-the-sky course is typically a seafood cocktail. The natural, fresh ingredients can be prepared raw, cooked low, or cooked slow. This summer, Schmeinck has served langoustines (a Norwegian lobster-like delicacy), fresh clams, and lobster with passionfruit, lightly fermented yellow carrots, and glasswort (a saltmarsh plant that Schmeinck dubs "sea veggies").
During the flight, Schmeinck serves wine and gives more information about her dishes. Standing-room only encourages interactions between the chef, pilot, and other diners as the balloon sails above the countryside, taking in the view from a cruising altitude that ranges 500 to 2,500 feet. "Sometimes when the clouds are low, we can go right through them," says Schmeinck. "It's a little bit misty. Then we're above the clouds and see the sun shining. That moment is unforgettable. It's amazing for me, after all these years."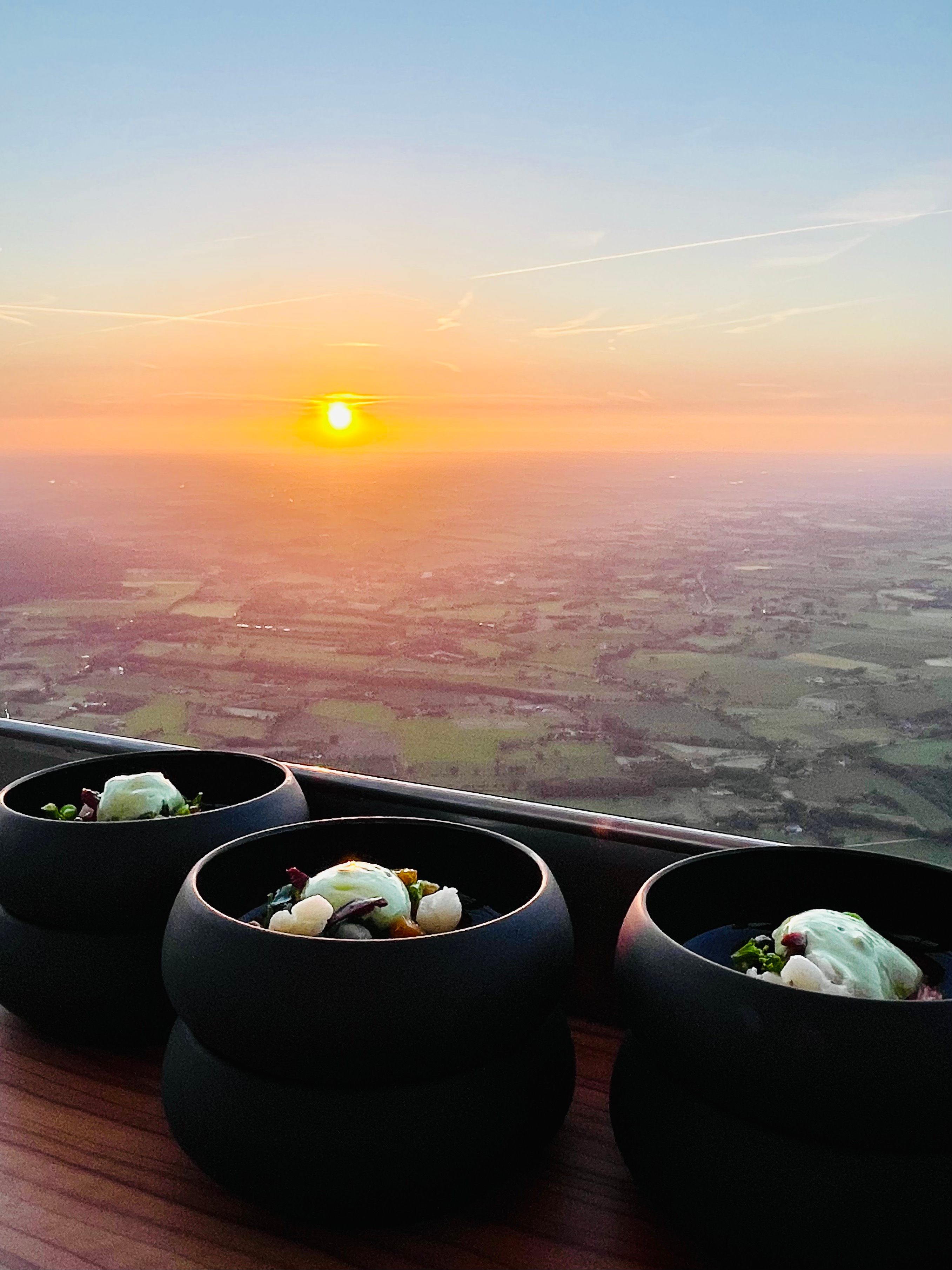 Schmeinck's second course arrives 45 minutes later: royal sea bass pulled down from the suspended steel containers and served in a 12-year bouillabaisse sauce alongside seasonal vegetables, such as asparagus and artichoke. Schmeinck cooks these on the stove that dangles over the balloon basket's edge with "a nice vadouvan oil," a French spice blend that derives its ingredients from masala. While all other dishes and ingredients rotate according to season, her sea bass is a staple. "It's the best fish for balloon cooking because it has a little more fat, which goes well with low and slow cooking," Schmeinck explains. That, plus the inimitable bouillabaisse sauce, makes for a pairing that mirrors the balloon ride: rich and intense, light and adventurous.
The third course trends toward fowl, although lamb made an appearance earlier this year. Schmeinck's most recent menu includes duck confit that is cooked in the raised containers, then glazed in its own juices. She pairs it with summer mushrooms and a salsa of lightly fermented cauliflower and pumpkin that she seasons with lemon, star anise, and cardamom.
After serving the third course, Schmeinck cleans up as the pilot navigates the balloon to the ground. Landings can range from smooth to bumpy. Back on terra firma, live music welcomes guests back as they enjoy a dessert (a recent offering was white chocolate and passionfruit mousse topped with a crispy rainbow meringue, raspberry, and basil syrup). Sometimes, Schmeinck will even serenade the guests herself with a guitar.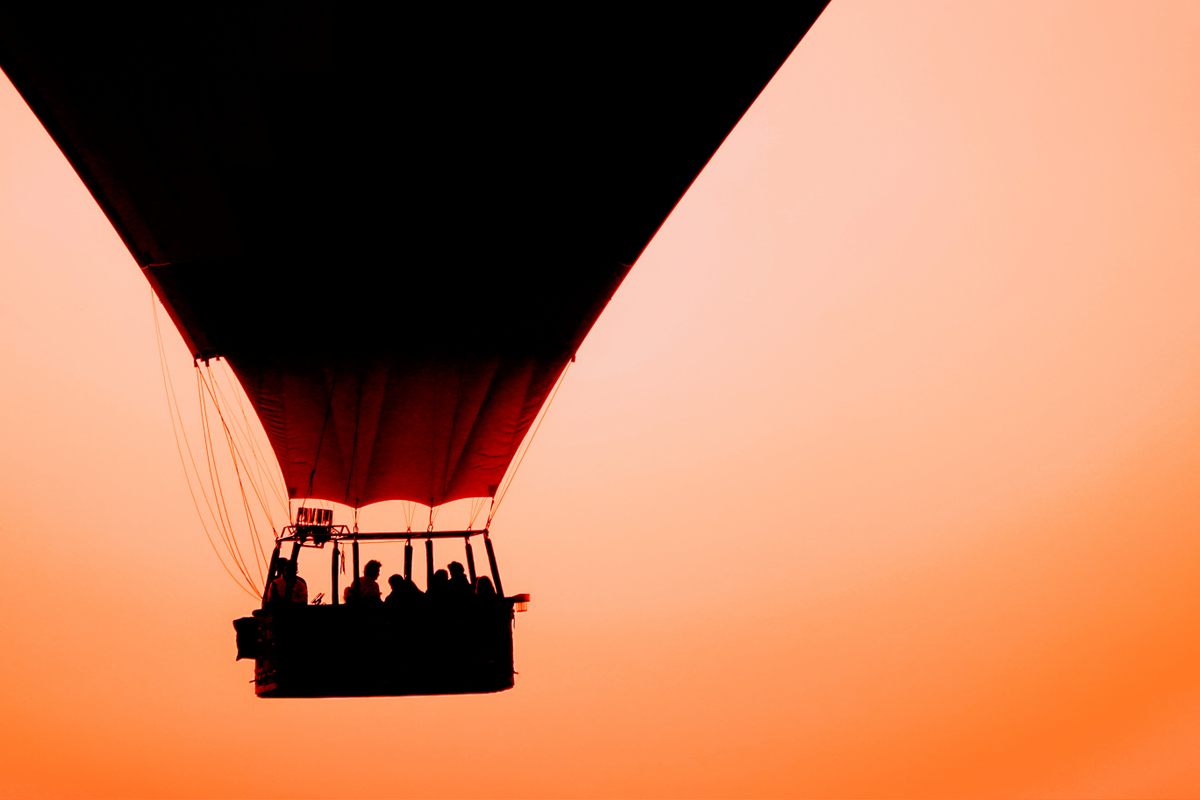 Given the precision necessary for running a successful CuliAir voyage, one must ask: Does anything ever go wrong? "The challenges are when we have to land earlier," Schmeinck says. If the weather turns rough, the pilot will make a safety landing and the chef serves the main course in the meadow. Another time in CuliAir's early days, "the control [for the suspended cooking containers] didn't go down. It was stuck in the balloon so we could only eat vegetables."
Sometimes the bumps along the way aren't even related to air travel or the food: Marriage proposals are common, though not always well received, Schmeinck says. And what happens in the balloon doesn't always stay in the balloon, as was the case with a flyaway black towel that she mistook for a bird. But overall, each voyage delivers an exhilarating experience. "The guests are having a great adventure, so all the senses are very open," she explains. "The composition of the food and the flavor combinations must have the same adventurous character. It must not be boring, or too soft. . . . It must not be too heavy, or have too much cream, but it must be as light and elegant and fresh as ballooning itself."
Gastro Obscura covers the world's most wondrous food and drink.
Sign up for our email, delivered twice a week.