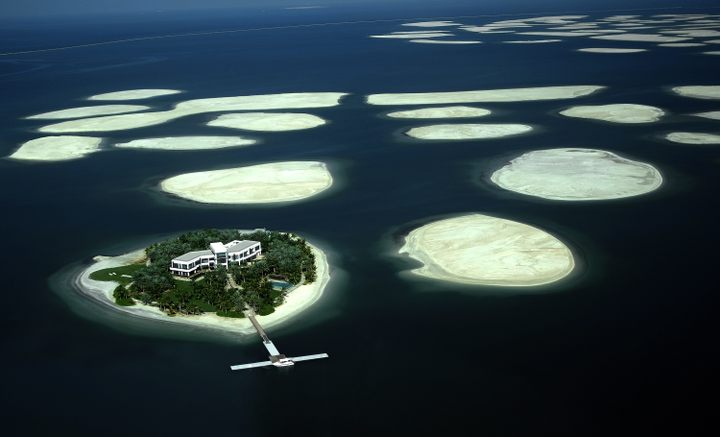 How to Build an Island
All you need is a dream, investors with deep pockets, and concrete. A lot of concrete.
This story is excerpted and adapted from Alastair Bonnett's Elsewhere: A Journey into our Age of Islands, published in November 2020 by the University of Chicago Press. Outside the United States and Canada, Elsewhere is published as The Age of Islands: In Search of New and Disappearing Islands (Atlantic Books).
So, you want to build an island. You'll have some questions, such as where, how, and of course, what shape? Strange-looking islands are sprouting in shallow seas all over the world. Many of the newest and most intriguing specimens are off the coast of China. Some are military forward placements, but most are made for well-heeled investors. These luxury enclaves are all spectacular but building them isn't rocket science. You need calm, sheltered waters and the ability to keep chucking stuff on—often stuff scraped from the seabed—and pounding it down, then ringing your creation with lots of concrete. Most important of all, you need some investors with deep pockets: It is they who will turn the lifeless patch of grit you've brought into existence into seriously expensive real estate.
Which brings me to Ocean Reef, a pair of Dutch-designed artificial islands that jut out from Punta Pacifica, a high-rent and high-rise neighborhood in Panama City. It is an ultra-secure retreat for Panama's wealthiest families, joined to the mainland by a permanently guarded causeway and surrounded by underwater sensors that pick up anything or anybody over 40 kilos. "Yes, it is like James Bond," chuckles Rory, the affable Scottish-Nicaraguan realtor who is showing me around. The army of service workers that keeps the place running has a dedicated tunnel discreetly positioned at the entrance. Once below ground, workers swap over to electric vehicles, keeping the islands quiet and pollution free.
The construction of Ocean Reef was thorough. The seabed was dug down to the bedrock and barges full of boulders were piled up in the water, then covered with a thick layer of sand. My conversation with Rory turns to the San Blas Islands on the Atlantic side of Panama. The islands are home to the indigenous Kuna people and are rapidly disappearing, thanks to sea level rise. Most people in the capital, he confesses, are not that interested in the plight of the San Blas or its people; what worries them are earthquakes. Rory unfolds a colorful pamphlet detailing Ocean Reef's master plan and explains how the islands were subjected to 14,000 earthquake simulations in computer models that tested their stability.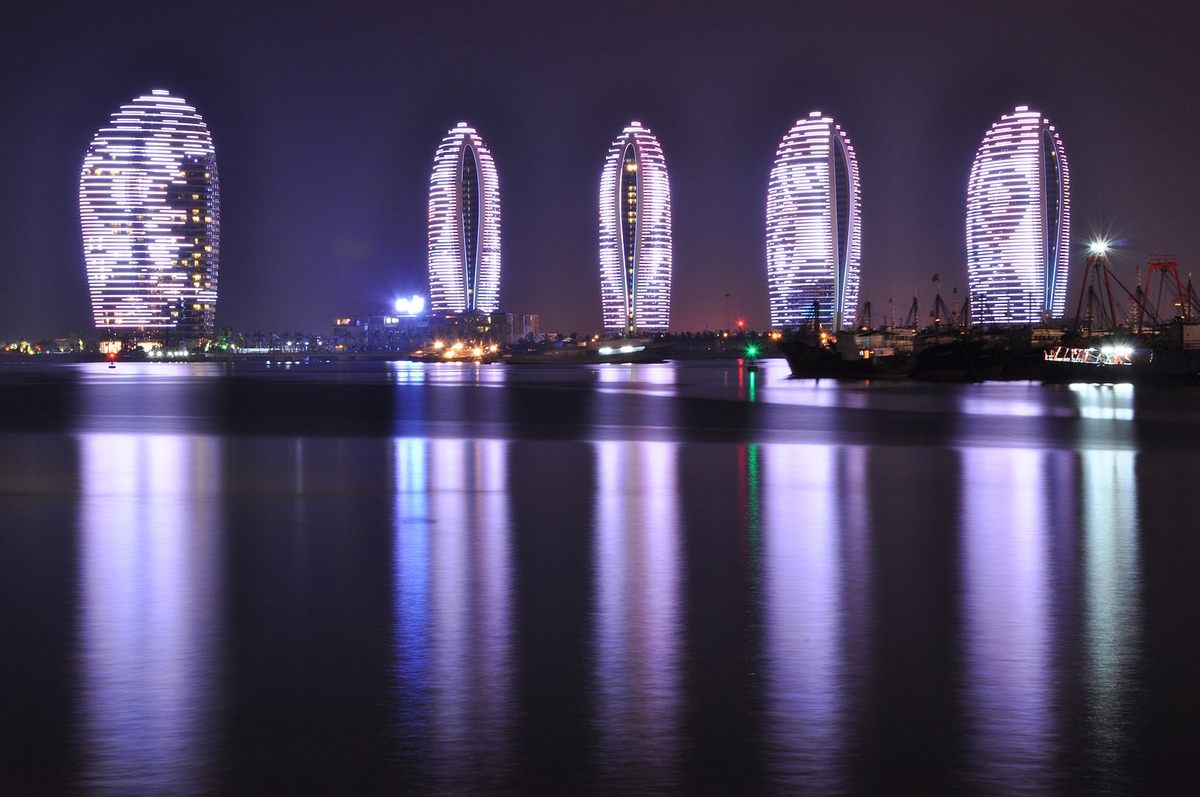 Ocean Reef is extraordinarily ambitious but it's a bashful wallflower compared with the marine colossi being built elsewhere. In China, at 7 p.m. every night, a switch is flicked and Phoenix Island's pod-like towers begin pulsing with multicolored patterns, swimming fish, exploding fireworks, and celebratory messages in Chinese. It's just off the coast of Hainan, "China's Hawaii," where roadsides are lined with coconut and banana trees. There are ten more artificial islands being built around Hainan's shores, including the stupendous Ocean Flower. They are all leisure and residential islands, absorbing the surplus cash made by wealthy Chinese who fancy a place in the sun. In China, all city land is owned by the state. This also explains why entrepreneurs are tempted to go offshore: The sea is open to unfettered capitalism in a way other places are not.
The bridge over to Phoenix Island is decorated with barriers and half a dozen uniformed guards. The world's new islands are open to the few, not the many. After shedding some cash I'm on a golf buggy with a family of smartly-dressed vacationers, being trundled onto the island past immaculate hedges, blazing with azaleas, and more guards. Our hotel looms ahead, shooting up from slender concrete supports. As we cram into the lifts, oddly silent and nervous, it is like entering a rocket ship heavy with fleeing people.
Like most of the artificial islands I visit, once you've arrived there is nothing much to do. I spend my time tapping through websites dedicated to Hainan's other marine creations, all artfully sculpted into traditional Chinese symbols. Ocean Flower looks like a lotus, crammed with fantasy architecture: There are European-style castles and churches sitting beside grandiose hotels and amusement parks. Pearl Island is shaped into a yin-yang symbol. Ruyi Island is like a curved ceremonial baton, an ancient motif in Chinese art. Quite a few of these new islands are covered not in high-end hotels but in dusty, low scrub, indicative that building work has ground to a halt. Island building is often a stop-and-start process: Economic conditions change, a contractor goes bust, and everything is put on hold.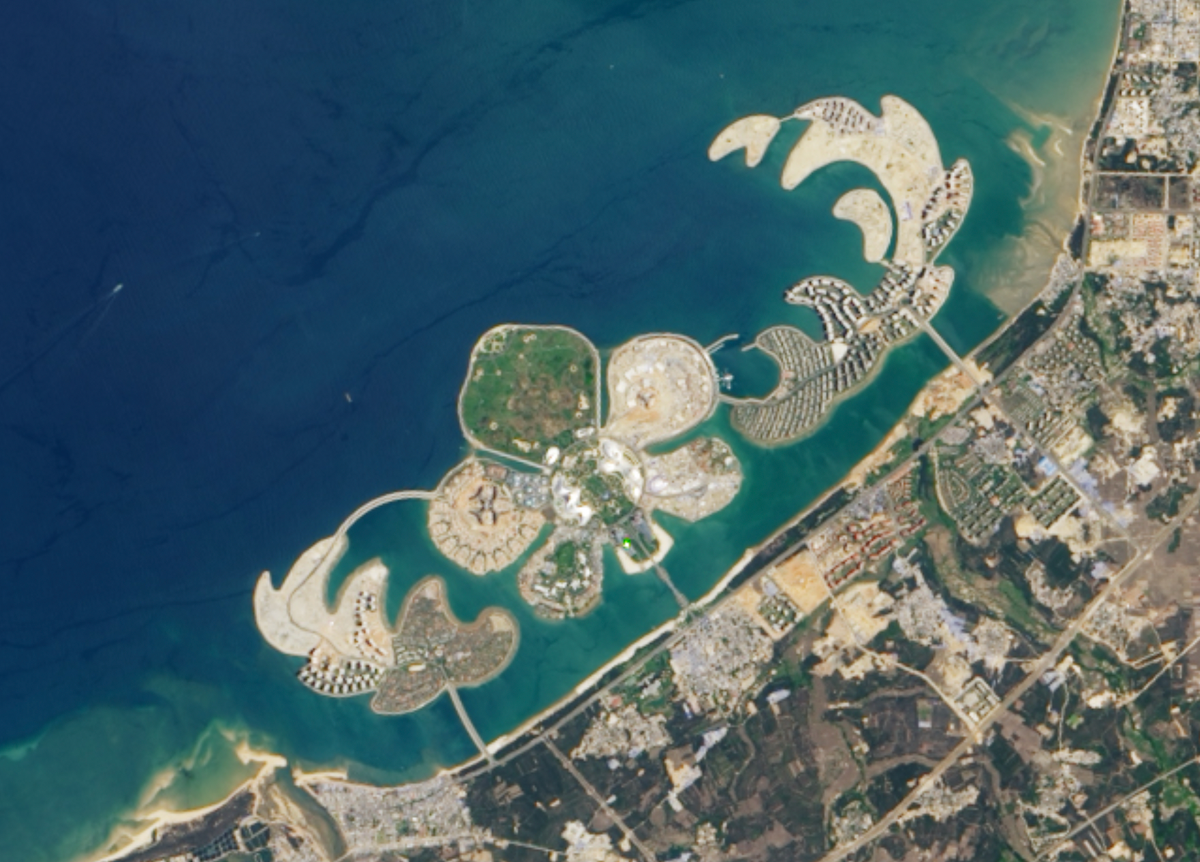 That's certainly true of The World. When seen from the window of a plane, the collection of its 300 or so islands, a few kilometers off Dubai's downtown shoreline, is a plausible world map. The continents are all there, though things go a bit wonky at the top, bottom, and around Australia. The only way to get there is by boat and, so far, there are no bridges between the islands, though many of the channels between them are narrow and shallow. I arrive on Lebanon, one of only two completed islands, and could easily wade over to Palestine.
The original vision of The World, launched in 2003 by Dubai's ruler, Sheikh Mohammed, was that the islands were to become playgrounds and unique retreats for the super-wealthy. But what I see from Lebanon's shore tells another story. The only activity is to the west, where multiple cranes slot together the Heart of Europe. Six territories are being built—Sweden, Germany, something called "Main Europe," Switzerland, the heart-shaped "honeymoon island" of St. Petersburg, and The Floating Venice—to create an interconnected upmarket resort. I can see that the golden domes of Sweden's beach mansions and Germany's modernist executive villas are nearing completion. In addition, there will be floating individual three-story Seahorse Villas, some of which have already been built and feature underwater windows.
The target audience for The World has broadened. Exhibitionists with spare millions and a yen for their own island kingdom are no longer the key market; construction is now underway for hotels, apartments, and shops. The Heart of Europe is being built to accommodate up to 16,000 people; its promotional spiel promises "European retail coupled with food and beverage concepts" as well as sheer spectacle, such as "ground-breaking climate control technology which will convert narrow cobbled streets and picturesque plazas into a beautiful winter wonderland!" The Kleindienst Group, which is behind The Heart of Europe, says the first phase will be open at the end of 2021, with the rest of it completed by 2023. It's a lifeline for The World, most of which is still bare sand.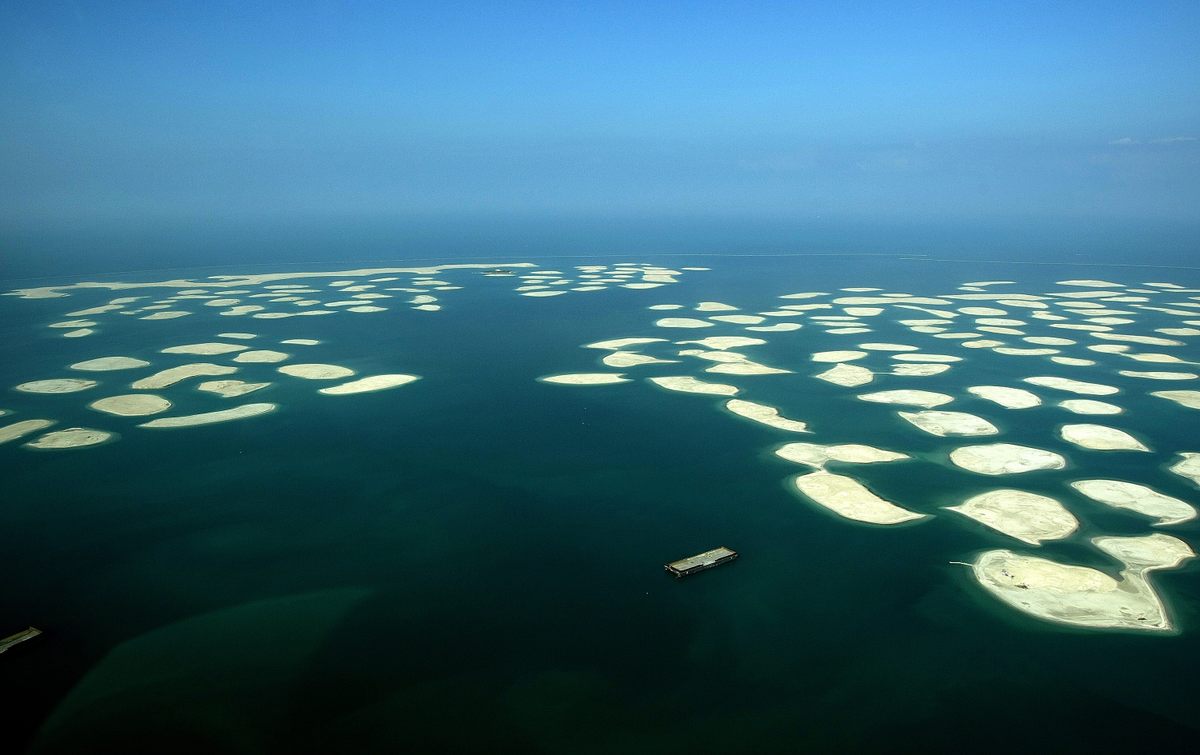 The reason these islands are not washed away is that they are protected by artificial reefs that are made of everything from boulders to scuttled train cars. The reefs loop round the whole archipelago and provide a habitat for fish and other sea life. Over a thousand coral-covered boulders were hauled 14 kilometers to create the northern reef. Nearly all the coral survived, and this section of The World reef now attracts divers—and boasts about its biodiversity by the developers.
But the story I keep getting told, that new islands are good for the planet, is decidedly fishy. It's not just the environmental costs of building them and silting up coastlines; what really flushes away this greenwash is the huge amounts of material and energy required to sustain these offshore enclaves as hot spots of high-income, air-conditioned lounging and leisure.
How long will any of them last? In the glamorous headquarters of Nakheel, Dubai's state developer, I'm told that the islands are built to withstand sea level rise of half a meter. This isn't that reassuring: many scientists are now predicting a much larger rise and, from what I could see, The World islands are worryingly low lying. Moreover, since the majority of Dubai's population live in vulnerable coastal areas, the threat of sea level rise cannot be separated from the expected inundation of the urban shoreline that provides the fresh water, power, and infrastructure upon which the islands depend.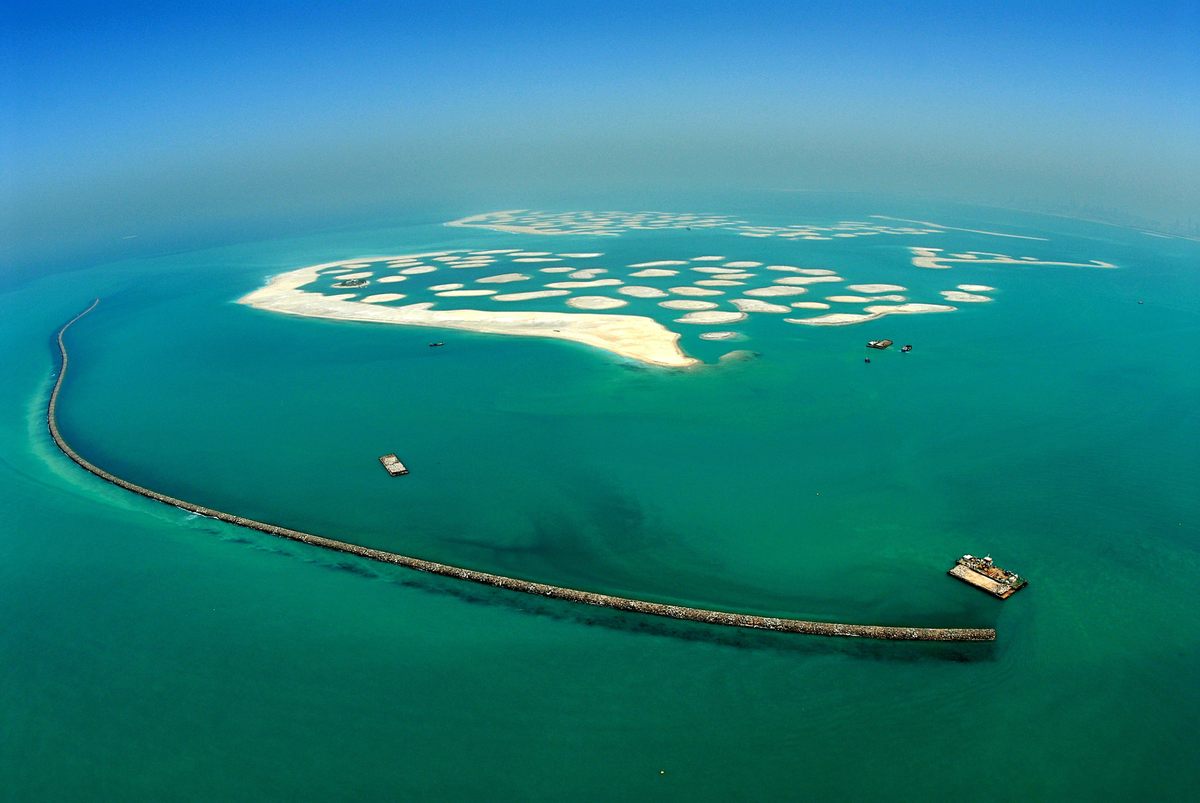 So you still want to build an island? One thing is for sure: You'll need to join the queue. Delegations from around the world come to Nakheel's offices to learn and apply the Dubai developer's methods to their own offshore projects. "We have a lot of governments coming to learn from us," a sales executive told me. "From China, South Korea, and now from Africa as well. We get a lot of people wanting to emulate what we have done." Governments from around the world look at Dubai and see success. Island building isn't just about playful shapes in the sea, it's a new economic model and, come hell or high water, it continues to roll out worldwide.