Atlas Obscura Readers' Favorite Landmark Signs
Old advertisements that have become icons.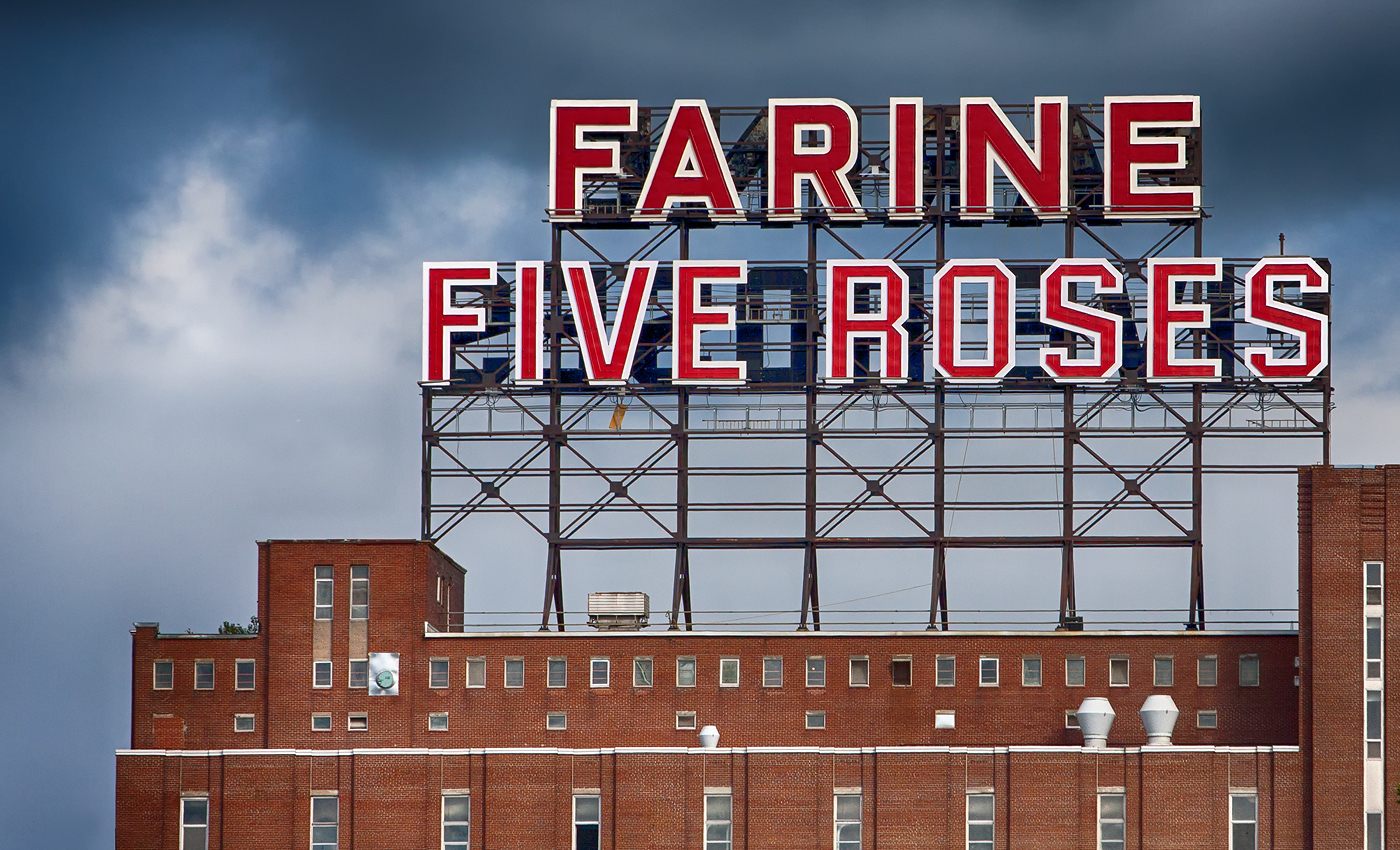 Sometimes when you ask the universe (or in this case, the internet) for a sign, you get over 500. At least, that's what happened when we asked Atlas Obscura readers to tell us about their favorite landmark signs.
In honor of Landmarks Week, on Monday we put out a call for love letters to iconic local signs and advertisements, and the response was overwhelming. Several signs received multiple shout outs, with well-known landmarks such as the White Stag sign in Portland, Oregon, and the Grain Belt Beer sign in Minneapolis, Minnesota, getting a lot of love in particular. There were also memorable entries such as the Crystal Preserves sign in New Orleans, which once pumped fake steam out of its neon cauldron, and Sacramento, California's "Jugglin' Joe" sign, which lights up to animate an ice cream scoop getting thrown over the top of a soda jerk.
Our readers submitted hundreds of beloved signs, and unfortunately we could not feature them all, but a selection of our favorites follows.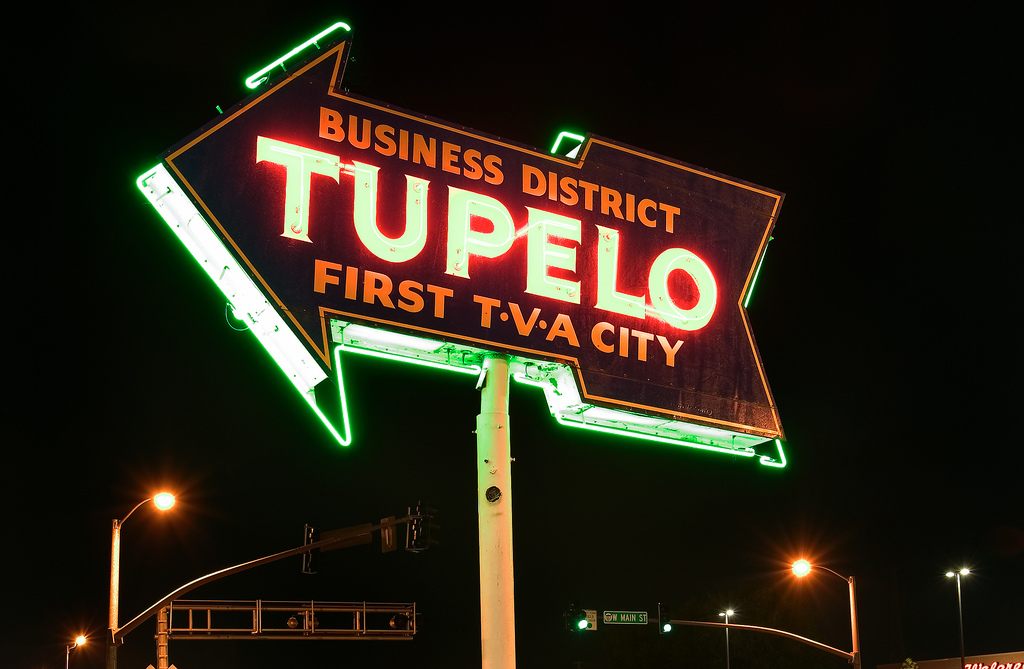 The Tupelo Arrow
Tupelo, Mississippi
"The neon arrow sign stands at the busiest intersection in Tupelo, Mississippi (known as Crosstown) and points toward the downtown business district. It was erected sometime before 1954. It commemorates February 7, 1934, the day Tupelo became the first city to receive electrical service from one of the signature New Deal programs: the Tennessee Valley Authority (TVA). To celebrate this achievement, FDR and his wife Eleanor visited Tupelo on November 18, 1934, and addressed one of the single largest event crowds in Mississippi history. The sign has long stood as an insignia of Tupelo and its place as 'First TVA City.' — John Haynes, Alexandria, Virginia
---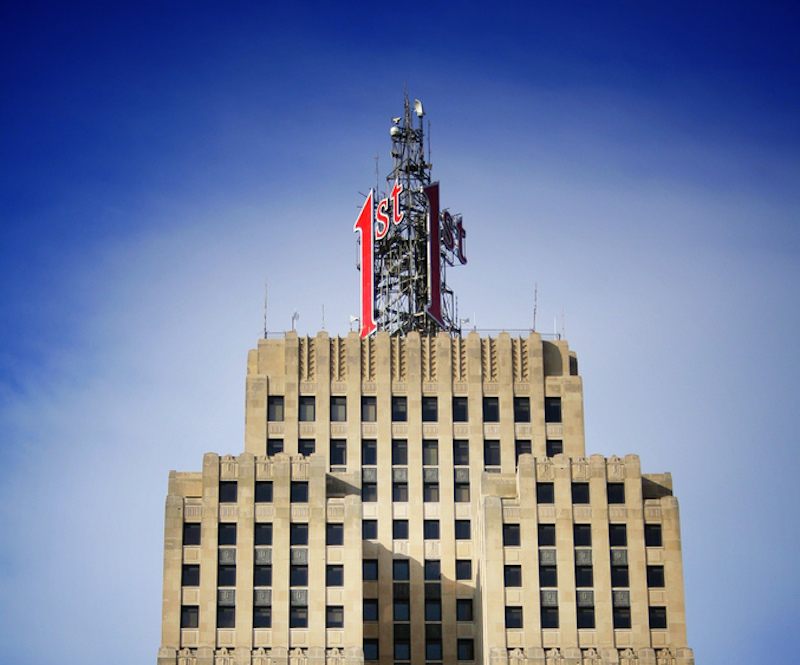 First National Bank Sign
St. Paul, Minnesota
"In my hometown, St. Paul, Minnesota, [there is] the First National Bank '1st' red blinking neon, and the red neon Schmidt Brewery sign, now atop a artists condo collective." — Jacqui Shoholm, Alexandria, Virginia
---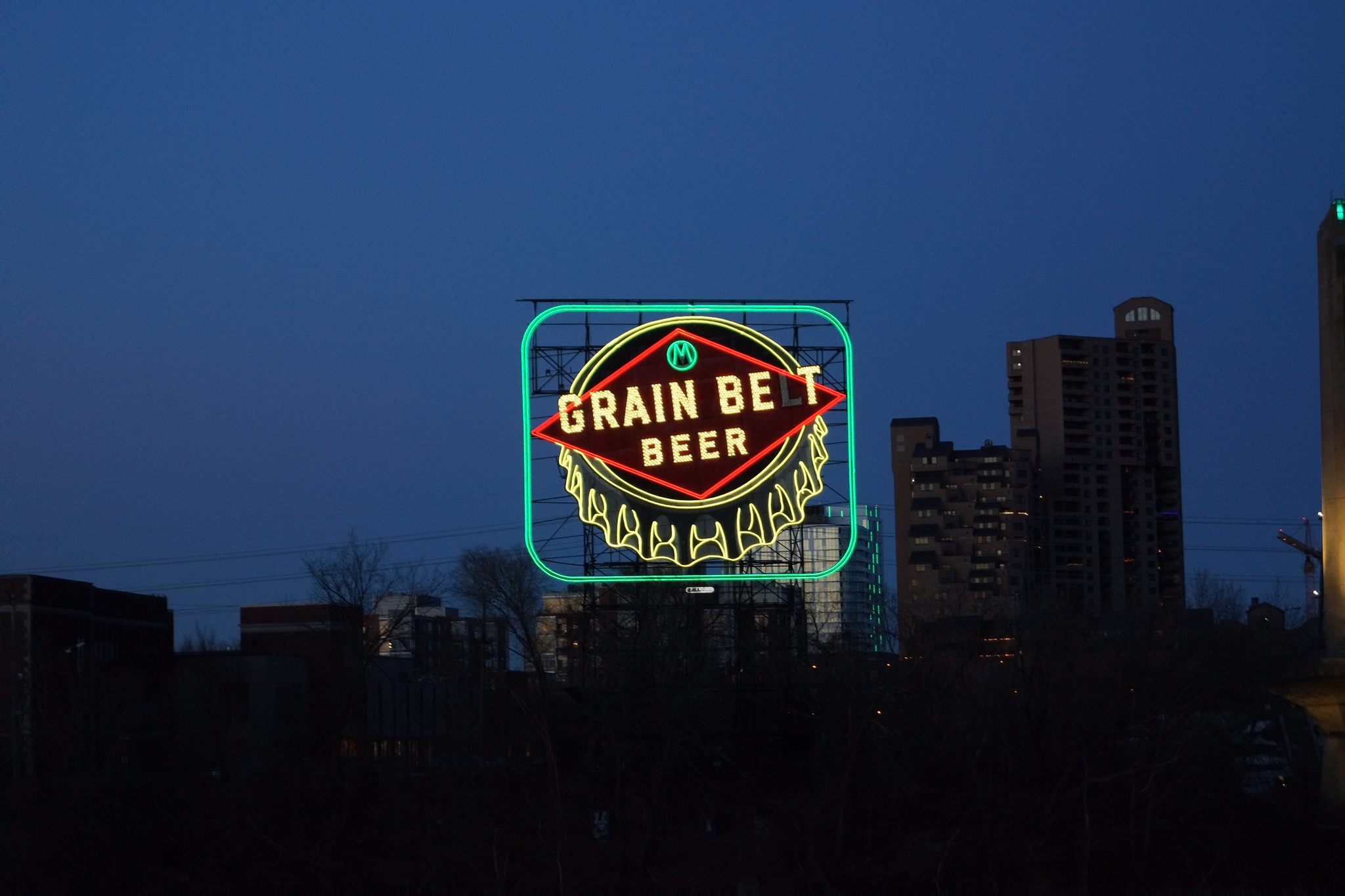 Grain Belt Beer Sign
Minneapolis, Minnesota
"There's a Grain Belt beer neon sign in downtown Minneapolis. It was put up in 1941, went dark around the late 70s, and was re-lit in 1989, then was sporadically lit for a number of years while the fate of the Grain Belt Brewery was in doubt. It was re-lit again at the end of 2017." — Kathy Brown, Minneapolis, Minnesota
"My company made a smaller version of the sign as part of a fundraiser to relight the original." — Dave Benson, Aurora, Ohio
---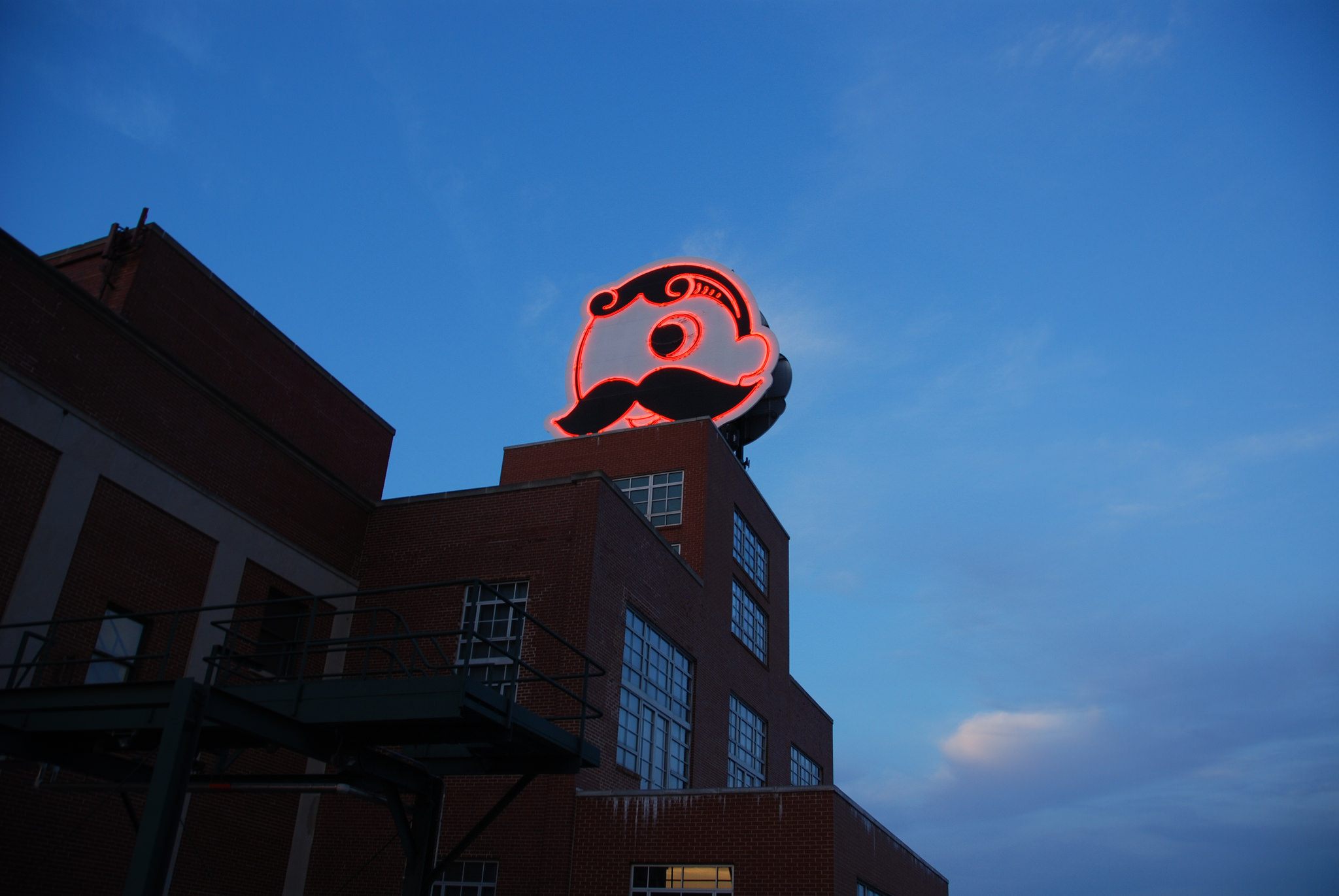 Mr. Boh Sign
Baltimore, Maryland
"The one-eyed man with a mustache is the representation for National Bohemian Beer, commonly referred to as 'Natty Boh.'" — Tina Simmons, Laurel, Maryland
---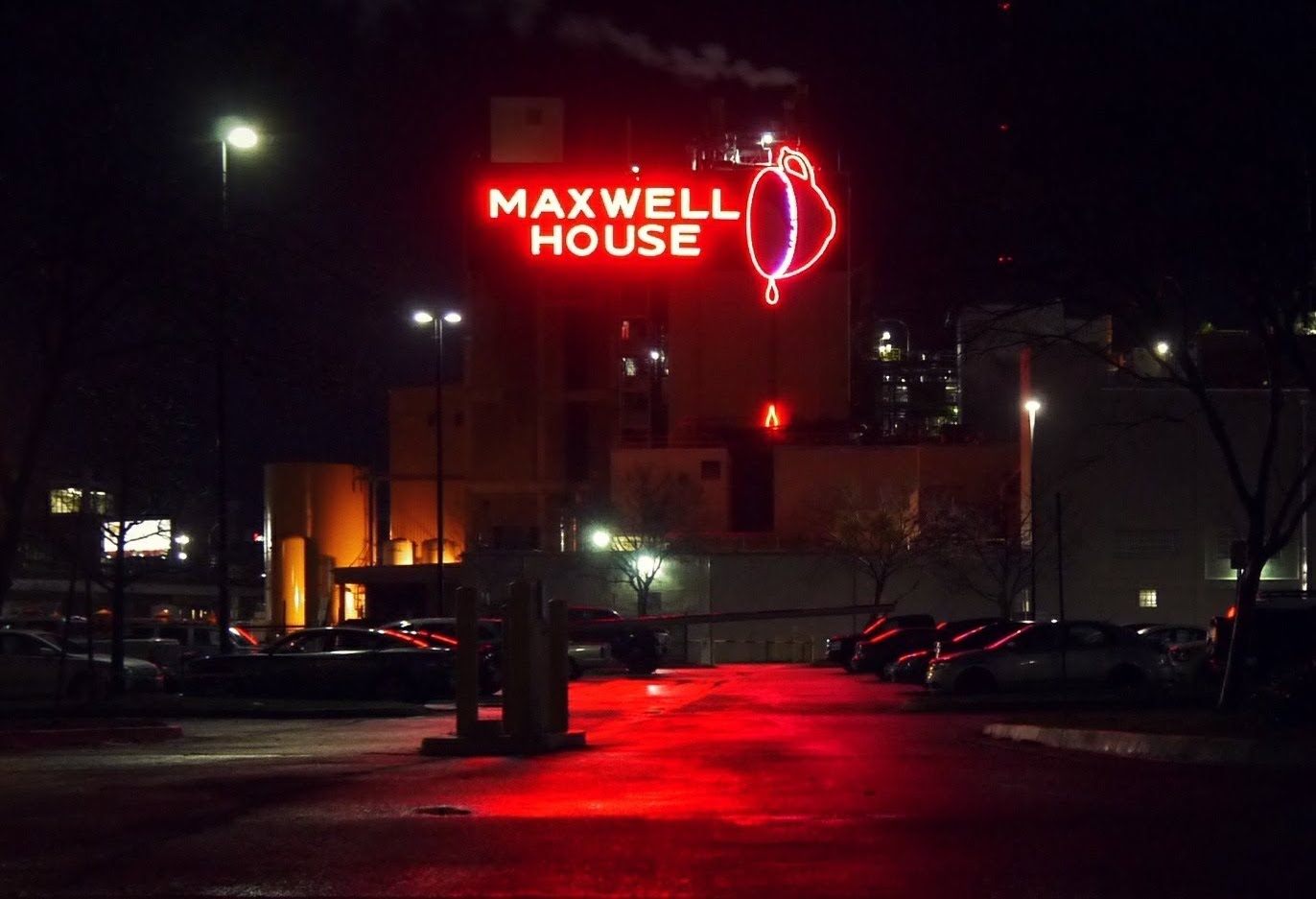 Maxwell House Coffee Sign
Jacksonville, Florida
"I adore the Maxwell House Coffee Company sign in Jacksonville, Florida. It is from 1955 and is around 95 feet tall. The coffee cup has a dripping drop coming from it. When it is lit, it gives the city a nice glowing reflection in the downtown area. It is quite a stunning example of illuminated and automated signage. It is an essential visual landmark in Jacksonville." — Sarah Nan, Jacksonville, Florida
---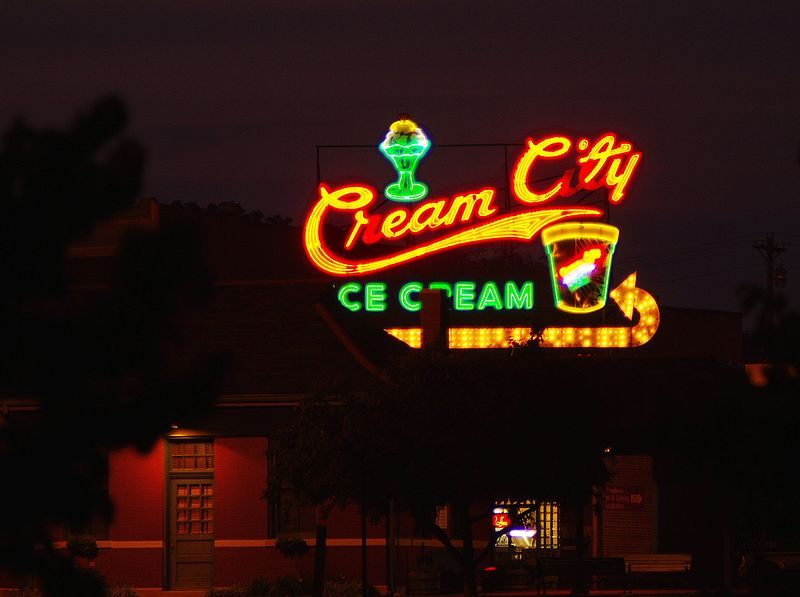 Cream City Sign
Cookeville, Tennessee
"It's a wonderful neon sign that was restored within the past 10-15 years to its former glory. It sits on top of Cream City ice cream parlor in the historic downtown. I don't know much of its history, only that it's been around since the '50s at least and is a popular attraction." — Mallory Rose, Atlanta, Georgia
---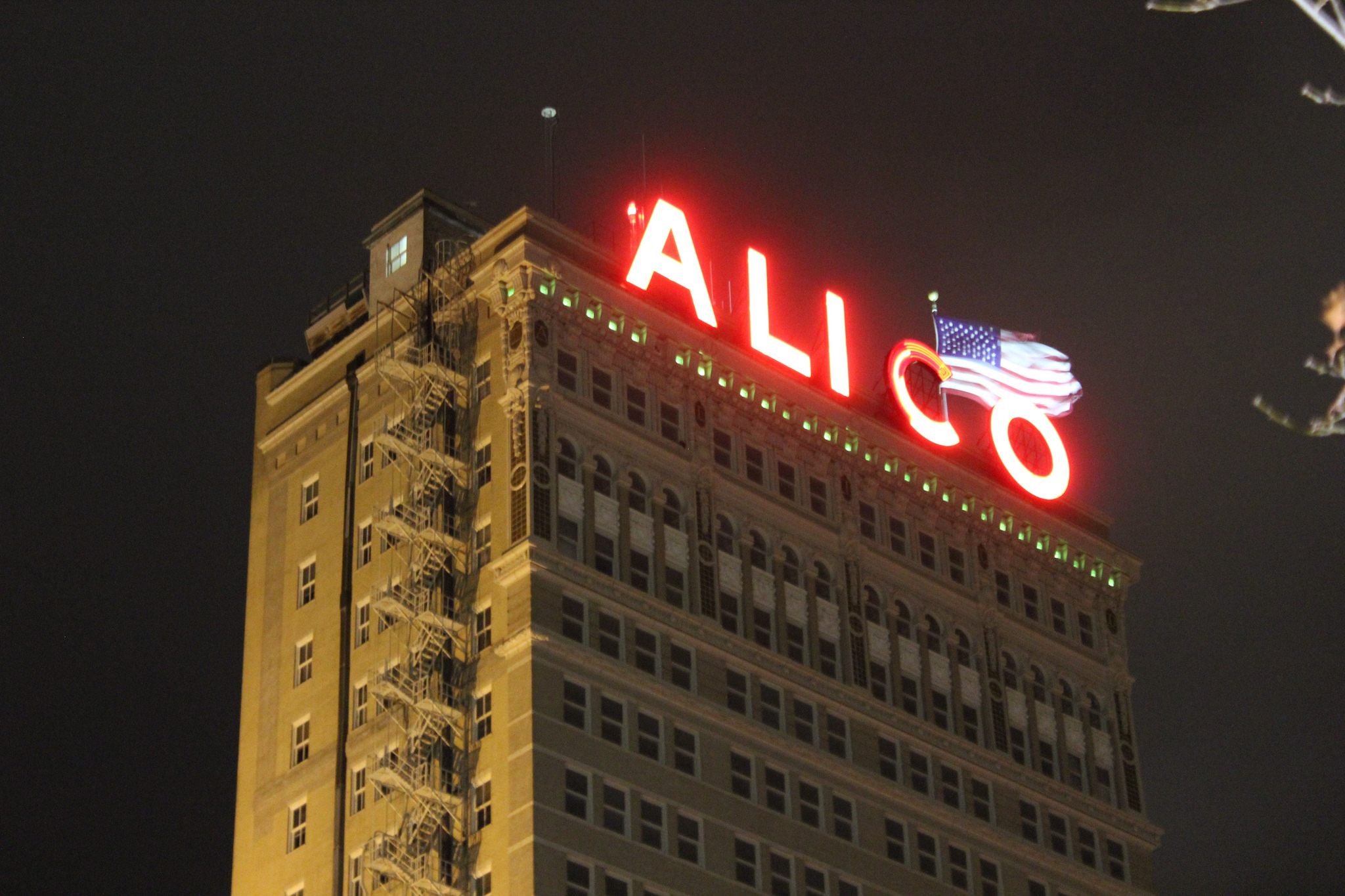 Alico Sign
Waco, Texas
"The Alico sign on top of Waco's only skyscraper." — Brandon Gilliam, Waco, Texas
---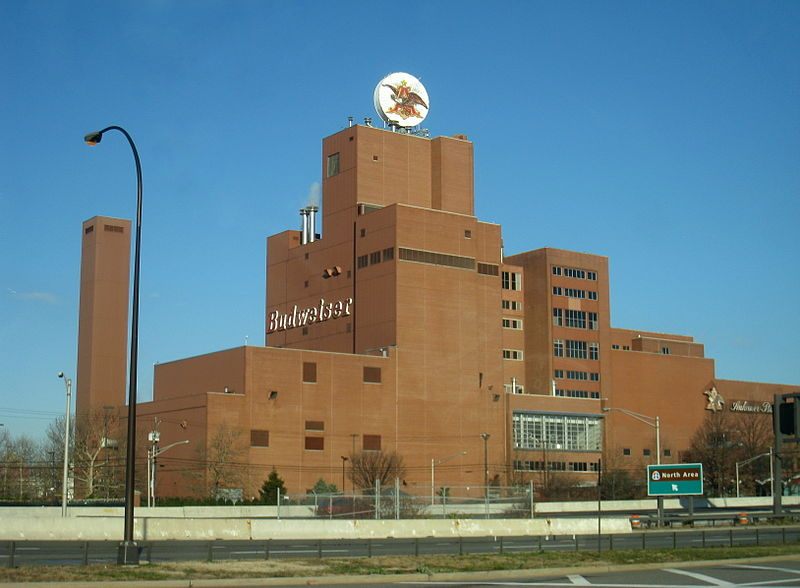 Anheuser-Busch Sign
Newark, New Jersey
"The Anheuser-Busch sign at the Newark Airport. We used to live in New Jersey and flew in and out of the Newark Airport. This sign seemed to mark the spot when arriving or departing." — Larayne J. Dallas, Austin, Texas
"At my earliest age, over 60 years ago, I'd see that sign as we drove to my grandparents home in Jersey City. I'd know I was near their home when I'd see it." — Jeff Guide, Hot Springs Arkansas
---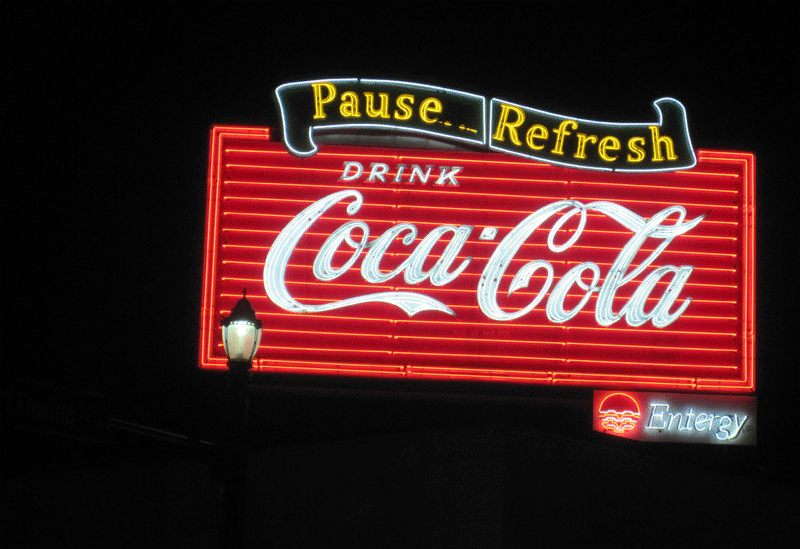 Coca-Cola Sign
Baton Rouge, Louisiana
"The Coca-Cola sign had been atop a building in the heart of downtown Baton Rouge and remained unlit for many years. A massive restoration was completed only to be undone by the owner of the building who claimed the arts council that restored it had no rights to it. He covered it with a tarp for over a year while it was argued over. It finally was resolved after 15 months of being covered for a grand reveal. It now graces the evening crowds of downtown Baton Rouge along with multiple building renovations that have revived a long forgotten area." — Leisa Humble, Baton Rouge, Louisiana
---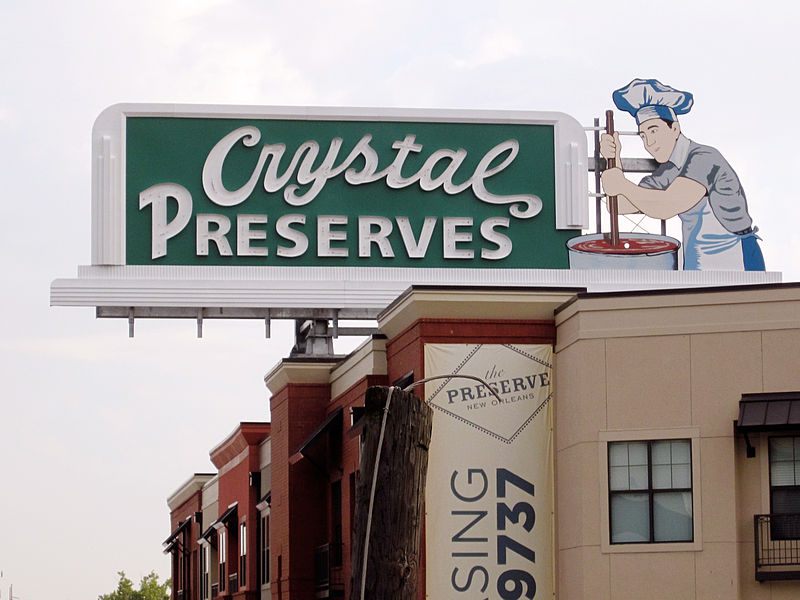 Crystal Preserves Sign
New Orleans, Louisiana
"The Crystal Preserves sign on the old Baumer Foods factory in New Orleans, Louisiana, has been a local landmark since it was built in 1942. The left side of the sign features a green background with the words 'Crystal Preserves' in white cursive overlaid with green and red neon lights. The right side of the sign has a cutout of a man in an apron and chef's hat stirring a very large pot. The reason the sign was so popular is that the factory installed their exhaust vent right behind the sign to make it look like steam was rising from a gigantic pot full of hot food. Furthermore, the factory and sign were directly adjacent to the interstate so thousands of people drove past it every day on their commute to and from work. The factory and the sign were both functional until Hurricane Katrina in 2005, during which the factory and sign both suffered severe damage. The factory closed (they reopened at another location in the suburbs where they continue to make Crystal Hot Sauce), but the building was purchased and renovated into apartments. Fortunately the new owners understood how beloved the sign was so they replaced the damaged sign with a new, more hurricane-proof, version that looks almost identical to the original (although they didn't replace the old neon 'Baumer Foods' sign that used to be attached to the top of it). The new owners supposedly even left a hole behind the pot that can be filled with dry ice to make the pot steam again on special occasions." — Rebecca Williams, New Orleans, Louisiana
---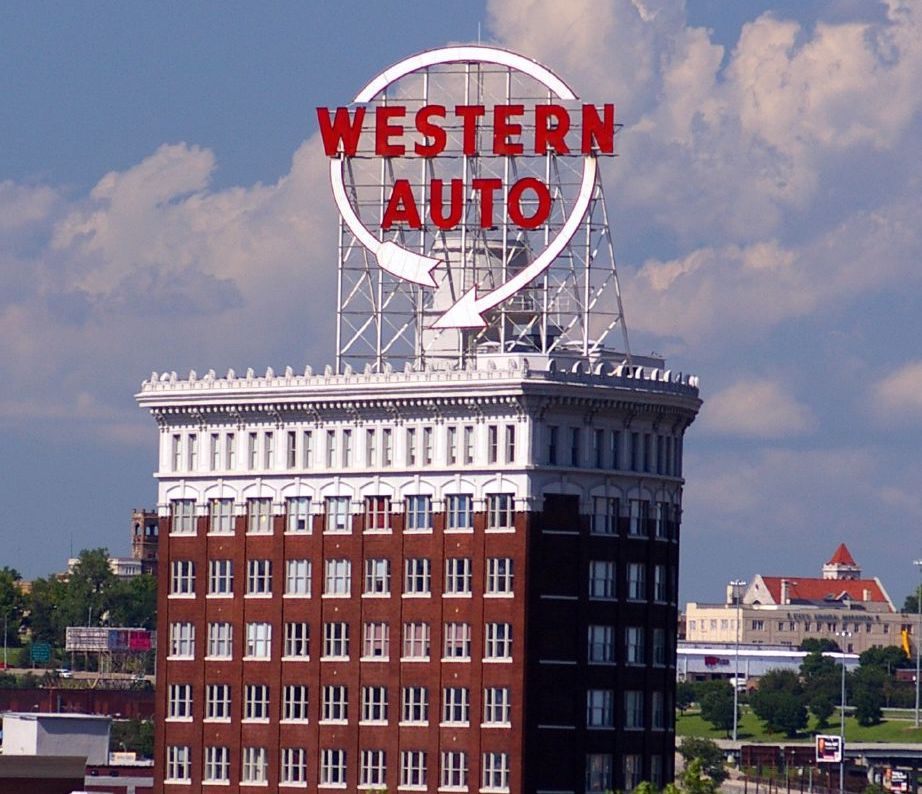 Western Auto Sign
Kansas City, Missouri
"The building itself, originally a Coca-Cola office structure built in 1915, is on the National Register of Historic Places and is uniquely shaped, designed around a curved railroad service track. It has been converted to upscale condominiums in recent years. As of summer 2018, the sign is being converted from incandescent and neon to LED lighting for reliability and ease of maintenance." — Mark Llewellyn, Bay Area, California
"[The sign] sits on top of an iconic building, shaped like 'half a cake' as my mother always said. She worked there for over 30 years so it was always a landmark for us. The building has been converted to lofts and the residents have recently financed a renovation and relighting of the sign. I hope it's done so that the arrow moves as it used to." — Jamie Hunnicutt, Columbia, Missouri
"When I moved to Kansas City from the New York City area in 2015, I expected some outdated cowtown. It's totally not, but this huge Western Auto sign definitely felt like something from days gone by. I love it." — Chris Kenny, Leawood, Kansas
---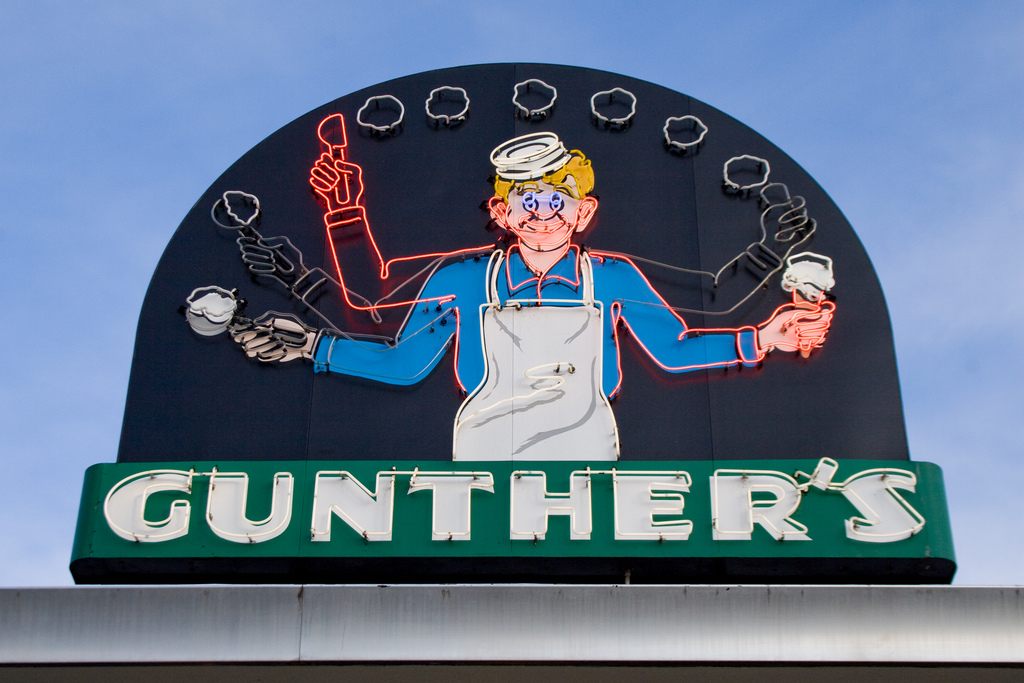 Jugglin' Joe Sign
Sacramento, California
— Submitted by Vanessa Wiseman, Sacramento, California
---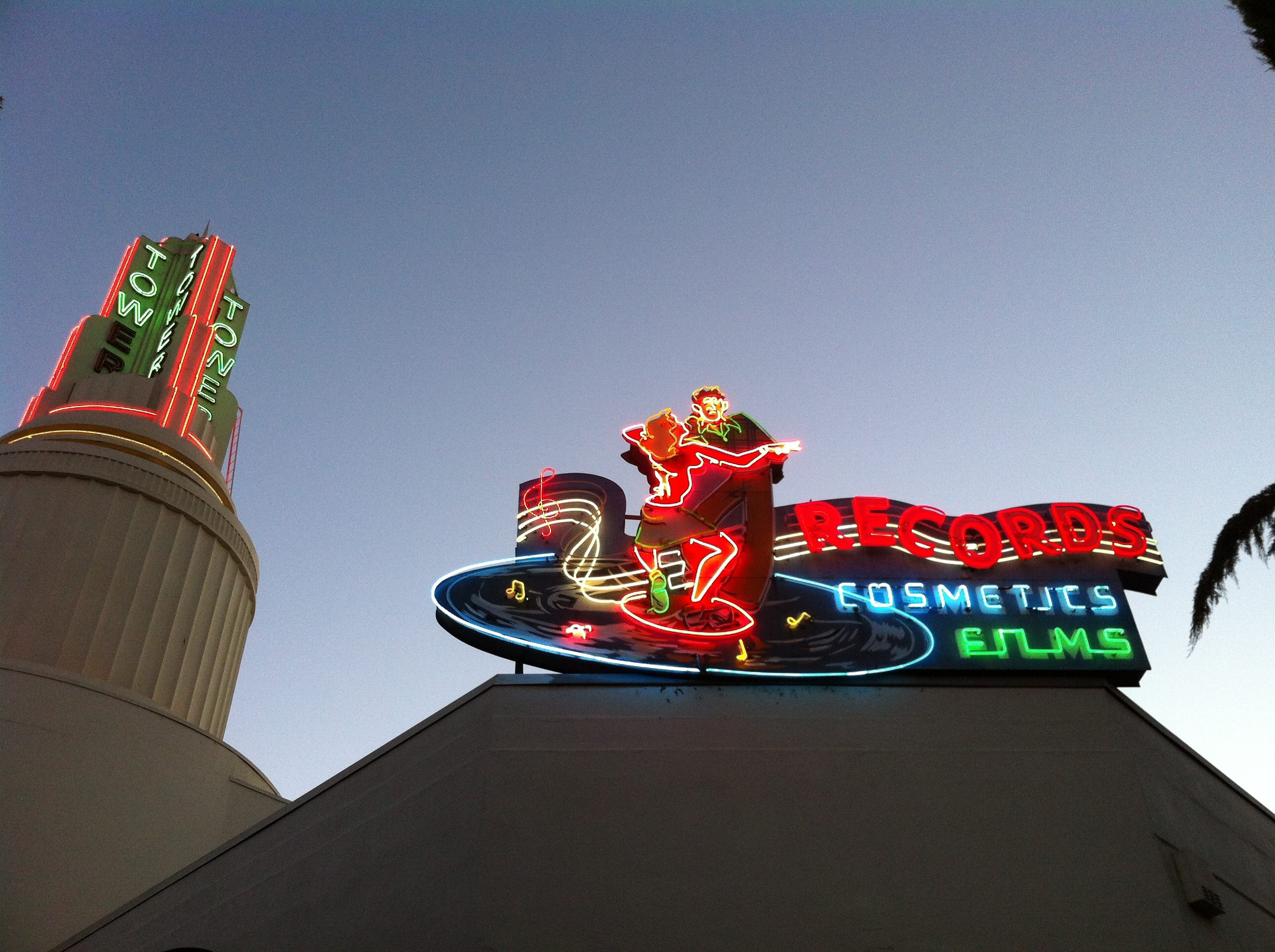 Tower Records Sign
Sacramento, California
"This much-loved neon sign depicts teens dancing on top of a record, with the dancers' legs moving back and forth and music bars flashing. It was designed for Clayton and Russ Solomon, founder of legendary Tower Records (named after this original store site). When Russ was a teen, he worked at his parents' drug store sweeping floors, stocking shelves, serving sodas, and selling used records on a table in the back. Neon signs fell out of favor by the 1970s and animated signs were even outlawed per Sacramento city ordinance. Luckily, the 'Dancing Kids' and a few others were excepted from this rule. There was even a time when this sign was out of commission and stored on the roof, but now it shines again, delighting all who pass." — Gretchen Steinberg, Sacramento, California
---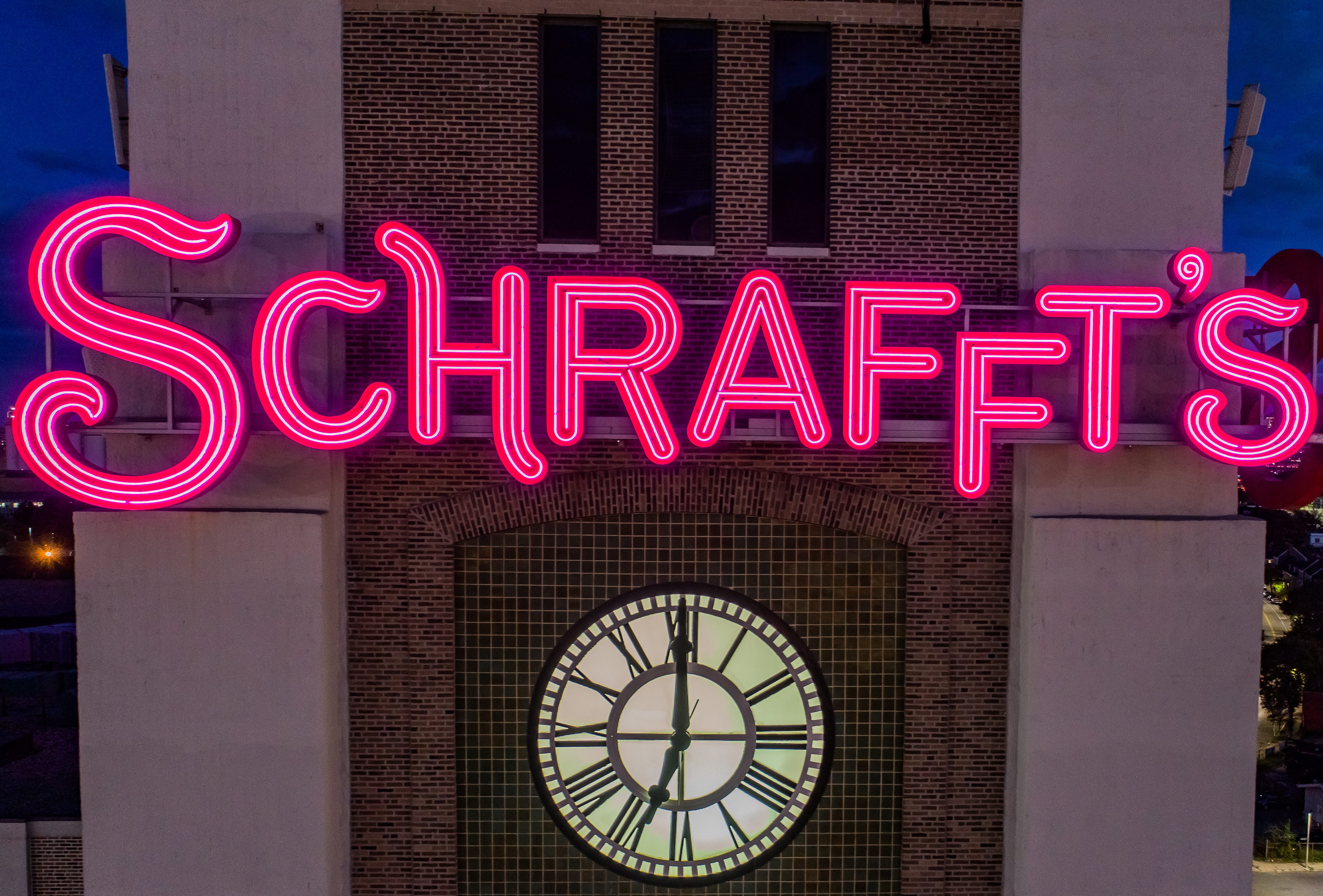 Schrafft's Sign
Charlestown, Massachusetts
"I've always had a soft spot for the Schrafft's Sign. A friend and I would drive past it frequently and always loved the bright pink sign glowing on the side of the building. We were even more pleased to learn that it was a sign for a candy company. It made us love it even more." — Sarah, Boston, Massachusetts
---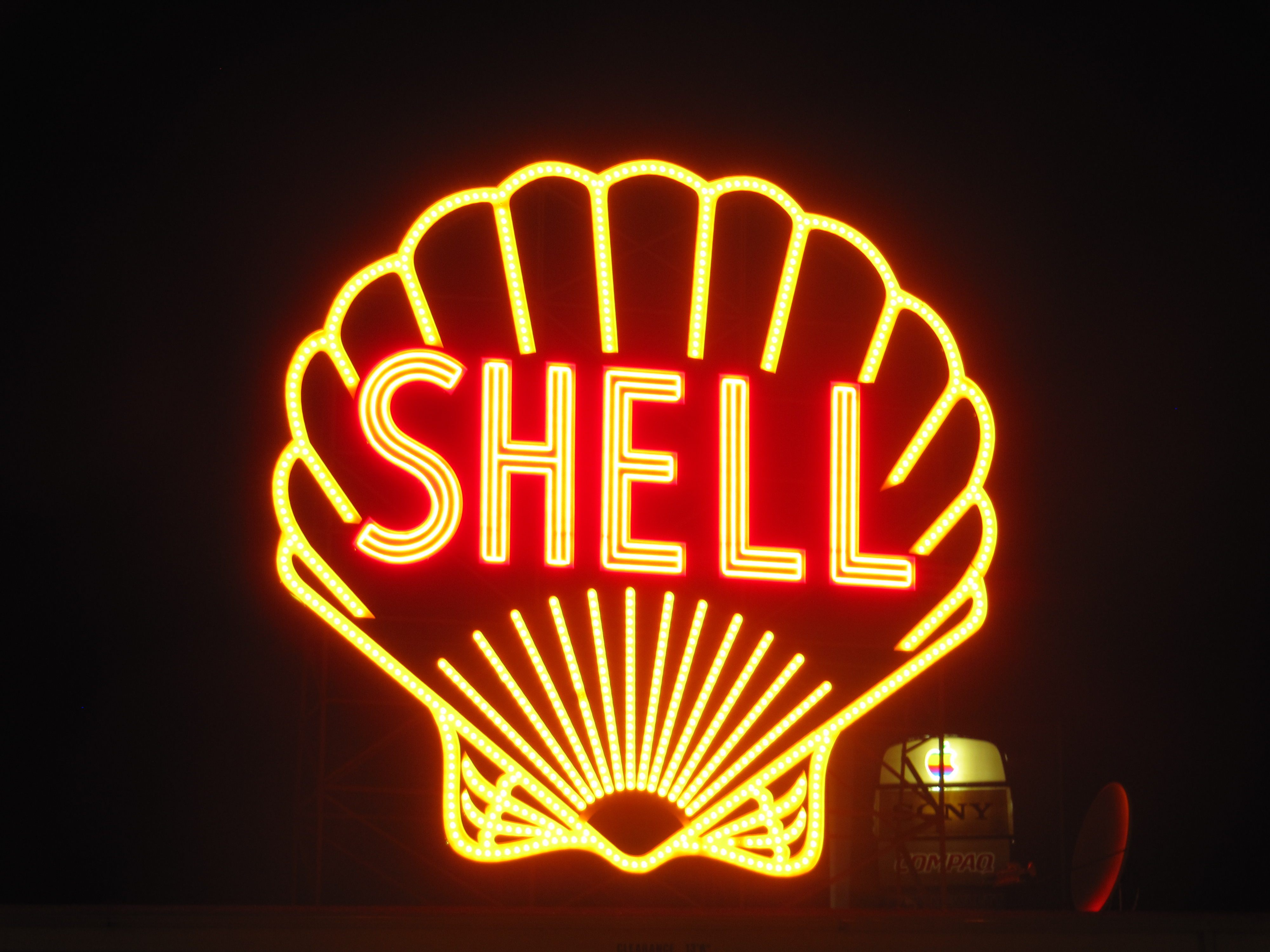 Shell Oil Company "Spectacular" Sign
Cambridge, Massachusetts
"The Shell Oil Company 'Spectacular' sign was built in 1933 by Donnelly Electric Manufacturing Company. In 1944, it was moved to its present location from the Shell Company building on Commonwealth Avenue in Boston. It is at its best at night, when one can see the light progression." — Catherine Hammond, Cambridge, Massachusetts
---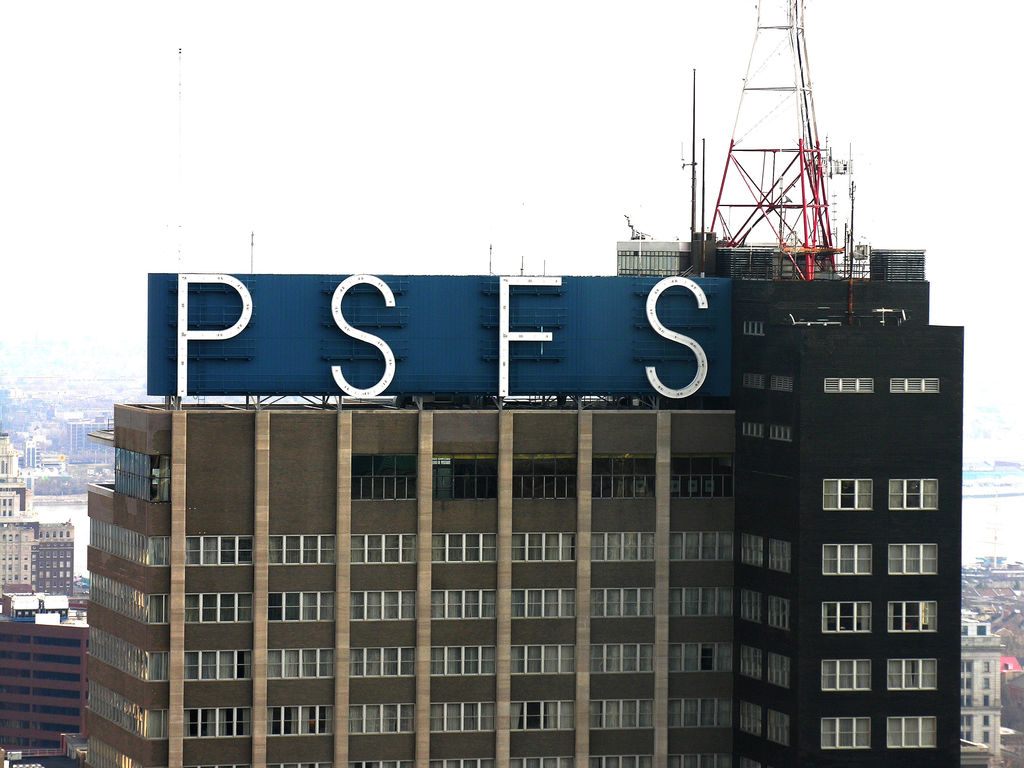 PSFS Sign
Philadelphia, Pennsylvania
"The first modern skyscraper built in the United States, and the first in the International Style. The sign is itself essential to the composition and balance of the building's design." — Timothy Gierschick II, Philadelphia, Pennsylvania
"When I was little, I could see the sign from my bedroom in the Wynnefield neighborhood of the city. Originally the headquarters for the Philadelphia Savings Fund Society, the art deco style building has been converted into a Loews Hotel." — Michael Sklar, Jupiter, Florida
---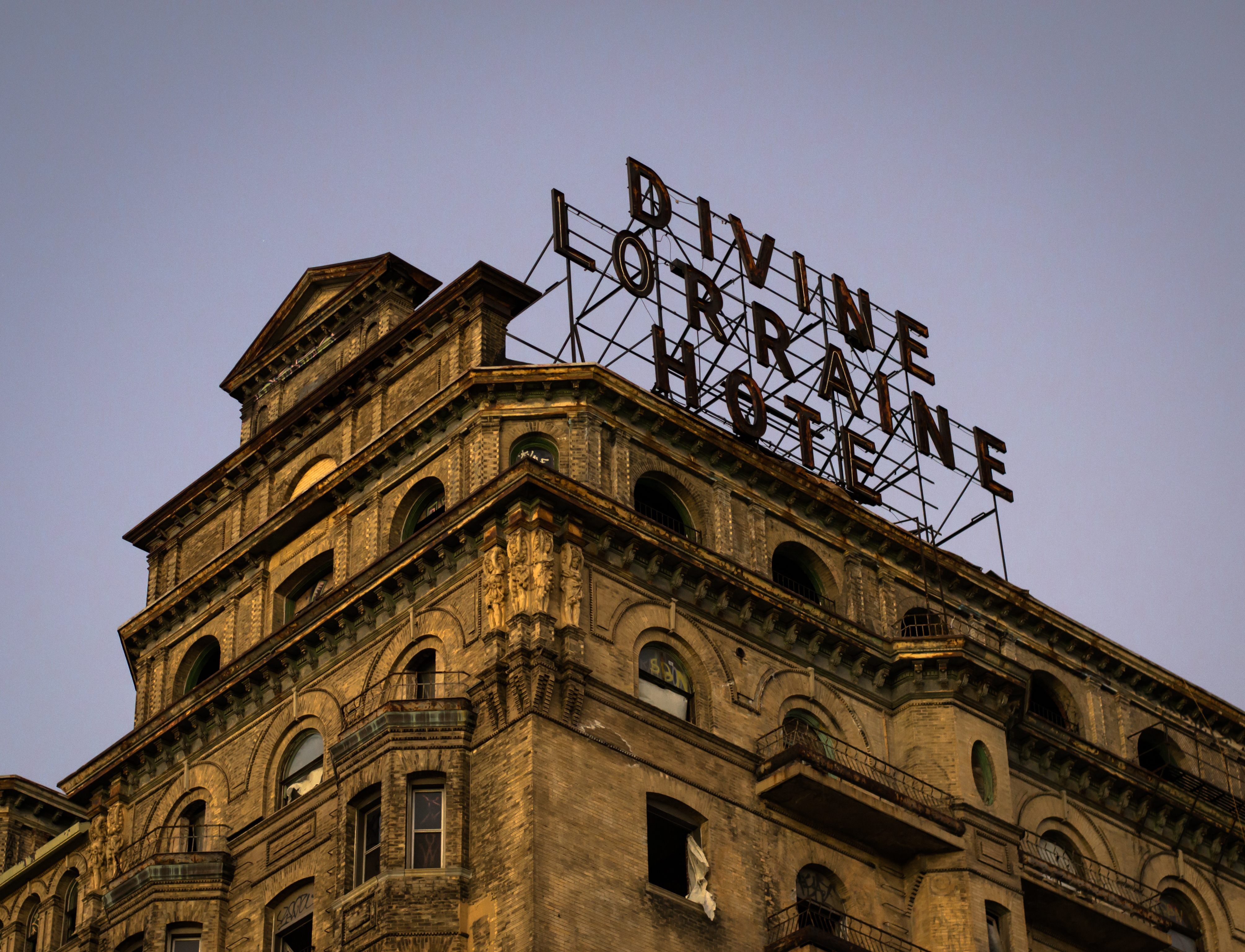 Divine Lorraine Hotel Sign
Philadelphia, Pennsylvania
"After 40 years of darkness, the Divine Lorraine Hotel marquee was restored to its iconic neon red brilliance in November 2016, marking a shining milestone in the building's restoration and redevelopment. Opened in 1893 as the Lorraine Apartments, the luxurious Victorian building was converted into the Lorraine Hotel in 1900. In 1948, it was purchased by Father Divine, leader of the International Peace Mission Movement, under whose leadership the hotel gained its current name and grew to prominence as the first fully integrated hotel in Philadelphia, if not the country. The hotel closed in 1999. Development efforts began in earnest in 2012 under Eric Blumenfeld. The sign certainly took on its current form under Father Divine's ownership, but it is possible that he added only 'Divine' to a preexisting sign." — Robert Huber, Philadelphia, Pennsylvania
---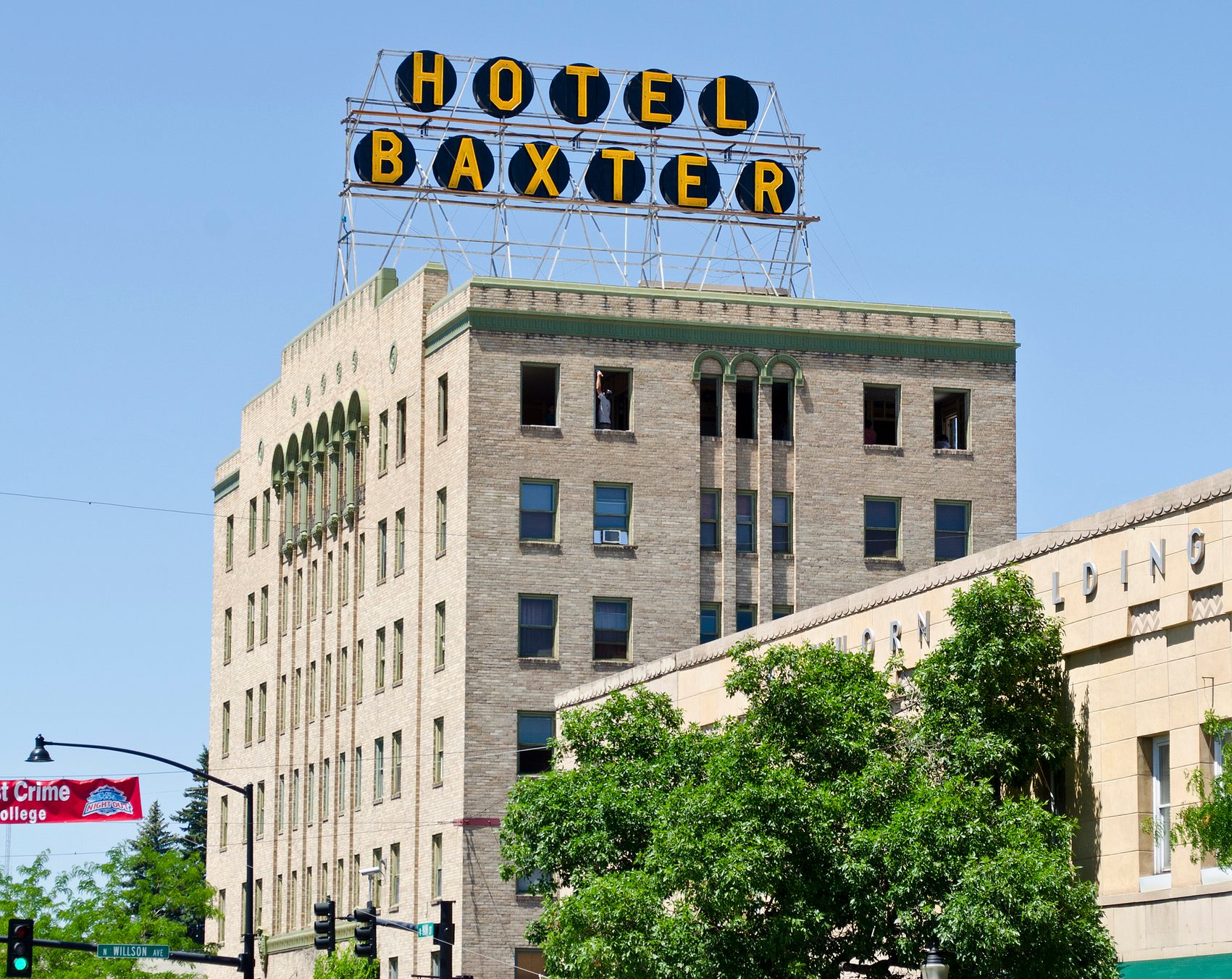 Hotel Baxter Sign
Bozeman, Montana
"The Hotel Baxter sign is a local icon. It punctuates the modest yet hip downtown Main Street, and welcomes skiers, celebrities, and locals alike." — Mia White, Bozeman, Montana
---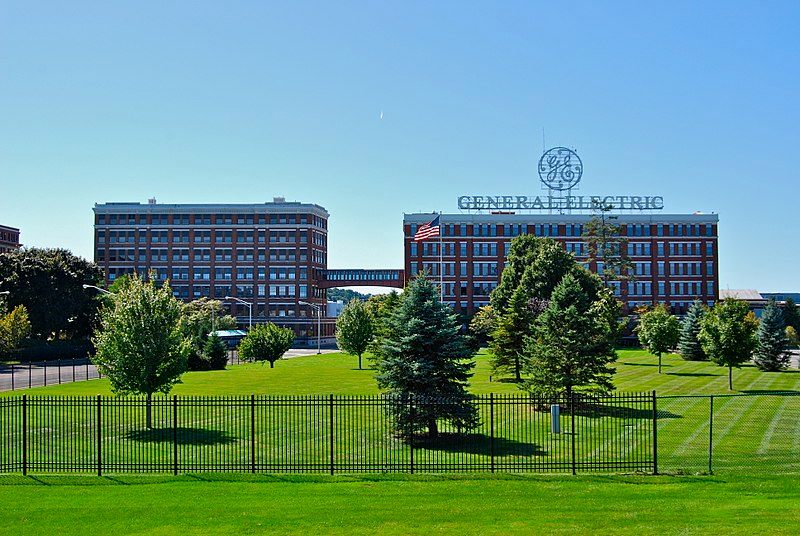 GE Sign
Schenectady, New York
"The script letters of downtown Schenectady's GE sign can be seen from all over town, day or night, all year round. It tells a familiar Rust Belt story. It's a reminder of when General Electric used to employ 30,000 people in town, when Schenectady was called 'the city that lights and hauls the world.' And of course, it doesn't hurt that it's beautiful." — Emily Wilkerson, Brooklyn, New York
"The enormous General Electric sign in my hometown of Schenectady, New York, has been an awesome local landmark since 1926. It's made up of 1,399 light bulbs, usually plain white, but they sometimes get switched out for red, white, and blue, or red, white, and green to coincide with the annual holiday parade. The building the sign tops is no longer the GE headquarters, but it's an impressive reminder of the original presence of GE in Schenectady. I get a warm and fuzzy feeling every time I visit my hometown and spot the sign." — Anna Hendrick, Brooklyn, New York
---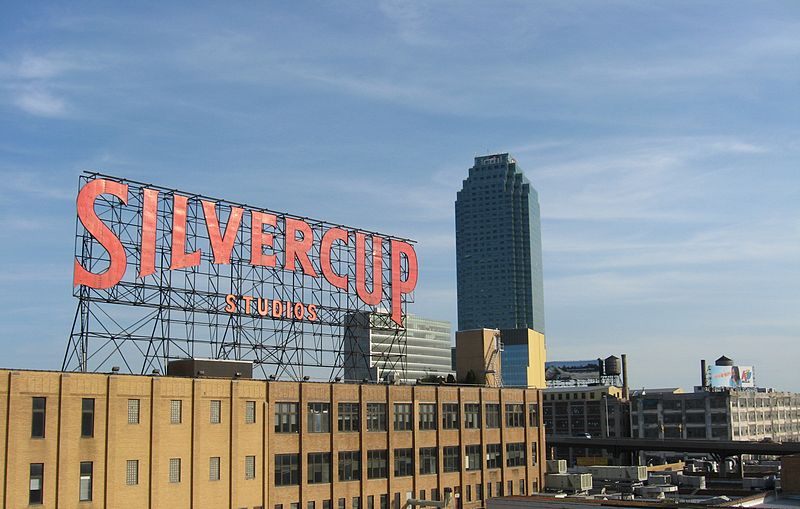 Silvercup Studios Sign
Queens, New York
"As a kid growing up in Elmhurst and Flushing, Queens, I rode the No. 7 subway a lot. The trains make a slow, screeching turn on the elevated tracks around the building. I was fascinated by the sign's bright, red glow emerging from the dark as a beacon showing my way home at night." — Andrew Chao, Danville, California
---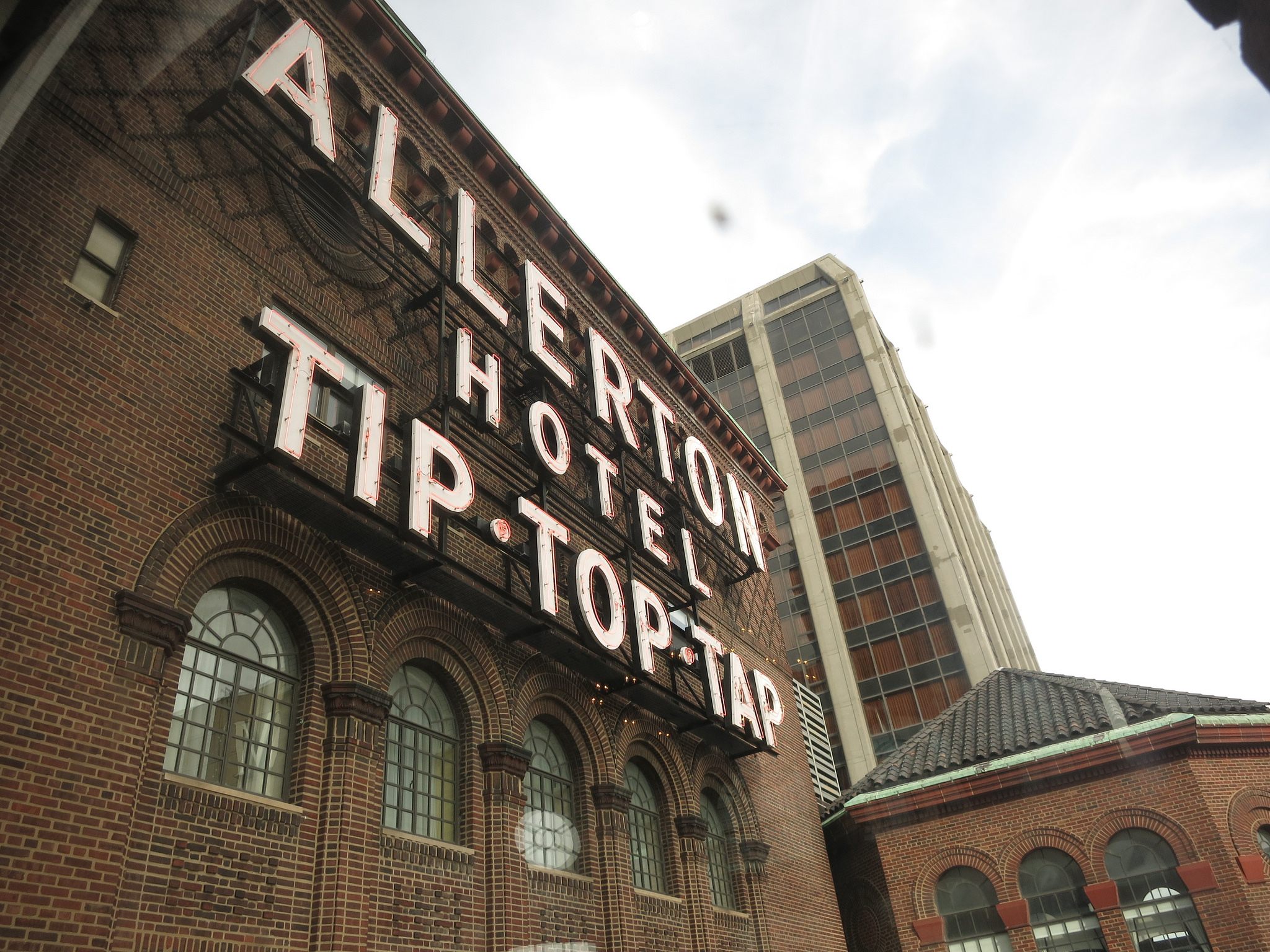 Allerton Tip Top Tap Sign
Chicago, Illinois
"The Tip Top Tap sign on the Warwick Allerton Hotel in Chicago. A cocktail lounge, Tip Top Tap, opened on the top of the Allerton Hotel, a residential club hotel established in the 1920s. Located 23 floors above the Magnificent Mile, the sign embodies old-school Chicago swank and splendor in the midst of contemporary buildings." — Lindsey Melnyk, Chicago, Illinois
---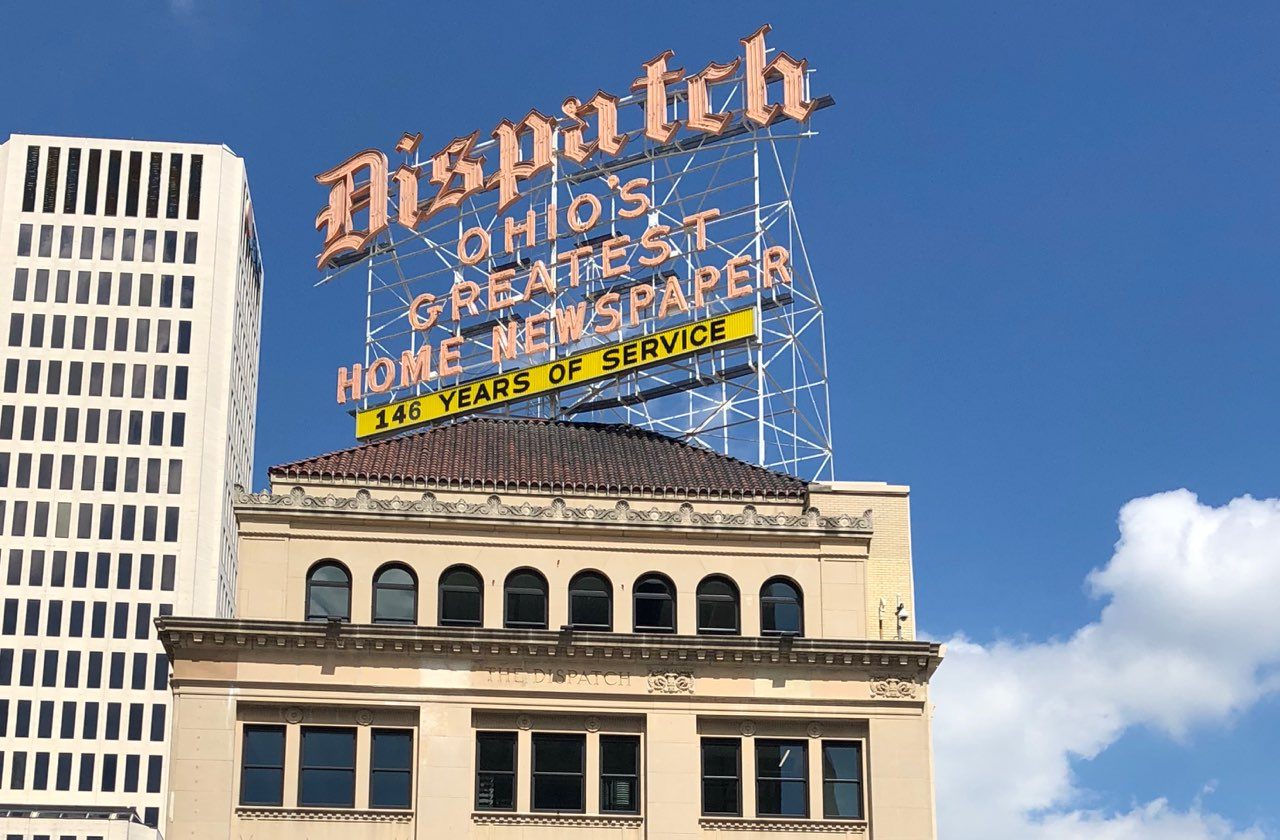 Dispatch Sign
Columbus, Ohio
"The giant Columbus Dispatch sign on 3rd Street, in downtown Columbus, is one of my favorite sights in the city. For years it has loomed over the Ohio Statehouse, like a physical manifestation of journalism's duty to watch over the government. A few years ago the Dispatch downsized and moved its offices around the corner to a smaller building on Broad Street, but the famous sign remains." — Jesse Bethea, Columbus, Ohio
---
Portland White Stag Sign
Portland, Oregon
"The [former] 'Made in Oregon' sign in Portland used to be the White Stag sign for the clothing company in the building. When Bill Naito bought the building it became Norcrest China, where I and many high schoolers got our first jobs. We moved in by transferring inventory by hand truck from one block away." — Mark Epp, Portland, Oregon
"The White Stag sign started out as an advertisement for White Satin Sugar, then was converted to advertising White Stag Sportswear in the 1950s. It now reads 'Portland, Oregon.' The deer's nose is lit red at Christmas." — Joel Birkeland, Hillsboro, Oregon
---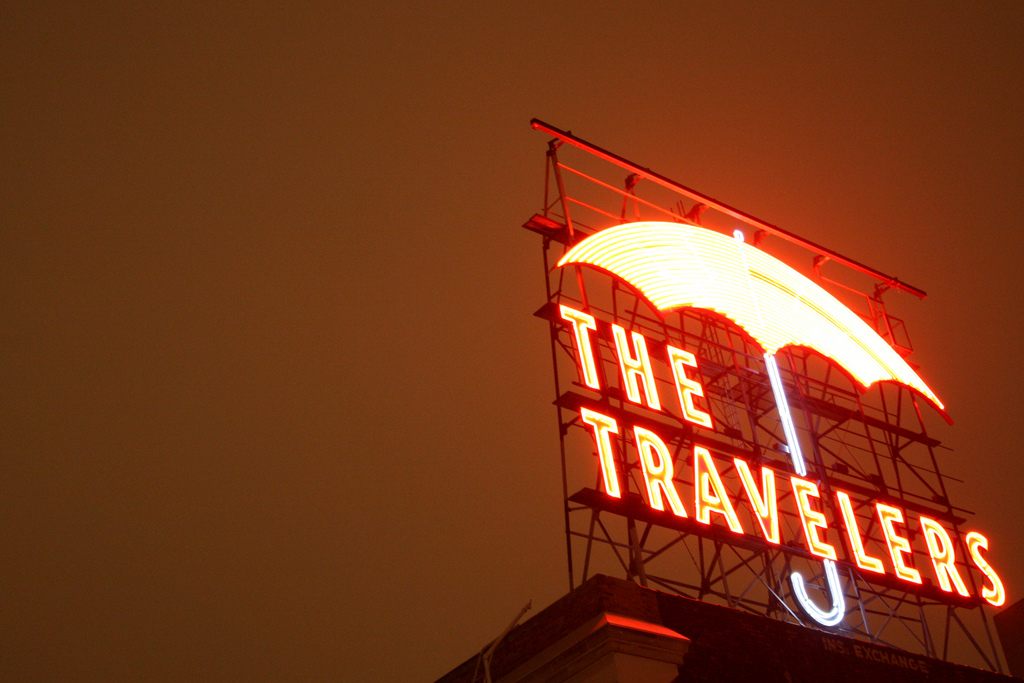 The Travelers Sign
Des Moines, Iowa
"The Travelers Insurance sign in Des Moines lights up the downtown. It was built in 1963. Travelers has since moved out of the building, but the sign remains lit every night." — Nate Byro, Des Moines, Iowa
---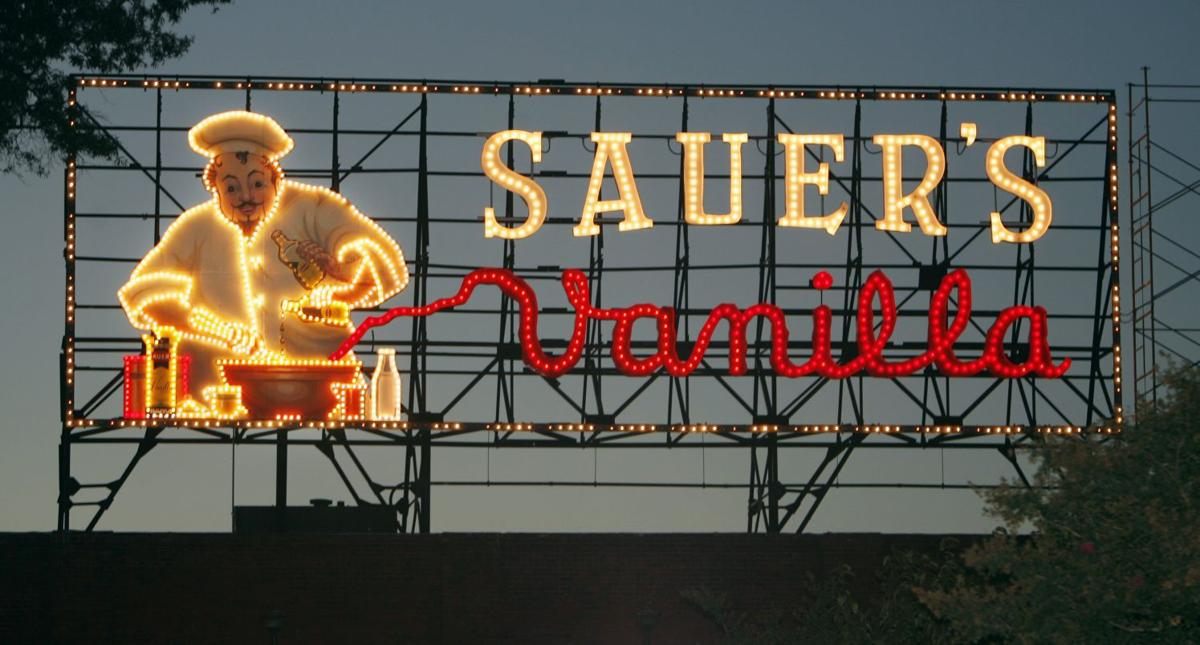 Sauer's Vanilla Sign
Richmond, Virginia*
"An animated sign illuminated with incandescent bulbs." — Sarah Montgomery, Richmond, Virginia
---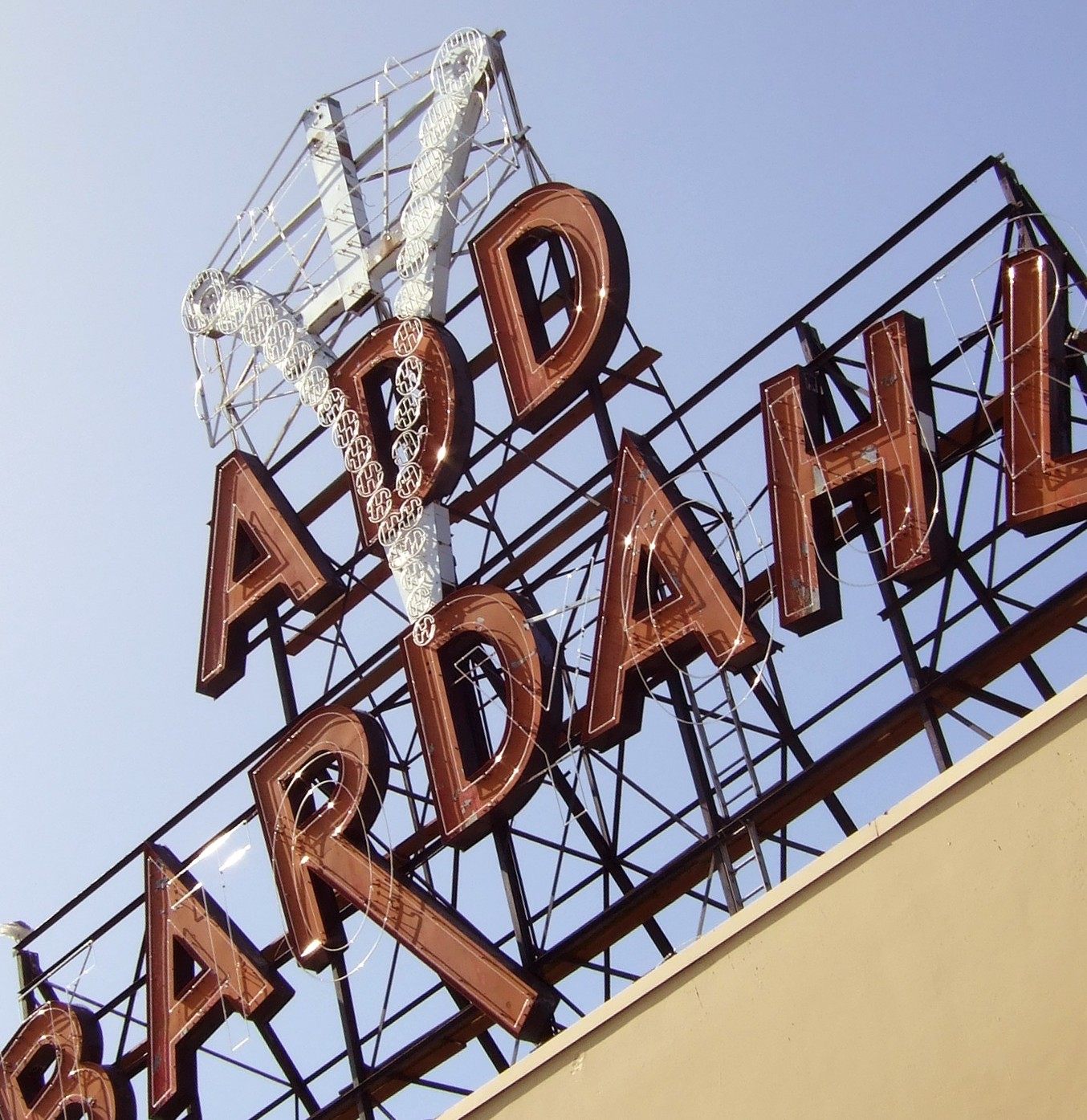 Add Bardhal Oil Sign
Seattle, Washington
"Bardhal is old school Ballard. Started by a Norwegian immigrant in the traditional Scandinavian neighborhood in the 1930s. The sign has been there since my mother was a child in the 1950s. The city has changed so much. It has always been a new city and the lack of physical city history makes those landmarks that are still around so much more important. It feels almost like a mistake that the sign is still there, but gives Seattleites a connection to remnants of an often forgotten and overlooked history of industrial and working class Seattle." — Alma Lemberg, Brooklyn, New York
---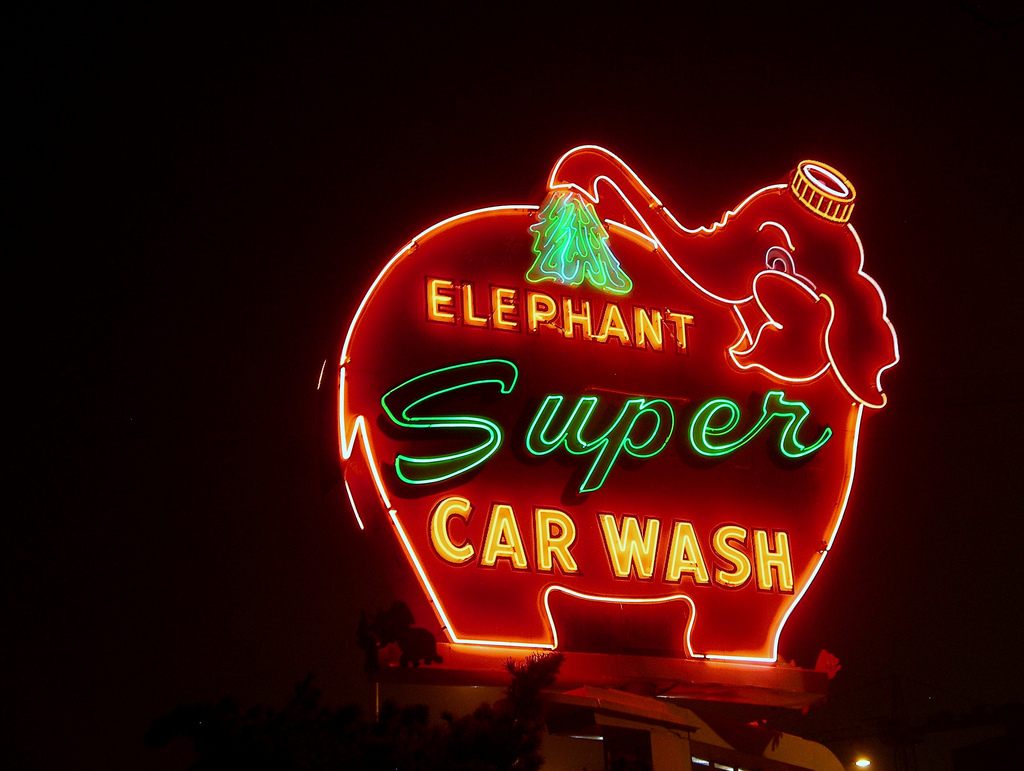 Elephant Super Car Wash Sign
Seattle, Washington
"Longtime landmark in central Seattle, a few blocks from Seattle's iconic Space Needle." — Elliott Bronstein, Seattle, Washington
---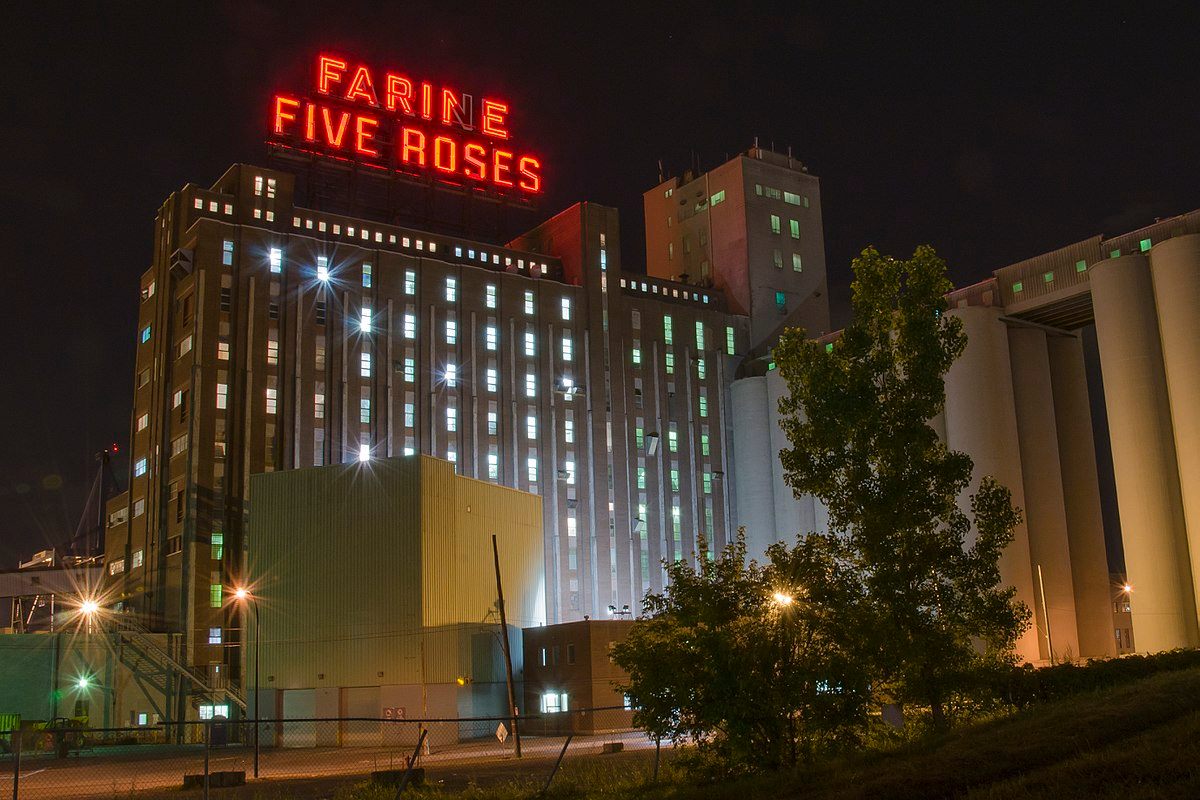 Farine Five Roses Sign
Montreal, Canada
"I love this sign because it represents the essence of Montreal's bilingual history. The name of the company is English and because it is a legal name, it was not translated to French. 'Farine' is the French word for flour, and is translated to French from the English. This sign is a symbol of both the historical problems of the French majority being dominated by the English minority, but also of the symbiotic relationship between French and English in Montreal. This is what is called 'Franglais' by many." — Michael Bailey, Los Angeles, California
---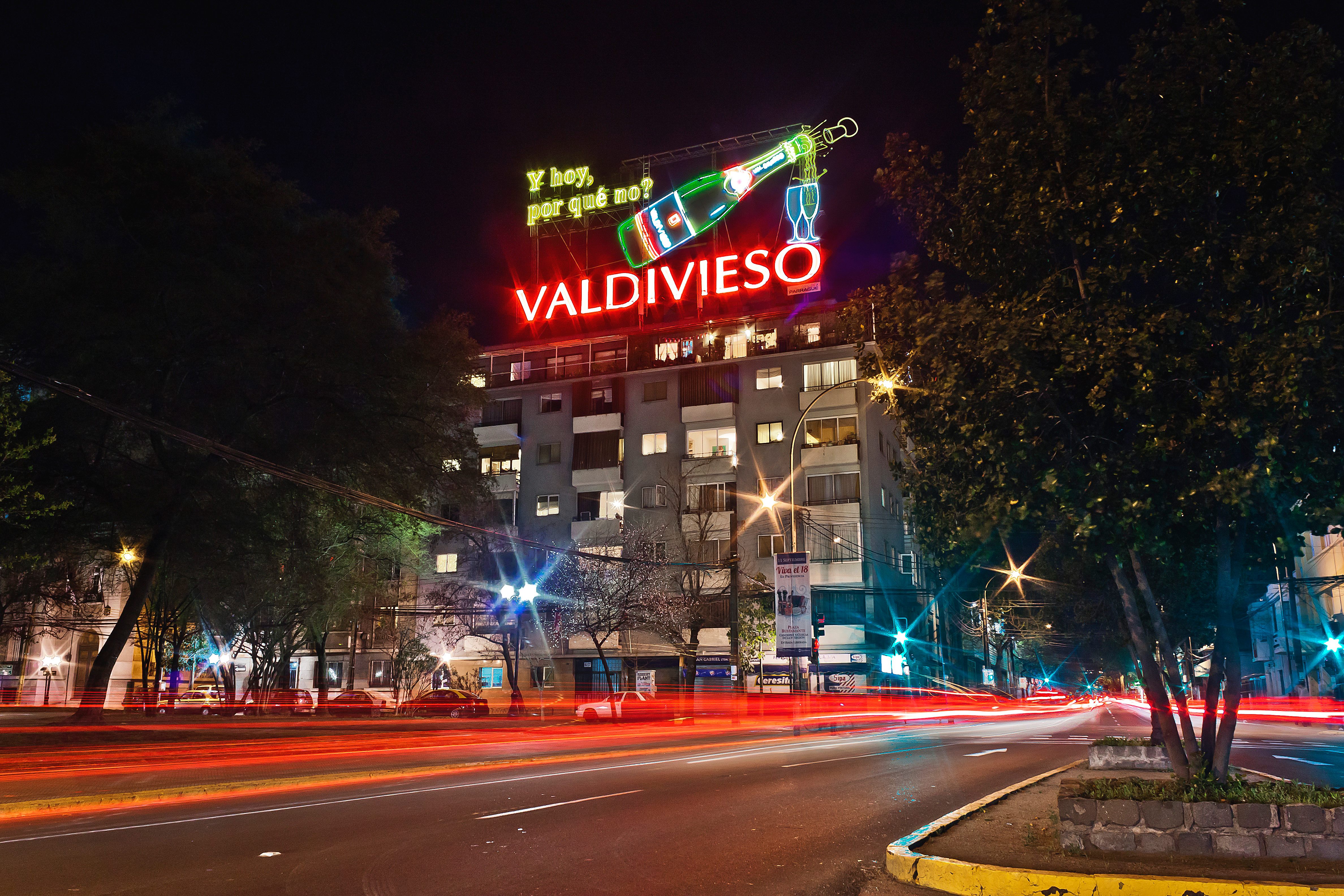 Valdivieso Sign
Santiago, Chile
"One of the most emblematic signs in Santiago, it was put up by the wine brand and vineyard Valdivieso, between 1954-55. Officially, it has been considered a national monument since 2010. However, in 2017 there was a controversy related to a change in the phrase of the sign, which went from 'Y hoy, por qué no?' ('And today, why not?') to 'Desde Siempre' ('Since always'). — José Miguel Álvarez, Santiago, Chile
---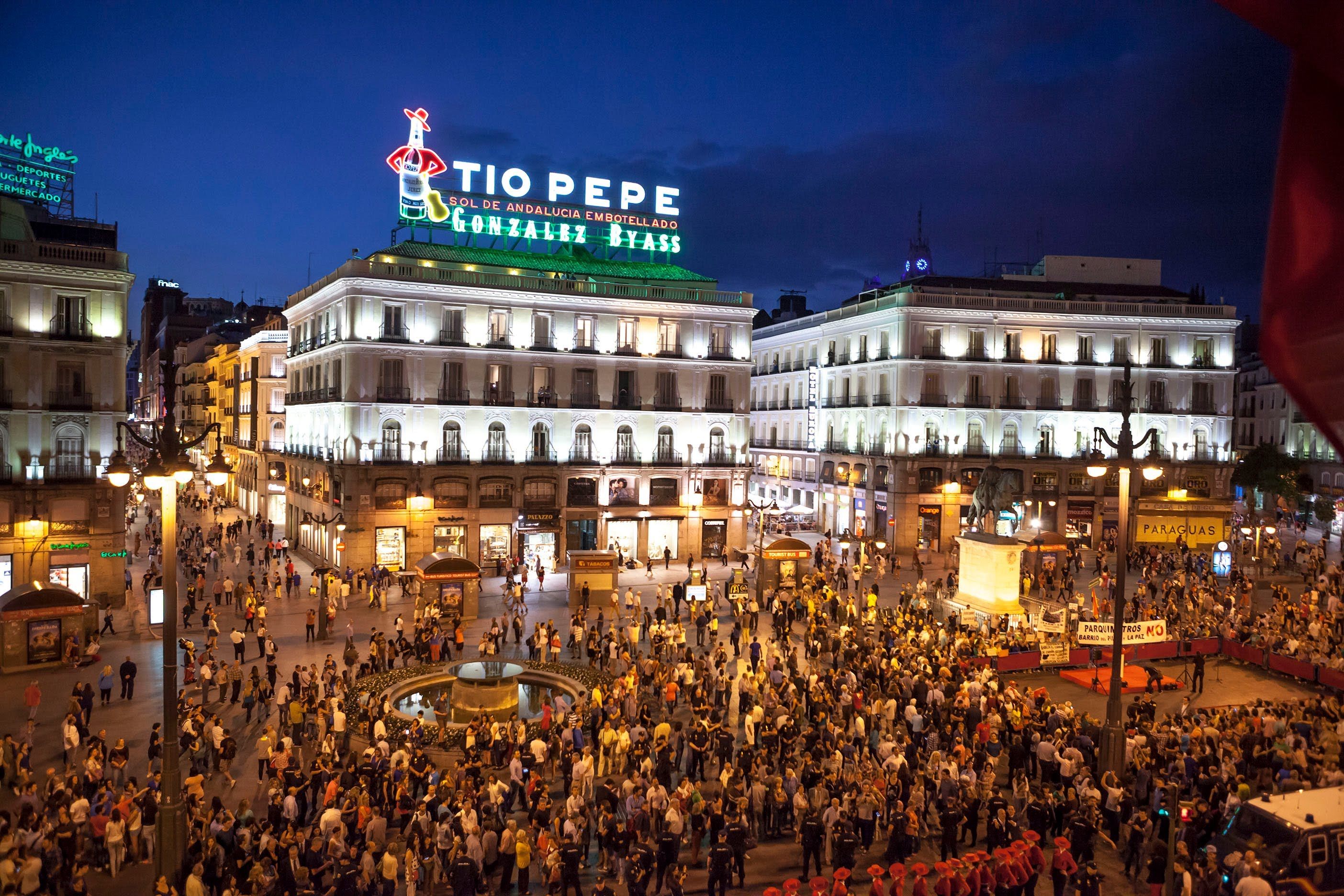 Tío Pepe Sign
Madrid, Spain
"Tío Pepe is an Andalusian wine sign which, just like Osborne's bull, was pardoned because its original design when a Spanish law forbade signs over houses and beside roads." — Luis Morato, Madrid, Spain
---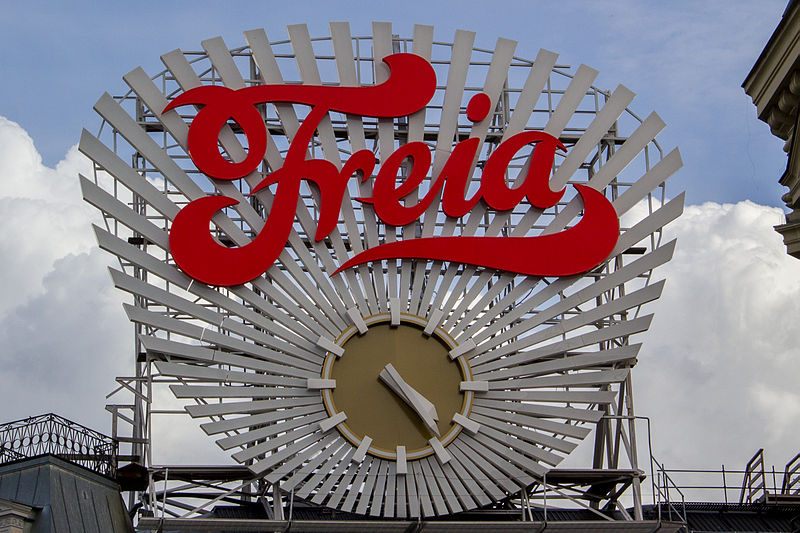 Freia Clock
Oslo, Norway
"The Freia clock on Oslo's main street, Karl Johans Gate, facing the royal palace, was a futuristic sensation when its 1,500 lamps first brightened the gaslit city in 1909, and it is the classic landmark of today's car-free downtown Oslo." — Alex Snyder, Norway
---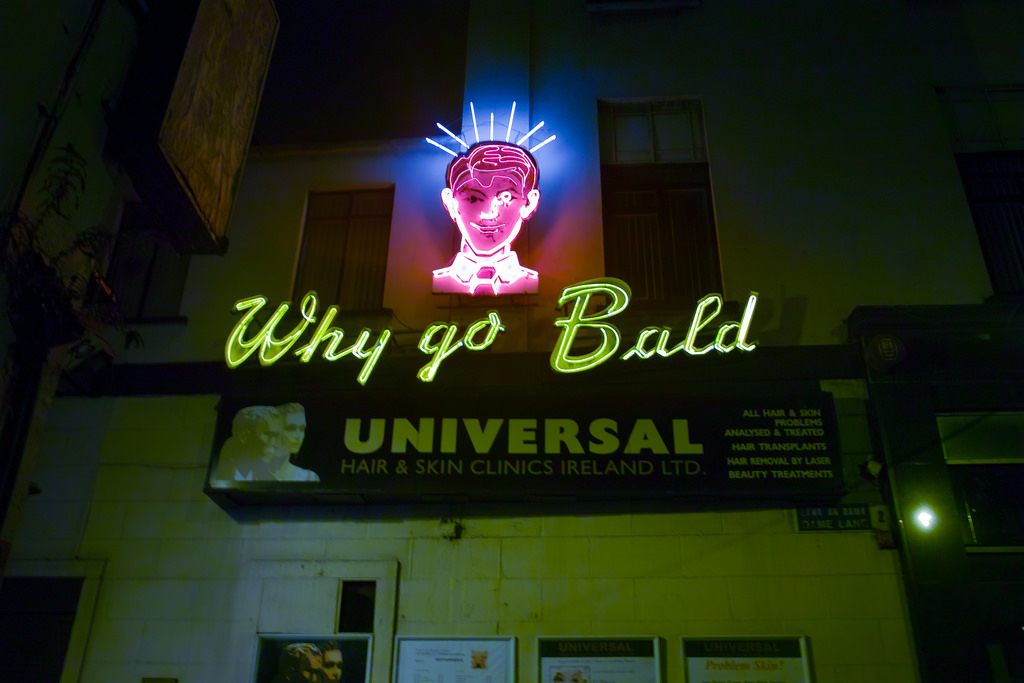 Why Go Bald Sign
Dublin, Ireland
"The 'Why Go Bald?' neon sign was recently restored to working condition." — Neil Dorgan, Dublin, Ireland
---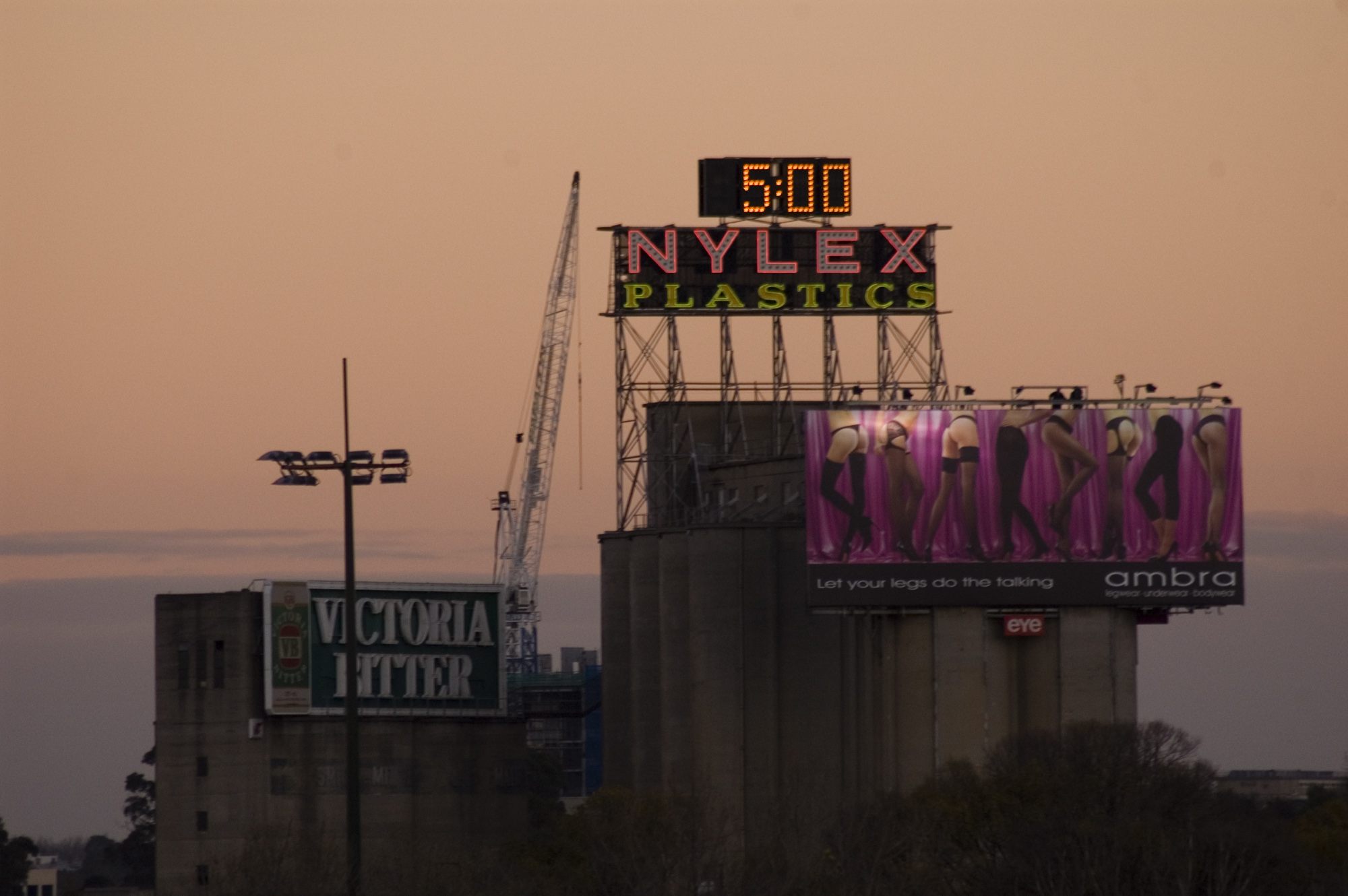 Nylex Plastics Clock
Melbourne, Australia
"It's ugly, was broken for a number of years and sits atop some drab concrete grain storage silos. Yet it has become iconic because it's close to the Melbourne Cricket Ground and tennis center where the country's biggest sporting events are held. It was built when the inner city area was an industrial zone but the area has been totally gentrified around it. All it does is show the time and temperature but it was there so long it became a landmark." — Robert Fenner, Hong Kong
---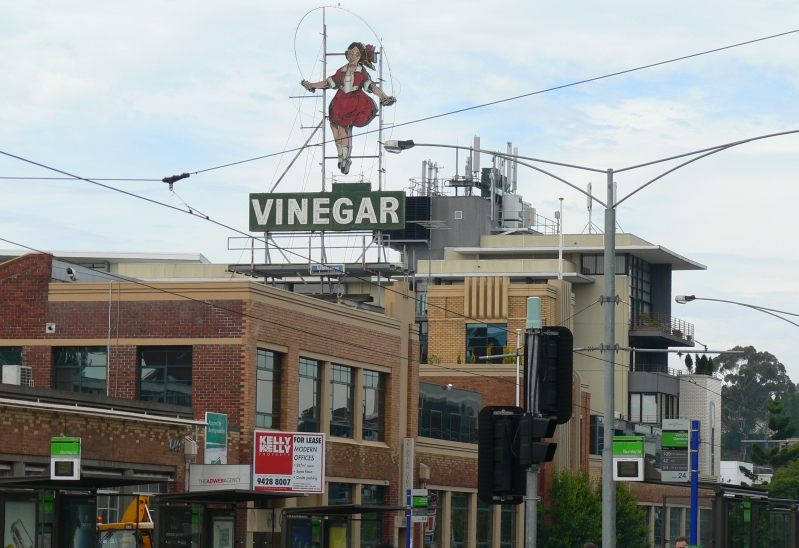 Little Audrey the Skipping Girl Sign
Melbourne, Australia
"I adore the Skipping Girl in Melbourne. She is called Little Audrey. I don't know much else about her except that at night her neon lights make her appear to be skipping. Also, she isn't the original skipping girl. When removed in the '60s, people had an absolute cow. They had to make a new one. She is an icon." — Elizabeth Cornell, Melbourne, Australia
"The Skipping Girl is a sign left over from a vinegar company and has become a Melbourne icon. She is made of metal and has a skipping rope which lights up at night, flicking around to give the appearance that she is actually skipping, as well as warm lights all over. While she was taken down at one point, mass outcry ensured that she was restored and returned to a new location, not far from the old. The Skipping Girl is so well renowned she has a Wikipedia page and a number of Melbourne songs mention her, making her a cultural icon." — Bella, Melbourne, Australia
If you have an amazing landmark sign of your own to share, head over to our community forums and tell us about it!
Responses in this piece have been edited for length and clarity.
*Correction: An earlier version of this article misstated the location of the Sauer's Vanilla sign. It is located in Richmond, Virginia, not Richmond, North Carolina.