33 of America's Most Charming Historic Theater Marquees
Atlas Obscura readers from across the U.S. share their favorites.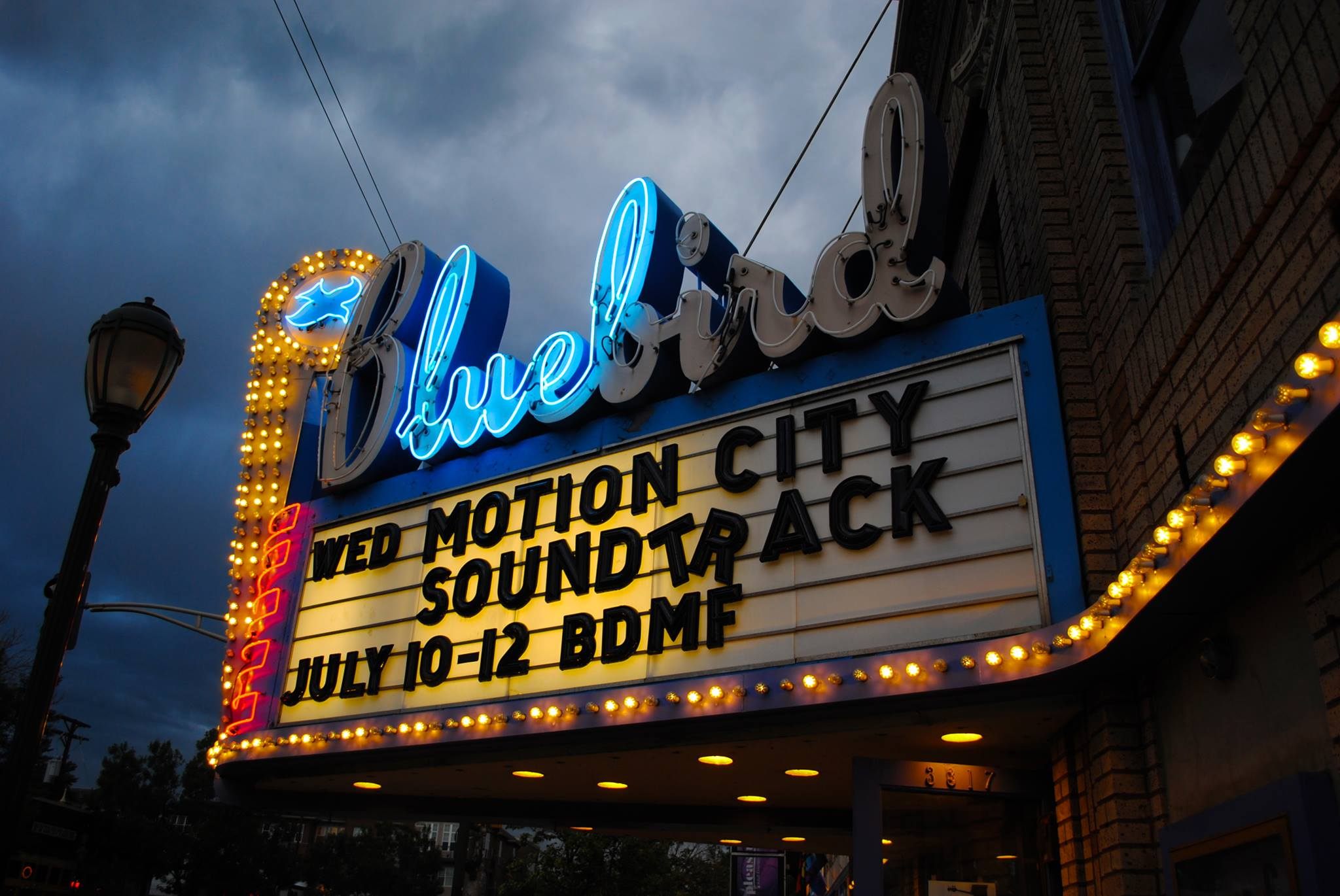 The heyday of the classic movie palace might feel like the distant past, but in cities and towns across the U.S., vintage marquees can still be found clinging to the sides of buildings. Some are in use at surviving theaters, while others sit abandoned or ignored, waiting to be restored. Recently we asked Atlas Obscura readers to send us pictures of their favorite historic marquees, and we received an incredible selection of beautiful neon-and-bulb landmarks.
Many of the marquees our readers sent in are still in use at working historic cinema or theater spaces, though some have clearly fallen into disrepair. But no matter what state they're in today, the lavish designs of classic marquees remain as charming as ever.
Scroll through below to see some of our favorite reader-submitted marquees!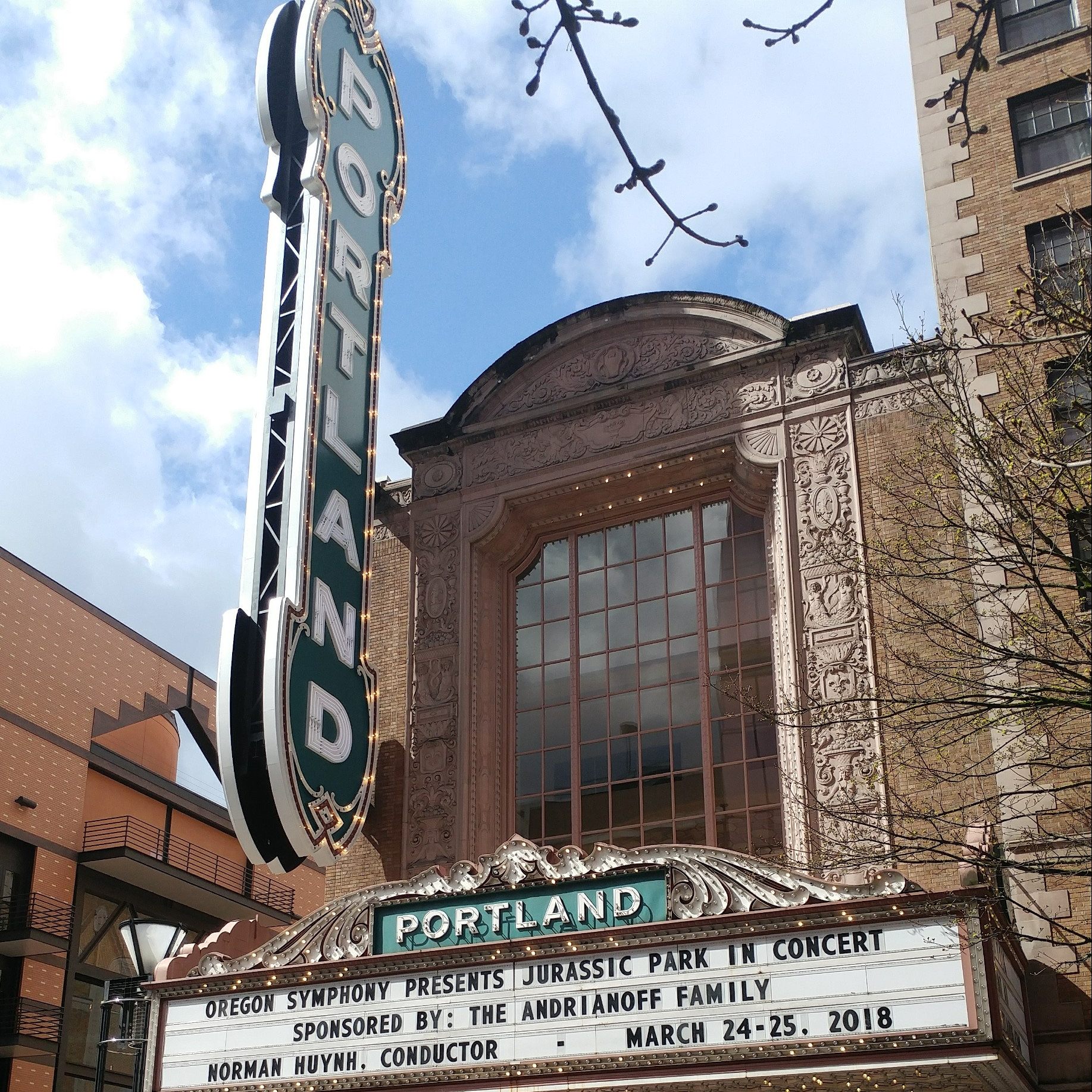 Arlene Schnitzer Hall
Portland, Oregon
"We saw Bob Marley play there in the 1970s. It has a beautiful marquee and marvelous art deco interior, complete with enormous chandeliers." — Ann Taguchi, Beaverton, Oregon
---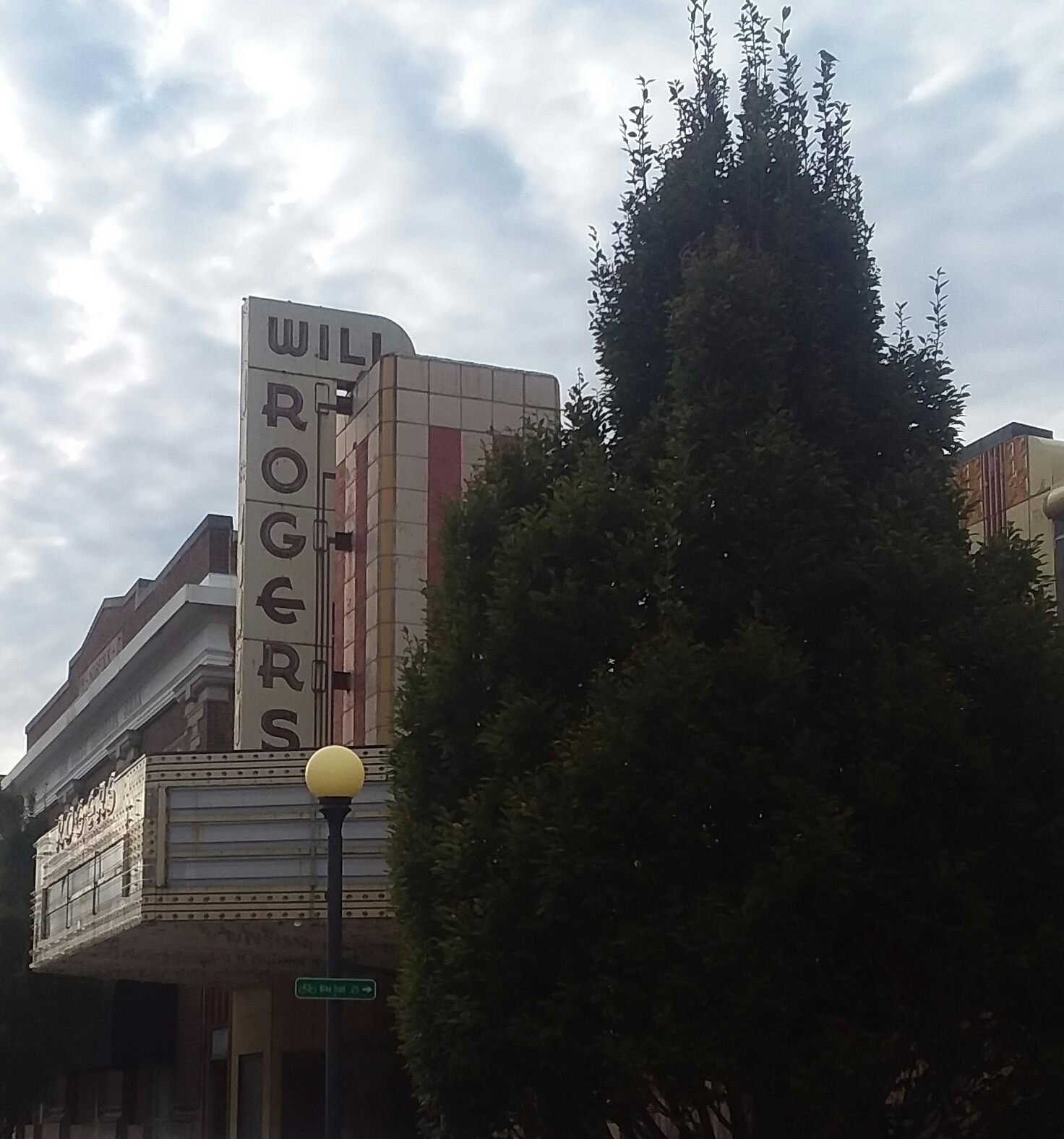 The Will Rogers Theatre
Charleston, Illinois
"My father-in-law Dan is 77, and as a little boy, he would frequent the theater with his Uncle Dewey. It has been in disrepair for a very long time though there have been several efforts to restore it." — Bethanny, Charleston, Illinois
---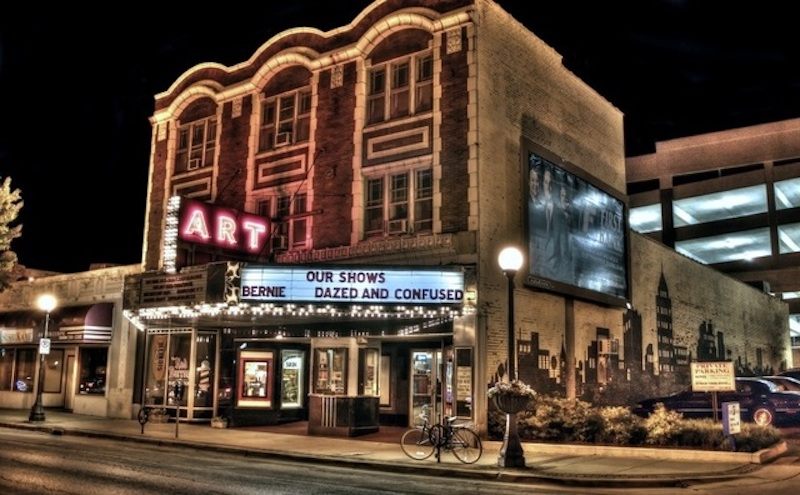 ART Theater
Champaign, Illinois
"The ART theater became a cooperative while I was a graduate student. I was always proud to see a movie in the theater I owned (a fraction of)." — Brion Woroch, New Jersey
"As a huge Beatles fan, I couldn't help but imagine that this looked very similar in 1964." — W. Jake Tatar, Champaign, Illinois*
---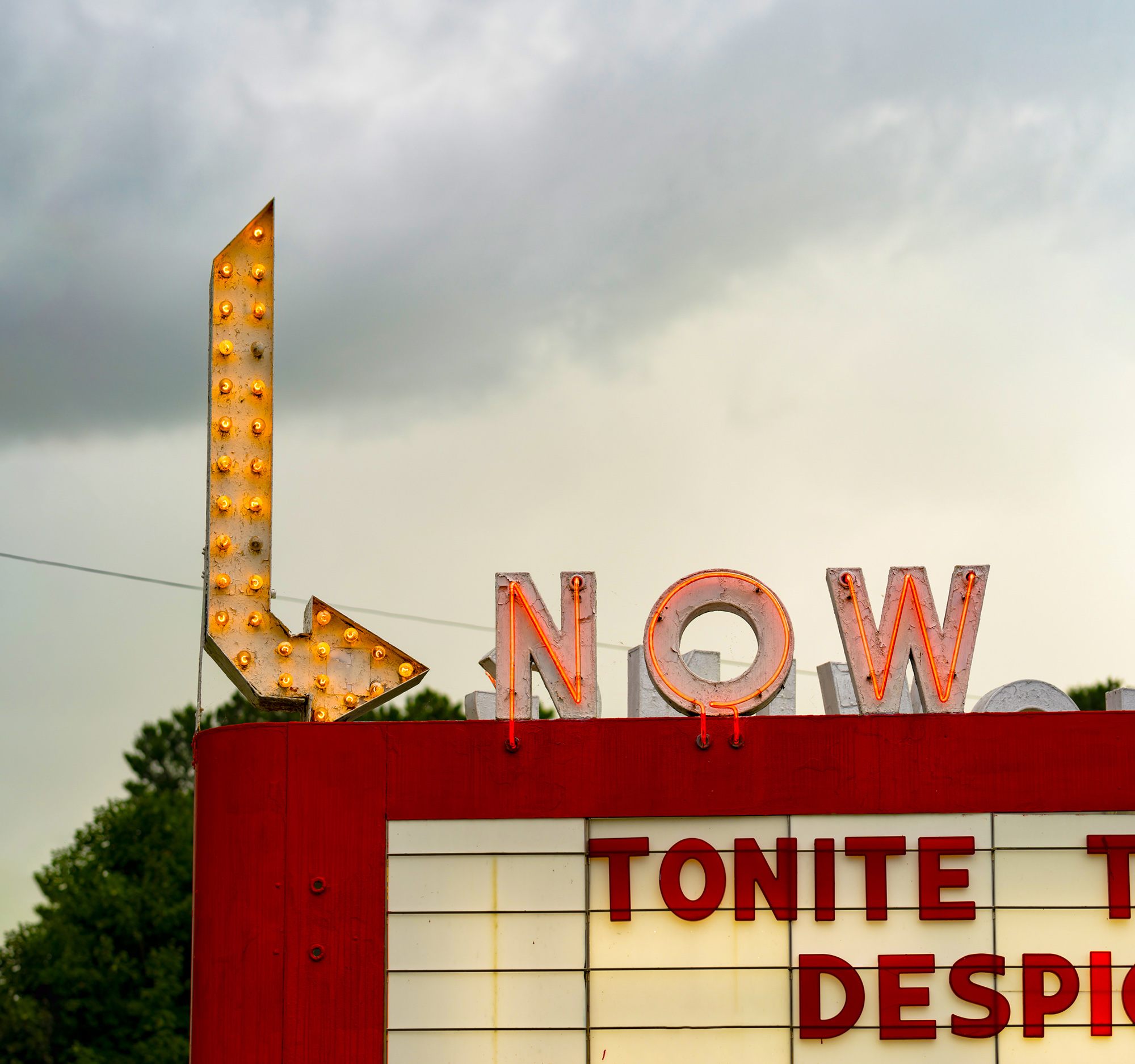 Twin City Drive-In
Blountville, Tennessee
"The sign is one of the most direct forms of advertising you will see. You might say it is to-the-point, or blunt, which is appropriate for its location in Blountville. Directness is generally a characteristic for the Southern Appalachian cultural region. The marquee only says, 'NOW SHOWING,' with a big, lighted arrow. Nothing else to identify it." — Casey Brown, Asheville, North Carolina
---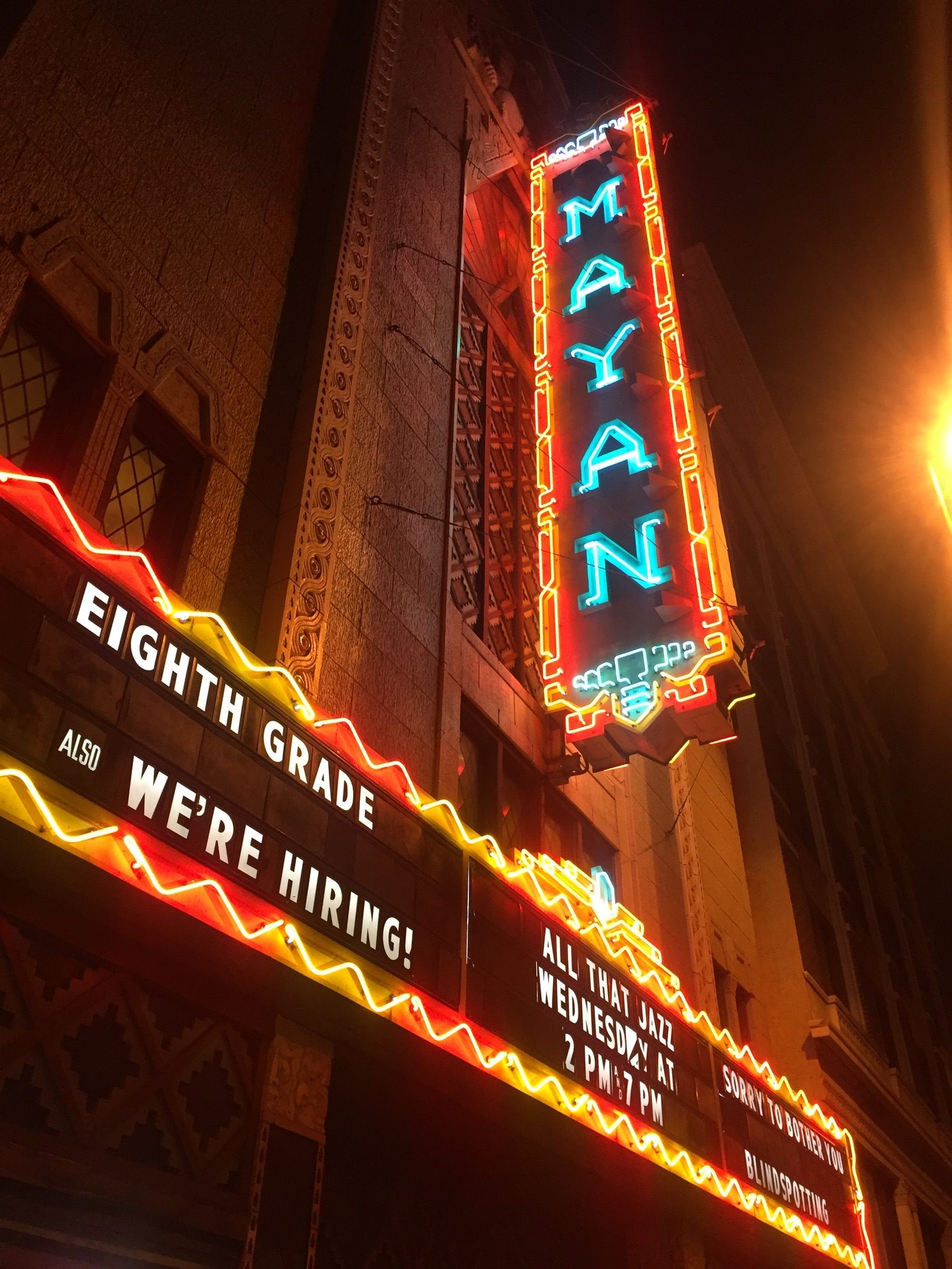 The Mayan Theater
Denver, Colorado
"The marquee at the Mayan is my favorite because it's so bright and beautiful. It's impressive any time of day, but my favorite is going into a movie while the sun's still up and coming out in the dark to the Mayan's grandly lit marquee. It always seems to transport me back in time every time I see it. The inside is also a feast for the eyes, amazingly decorated with Mayan figures and faces. It was built in 1930 and was set to be demolished in 1984. But a quick acting, quick thinking group of concerned citizens (The Friends of the Mayan) worked tirelessly for 90 days to ensure its spot on the Historic Landmark List. It has since been renovated and is a gem of a theater on South Broadway in Denver today! It's a great spot for indie flicks that I can't seem to find playing anywhere else, as well as old classics. I have so many memories there and plan to keep going almost every weekend! " — Christine Watson, Denver, Colorado
---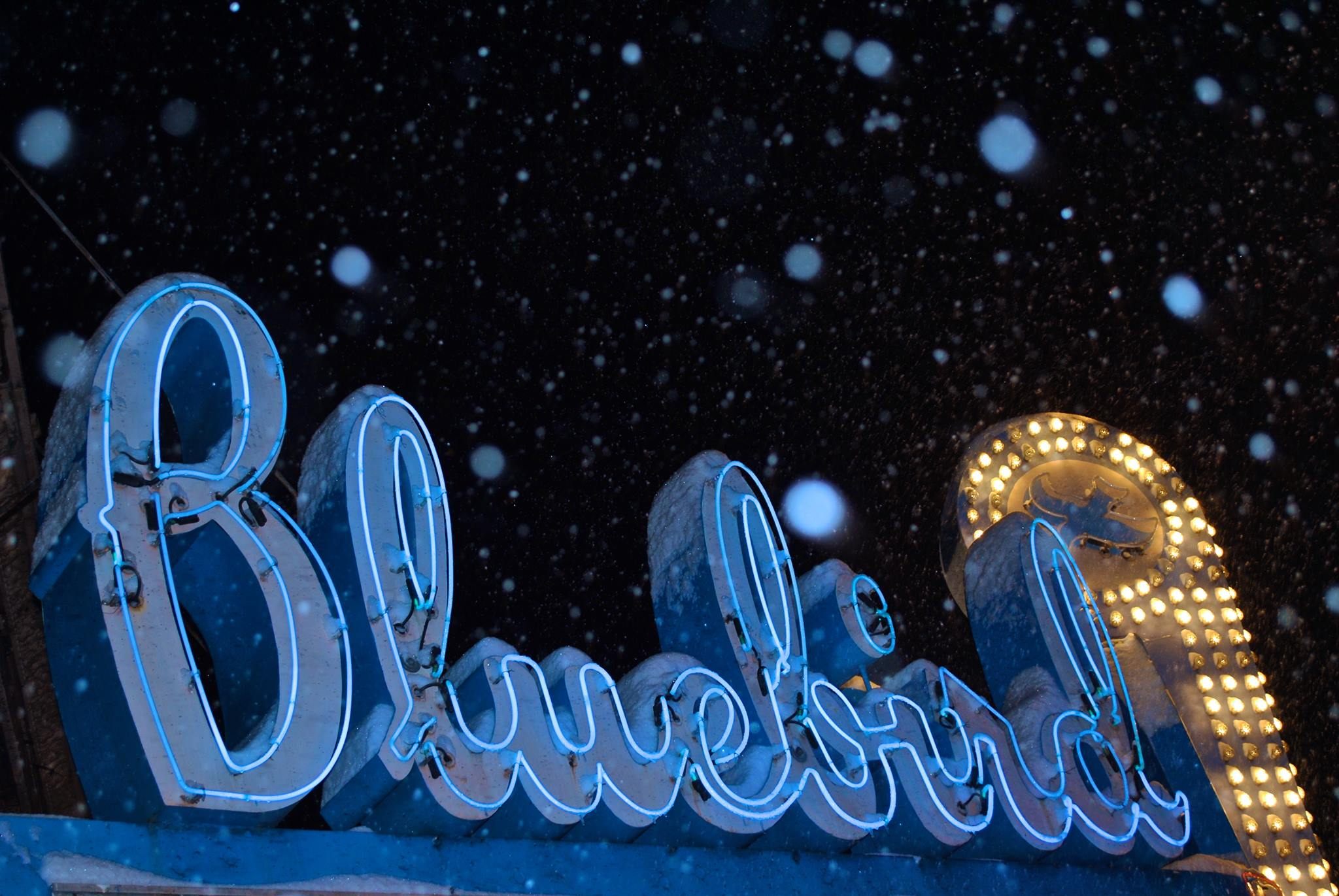 Bluebird Theater
Denver, Colorado
"It's a beautiful example of a neon marquee on a street known for its vintage neon signs. I've seen many great concerts here, and the feeling of walking under this spectacular marquee as you enter the doors is truly special." — Corky Scholl, Denver, Colorado
---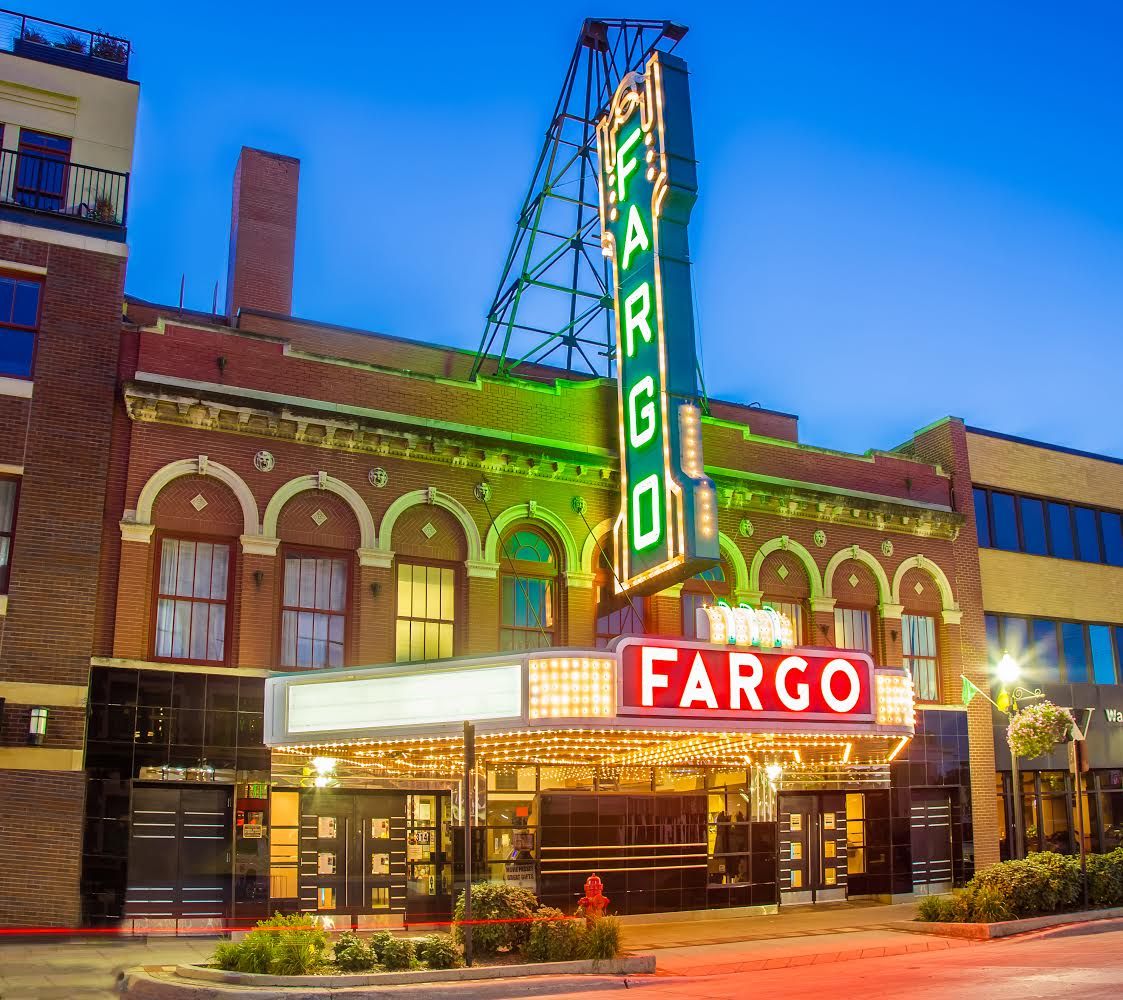 Fargo Theatre
Fargo, North Dakota
Submitted by Gary Ball-Kilbourne, Fargo, North Dakota
---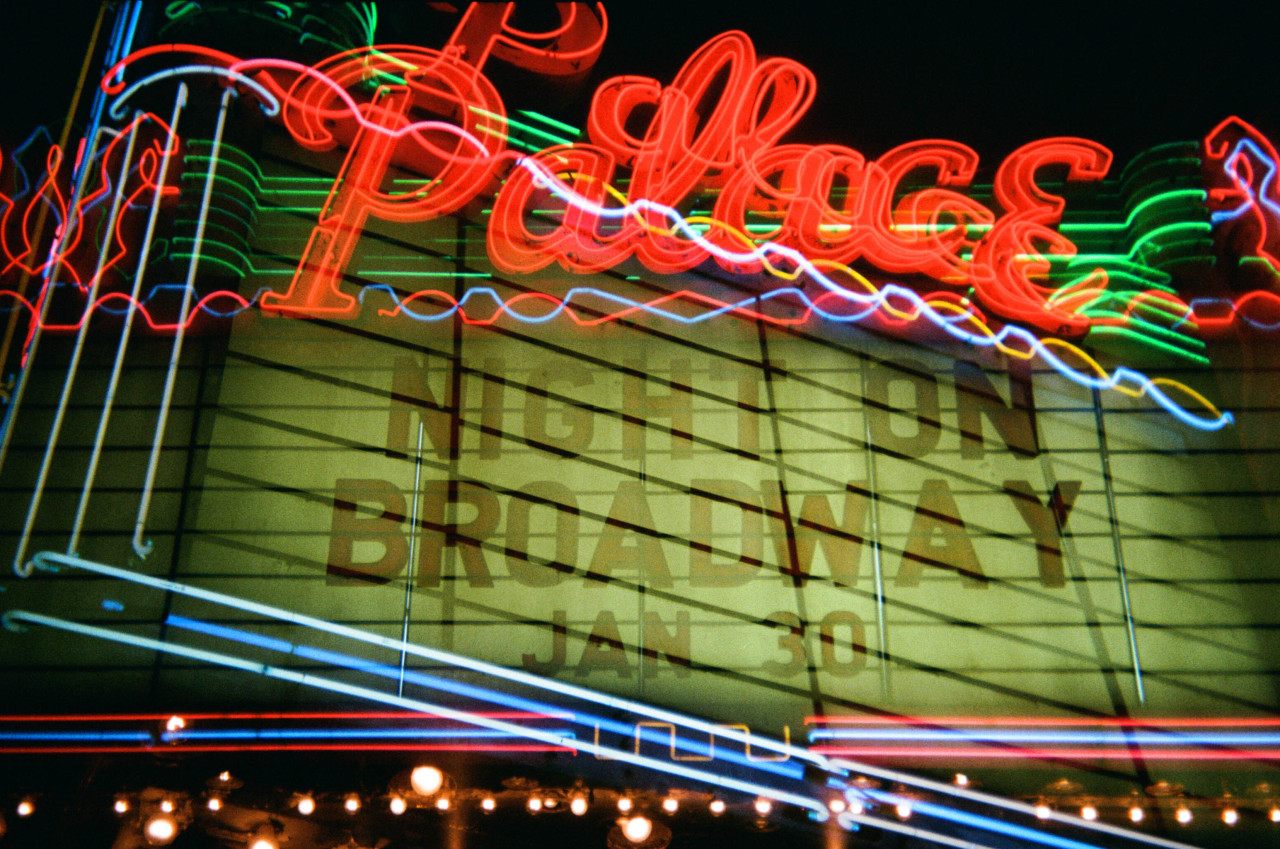 The Palace Theatre
Los Angeles, California
"Recently restored, this double exposure was taken on one of DTLA's now annual 'Night on Broadway' events where downtown opens up its historic theaters to the public." — Haley Stoessl, Los Angeles, California
---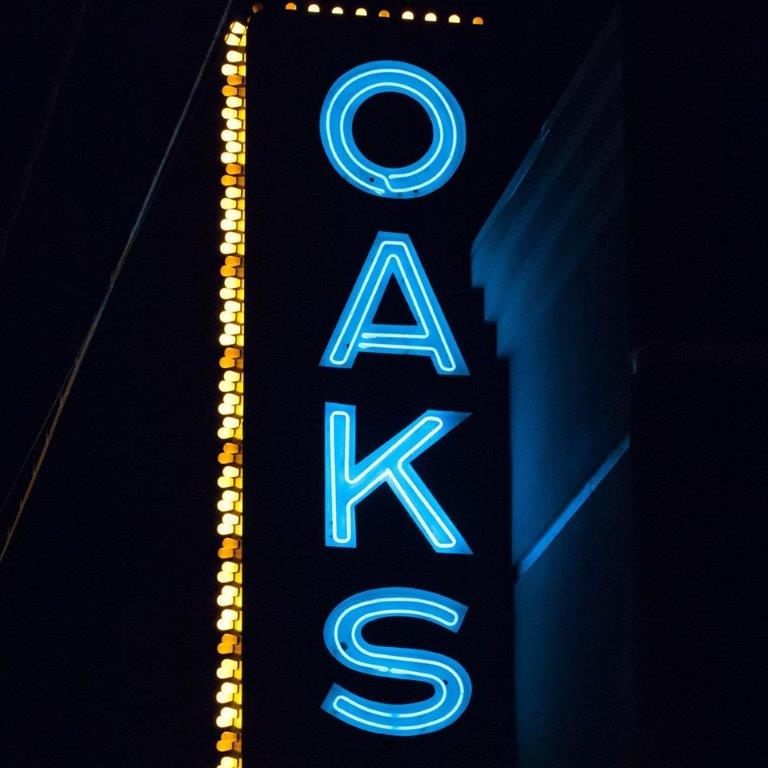 The Oaks Theater
Oakmont, Pennsylvania
"This beautiful, nearly 100-year-old theater is still in operation. My sister owns it and has preserved it. Now hosting movies, live acts, and bingo/trivia games. It is a community asset." — Janet Burkardt, Pittsburgh, Pennsylvania
---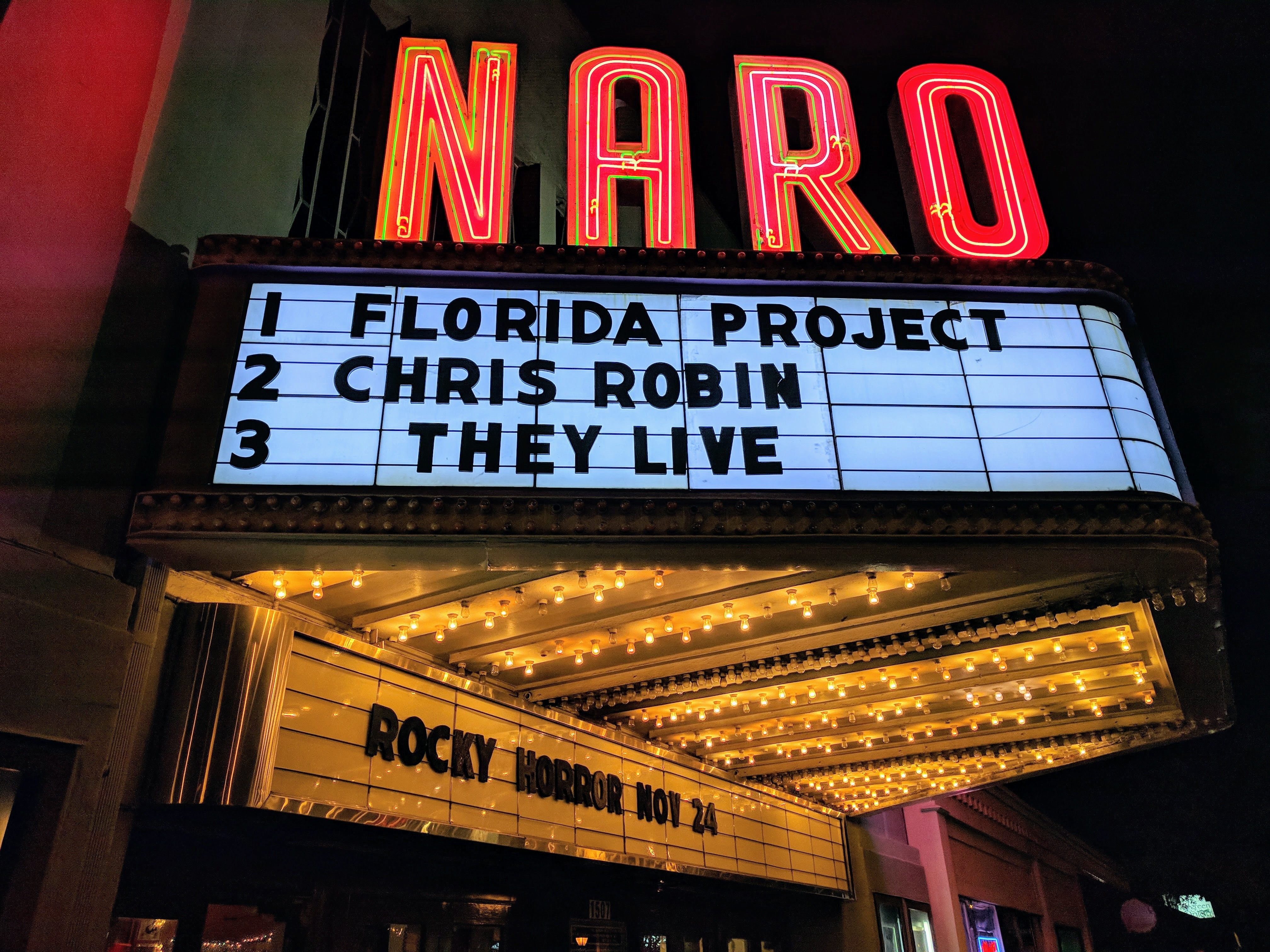 Naro Cinema
Norfolk, Virginia
"Many locals in Norfolk, Virginia have a family tradition of seeing a double feature of It's a Wonderful Life and A Christmas Story during the holidays. The Naro Cinema is an independent art-house theater which shows a mix of indies, oldies, and foreign movies. They have also been showing Rocky Horror live continuously on Saturday nights since 1978." — Jeff Frith, Norfolk, Virginia
---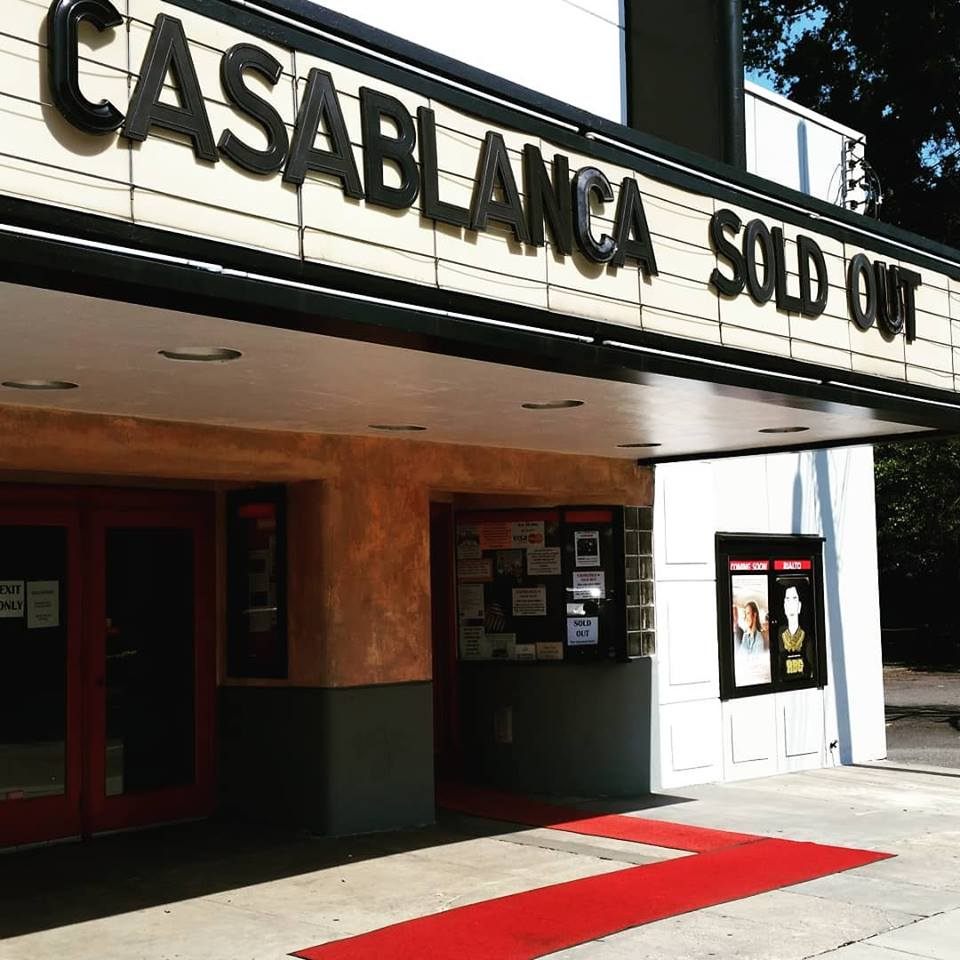 The Rialto Theatre
Raleigh, North Carolina
"Original marquee since 1942." — Jennifer Love, Raleigh, North Carolina
---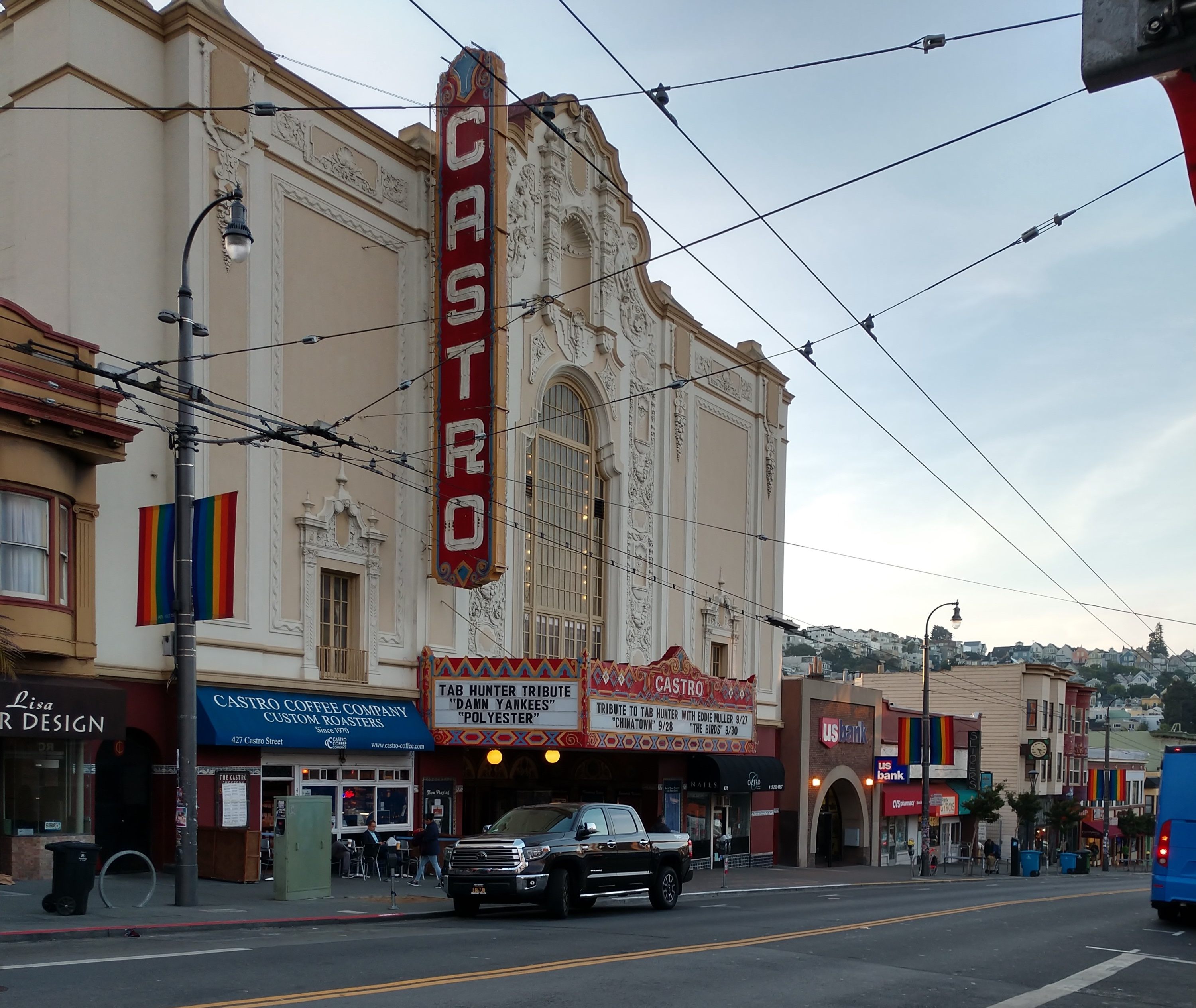 Castro Theatre
San Francisco, California
"So many movies, so many different titles, so many opportunities." — Jim R. Feliciano, San Francisco, California
---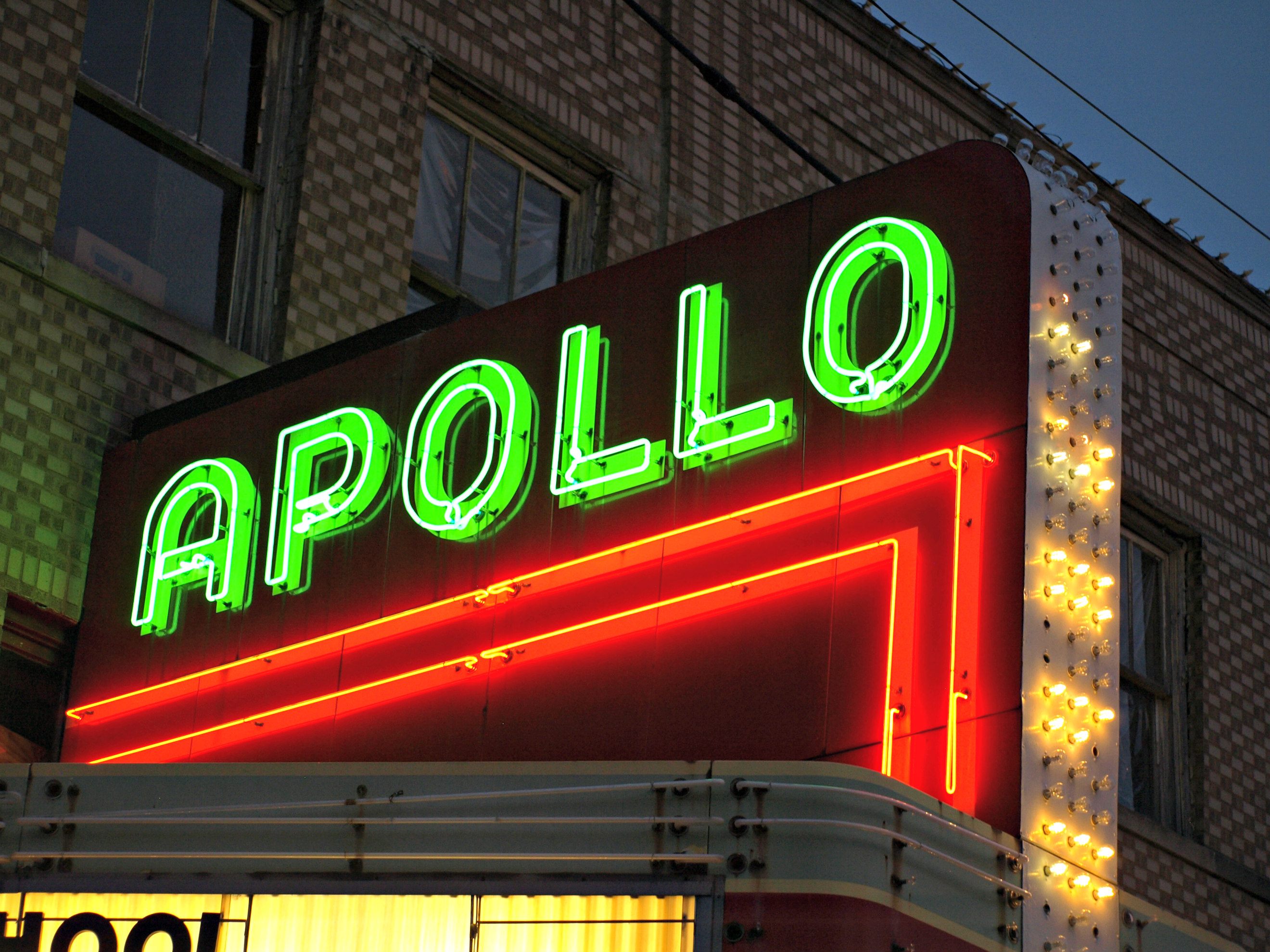 Apollo Theater
Princeton, Illinois
"The Apollo started out life as Apollo Hall in 1883 as a community civic center, opera hall, and vaudeville stage. In 1930 it was purchased and converted into a movie house by Miles Fox, father of world-famous organist Virgil Fox (a Princeton native), who used the hall to practice in. Movie actor Richard Widmark (another Princeton native) worked there for a short time. It's a wonderful, quaint hometown theater that I spent many a happy year in, lost in fantasy land." — John Purvis, Princeton, Illinois
---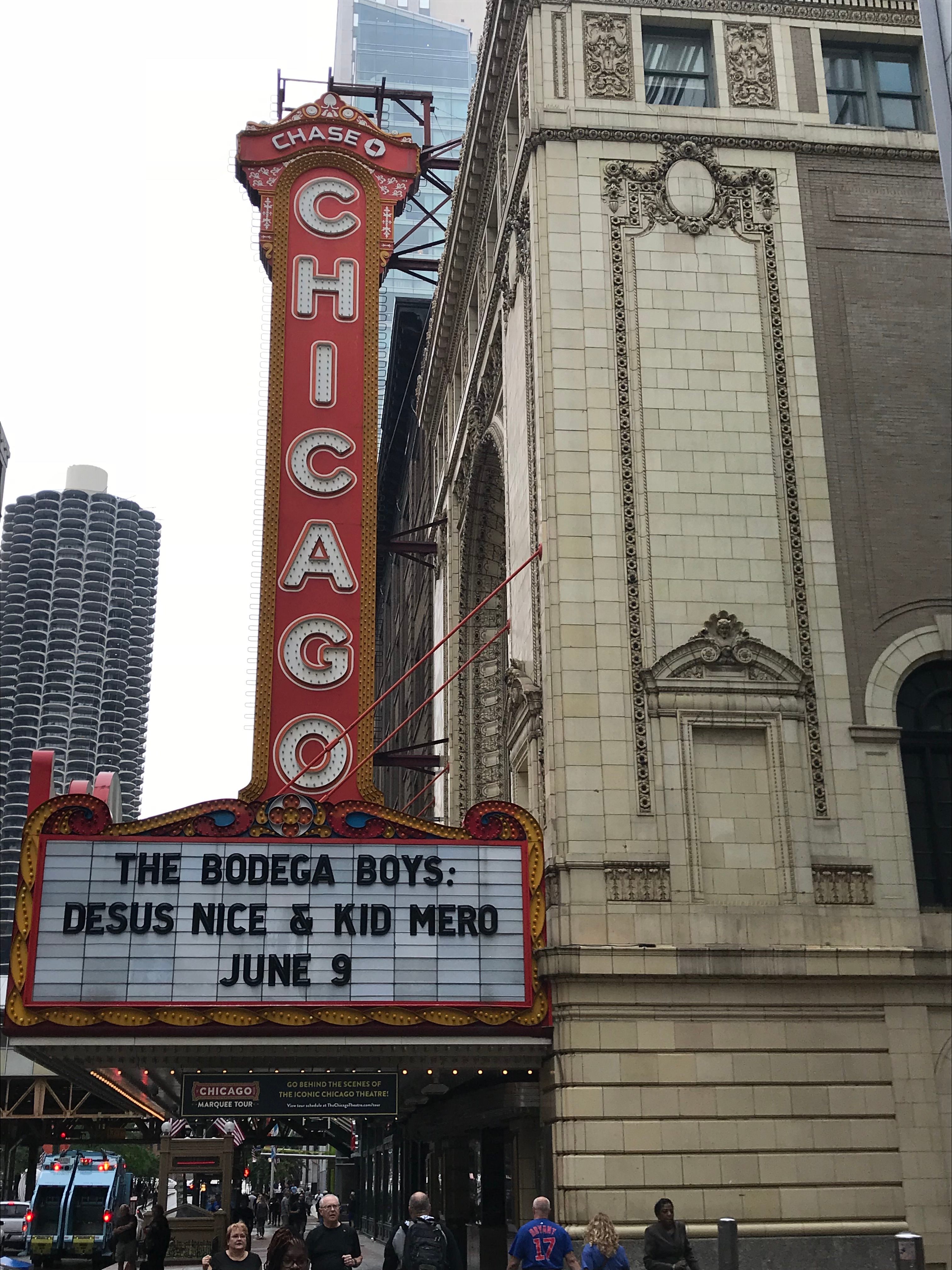 Chicago Theatre
Chicago, Illinois
"I love that this is a vertical marquee." — Joseph Kerski, Broomfield, Colorado
---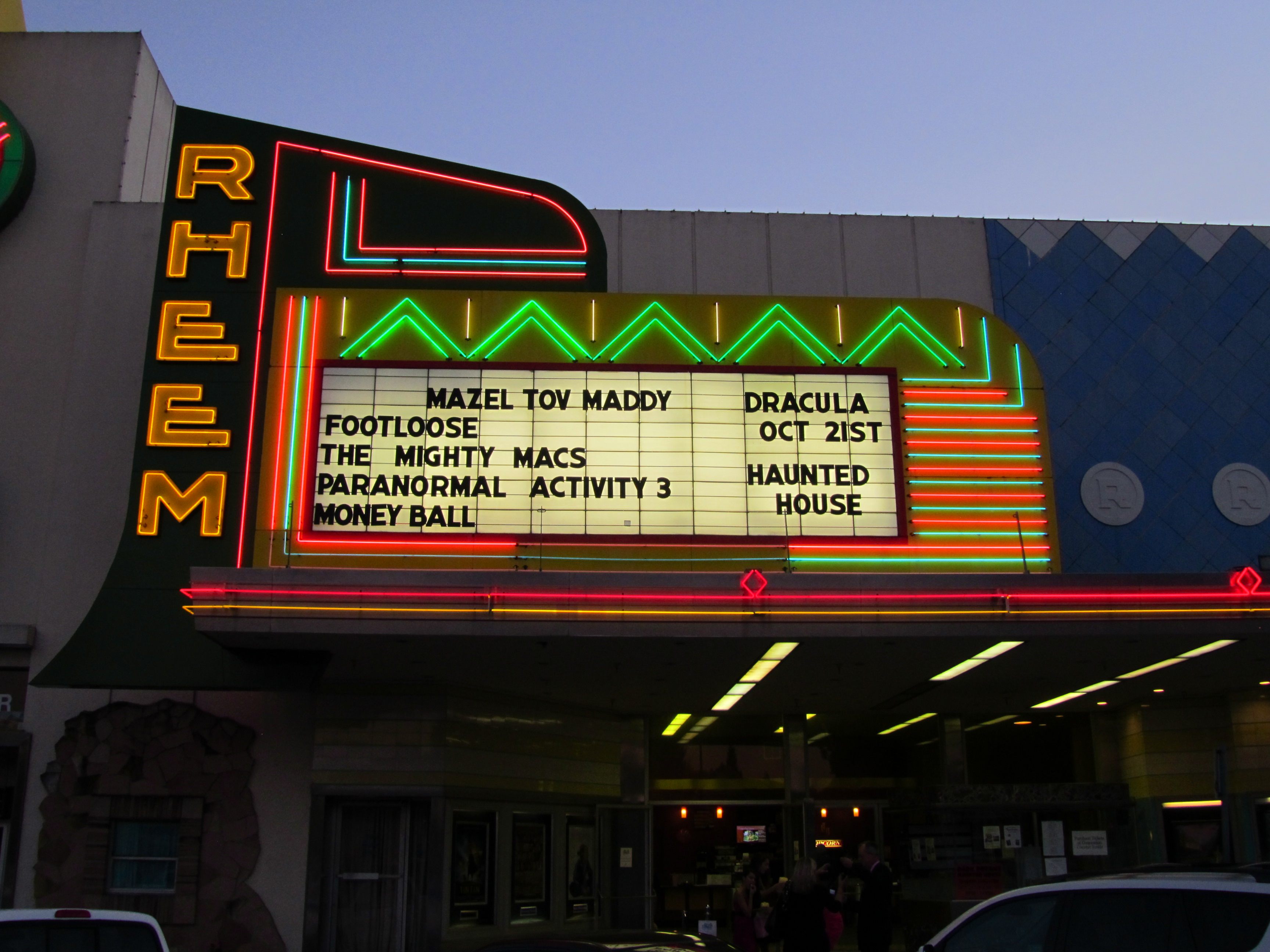 The Rheem Theater
Moraga, California
"Somehow even after several closings, this theater has managed to reopen, with community support, in our small town of Moraga, nestled in the East Bay hills in the San Francisco Bay Area. This theater has special nostalgia for our family, we had our daughter's bat mitzvah reception here. The theme was movies and we rented a red carpet for our guests to walk. They even put her name up on the marquee." — Justine Weinberg, Moraga, California
---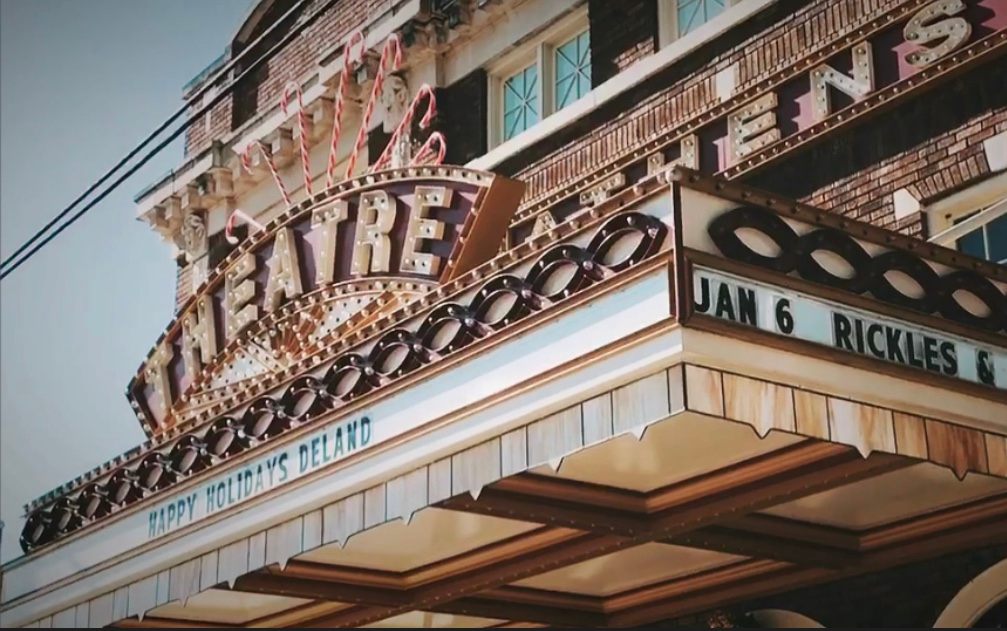 Athens Theatre
DeLand, Florida
"I went on a day trip with my mom a few years ago, and we saw this beautiful theater and couldn't resist taking some pictures of its incredible, old-world beauty. I think it's still operational and one day, I'd like to go back and see a show there." — Karley, Gainesville, Florida
---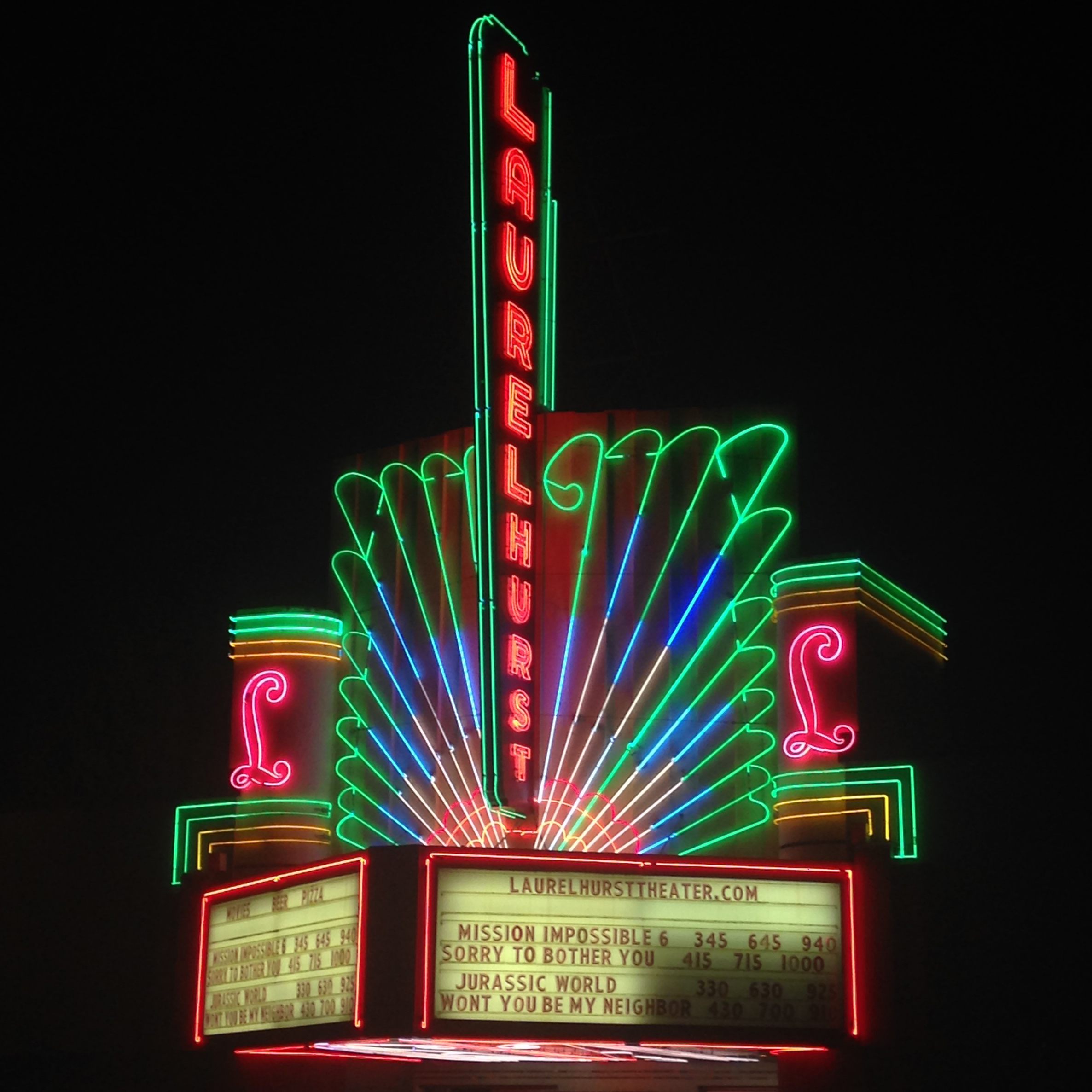 The Laurelhurst Theater
Portland, Oregon
"I live near this theater. I just think it is one of the most beautiful neons I've ever seen. It's huge and gorgeous, it will take your breath away." — Kate Widdows, Portland, Oregon
---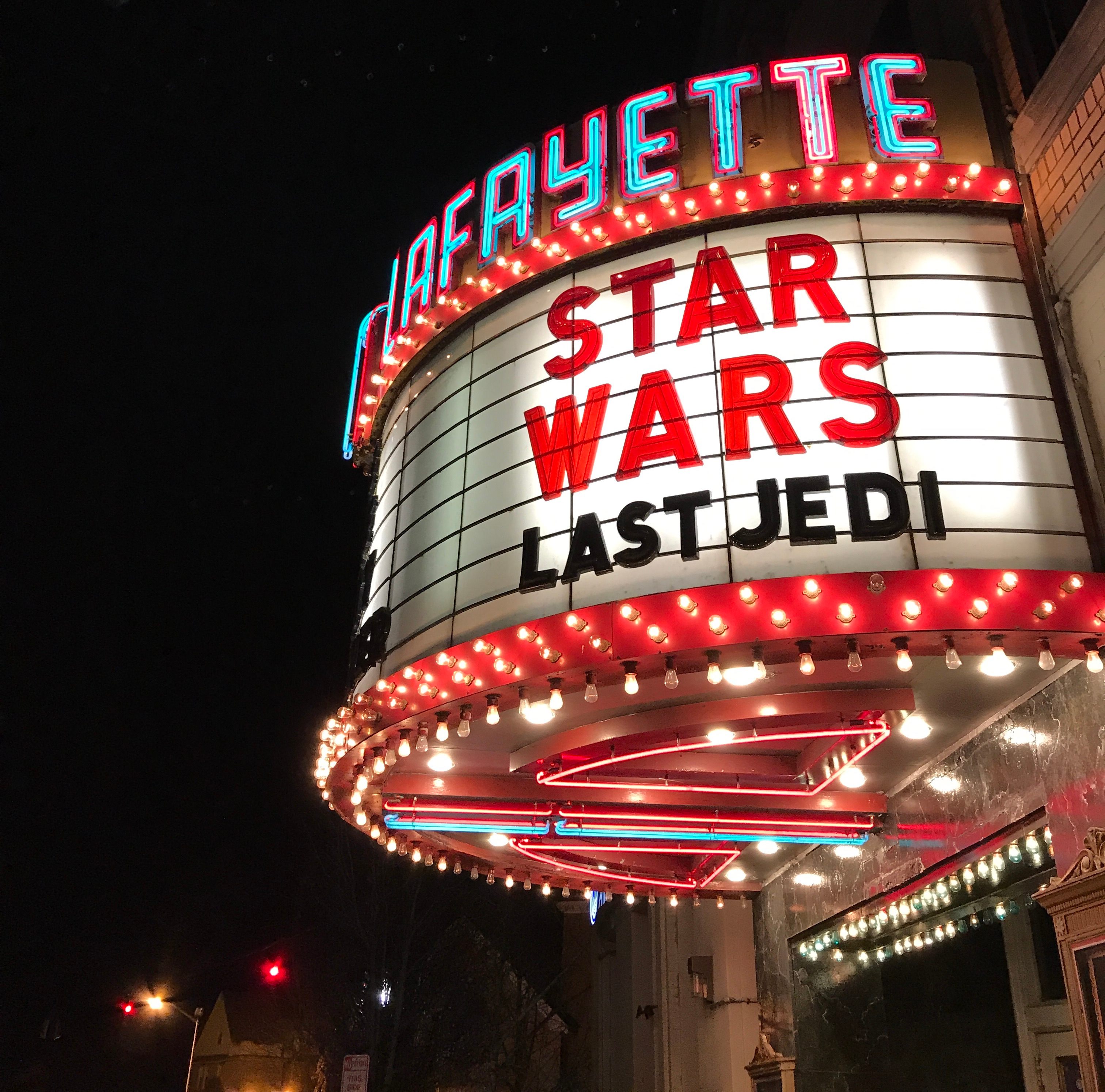 Lafayette Theater
Suffern, New York
"This theater was my little escape into the past as I was growing up. I first went here with my aunt and brother to see one of the Harry Potter movies. The historical, ornate interior made the movie that much more magical. These theater marquees really make the movie-going experience feel like an event rather than something-to-do. I think about how someone has to take the time to intricately place the movie titles letter-by-letter. This attention to detail make everything feel really special." — Kelsey C., Brooklyn, New York
---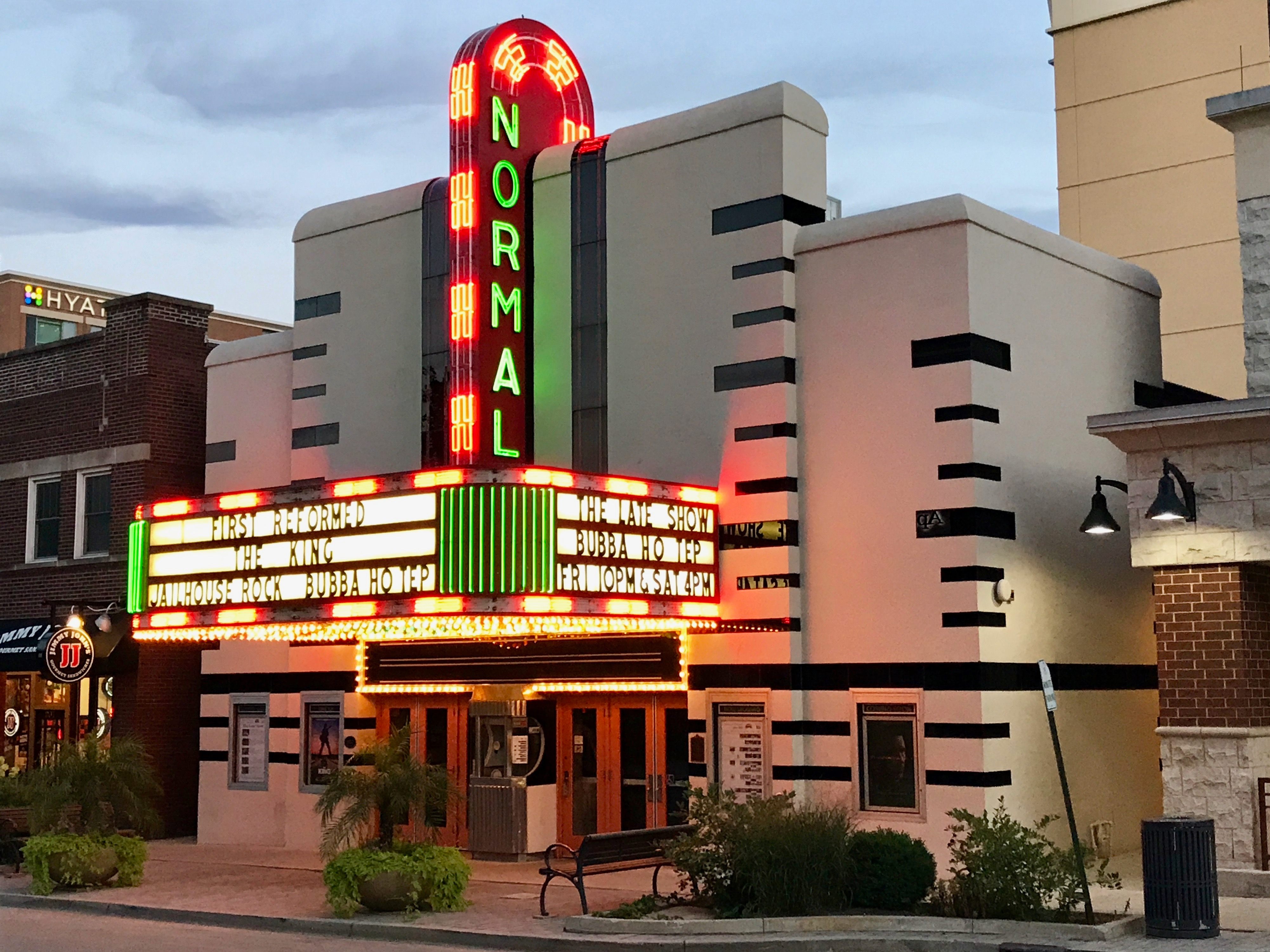 Normal Theater
Normal, Illinois
"Last summer I had a job as a seed courier, which meant I drove around to various grain elevators, collected wheat samples, and then shipped them back to the lab. One stop took me to Normal, Illinois. I drove around to see what I could see and I came across this marvelous marquee. It was a soft summer night and the lights were just coming on. I had to take a photo. In fact, I even took a video, because the lighting was so special." — Kim Davison, Kalamazoo, Michigan
---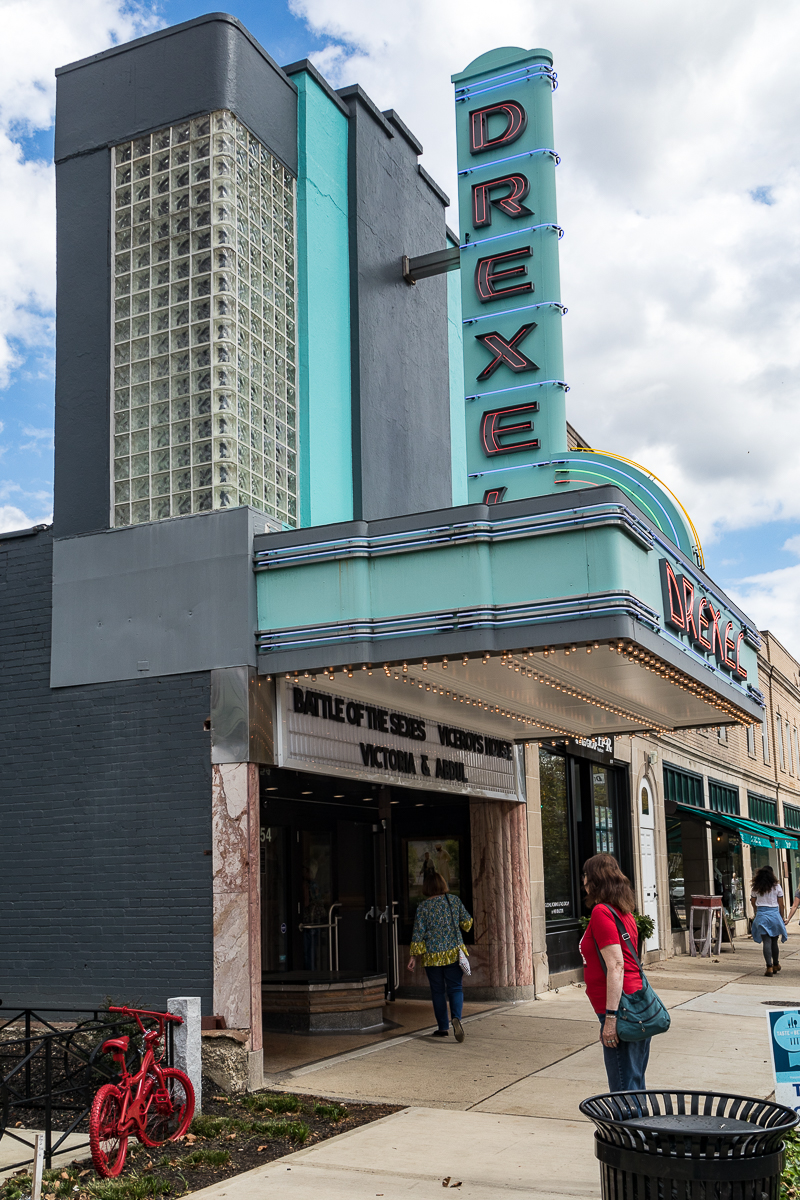 Drexel Theatre
Columbus, Ohio
"The Drexel Theatre has been a local treasure in Bexley, Ohio, ever since it opened in time for Christmas 1937. It has undergone a multitude of changes over the years (including serving for a few years as an 'adult' theater), but its charm and especially its marquee have survived through the years. It is currently the go-to venue for independent films in the Central Ohio area. It began as a one-screen cinema, and in the 1990s was converted into a three-screen theater. And did I mention it has the coolest marquee in the area?" — Larry Cunningham, Gahanna, Ohio
---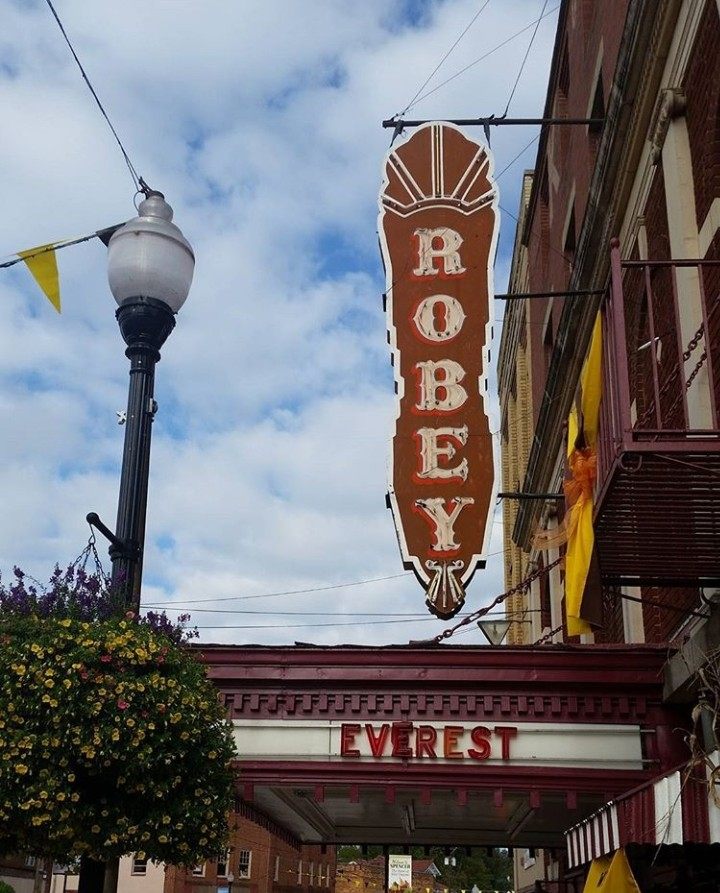 The Robey
Spencer, West Virginia
"The Robey is in my parents' hometown and it is one of the oldest operating movie theaters in America (since 1911!). I've seen many movies here myself, and this theater hands-down has the best popcorn of any place I've been. If you're a movie/history buff, I highly recommend putting this theater on your bucket list!" — Leah Bartlett, Kansas
---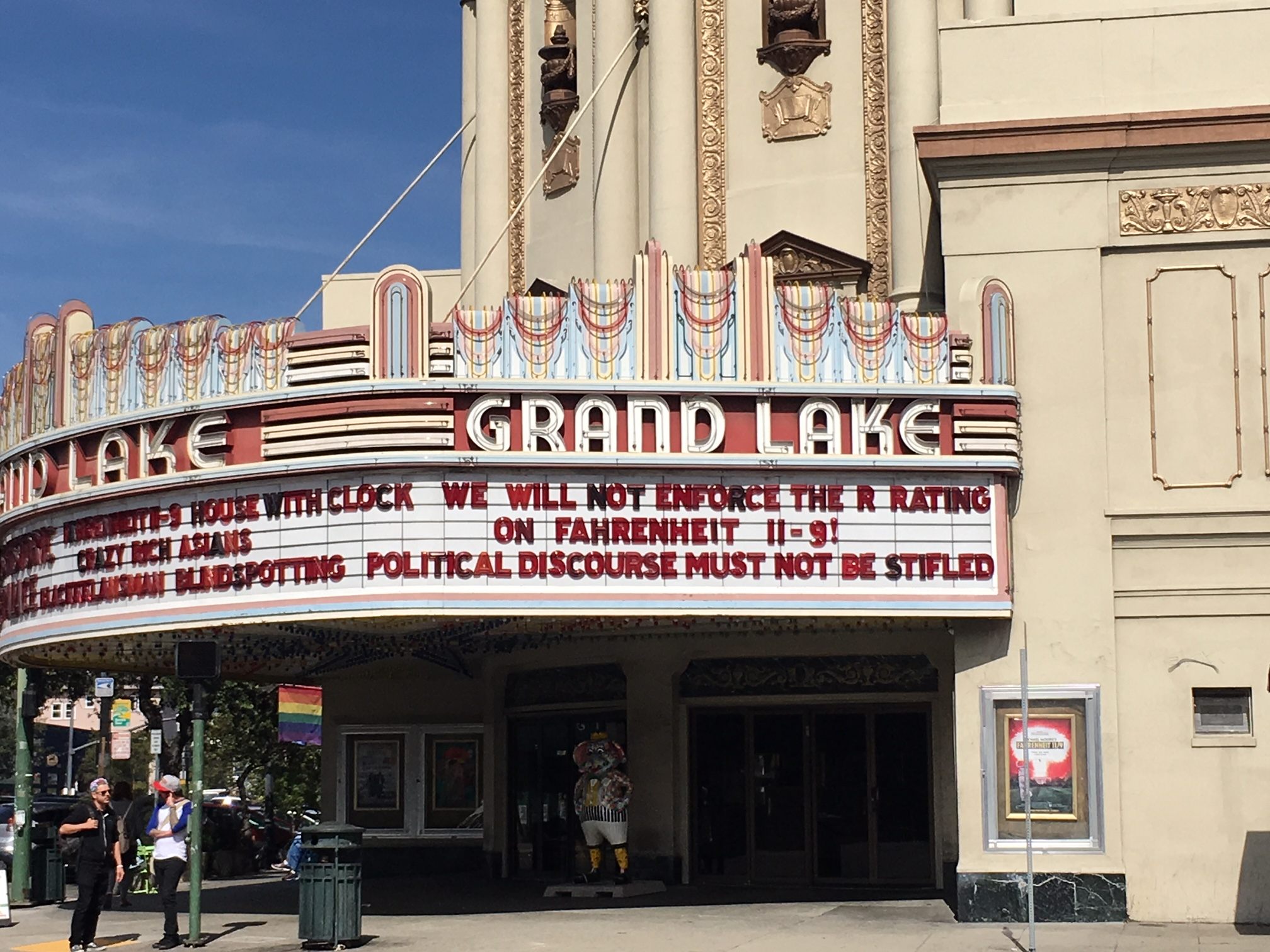 Grand Lake Theater
Oakland, California
"I love that the Grand Lake Theater marquee has timely, political statements. I don't always agree with them, but I feel good when I see the marquee used for something more than just the names of movies." — Lois Price, Piedmont, California
---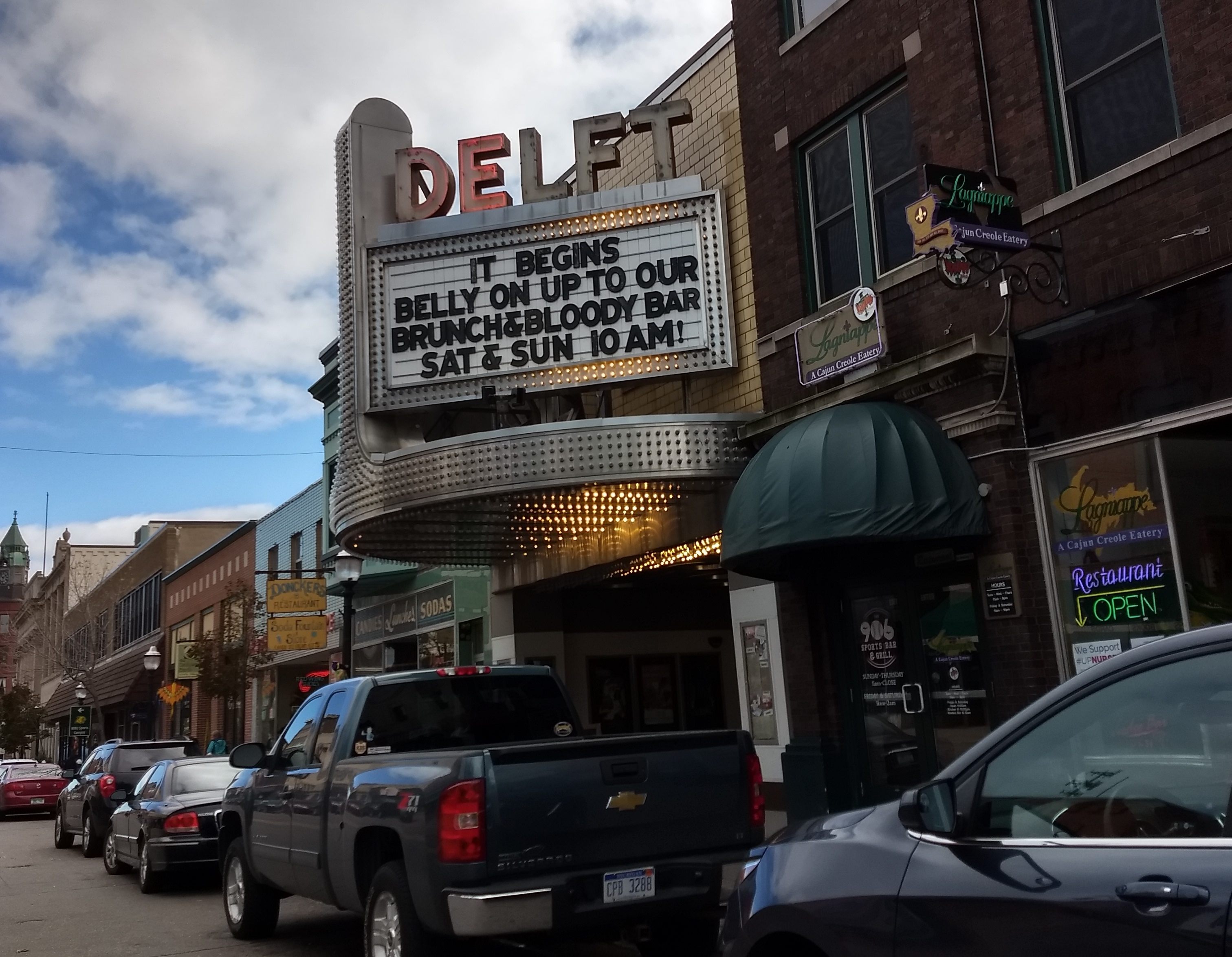 The Delft
Marquette, Michigan
"When I was young, all of us neighborhood children would walk the nine blocks downtown to the Saturday matinee at The Delft. We had enough money for the cartoon and movie, and a combo of some goodies. All for 50¢. A quarter for the movie. At that time, it was one of those gigantic theaters, it probably sat 750 people. It had a domed ceiling with beautiful murals. Our mom saved the money out of her household account to make sure we got to go to the 'show.' I credit those afternoons spent at The Delft for my love of the movies." — Lynda Buck, Marquette, Michigan
---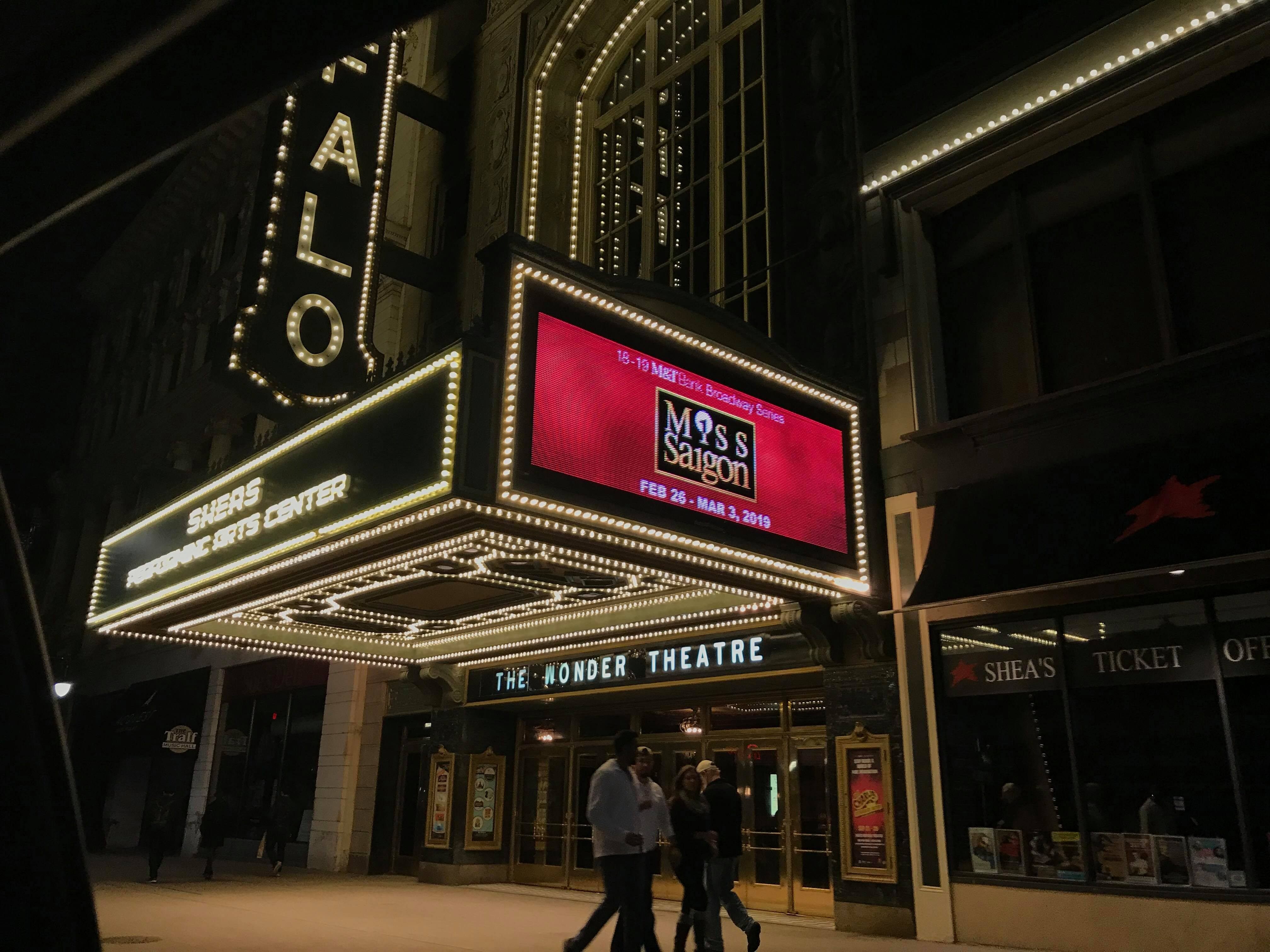 Shea's Performing Arts Center
Buffalo, New York
"This was the centerpiece of the Buffalo theatre/cinema scene for years, but it fell into disrepair. Thankfully, several years ago it experienced a renaissance and now is a premier theatre center for the area!" — Michael G. Herrmann, Buffalo, New York
---
The County Theater
Doylestown, Pennsylvania
"The non-profit County Theater first opened its doors in 1938. It's the centerpiece of one of America's best small towns. Known locally as The County, it has a history of showcasing many films that go on to Oscar nominations." — Mike Maney, Doylestown, Pennsylvania
---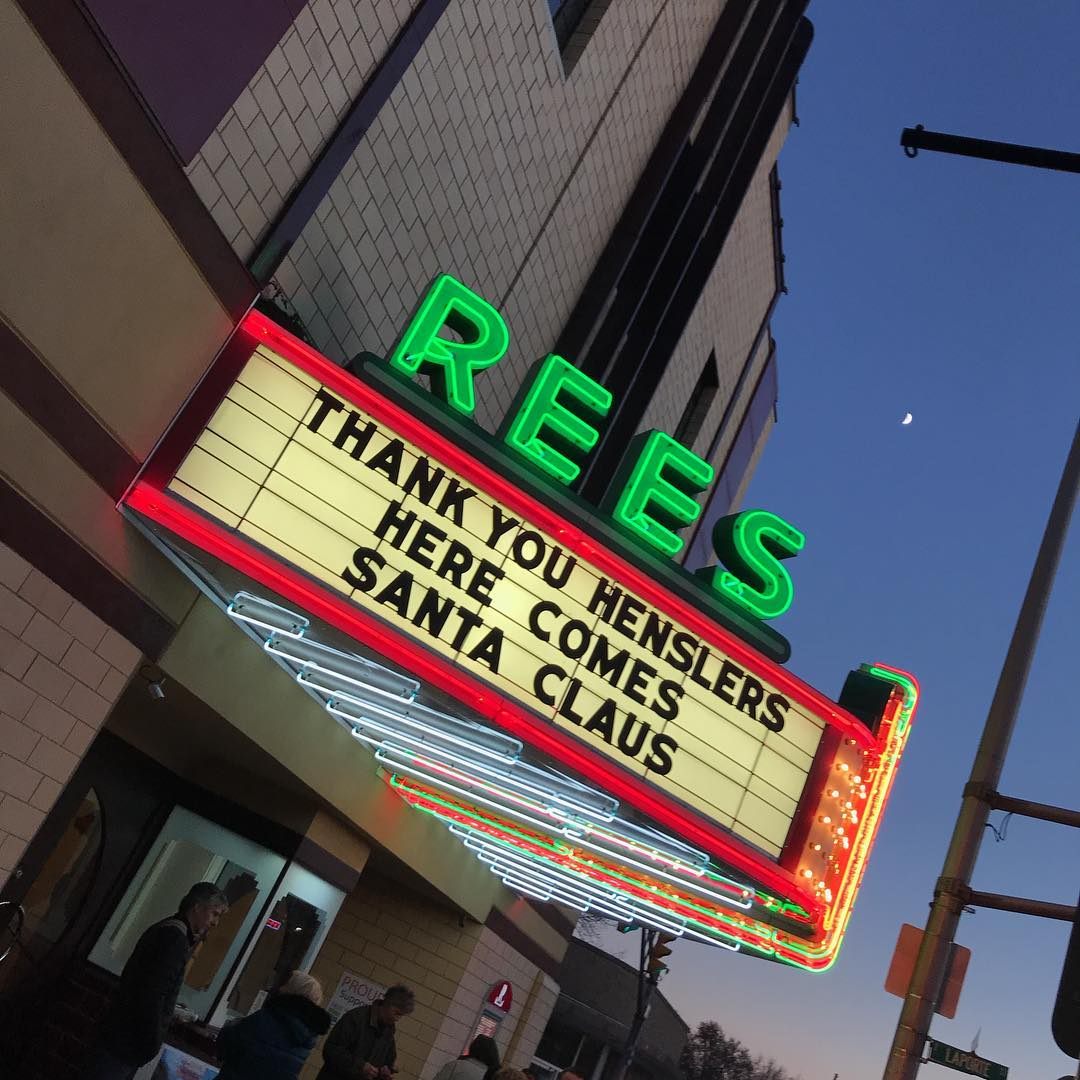 The Rees
Plymouth, Indiana
"What is special to me about The Rees is how the community has been galvanized by their memories of seeing movies there, to the point of purchasing and refurbishing this empty downtown building, and working to turn it into a community performance/art space. They still have a ways to go, but they are moving forward." — Mike Petrucelli, Plymouth, Indiana
---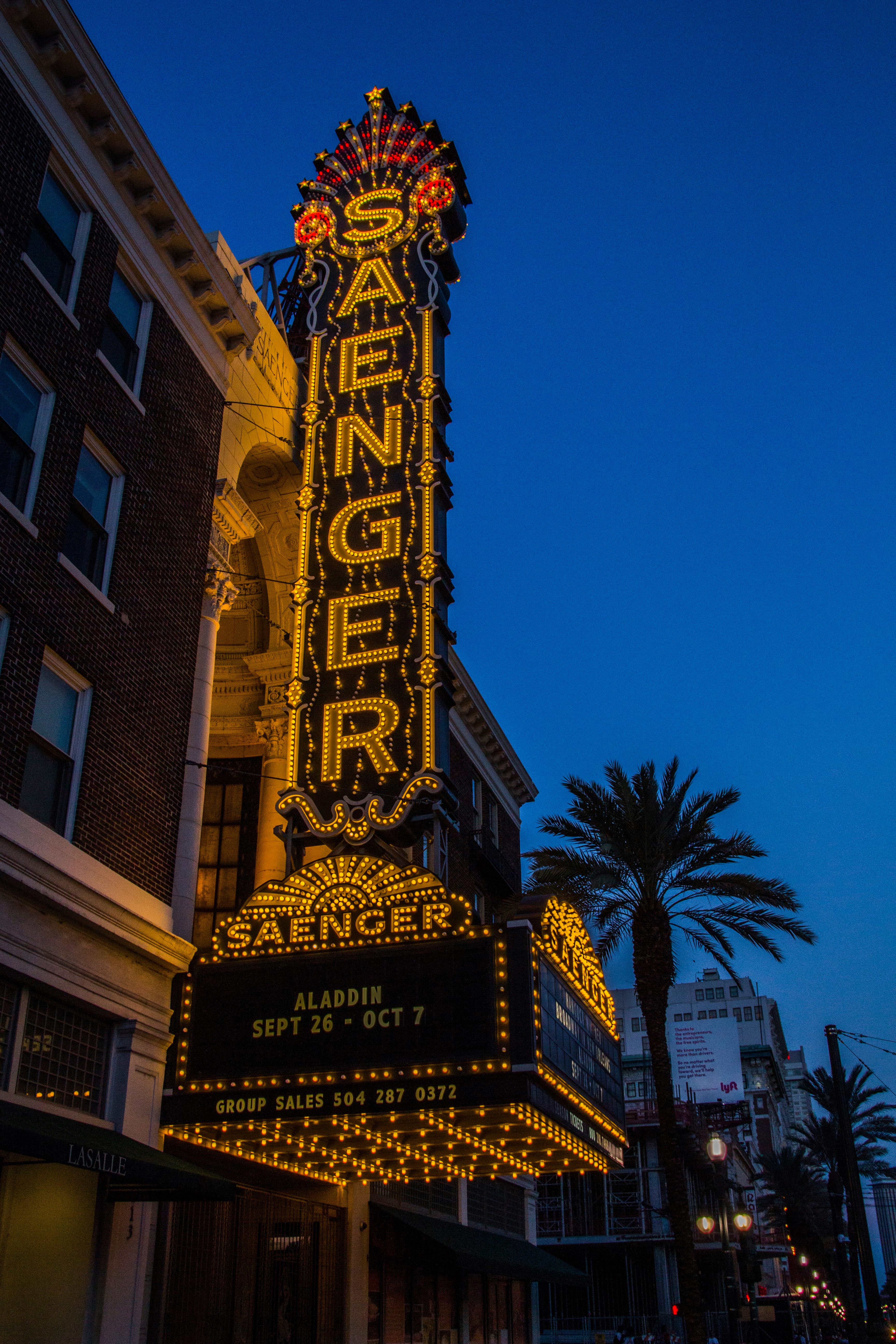 Saenger Theater
New Orleans, Louisiana
"I'm one of the founders of an international group of photographers and artists called 'Signs United.' We take photos of amazing and historic signs from around the world and share them with the public (and each other) as a way to help others learn about the importance of honoring and preserving these works of art. I was on a recent trip to New Orleans, saw this beauty while exploring, and had to take a photo!" — Mike Zack, Burbank, California
---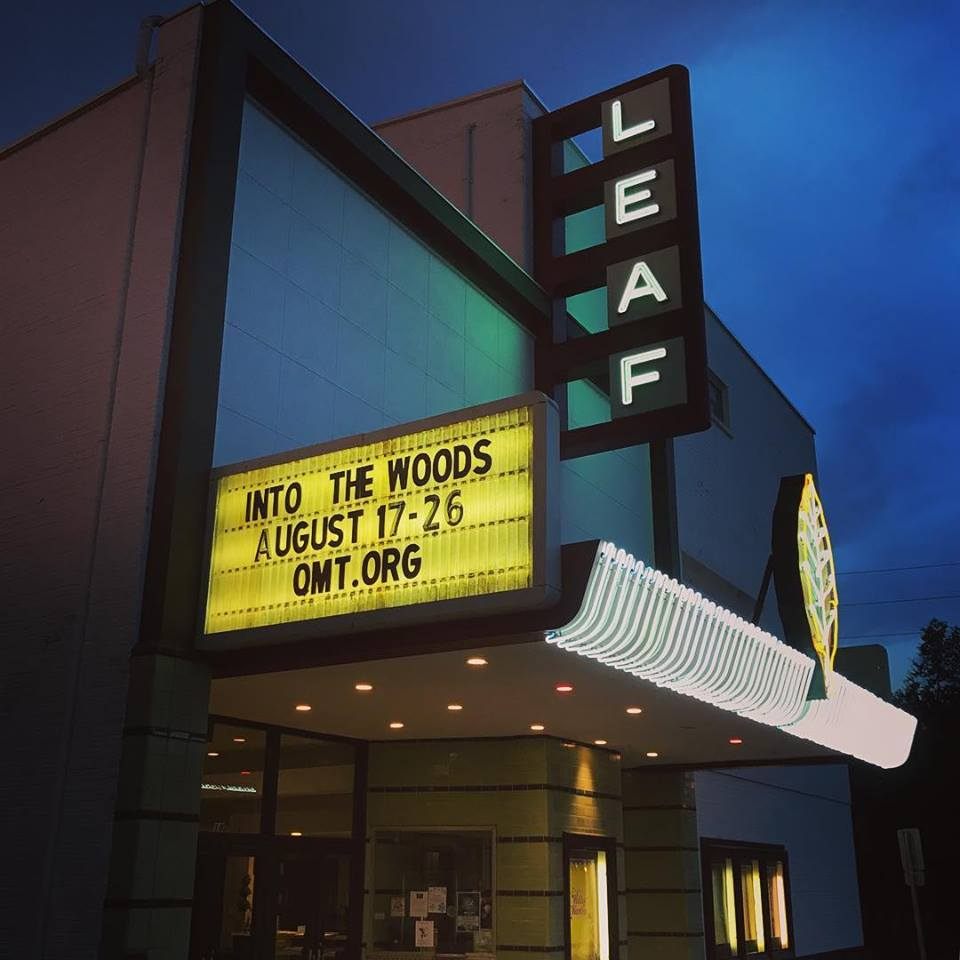 The Quincy Music Theatre
Quincy, Florida
"It was a movie theater named 'The Leaf' after our main cash crop in the area, tobacco, hence the leaf. I saw The Wizard of Oz for the first time in this theater. It's now a music theatre and is going as strong now as it did in its heyday." — Penny O'Connell, Quincy, Florida
---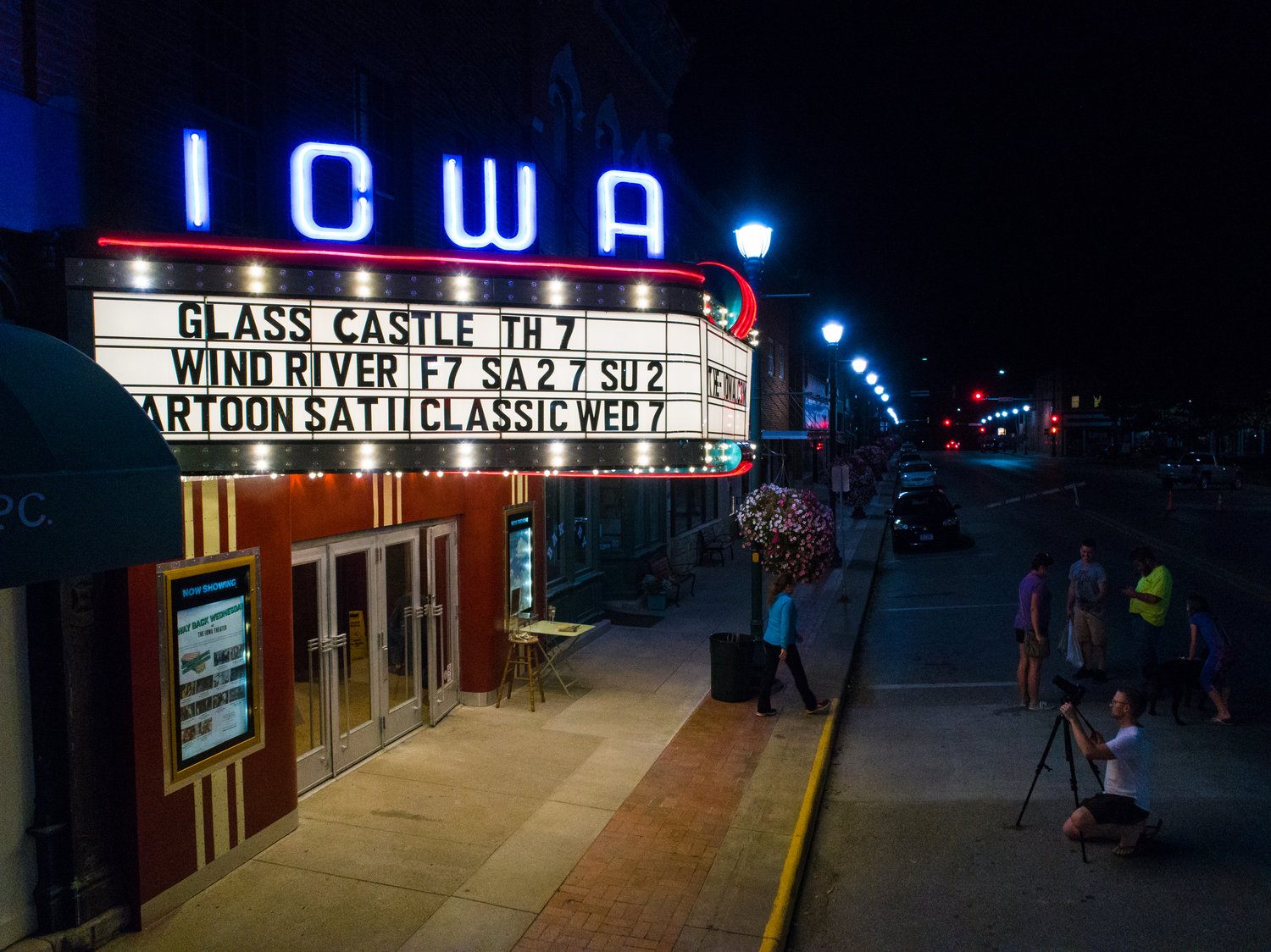 The Iowa Theater
Winterset, Iowa
"The Iowa Theater reopened in May of 2017 after a two-year, million-dollar restoration. My mother and I spearheaded the effort, purchasing the Iowa in 2015 and taking the time to return it to the gem it once was. Built in approximately 1899, the building was originally a one-story grocer. In 1914 the building was made into a vaudeville theater, and then shortly after, a two-story cinema with a beautiful art deco marquee. Though the Iowa went through many interior cosmetic changes and updates throughout the decades, the marquee remained, unchanged, for nearly 100 years. The marquee was the last piece of the restoration effort. We gave the marquee a 'facelift,' and rewired it for long-lasting, eco-friendly, LED lights that have the appearance of the neon lights that used to shine at 121 North John Wayne Drive. Closing down the street (and serving champagne), over 100 people counted down as we flipped the switch. Now, the Iowa Theater's marquee can be seen from blocks away, and is one of the first things you see as you approach the historic town square. And yes, our staff has to climb a ladder each Sunday to change the marquee announcements. Some of them like it more than others!" — Rebecca Fons, Iowa City, Iowa
"The Iowa's marquee is the quintessential small town sign. Situated in the center of town, the brightly lit marquee faces the town's beautiful City Hall, and can be seen from around the entire square. My wife and I traveled four hours simply to visit and photograph this theater. It is truly a remarkable place." — David Leonhardt, Robbinsdale, Minnesota*
---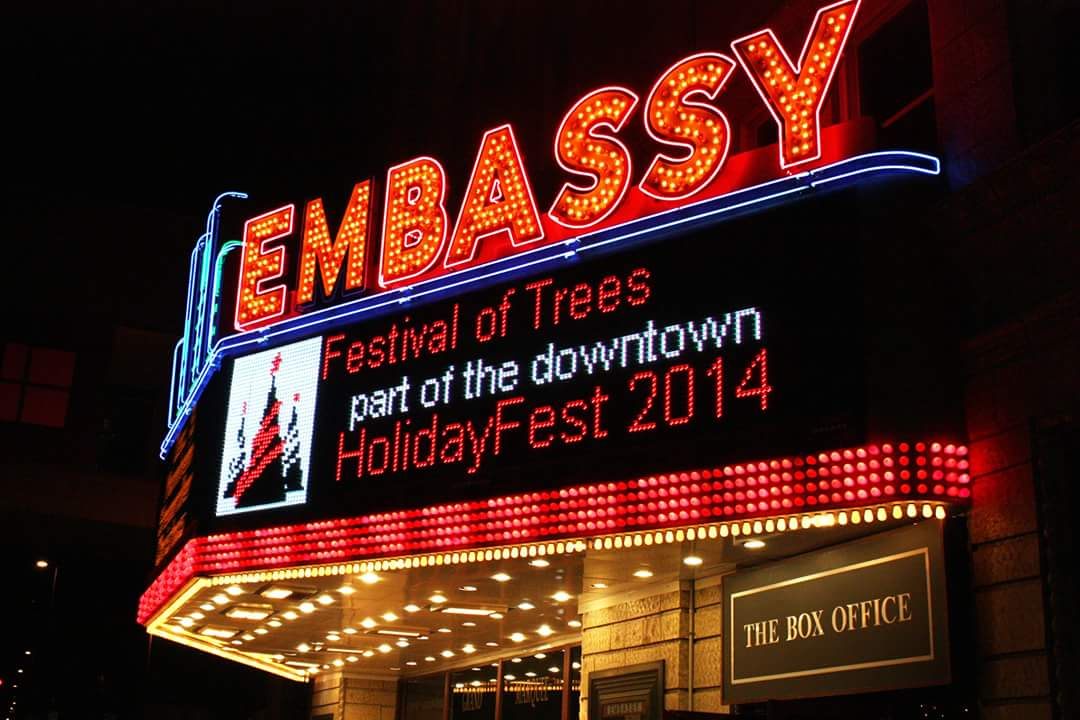 Embassy Theatre
Fort Wayne, Indiana
"There is an excitement that can't be described about going to the theater. I've only been inside the Embassy a handful of times, but each time I go, it's like I'm transported back in time. The theatre was built in 1928 and retains most of its very ornate decor, thanks to restoration efforts and volunteers. The current marquee was designed in 2005, a modern update to the marquee used in 1952. I always appreciate when the old is updated to work with current technologies, without sacrificing what made it special in the first place." — Sarah Frey, Fort Wayne, Indiana
---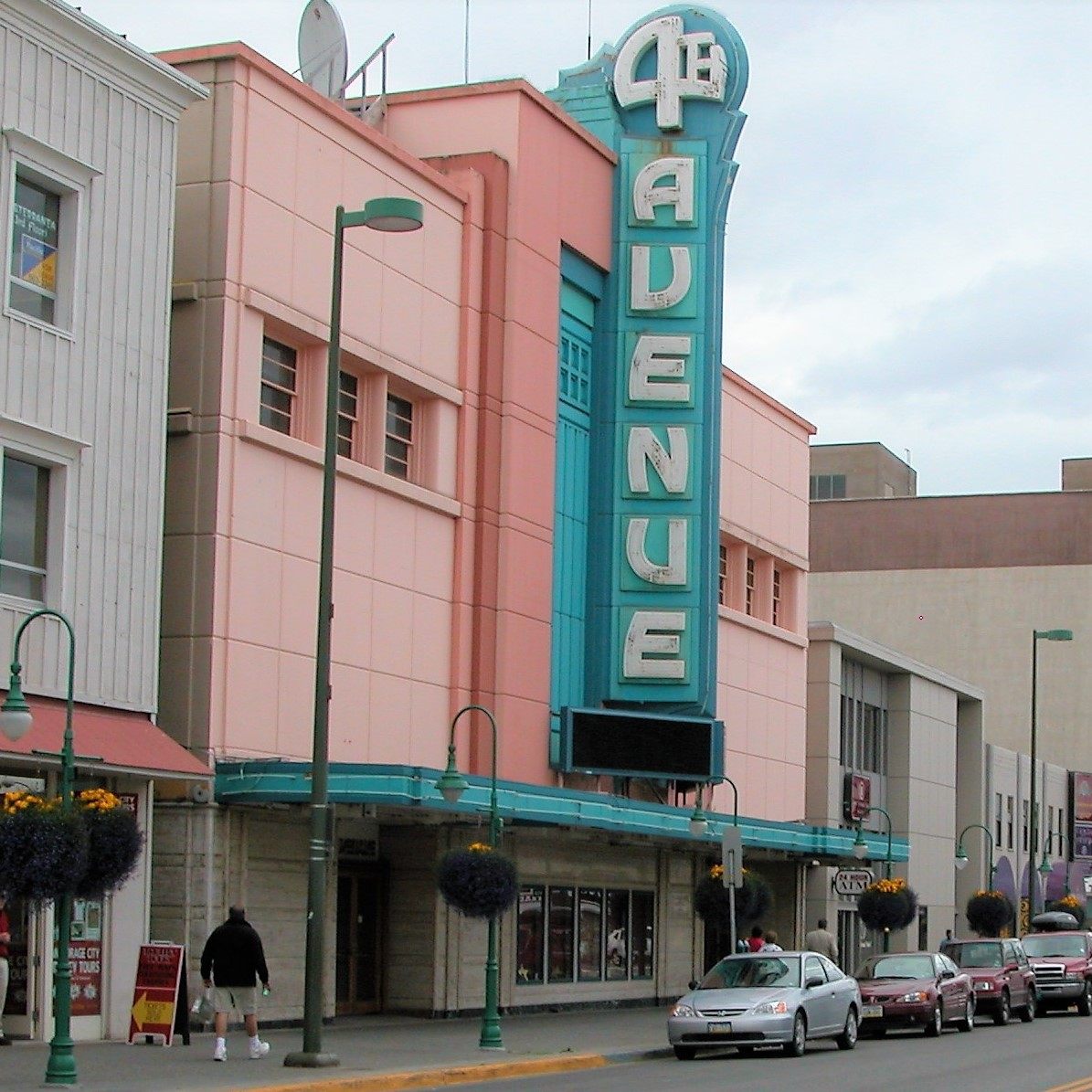 Fourth Avenue Theater
Anchorage, Alaska
"From the age of 13, up through my teenage years, I spent most every weekend attending at least one movie at this theater. In Alaska during the winter, the nights are long and cold and there was not a lot to do for young teens there so we enjoyed our weekly matinees. It's where we met friends and later spent our first dates. During my senior year which was 1964, Alaska experienced one of the most powerful earthquakes the Earth has endured. The downtown area of Anchorage was one of the most damaged. Many of my friends were in the theater at the time but managed to escape. The theater has never been restored to its former glory. There has been an ongoing movement to try and save it but at this point, that remains uncertain." — Suzanne Taylor, Utah
---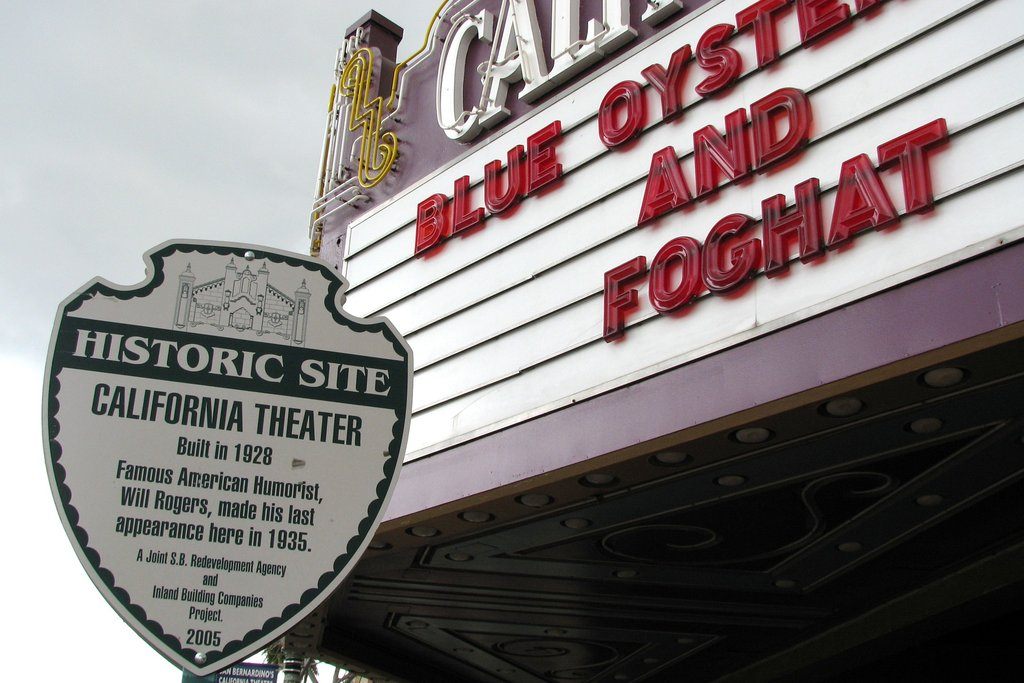 California Theater
San Bernardino, California
"My grandfather's construction company built this theater in 1928. It was what brought my family from Los Angeles to San Bernardino. My grandfather's name was Art Harmon but, unfortunately, anyone who knew the name of the company has passed away. My father liked to tell the story of how his 'job' was to carry sandbags up into the balcony, so that the load bearing could be tested. My father would have been around 14 years old at the time, so my grandfather may have just been trying to keep him from getting underfoot!" — Valerie Myers, Bend, Oregon
---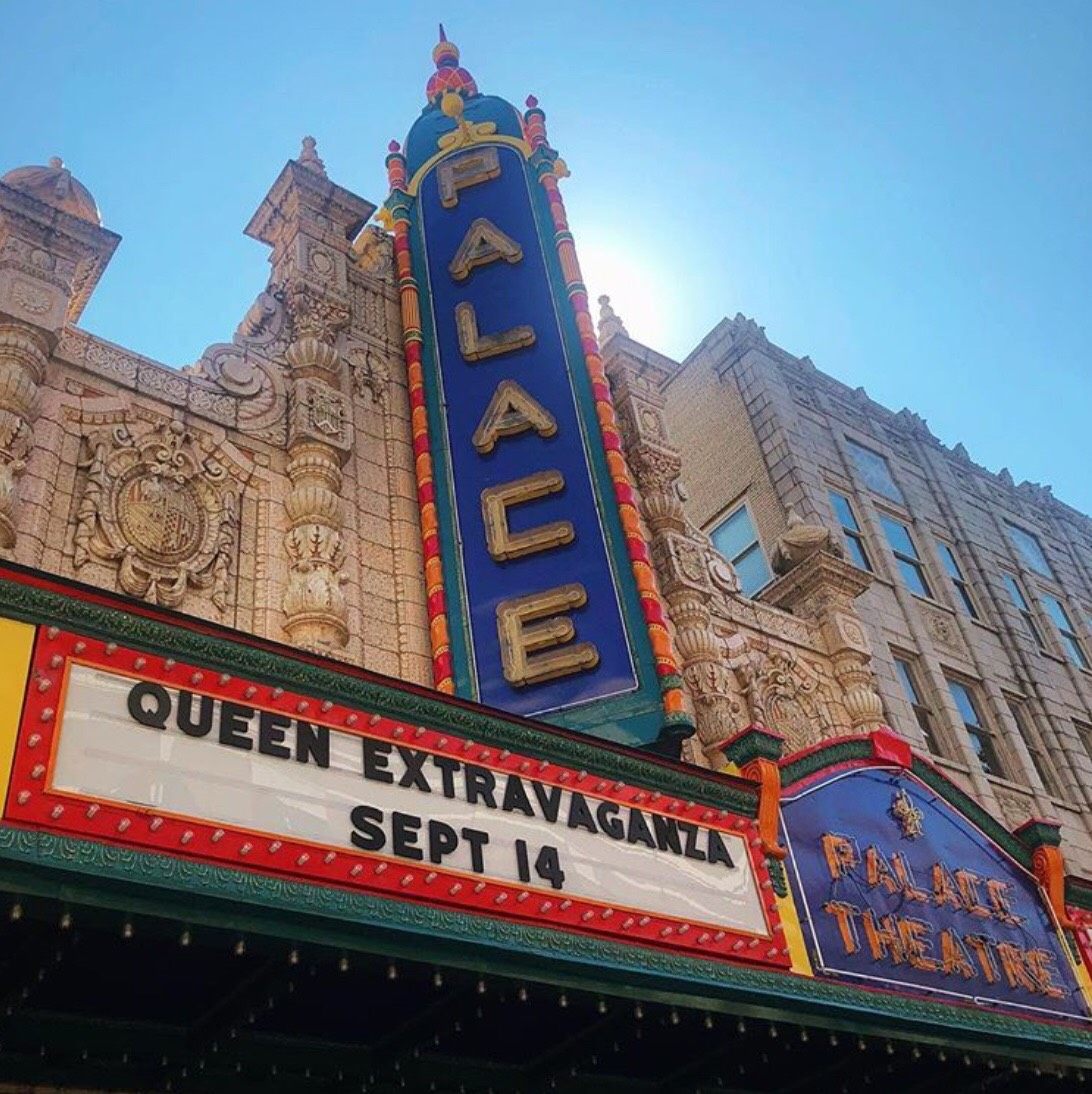 Louisville Palace
Louisville, Kentucky
"This historical theater was renovated several years ago. The marquee is still the original marquee. The interior was also kept as the original. It's so unique! No other theatre like it!" — Yvonne Miles, Louisville, Kentucky
If you have an incredible marquee of your own to share, head over to our community forums and tell us about it!
*Update 10/15: This blurb was previously positioned as its own submission but has been consolidated into one entry for the Iowa Theater.
*Update 10/18: This blurb was previously positioned as its own submission but has been consolidated into one entry for the ART Theater.