Intricately Color-Coded Maps Marking Bomb Damage from the London Blitz
Mapping the tragic effects of the aerial bombardment on London's landscape.
A map of Bethnal Green, showing WW2 bomb damage. (All Maps and Map Key: © 2015 The City of London (London Metropolitan Archives))
As one of the oldest medieval churches in London, St. Giles' Cripplegate had survived for centuries until the summer of 1940. Days before the start of the eight-month bombardment of London known as the Blitz–from the German for Blitzkrieg, or lightning war–St. Giles received a direct hit. Later that year, a series of incendiary bombs rained down on the church. Afterward, there was rubble instead of pews, sky instead of roof.
The area surrounding St Giles was destroyed. Across London, as bombardments persisted, it was the job of the rescue services to document the extent of the damage. Officers had to complete an "Incident Report and Record of War Damage," which were used by the London City Council's Architect's Department. Those records helped create the detailed maps that are the focus of the new book, The London County Council's Bomb Damage Maps, 1939-1945.

A map showing the bomb damage in Deptford.
The effect of the Blitz on London's population and built environment is laid bare in these meticulously detailed maps. The color-coding offers a bleak and immediate sense of what the landscape must have been like, and the tragedies the Londoners endured. Orange is "general blast damage–not structural"; light red is "seriously damaged–repairable at cost"; red is "seriously damaged–doubtful if repairable"; purple is "damaged beyond repair"; black is "total destruction."
The maps help to contextualize the staggering statistics from the Blitz: in London alone, there were 57 consecutive nights of bombing. An estimated 43,000 people lost their lives. Over one million houses were destroyed or damaged.

(Photo: Arthur Cross and Fred Tibbs © 2015 The City of London (London Metropolitan Archives) and reproduced by the kind permission of the Commissioner of the City of London Police)
The panorama above provides a glimpse of the destruction in "the Barbican area following the demolition of unsafe buildings in the summer of 1942," the book reports. St. Giles' Cripplegate Church, which was located in this area, was not rebuilt until 1966, more than two decades after the war ended.
The maps featured in the book also played a part in rebuilding postwar London. Including original incident reports and archival photographs alongside the maps The London County Council's Bomb Damage Maps, 1939-1945 provides a graphic representation of the tragic cost of the bombing and how it shaped the London landscape.

Key to LCC Bomb Damage Maps.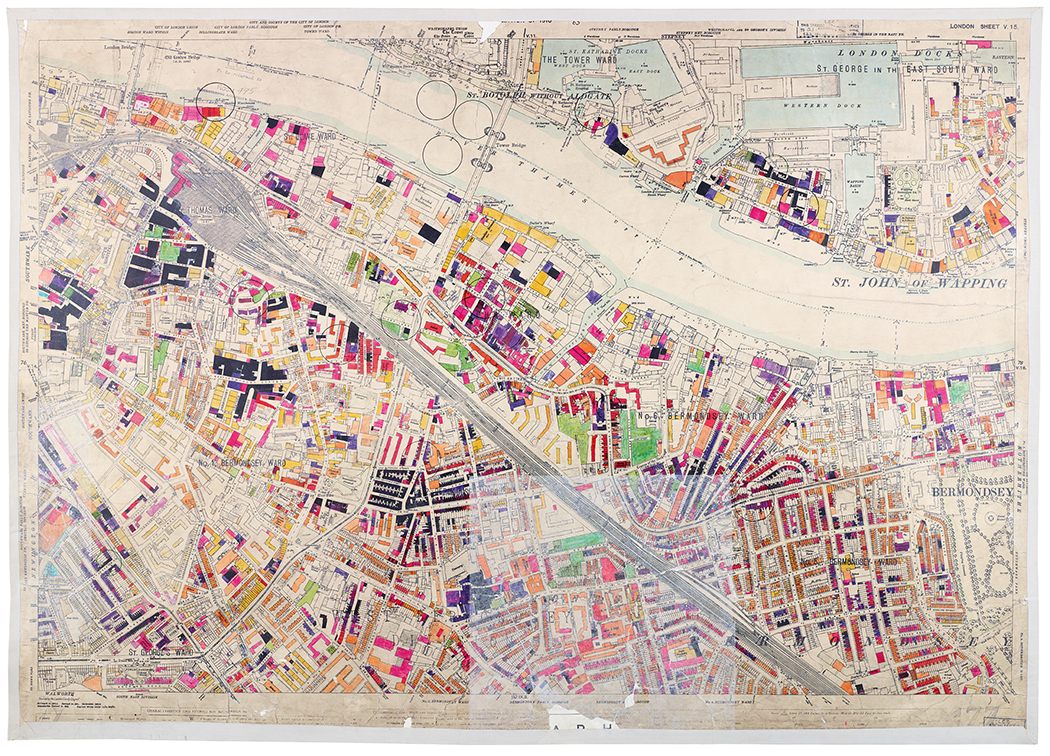 Wapping; Bermondsey.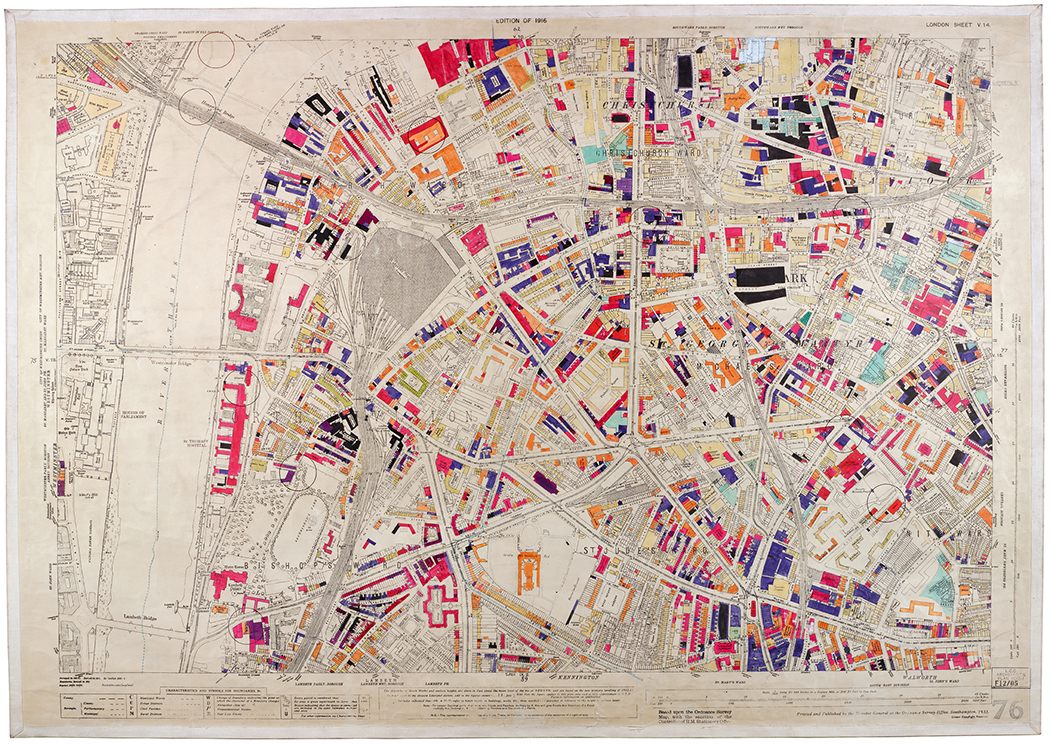 Waterloo; Elephant and Castle.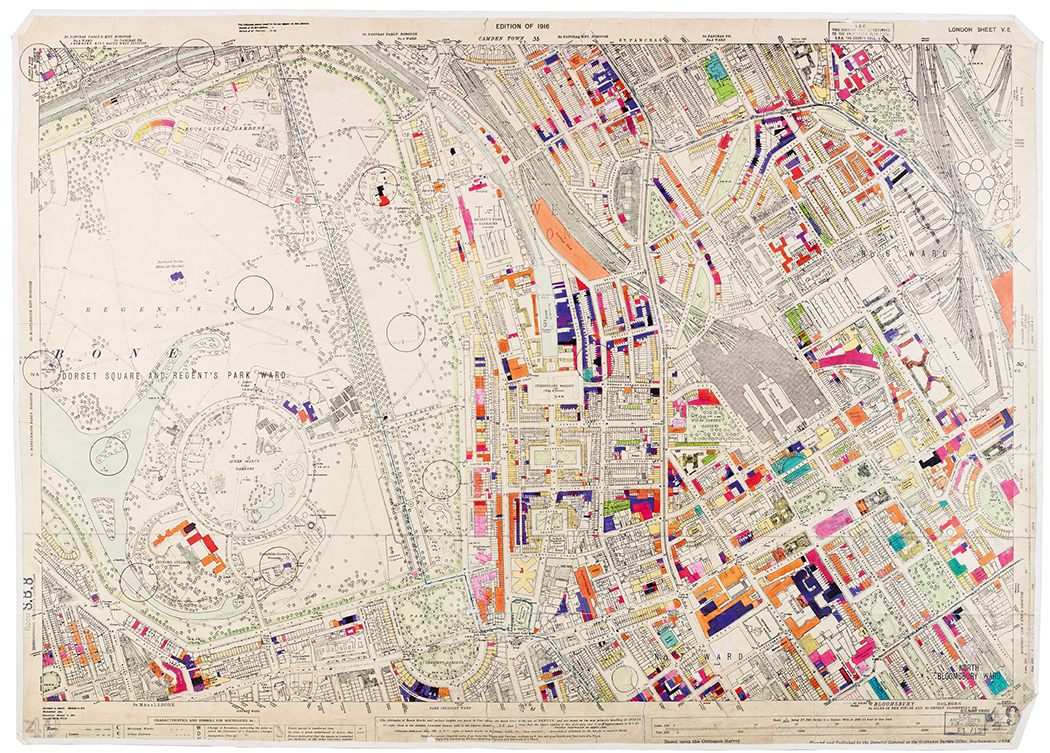 Regent's Park; Somerstown.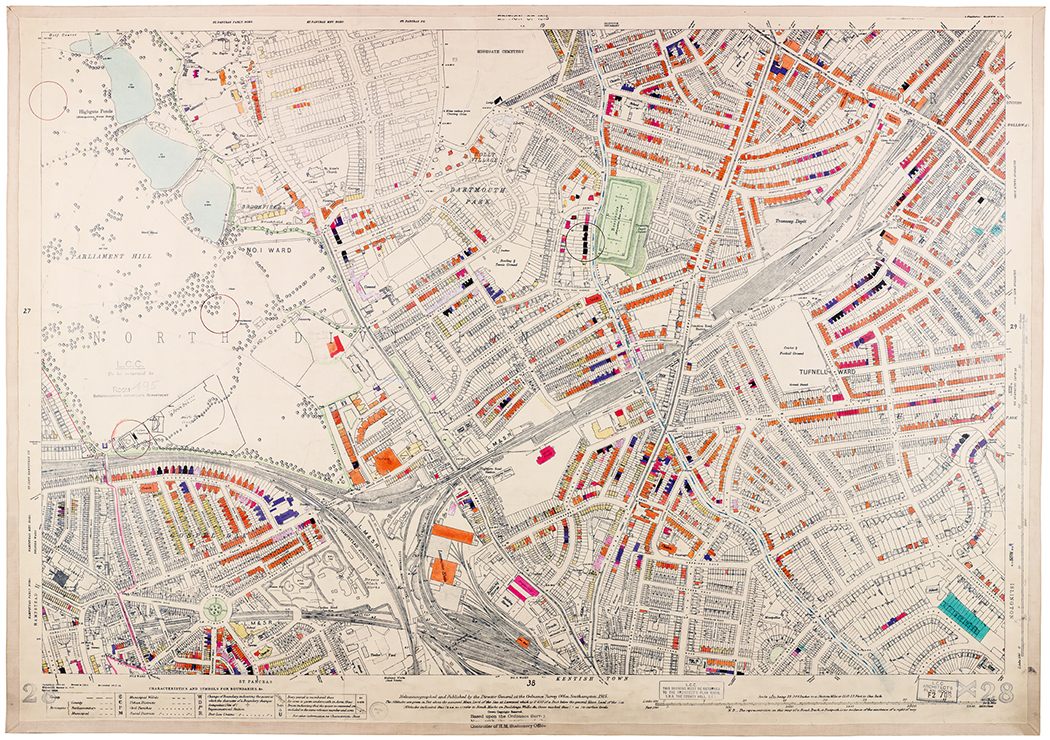 Upper-Holloway; Parliament Hill.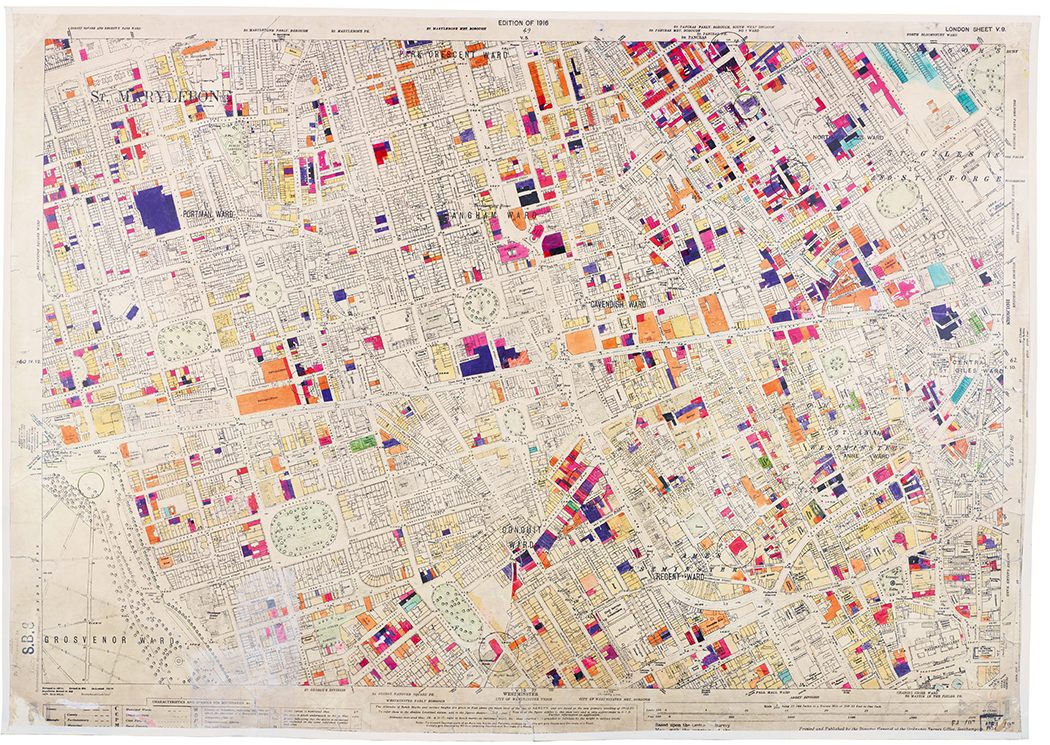 Mayfair; Soho.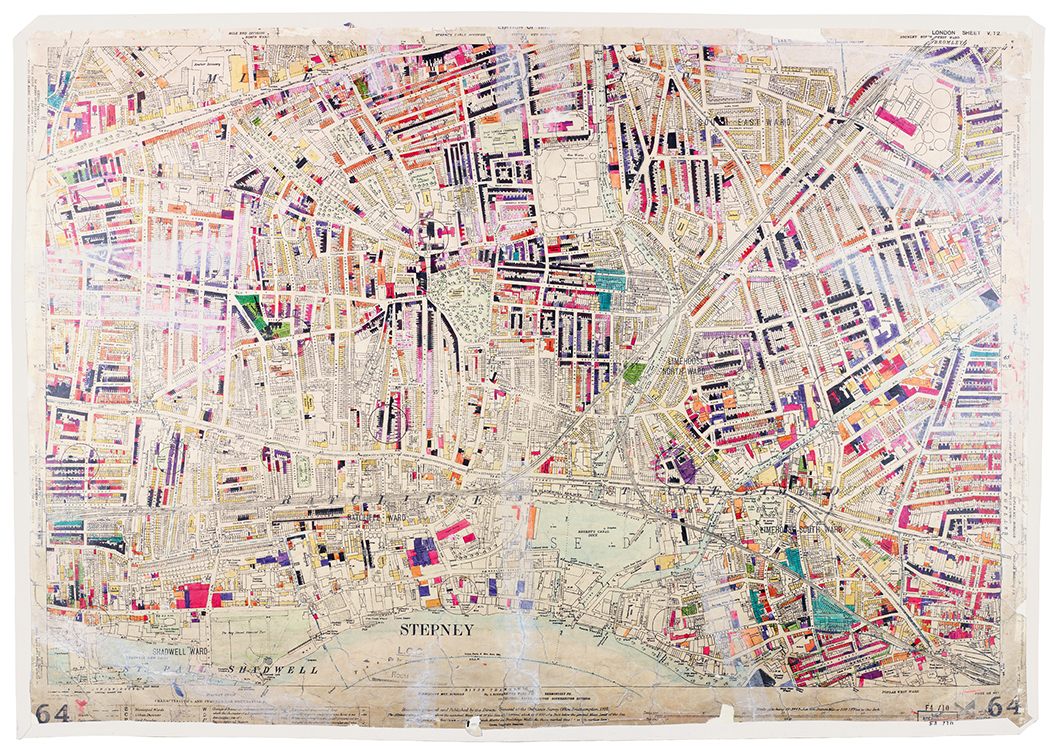 Stepney; Limehouse.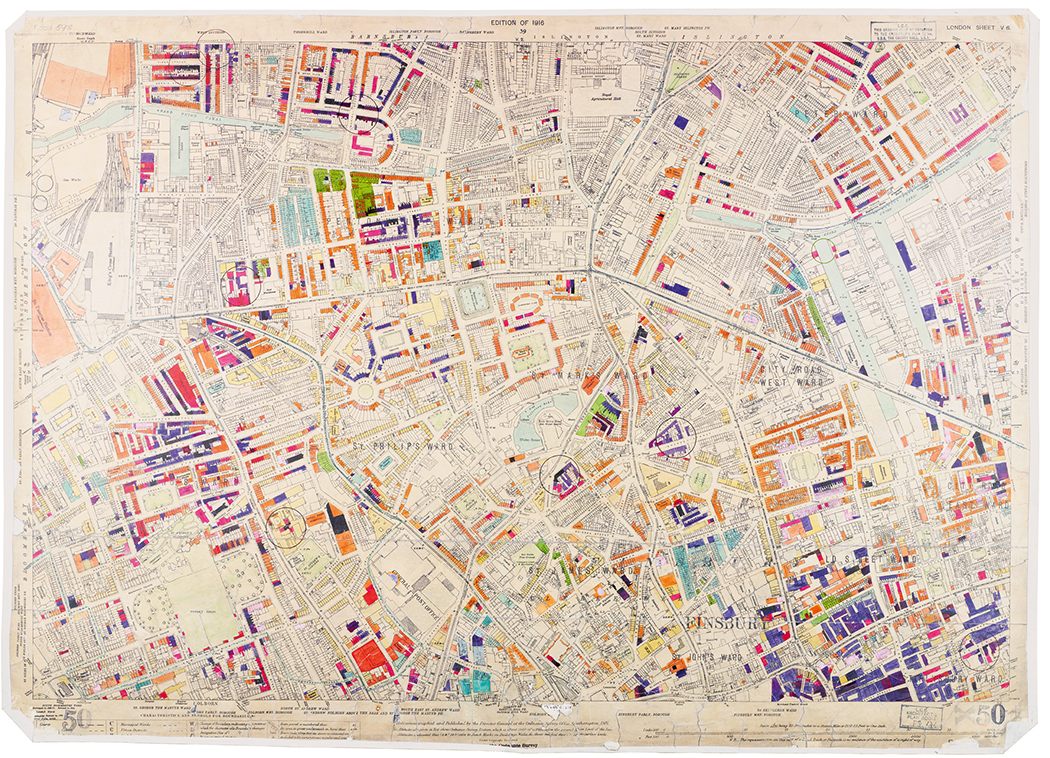 Clerkenwell; Islington (Part).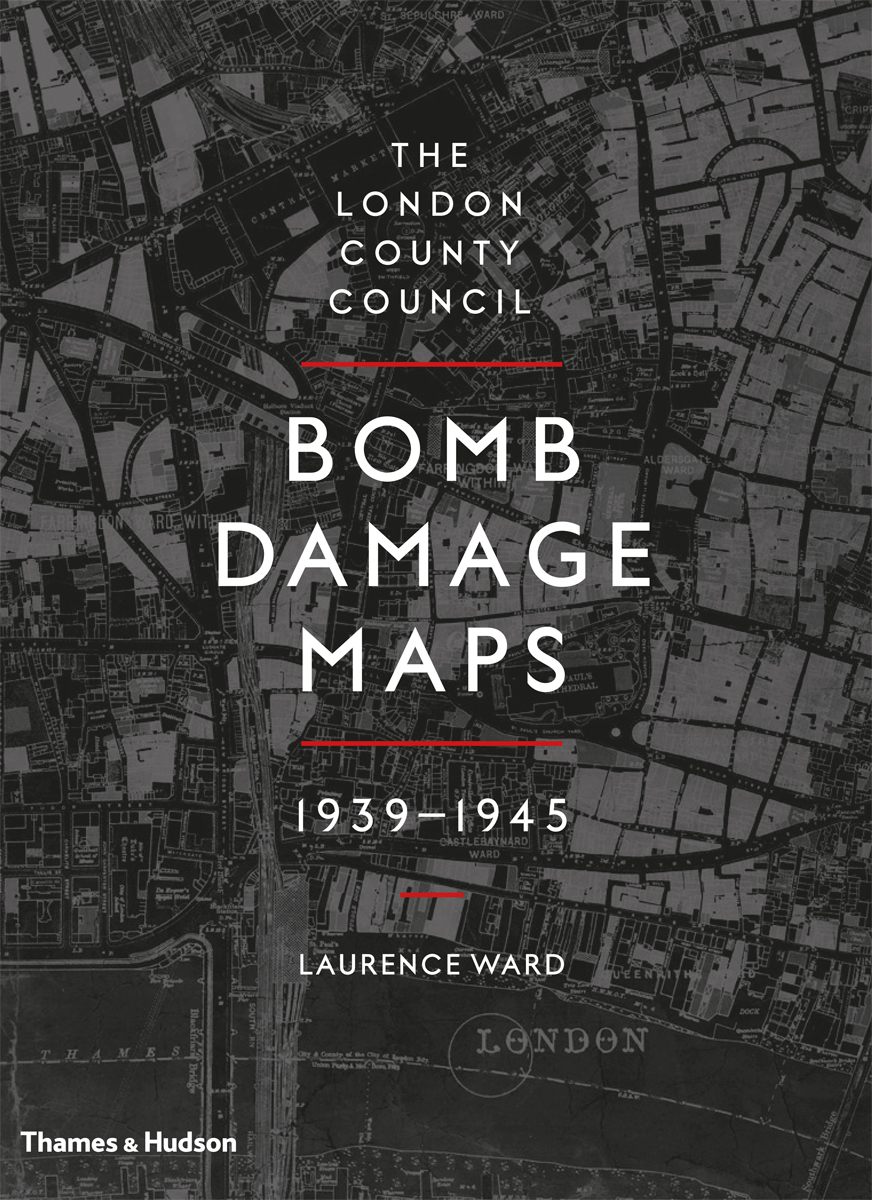 The cover of The London County Council Bomb Damage Maps 1939-1945. (Photo: Courtesy Thames and Hudson)