These Protest Photos Document Life in 'Resurrection City'
In 1968, thousands of protesters camped on the National Mall as part of the Poor People's Campaign.
In May 1968, just a month after Martin Luther King Jr. was assassinated, around 3,000 protesters converged in Washington, D.C., to stage a campaign that the civil rights leader had been planning. Known as the Poor People's Campaign, or PPC, it represented new directions in both King's thought and strategy. The PPC was conceived in the belief that racial equality is inextricable from economic equality, that civil rights are insufficient without the security to enjoy them. And in practice, as he put it in a 1967 speech, King hoped that the protests would embody a "middle ground between riots on the one hand and timid supplications for justice on the other … "
On May 13, the day after Coretta Scott King led protesters into the capital, thousands of the demonstrators set up tents and shacks on the National Mall, making it plain that they were not simply marching in and then out of town. They dubbed it "Resurrection City," and called it home for more than 40 days. They made themselves impossible to ignore—so much so that, after Robert F. Kennedy was assassinated in early June 1968, his casket and funeral procession passed through Resurrection City.
Jill Freedman, a young, white, amateur photographer from New York, quit her job as a copywriter to live with the protesters in Resurrection City and document their time there. Though Freedman was not sent to the protests on assignment, her photos later circulated widely, appearing first in LIFE magazine and then in the book Old News: Resurrection City. In August 2020, Bonhams auction house will open bidding on a selection of Freedman's protest photos, with estimates ranging as high as $7,000. The online auction, which will also include photos by Bruce Davidson, who documented the civil rights movement as well, will close in early September.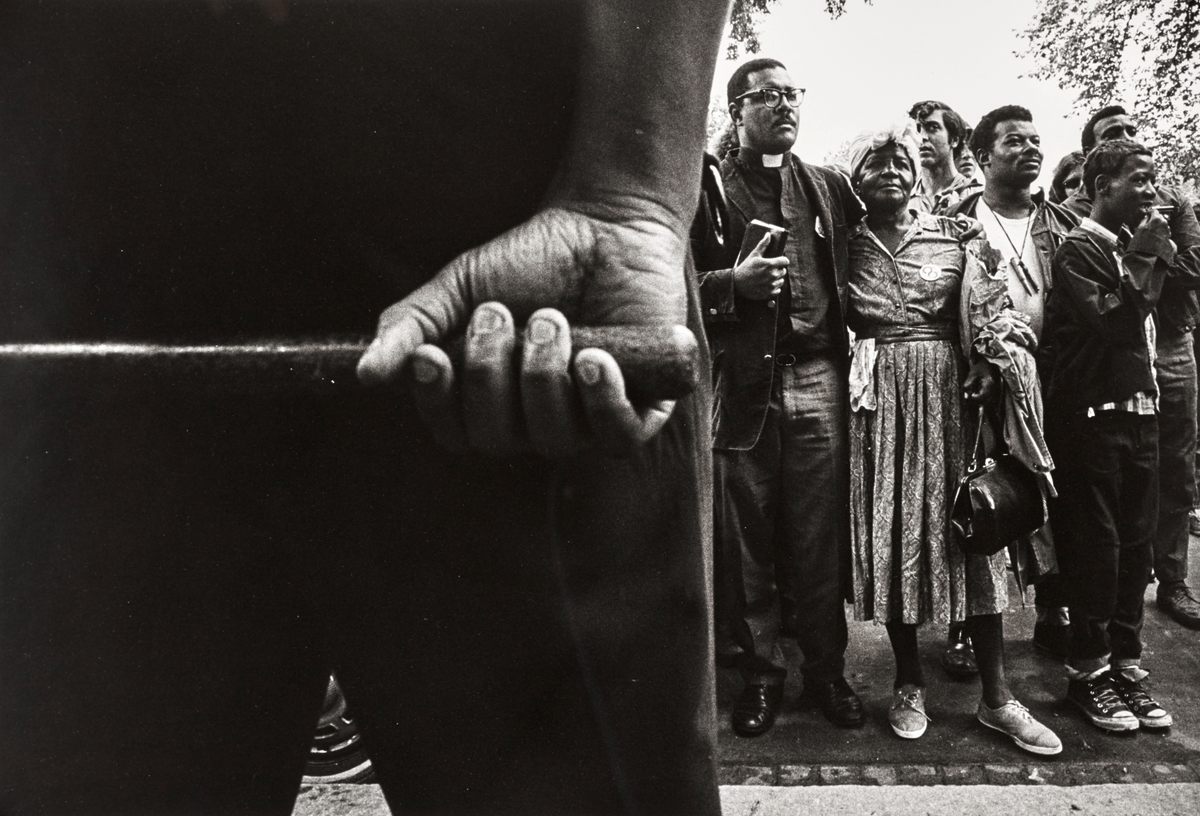 The images on sale portray the diversity of the protests' participants and capture the events on scales both epic and intimate. One particularly striking photo shows the Washington Monument in the distance behind a row of tents, juxtaposing the nation's stated ideals with its lived realities. Another shows children rafting through floodwaters around the tents, documenting the weather and volatile conditions the protesters endured during their stay. Throughout the photos there are close-ups and group shots, young children and older people, and Americana ranging from flags to passing Greyhound busses. There are also police: One photo captures an officer from behind, tightly clasping his baton, as a priest leads a group of protesters just a few feet across the way.
Picking a standout image from the collection is like trying "to pick my favorite scene from a novel," says John Edwin Mason, a historian of Africa and photography at the University of Virginia, and the author of an essay in a 2017 edition of Freedman's Resurrection City photos. (Freedman passed away in 2019.) In other words, Freedman's work strikes him primarily as a whole. "What I remember is the rawness," he says, "her refusal to prettify Resurrection City."
In Mason's view, Freedman's position as a white photographer does not make the images feel insincere or voyeuristic. (The protests were multiracial, though the demonstrators were predominantly Black.) "She walked the walk," he says. "She had quit her job, she was virtually penniless, [and] she was not getting paid for the photos" as she took them. He adds that her respect for the subjects also comes through clearly: They're not "cardboard heroes" with limitless strength. Instead, we see the protesters tired and frustrated. Because she lived in Resurrection City, says Mason, the protesters knew who she was. "She's not taking photographs of people unawares," he explains. "They're very aware of her presence, and they accept her."
When King laid out his vision for the PPC, which was first suggested to him by the NAACP's Marion Wright, he hoped the campaign would yield jobs, a higher minimum wage, and more equitable access to education. Ultimately, according to Stanford University's King Institute, the results were more modest—such as programs supplying surplus food to 200 counties and some limited hiring pledges. King and his successor Ralph Abernathy, who led the campaign, had hoped for more—and indeed, their work is not done. In recent years, the Poor People's Campaign has relaunched with an agenda revised for the 21st century. It is currently being revised further, as the COVID-19 pandemic poses unique threats to the economically vulnerable.
You can join the conversation about this and other stories in the Atlas Obscura Community Forums.