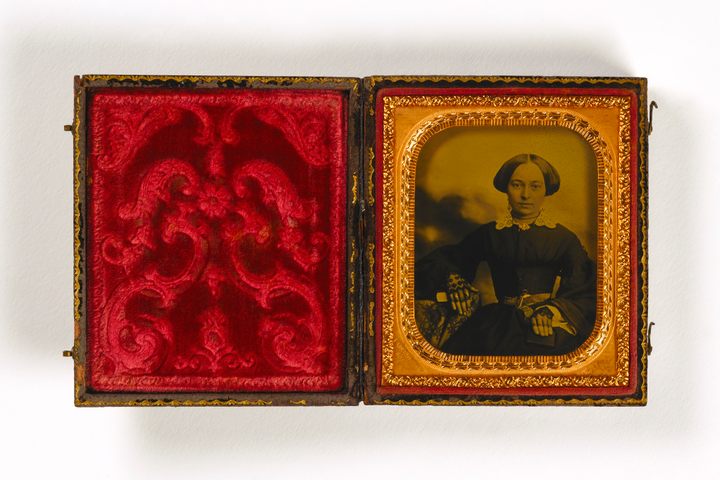 A Stunning Archive of the Work of Early Black Photographers
A new collection acquired by the Smithsonian is a window into Black history.
The names James P. Ball, Glenalvin Goodridge, and Augustus Washington may not be widely known, but each man was a pioneer from the dawn of the photographic era, and each produced images that tell a story of Black life before the Civil War, as well as the role artists played in abolition. For 45 years, a collector named Larry West searched for the works of these three Black daguerreotypists who were active in the 1840s in Ohio, Pennsylvania, and New England, respectively. The Smithsonian American Art Museum recently acquired West's 283-piece collection, which also includes one-of-a-kind images of abolitionists and early examples of photographic jewelry, and plans to debut it to the public in 2023 in a new gallery dedicated to early American photography.
Atlas Obscura spoke to museum curators John Jacob and Eleanor Jones Harvey about the importance of preserving the work of these Black photographers, what they can teach us about the Underground Railroad, and the hardest thing to photograph in the 19th century.
Why did the museum want to acquire this collection?
John Jacob: The story of the democratization of portraiture is one that I've always been interested in because we all say "photography democratized portraiture"—that is, it made portraits available to a wide audience. But where's the evidence for that? At the Smithsonian American Art Museum, we have a vast collection with more than 450 portrait miniatures, which gave us the ability to tell one part of that story, the transition from [painted] portrait miniatures to early photography. But it immediately became clear that I couldn't tell the whole story because in order to show the democratization of portraiture, we would have to have photographs by non-white artists, and we only had one in the collection from the daguerreotype period—the first 10 years of photography—and we would have to have photographs by women photographers and we only had one.
This collection, everyone at the museum agreed, was exceptional material that would let us tell the story of this transition from painted miniature to case photography, but it would also let us tell the story of African-American artists at the very birth of American photography.
Eleanor Jones Harvey: These images from studios run by Black artist-entrepreneurs who had a clientele that is partly African-American positions us to tell a story that does not get told in mainstream art museums.
What do these images tell us about the lives of these free Black artists before the Civil War?
Jacob: We know that each of them started their own business within a couple of years after Matthew Brady [one of the earliest photographers] opened his first studio. And we know that not only were these men entrepreneurs, but they were also innovators. In the collection, there's a great example of a patent-pending ambrotype process that was used by both Brady and Goodridge. These men were following the technology. They were invested in it. They were experimenting. And that's a really interesting story to tell.
And we also know that each of them was an abolitionist. Goodridge's studio in York, Pennsylvania, was a site of the Underground Railroad.
What do these images, in addition to images created by painters, tell us about the Underground Railroad itself?
Harvey: One of the three photographers in this collection is James Presley Ball, who was in business in Cincinnati with a leading black painter, Robert Seldon Duncanson, and we've never entirely understood the extent of the collaboration, whether or not there was a political side to it. We do know that Ball, with his business partners, produced a moving panorama on the history of slavery and we know when it was displayed in Cincinnati, Duncanson had five or six of his paintings on view in that room. Cincinnati was the hotbed for abolition, and we know from [collector] Larry West's research that a number of the patrons that Duncanson had in Cincinnati were also active in sewing circles that created the clothing that let people on the Underground Railroad pass for locals. So there are definitely angles to be deepened as we go into the research on this.
Do you have personal favorites from the collection?
Jacob: I mentioned the ambrotypes. I love those pieces. Goodrich's ambrotype is a portrait of his wife, and it is an exceptionally beautiful photograph. I also have to say that while everyone is very excited, and rightfully so, about the work of these three African-American photographers, the collection of photographic jewelry included this acquisition is second to none. There's one that is a bracelet with a daguerreotype of a boy. The band is hair. Is it his hair? His mother's hair? His sister's hair? We don't know. There's a story there asking to be told.
Harvey: I have two. The first is a spectacular photograph of a young African-American man in a suit who could walk out of that photograph and you could have a conversation with him. He is that modern-looking. There's a slight blush to his cheek, there's a slight smile playing around his eyes and his mouth, and he is just about to tell you his life story. I would love to be able to give that back to the world—either his personal story or the stage set of when this man was alive.
That's the serious one. The other is: Goodridge took a picture of a dog. Remember, with early photographs, these were 10-, 20-, even 50-second exposures. The reason there are no pictures of battles is that at some point the photographer would have had to say, "Don't move!" The dog doesn't move. He just sits there on the chair. I love that dog. I love the fact that Goodridge did it. I love the fact that it was successful and I love that it survived.
This interview has been edited and condensed.