Remembering Hair-Raising Landings at Hong Kong's Kai Tak Airport
Turn right at the mountain.
It's been nearly 20 years since Hong Kong's Kai Tak International Airport closed, but its unique, notorious landing approach is still very much alive in the memory of those who experienced it. "Kai Tak was one of the last major airports in the world where you really had to rely on basic flying skills—'stick and rudder'—and we were all a bit sad when it closed," says Captain Dave Newbery, who flew into the airport for four years with Cathay Pacific before the runways were shut down in 1998.
Kai Tak was built in 1925 on reclaimed land in Kowloon Bay, opposite Hong Kong Island. Its location was unusual: It sat in a bowl, surrounded by mountains and water—and later studded with apartment blocks. In the early years, it was used by a flying club and as a military airfield but, after WWII, it became a base for the local airline Cathay Pacific. In 1958, as demands on the airport increased, a new runway was built: Runway 13/31. It jutted out into Victoria Harbor, and it was that descent that earned the nickname "Kai Tak Heart Attack."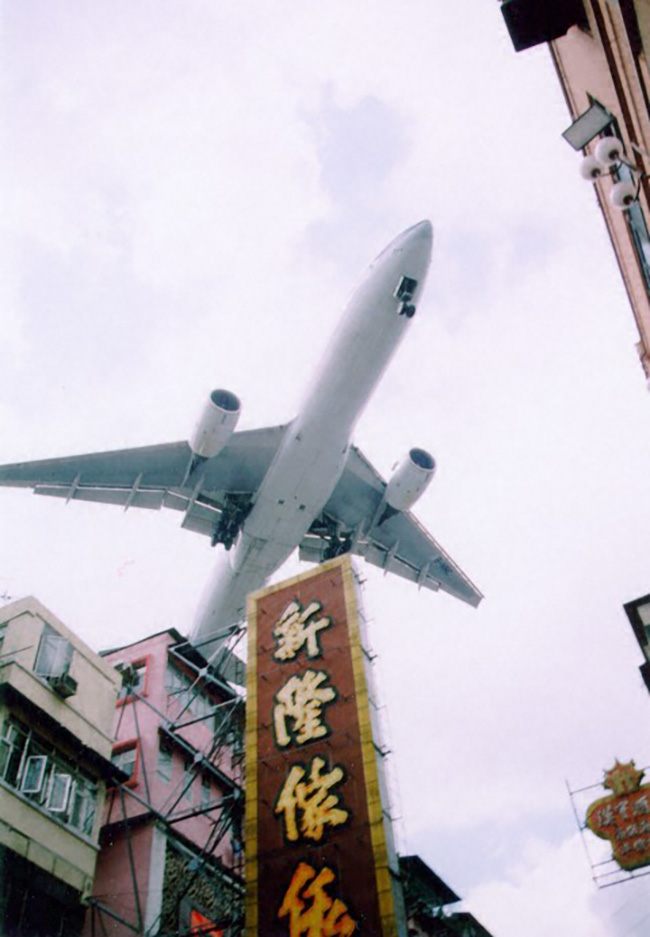 An aircraft with clearance to land on Runway 13/31 began its approach across Victoria Harbor, home to one of the world's busiest ports, and densely populated Kowloon. Upon sighting "Checkerboard Hill"—an orange-and-white painted marker above a park—the pilot veered right. This low-altitude, 47-degree turn took place at nearly 200 miles per hour, just two nautical miles from the runway. From there, the aircraft shot over apartment buildings and bustling streets—in addition to plane-spotters on the roof of Kai Tak's parking garage, before the wheels touched finally touched down, probably with an audible sigh of relief.
"We practised the approach in the simulator, but it didn't really replicate the real thing," says Newbery. "It was a question of seeing how other people did it and 'having a go' yourself—with the odd word of guidance from the captain." But an additional consideration was weather. Typhoon season lasts from May to November in Hong Kong, and added even more complexity to the landing.
"In good weather with a light wind, the approach was fairly easy to manage, once you got the hang, but with the unpredictable winds and rain in bad weather or during a typhoon, it could be a real handful." Newbery recalls a particularly memorable landing: "I was flying into Kai Tak with my wife on the jumpseat. The weather was pretty awful, and halfway through the turn onto finals, a vicious rainstorm came across the airfield and I totally lost sight of the runway. I had to execute a missed approach, which was quite hard work."
Given these conditions, Kai Tak's 73 years of operation did involve accidents, some fatal. One of the last, which remarkably involved only minor injuries, was in 1993, when a China Airlines Boeing 747 landed during a typhoon. Amid strong crosswinds, the aircraft overshot the runway and both the nose and wing ended up in the harbor. Despite the dangers, Runway 13/31 became the busiest single runway in the world, with 36 landings and take-offs per hour.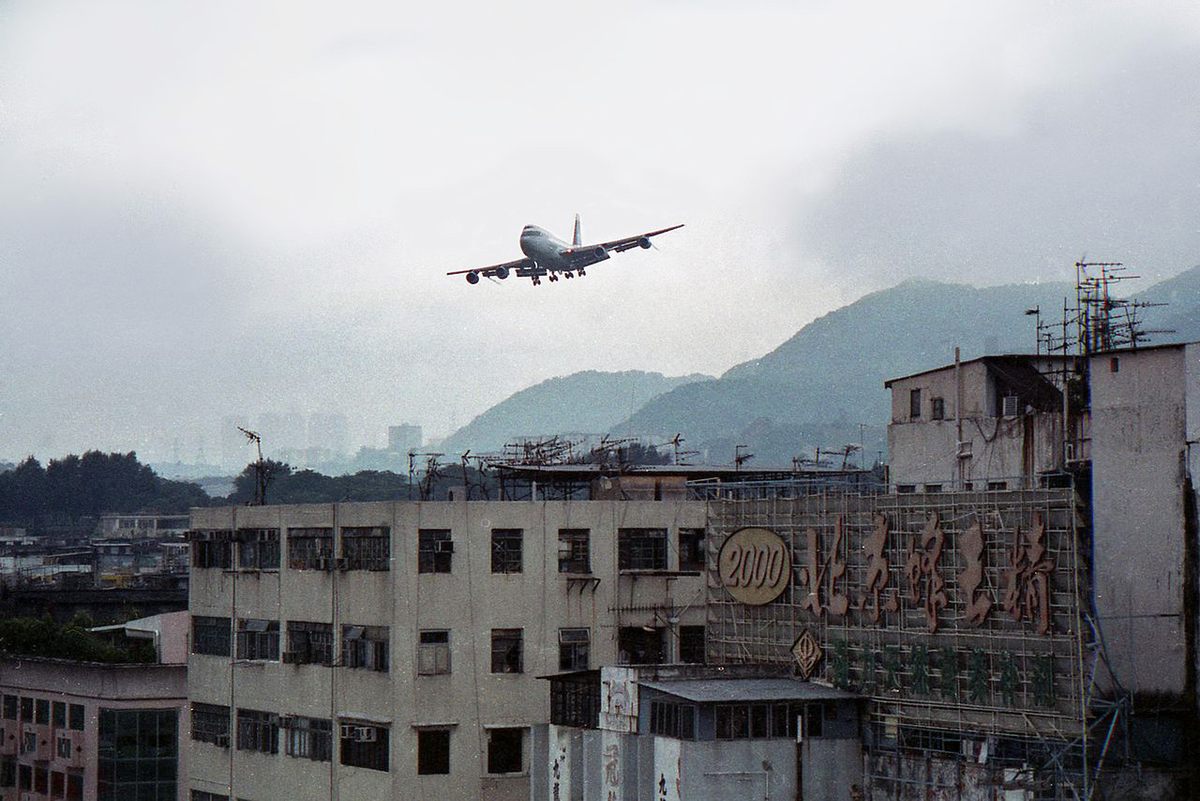 Departures from Runway 13/31 had their own challenges. For starters, it was short, and, once airborne, the aircraft had to turn sharply to avoid Beacon Hill and Lion Rock, two vertiginous mountains rising to around 1600 feet.
From the 1980s on, Kai Tak's capacity began to be stretched. The city was growing and the airport couldn't keep pace. A gleaming new airport at Chep Lap Kok on Lantau Island, much farther from the city, opened in 1998. Since its retirement, Kai Tak has been used as a retail development and recreation facility. But even now, the memory of Kai Tak landings linger. And, while Chep Lap Kok is safer, Newbery says, "Kai Tak was special!"
Below, Atlas Obscura has compiled images from Kai Tak's history.