The Return of Ondiri Swamp
Exploited for years, these vital wetlands near Nairobi are blooming anew thanks to a remarkable grassroots effort.
It's nearing 12 on a nippy night outside Nairobi. Bob Gacheru and Sam Muoria are drifting in and out of sleep, wrapped heavily in woven Maasai blankets. The two men are huddled near a storm drain off the shoulder of a multilane superhighway that forms a giant arc around the lower half of Kenya's capital.
As trucks whoosh by and the night wears on, the chill begins to bite. But Gacheru and Muoria will stay here till dawn, shivering yet resolute. To protect Ondiri Swamp from nocturnal polluters, the two men will gladly forgo sleep and warmth.
Gacheru and Muoria belong to the Friends of Ondiri, a four-year-old organization comprising about 50 citizen volunteers from Kikuyu, a small commuter town just west of Nairobi. The group was founded with one major mission in mind: to protect and restore the largest, most important wetlands in the greater Nairobi area.
In recent years, apartment managers have been dodging the costs of waste disposal by connecting truck-mounted septic tanks directly to this stormwater drain, illegally piping raw sewage into the swamp under cover of darkness. Friends of Ondiri volunteers tried bringing this practice to the attention of local government officials, but little changed.
So they devised a more direct, albeit difficult, solution: Volunteers would take turns sleeping by the swamp, hidden from view. When a truck comes to make its illegal deposit, the volunteers record its license plate and report the vehicle's owner to the police. The result has been a continuous flow of fines and arrests—one of the recent stakeouts snared a local bishop—and a steep decline in illegal dumping.
Like many wetlands around the world, Ondiri Swamp has been heavily exploited as a water source, invaded by planted exotic species, and treated as a convenient dumping ground for industrial effluent, sewage, and agricultural runoff. Other swamps in Kenya—like Manguo Swamp in Limuru, once an ornithologist's paradise—have deteriorated too, thanks to contamination and overuse. The migratory birds that used to stop in Manguo on their cross-continent flights are now few and far between.
Until recently, Ondiri was headed in that direction. Private landowners in Kikuyu had installed illegal pumps near the water, a few of which can still be seen along the swamp's perimeter, some of them locked in concrete boxes to prevent tampering. Greenhouses and "thirsty" exotic species like eucalyptus trees, with deep taproots that draw up enormous quantities of water, have encroached on the wetlands too.
David Wakogy is the chairman of the Friends of Ondiri. He knows the swamp inside and out, and on a recent tour, he points out how it's been changing—for the worse, yes, but also for the better.
Wakogy starts on the east side of the swamp, near the stormwater drain. In the shallow pools below, plastic soda bottles and yogurt containers float on a thick, bubbly glaze of pollutants—an all-too-common sight in Nairobi. But nearby are clear signs of recovery as well: the return of water lilies, for instance, which indicates water purity, and a species of crawfish that hasn't been seen here in years, scuttling across the peat.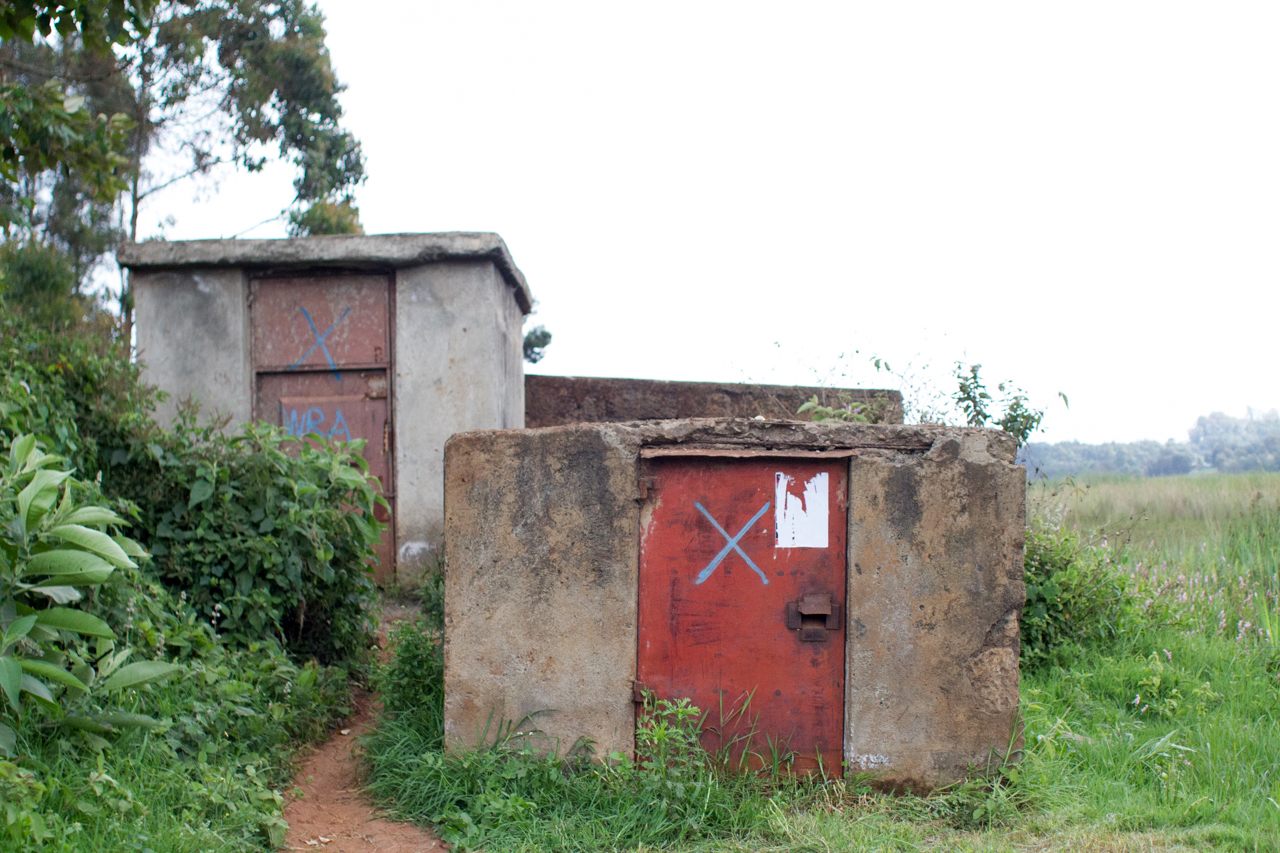 Wakogy's tireless advocacy for Ondiri's well-being has helped make the swamp a shared source of pride in Kikuyu, encouraging a diverse group of everyday people to pitch in and protect it. The volunteers include the owner of a restaurant that enjoys a direct view of the swamp, a cyclist leading a path-building initiative, and the owner of a tour company that brings visitors to Ondiri each year.
Much of the Friends' work entails building common-cause alliances among the residents of Kikuyu. But some of their work—like posting nighttime vigils and arresting polluters—is more adversarial. The group has, for instance, successfully campaigned to have a local pharmaceutical plant fined for illegally discharging effluent into the swamp.
"It is us who need to rise to the occasion and do something, even before we get [visitors and non-locals] to come and support it," says Gacheru. "Because people will always follow you if they believe in you."
Before the Friends' intervention, the wetlands resembled a wasteland. Besides the plastics that had collected, farm runoff and sewage had interacted to produce, in some places, a dark, thick, foul soup.
But the Friends efforts seem to be working. Slowly but surely, Ondiri is coming back to life. At first glance, it looks like a lush, sunken meadow left to bloom. A diverse field of reeds and water-grasses cover a spongy mat of floating peat that's thick enough to walk on. And the signs of volunteer activism are visible everywhere.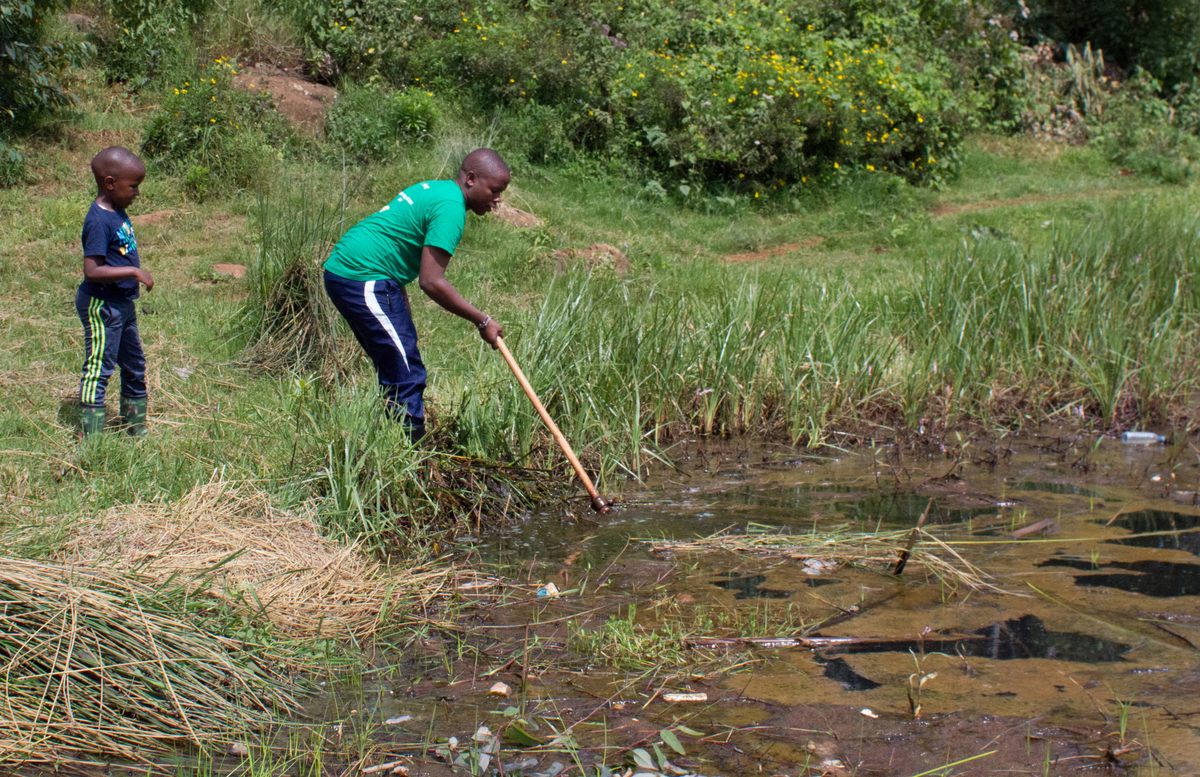 Motorized pumps installed by private landowners—all of them illegal, says Wakogy; drawing water directly from designated groundwater sources is forbidden by national law—have been dormant for months, spray-painted with "X's" by volunteers working with the local water authority. Felled eucalyptus trees lay scattered about, as riparian landowners have agreed to replace the exotic species they've planted with indigenous ones. Abandoned illegal greenhouses, their skeletal wood frames draped with billowing yellow tarps, dot the borders of the swamp.
It's a remarkable result for a local grassroots group to achieve, without the aid of local or national government. Wakogy and other Friends say the key is to simply give value to the nature in their own neighborhood, then persuade others around them to do the same.
"Governments come and go," says Wakogy. "But the people here remain. A society can only change when the citizens start looking at the potential they have, rather than what the government can do."
Before Kenya was colonized by the British, at the turn of the 20th century, Ondiri was an open lake. Its original name in the Kikuyu language was Kīhenia, meaning "bright-shining"—an apt description for what was once a clear, glassy surface. According to Wakogy, the name "Ondiri" came about after the British colonialists who "discovered" the water started calling it the "Old Lake"—a term that, with time and Kikuyu accents, evolved into "Ondiri."
In some ways, the swamp tells the story of Nairobi—a city that's just over a century old but has already seen dramatic change. Colonial-era deforestation and other environmental degradation is what led to macrophytes growing on the water, turning the lake into a bog-like swamp. When Indian "coolies" arrived to work on a nearby railroad, Ondiri served as a religious site for their communities. Some migrant workers would scatter the ashes of their dead in the swamp (they stopped as the water became more polluted).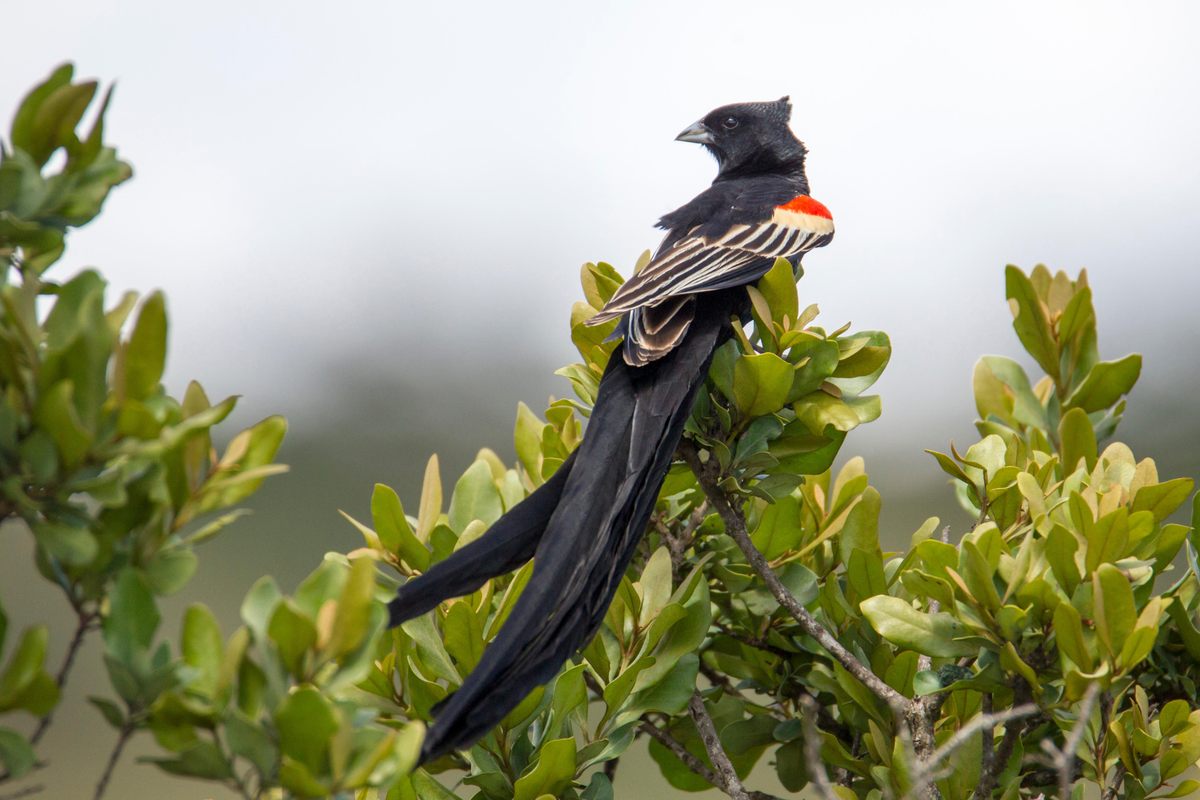 For locals, the area's byzantine waterways, and the seemingly mysterious ways in which they connect, have steeped Ondiri in myth. One intractable belief among the Kikuyu, who have lived here for generations, is that a person who falls into the swamp will turn up days later in Lake Naivasha, about a two-hour drive away.
If someone were to descend below the surface, the swamp's role in the local ecology might be revealed. Among other things, it's an underground font for Kikuyu Springs, which in 1906 became Nairobi's first source of piped water. Today, water from Ondiri feeds the Nyongara River, a tributary of the Nairobi and Athi rivers (the latter of which eventually flows into the Indian Ocean).
"People don't seem to understand that when you pollute the swamp, you are polluting your own source of water," says Wakogy. "How are you dumping raw sewage into the swamp, yet this is also where you … draw water?"
The toxicity and pollution in Ondiri afflict places far beyond Kikuyu, including areas downstream that feed Nairobi's growing population of over 4 million people. As the city expands, with more and more of its surface covered by buildings, pavement, and other impermeable materials, irregular rainfall patterns—exacerbated by climate change—have left it vulnerable to perennial severe flooding.
Urban wetlands like Ondiri Swamp absorb excess water during the wet season and release it slowly during the dry months. They also act as a purifier for toxic substances, drawing pollutants such as heavy metals out of the water and locking it away in plant matter.
As natural areas like Ondiri have become contaminated, local water authorities have had to create artificial wetlands—like those built to purify the output from Kenya's many flower farms—to do what natural wetlands would do. It's an increasingly common way for companies to control some of the environmental damage they're causing.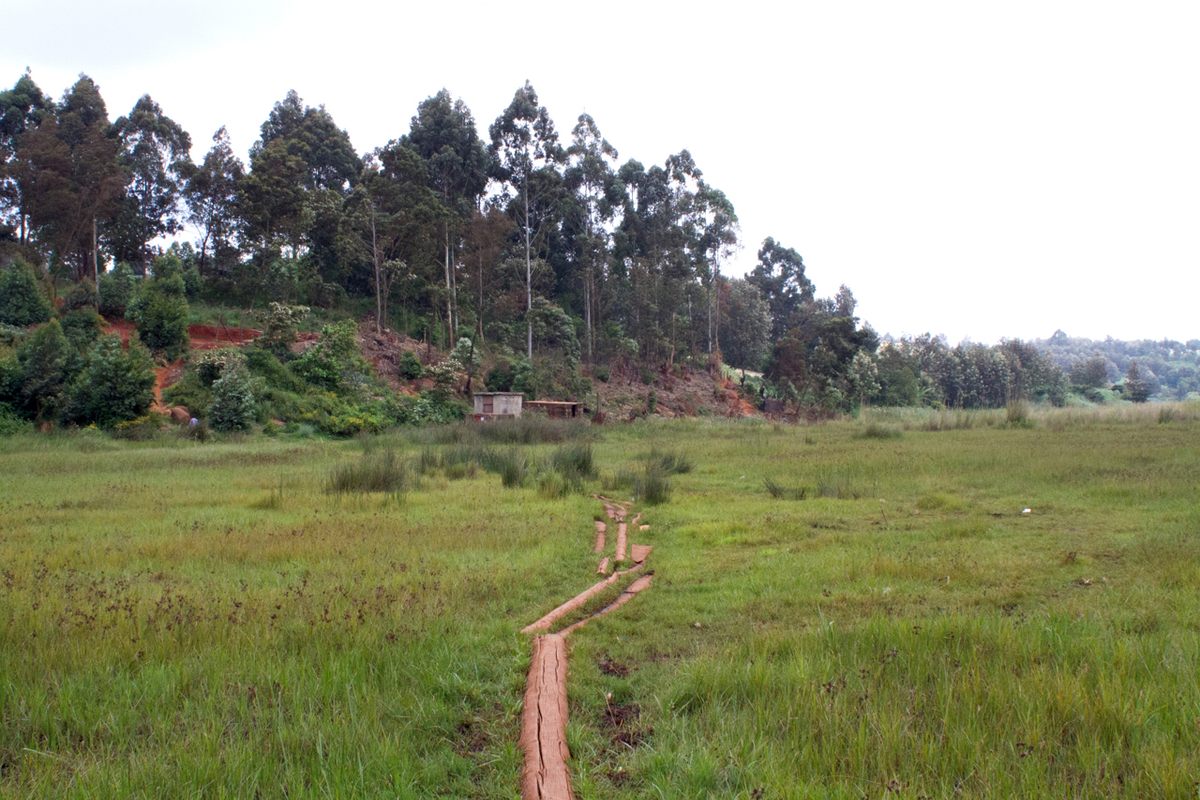 Still, the vast majority of wetlands in Kenya fall outside of protected areas. As the Friends of Ondiri do the front-line work of defending the swamp, they're imagining a future where the wetlands are fenced off as a state-protected area—and, eventually, transformed into a vibrant ecotourism site. That would directly benefit the people who have always coexisted with the swamp: the residents of Kikuyu.
A few days after the nighttime stakeout—which eventually forced a local landlord to pay a fine—Wakogy and Gacheru lead a group of tourists down the banks of the swamp, pointing out several Jackson's widowbirds. The small black birds with long trailing tails dart among the reeds and cattails. "They had left the swamp for years," says Wakogy, "but now they are starting to come back."
Most of the visitors in this group are foreigners, but Wakogy says his neighbors—Kenyans from Kikuyu and beyond—are the people whom this place is ultimately meant for. After all, Ondiri Swamp belongs to them.
"The locals are the principal custodians of the wetlands," Wakogy says. "We want to see them benefit from it."