How South Korea Fell in Love With Norway's Unique Cheese
Brunost is kind of a big deal.
Since leaving my native Norway, I find myself constantly telling people about brunost. Pronounced "broon'ust," it simply means "brown cheese." But brunost is nothing like any other cheese.
The taste starts with a salty, rich caramel, and under the sweetness there's a pleasant funk, courtesy of a mix of goat's and cow's milk. Eating it is momentarily overwhelming, as it sticks to the roof of your mouth before melting away. Its dense, sticky texture even requires a cheese plane, a special spatula-shaped tool for shaving off long pieces.
It used to be nearly impossible to get brunost outside of Norway, but in recent years, it's become a craze in an unlikely place—South Korea. Brunost is now everywhere across the nation, from cafes to street food stands. Interestingly, Koreans have made brunost their own, by adding its salty richness to all kinds of treats and confections.
"We like to eat brunost and ice cream together. It's savory and salty," says Irang Choi, who lives in Busan. "We eat it with croiffle too." The croiffle is a hybrid pastry made by pressing croissant dough into a waffle iron. Brunost is then shredded on top, which is the preferred way for Koreans to eat it. Brunost is grated onto desserts, on coffee, and even on steak. It's also used as a flavoring in treats like cookies, macaron fillings, and donut glazes.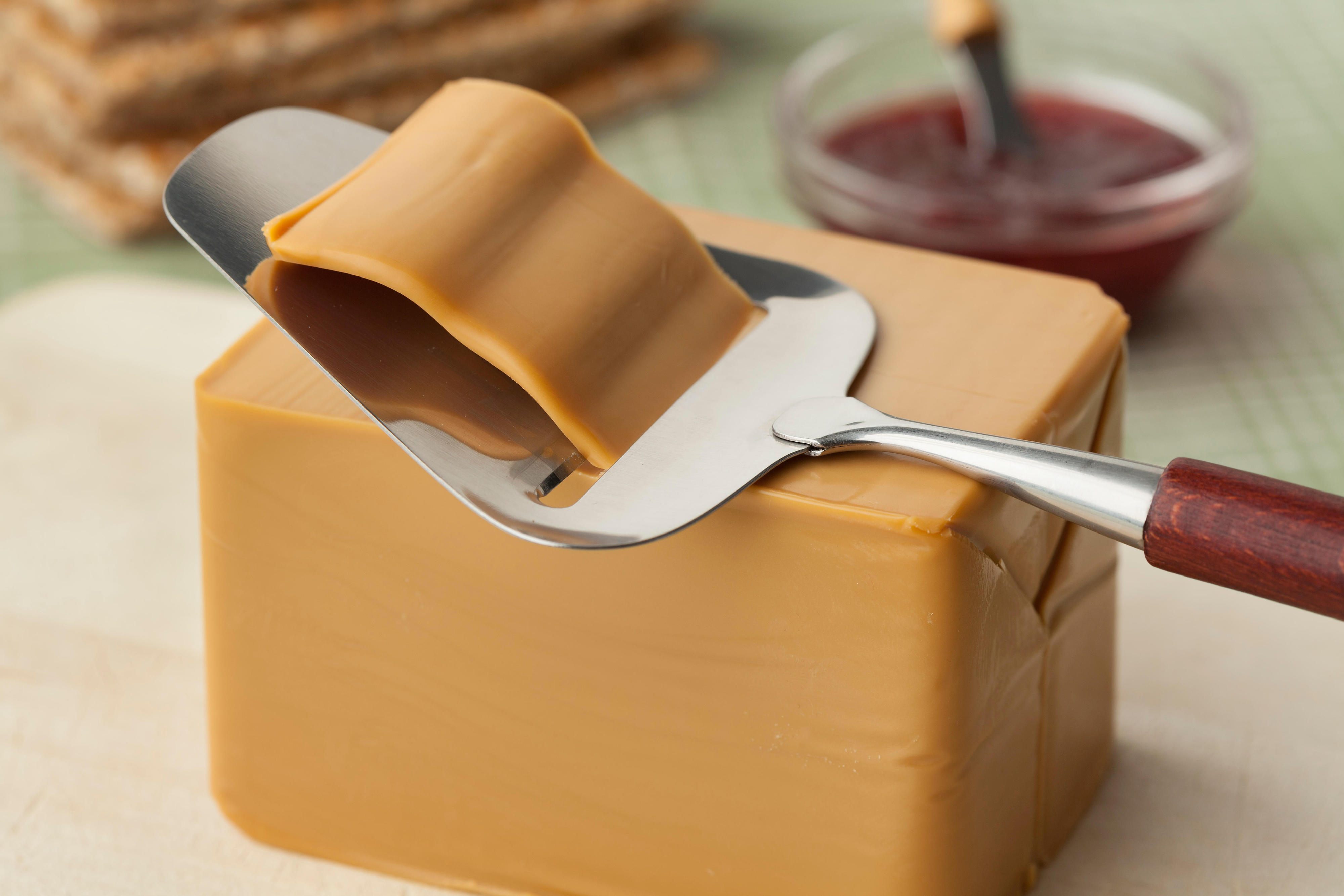 My Norwegian grandmother would be shocked to see brunost used like this. While brunost is just as common as white cheese in Norway, its traditional uses are pretty narrow: sliced thinly and served on bread or a soft waffle alongside butter is about as far as it goes.
The person deserving the credit for turning brunost into a Korean phenomenon is Jeonmi Eom. "They call me Brown Cheese Lady," Eom laughs over a video call from Busan. Eom first tasted brunost when her husband, whose family business regularly takes him to Norway, brought some home to Korea. "I tried a fresh vegetable sandwich with brown cheese, and I was shocked by the flavor," Eom recalls. "Like many Korean people, I don't like cheese very much. But I just fell in love with the sticky, salty, and sweet taste."
Eom simply assumed this product was already widely available locally. "Because in Korea, the salty and sweet combination already has success in various foods like candy, ice cream, snacks and desserts," she explains. To her surprise, brunost was basically unknown. Eom, who already worked in the food industry, decided to start importing and selling it.
Through her family, she was introduced to the Norwegian dairy Synnøve Finden, and four years ago, she set up her own company as an independent brunost importer, with an exclusive license with Synnøve to develop their products and branding for use in Korea. Eom's formal title is marketing director of Synnøve Korea.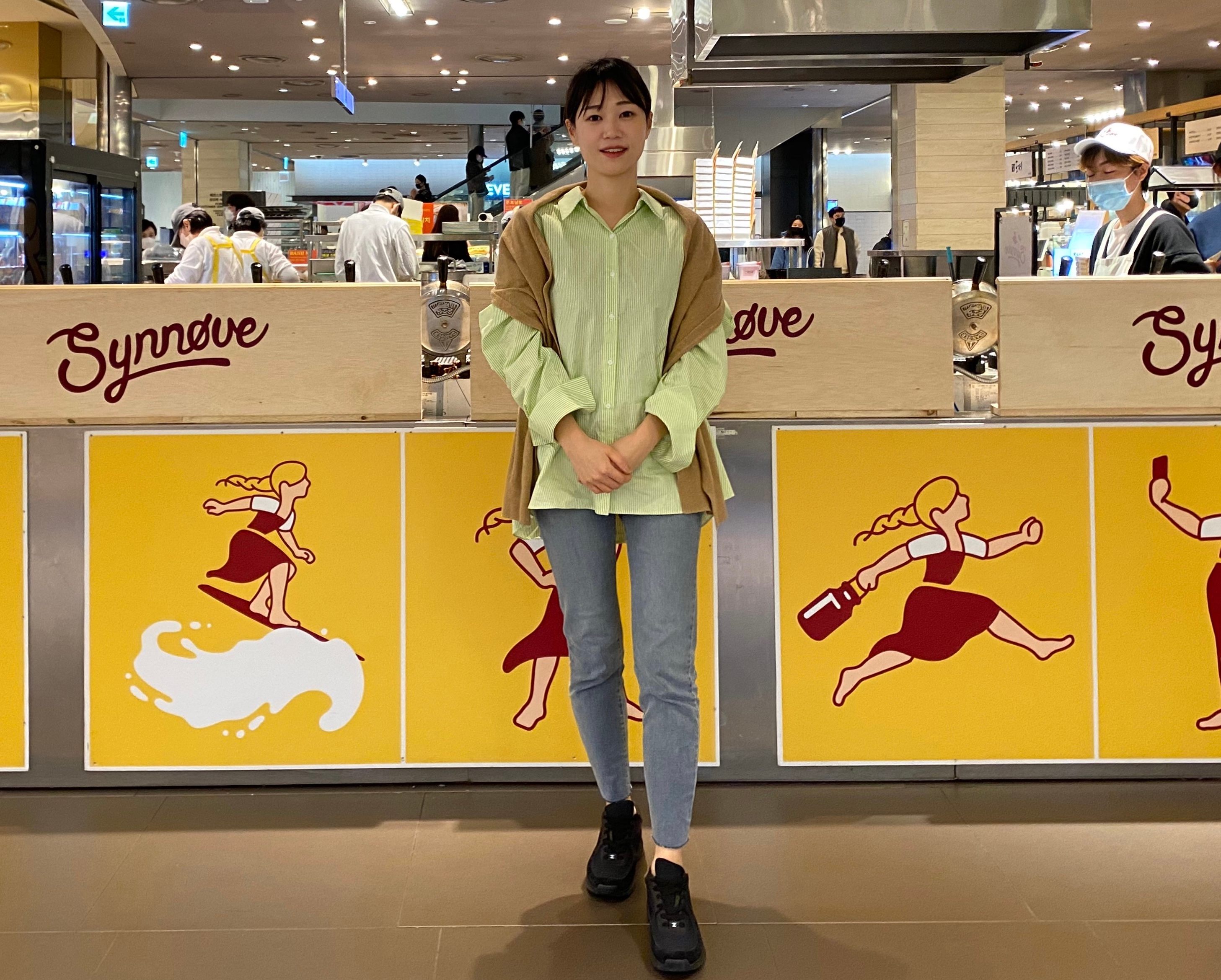 Eom's company now has three "Synnøve" cafes in Busan, with brunost as the main draw. "My Norwegian friends are shocked by how we use brown cheese. I know they like to slice it on soft waffles, but I wasn't sure Koreans would like that," Eom says. "It's quite strong." The breakthrough came when Eom's team discovered that using small graters to distribute an even sprinkle of cheese on the waffles provided the ideal taste of brunost for the local palate.
This has now become the preferred way to eat brunost in Korea. The inventor of the cheese plane, Bjørklund, has even created a custom grater for the Korean market. Lots of Korean cafes now serve shredded brown cheese, but, says Eom: "[Grating] brown cheese was our idea."
Eom likes the Synnøve brand as much as she likes their cheese. "The character of the female founder is loved by Koreans," she says. Synnøve Finden was born in 1882 on a fjord farm. Her skills and drive enabled her to beat the odds to get formal dairy training, a rarity for women in her day. Alongside another woman, Pernille Holmen, Finden became Norway's first female factory owner in 1928, when she established the dairy that still carries her name.
"Synnøve Finden is a symbol of a successful woman, and she's an inspiration," says Cathrine Myrvang, marketing manager of Synnøve Finden, pointing to the company's ongoing sponsorship of female athletes in sports typically dominated by men. "We believe that the Synnøve history, and the fact that it's Norwegian, makes it even more exciting for Koreans to eat brunost," says Myrvang.
Anne Solbrå Hov is another woman whose name has gone down in cheese history as the inventor of modern brunost. Legend has it that, in 1863, Hov added some cream to whey and cooked it down. This was considered wasteful, as cream was saved for butter. When Hov later perfected the recipe and added in goat's milk, the result was the caramel-like cheese that's so beloved today.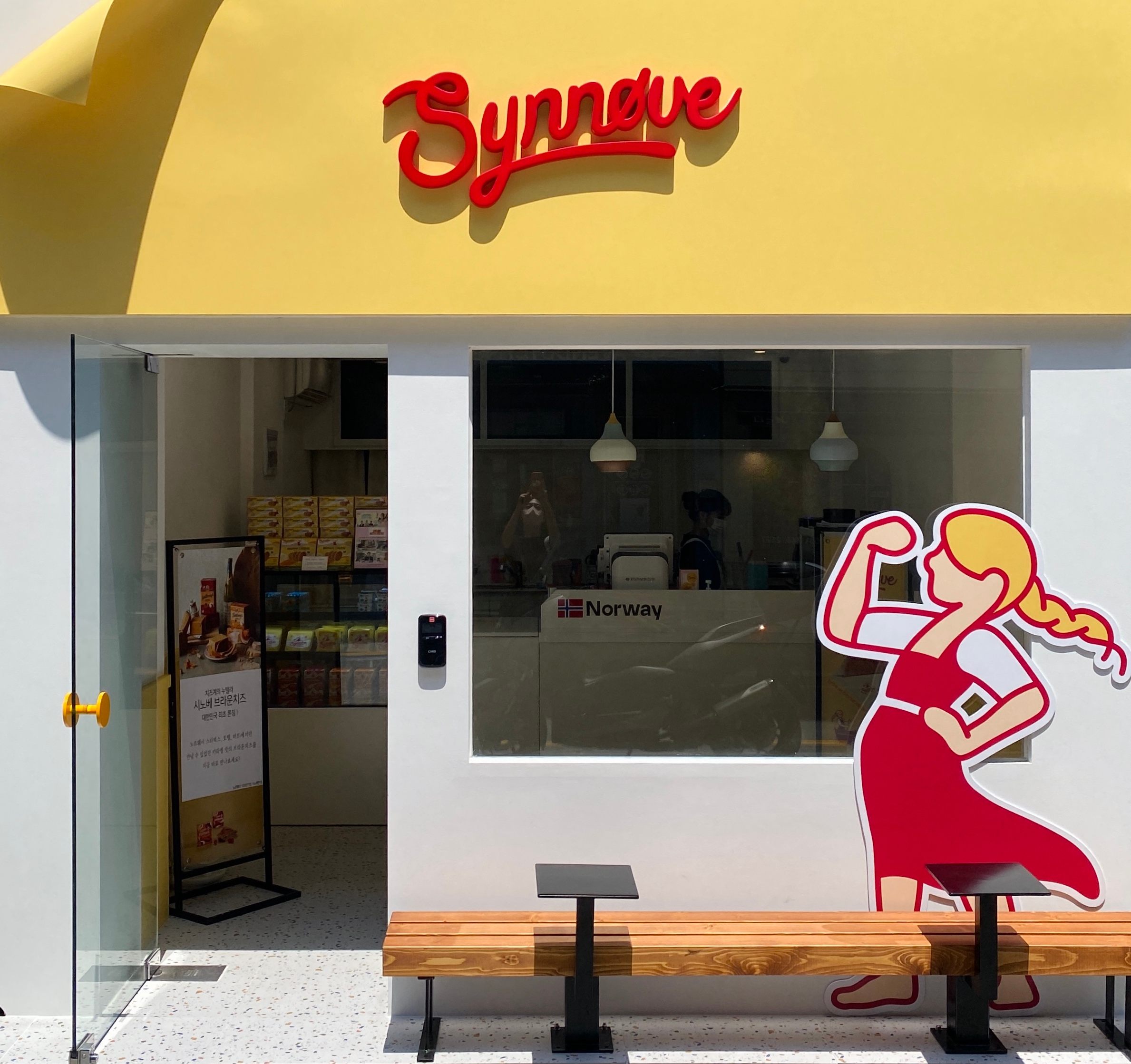 Norway's national dairy started making brunost using Hov's recipe in 1908. Tine, its successor, produces it under the name Gudbrandsdalsost, and it's still Norway's favorite brunost. Gudbrandsdalsost, made from a mix of cow's and goat's milk, is the most common brunost in Korea too, followed by the milder Fløtemysost, made from only cow's milk. Korea has yet to embrace the third type of Norwegian brunost staple: Geitost, made from goat's milk only and the strongest of the lot.
The surge in Korea has definitely benefited from the fact that #browncheese is highly Instagrammable. "Young women in Korea really like brown cheese," says Choi Ye-ji, who lives in Gimpo near Seoul. She likes to eat it on melon or on a homemade croiffle. "I bought it online at first, and recently it's become easier to buy in large markets." Tine has been exporting small amounts of brunost to Asia for decades, but the upswing in Korea is a gamechanger. "The boom came alongside the rise of the croiffle," says Sigmund Bjørgo, director of new international growth at Tine, adding that some people now call it "croiffle cheese."
The uniqueness of brunost makes it exciting, but hard to introduce into new markets. "A block of brunost doesn't tell you much," says Bjørgo. "We realized we had to explain what the product is, and how to use it. We call it 'caramel cheese,' indicating it's sweet, but it's also a cheese." Synnøve Korea first drummed up appetite for the "friendly taste" of brunost with a series of pop-up stores, but Eom's attempt to sell a brunost waffle in 7-Eleven in subtropical Taiwan was less successful. "Asia has many different cultures and tastes," she explains. "The temperature is also very important when handling cheese. If it's too hot and humid, people don't like to eat food while walking down the street."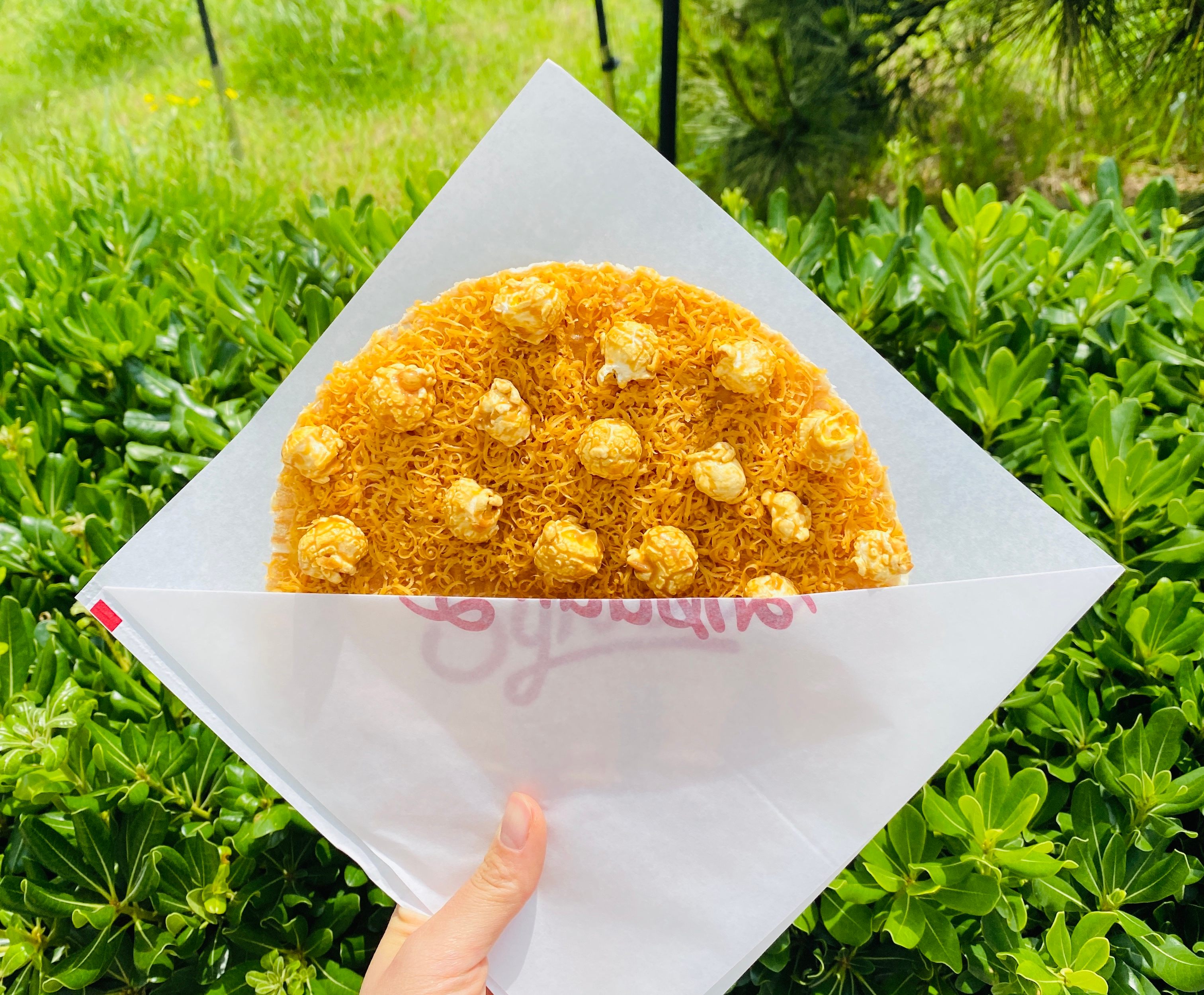 So far, only Norway produces brunost to industrial scale, but a few artisan dairies around the world have been inspired to create their own. Eleftheria's brunost, made in India, won silver at the 2021 World Cheese Awards. "Our whey cheese is made by hand in small batches," says Mausam Narang, founder and CEO of Eleftheria. "The technique of making it actually is very similar to some of our Indian milk sweets, like peda or khoya."
The success of Eleftheria has prompted Norwegian dairies to start exploring how to protect the definition of brunost, similarly to how there are standards for what constitutes feta and Gorgonzola. However, Norwegians are generally thrilled to share their national cheese with the world, and proud of its success in Korea.
In fact, the Korean way with brunost has inspired Norwegians as well. In recent years, Tine has introduced shredded brunost on croiffles to the Norwegian market, Storfjord has created a brunost ice cream, and the new brunost chocolate from Fjåk is spectacular. Norway may have moved Korea to embrace a unique flavor, but in the end, it took Korea to show Norway just how versatile good old brunost can be.
Gastro Obscura covers the world's most wondrous food and drink.
Sign up for our email, delivered twice a week.