How Lesbian Luminaries Put Together a Groundbreaking Cookbook
'Whoever Said Dykes Can't Cook?' combined art, food, and fundraising.
In the United States, women's groups have published fundraising cookbooks since the Civil War. Carefully compiled booklets filled with recipes can be powerful money-making tools for all kinds of causes. So when Maya Contenta and Victoria Ramstetter published a fundraising cookbook in 1983, it was not unusual in terms of strategy. But one glance at the title makes it obvious that Contenta and Ramstetter were indeed breaking new ground. The Whoever Said Dykes Can't Cook? Cookbook, published in support of the Cincinnati Lesbian Activist Bureau, ushered in a new genre of fundraising cookbooks for queer organizations.
Whoever Said Dykes Can't Cook? was actually not the first lesbian cookbook. That honor belongs to The Alice B. Toklas Cookbook (1954), a memoir-with-recipes about Toklas's relationship with the modernist writer Gertrude Stein. Whoever Said Dykes Can't Cook? was also preceded by The Political Palate (1980), a cookbook published by the lesbian-feminist Bloodroot Collective restaurant in Bridgeport, Connecticut. Contenta and Ramstetter included recipes from The Political Palate in their own cookbook, and followed the restaurant's lead in only publishing vegetarian recipes.
But Contenta and Ramstetter appear to have been the first to publish a community cookbook in support of a gay or lesbian organization. Attempts had been made before. Amazons, Inc., a lesbian community group in Philadelphia, floated the idea of publishing a cookbook as a fundraiser in 1978, but the project never came to fruition. And the International Lesbian Information Service, based in Amsterdam, published a metaphorical "cookbook" in 1982, but its recipes focused on how to organize and coordinate a social movement, not on how to cook.
For Contenta and Ramstetter, their passion for food was part of their advocacy. Contenta had worked as a cook at a lesbian vegetarian restaurant in Chicago for the previous four years, before relocating to Cincinnati to manage the feminist collective Crazy Ladies Bookstore. "I love to eat, I love to cook and even better I love to share these, and other good times with my sweet wimmin friends," Contenta wrote in her back-cover bio. Ramstetter was a poet, novelist, and essayist, whose column "Is Sex a Political Act?" appeared in each issue of the Cincinnati Lesbian Activist Bureau's official publication, Dinah. Imagery of food suffused her writing, as in her poem "Lesbian Epic," published in the Berkeley-based lesbian arts periodical Sinister Wisdom, where she described a lover who smelled of "oranges and sex."
A booming lesbian alternative-publishing scene in the early 1980s was critical to the Ramstetter's and Contenta's enterprise. Looking for book content, they placed advertisements in WomaNews, Big Mama Rag, and the New Women's Times. The notices, published in the spring and summer of 1982, asked readers to send in recipes, drawings, poems, jokes and aphrodisiacs. The advertisements worked. "We never expected to receive so many contributions—from near and far," the editors remarked in the cookbook's introduction. Many entries came from leading figures in lesbian arts and letters.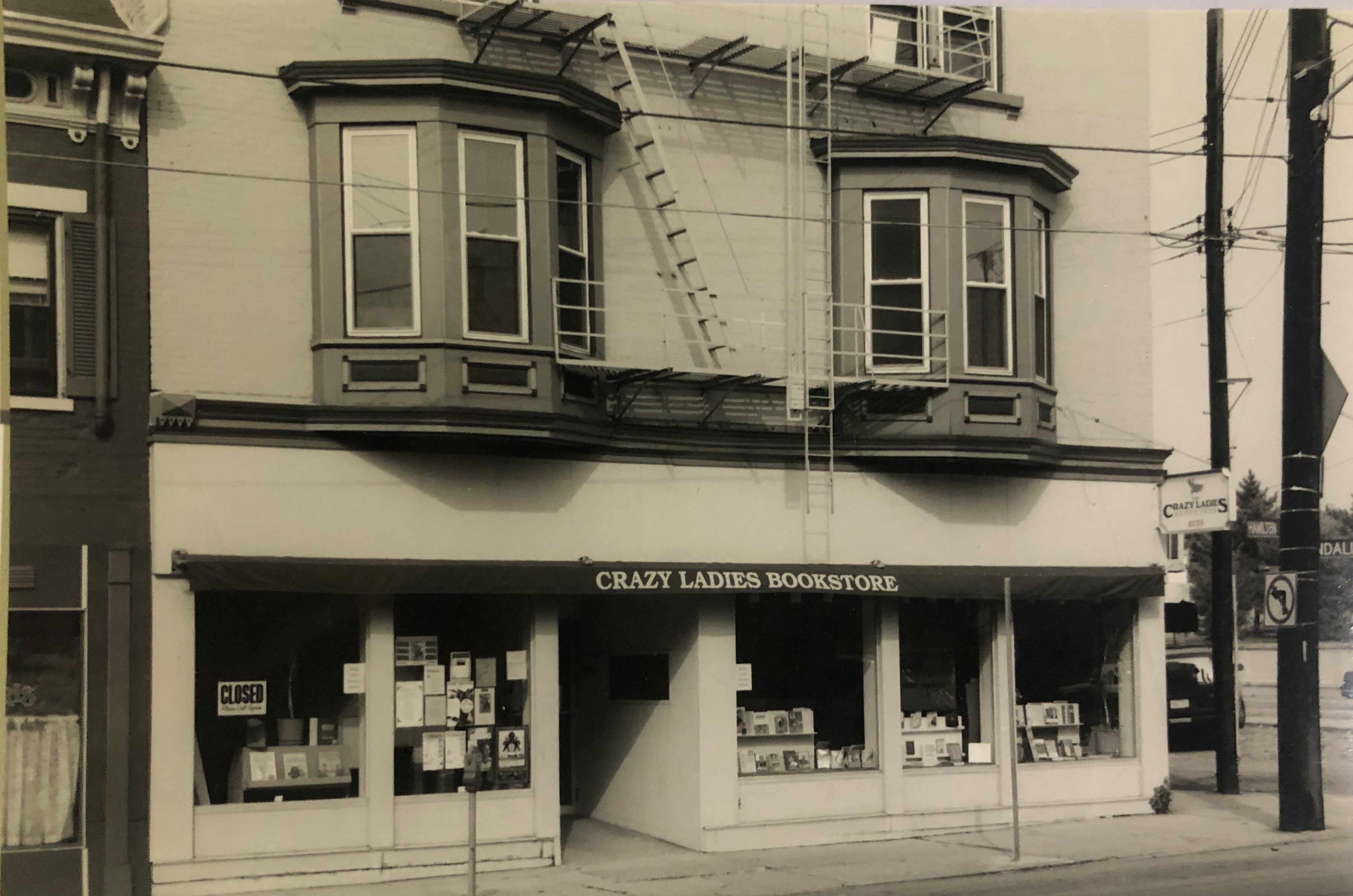 Tee Corinne, whose photographs of female nudes could be found hanging on the walls of many a lesbian household in the early '80s, contributed a recipe for "Zana-bread" (gluten-free, dairy-free, inspired by a friend with food allergies), and a poem titled "The flours that Bloom in the Spring." She also sent in a recipe titled "Jeannette H. Foster Memorial Breakfast," named for the lesbian bibliographer who had spent 40 years researching and compiling the critical text Sex Variant Women in Literature.
In fact, Ramstetter and Contenta dedicated the cookbook to Foster, who had recently died of old age. Before her passing, Corinne had gone to visit Foster in her nursing home and was "delighted by her still active eye for attractive women."
Artists Diane Ayott, Judith Masur, Zana, and Jennifer Weston all contributed sketches, resulting in a richly illustrated cookbook. Ayott also sent in recipes for vegetarian fettuccine and eggplant casserole ("a real filler!"). Weston sent in a sketch of a woman standing in the kitchen holding a wooden spoon carved into a heart, with a heart-shaped cake on a cake stand. Masur drew the cover, featuring a curvy woman at a table laid with a salad and a cake, holding a birthday card, and being kissed on each cheek by two more curvy "wimmin." The cover captured the book's spirit, treating cooking as a sensual, romantic, embodied pleasure.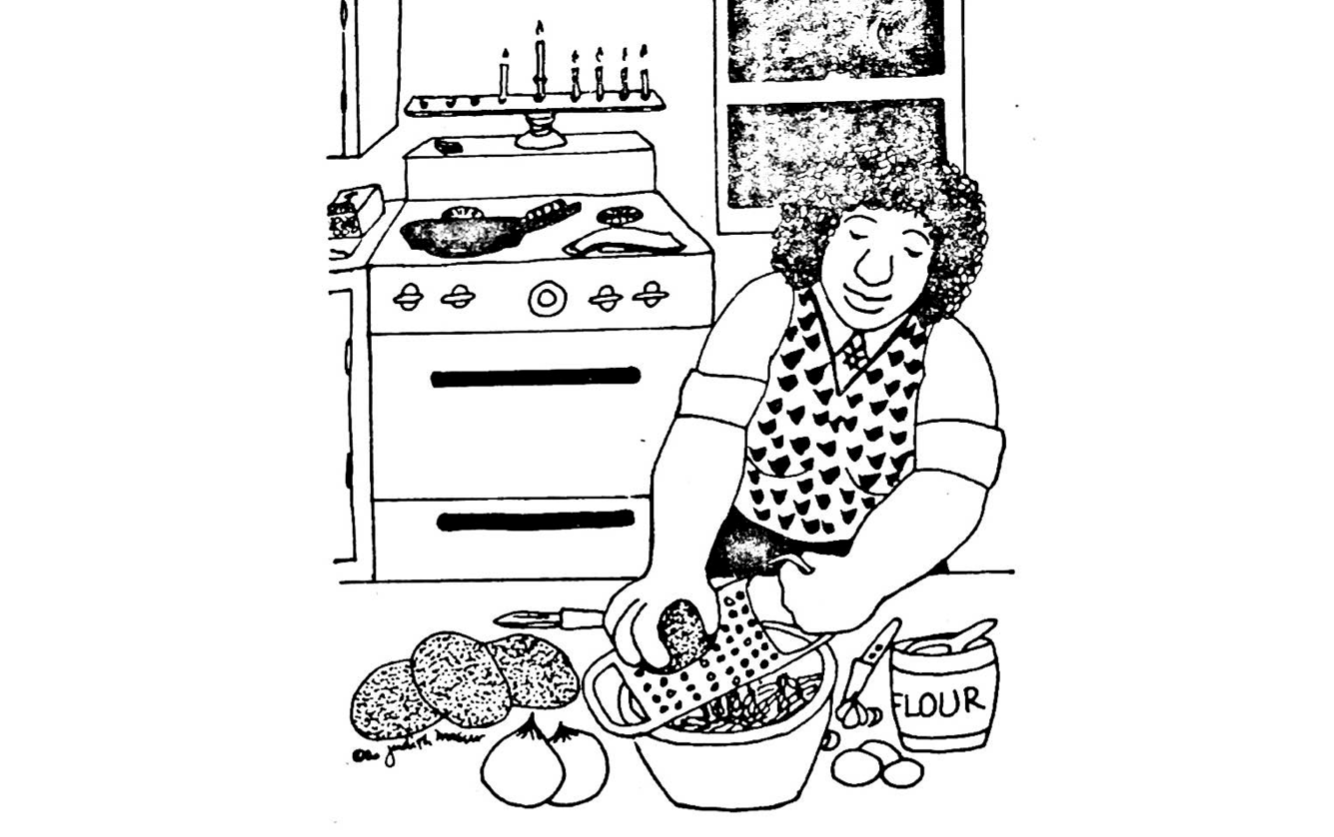 Lesbian writers and activists also mailed in contributions. Barbara Grier, former editor of The Ladder, the official publication of the lesbian civil rights group The Daughters of Bilitis and founder of the Naiad Press, offered up her recipe for lasagna. Gayle Rubin and Pat (now Patrick) Califia, leading theorists and writers in the sex-positive wing of the lesbian feminist movement, contributed a recipe for "Noodles with Hot Peanut Sauce." Activist and writer Barbara Deming, a prominent opponent of the Vietnam War, didn't send in a recipe, but she did lend a typewriter to the editors.
Many of the recipes were selected for their suitability to be served up at what Contenta and Ramstetter called "those sensual, magnificent feasts: lesbian potlucks." During the 1970s and '80s, lesbian groups frequently hosted potlucks as community-building events. But not all recipes were so practical in spirit. Some contributors took a more playful approach. Rochelle H. DuBois, an author and board-member of the Feminist Writers Guild, contributed a recipe for an "Angel cake." The ingredients were "1 angel, 1 dream, ¾ full moon, 1 night, 2 brown eyes, 10-12 chocolate roses, ½ bottle of champagne, 1 kiss, [and] a secret meeting-place."
Despite the outpouring of support, The Whoever Said Dykes Can't Cook? Cookbook wasn't a huge bestseller, and the editors only printed 300 copies. But it did set a precedent. Other queer organizations followed Contenta and Ramstetter's example in the years that followed. The San Francisco gay and lesbian Congregation Sha'ar Zahav published Out of our Kitchen Closets: San Francisco Gay Jewish Cooking in 1987 as a fundraiser for the San Francisco AIDS Foundation. (A recipe for "Latkes nouvelle California" called for blue corn tortilla crumbs, and suggested garnishes of hamachi sushi, kiwi, raspberry chutney, and mint yogurt.) San Francisco's gay-affirming Metropolitan Community Church followed with its own community cookbook in 1995. And the tradition lives on today, judging from a recent call for submissions for a cookbook to raise money for queer families affected by COVID-19, put out by Anchochaba Publishing, a Chickasaw two spirit-owned publisher.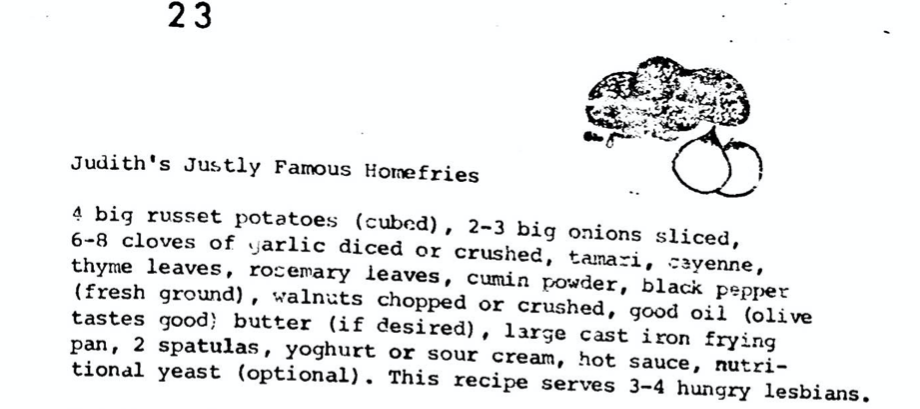 The editors and contributors to The Whoever Said Dykes Can't Cook? Cookbook never stopped contributing to queer arts and letters. After briefly relocating to Florida and launching The Sea Wench Times, Ramstetter returned to Cincinnati and helped found the Ohio Lesbian Archives, in its first home above the (now-defunct) Crazy Ladies Bookstore. Meanwhile, Contenta managed the bookstore and remained involved in the Cincinnati art scene.
As for the contributors, Gayle Rubin published "Thinking Sex" in 1984, a foundational text in sexuality studies, and soon after co-founded the GLBT Historical Society in San Francisco. Patrick Califia, who now identifies as a trans man, became a leading figure in the BDSM scene and published countless newspaper columns, short stories, and novels, while Diane Ayott and Judith Masur went on to thriving art practices. As groundbreaking as it was, Whoever Said Dykes Can't Cook? ended up as a single delicious chapter in the lives of these artists and activists.
Gastro Obscura covers the world's most wondrous food and drink.
Sign up for our email, delivered twice a week.