Los Angeles Tops List of American Cities with the Rarest Pokémon
The study wasn't terribly scientific, though.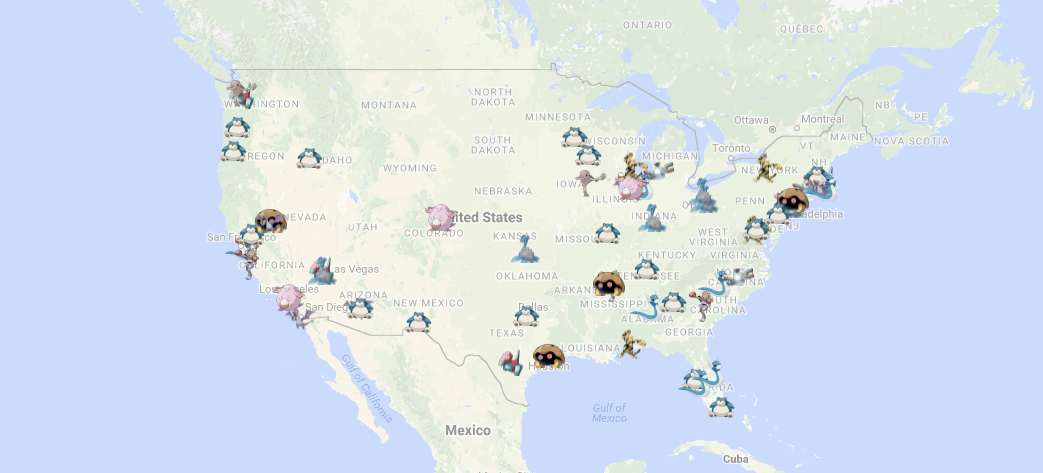 It's all about those Kabutos. (Image: Google Maps)
As people around the world continue to try to catch them all, the fervor around Pokémon Go doesn't seem to be going anywhere, and now one travel website is claiming to have pinpointed the best cities in which to catch all the rarest Pokémon, with Los Angeles topping the charts.
According to the Stranger, which was lamenting Seattle's place at #2 in the ranking, travel site Wanderu was able to figure out U.S. cities were most rich in rare pocket monsters. Wanderu says that they arrived at their ranked table by looking at "photos and videos from 250 cities in the U.S." Using Twitter's API, the site hunted down every image they could find posted by people in the process of catching rare monsters like Snorlax and Dratini. After eliminating any dubious mentions of legendary Pokémon catches (we're looking at you Articuno), Wanderu tallied their findings up by location and arrived at a national ranking of hottest Poké-cities.
L.A. came in first with evidence of Hitmonlees, Porygons, Kabutos, and more, with Seattle trailing right behind. New York came in third with Boston, Chicago, and Orlando trailing behind. It's not the most scientific study, but given how tight-lipped the game's developer, Niantic, has been about the mechanics of how Pokémon are distributed, fans of the game don't have much else to go on, other than tallying up eyewitness accounts. So until someone finds out where Mew is hiding, Los Angeles may remain the rare Pokémon champion.