The Marvelous Manholes of Massachusetts
An afternoon with Daniel Fireside, one of the Boston area's most dedicated drainspotters.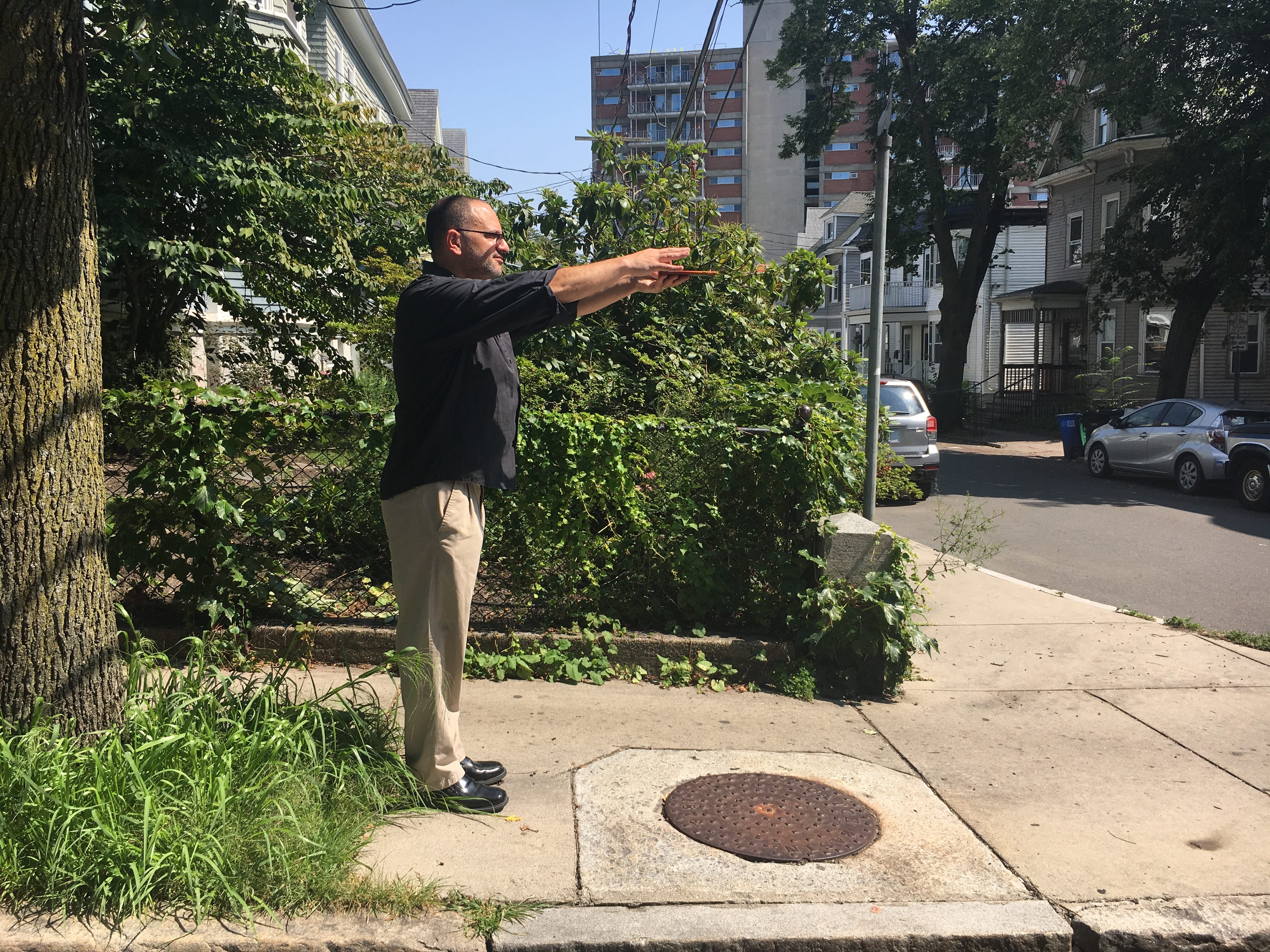 "I've become a horrible person to walk with," Daniel Fireside warns me as we set out for a stroll. It's hard to believe: Fireside is very pleasant company, quick to smile with an ebullient stride. But barely half a block into our jaunt around Union Square, in our joint hometown of Somerville, Massachusetts, Fireside comes to a dead stop. He gestures to me. He looks down at the ground with love in his eyes.
"Quality Water Products," he intones, reading off the hunk of metal that has grabbed his attention. "They have kind of a funky Q!" He pulls his phone out, furrows his brow, and snaps a photo.
Fireside is one of the Boston area's most prolific and celebrated manhole cover photographers. While most people step around manhole covers—or on top of them, taking advantage of their textured, anti-slip surfaces—Fireside is pulled toward them, zigzagging from one to the next as though he is magnetic.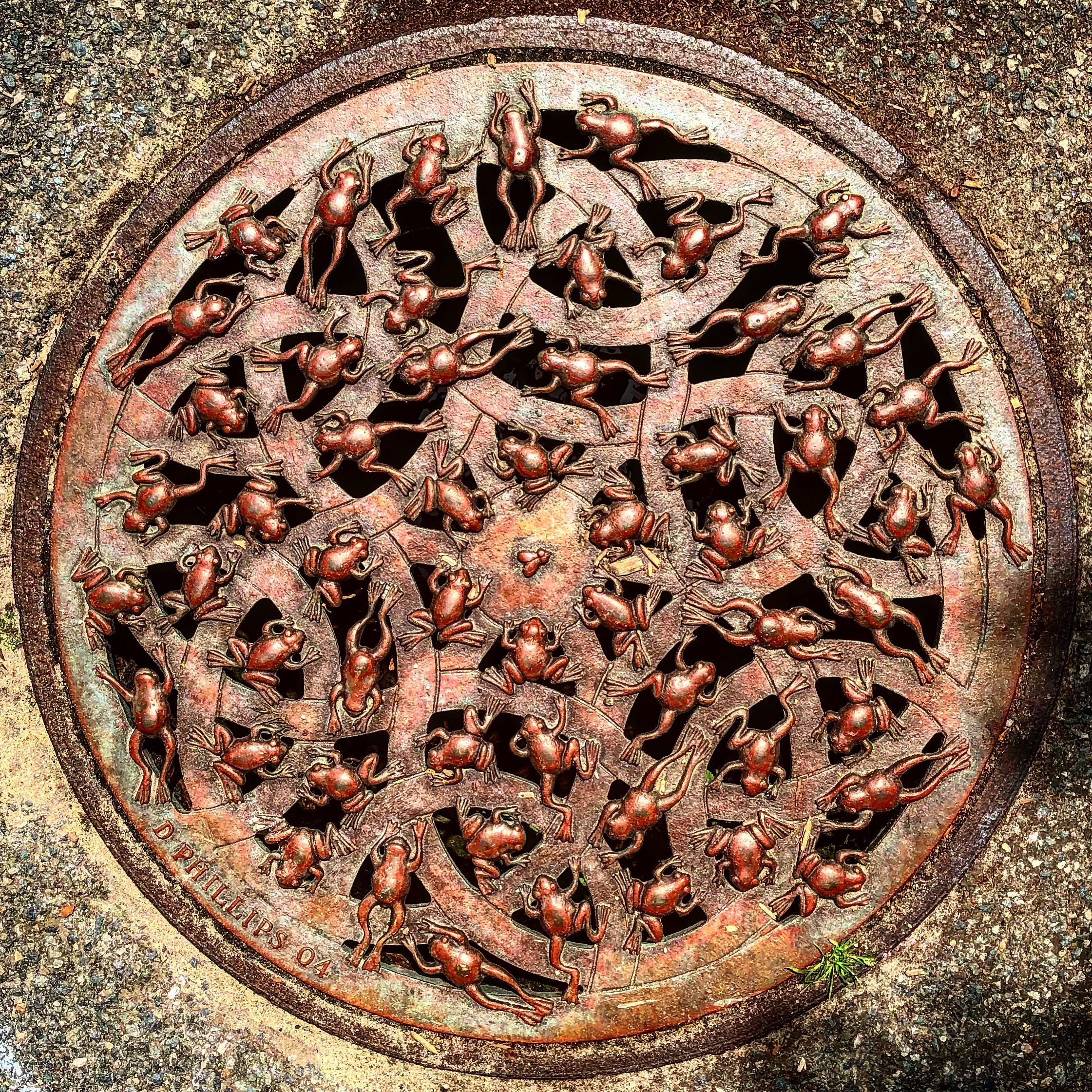 Fireside stands over each disc, then stretches out his arms balletically—his phone poised above his subject, the rest of him out of the way—so the sunlight streams down uninterrupted. "I always say my enemies are shadows and oncoming traffic," he says. "My older son is worried I'm going to win a Darwin Award."
The history of manhole photography is narrow, but deep. In 1974, husband-and-wife team Robert and Mimi Melnick published Manhole Covers of Los Angeles, which is exactly what it sounds like. They followed up 12 years later with the broader and more ambitious Manhole Covers, which features photos gathered during a roadtrip across the United States.
"Little has been written on the subject of manholes," Mimi writes in the introduction to the latter. "What does exist, of course, are the covers themselves … in some cases their surfaces broadcast all the information we desire; in others, they hang onto their histories, leaving us to wonder."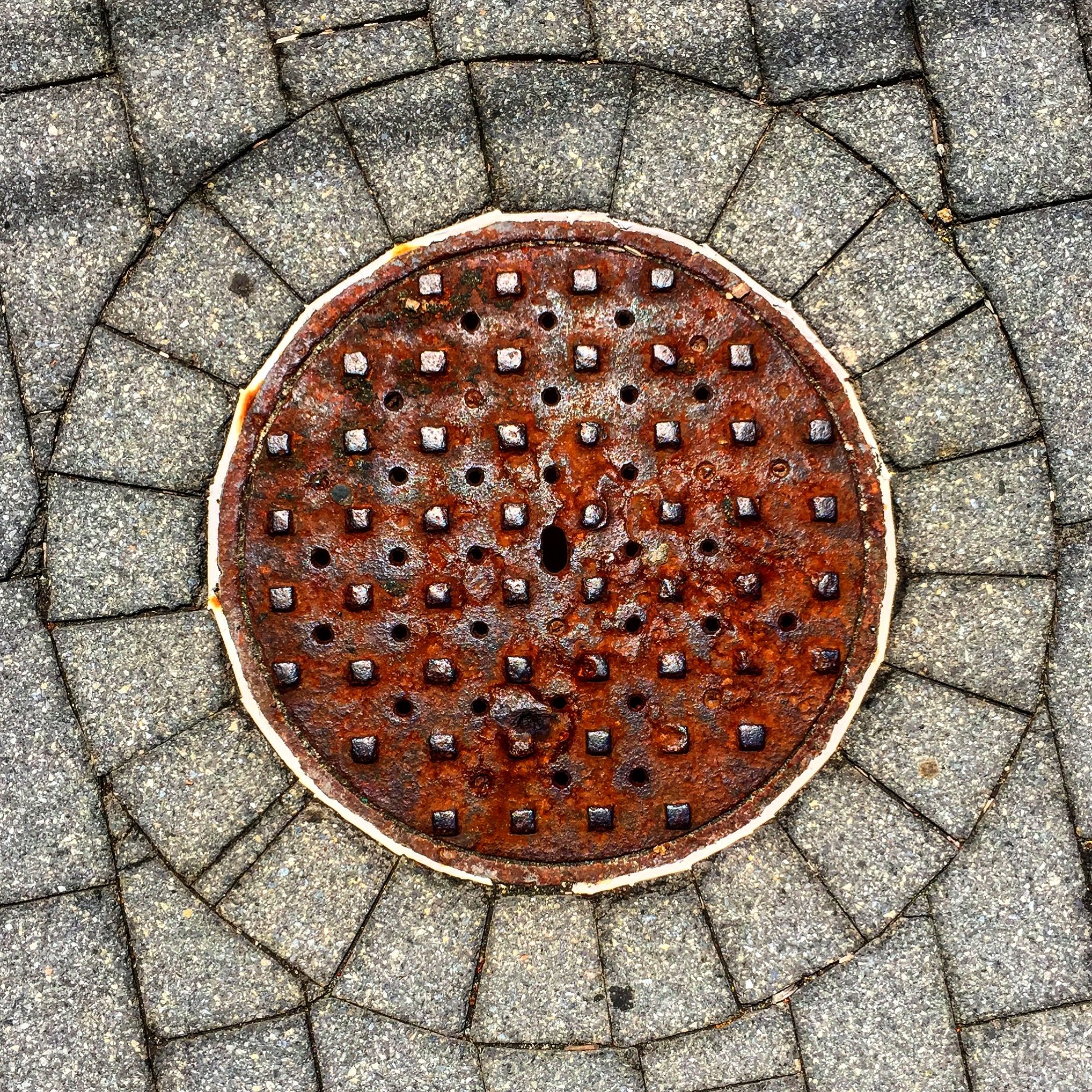 These days, a large community of manhole-cover enthusiasts—many of whom call themselves "drainspotters"—are dedicated to cataloguing these silent badges of the street, and teasing out some of their mysteries. Some publish photography books or make art projects. But many are hobbyists who take photos on their phones: as Fireside points out, this makes it much easier to compare covers, and see small differences. They tend to gather on the internet, pooling their finds under hashtags like #ManholeCoverMonday and #IronworkThursday.
Fireside—who, when he isn't drainspotting, works as the capital coordinator for a worker-owned fair-trade coffee company—first dove in about three years ago, after a fateful walk around his neighborhood with his dog and younger son. "My kid pointed at something on the ground and went 'ABC,'" he remembers. "And I looked down and it was 'G.'"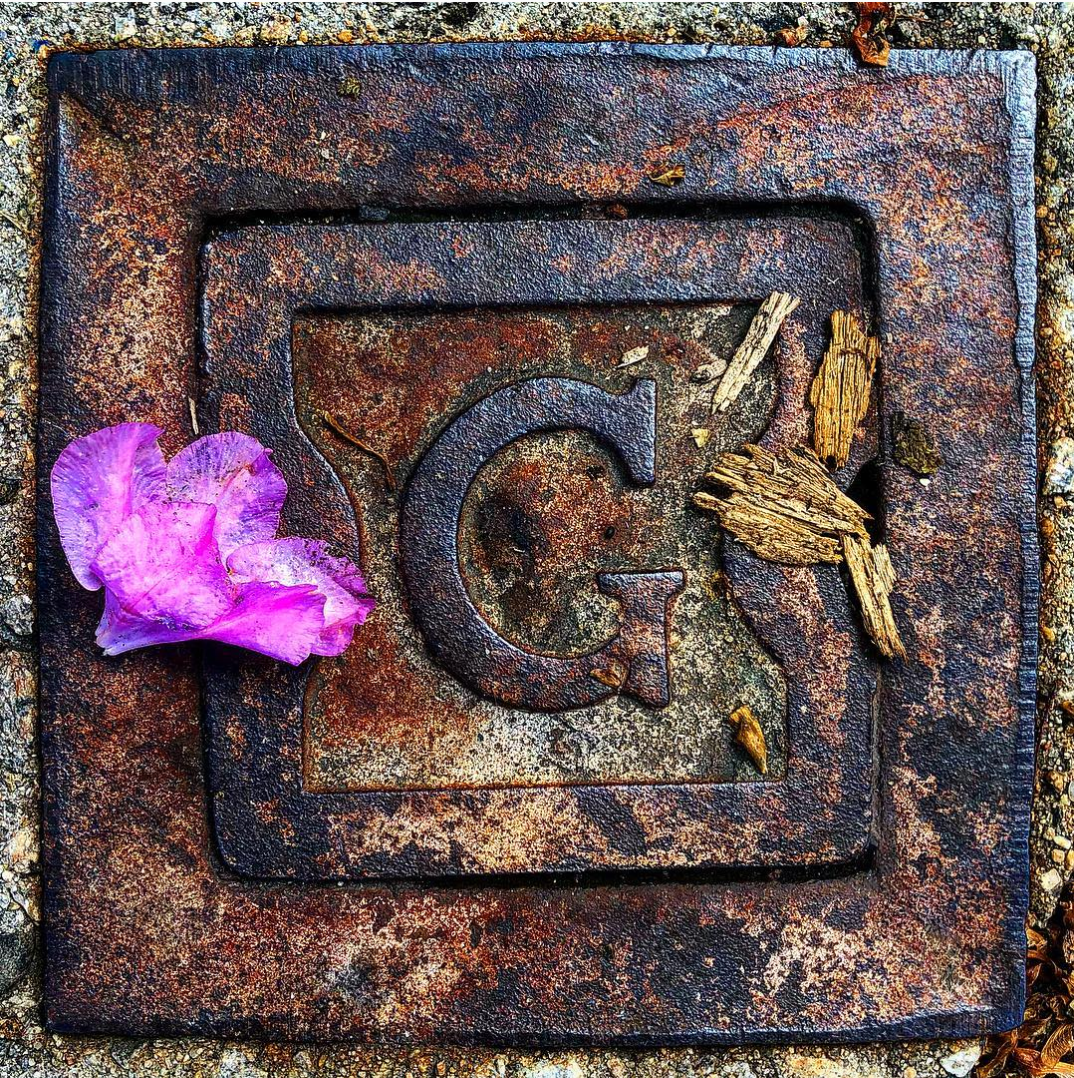 A near miss, but it led to an epiphany: "I was like, 'Oh, wow. G for Gas,'" Fireside says. (Although manhole covers are popularly associated with sewers, there are a lot of hatches in the street that allow access to other utilities, including gas lines and electric wires.)
Once he bothered to decode this small message, it was as if a veil had been lifted. "I started noticing [them]," he says. "Within a couple feet of me, there were like five different kinds of manhole covers." Some he found interesting; others, beautiful. He started taking photos and honed his style, and he now Tweets and Instagrams at @IronCovers, where he has thousands of like-minded followers from all over the world.
Drainspotters tend to have their own areas of expertise. Some get into particular manufacturers, like New York's 19th-century craftsman Jacob Mark, who embedded his manhole covers with bubbles of colored glass. Others love the manhole covers of Japan, where many municipalities have introduced their own multi-hued designs. "There are the steampunk aesthetic kind of people, and there are people who are really into rust," Fireside says.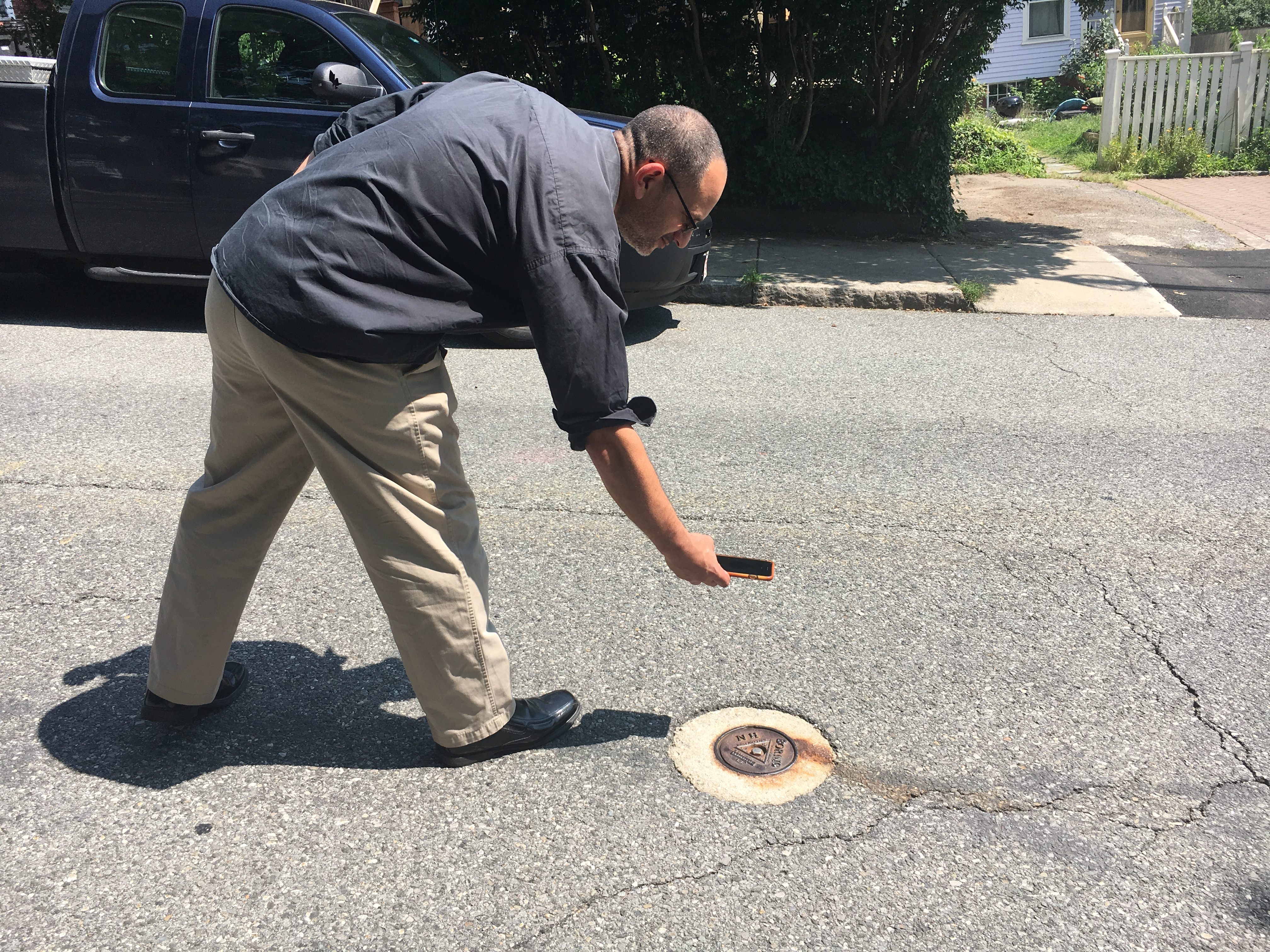 Fireside certainly won't turn away from a good rust pattern. ("It's nature's way of playing with metal," he says.) But his favorite manhole covers help him tap into the history of Boston, as well as the smaller towns, cities and suburbs scattered nearby. "Around here, a lot of them are dated from the dawn of the modern sewer system," in the 1870s and 1880s, he says. "You can discover this lost history of industrialization in New England … it's like an urban treasure hunt," where the treasure is underfoot.
"You have all these nameless craftspeople who put really cool designs on them, and typefaces," he says. "Often each city mandated different styles. The Boston ones are totally different from the Medford ones."
In Arlington, the next town over from his Somerville neighborhood, the first batch of manhole covers made were individually numbered, 1 through 999. "I've found about 150 of them, scattered all over the city," he says.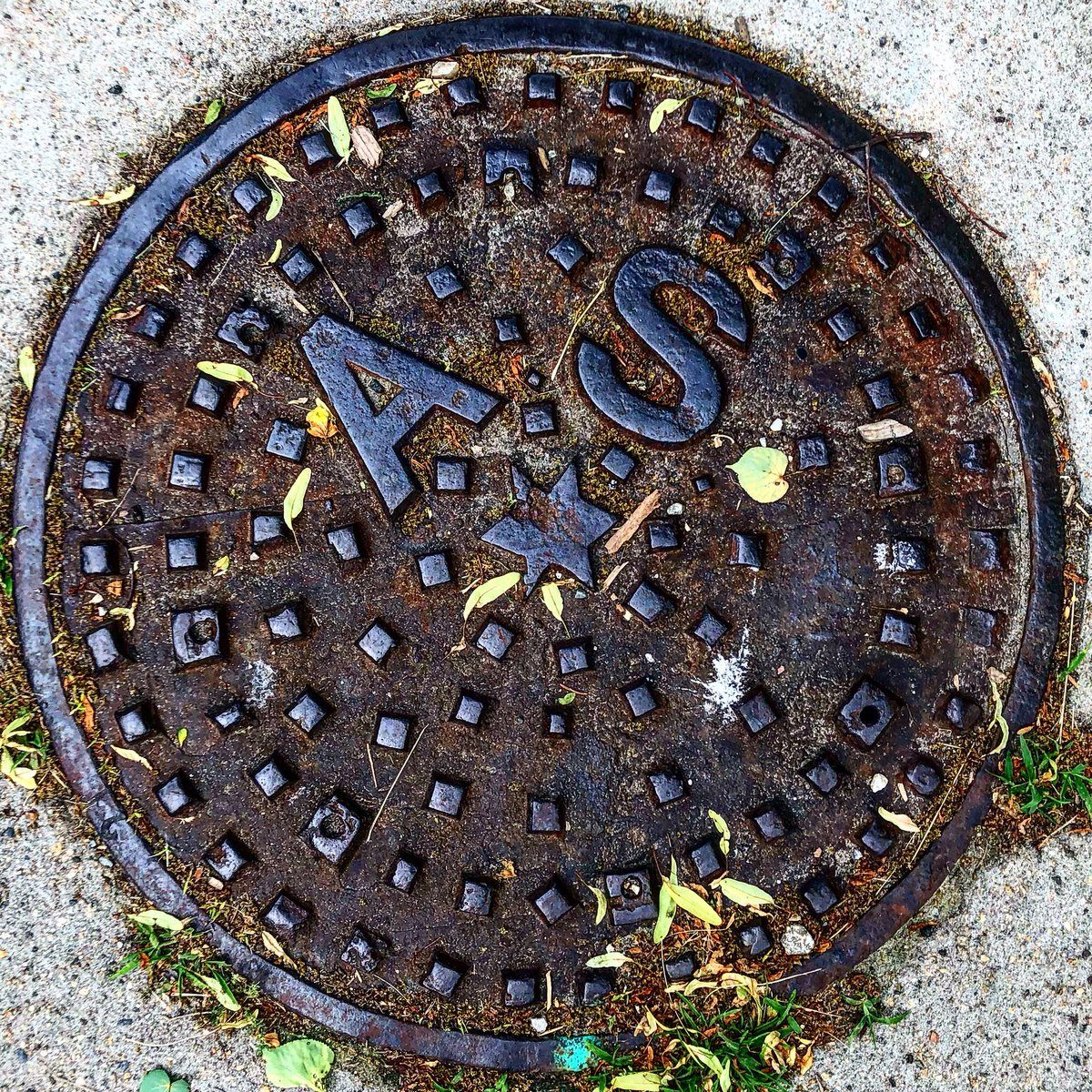 Three years into his hobby, Fireside has become more discerning about exactly which covers he wants to photograph. But as he takes me, a newbie drainspotter, up and down the street, he makes sure to linger over most of them, kicking off dead leaves so I can see the details.
Slowly, differences begin to reveal themselves. The covers may be pebbled or crosshatched. We see the classic circle, but also a fair number of rectangles and squares. (Fireside jokes that he would respond to the classic Google job interview question, "Why are manhole covers round?" by providing photographic evidence that some are not.)

As we come across the names of various utility companies, Fireside rattles off their pedigrees, and what happened to them. "Especially in less-traveled areas, you can find ones from the Boston Edison Electric Illuminating Company," he says. "Thomas Edison founded that, and [a dozen] name changes later it's Eversource."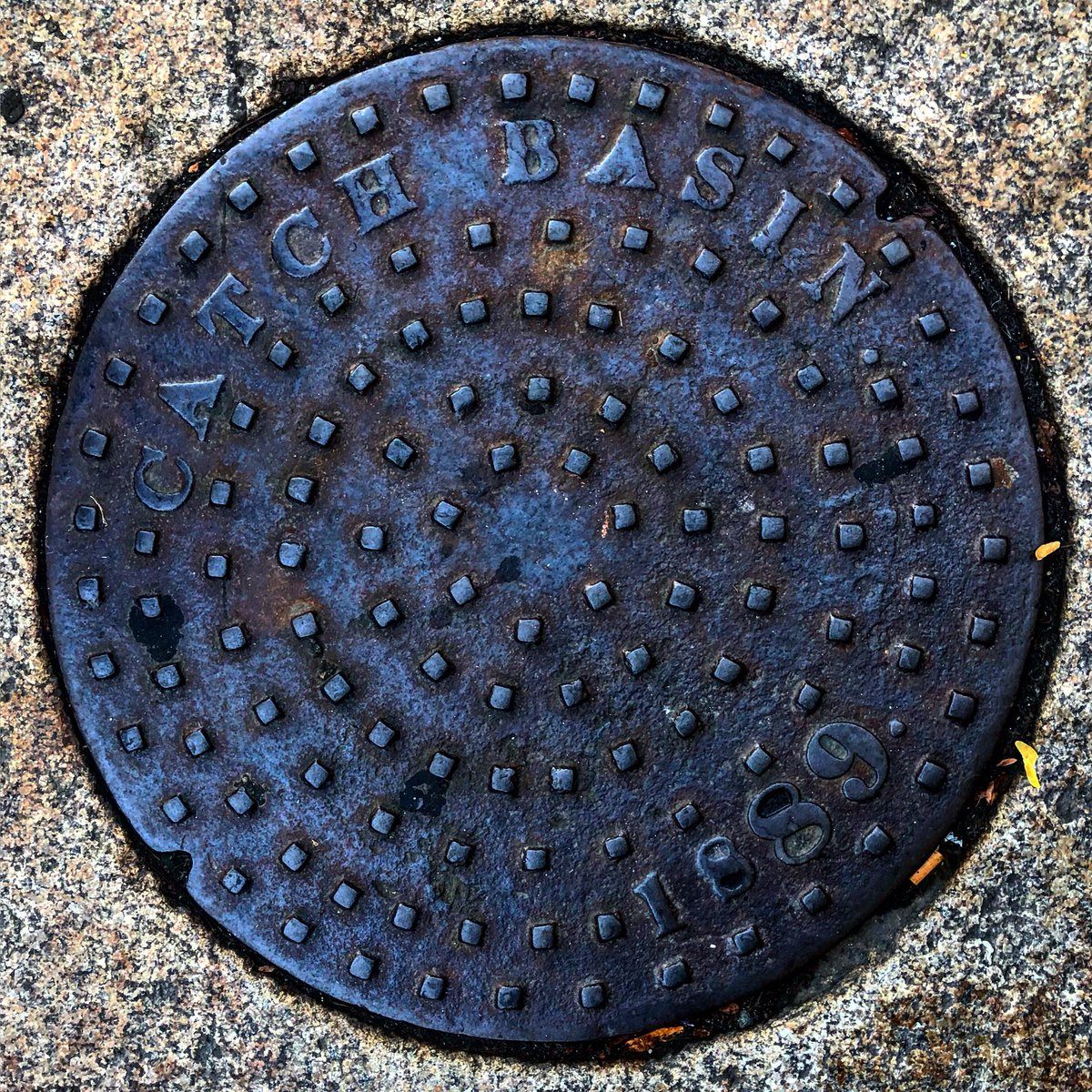 When we find a manhole cover stamped with the year it was made—1882—it spurs an imaginative exercise. If you time traveled to 1882, he points out, "this would be the only thing you would recognize. The trees are all different. Stores and buildings were not there. The streets weren't paved back then. But this object that was built by people is this little time capsule. And people put some energy and thought and creativity into it. "
Of course, they made mistakes, too. "Sometimes I find little typos," he says. "They put the 3 backwards, or they ran out of N's and they put 3 nails together." He smiles, and guesses at what they probably thought at the time: "'Eh, 132 years from now, no one will notice."