A Tour of the World's Most Unrepentantly Modern Churches
Worship at the altar of striking architecture.
Outside the town of Almadén, in central Spain, nestled on a scrubby hillside, there is a chapel. You'd be forgiven for thinking it is an art gallery, or perhaps a particularly modern-looking winery, or the home of an eccentric tech mogul. Planes of concrete fold into one another, creating elegant, severe triangular surfaces that frame a wooden doorway marked by tapering planes of glass. But inside there is only sunlight—and a cross. Known as the Valleaceron Chapel, it was designed for the property by the architecture firm S-M.A.O. in 2001. It is also just one of 1,000 mesmerizing examples of extraordinary contemporary buildings in the new Phaidon book Destination Architecture.
The book covers buildings in 70 countries around the world, and is not limited to religious structures. It includes everything from skyscrapers to libraries, and airports to museums. But the churches and chapels stand out as departures from conventional expectations of religious architecture—devoid of stained glass windows, soaring vaulted ceilings, or stone cherubs. Instead these houses of worship embrace stark lines and a variety of materials: copper, aluminium, timber, concrete, and stone.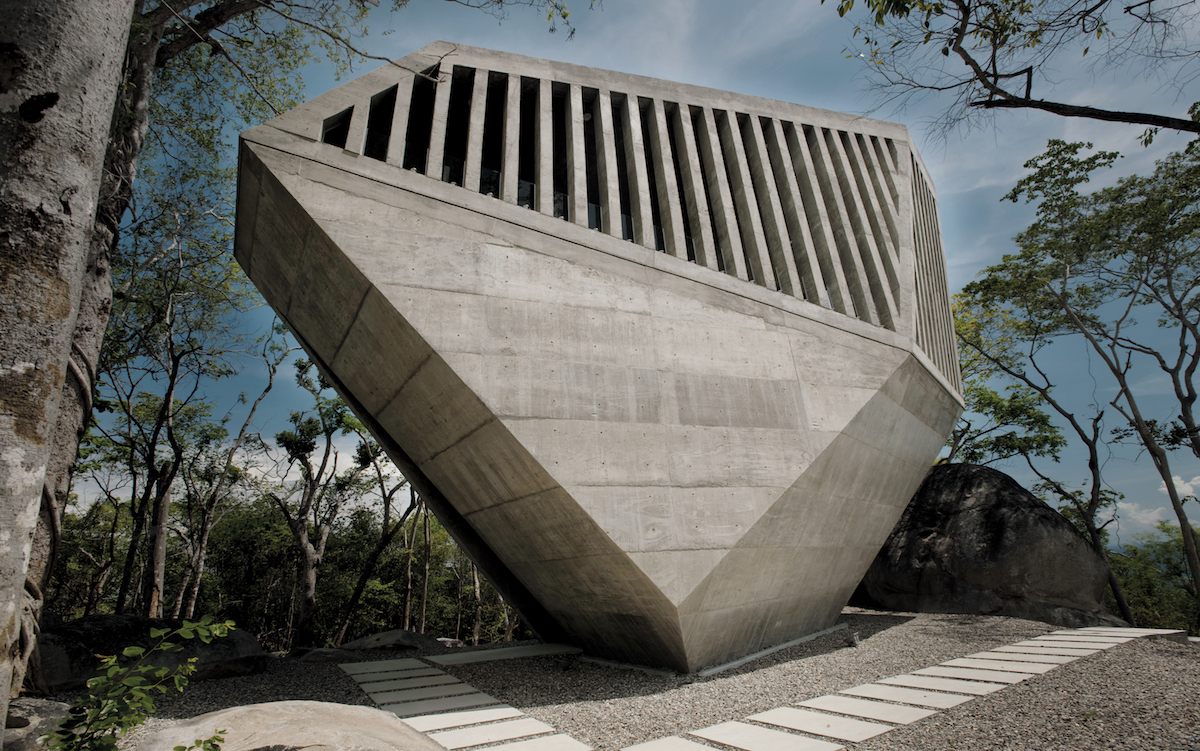 In Tainan, China, the Tainan Tung-Men Holiness Church is a square concrete building, with a facade elegantly sheathed in rose-colored aluminum screens. Finland's Kärsämäki Church incorporates the old and the new—18th-century building methods on the site of an old church, with a shingled exterior topped not with a spire, but with a lantern-shaped skylight. In Acapulco, Mexico, the hexagonal Sunset Chapel appears to defy gravity. Its narrow base gives way to an elevated chapel that faces contemplatively, out to sea.
Get a look at these sacred spaces and more, with Atlas Obscura's selection of images from the book.