Myanmar's 'Firemasters' Strap Fireworks to Hot-Air Balloons for an Annual Festival
The teams are dedicated to their displays, despite the risks.
Seven men, each wielding a flaming bamboo stick, circled a giant paper balloon and worked quickly to fill it with hot air. A small band of people played clangy music and danced exuberantly as the 30-foot-high balloon slowly billowed out before it lifted off into the night sky. The men cheered, the music swelled, the crowd danced.
And then, the pitch-black sky lit up into a dazzling display of a multicolored shower of sparks and flames.
The crowd ran for cover as sparks whizzed down onto the ground. As the balloon gained more altitude, its undercarriage began emitting a symphony of pyrotechnics; red, blue, green, and white explosions arched across the night sky as spectators watched, pulling on blankets to protect their hair from wayward sparks.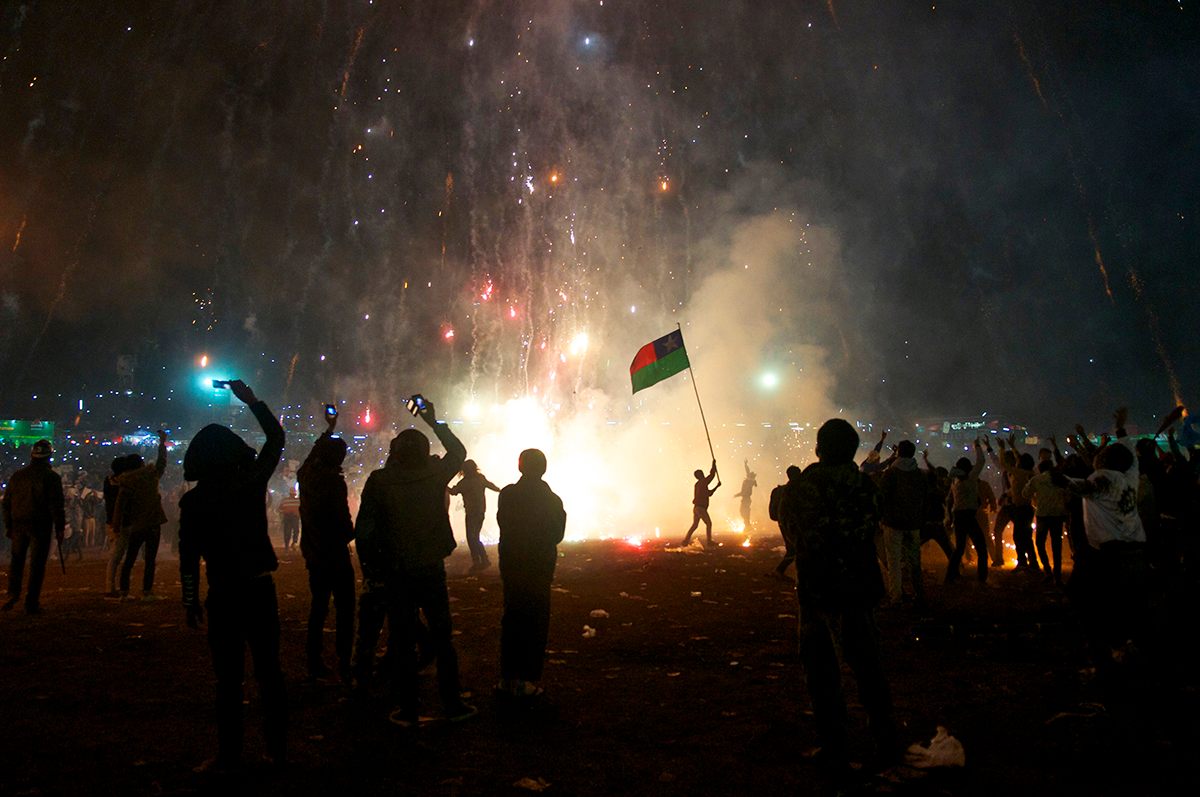 This amazing display was just one of hundreds during the week of the Tazaungdaing Festival of Lights in northeastern Myanmar's Shan State. Held every year in November on the week of a full moon at the end of the rainy season, the festival attracts thousands to Taunggyi city. The beautiful—and dangerous—event is held next to fairgrounds that feature hundreds of food stalls, games, and local liquor promoters, as well as a carnival that appears to be entirely powered by youngsters swinging on Ferris wheels or pushing pirate ships to create momentum. Some years, balloon lift-off have gone awry and resulted in injuries and even deaths.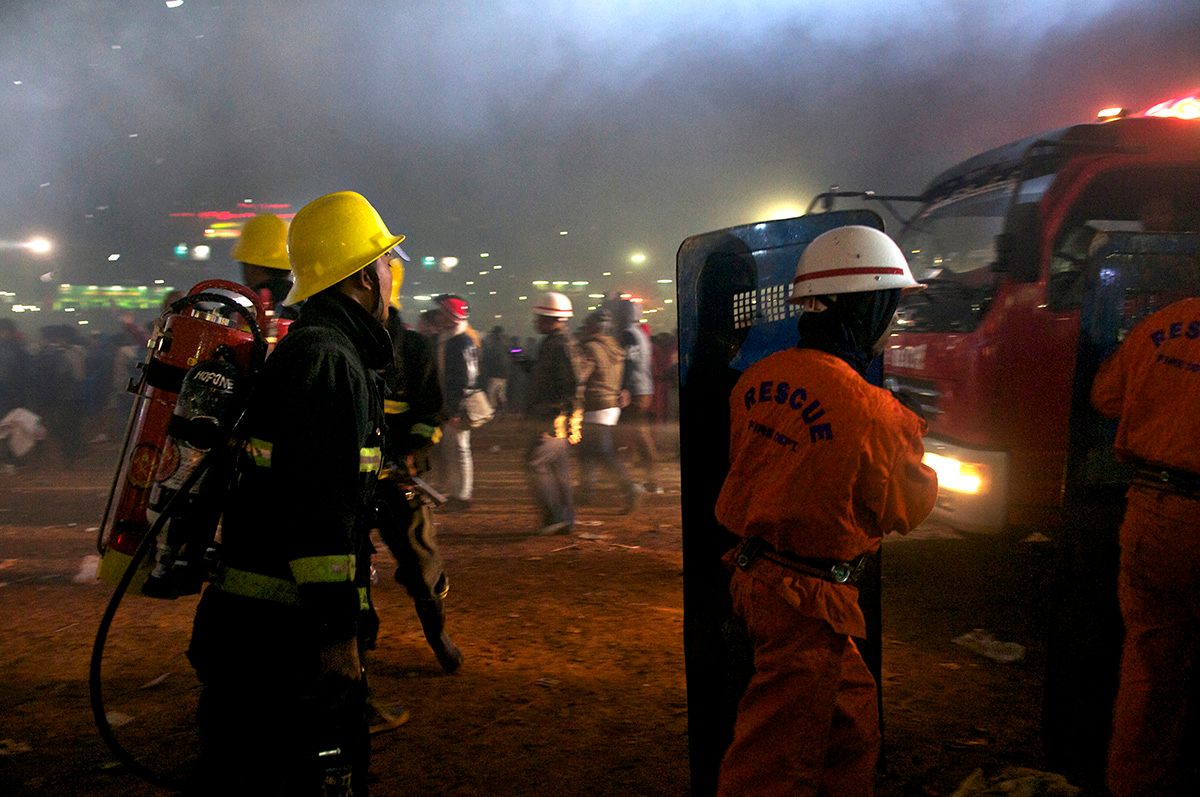 Working months in advance to create these massive hot-air balloons, local teams also experiment with explosives to create the colorful fireworks that are attached to the balloons' undercarriages. The experimentation is often ad hoc, done with few safety precautions, but the people making the balloons are rarely persuaded to leave the crafts.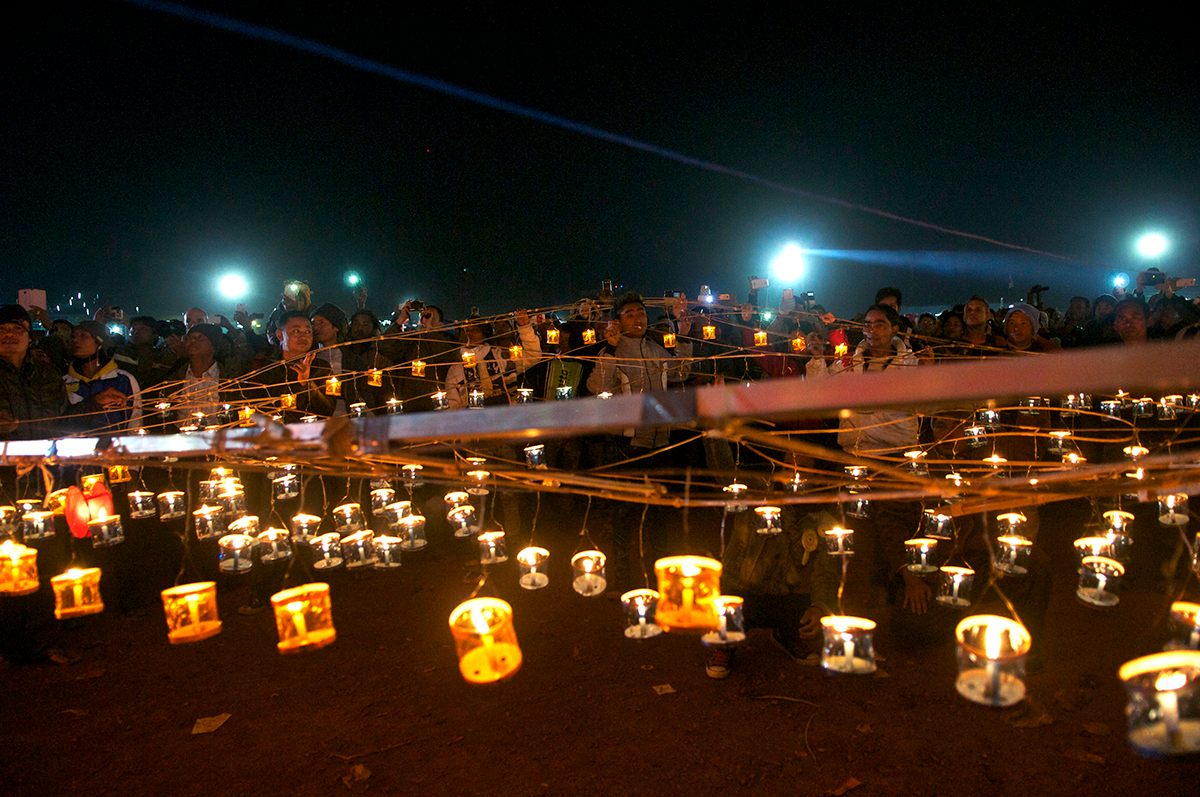 "I won't ever want to stop doing it," said 39-year-old Ko Moe, who is one of many "firemasters" in charge of creating and experimenting with the explosives. "If nothing really bad happens, I will continue to do it. I will continue to guide the younger people to learn the craft and pass it on."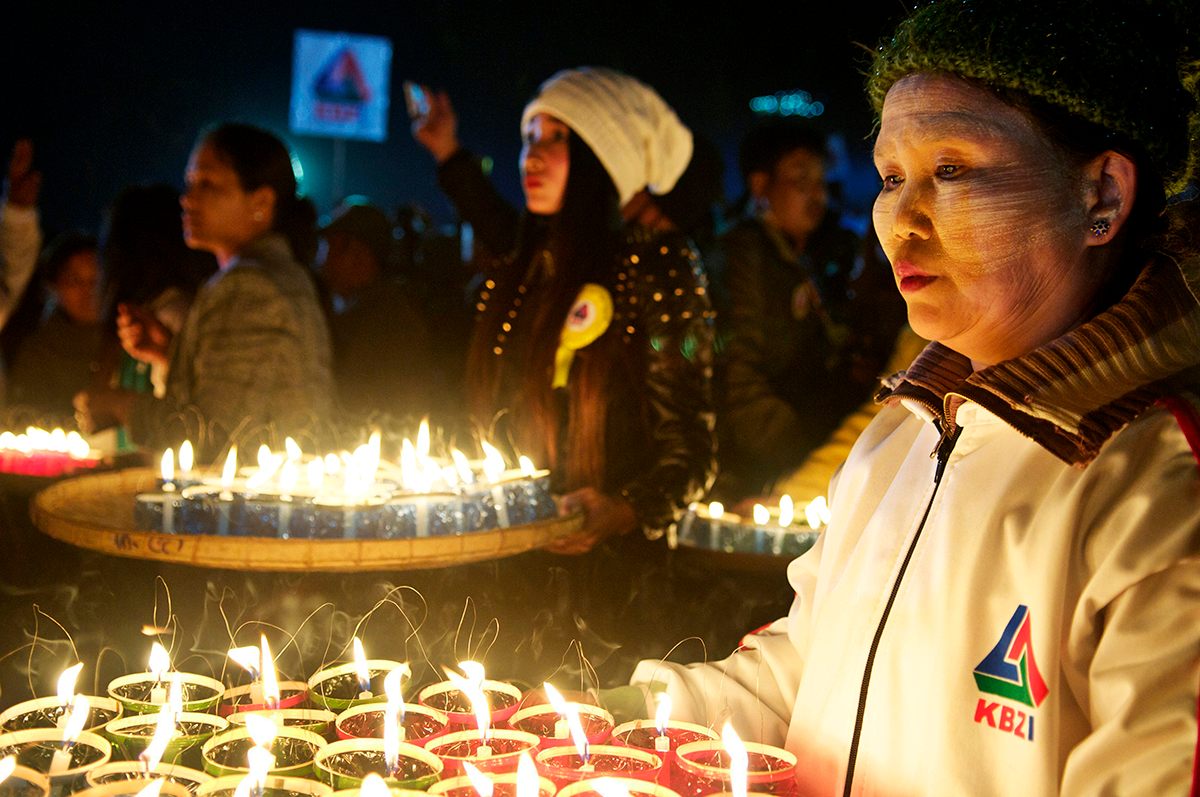 Ko Moe is part of a team of roughly 200 men who make the balloons each year. In 2015 the team, called Royal Kyar Nyo, made three hot-air balloons and entered them all into the Tazaungdaing competition. Ye Lin, 26, said that their first entry ended in great disappointment: While the fireworks planning and display went off without a hitch as the structure gained altitude, the wind changed abruptly at the last moment, causing the paper that the balloon was made out of to catch fire.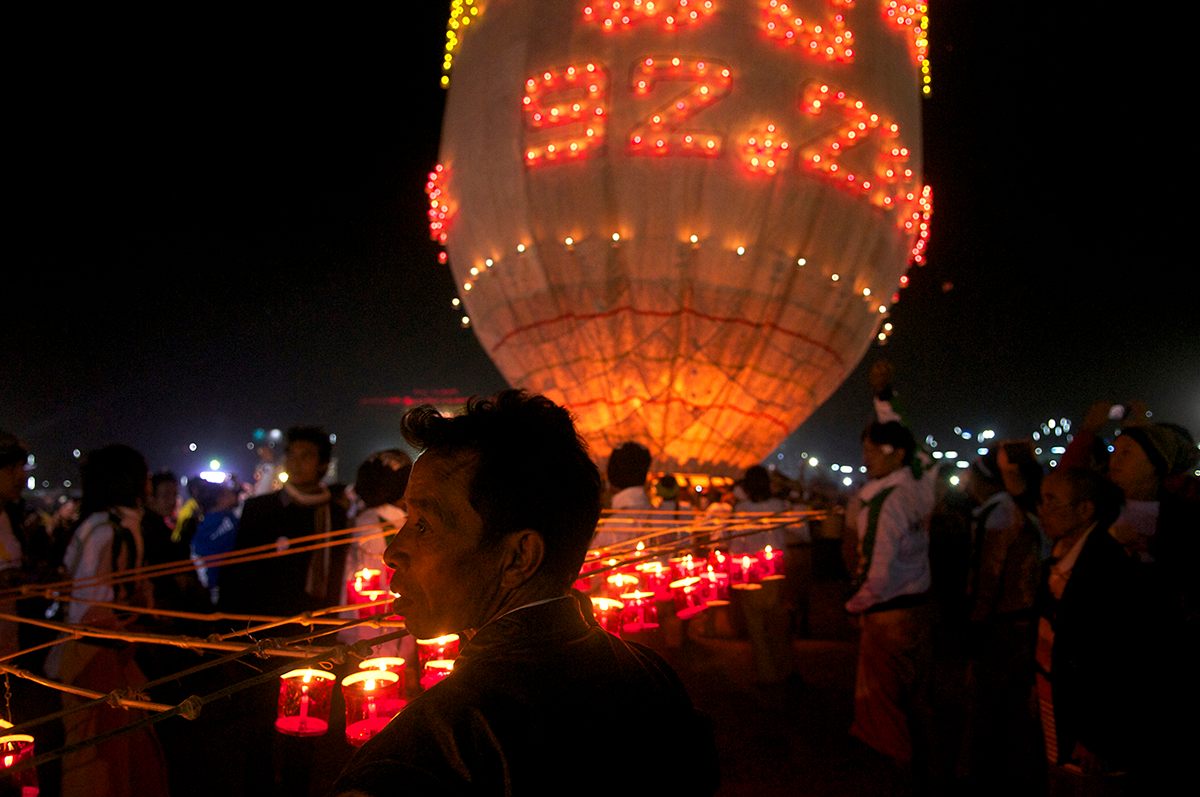 "It just crumbled up and fell out of the sky," Ye Lin said. "Our firemaster was so sad, even though the fireworks was actually perfect; he couldn't speak to anyone that night."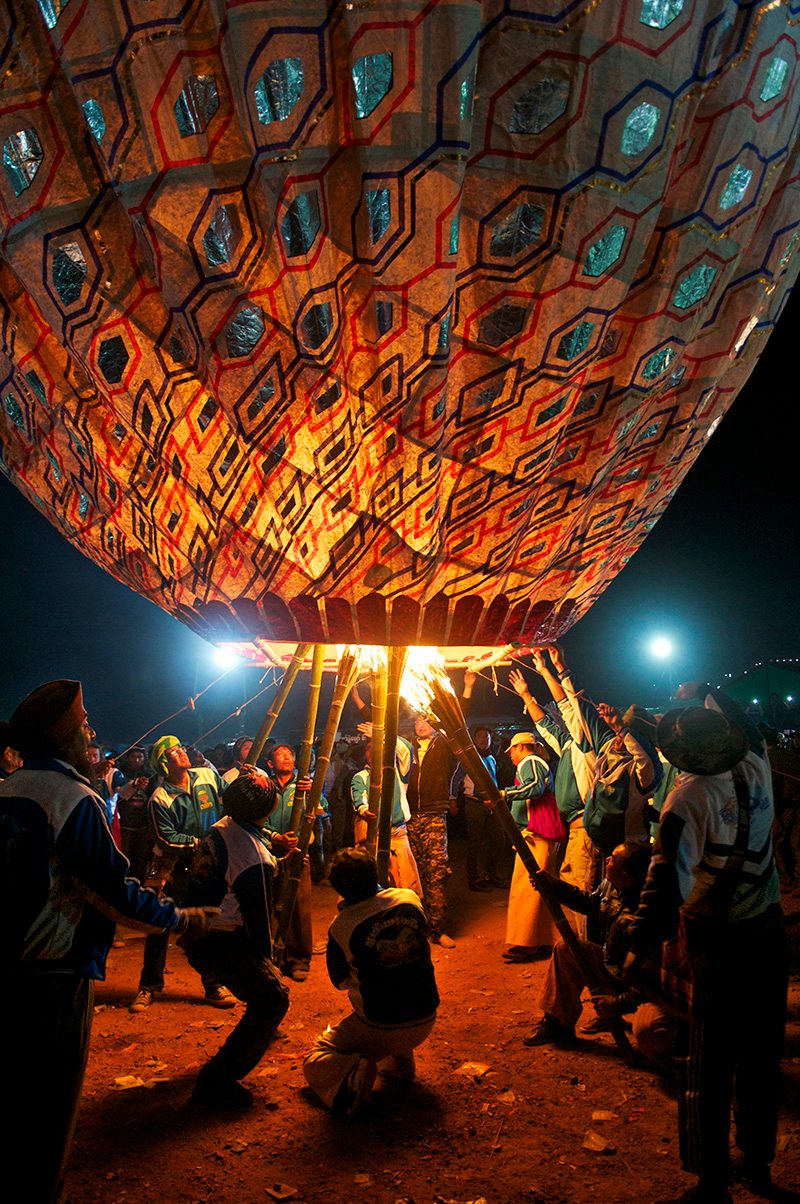 But the Royal Kyar Nyo team had high hopes for the second-to-last night of the festival, where they would launch their final creation—a sunflower-yellow hot-air balloon with a happy purple Buddha painted on it. Hours before lift-off, four men sat in a dark, musty room working quietly to prepare mini "rocket launchers" that would glide through the air and explode into fireworks when sparked.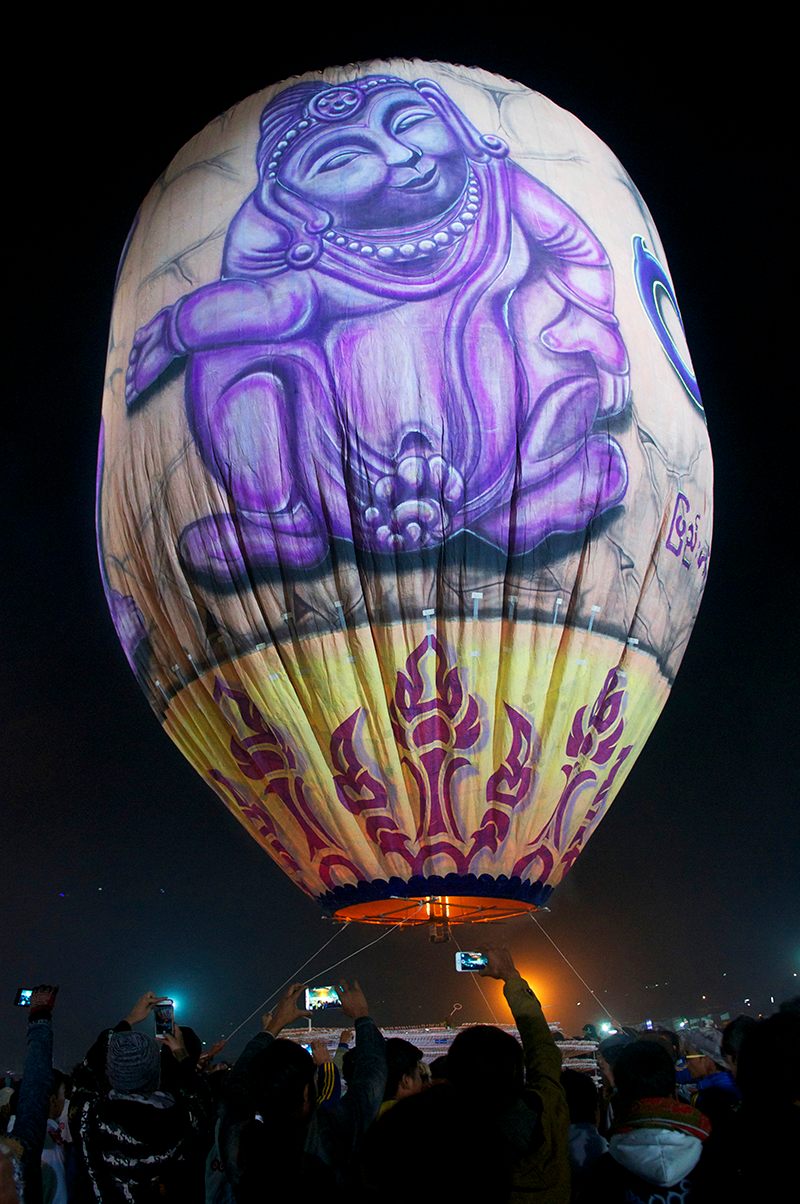 To an untrained eye, the men looked like they were working with a variety of colored powders and metal bits, stuffing the powder with their bare hands into small paper structures. The powder included potassium chlorate—an explosive that "adds strength" to the fireworks, though it is more typically used to make bombs. Some feature potassium nitrate, which causes the fire to burn green, while scandium nitrate produces red sparks, and magnesium mined from airplane bits is generally used to make flames burn hotter and brighter.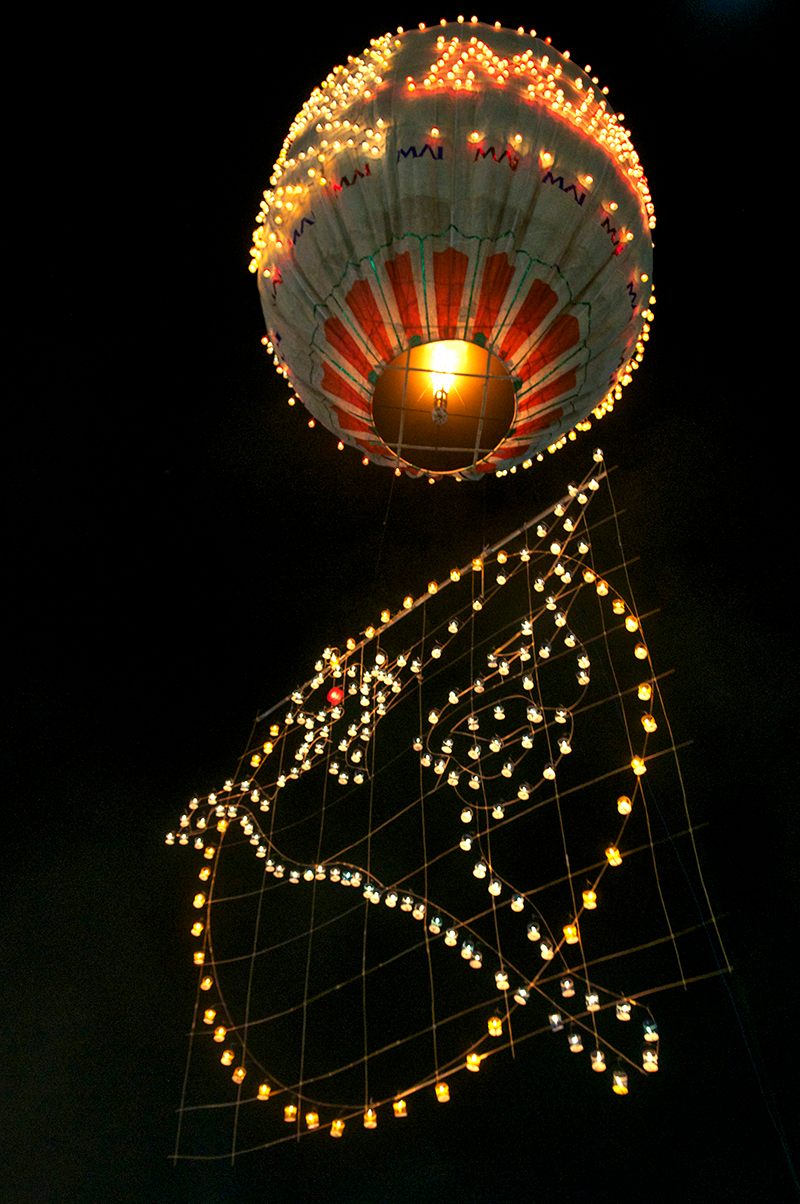 While the health ramifications of working on these explosives are unclear—Ye Lin said that the team wears face masks to protect themselves, but not much else—the balloon makers' dedication to their craft appears to be all-encompassing. Members allocate their time, money, and resources to the process—which can cost up to $4,000 for a single hot-air balloon—despite all the potentially fatal setbacks.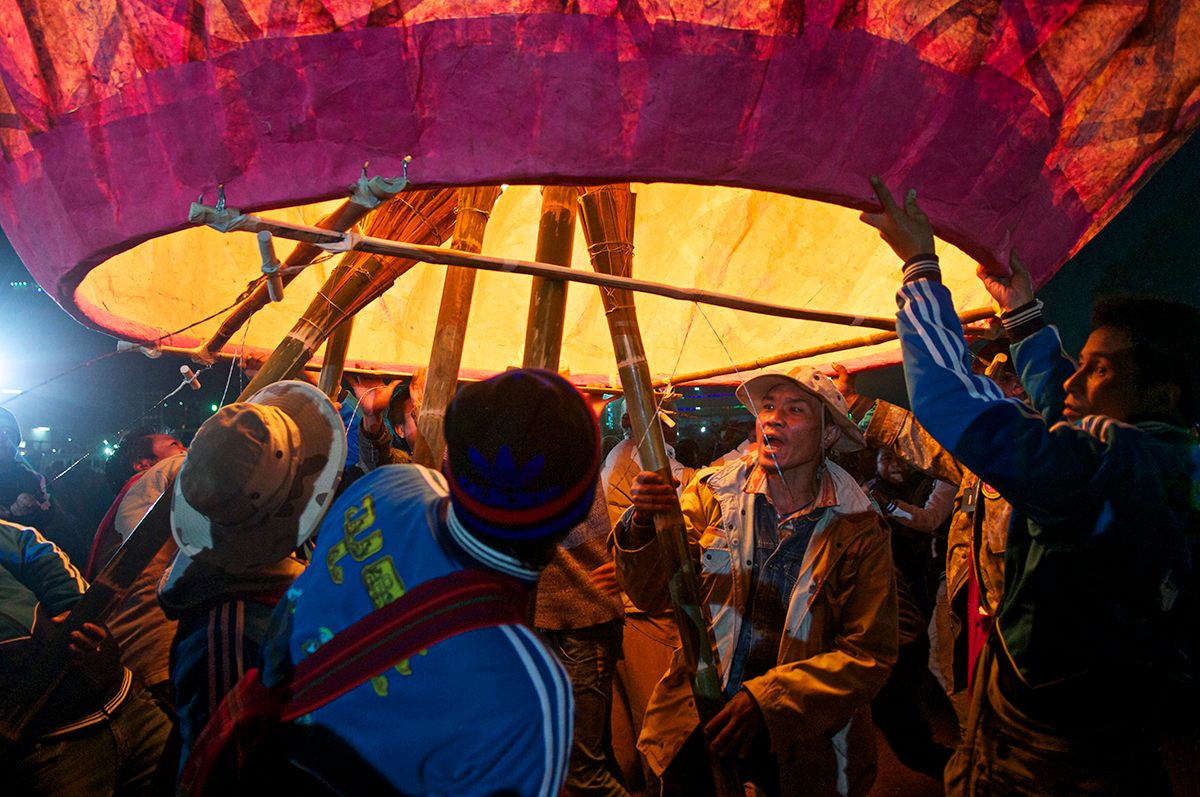 Ye Lin, for example, said that his parents did not approve of him being part of a balloon team. "I still do it because it is my passion," he said. "You can get injured or maimed from it but I don't really care and I'm very careful anyway."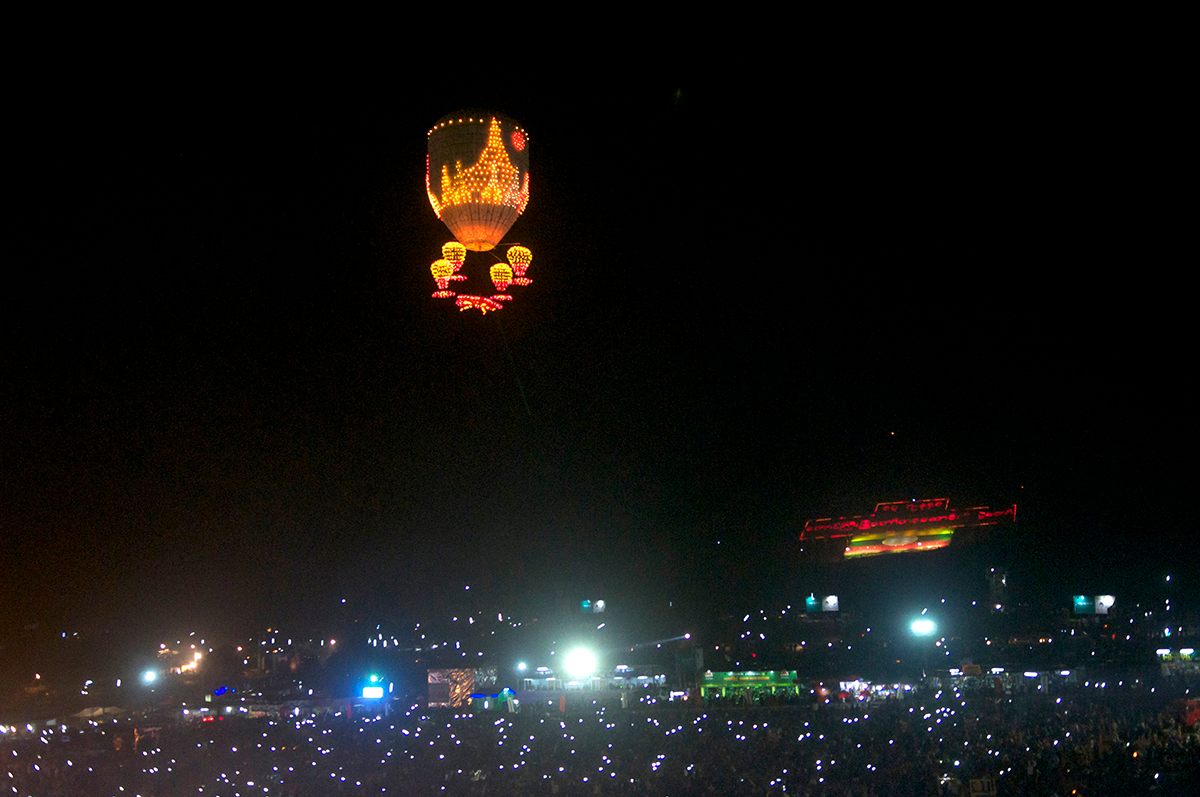 He added that his older brother used to be part of a team but was involved in an accident that left him injured. "He can't really walk now because his waist and hand are injured and he also can't carry heavy things," Ye Lin said, adding that his brother still attends the festival every year.
"Two of my friends have died in the past," he said. "There is a sadness at first, but after a while, we cannot give it up so we go back to it."