The Spirited Afterlife of Detroit's Little Red Demon
The Nain Rouge has been stirring up trouble—and maybe generating some goodwill—for more than 300 years.
This week we're looking at the ways that ghostly and ghastly tales evolve—shifting shape, but never quite dying out. Previously: how the Demogorgon went from scribal error to "Stranger Things," and the Flying Dutchman's imperial path to the big screen.
For the last decade, on the first Sunday in spring, a demon has stalked the streets of Detroit. Sometimes he arrives on a forklift. Once he rode in on a mechanical dragon; another time he was astride a float modeled on a cockroach, like a mischievous Poseidon on a scuttling chariot.
However he makes his entrance, this creature, known as the Nain Rouge, loves to rile up the locals. At the annual Marche du Nain Rouge, a parade that's also part concert and part interactive theater, complete with elaborate homemade costumes and floats, someone dresses up as the Nain and taunts thousands of Detroiters at a time—whoever shows up to stroll, cheer, or jeer. (Organizers wouldn't say who gets the dreaded or coveted demon gig.) All in all, it's a festivity that Francis Grunow, the co-founder and parade director, calls "kind of a mashup of Halloween, Burning Man, and Mardi Gras."
Each year, between 5,000 and 7,000 people turn out to celebrate Detroit's favorite demon, or to cast him away. Depending on whom you ask, the ill-tempered imp is either defender of the city, who appears to warn people that danger is coming, or the very engine of said danger, delighting in any disasters that befall the place.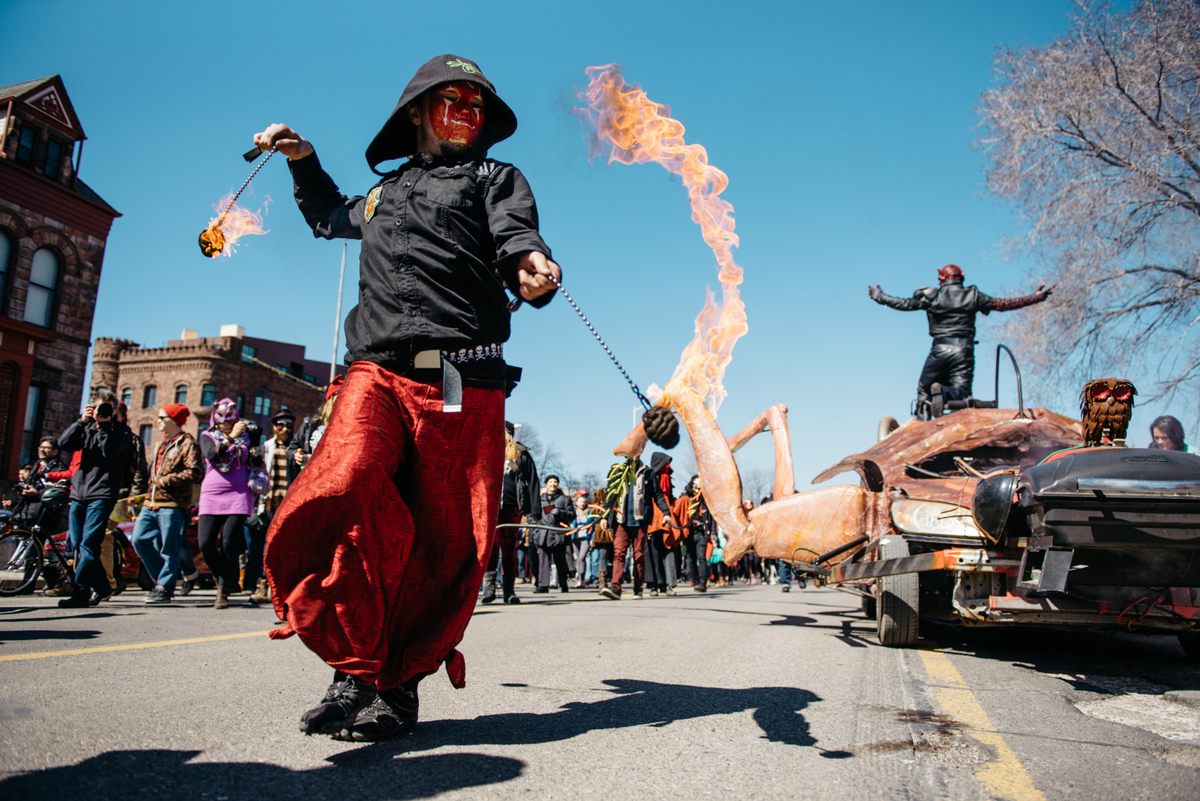 Legend has it that the Nain has been visiting Detroit since at least the 1700s. His tale features in the 1884 volume Legends of le Détroit, collected by the local author and historian Marie Caroline Watson Hamlin, who was descended from some of the city's first French arrivals.
To hear Hamlin tell it, the trouble began at a party in Québec one March evening in 1701. At the castle of St. Louis, she writes, the French explorer Antoine Laumet de la Mothe Cadillac—who would soon depart to claim Detroit for the French and their fur traders—and other officials gathered around a table, "resplendent with costly silver and sparkling glass," their heads swimming with wine from the building's "noted cellars."
Into that shimmering scene burst a "swarthy," fortune-telling crone with a scrawny black cat on her shoulder. She called herself Mère Minique, La Sorcière, and she came bearing a warning. Things would work out well for Cadillac, she promised, but if—and only if—he appeased the Nain Rouge, or "Red Dwarf."
Hamlin describes the creature as the ornery "demon of the Strait" (détroit is the French word for "strait," a narrow waterway linking two other bodies of water). The Nain was a creature "most malignant," the prophetess said, but "capable of being appeased by flattery." If Cadillac played his cards right, the woman foretold, he would "found a great city which one day will have more inhabitants than New France now possesses." Cross the demon or let your ambition run amok, she cautioned Cadillac, and "your name will be scarcely known in the city you founded."
Cadillac set out on his mission the next day. By July, he and his company arrived at the present-day Detroit River, historic home of the Anishinaabe people and other indigenous groups, including the Huron and Miami, and began setting up Fort Pontchartrain du Détroit on its western bank.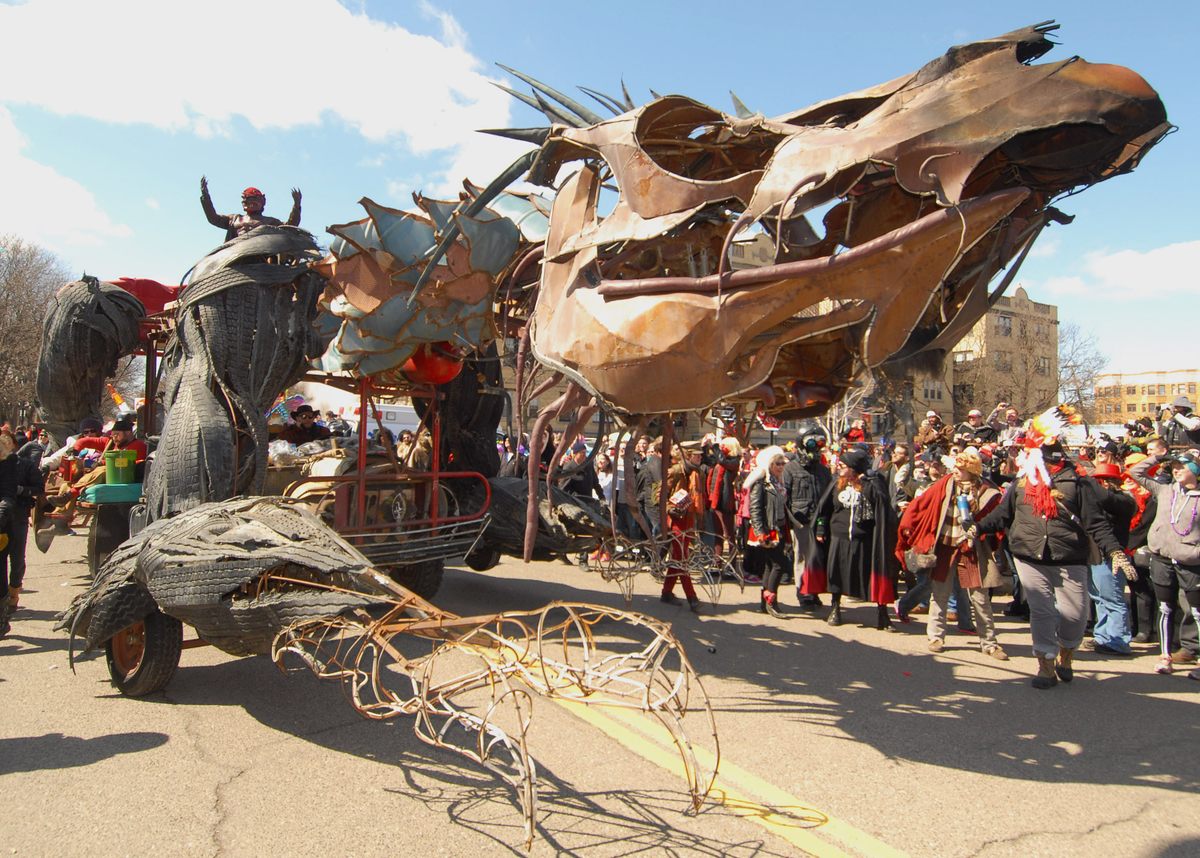 As the Detroit Historical Society recounts it, the next few years were fairly kind to Cadillac: He and his wife welcomed a daughter, and several Native American tribes, game to trade with the French newcomers, established communities in the area around the fort. But there were tussles, too—and Cadillac started to get a little big for his britches, the Historical Society reports, demanding that settlers treat him "as a landlord," and requiring them to pay rent and give up some of their crops. Traders had to hand over a bounty too.
Cadillac's ambition was ratcheting up—even former supporters would go on to protest his growing greed—and one evening in 1707 he and his wife overheard an unsettling snippet of conversation. Someone claimed to have spotted the Nain Rouge. Cadillac's wife bristled, and grabbed her husband's hand: "'Beware of the Nain Rouge' was what that prophetess told you," Hamlin recounts her saying. "When he should come, misfortune was nigh."
Cadillac shrugged it off, and the pair kept walking—until the demon scrambled into their path. He was "very red in the face, with a bright, glistening eye," and razor-sharp teeth. Maybe he seemed almost metallic: Hamlin writes that the demon's visage "emitted a cold gleam like the reflection from a polished surface, bewildering and dazzling all who came within its focus."
Cadillac was not pleased to make the demon's acquaintance. He apparently thwacked the Nain with his cane, demanding, "Get out of my way, you red imp!" The creature obeyed, Hamlin writes, disappearing from sight as "a fiendish, mocking laugh pierced the still night air."
Sure enough, Cadillac's life soon took a nosedive. He was by nature quarrelsome and prone to lying, and habitually inflated his own victories and downplayed his fumbles, recounts the historian Yves F. Zoltvany in a brief biography. (Zoltvany casts Cadillac as a "scoundrel," who had "never been anything but a cunning adventurer in search of personal enrichment.") The fortune-teller had warned him to not let his ambition take the wheel, but Cadillac ignored the advice, and soon after his run-in with the Nain, Cadillac's superiors had had enough: He was removed from his post in Detroit and shipped off to Louisiana, which he considered a "wretched place."
The Nain couldn't save Cadillac from himself, but legend has it that the creature showed up over the years on the eve of catastrophe in the city. In 1805, when fire ripped through Detroit, Hamlin says, "many an old habitant thought they caught a glimpse of his malicious face."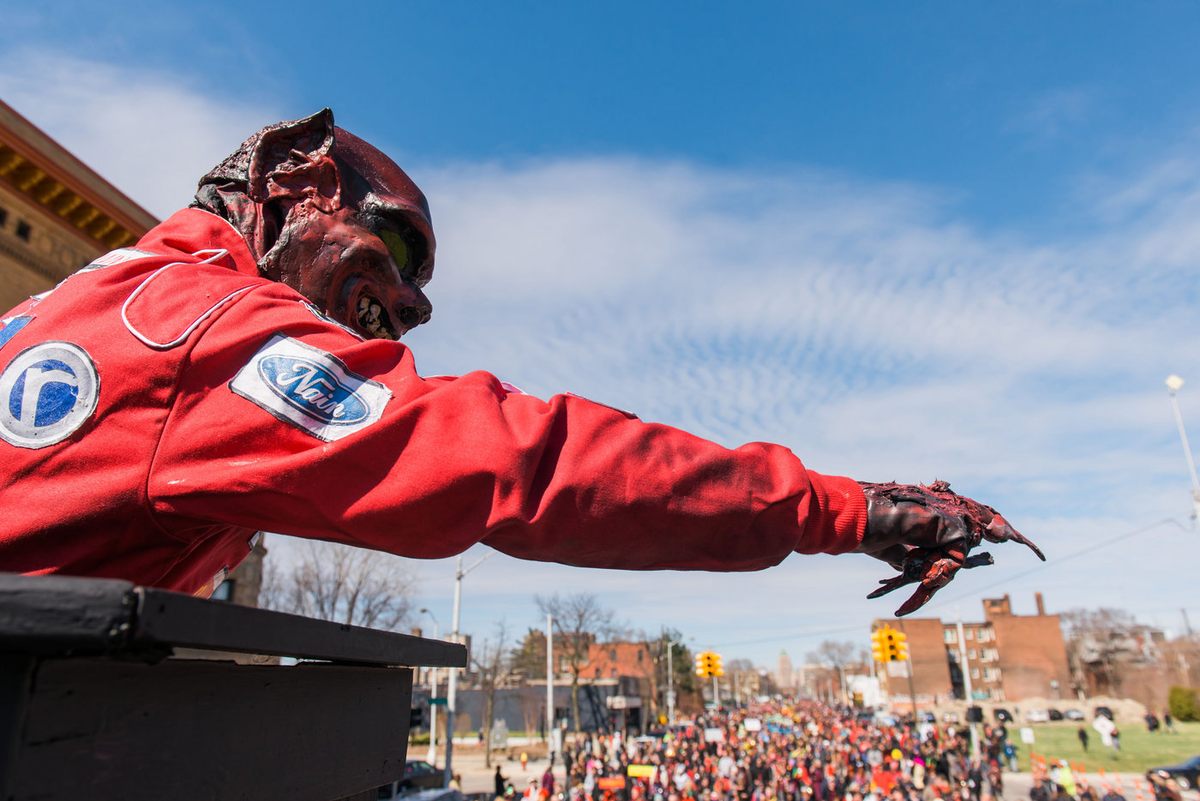 Hamlin writes that the tales in her volume had been in her family for generations, and that she'd bolstered them with her own research. It's also possible that the lore was somewhat syncretic, borrowing strands from the various cultures that co-existed—somewhat uneasily—in Detroit at the time. In the 18th- and 19th-century Midwest, French and indigenous cultures intermingled. In some trading towns, bicultural marriages and households were common, says Tiya Miles, a historian at Harvard University whose research includes Native-American and African-American history in 18th-century Detroit.
"While French Catholics would have been suspicious of beliefs that seemed anti-Christian, they may have picked up bits and pieces about indigenous culture heroes that stuck with them and influenced how they recalled and interpreted folktales from their homeland," Miles says. "And it is even possible that the French imagining or retooling of Nain Rouge in and around the walled settlement of Detroit, where the French viewed some Native people as allies but others as enemies, was partly a projection of French settlers' racialized anxieties about a lurking indigenous threat."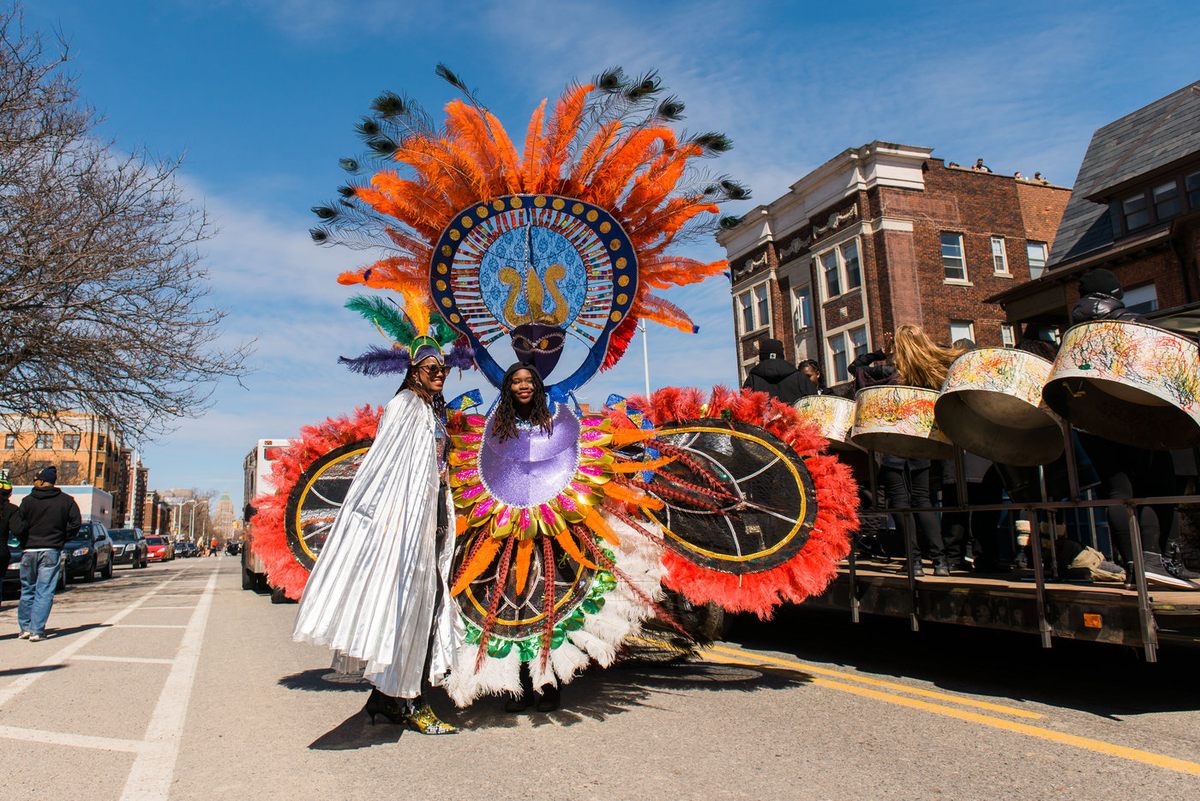 To this day, there's disagreement about whether the Nain is a friend or a foe. At the Marche du Nain Rouge, the demon scales the steps of the city's massive Masonic Temple to reveal the ways he plans to meddle in Detroit's business in the coming year. (Once, he threatened to become the city's emergency manager. Another time, he announced plans to launch NainCo—what Grunow describes as a dystopic, "insidious corporate interest behind everything.")
Each year the Nain snarls and heckles. But ultimately, at the end of the parade, he leaves. Just before the festivities morph into a full-on party, Grunow and his collaborators engineer a bit of catharsis among attendees—maybe holding up a cheerful banner, or celebrating a genuine marriage proposal. In each case, it's something that irks the Nain. He does not "want to deal with all the positivity" coming from the crowd, Grunow says. "He's just disgusted by it." The Nain retreats, chased away by an onslaught of earnestness.
But some locals think everyone should just try to get along. In a 2016 deep dive about the Nain Rogue in Detroit Metro Times, a local alt weekly paper, reporter Lee DeVito spoke to John E. L. Tenney, a Nain enthusiast who believes that the demon gets an unjustly bad rap. Tenney and his fellow Nain-lovers have flanked the parade with signs reading "Stop Nain Shame," "Nain Is Nice," and "Don't Dread the Red." Tenney contends that the Nain is less a rapscallion than a guardian angel.
Plus, he adds, it's a matter of neighborliness. "The Nain has been a resident of Detroit for longer than any of us," Tenney writes on his website, "and the spirit of the Nain will continue long after we're gone."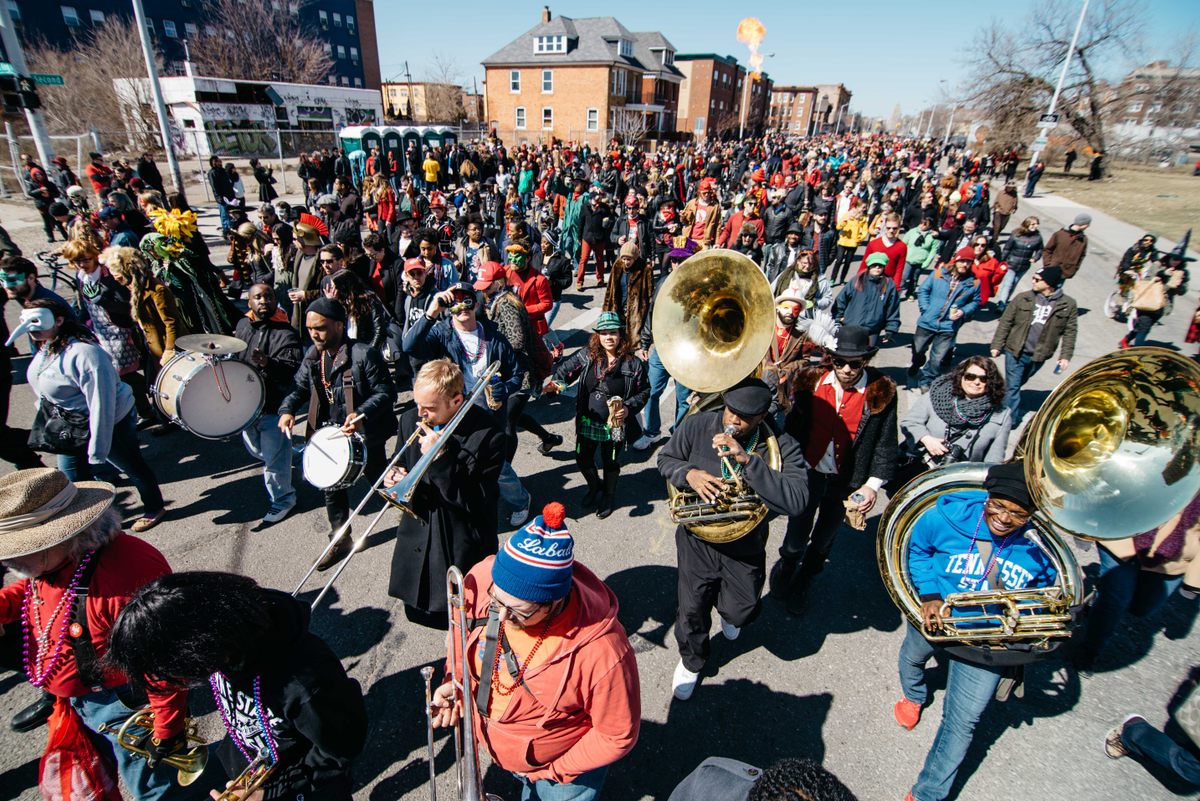 The Marche du Nain Rouge comes but once a year, but elsewhere in the city, the Nain hangs around all the time. He was the inspiration for the Detroit Dwarf brew at Detroit Beer Company. And this autumn, the new Nain Rouge Brewery is slated to open a taproom adjacent to the new restaurant Smith & Co. in an old industrial space in the city's Midtown neighborhood.
Grunow says there's room to think about the demon either way. "For me, the crux of it is that there's an enigmatic quality no matter which way you slice it," he says. "I think it's totally reasonable to have a variety of perspectives on it."
So grab a beer and raise a toast—resentfully or lovingly—to Detroit's patron saint of shenanigans.
You can join the conversation about this and other Spirits Week stories in the Atlas Obscura Community Forums.