The California Chefs Showcasing the Diversity of Native American Cuisine
Restaurants and pop-ups are putting indigenous culinary traditions in the limelight.
Bison meatballs bathed in blueberry sauce. Roasted fiddlehead ferns. Acorn crêpes topped with maple cream. These are just a few examples of what Indigenous chefs are serving at restaurants across California. Three spots in particular are dedicated to championing Native foods and culture in the state. Their chefs cite the same formative experience: growing up wondering why every other culture had a restaurant featuring its cuisine, but seeing none that reflected their own Native foodways.
Cafe Ohlone, the first Indigenous restaurant in California, opened in 2018 on the back patio of a Berkeley bookstore. Founders Vincent Medina and Louis Trevino rooted their restaurant in the cuisine and traditions of their Ohlone people and their ancestral homeland of Northern California. But despite accolades for their meals of locally gathered ingredients, the pandemic forced the closure of their cozy pop-up spot in 2020.
Cafe Ohlone is now preparing for a June reopening in an unlikely but fitting location, outside the University of California, Berkeley's Hearst Museum. Its new name will be 'oṭṭoy by Cafe Ohlone. The additional word means "healing" in Chochenyo, an Ohlone language. The healing in question refers to a disquieting past relationship with the university, specifically the anthropology department on whose grounds the new restaurant is now taking shape.
"The university had a direct role in the loss of our federal recognition and the removal of thousands of our ancestors from their cemeteries, who are still being held in this space today," Medina explains. "But by being here, we can be a constant reminder that the culture is alive, that we are alive, and that the culture is beautiful and valuable."
In a TED Talk, the celebrated Lakota chef Sean Sherman stated that the relative lack of Native American restaurants is due to a loss of education. He noted that his grandfathers and great-grandfathers, "instead of learning everything their ancestors had to teach them, how to fish, hunt, identify and gather plants," were instead subject to forced assimilation at governmental boarding schools, which stripped generations of culinary knowledge.
But things are changing, especially in California. Dr. Elizabeth Hoover,* an associate professor at UC Berkeley whose research focuses on Native American food sovereignty, sees several reasons as to why. "Many different tribal groups came to California after the Indian Relocation Acts of the 1950s, and that resulted in a huge diversity of Native communities here," says Hoover. "California also offers the perfect place in terms of a cultural and food environment, where people are willing and excited to try new foods and help support those who make them."
Plus, according to Dr. Kent Lightfoot, an anthropology professor at UC Berkeley, "there is now a concerted effort among many tribes to reenergize the stewardship of their lands and waters." He believes these efforts will increase the production of Indigenous resources for restaurants.
'oṭṭoy by Cafe Ohlone's menu definitely fits the bill, combining pre-contact foods with dishes that Ohlone families have enjoyed since colonization. Super-local products take the stage, meaning salads of watercress, sorrel, and pickleweed topped with quail eggs, nuts, and berries, acorn soup, bay laurel rabbit mole, piñon cake, and rose-hip torte.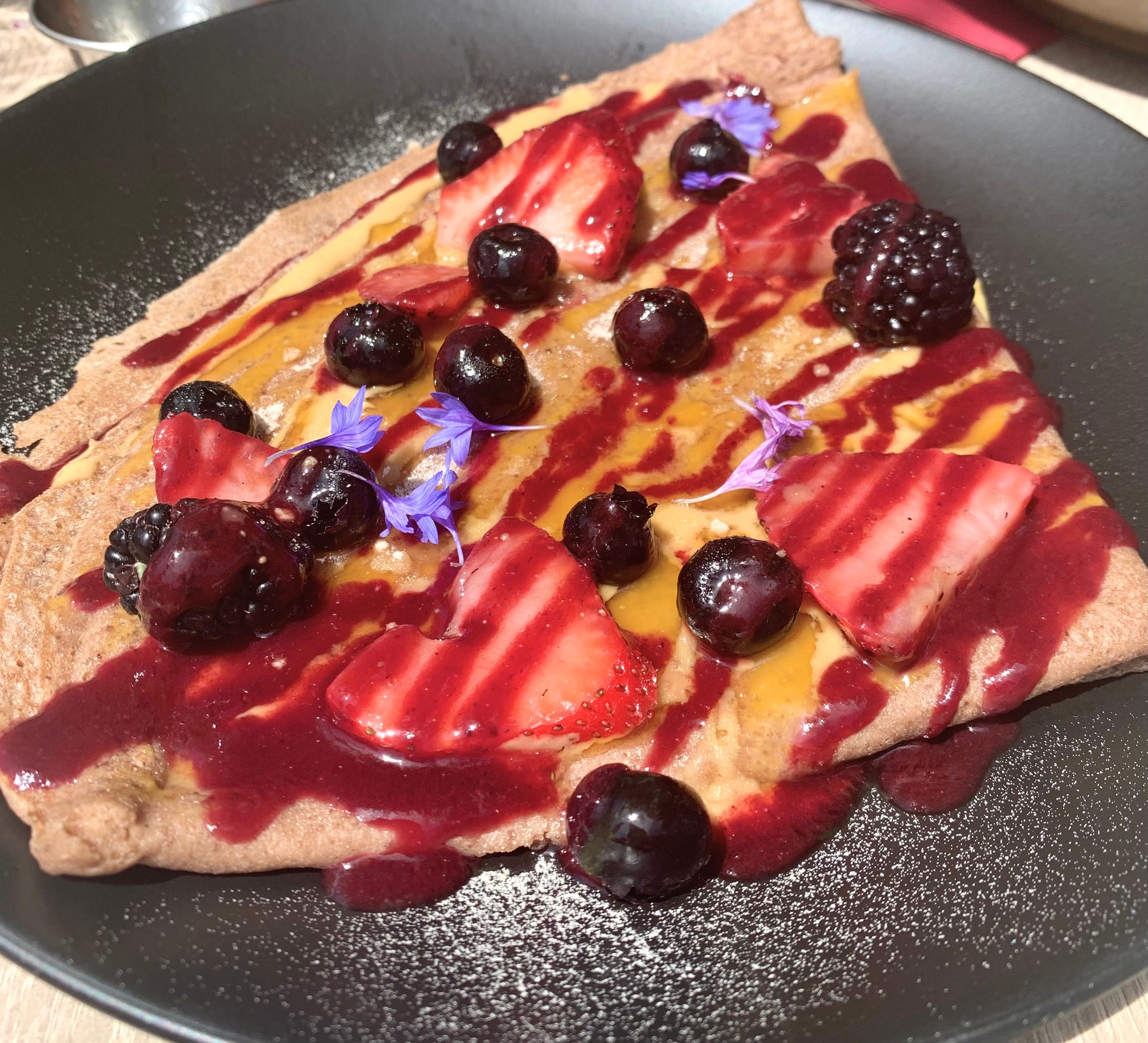 Pre-pandemic, dining at Cafe Ohlone included tales from history, stories, games, and music to give visitors a deeper appreciation of Ohlone culture, which Medina says never disappeared, but was only "sleeping." Their new space will feature seven "singing trees," which will let diners hear the voices of native speakers sing, joke, and gossip in Chochenyo.
Cafe Ohlone's theme is highlighting the local foods of each season. But where Medina and Trevino focus on ingredients from the San Francisco Bay Area, Crystal Wahpepah of Wahpepah's Kitchen takes a broader geographical scope.
Wahpepah grew up in Oakland, near the site of her new restaurant, where she aims to spotlight foods from Native producers across North America. The bold mural that beams out from her back wall, Indigenous Food Warriors by Votan and Povi of the NSRGNTS art collective, encapsulates that mission. Five figures in traditional dress hold sacred foods from their respective Indigenous cultures: Peruvian potatoes, Mayan corn, Ohlone acorns, and Lakota bison meat. In the center, a Kickapoo woman cradles a large squash.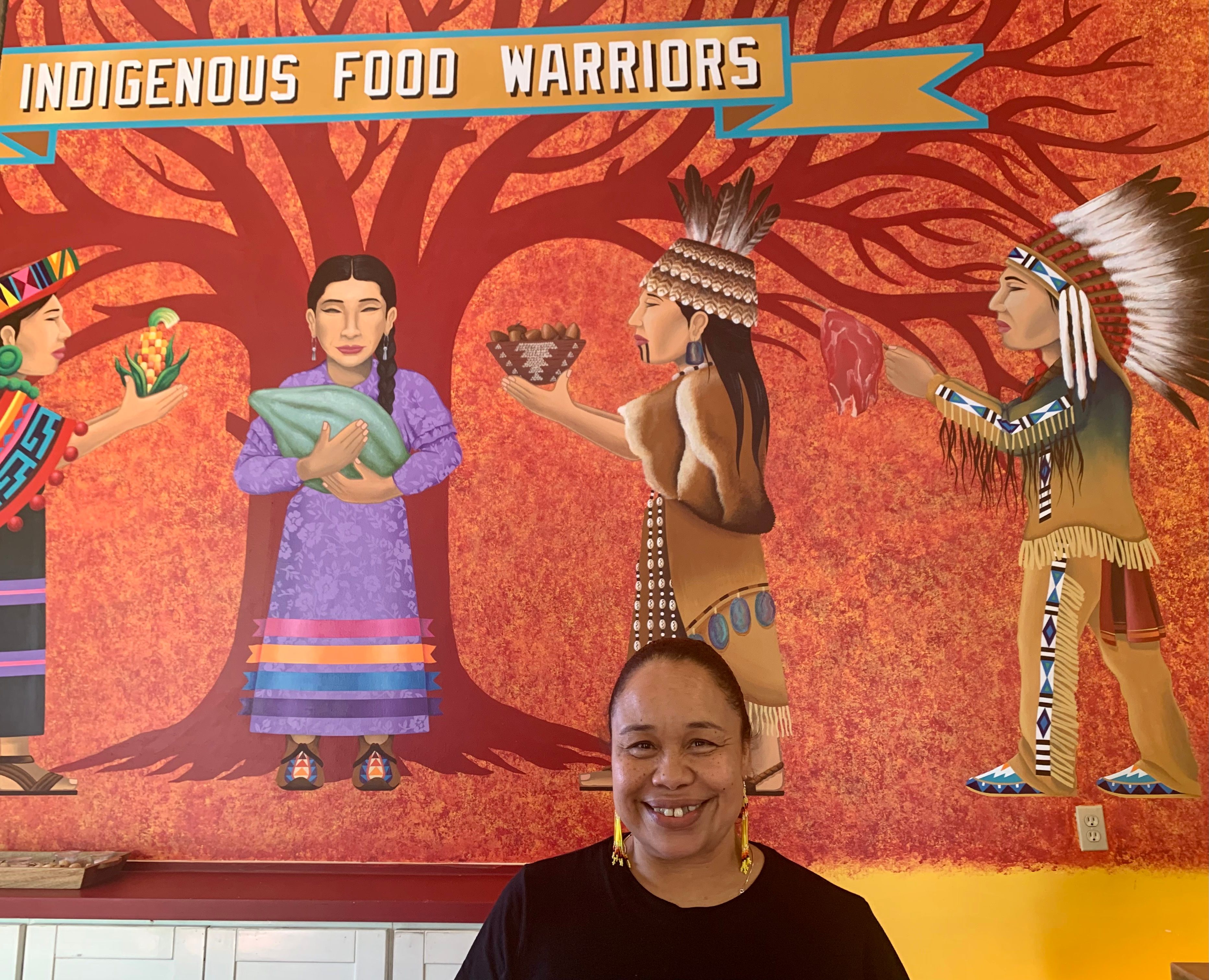 Wahpepah, an enrolled member of the Kickapoo Nation, spent her childhood summers in Oklahoma with her grandparents, who taught her to make traditional dishes. Some of Wahpepah's Kitchen seasonal specialties include Kickapoo chili in winter, festive salads of fresh greens in spring, everything berry in summer, and in autumn, her beloved squashes: acorn, turban, Lakota, and Hopi.
But it was at Oakland's Intertribal Friendship House that she learned a range of Native food traditions. Since 1955, the House has welcomed urban Native Americans from many tribes, and Wahpepah was first allowed in their kitchen at age seven. After culinary training as an adult, she ran a catering business and "waited for the right time and place" to open her dreamed-of restaurant, she says. Meanwhile, she honed her buffalo sticks in chokecherry sauce, braised rabbit blue corn tacos, and pumpkin seed mole with oyster mushrooms.
Wahpepah gratefully acknowledges that her restaurant is on Ohlone land, and gets her fresh herbs and greens from nearby Indigenous farmers. But she's also proud to also feature Native producers from across the country, including maple syrup from Ziibimijwang Farm in Michigan, Red Lake Nation rice from Minnesota, and smoked salmon from Indigenous fishing communities along the Pacific Coast.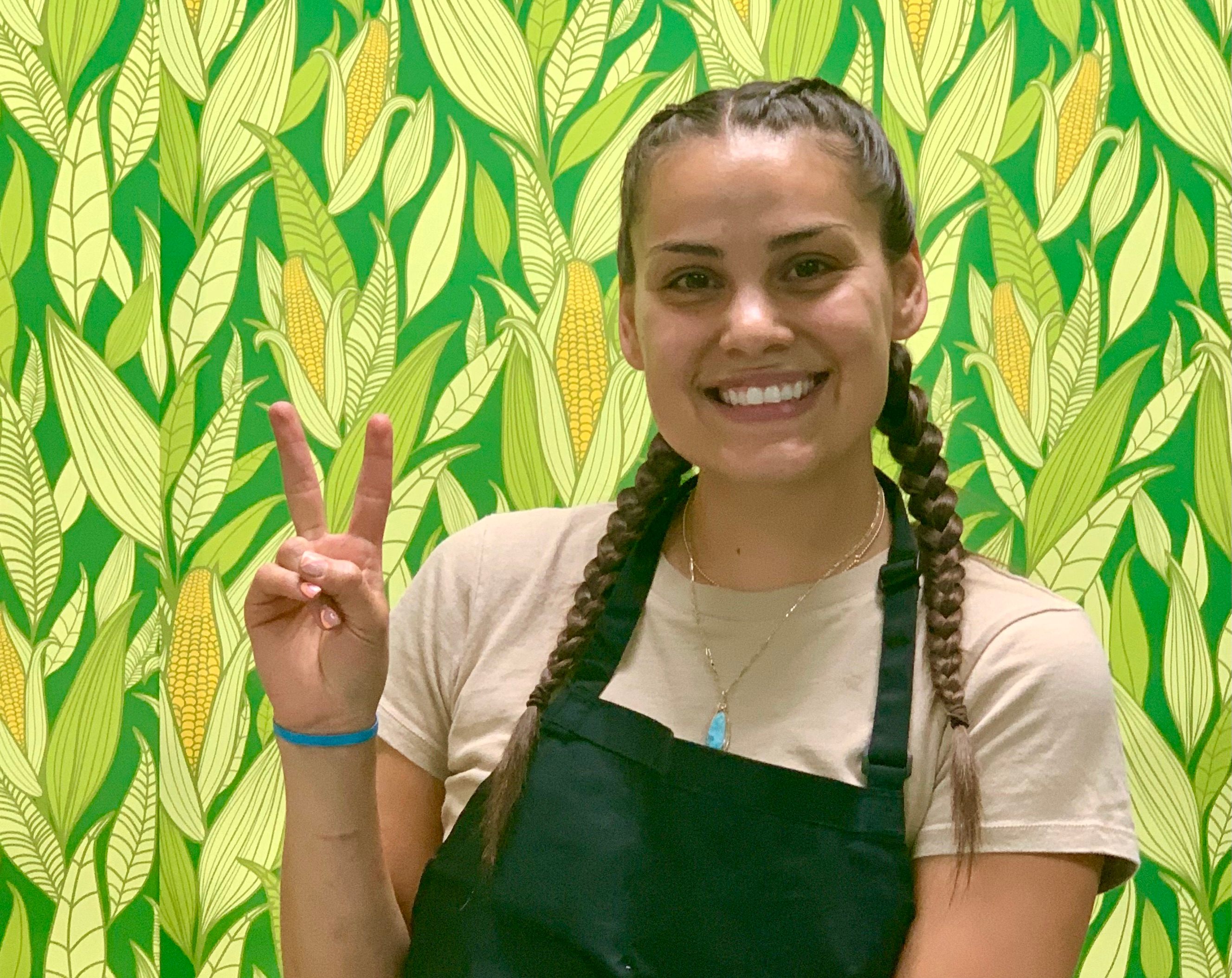 Whereas Wahpepah has created a broad menu showcasing the breadth of Native foods from different parts of the U.S, chef Pyet DeSpain focuses on honoring her heritage. DeSpain is a product of her mother's Prairie Band Potawatomi and her father's Mexican cultures, and she aims to mirror that fusion in her work.
Her elegant dinners and casual pop-ups often incorporate Native singers and dancers, a ceremonial prayer, or a sage ceremony. She sums up her food as "Indigenous fusion." "For example," she says, "my Three Sisters Tostada uses corn, beans, and squash, a major pillar in Indigenous cuisine and survival on both sides of the border. The sauce features hoja santa leaves from Mexico."
After growing up on an Osage reservation in Oklahoma, DeSpain moved to Kansas City, Kansas, where several relatives ran taquerias. She eventually attended culinary school, then moved to Los Angeles, where she taught cooking classes and worked as a private chef until the pandemic halted those gigs.
During that tough time, DeSpain lived in her car. But those difficult days are likely over after her recent win of Fox's Next Level Chef competition, where she was awarded a large cash prize plus a year of mentoring with three leading chefs. But for now, opening a restaurant is not in her plans. Instead, DeSpain is learning from and following in the footsteps of the Native cooks before her. "I am both Indian and Mexican and I want to represent people like myself, who are a fusion of these cultures," she says. "Both should be celebrated equally to give under-represented people like myself a voice through food."
The future looks bright when it comes to the nation's oldest cuisines. Professor Lightfoot, for one, is optimistic about the future of Indigenous restaurants in California, thanks to what he considers a major cultural renaissance among tribes across the state. Currently, he says, there is a massive upswell of interest in Native languages, crafts, wellness, spirituality, and the stewardship of traditional lands and waters. "I would not be surprised to see additional tribes opening their own Indigenous restaurants," he says, "as part of this overall tribal revitalization in California."
* Editor's Note, 11/2/22: Hoover previously identified as having Micmac and Mohawk ancestry, but recently withdrew her claim to that identity. Gastro Obscura has removed any mentions of her ancestry, is reviewing her other comments, and will update as necessary.
Gastro Obscura covers the world's most wondrous food and drink.
Sign up for our email, delivered twice a week.
This story originally ran in 2022; it has been updated for 2022.