Nova Scotia Is Streaming Its Favorite Local Meat Log
The donair, a Haligonian delicacy, is getting its moment in the sun (or heatlamp).
There's that famous quote by Jean Anthelme Brillat-Savarin: "Tell me what you eat, and I shall tell you what you are."
The same goes, these days, for webcams: Tell me what you're streaming at all hours from your local tourism page, and I shall tell you where you live. Over the past few years, 24/7 video feeds have become a conduit for hometown pride. They're a way for particular areas to show off what makes them special, whether that's a talent for building log fires or simply a nice-looking downtown intersection.
These two truths collide, finally, in Donair Cam: a 24/7 view of a log of spicy beef, slowly rotating and roasting in a fast food restaurant in Halifax.
Donair Cam, which went live earlier this week, is taking the Canadian internet by storm. It's a collaboration between chain restaurant King of Donair and the ever-popular Nova Scotia Webcams, the auteurs behind such past hits as LobsterCam and Merlin the Talking Parrot.
As of press time, nearly 400 people were watching the meat tube spin. A hunk of this group was also contributing to the live chat, offering up observations such as "That looks like the front wheel of Fred Flintstones [sic] car" and "OH MY GOD LOOK AT THAT BAD BOY COOK."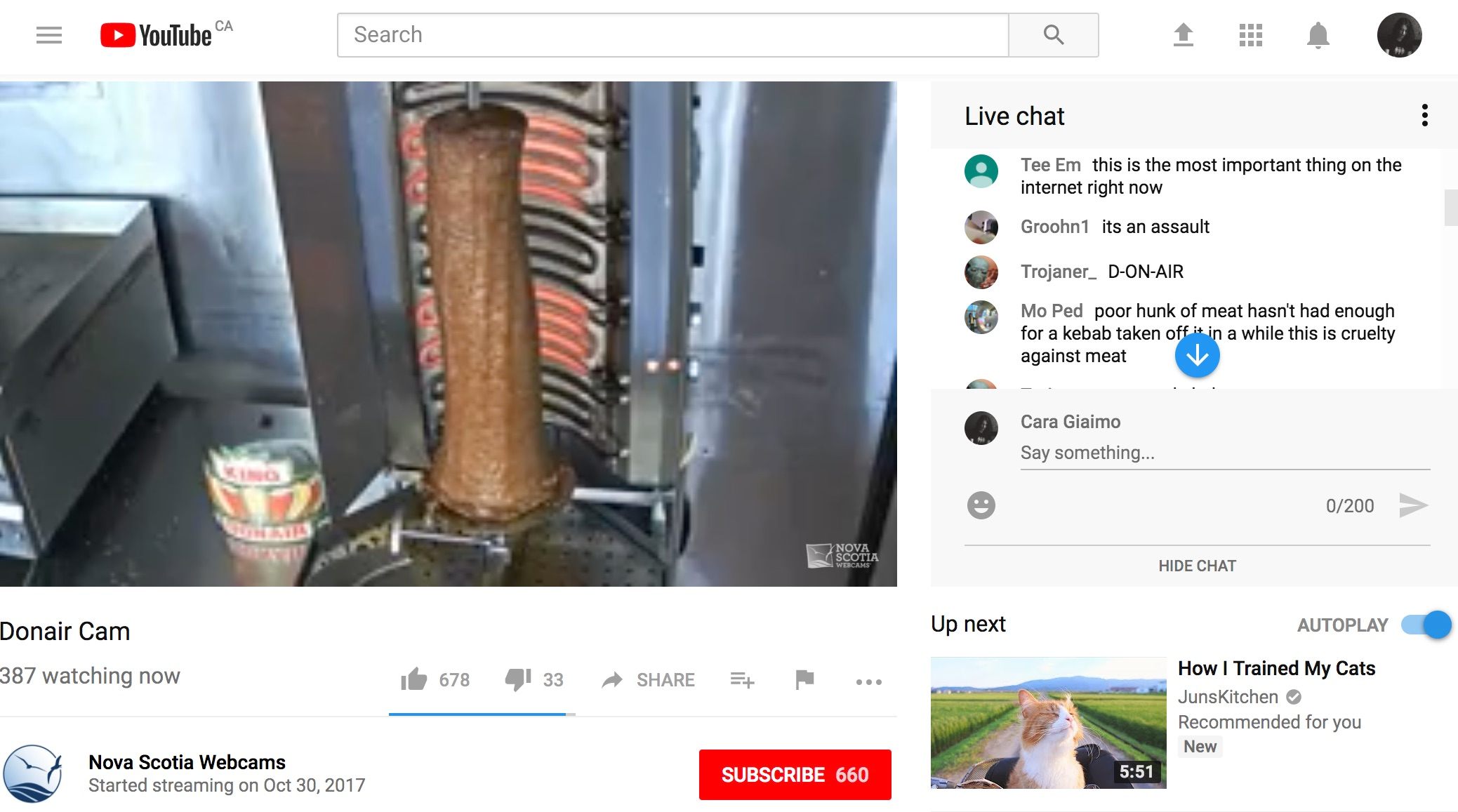 So what exactly is this particular carne-column? As discerning eaters may have noticed, the donair bears a close resemblance to other sandwiches made with twirling cylinders of meat, including the shwarma, the gyro, and the similarly-named doner kebab. According to Food Network Canada, it was introduced to the area in the 1970s by a pizza shop owner named Peter Gamoulakos, who had immigrated from Greece.
After a standard lamb gyro failed to resonate with customers, Gamoulakos remixed the dish for the Nova Scotian palate, swapping lamb for spiced beef and adding onions, tomatoes, and a garlicky "donair sauce." It caught on, and in 1973, he opened the first King of Donair, and began slinging the meaty pitas to Haligonians at all hours of the day and (mostly) night.*
How to make The Famous Atlantic Canadian "Halifax Donair" - https://t.co/gYSJ6Ebd9e #foodpic #tasty #food pic.twitter.com/e0vuFLRkq9

— Michelle Varga (@dustbunniesblog) September 30, 2017
Forty-odd years later, the donair has become—in the words of the CBC—"arguably Halifax's most iconic dish." There is at least one video game about it, and a special-edition scratch ticket, called "Mucho Donair-o," once offered a year's supply. It was even declared the province's official food in 2015, after a controversial vote. (One pro-donair city counselor pointed out to his colleagues that if the measure didn't pass, "Won't we all falafel?")
If you want to see what all the fuss is about, tuning into this webcam probably isn't the best strategy. True appreciation requires feasting more than just your eyes. But there is something soothing about watching the meat spin lazily, comfortable in the knowledge that everyone loves it.
*Correction: This post previously used an incorrect demonym for people from Halifax. The proper term is Haligonian, not Halifaxian.
Gastro Obscura covers the world's most wondrous food and drink.
Sign up for our email, delivered twice a week.