Why Are Thousands of People Watching This Livestream of a Wyoming Town?
No one knows, but here are some theories.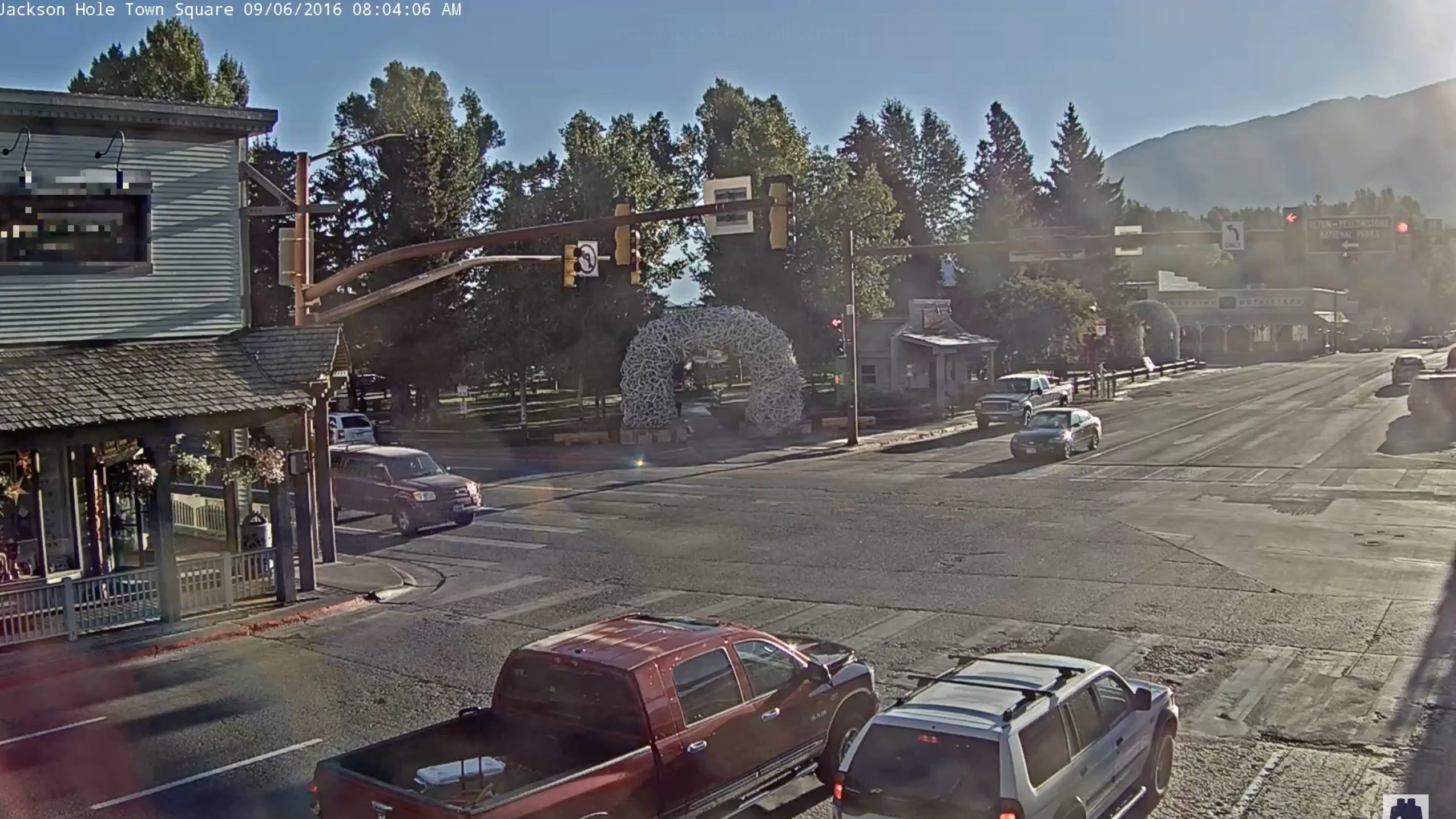 A screenshot from the Jackson Hole Town Square livestream, featuring the famous red truck. (Screenshot: Youtube)
Have you ever wanted to go to Jackson Hole, Wyoming with several thousand very vocal strangers? Now you can, thanks to a viral livestream. The only question is, why would you want to? 
What is drawing thousands of people to to this sleepy page? 
It's an internet mystery why the Jackson Hole Town Square live YouTube stream is currently blowing up, wowing spectators with scenes of cars rolling through intersections, people crossing those same intersections, and traffic lights slowly changing from red to green to red again.
The stream has earned a steady audience of thousands since at least early Monday, according to Metro UK. There are currently 2,191 people watching, and the number is climbing. (Other videos from See Jackson Hole, the tourism company that seems to run this one, are somewhat less popular—deep cut "Jackson Town Square Cache Street" has a mere 114 viewers, while "Hoback River" has five.)
As with all good entertainment, viewers have found their own unique ways to interpret what they see. Some seem quietly appreciative of what the city has to offer ("They have so awesome ladders in Jackson Hole," writes one commenter), while others are blunter in their enthusiasm ("BLUE CAR" "THAT BLUE CAR" "BLLUE").
Still others are taking to the Reddit group "Jacksonholetownsquare," where they revisit highlights like "Worm guy" (who did the worm under the big weird antler arch) and "Guy Runs Red Light Cop Catches Him!" (self-explanatory).
But not everyone has welcomed the attention. Jackson Trading Company, a gift shop in the left of the frame, blurred out their name sometime on Monday, for reasons unknown. Perhaps it's because they have a competing webcam, showing the square from a slightly different angle.
What drew this new community to virtual Jackson Hole in the first place? The answer is as murky as the dawn light slowly breaking over that peerless city. Evidence suggests that Youtube put the video in their "recommended" section sometime on September 4th:
Dear @YouTube, please stop showing me random live content on my home page. I'm not interested in Jackson Hole Town Square. Thanks.

— Filip Marcjasz (@FMarcjasz) September 4, 2016
WHY ARE LIVESTREAMS OF THE TOWN OF JACKSON HOLE ALL OVER MY RECOMMENDED

— ʕ·͡ᴥ·ʔ 0 (@Mxrshll) September 4, 2016
According to Tubular Insights, YouTube generally chooses their "recommended" videos based on a formula that combines number of clicks with time spent watching. So if enough early adopters spent a solid few hours looking for red trucks, maybe that was enough to bump the video up.
We have reached out to YouTube for clarification, and will update the post if we hear back. In the meantime, please join us in jammin' around Jackson Hole.
Every day, we track down a fleeting wonder—something amazing that's only happening right now. Have a tip for us? Tell us about it! Send your temporary miracles to cara@atlasobscura.com.