An Illustrated Guide to Mean Things People Say About National Parks
Do you really want to spend your vacation at the "very, very large hole" that is the Grand Canyon?
Sequoia National Park, in the Sierra Nevada mountains of California, has a 4.5-star rating on Yelp. Hundreds of visitors rated it five stars, and only a handful left one-star reviews. But those reviews are one-of-a-kind. "They don't even offer a helicopter tour," one visitor declares. "Do they not want to make money?"
Artist Amber Share trawls disgruntled reviews on such platforms as Yelp, TripAdvisor, Google, and Facebook to mine for complaints about the parks. She's looking for quippy put-downs or one-liners that she can juxtapose with lush, loving illustrations of park landscapes for a project she calls Subpar Parks.*
Sure, Sequoia is full of giant, ancient trees—but before you get too excited, keep in mind that "there are bugs and they will bite you on your face." If you're planning to venture to the Grand Canyon, remember that it's nothing but "a very, very large hole." And why go all the way to Yellowstone to see some geysers, one person asks, when you could "save yourself some money—boil water at home"? ("No cell service and terrible wi-fi" might have been meant as a dig at Isle Royale, but it doesn't sound so bad at all.) Atlas Obscura chatted with the Raleigh-based illustrator about wonder, wanderlust, and crankiness.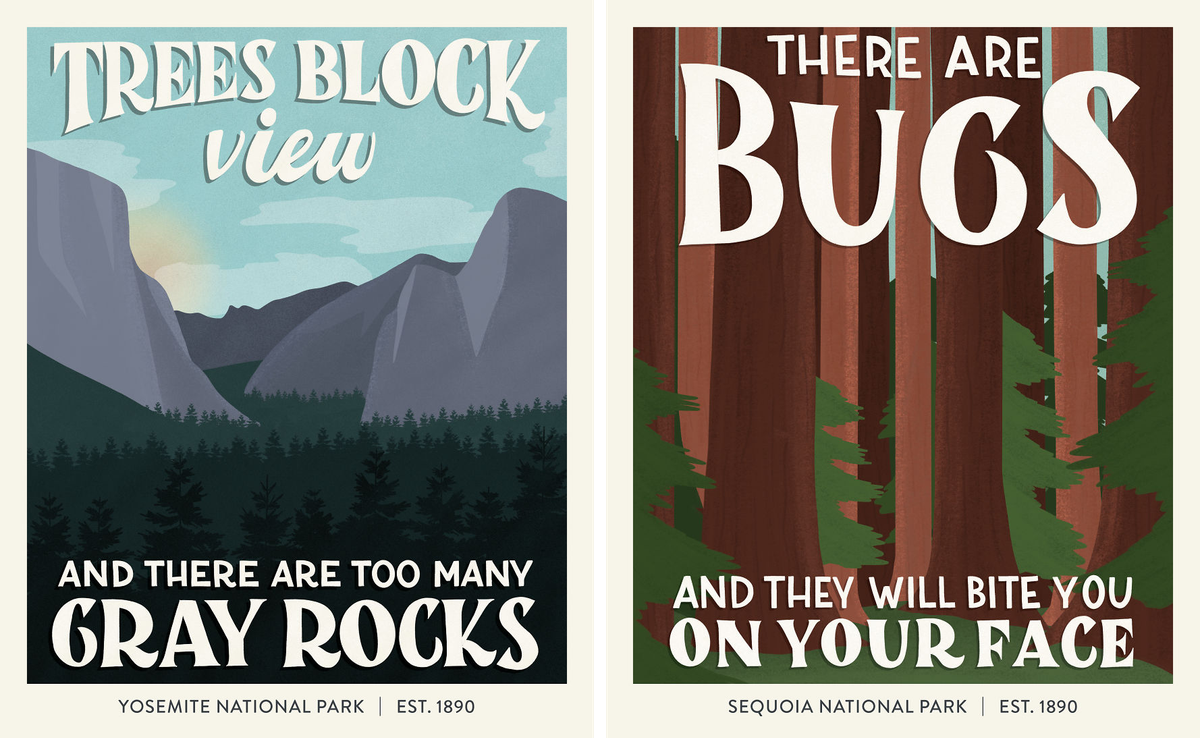 Have you been to the parks yourself?
Oh God, yeah. When I was a kid, my dad was in the Navy and we moved around a lot. When I was around 10, we were stationed in Italy after being stationed in Hawai'i. We had to get from Hawai'i to New York to fly out, and my grandparents lived in New Jersey, so we planned this family road trip. We had our car shipped to California from Hawai'i, and then we just road-tripped across the U.S. to stay with my grandparents until it was time to head to our new location. We went to Mount Rushmore and the Grand Canyon and Yellowstone and the Badlands—so many different national parks, and some monuments and recreation areas. It's just such a strong memory of my childhood.
At the Grand Canyon, I didn't understand what I was looking at, but I immediately wanted to know what was down there—and I wanted to go. The Grand Canyon is a pretty important place for me personally.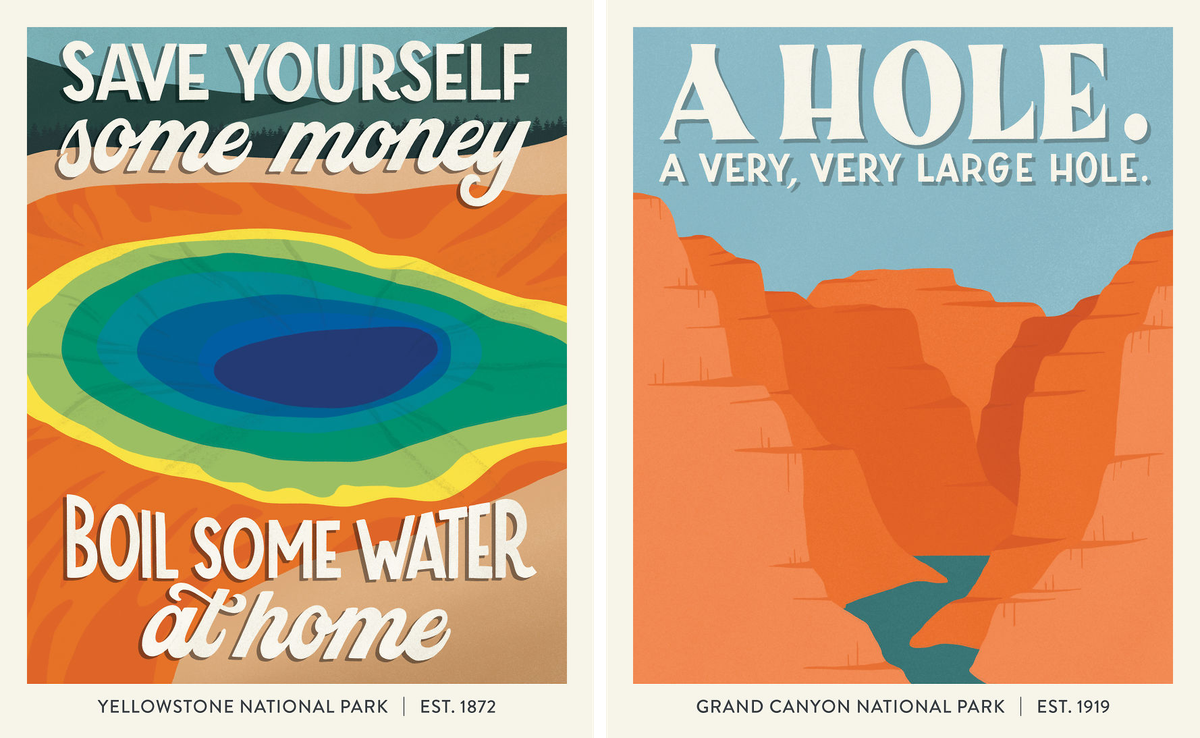 What inspired the style of these prints? Were you looking at the Works Progress Administration-era posters that celebrated the parks?
I get that a lot. It makes me a little sad, because I deliberately tried not to imitate them. For some parks, I purposefully picked a different viewpoint—but at the end of the day, I think the parks have just been illustrated so many times that it's kind of impossible not to be a little bit similar. Truth be told, some of the parks really have one major vista that's the thing they're known for, so to make it recognizable you kind of have to do that. I think those original posters are obviously amazing, and I definitely looked at them when I was starting the project, as well as the Fifty-Nine Parks series.
I go through Google Images and Pinterest and find cool angles to get inspiration from. I collect a lot of different images to get ideas for the color palette, and I try to make it semi-realistic, but I definitely take some artistic liberties to capture more of the personality. At Glacier National Park, for example, the water of Saint Mary Lake is not that blue. It's this teal-y blue in my illustration, but I just felt like that really captured the feel of Glacier in my mind.
If you were writing a one- or a five-star review of your favorite park, what would you say?
Because of this project, funny little negative, fake things come into my head a lot now when I'm out hiking. But it's so hard for me to even pretend to be mean about the Grand Canyon. I mean, I think the biggest thing is, it's too hard to look at. Like, "There's too much to see." That would be my fake bad review.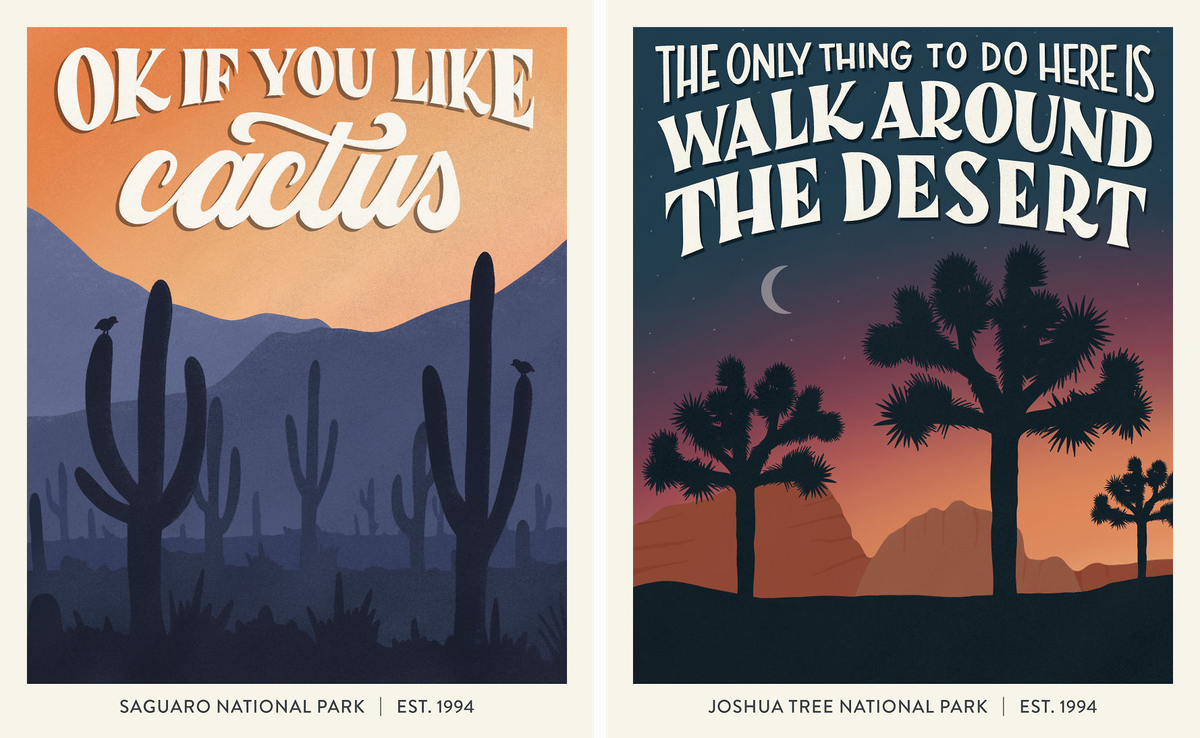 What do you hope that viewers take away from this?
If a national park—which is beautiful and incredible and inarguably amazing—is going to have one-star reviews, you also have no chance of pleasing everyone. It's like—learning to laugh and have a lighthearted mindset about our critics, including the ones in our own heads, who are often the meanest.
This interview has been edited and condensed.
*UPDATE: Share's book, Supbar Parks: America's Most Extraordinary National Parks and Their Least Impressed Visitors, is out July 13, 2021 from Plume.