The Disappearing Philippine Tradition of 'Souling' for Rice Cakes
Pangangaluluwa means singing, costumes, and treats.
Eric Dedace remembers being awoken by his parents in the dead of night when he was a child. They told him to look out the window where a group of people pretending to be ghosts waved and sang to him.
"So [our family did] some prayers, Our Fathers, Hail Marys and one Glory Be," says Dedace, who grew up on the Philippine island region of Quezon, where he still lives. "And then my parents gave them a few centavo coins."
The specters were villagers dressed in somber clothes. Afterward, Dedace's mother served him homemade ginataan (a hearty broth of chicken, black pepper, ginger, root vegetables, and fruits such as banana, jackfruit, and papaya, with sweet rice porridge) and rice treats, before tucking him back into bed.
What Dedace experienced is a Philippine folk tradition known as Pangangaluluwa or in Tagalog, "souling." In rural areas of regions such as Nueva Ecija, Leyte, and Cavite, adults and children travel from house to house pretending to be lost souls in purgatory on the nights leading up to and including October 31 (All Hallows' Eve) and November 1 (All Saints' Day and the eve of All Souls' Day).
Traditionally, the roving performers sang about saints, lost souls' misadventures, and the Pangangaluluwa tradition: The spirit is coming / Opposite the window / Small bells are being rung / Waking up those with life / If we will be given alms / Please hurry up / For the gates of heaven / Might be closed before us. These alms include money or rice snacks known as kakanin.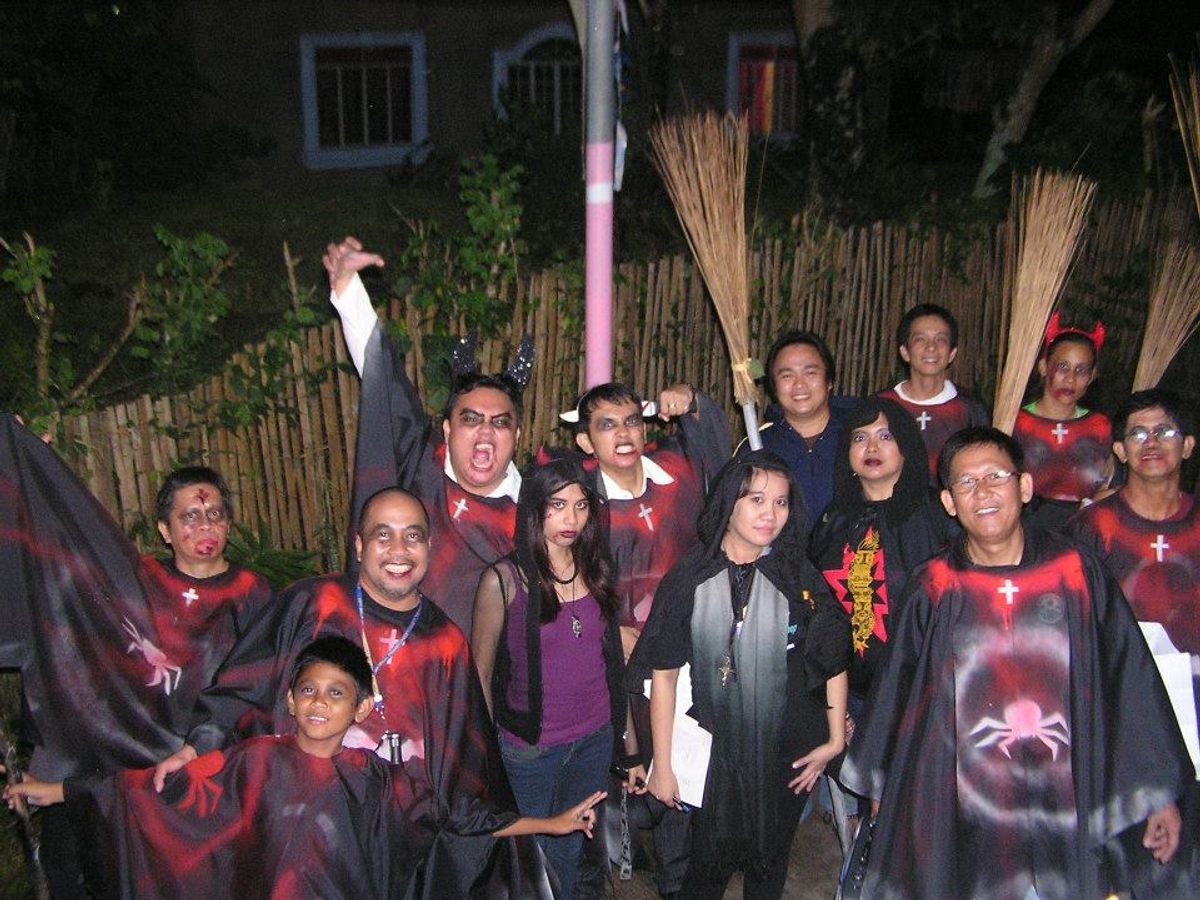 According to the research of Filipina food historian Felice Prudente Sta. Maria, Pangangaluluwa was especially popular around the start of the 1900s, when villagers would drape themselves in white and black cloth and don ghoulish makeup to visit peoples' homes and ask for alms, often awakening their sleepy children after midnight. It is not clear when the tradition started; but it arose from the Catholic commemoration of All Souls' Day. While the practice may be closely related to trick-or-treating, it is a distinctly Philippine custom marrying two cultural beliefs about the afterlife: those from Christian spirituality and pagan beliefs in the supernatural.
"According to Roman Catholic tradition, a person should recognize having a soul and search for how to live rightly so the soul can … reach heaven," Sta. Maria says. "But Pangangaluluwa also acknowledges the pagan faith that ancestors continue to influence the present."
In the early 20th century, villagers draped themselves in white and black cloth and donned ghoulish makeup to awaken sleepy children after midnight. According to Dedace, these costumes were simplified to just dark clothing by the time he was a child in the 1960s. Now a tour guide and cultural heritage advocate for the Quezon municipality of Sariaya, Dedace interviewed local elders to better understand earlier Pangangaluluwa traditions. They reported that the holiday was a far more mischievous affair in the 1920s and '30s, when some roving "souls" would steal fruit or chickens from homes that failed to provide alms. "The spoils were used to "make ginataan for all-night drinking sprees!" he laughs.
Even as it's evolved, Pangangaluluwa has remained a deeply important cultural ritual in the postcolonial Philippines. The practice survived despite the eradication of many indigenous spiritual practices due to Spanish colonialism and its Catholic missions (today, over 86 percent of Filipinos practice Catholicism while a 2010 census showed that only around 0.2 percent of the Philippine population affiliates itself with so-called "tribal religions").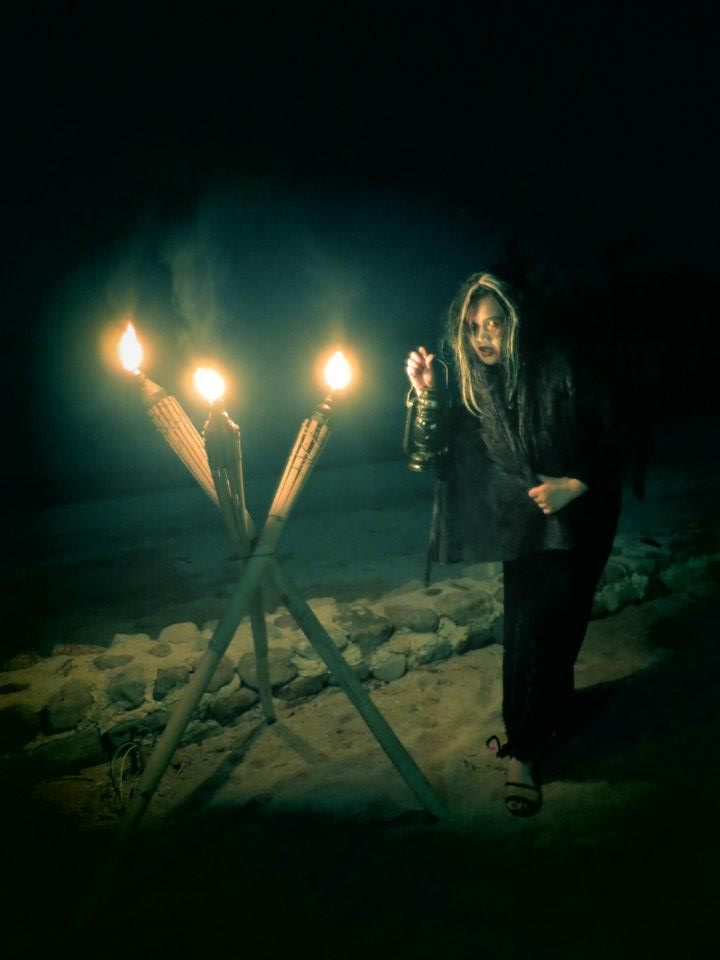 Sta. Maria says that Pangangaluluwa persevered in the postcolonial Philippines because "the church wanted their alms. For those with less money, Pangangaluluwa allowed them to give to the church. In those days, the church charged for everything, from lighting candles to prayers for departed loved ones."
Today, Pangangaluluwa is rarely practiced. It became less common as a result of food insecurity during World War II and the Marcos dictatorship, along with an exodus of rural residents to Manila and overseas. Clang Garcia, the Filipina culinary historian behind Food Holidays, a book and TV series exploring rural and indigenous food traditions in the Philippines, says she grew up in Manila without any knowledge of Pangangaluluwa. In the capital, trick-or-treating was popularized during the American colonial period, which lasted from 1898 to Philippine independence in 1946, and continues to be a beloved tradition today.
Pangangaluluwa tends to differ greatly depending on the region where it is practiced. In remote areas without access to electricity, for instance, candlelit parties are typically held in cemeteries, featuring karaoke and kakanin feasts, while locals clean and lay flowers at their loved ones' grave sites. Since Pangaluluwa falls around typhoon season, tents and mausoleums shield the celebrations from downpours.
The treats, too, vary by location. Kakanin is whipped up according to region, family recipes and what's available. It always starts with the usual sticky rice and coconut milk base, which then gets steamed, boiled, or baked, and served in individual portions of various shapes and sizes. Toppings and fillings include taro, shredded coconut, fried fish, purple yam, and calamansi. Biko, a caramelized sticky rice cake, is a favorite for its simplicity and heartiness. In Sariaya, where Dedace is from, a popular kakanin for Pangangaluluwa is pinaltok or dough balls made from ground sticky rice, coconut milk, and sugar with fruits such as jackfruit, sweet potato or saba bananas chopped inside.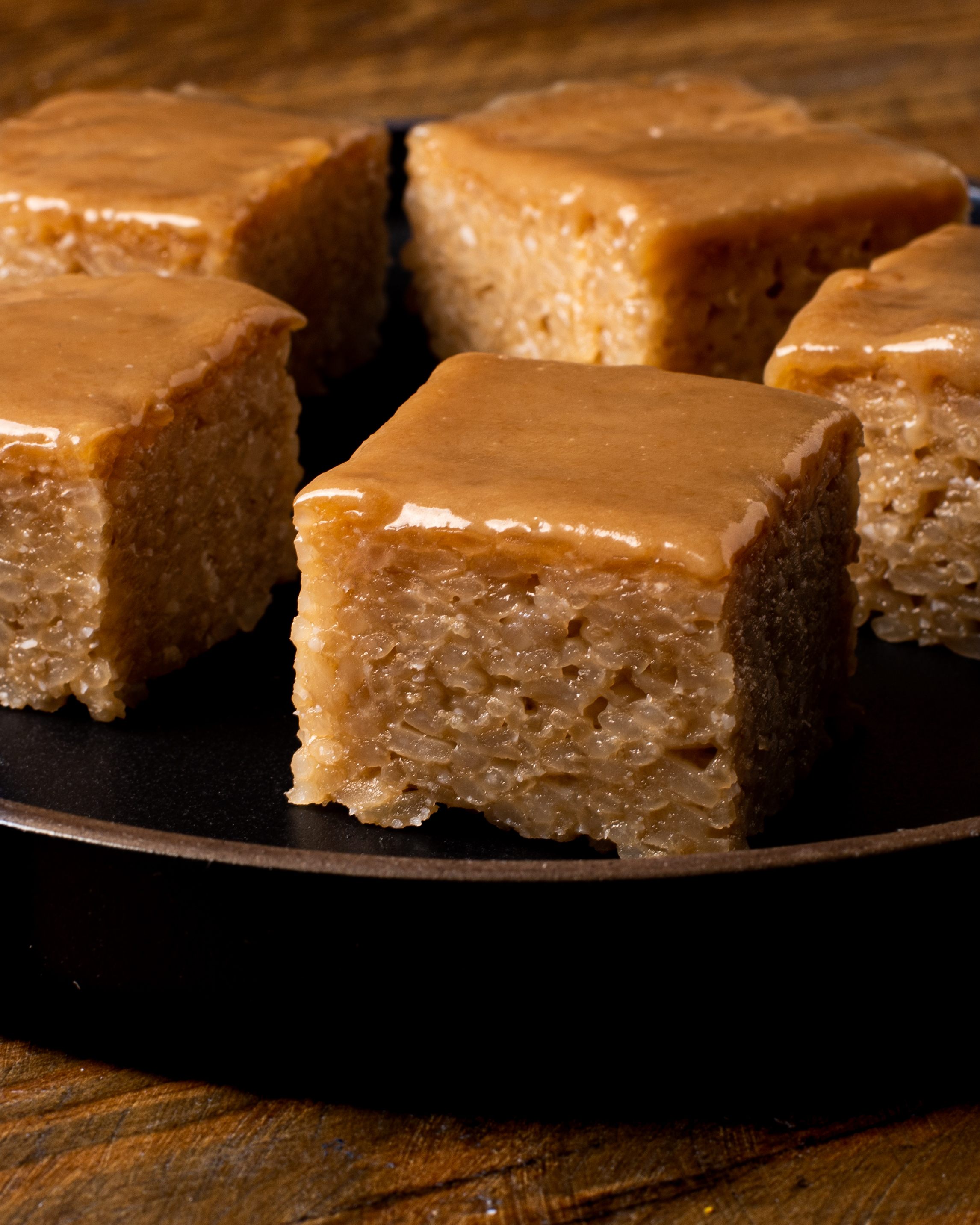 Traditionally, families would wrap the rice cakes in banana leaves and place them in a bayong (a traditional woven basket) that they'd lower out of a window to the lost souls. But today, most families simply bring the basket outside after the performance and leave it on the doorstep to allow the singers to retrieve their treats. Inside the home, adults might tell stories about deceased loved ones and take part in chismis (shooting the breeze), particularly catching up on the lives of relatives abroad. "Sticky food like kakanin is a food that connects you, even if you're far away," says Sta. Maria.
Rice even connects the living and the dead. Today, Indigenous groups such as the Ilocanos offer rice cakes to ancestors for the health and good fortune of the living. Sta. Maria says that these rituals may be rooted in ancient beliefs that "each grain (of rice) was known to have a soul," she says.
Above all, Pangangaluluwa bonds people through the cultural philosophy of pakikisama, an untranslatable Tagalog term for the importance of being neighborly and generally kind to others. That's why some community organizations, such as the Sariaya Tourism Council, are today working to revive it.
For several years, the council has organized Pangangaluluwa as a fundraising event. Kids dressed in scary costumes inspired by Philippine mythological creatures visit a local cemetery for treats and karaoke as well as elderly peoples' homes in a hired jeepney truck.
Dedace, who is a part of the council, helps plan the event. "They really look forward to it," he says of the elderly patrons, who show their gratitude with donations, "especially those who come from abroad and stay in the Philippines for a vacation period until Christmastime."
This year, the council will organize Pangangaluluwa once again, and Dedace feels like an excited kid once again. "Filipinos are very spiritual in nature," he says. "This is a chance for us to connect with our dearly departed."
Biko
Ingredients
2 1/2 cups glutinous (sticky) rice
1 1/2 cups dark brown sugar
2 cans coconut milk
Instructions
Wash the rice in water by mixing it around and draining the water out. Do this repeatedly until the water drains out clear (usually two to three times).

Combine the rice with 2 1/2 cups of water with a bit of salt. Bring to a boil then cover and simmer for about 15 to 18 minutes.

While the rice is cooking, combine the brown sugar and coconut milk together in a separate pot. Bring to a boil and let boil for a few minutes (but make sure it doesn't overflow), then lower heat and stir until the texture becomes thick and forms a caramel-like mixture (called latik). This can take anywhere from 30 minutes to an hour. 

Set aside 1/2 cup of the "caramel" sauce for topping and let cool in the fridge.

Once the rice is cooked, combine it with the rest of the sauce and mix well. Continue cooking on low heat until all the liquid evaporates (be careful not to let it burn, though).

Spread the biko onto a greased 8x8-inch cake pan with a spatula and flatten the surface down evenly. Place in the fridge to cool. 

Once both the sauce and the biko have cooled, pour the sauce on top (making sure to stir it first if it's firmed up) and spread evenly. Place back in the fridge to cool and set. 

Cut into squares and enjoy by hand.
Gastro Obscura covers the world's most wondrous food and drink.
Sign up for our email, delivered twice a week.