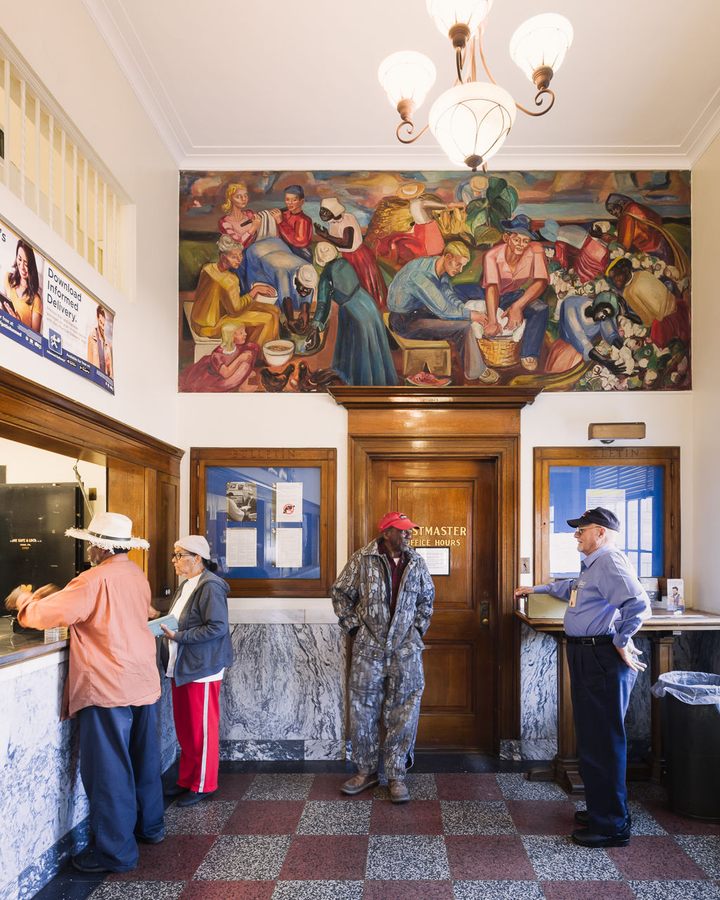 Appreciating America's Overlooked, Forgotten, and Discarded Post Office Murals
Painted during the Great Depression, they're lingering expressions of civic pride.
Chiseled into gray granite of the James A. Farley Building, the main post office in New York City, are the words: "Neither snow nor rain nor heat nor gloom of night stays these couriers from the swift completion of their appointed rounds." So far during this pandemic, post offices have remained opened to serve the people throughout the country, though they are beginning to buckle under the strain.
During the Great Depression, another time of national crisis, postal stations were used to inspire citizens. Public art in federal buildings, including post offices, was created by artists employed by the United States government to beautify the country. In one federal program, 1,400 post office murals were created in more than 1,300 cities and towns. "The murals boosted morale by celebrating local industry and historical events. Today these murals often go unnoticed, almost like real-life Easter eggs of art hidden across the country," writes Texas-based photographer Justin Hamel in an email. Hamel documented nearly 375 of these works of civic art while traveling across the United States. According to him, the local industries that are depicted in many of the paintings still drive the economies of the communities they grace: cotton in Camilla, Georgia, for example, or wheat in Anthony, Kansas. In some areas, life has moved on more dramatically. Take one of Hamel's favorite murals, Locomotive Repair Operation by Harold Lechman in the Renovo, Pennsylvania, post office—near where the photographer grew up—which shows six men working in the Pennsylvania Railroad repair shops that are now no longer there.
Atlas Obscura spoke with Hamel about how he found these murals, how the paintings have survived, and the ones he really hopes to shoot someday.
What inspired you to start this project?
From 2015 to 2017 I was spending more than half my year traveling throughout the United States, photographing ad campaigns for hotels. The first one [mural] I remember photographing was of the 1932 Olympics in the Lake Placid, New York, post office. From there I began to research the murals closest to where my next jobs would be. At first, I would pick and choose which ones to photograph, usually murals that depicted local industry over landscapes. Eventually, I began to photograph them all, even if the subject matter didn't interest me.
How do you find where these paintings are located? How have they survived?
One of the best resources for finding Post Office Murals is the website www.livingnewdeal.org, which catalogs and maps Works Progress Administration projects. A year or two into it I came across an official list of remaining murals from the U.S. Postal Service that someone had received through a Freedom of Information Act request. I believe that 900 to 1,000 are remaining. Every year murals are lost due to the closing or sale of post offices or outright negligence. At the same time, murals are sometimes discovered in the basement of a post office, underneath paint in the lobby, or in the back room of a local museum. Lately, I've been trying to focus on the murals that are no longer in operating post offices or that have been relocated. The majority of relocated murals are in local museums or libraries. Examples of these are the murals in Borger, Texas (Hutchenson County Museum); Brevard, North Carolina (library); Enterprise, Alabama (library); Fort Pierce, Florida (City Hall); Idabel, Oklahoma (Museum of the Red River); Lamesa, Texas (community center); and Sebring, Florida (library). The most interesting location a mural now hangs is in a hotel suite in Covington, Louisiana.
How have locals responded to your attention to these artworks?
Unfortunately, most people that I've talked to haven't noticed the murals or given them any thought until they see me photographing them. That is a shame because it's one of the largest, if not the largest, public art program in the country. You can watch people pause, look up, and take in the artwork, and really begin to appreciate it. During the proposed federal budget cuts to the National Endowment for the Arts, I would talk to people in line at their post offices and explain how the murals were funded by the government during the Great Depression to employ artists and bring civic pride to rural communities. At the post office in Kelso, Washington, I could see the look on a man's face change as he began to see the local impact of taxpayer-funded artwork. Occasionally I'll run into someone who says their great grandparents are the people depicted in the murals. In Jefferson City, Tennessee, a woman regaled me with stories of her grandfather delivering the mail by horseback—she still has his USPS saddlebags.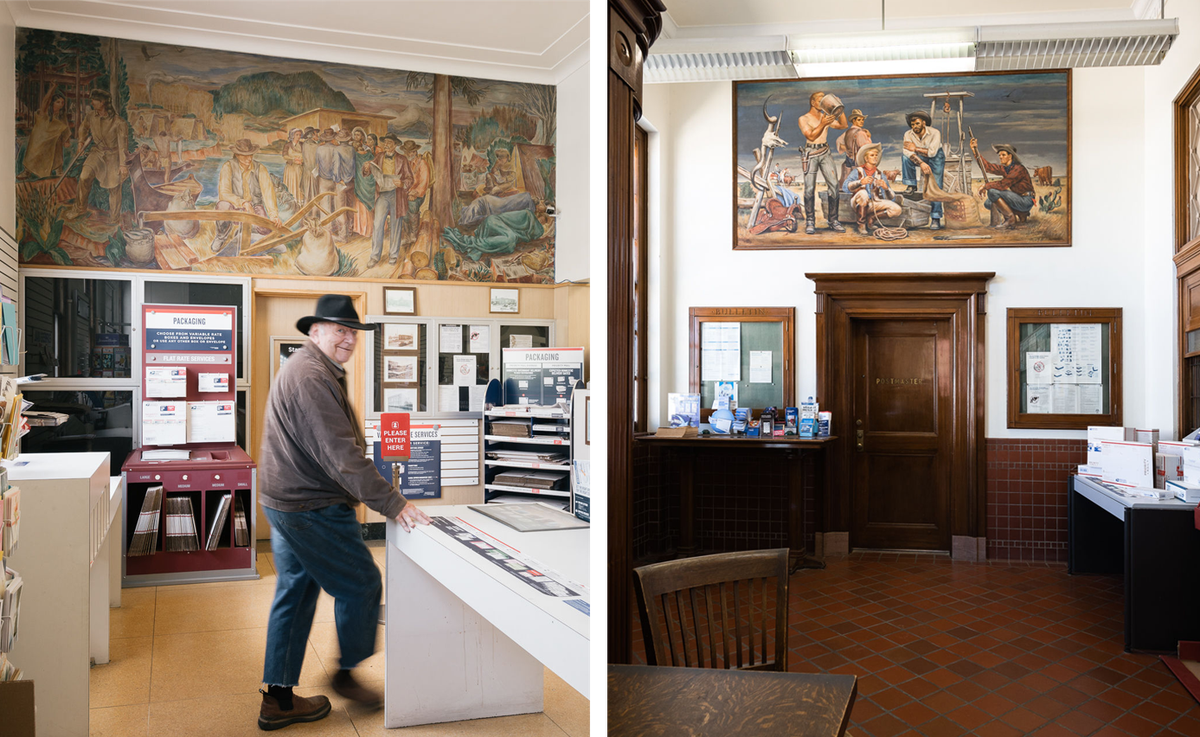 What were your most surprising experiences during the project?
It's hard to narrow down, but I had heard there was a mural in the post office in Williamsburg, Kentucky. When my partner and I arrived, we discovered the post office had been abandoned, taken over by the county courthouse, and used for storage. A woman working for the county was kind enough to give us a tour and pointed out that all of the boxes scattered about were filled with 2016 election ballots. Up until then, I had never thought about where ballots are stored after election day.
A year later I was searching for The Last Home of the Chactaw by H. Louis Freund in Idabel, Oklahoma, when I arrived unannounced at the Museum of the Red River. After talking with the person at the front desk and then the museum director, they led me into their back storage room and not only let me photograph the mural leaning up against the wall, but also gave me a quick tour of their archives. It really goes to show how kind people are, and proud to share their local history.
Is there a post office mural that you haven't photographed yet, that you really want to?
Hands down the four murals by Stevan Dohanos in the Charlotte Amalie, Saint Thomas, post office in the U.S. Virgin Islands. Not only are they in a beautiful location, but I believe these murals are the only remaining New Deal–funded artworks in a United States territory. It's also quite likely the last ones I'll photograph, unless someone hires me for a story on them.