Why Fire Retardant Is Colored Bright Red
A California fire has closed down Yosemite National Park.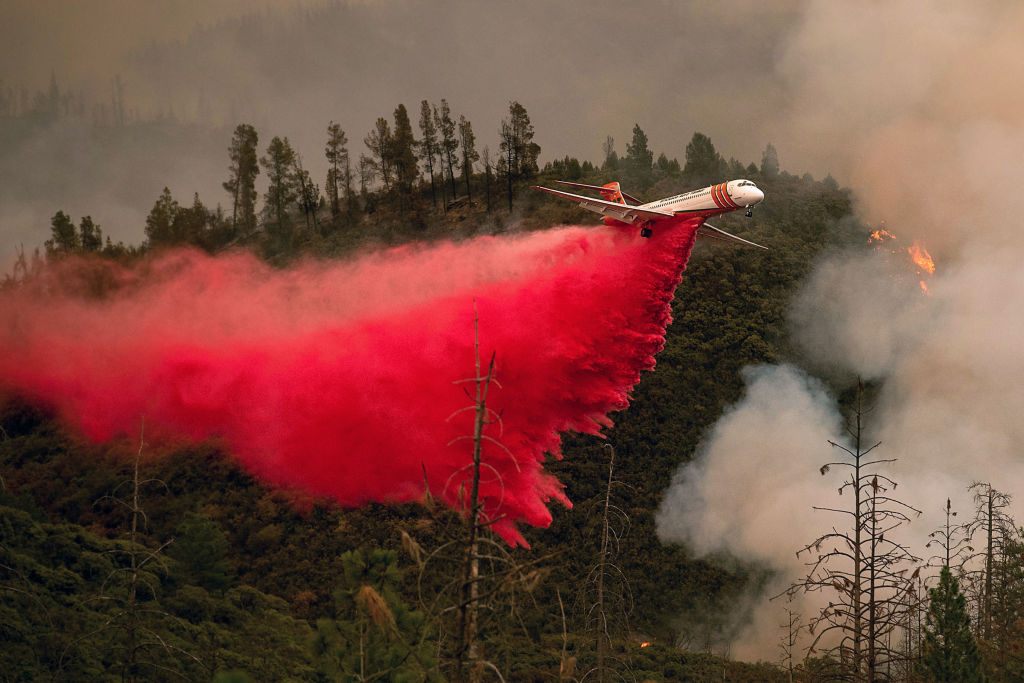 It's wildfire season, and up and down the West Coast of the U.S., fires are burning. About a week and half ago, in a rugged stretch of California, a fire started that's since grown to more than 43,000 acres.
As it edges near to Yosemite National Park, all visitors were ordered away, as smoke filled the air and operations to limit the fire's spread started coming closer. From the sky, planes are pouring bright-red flumes of fire retardant onto the land, including the nearby Stanislaus National Forest, one of the oldest in the United States.
The flame retardant is colored crimson red to make it visible—it also comes in "fugitive color," which disappears, and in uncolored variants. One of the most commonly used brands of retardant, Phos-Chek, uses red iron oxide to dye its product, a mix of ammonia and nitrates that can keep trees and other flammable materials from combusting. When the red slurry pours out of planes and onto the ground, pilots can see where it's landed so that they don't cover the same area again.
Aerial firefighting has become common over the past decades, and the Forest Service has been using such products for years. Though they can help contain fires and limit burn damage, retardants have their own impact. Washed into the water, these chemicals can pollute water and kill fish, and after a lawsuit and an environment impact analysis in 2007, the Forest Service created new rules that restricted retardant drops around streams and lakes.
If they need to, though, the planes will still dump the red stuff. It might leave trees colored red and threaten fish, but stopping the fire is their first concern.