The Smallest Museum in Switzerland Is a Window in a 600-Year-Old House
Two collectors display their favorite memorabilia in this two-foot-by-two-foot display.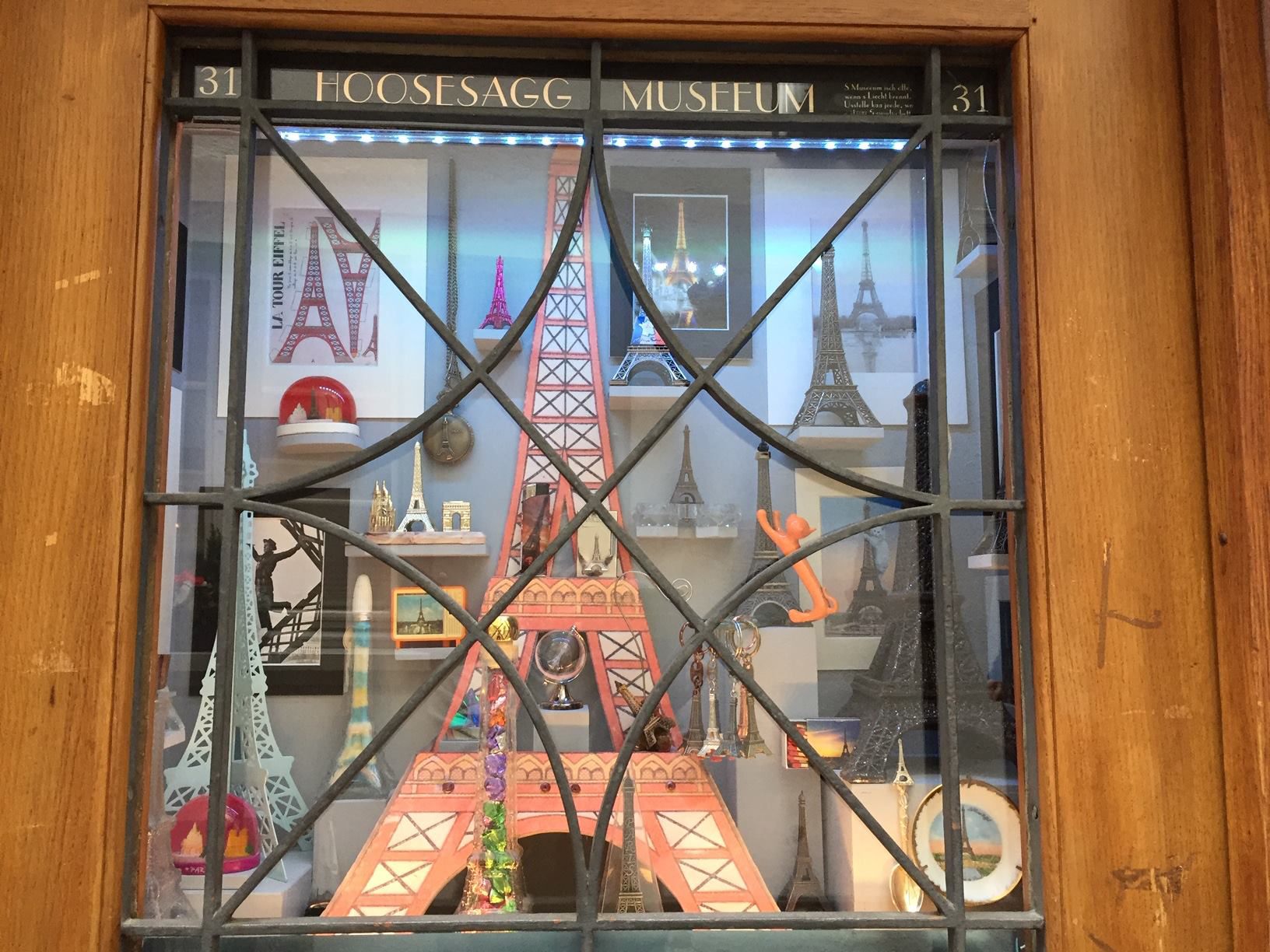 Every few months, a new assembly of items appears in the window of the door at 31 Imbergässlein (Ginger Alley) in Basel, Switzerland. At the beginning of 2019, it was Paris-themed, or really, Eiffel Tower-themed: A plastic snow globe with a miniature Montmartre and a tiny Eiffel Tower sat above a glass Eiffel Tower filled with colored sand. Matted photos of the landmark hung behind brass and plastic Eiffel Towers of varying sizes, Eiffel Tower key chains, and an Eiffel Tower-embossed pocket watch. In December 2018, the window held Magi figurines. Five months before that, there were rows of green knitting needles.
Welcome to the Hoosesagg Museeum, which translates to the Pants Pocket Museum in English. There's no admission fee, but there's also no admission. The entire museum is contained within the two-foot-by-two-foot window in the door of Dagmar and Matthias Vergeat's 600-year-old house, located in a narrow pedestrian alley in Basel's Old Town. The Vergeats have run what is likely Switzerland's smallest museum for 24 years, and while many of the displays come from the couple's own assemblage of memorabilia, they welcome anyone with a collection of 30 or more items to submit it for consideration.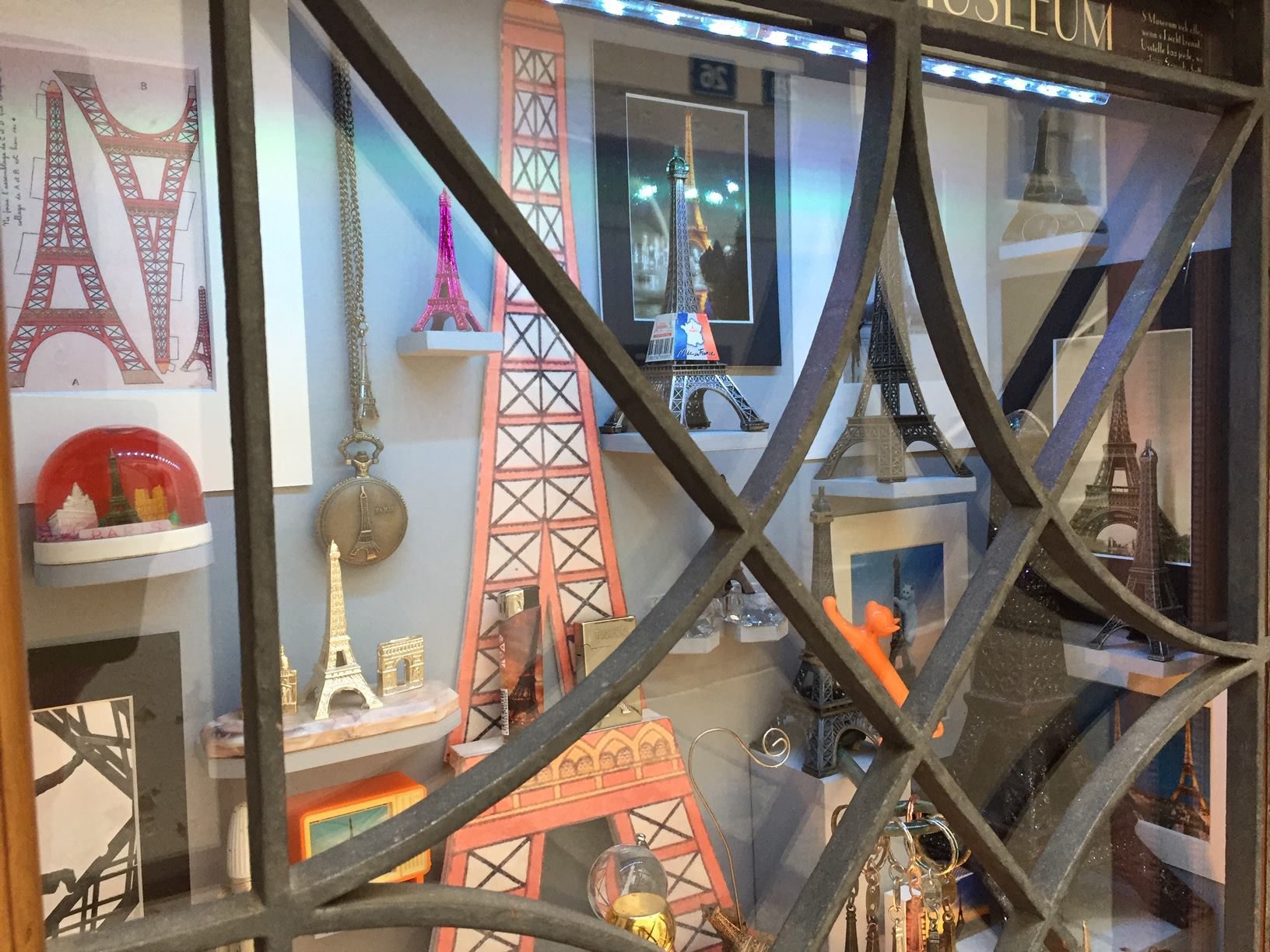 Dagmar's love of collecting is a lifelong one. As a child, she started by amassing a variety of Swiss cowbells. "I like to collect because I don't like to throw things away," she says in German.
A look into the room behind the Pocket Museum door makes that clear. There are countless objects lining the walls, hanging from the ceiling, and arranged in display cases. Wristwatches surround bottle stoppers with carved faces. There are tea eggs, a spectrum of plastic sunglasses, Rubik's cubes, toy televisions, and Dagmar's childhood collection of bells. The collectibles room used to be the Vergeats' oldest daughter's bedroom. When she moved out, the couple moved all their collections inside. Dagmar has not cataloged her items but guesses there are several thousand. "Each individual object is not really worth that much, but all the objects together make one great picture," Dagmar says.
But back in 1995, people trying to see that picture were starting to annoy Dagmar. According to her, several groups of walking tours have climbed Ginger Alley's stairs nearly every day since she and her husband moved into their house in 1986. The house has historical value: Basel's first midwife lived in number 31, but the tours also stopped outside to study the structure's painted facade. Rust-colored paintings of rectangles and faded black circles cover the house's six stories, distinguishing it from the other white, half-timbered, medieval homes in the alley. Near the third-floor windows, just below the exposed beams of the upper floors, a painted St. Christopher carries the baby Jesus.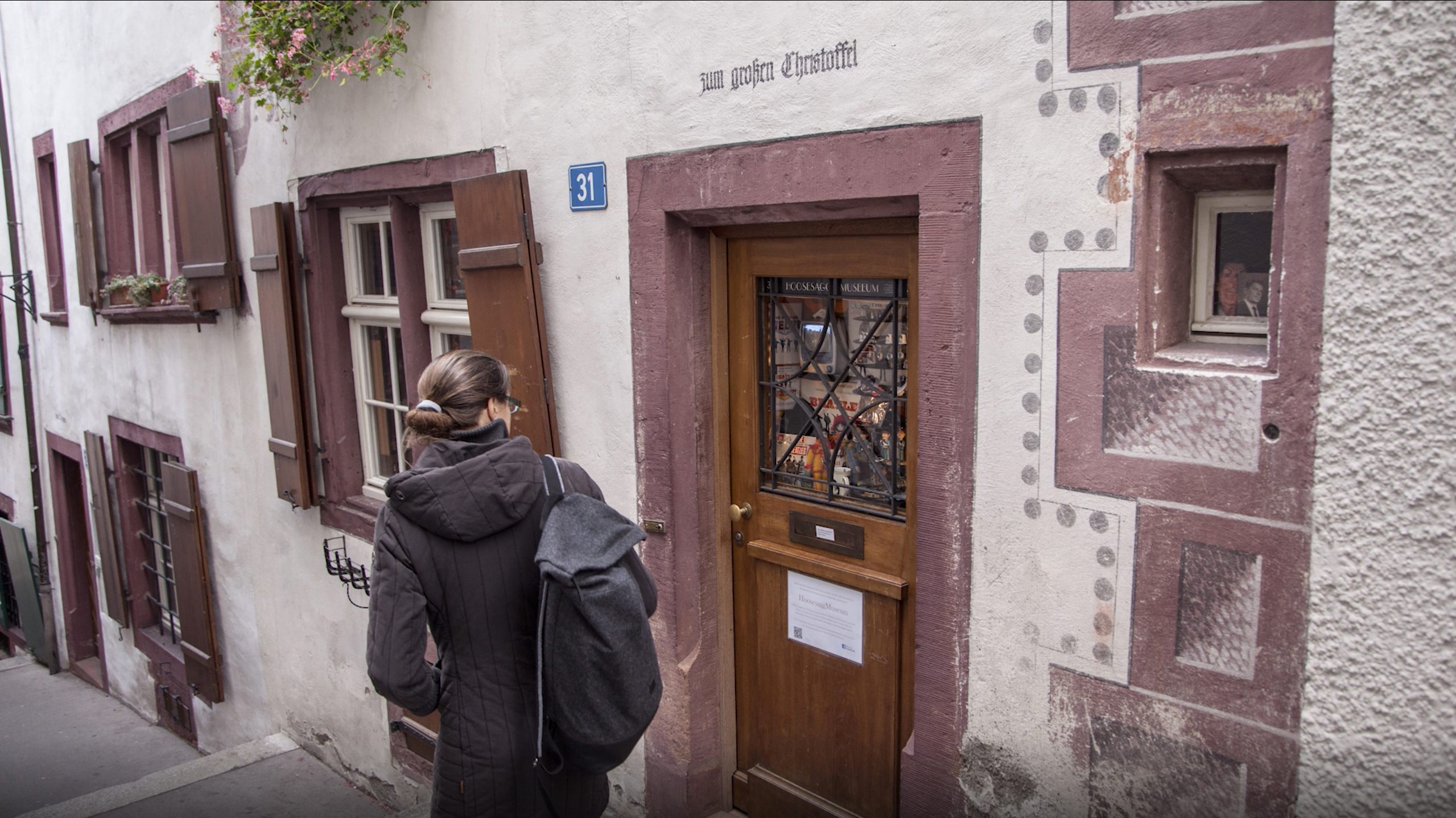 While most tourists kept their eyes on St. Christopher, Dagmar discovered that others couldn't stop themselves from peering into the house's ground-floor windows. Instead of blocking the view with curtains, the Vergeats decided to build a display case that fit over the window pane in the door.
Dagmar first tried using her new display case to sell old Carnival masks, ice skates, and other second-hand items. When no one rang the doorbell to ask about the goods, she put one of her collections in the window.
"The first display was schnapps glasses," she says. "We left [them] for three, four, five months, and then thought, 'It's boring, always having the same thing.'" So the Vergeats started rotating other "schnickschnack," as tchotchkes are known in Swiss German, through their window. Since most items displayed could fit in a pocket, they named the display the Pants Pocket Museum.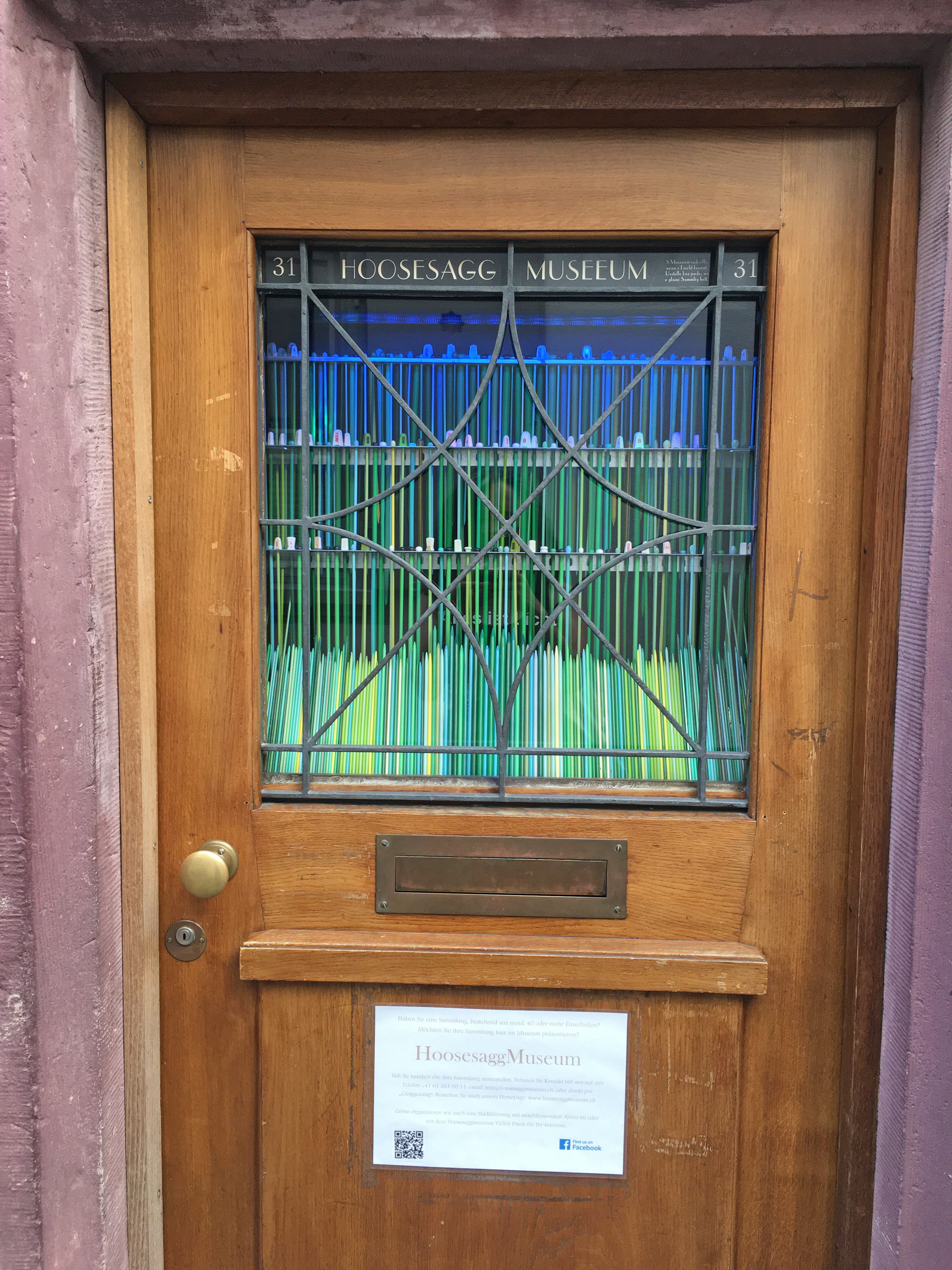 After about six months, people started ringing the doorbell to ask if they could show their collections. In the beginning, the Pants Pocket Museum featured lots of animal-themed collections, like elephants, rubber ducks, donkeys. "Unfortunately, I didn't write it all down," Dagmar says. "Who would have thought this idea would last more than 20 years?"
Today, those interested in showcasing their collections email Dagmar photos of their objects. If approved—Dagmar estimates a 95 percent acceptance rate—they bring her around 50 items, and she selects between 30 and 35 to create the exhibit. Collectors have traveled from Zurich and Germany with their thimbles, Pokémon, porcelain shoes, and tiny perfume bottles. In the summer of 2019, a Lichtensteiner will show a portion of her doll collection.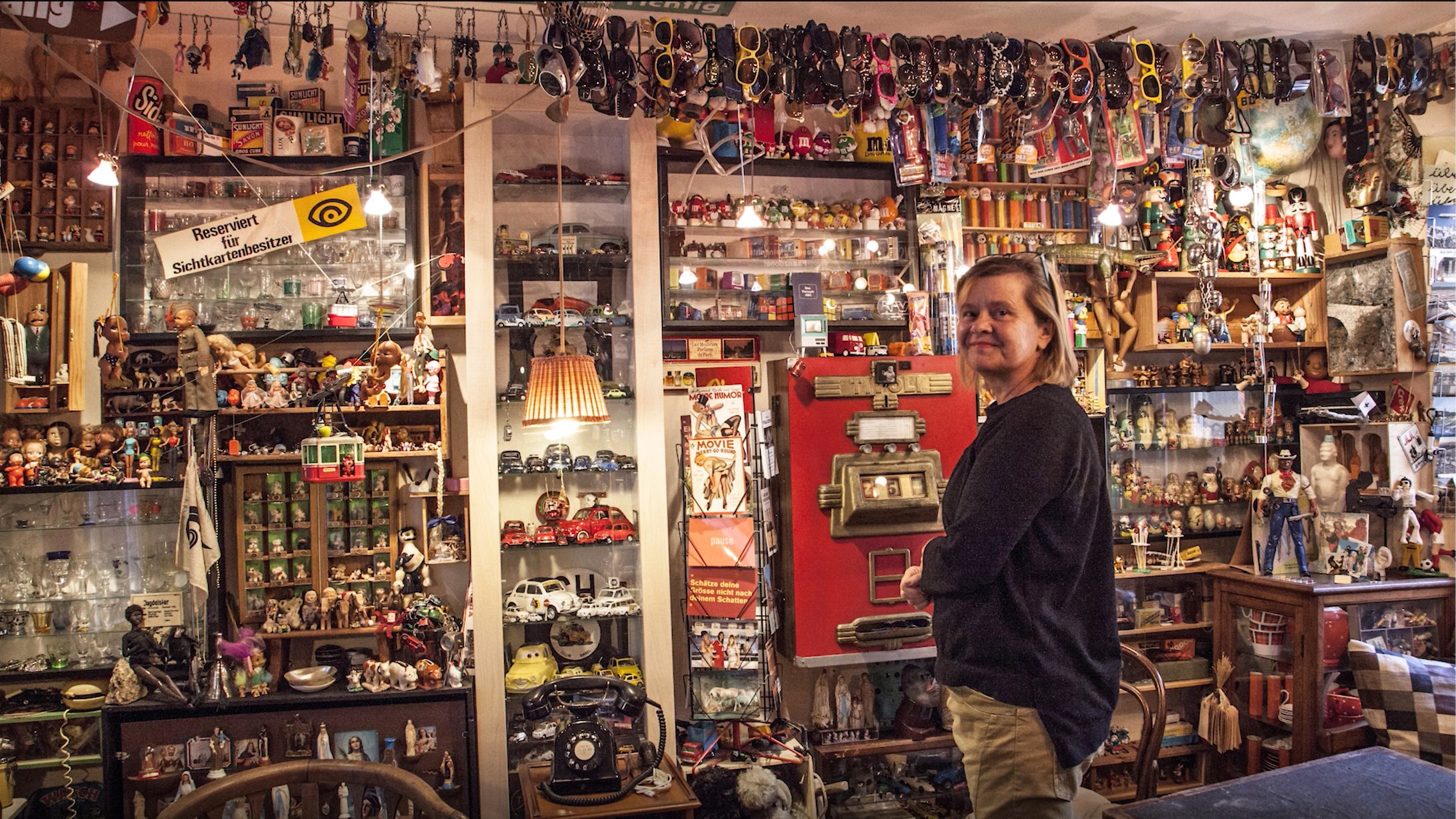 Dagmar recalls one person she turned away: "He collected condoms and… dildos. Dildies? Dildas? What are they called? He brought all that nonsense, so I had to say 'No, hello!' He had such a collection."
Beyond curating the tiny window, Dagmar works a part-time office job, spends time with her grandchildren, gardens, skis, and during Carnival, runs a bistro behind the house. She also hosts cocktail hours and the occasional dinner for up to eight people in that cabinet of wonders, the collection room behind the Pocket Museum door. Matthias used to paint lanterns and masks for some of Basel's Carnival cliques, which are similar to New Orleanian krewes. Now he mainly lends his artistic skills to Dagmar's clique, the Weather Witches, and to designing, creating, and installing Pocket Museum exhibits. "I'm the management, he's the creative director," Dagmar says.
The Vergeats have slowed their own collecting, because they're running out of space. The collections are creeping upstairs—silver cake forms frame a kitchen window and Carnival-themed art lines the stairwell. "I find joy in old, beautiful things," Dagmar says. "If I had more space, I would have many, many, many more things."