Some Arsonists Have Already Destroyed the 2016 Gävle Goat
On its 50th anniversary, the poor goat lasted for less than a day.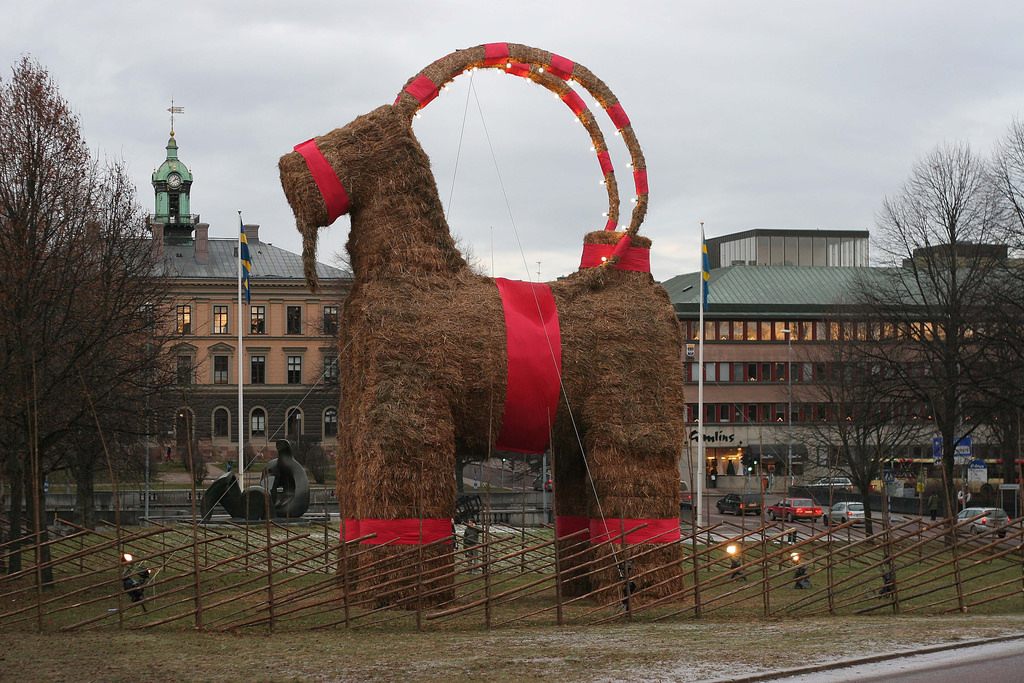 Each year, the Swedish city of Gävle celebrates the Christmas season by building a giant straw goat that pretty much begs to be lit on fire. We here at Atlas Obscura often enjoy placing friendly bets on when or if the goat will burn each year, but this year we won't even get the chance, because the Gävle Goat has already burned, less than 24 hours after it was erected.
Since 1966, a giant goat has been built in Slottstorget square, an oversize version of the traditional Swedish yule goat, and in more years than not, it has been destroyed by vandals. The very first Gävle Goat was destroyed on New Year's Eve in 1966, and ever since, burning the goat has taken on a mischievous sense of tradition. Usually the flammable goat is burned down, often by drunken arsonists, although even when the goat is set ablaze, the damage is usually contained to the goat itself, rarely getting out of hand.
The goat is traditionally constructed in late November or early December, and from that point on, it's just a waiting game to see when vandals will strike. Various protections have been put in place and tried out over the years including adding a perimeter fence, covering the goat in coating of flame retardant, employing security cameras, and having the goat personally guarded by volunteers. But no matter how the city tries to preserve the goat, it usually manages to get set on fire.
In recent years, the goat survived through the entire season in 2014, then in 2015 the goat lasted until just after Christmas before it was burned down. This year, on the 50th anniversary of the Gävle Goat's existence, it didn't make it a day. This year's goat was unveiled on Sunday, November 26th, and by Monday the 27th, it had burnt down. According to the Local, the perpetrators of the crime managed to evade detection from any of the cameras set up around the goat, getting up close to it while one of the guards was in the bathroom. The suspect(s) are still at large.
The Gävle Goat cost the city $249,900 to build, but went up in smoke in just minutes, as is the Gävle Goat's way. There are no official plans to rebuild the goat this year, so we'll all just have to wait until next year, and hope that our favorite Christmas goat lasts a little longer.