Found: A Stolen Soldier's Jacket From World War II
It was being sold for $4.99 at a Goodwill in Minnesota.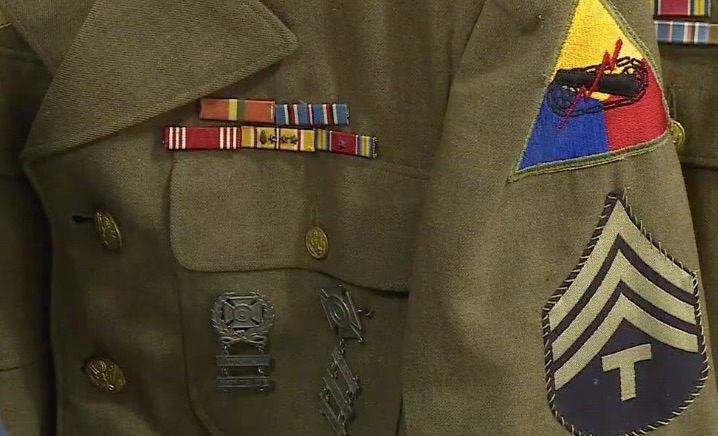 In Forest Lake, Minnesota, just outside Minneapolis, Matt Stone was looking through the racks at a local Goodwill, on the hunt for relics of World War II. On a rack of hats, he spotted the golden button of a solider's cap. Later, he found another clue—the woolen sleeve of a soldier's jacket.
There was something unusual about the jacket, though, as KARE reports. It was still decorated with ribbons and insignia, which made Stone wonder if it was supposed to be at the thrift store, on sale for $4.99, at all.
There was one more clue to follow—a name, Martin Makkyla, written on the inside of the jacket.
Stone's great-grandfather served in World War II, and hearing those war stories inspired him to become a collector of World War II memorabilia. It's not so uncommon for old uniforms to show up in thrift shops, although often they're in bad shape. But occasionally these uniforms are in good condition and of interest to the soldiers' families. Earlier this summer, for instance, a military historian found a colonel's uniform in a Washington State thrift store and traced it back to a man in Baltimore, whose granddaughter had been researching his life. In 2015, a uniform found in Arizona made it back to the original owner's family.
With the help of KARE, his local news station, Stone was able to find Makkyla's family. Makkyla never had children of his own, but his nieces remembered the uniform. Stone's instincts were correct. The uniform was never meant to be in a Goodwill. According to Makkyla's family, it had been stolen many years ago, and they had given it up for lost. Now, Stone plans to return the uniform to where it should have been all along.