Strawberry Curry Is a Modern Twist on an Old Tradition
Fruit curries have a sweet and savory history.
Every year, during the weekend of Wimbledon tennis finals, I make a curry from the two ingredients most strongly associated with the championships: strawberries and cream. It's my way of celebrating a British summertime tradition with a contemporary Indian touch, but the curry is not my original idea. It's based on a vague memory of a strawberry curry I ate around 15 years ago at The Painted Heron, a Modern Indian restaurant in Chelsea, in West London, that has long since closed. It's broadly North Indian in style, and I use fresh tomatoes and very few spices so that they don't overwhelm the delicate nature of the fruit.
If a strawberry curry sounds unusual, it's not: It's a British take on a long tradition of fresh fruit curries that are rarely served in Indian restaurants abroad, and therefore barely known outside family homes. Curries are normally made with meat, chicken, seafood, vegetables, beans, lentils or paneer. Across different Indian regions, however, you'll also find ones made from pineapples, mangoes, bananas, guavas, watermelons, jackfruits, grapes, apples, and even orange peels.
So why are these sweet and sour fruits cooked in spicy and savory dishes? The reasons are as diverse as the Indian subcontinent itself.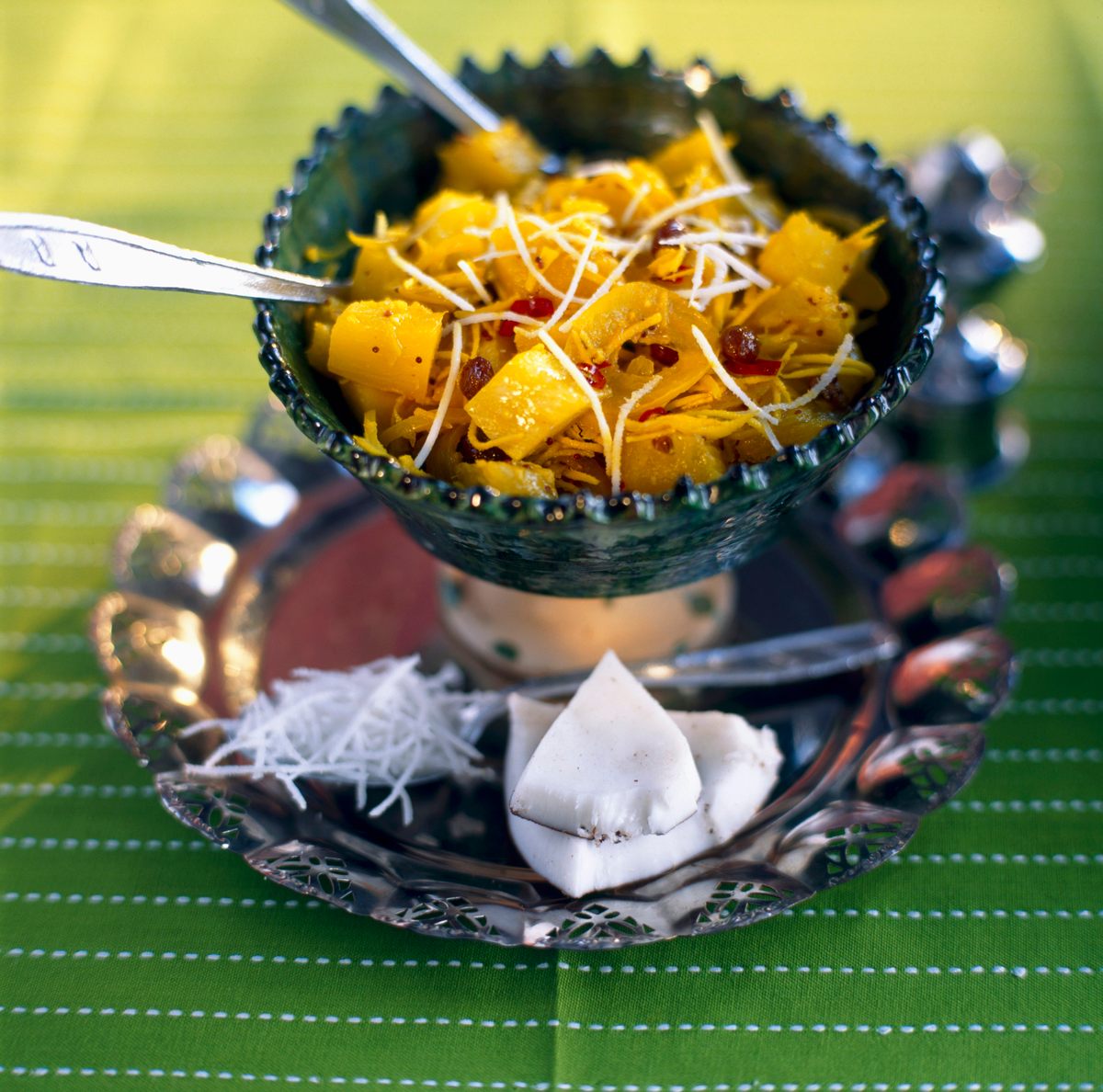 One is that, in a nation where many ingredients are taboo due to religious or Ayurvedic beliefs, fruit is the least controversial and the most widely accepted, allowed even on the strictest fasting days. Brahmins in Mangalore, for instance, make a curry from mangoes, pineapples, grapes, fresh coconut, and jaggery during religious festivals.
Similarly, the Jain community uses guavas, raw green bananas, and ripe yellow bananas as a substitute for potatoes. The ultra-vegetarian aspect of their religion forbids them from eating bulbous root vegetables and tubers, since these are believed to contain life-giving properties; additionally, pulling them out of soil may lead to the accidental killing of insects.
Banana curries are also a great excuse for using up overripe fruit. Just as many bakers make banana bread from over-ripe fruit that's past its best, Gujaratis use them in curries. My favorite is my mother's stuffed banana curry, made by cutting the fruit with its peel intact into two or three pieces, then slitting each lengthwise and stuffing the insides with fresh coconut, coriander leaves, ground cumin, and toasted chickpea flour.
Like strawberries in Britain, fruits such as plantains, grapes, pineapples, mangoes, and guavas, which are highly anticipated during their all-too-brief seasons in India, are celebrated by being cooked in curries. In Kerala, a curry of ripe plantains, red or black grapes, and pineapples is often included in the Onam Sadya: an elaborate vegetarian feast served at the harvest festival of Onam in late summer or early autumn. It has a mellow sauce of coconut and plain yoghurt, perked up with fresh green chillies, dried red chillies, and curry leaves. On a related note, dishes such as Kashmiri apple curry, which is fragrant with black cardamoms, cloves, ground fennel seeds, ground dried ginger, and cinnamon, celebrate locally grown fruit.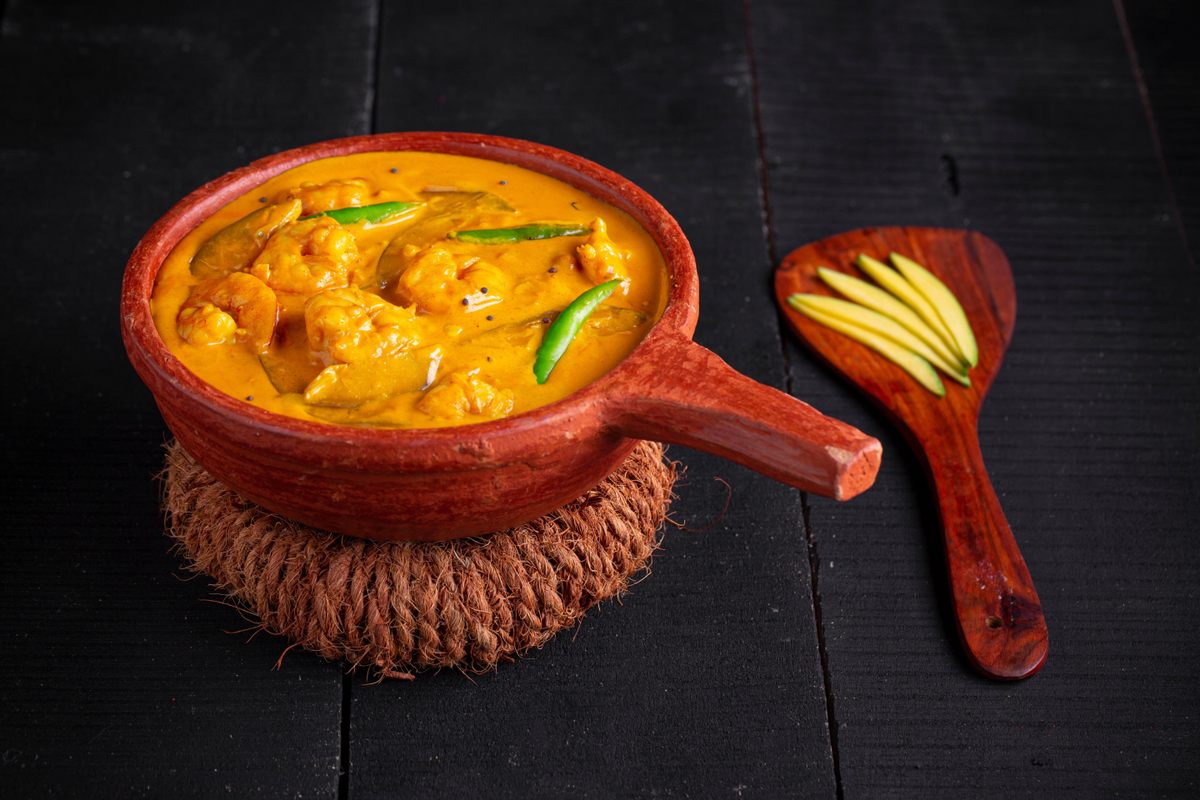 Unique climates have also led to the development of specific fruit curries. Rajasthan is largely an arid desert region where few fresh fruits and vegetables grow. Watermelons are widely available, however, so cooks make a curry of watermelon pieces flavored with cumin seeds, ground coriander, garlic, and lemon juice, thickened and made more vibrant with the bright red puree of watermelon flesh.
Sometimes the rationale for currying fruits is more practical. In a culture with no tradition of fruit-based desserts and pastries, the jackfruits and pineapples that grow in abundance in people's gardens, particularly in western and southern India, simply need to be used up. In contrast, fresh fruits are often so expensive and highly prized that their peels and seeds are used whenever appropriate, such as in Karnataka's unique orange peel curry, or a thrifty Gujarati yoghurt-based mango curry made by vigorously rubbing the flesh clinging to the stones and peels directly into a bowl of water, thereby creating a sort of mango stock from potential waste material. Or fruits like unripe green bananas and papayas may stand in for vegetables when these are in short supply during heavy monsoon rains, while jackfruits and plantains are valued as meat substitutes for their texture.
In modern times, health benefits are increasingly a reason why fruits are added to curries. Or they serve as an innovation or talking point: contemporary grape curries simmered in cashew nut paste being one such example. They're also a way of showing off wealth and status. Combined with luxury ingredients such as cream, saffron, pistachio nuts, and gold or silver leaf, they can be a shorthand for conveying that a completely made-up party dish has desirable historic royal associations and is "Mughlai."
So, was the strawberry curry at The Painted Heron just one such novelty dish? I tracked down Yogesh Datta, the chef who had originally created it. He told me that, no, it wasn't a gimmick: Just like with the local summer speciality of watermelon curry that he used to cook in Rajasthan, after moving to London he wanted to celebrate seasonal produce by using British strawberries. So he first introduced it as part of a special Wimbledon set menu, and "it became an instant hit with customers and… a regular feature on the main menu during the summer months." I was amused to discover that a curry I had myself associated with Wimbledon was, in fact, specifically created for Wimbledon.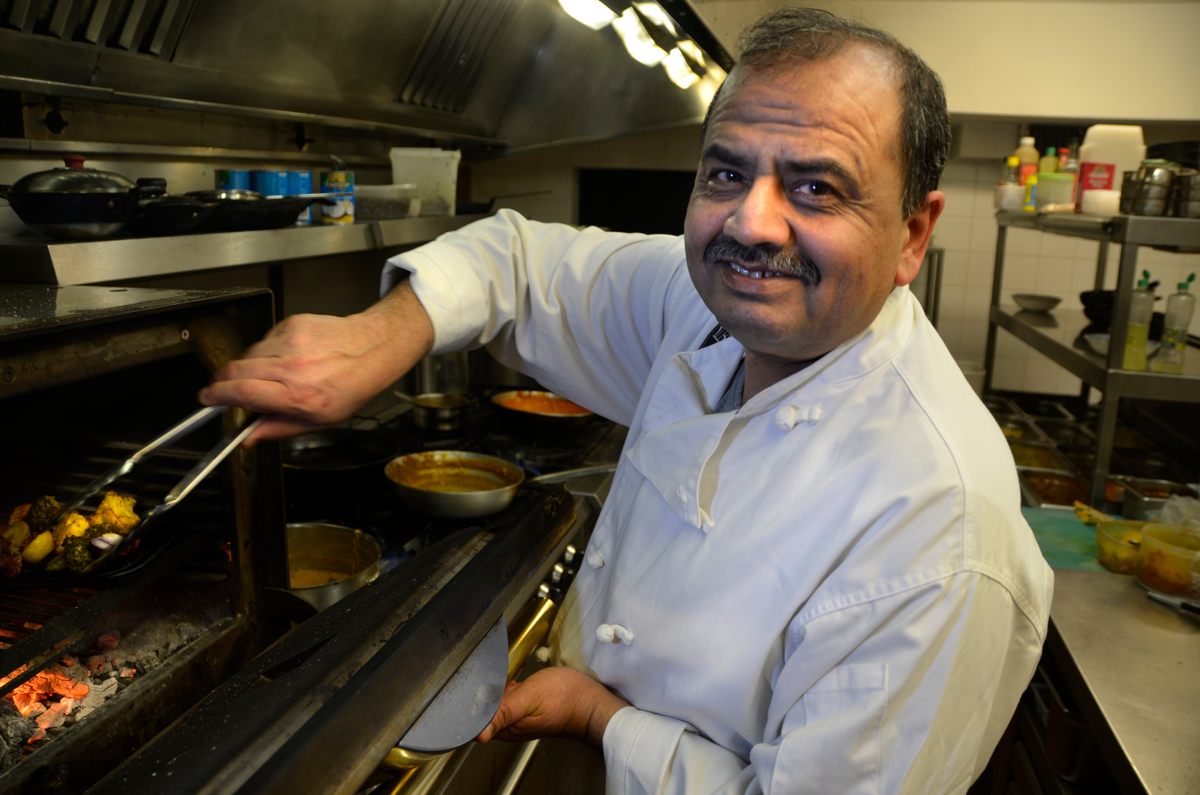 More and more Modern Indian restaurants in Britain are now showcasing local British ingredients, in part due to environmental reasons, but mostly since Brexit, pandemic-related supply chain issues, and the soaring cost of living have led to frequent shortages.
So, in this context, could the strawberry curry make a comeback? Datta, who is now chef patron at Bangalore Express, assures me: "I do hope to make this dish again in the future." If you can't wait that long, here is Chef Yogesh Datta's strawberry curry recipe to try at home.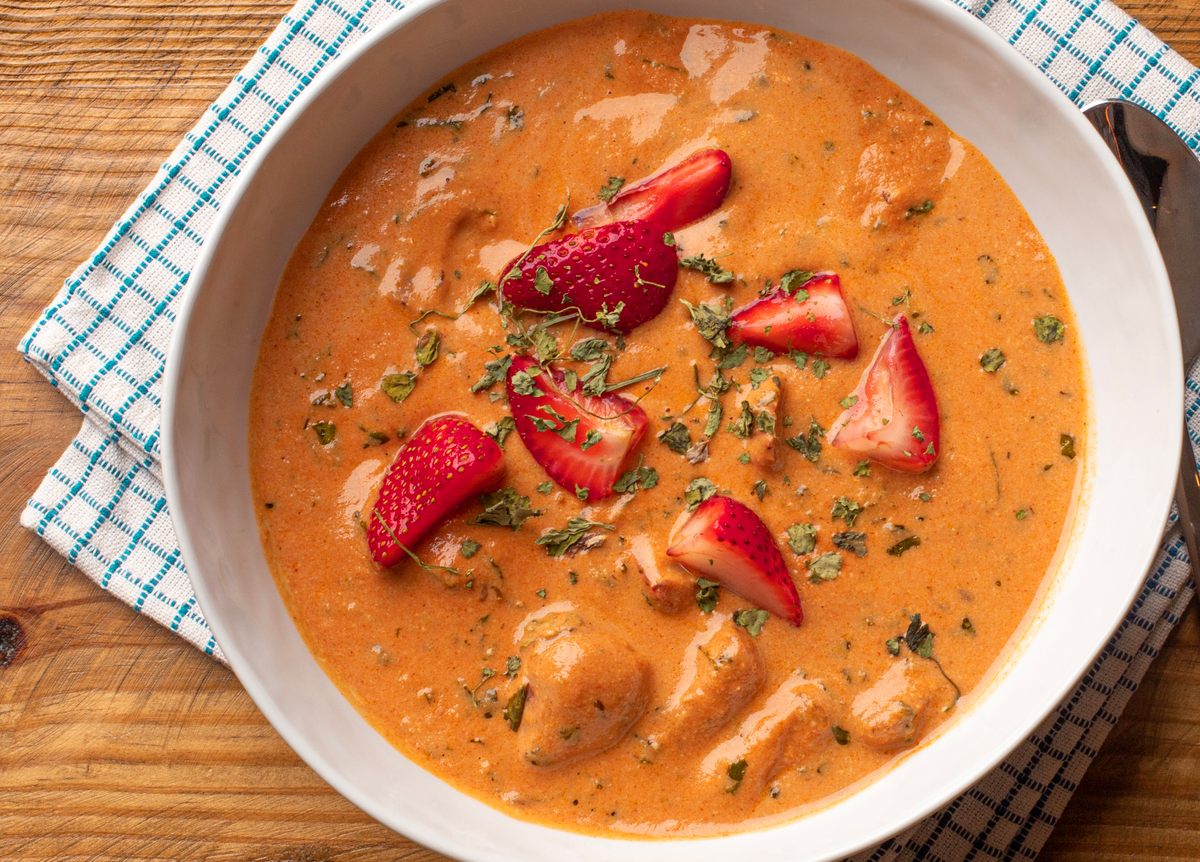 Strawberry Curry
Courtesy of Yogesh Datta
Ingredients
300 grams fresh strawberries (~2 cups)
250ml Passata (tomato puree; ~1 cup)
100ml Cashew nut puree (blanche cashews & puree them; just under 1/2 cup)
2 teaspoons Kashmiri chilli powder (less hot, vibrant color)
20 grams ghee or butter (~1.5 tablespoons)
20ml honey (1 1/3 tablespoons)
1 teaspoon garam masala
20ml double cream (1 1/3 tablespoons)
2 teaspoon cumin seeds
2 teaspoon garlic puree
20 grams kasoori methi (dried fenugreek leaves; ~1.5 tablespoons)
Instructions
Wash strawberries and cut them in half.

In a pan, melt ghee/butter and add cumin seeds.

When they begin to crackle, add garlic puree, followed by chili powder.

Add Passata, cashew paste, salt, and honey.

Cook for 20 minutes on a low flame, adding water if needed.

Meanwhile crush kasoori methi between your palms.

Turn the flame off. Add cream followed by the strawberries, garam masala, and crushed kasoori methi.

Mix well, cover the pot with a lid, and set aside or serve.
Notes and Tips
In my improvised version, I used fewer spices, which you may prefer if you want as much strawberry taste as possible. 
Gastro Obscura covers the world's most wondrous food and drink.
Sign up for our email, delivered twice a week.