Teen Calls Out Museum for Wrong Radio in Al Capone's Cell
Teens.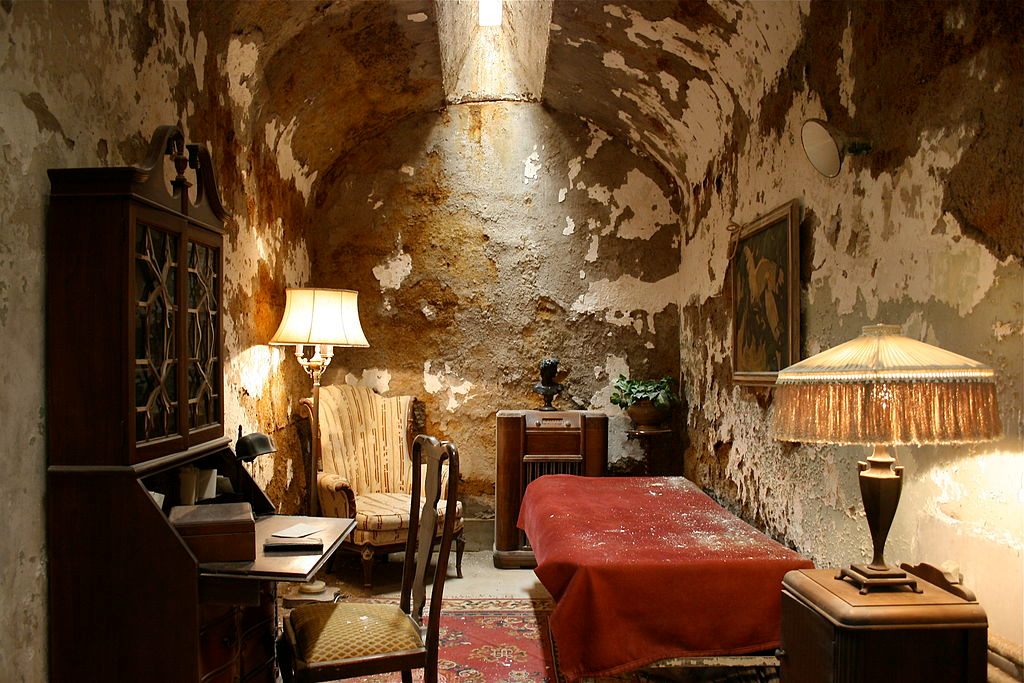 That radio in the back is… wrong. (Photo: Thesab/GNU)
In a discovery rivaling what Geraldo Rivera found in Al Capone's secret vault, an eagle-eyed teenager recently found that the re-creation of Capone's cell at the Eastern State Penitentiary Museum was decorated with a radio that shouldn't have existed yet.
Philadelphia's ominous Eastern State Penitentiary has been closed since 1971, and now operates as a museum and event space. Among the displays at the museum is a re-creation of the cell that housed Platonic gangster Al Capone. Capone spent hard time in the prison in 1929 and 1930, serving in comparative luxury thanks to his mob connections. His cell was located in a part of the prison jokingly referred to as "Park Avenue," and his room was no different than many of the other vaulted cement chambers in the prison, but Capone's was outfitted with a sumptuous desk, oriental rugs, and even a cabinet radio.
Today, the scene has been remade using period furniture, but as 13-year-old Joey Warchal recently discovered, not all of it was of a kosher vintage. As reported by the Associated Press, during his recent tour of the prison, Warchal, already an antiques aficionado at a young age, noticed that the radio in Capone's cell, a Philco A-361, was not actually released until 1942, more than a decade after Capone would have spent time in the cell. Whoops!
For their part, the Eastern State Penitentiary took the mistake in stride and took up Warchal on his offer to help them locate a period-appropriate radio, which he has already done. The prison museum will receive the new, 1929-era radio in a small ceremony on June 7th. Hopefully now, Capone's cell will be untouchable.