The Ultimate Crowdsourced Map of Long Distance Relationships
Almost 600 people responded to our survey on far-flung love.
Around Valentine's Day this year, we got the idea of asking Atlas Obscura readers about one of the most fraught kind of relationships—the long distance kind, or LDRs. We assumed we'd get 50 or so responses, and maybe we'd pick a few stories to highlight.
But nearly 600 of you filled out the survey. The results were incredible—and fill the interactive map above. People conducted relationships from the ends of the earth, spanning years and ostensibly filling whole hard drives with video chats and text messages. The reasons for the geographical spread were manifold, and many people reported being continents apart for years. Here are some of the more surprising findings:
Long distance relationships are not temporary. Far from it. The longest clocked in at 44 years (!) but there were five relationships reported over 30 years and at least a dozen more that lasted over a decade. Keep this in mind next time you think a week away from your significant other is too much.
Three people conducted relationships from Antarctica. A statistically anomalous number. All were there for work.
Most people are still in their LDRs. Of the 595 total relationships we counted, only 117 said that they had broken up. That means 478 of you, as of February, are going strong!
Longest distance: 12,371 miles (Santiago, Chile<–>Xi'an, China).  We were overwhelmed by the literal lengths people will go for love. At least 17 people were separated by over 10,000 miles (Australia/New Zealand accounted for much of this) and only one of those relationships was reported as being over.
Shortest distance: 41 miles (Hempstead, NY<–>Haskell, NJ). On the flip side, six relationships were clocked at under 100 miles apart. And two of them have already concluded.
Work was the most common reason given for being apart. This was followed by school, then family. Some of you just felt like it though. 
Planes were the most common mode of transit. No surprise there. But only 20 respondents used buses as their main romantic conveyances. 
Many of you were kept apart for long periods by visas. Immigration to the U.S. posed a particular problem.
IRL meetings are overrated. A significant number of respondents kept the flame alive without meeting in person for many years, and in 17 cases, not ever. 
But the numbers can only tell us so much. Here is a smattering of our favorite stories: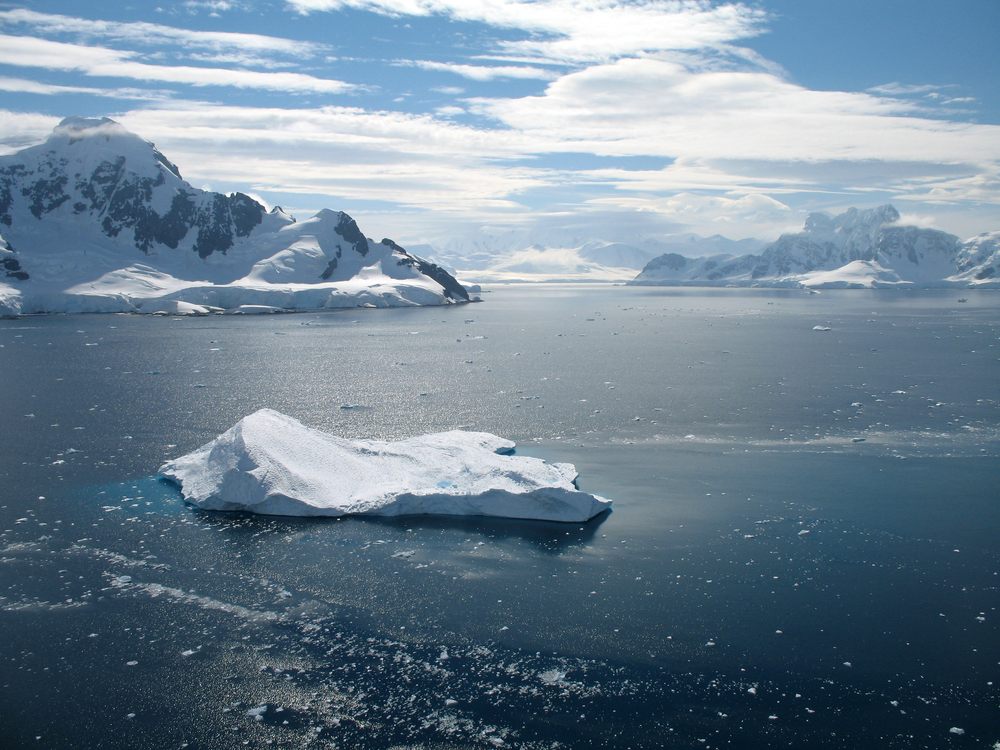 Paradise Bay, Antarctica. (Photo:.H.R.Photos/shutterstock.com)
Remote Locations
New York, New York to McMurdo Station, Antarctica
I was living in NY when I got an OkCupid message from someone in Denver, even though my searches were set to the NY metro area only. (And, let's be honest, really just Brooklyn. Queens counts as a LDR.) Her profile said she works outside the US October through March, and her photos included a lot of ice and snow. One photo showed her posing next to a gigantic seal, and the caption said, "Near McMurdo Station." I Googled, then wrote back and asked, "Do you really work in Antarctica?" I didn't really believe her when she said yes.

Over the next six months, we exchanged long emails and asked each other the 36 questions that that NY Times article claims create intimacy between strangers. She told me all about life on the ice and I told her all about my own weird life. When I found out her name and googled her, the search results said someone with that name does work in McMurdo, and that her hobbies include motorcycles, skydiving, scuba diving, surfing and skiing. I was half skeptical, half intimidated. To prove that she was real, she sent me a series of postcards, letters and gifts with Antarctica postmarks. She later told me that our correspondence kept her sane in Antarctica's surreal conditions.

This summer I'll either move in with her or move to Beirut or Erbil while I work on my dissertation. If she goes back to the ice this year I'll take a short-term contract with an aid organization in the Middle East and we'll meet up afterwards. Someday we'll be a normal couple with a home of our own and a few pets but until then we count the days until our next vacation.

Length of long-distance relationship: 18 months
Status: Ongoing

Bering Sea to New Milford, New Jersey
I was on the USCGC Boutwell on patrol in the Bering Sea. My fiancée was in New Jersey. We kept in touch via letters and the phone when I was in port in Seattle and via Ham Radio while underway. It was worth it as I ended up marrying her, and we are married to this day. I was on the Boutwell from 1978 to 1980.
Length of long-distance relationship: 24 months
Status: Ongoing


United States to Mongolia
I met Zorig in the summer of 2014 while on a trip to Mongolia with my father. We toured parts of the country and capital for two weeks, then went on a one week fly-fishing trip in a northern province. Zorig was our fishing guide and interpreter. After only six days together, Zorig said, "I love you," to me at the airport as I departed. I thought the man was crazy—as we had hardly begun to know one another and had only shared some stolen kisses in the wee hours of the night. (I was 40 and traveling with my 71-year-old father after all!)

But once I returned home to the US I had three emails from Zorig waiting for me. We began an online relationship—first via email, then through Facebook Messenger, and finally through international SMS texting. For 4.5 months the relationship grew and developed. We each sent one another a couple of videos—but never once did a video chat. It was all words that built our relationship.

Then, on December 22, Zorig arrived to me in the US (I lived in Colorado Springs, CO) to see if we had the magic, the love, that we thought was between us. Oh my, was it ever! I began preparations to move to Mongolia. 

I arrived to Mongolia on July 2. Zorig and I got married on October 2. I've never been happier since meeting this unexpected man. It will sound silly—but I got a fairy tale! This man pursued me over an ocean and 6,000 miles. Then I followed him home to this beautiful and fascinating land of Mongolia. We are beyond happy—we are living the dream of love.

Length of long-distance relationship: 11 months
Status: Ongoing


Yangon, Burma to Sangin, Afghanistan
We were not able to meet up because my partner was serving a combat deployment as a US Marine. I tried to email him several times a week. I couldn't send handwritten letters because the postal system in Burma was so unreliable. I also used MotoMail, a system which prints out messages for troops (so he at least had something to hold in his hand). He emailed me back sporadically when he had occasional access to a computer. It worked because we were very committed to each other. I quit my overseas job and came home when he was severely injured after stepping on an IED.
Length of long-distance relationship: 4 months
Status: No longer together
---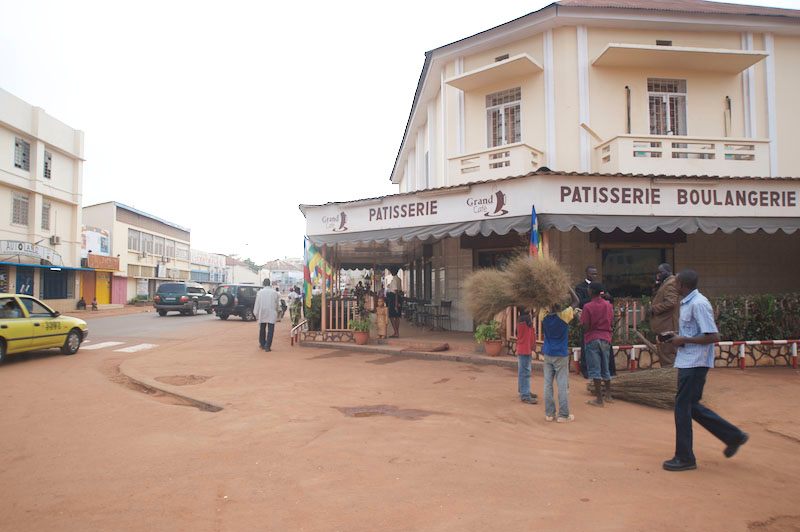 Bangui, in the Central African Republic. (Photo: Afrika Force/CC BY 2.0)
Met Online
Jamison City, Pennsylvania, to Central African Republic
I met a wonderful woman online and romanced her with every means available, including handwritten letters, terrible, occasionally operational local cell, satellite phone, and satellite internet from a remote African jungle location. After a year, I moved back to the States to work, and we are now living together, going into the fourth year of our relationship.

Length of long-distance relationship: 36 months
Status: Ongoing


Louisville, Kentucky to Norway, New South Wales, Australia
We met online, playing World of Warcraft. We knew each other for two years before I moved to Australia and we moved in together.

We had a lot of interests in common and similar life goals. We were married a couple of years after I moved. We have one child but are no longer together.
Length of long-distance relationship: 36 months
Status: No longer together


Clifton, New Jersey to Prince Albert, Saskatchewan, Canada
Met online on a punk music message board, and somehow that turned into long nights on the phone. Eventually we decided to meet. I went to Saskatchewan first—I flew for the first time in my life—and decided I hated it. We hit it off in person, and from there we dated for three years. We'd drive back and forth every other month each and would up seeing each other about 8 or 9 times a year for a week or more at a time. Eventually it just ran its course, and she wound up changing significantly so we parted ways. It was a lot of miles on my car—highway miles, though.
Length of long-distance relationship: 36 months
Status: No longer together 


Kill Devil Hills, North Carolina to Melbourne, Australia
We met on a photography website, back in 2005 when there were only about 50 people on the internet. It wasn't a dating thing. We just struck up a friendship over our shared hobby in open chat forums. He's a wonderful photographer, and we're both very funny. Then we began emailing, and then phone calls. A million phone calls. After two months of nonstop talking we decided to meet in person. I flew to Melbourne for a two-week vacation. It was love at first sight. The day my plane was leaving for the States, we decided to get married. I didn't get on the plane; instead we drank champagne at a street café and freaked out a little. We'll be married 10 years in May.
Length of long-distance relationship: 2.5 months
Status: Ongoing


San Jose, California to Frankford, Ontario, Canada
We met on Reddit and didn't expect to go from friends that message and talk every day to falling in love. Due to a previous law issue on my end (nothing exciting, just a DUI) I was afraid that I wouldn't be let into Canada to go see her so we first met in Buffalo, NY. Eventually I'll be moving across the country to be closer so we can meet more often while we work out immigration.
Length of long-distance relationship: 10 months
Status: Ongoing


Albuquerque, New Mexico to Aztec, New Mexico
As I answer these questions I am driving to see my love. At 75 miles per hour it takes me about2.5 hours to reach him. I pass through three geologic provinces: basin and range, the southern Rockies, and the Colorado Plateau. And for the past two years I have witnessed the growth of fracking in the San Juan basin. I have also enjoyed the fall of gas prices. I met my lover on OkCupid. We are camping geo-geeks. This relationship works because we love spending time with each other. We are best friends, lovers and caretakers. I call him my pocket boyfriend because I can reach him on my phone almost at all times.
Length of long-distance relationship: 21 months
Status: Ongoing


Jacksonville, Florida to Wellington, New Zealand
We met in a virtual world (Second Life) and continued to meet there for two years. We had a virtual wedding in this virtual world in 2009 on Halloween day. I traveled to New Zealand to meet her in 2010, and I stayed in New Zealand, never going back to the USA. We married on 2013, and we are very happy together.
Length of long-distance relationship: 24 months
Status: Ongoing


Washington, DC to Brisbane, Australia
We met online and had an instant connection. This was back in 1996. We talked online and on the telephone for a ridiculous amount of hours—I had WAY too many $1,000+ phone bills, as did she. We had one visit, a year after we'd started talking. I flew to Australia, and we spent three months together. We even had our own marriage ceremony in the Brisbane Botanical Gardens. Once I came home, it seemed harder. The logistics of moving my wife (I'm a woman) to the US at that time were prohibitive, to say the least. There was no gay marriage then; only domestic partnerships in Vermont were allowed. It came to the world not wanting us together in the end. We remained in touch for the remaining 17 years, and only recently did I remove her from my life.

Length of long-distance relationship: 24 months
Status: No longer together


Stratford, Connecticut to San Diego, California
We're in the process of meeting—some time in May. The coming together of two intellectuals via an online dating site. It's less than ideal, but it is love. Sometimes it takes you to people and places you never imagined.

Length of long-distance relationship: 6 months
Status: Ongoing


Tucson, Arizona to Alexandria, Egypt
We used to chat on Facebook everyday. We incidentally met on Facebook, too. Once some of the keys on my keyboard stopped working and I went to Google to copy and paste the whole alphabet and copied each letter to write his messages. He never felt far away. We used to love the same music and books and listen to songs together on Facebook. He used to sing for me and was a hopeless romantic. That is what mainly kept us together.
We planned on meeting in Spain to catch a soccer game but we never met. He wanted me to marry him but I refused without meeting him first. We broke up because his family made him get married, and I was already in another relationship. I was always loyal to him during that year, but his silence killed the relationship, not the distance.

Length of long-distance relationship: 12 months
Status: No longer together


Johnson City, Tennessee to Seattle, Washington
We met online in an AT&T Worldnet forum and exchanged 13,000 emails over three years. We never spoke on the phone, but we were able to collaborate on several web sites. We finally met in Tennessee in February 2002 and were married in April. So he drove a U-Haul truck with his cat Newton towing his car through the blizzards of February. It was well worth the long "courtship" because we knew so much about each other via our private emails and public posting in the forum.
When we finally admitted that we were attracted to each other via our correspondence, we would have Saturday date nights; I was Eastern time zone, and he was Pacific, so we'd agree on a rental movie ahead of time ,and each of us would fix a steak dinner—we synchronized watching the movie and having dinner "together" so we knew we were connected, even though we were 3,000+ miles and four time zones apart.

Length of long-distance relationship: 36 months
Status: Ongoing
 
Edmonton, Canada to Kiev, Ukraine
She was a reporter during the revolution in Ukraine. I was reading her articles and started messaging her. We started chatting more and more and for the next year and a half communicated every single day online and by phone. After year and a half, we finally met for the first time when she visited Canada. Now we're beginning to plan our wedding and deciding whether we will make a life together in Ukraine or Canada.
Length of long-distance relationship: 22 months
Status: Ongoing


Austin, Texas to Phoenix, Arizona
We met online on a game zone and had an immediate connection. From Phoenix she moved further up Arizona to the White Mountains. I would fly in to Phoenix and then catch a small commuter flight up the mountain. That small airline folded and I was left to hitchhiking 188 miles from Phoenix to the Show Low area. Other times she flew to Austin, or we would meet elsewhere like Las Vegas. We were madly in love.
When we were together we stayed about an average of 10 days doing nothing but indulging ourselves with each other. I got incarcerated in Texas and was sent to the easternmost part of Texas (almost to Louisiana further away from her), and one summer she drove out to see me. The warden was so overwhelmed with this that he transferred me to an Amarillo facility 588 miles west (closer to Arizona where she lived), and from there she would come visit me during the five years I was incarcerated. Upon my release she came to Huntsville (1,014 miles away) to come pick me up and spend a week with me before starting my new life.

Length of long-distance relationship: 120 months
Status: No longer together
---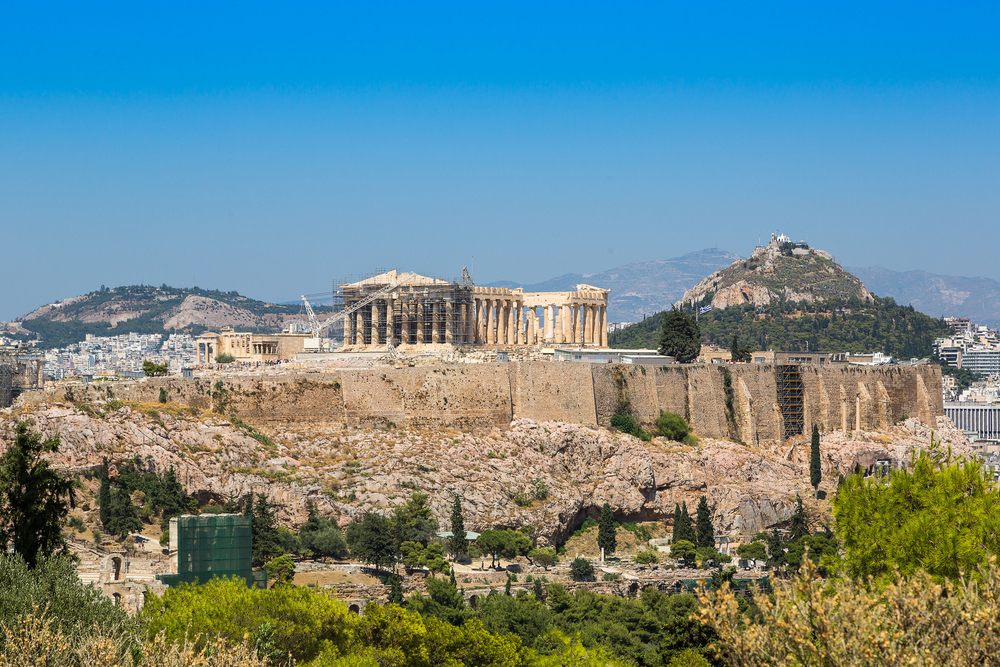 Athens, Greece. (Photo: S-F/shutterstock.com)
Bad Break-Ups
Athens, Greece to Louisville, Kentucky
We met in Paris. It was platonic. We didn't see each other much at all, except for near-daily Skype calls. He once sent me a whole azalea plant through Interflora just so I could take care of something (a friend of mine had died at the time in another country, and I couldn't be there to comfort our common friends). We would time our sleep patterns to be able to Skype daily. When my mother got out of surgery, he was the first person I told. When he got offered a prestigious job, I was the first person he told. We made plans to move together to Strasbourg. We met in Strasbourg three years in on the dot. He looked at me and realized I hadn't quit smoking. We fought about him being pro-life. He was expecting a true lady. We broke up.
Some days I think it wasn't worth it, but during those three years I was happy.
Length of long-distance relationship: 36 months
Status: No longer together


Phoenix, Arizona to Benguela, Angola and Gothenburg, Sweden
I found the relationship worth it because we had the same likes and views in every aspect: food, music, travel spots, political views, sports, child-rearing, literature, animals, art and anything else you could possibly think of. He didn't mind when I took off unexpectedly to photograph something that caught my eye. He was ok with my impulsive nature, and I was ok with his. It is rare to find someone you "click" with like this. Unfortunately, we both have the same tempers and other undesirable personality traits, too.

His impulsive nature led him to quit his job in Angola and move to Gothenburg, Sweden to find a place for both of us to live and work. We had only spoken about it a couple of times, but he decided without consultation to put it in motion. Since I'm still in school earning my degrees, I could not go right away. We had a huge falling out and couldn't repair the damage several months later.
Length of long-distance relationship: 12 months
Status: No longer together


South Pacific Ocean to Seattle, Washington
We met in Seattle in a navigation class. Then I went to sea on the NOAA Ship DISCOVERER, a government oceanic research vessel. It was 1984, and we were able to talk perhaps once a month when our radio officer would patch into phone lines via a ham radio operator in California. We had to say "over," so conversations were awkward. "How are you? Over." etc. I called him from Honolulu on a real phone, and he used that opportunity to break up with me. At the next port, Papeete, Tahiti, I picked up a tourist for some sexual hi-jinx, and was attempting to convince the officer on the quarterdeck that I wanted to give this gentleman a tour of the ship. The officer said that a man with a dark beard was waiting for me in the mess hall. I quickly got rid of the tourist and was reunited with my remorseful love, who had flown in from Seattle.
After a few days, I shipped out for Samoa. I called my love from Pago Pango, and he broke my heart again. Yet, when the ship returned to Seattle, there he was on the dock with a dozen roses. The bosun's mate had warned us about leaving the ship before our watch was over, so I yelled down to my lover from the deck that I would be down to greet him properly in one half hour. One half hour later, he was gone. I went to his house. He threw the roses in my face and told me to get lost. What made this relationship worth it? The romantic locations, to be sure.
Length of long-distance relationship: 8 months
Status: No longer together


Novi Sad, Serbia to Donetsk, Ukraine
We were communicating daily on Skype/Facebook/VK for two years, day and night. After we met and spent one month living together, he had to leave because of his visa and country regulations. That was the major hit for me; it couldn't get any more painful, and after he left I didn't think we could ever be together again (no money for traveling was the biggest reason), and there was no future in any of our countries. Then the war in Ukraine started, and I couldn't go there, nor could he leave his parents and family in the middle of that shit. I had some personal crisis and felt alone, needed someone next to me. I started seeing one other guy who was there for me when I needed help and decided to break up the long distance relationship because it was too painful and depressing. Despite it, I still think that this was "once in a lifetime" love.
Length of long-distance relationship: 36 months
Status: No longer together


Cleveland, Ohio to New York, New York
I dated a guy long-distance for 9 months when I left NYC to go to grad school in Cleveland.
Long story short, we made it through the first two semesters, and I came home to be with him during my summer break. He broke up with me pretty quickly after I got back (I guess he wanted to do it in person?), claiming he just didn't see our future together anymore. Heartbroken, I immediately made the long haul straight back to Cleveland and miraculously salvaged my spot in an amazing internship I had initially turned down to be with him. Plus, it definitely helped ease my heartache to put 500 miles between me and the breakup.
Since I had spent the first year of my life in Cleveland sequestered in my room on the phone with my boyfriend, I still hadn't befriended a single person in the city beyond my seven classmates (six women and one painfully shy foreign man with a major language barrier). Feeling sad and pissed that I had seriously wasted my prime dating years, I jumped on the online dating bandwagon and within two weeks had met the man who ultimately became my husband. It was a very happy ending, all told, but of course I never did escape Cleveland.
Length of long-distance relationship: 9 months
Status: No longer together


New York, New York to St. Petersburg, Florida
We met while working at a restaurant and began dating two weeks before I moved away for college. It felt romantic and desperate, and we would talk every night on the phone for hours, mostly sighing and saying how much we missed each other. He grew increasingly jealous, and would accuse me of cheating on him. I came home for breaks, would spend all my time with him and love every second of it, though it always ended in tears and fighting. The worst was when I left for my sophomore year—as I kissed him goodbye I accidentally let his pet parakeet fly through the apartment door and into the world. I couldn't do anything but apologize and leave. Eventually I began feeling like my mind was always in Florida and I couldn't live fully in New York, so I ended the relationship the way we had spent most of it—on the phone.

Length of long-distance relationship: 18 months
Status: No longer together


Pittsburgh, Pennsylvania to Chicago, Illinois and Cambridge, Massachusetts
Medicine does not a flexible life make, but we would fly into each other's cities for whirlwind romantic weekends and spend holidays on beaches or exploring new, distant cities. In the earlier years, we both saw a nebulous finish line where we were both badasses in our jobs and living together. We envisioned making dinner together and dancing around to old records on a humdrum Tuesday night.

After five years of dating and four years of long distance, the strain was evident in every part of our relationship. I handled it a lot worse than he did. Sometimes you just want to eat dinner with someone at night or get a hug after a rough day—impossible when doing long distance. Ultimately, we had to call time of death on our relationship two months ago. We realized we were making each other miserable. It was hard to eke out two perfect days of relationship every three to six weeks. We had created two different lives completely independent of each other.

I don't regret the long distance relationship, but I certainly don't recommend it.

Length of long-distance relationship: 48 months
Status: No longer together


Los Angeles, California to Stuart, Florida
He lived in our home town, and I was working on the opposite coast. We got together when I was visiting home for the holidays.

It worked out great—every time we saw each other it was like we were on vacation. One or both of us would have to travel, and we would make the most of every minute. It was all very glamorous. We met up every couple of weeks, sometimes in our hometowns, sometimes at other vacation spots.

When we decided to live in the same town, the relationship quickly lost its glamor, and we broke up.

Length of long-distance relationship: 18 months
Status: No longer together
---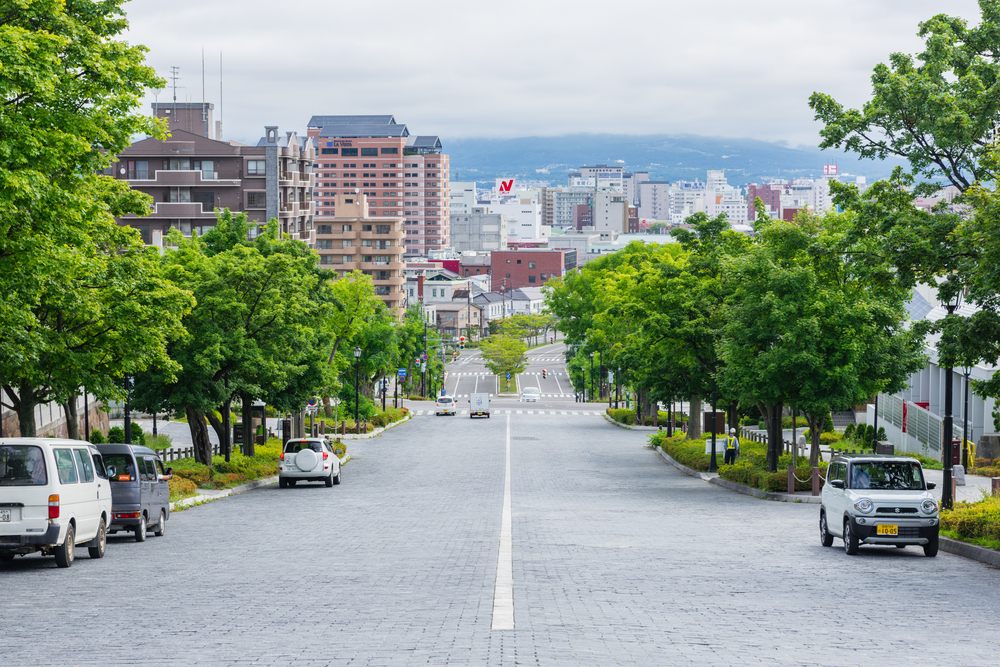 A street in Hokkaido, Japan. (Photo: NorGal/shutterstock.com)
International Affairs
Hokkaido, Japan to Guadalajara, Mexico
Victor and I met in university at Tokyo. We were both studying abroad, taking the same Japanese class, and we started spending time together because we found we both have a common interest in urban exploring. Urbex in Japan is arguably the best in the world—the first time I approached Victor was because I had seen his photos from Nara Dreamland, and I'd been dying to go for years. The first time we ever hung out, we explored an abandoned insane asylum on the outskirts of Tokyo. I think that was when I knew he was someone worth keeping in my life, even though we've been doing an international long distance relationship ever since. We both care about the same things—traveling, languages, climbing roller coasters in abandoned amusement parks at 5 a.m.
So, we got involved, spent six months long distance, him in Tokyo and me in Chicago, then six more months long distance, Chicago to Mexico. We've never lived closer than 1,700 miles apart. After graduation, I moved to rural Japan, so once again we're almost 7,000 miles apart. 

Length of long-distance relationship: 18 months
Status: Ongoing


Bangkok, Thailand to Edmonton, Alberta
We met as children because our families were friends. I was seven and he was nine. At sixteen, I had a debilitating crush on him but was the invisible little sister of his friend. We drifted apart, and I moved from city to city—Mexico, Seoul, Shanghai, Bonn, then Bangkok. He got married and had a son. Life went on. My big brother's sudden death brought me back to Canada in the middle of a cold snap, the first time I had been "home" in 15 years. The day was sad but also happy because he was there and took the time to say hello. It was a two-minute conversation, and we gave it little thought. It wasn't until a year later that he reached out on Valentine's Day to tell me his wife had cheated, he was divorced and he wanted to take a holiday. I offered for him to come to Bangkok, and then it was all love and trying to figure out the distance.

Length of long-distance relationship: 10 months
Status: Ongoing


Uppsala, Sweden to Tracy, California
We met at a show when I was in the States in 2012 a little after Valentine's Day, ironically. We became really close and met a few times in Sweden with so many adventures. It was pretty amazing the few times I got to be around her. Later she became more comforting over a lot of mental situations and bad situations. I just finally conjured up the feeling to ask her out, and here we are.

We have a long distance record swap; she and my brother are actually best friends. We seriously swap music as signs of affection. It helps us hold over until the next meeting!

Length of long-distance relationship: 5 months
Status: Ongoing


Nelson, New Zealand to Austin, Texas
We met two weeks before she left New Zealand to move back to the States. I also moved nine times during the year, staying with friends to keep my costs low whilst I saved to go overseas too. We were emotionally committed from when we met and used Skype when she left, speaking for up to nine hours a day at first. Then for reasons outside my control I moved to a rural place with no cell coverage and dial up Internet (yes, that still exists!). I arranged to run a high speed cable across paddocks from my neighbor's house on the next farm, and had WiFi, but only had access to a capped 30 mb a day. So during that time our relationship was entirely done through the Heywire app, which is like instant message. Sometimes I was able to drive to a town and use the library WiFi or McDonald's, and we could Skype.

Length of long-distance relationship: 12 months
Status: Ongoing


Quang Tri Province, Vietnam to New York, New York
During the year that I was in Vietnam, Carol and I wrote letters and sometimes poems to each other so that we could stay in touch. It was a great morale boost for me to receive her pink envelopes with the perfumed—I think it was called "L'Heure Bleue"—letter.
Except for the time that the North Vietnamese shot down a chopper that was carrying the mail, I received a letter almost weekly. Back in New York where Carol was living in a five-floor walk-up apartment with two roommates would make her friend who had the one key to their mailbox come home at lunchtime to open it up if Carol saw a letter from me in the box. Upon my return to the States, we got engaged after a few months and were married in the following autumn. Sadly, I lost her to cancer a little over a year ago after being together for almost 43 years.

Length of long-distance relationship: 12 months
Status: No longer together


England to Texas
We met in central Italy. I was working at a farm/hostel, and he was a guest. I really didn't want a partner, especially a foreign one, because it's a lot of effort, but he was just irresistible. He's magnificent, and being with him is the most natural feeling thing ever. But America is a really hard country to date someone from. I don't recommend dating an American if you're not one yourself.
Length of long-distance relationship: 18 months
Status: Ongoing


Chicago, Illinois to Cairo, Egypt
We met in Cairo and got married there (he's Egyptian, I'm American). We were ready to start a life together in the midst of revolution, and then there was a military coup and everything went sideways. Now I can't go to Egypt, and we've been waiting 18 months for a green card for him to come here. What makes it worth it? So much has been destroyed in the Middle East, and we're both too stubborn to let what happened ruin our love story.
Length of long-distance relationship: 22 months
Status: Ongoing


Woking, England to Riyadh, Saudi Arabia
She was my first love when we were 16 and again when I was 52.

Length of long-distance relationship: 24 months
Status: No longer together
---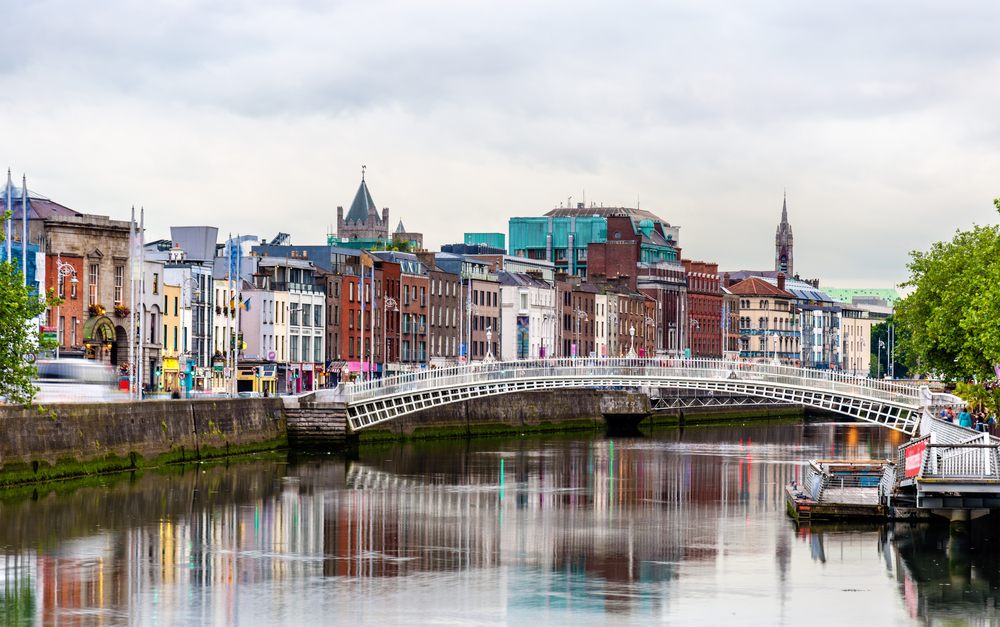 Dublin with the Ha'penny Bridge. (Photo: Leonid Andronov/shutterstock.com)
Wedding Bells
Massachusetts to Dublin, Ireland
We would fly back and forth to visit each other for a week or two at a time every few months. I also was lucky enough to travel to Europe a few times with work, which we considered "free visits." We'd also try to visit new places together (since we were spending the money, might as well make a holiday out of it!).
We have always told our questioning friends or the nay-sayers that it takes a lot of work to maintain this—from both of us. We had to learn early on how to be intimate with one another without physical interactions. We actually had to talk with one another and learn about each other instead of just dating and making out on each other's couches.
We're due to be married next week, and I will be returning to Ireland with him for good!
Length of long-distance relationship: 60 months
Status: Ongoing


Austin, Texas to Sheffield and Widnes, England
We met at a Dallas Greyhound station. He had an English accent. There was an instant kinship, and about as well as you can get to know someone in 10 minutes, we did. He said he's headed up to Denver next, but his bus got cancelled. I was tempted to stay with him but my bus to Minnesota finally arrived.
So, somehow we were on the topic of books, and he says he finished with his books as well. (I finished 2/3 of my books at this point.) Then he says, "Would you like to trade?" "Of course!" I said. We ripped our luggage apart and gave each other our finished books. Then we had to go our separate ways. I stood in my line for a bit, then ran back to him and got his Facebook information so I could send the book back (that was my excuse anyway). He happily obliged.
Thousands in visa costs later we're still together. We're moving back to my Texas to get married this spring and save up a little money for our next adventure.
Length of long-distance relationship: 17 months
Status: Ongoing


Sligo, Pennsylvania to Tokyo, Japan
We fell in love without seeing each other face to face. We were pen pals (this was in 1987). We carried on a relationship without meeting in person for 10 months, then I flew to Tokyo to meet him for the first time. We have been married (very happily) since 1989 and currently live in California.
Length of long-distance relationship: 12 months
Status: Ongoing


Berkeley, California to Chengdu, Sichuan, China
I met my wife of 11 years online through a relationship web site, though we only exchanged one email using the service of this China-based web site, and then we began to email on our personal Yahoo email accounts daily for about a month until my wife taught me how to instant message.
I asked her to marry me after we'd been in daily contact for 4 months, she accepted, and after an understandable mutual feeling of hesitation we reaffirmed our decision and without ever physically meeting each other I flew from San Francisco to Chengdu and arrived after 15.5 hours of flight. I got to Chengdu at about 11 p.m. on Feb 2, 2005.
She and I were married the next day at an administrative office where we showed the forms and had pictures taken; documents had to be taken for translation into Chinese, but within 1.5 hours we were lagoons and Leopoldo (husband and wife) and had our red marriage booklets from the Chinese state.
Length of long-distance relationship: 24 months
Status: Ongoing


The Bush in Northern Alberta to New York, New York
We met at Burning Man. Jenna would fly to Edmonton every six or eight weeks for a long weekend and come trucking with me. An NYC girl who can tolerate riding around the woods in an old Peterbilt and squatting to pee in a snowbank at 30 below zero has got to be a good chick. We're married now, so yeah, it was totally worth all the schlep and flights.
Length of long-distance relationship: 36 months
Status: Ongoing


Austin, Texas to San Francisco, California
We both work in the toy industry and met at an inventor's show. We both have kids, so he was grounded in San Francisco, and I was tied to Austin. We took turns flying every weekend to see each other for seven years. Once his kids graduated and left for college, he found a job in Dallas (three hours from Austin) which was as close as he could get to me. We were married this last December and continue to live apart on the weekdays.
The distance is rough. But I'd rather have the right person two days a week than the wrong person seven days a week. He's worth every mile logged!

Length of long-distance relationship: 84 months
Status: Ongoing


Northeast Ohio to Southeast Florida
He drove 1,200 miles to see me. We were sweethearts when we were ages 16 and 17. At ages 51 and 52 years old, we found each other again, connected through his sister. He had lived in the Pacific Northwest and the Southeast all of his adult life; I'd been in Boston. I re-settled in our hometown area before the relationship was rekindled. He invited me on a date after speaking on the phone and exchanging long email love letters for a month. He said he'd be driving to Ohio to see only me, no relatives, no museums or movies, just us. Oh, and it'd be a five-day date. I agreed, so long as we had separate rooms.
We booked in at a country club and he rented a two-bedroom suite in the lodge. The five days were the happiest of our lives; we barely slept. He returned to Florida after the fifth day, but it was very difficult to part. He drove up to Ohio every two weeks or so until I moved to Florida to be with him six months into the relationship. We were married 2.5 years after being reacquainted. To find that he had not changed much, had only become a great man with all kinds of strengths layered onto the character of the boy I knew in high school, was truly amazing.

Length of long-distance relationship: 6 months
Status: Ongoing


Limerick, Ireland, then Philadelphia, Pennsylvania, then Maine, then Glasgow, Scotland to Syracuse, New York
I met my (now) husband while we were in high school. We were each other's first everything. When it came time to go to college, we knew it would be difficult but it had to done. I selected a college four hours from home while he remained there.
We tried our best to see each other, but our relationship was primarily via AOL instant messenger.  We celebrated our three-year anniversary in different time zones with a Skype date.
Come my junior year, it was time for me to travel again. I flew off to study at the Glasgow School of Art. This was such a hard time. I was depressed and just waiting for April when he could visit me. Those were the best two weeks of my five years of college. I returned to school the following fall and we celebrated our seventh anniversary, against a lot of odds.
That spring, being a metalsmith, I fashioned emerald engagement rings and I proposed June 1st of that year. He accepted—or at least said "of course." Good enough.
We spent our eighth anniversary in great celebration as we were finally together and about to embark on our lives. At our ten-year anniversary, this past October, we finally got married and, boy did we make people cry! We bought a house, and here we will live, happily ever after, together.

Length of long-distance relationship: 60 months
Status: Ongoing


Wappingers Falls, New York to Allahabad, India
We met when we were both in college at Allahabad University. Our families vehemently opposed our relationship, so I went back home to New York to finish school and get a job. We got married when my wife completed her PhD. We did not meet for two years exactly and only communicated via letters since she did not have a phone and in any case I could not afford $3/minute phone calls when minimum wage was $3.35/hour. After that trip was when I got my job. We married nine months later. Guess we were in love. This year is our 30th anniversary.

Length of long-distance relationship: 36 months
Status: Ongoing
---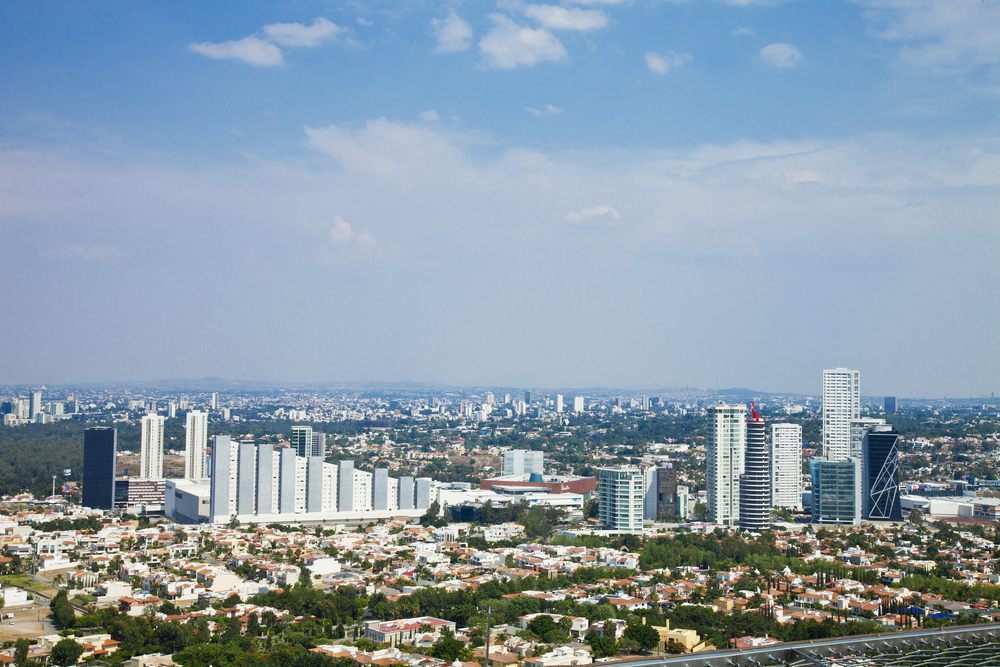 Guadalajara, Mexico. (Photo: Jesus Cervantes/shutterstock.com)
Hopeless Romantics
Guadalajara, Mexico to Ciudad de Mexico, Mexico
We met in senior high school in Guanajuato, so we were together only for a couple of months before each one had to leave to a different part of the country. We used to eat dinner quesadillas over Skype, write each other every day and send pictures of everything around us. Every couple of months one of us had to take a bus for like 10 hours to spend a weekend together. It was rough, but it was worth it.

Length of long-distance relationship: 48 months
Status: Ongoing


Virginia Beach, Virginia to Los Angeles, California
We were both playing a show at a venue in Norfolk, Virginia. My old band opened up for his band, Silversun Pickups. We hardly spoke at the show, but after, he found me on Facebook and gave me his number. We texted every day, spoke on the phone often. We were great friends. Then we began meeting up on the road here and there. Then it became "official" after a few months of meeting up here and there.

Now we see each other at least once a month. We go back and forth from Virginia to California and sometimes go to different cities for little vacations. My family and friends love him. I love his family and his friends. Things are great. In the summer, I will be moving out to Los Angeles and we will finally close the gap.

Length of long-distance relationship: 36 months
Status: Ongoing


Santa Fe, New Mexico to Quilpue, Chile
Even though we are different people, we wanted the same things—travel, a satisfactory career, a desire to do something worthwhile with our lives. I've always wanted my life to be an adventure, and being with him is just that. It's taking the road less traveled. It's jumping across a void together. It's having faith. It's also crazy expensive, time consuming,and exhausting, but just like in a normal relationship, you put up with all the baggage because the person on the other end of that Skype call or plane flight is your special someone, and they make you feel good about yourself. They bring out the best in you.

Length of long-distance relationship: 36 months
Status: Ongoing


Edmonton, Alberta to Belleville, Ontario
We met—and dated for a while—early in high school. He was the first fellow I said, "I love you," to; I was 15. We were also friends and classmates for three of our five years (grades 9 through 13 in those days). Life took different turns, and for 52 years we had not seen each other or communicated at all. Then four years ago, I had an email from him.
(He had been separated from his wife for a number of years; my husband was quite ill and died three years ago.)

The old feelings came swarming back for both of us. How wonderful for people in their 70s to fall in love all over again, after all these years! He has visited me, and we have toured the Rockies and Alberta's badlands and dinosaur preserves and museums. I have gone east a couple of times each year. We communicate at least three times every day—lengthy emails, by phone and Skype each evening.

In fact, I am moving back east—not only because of him; I've many old friends and cousins back east—but it will be terrific to be in the same province and only an hour's drive or so apart. 

Length of long-distance relationship: 48 months
Status: Ongoing 
Utah to Virginia
I met Lenny in high school over 30 years ago. We met because of the Tulsa Race Riots of 1921. Because of those riots, Tulsa developed a magnet school funded by the government to help in the desegregation of America. I am white and Lenny is black. We sat next to each other in Mrs. Carnegie's math class and became close friends. But Lenny graduated a year ahead of me, and we lost contact with each other after high school. With the advent of Facebook and Classmates.com and other social media websites, I searched for Lenny for over 28 years and finally discovered him in Nottoway Correctional Center in Burkeville, Virginia.
Lenny committed eight "grab and dash" robberies in a seven-day period while high on alcohol and crack cocaine. He did not have a gun. He did not murder anyone. In fact, he didn't even physically injure anyone, and not one person filed against him as a victim. He needed help with his addiction. What he got was two life sentences plus 100 years with no chance at parole.
I began writing everyone I could think of trying to bring awareness to Lenny's situation. I am still writing everyone I can think of—well over a thousand people and organizations by now. We also began writing each other. Lenny, while incarcerated, has not wasted his time. He served in the church for over 10 years. He works everyday in a position of authority. He lives in the Honors Dorm. During the entire 20+ years he has been in prison, he has not received a single infraction for anything—rare for lifers. Together, within the last three years we have written and published a book called "Love Conquers All."
When I began writing Lenny, and catching him up over the last 28 years, I realized what bad shape I was in and began walking and eating better. Within four months I lost over 60 pounds, so much weight that I was able to feel the lump in my left armpit. This turned out to be Stage IV triple negative breast cancer with the discovery of a tumor at the base of my skull, the top of my spine, threatening to paralyze me from the neck down. Seven surgeries, radiation, and a year and a half of chemo later, there is no active disease in my body, although my oncologist tells me I am "incurable." Reuniting with Lenny when I did spared me a life of paralysis and death—a true miracle. Now, I am trying to create a miracle for Lenny.
I married Lenny in August of 2015 in Nottoway in Virginia, traveling across the United States from Utah. We manage because of the unique and true love we have developed for each other over the past three years. We still write each other, email each other and talk on the phone to each other every single day. We may not be the furthest apart in distance, but in a different regard we are far apart. I can only hope that I live long enough to secure Lenny's release. 

Length of long-distance relationship: 336 months
Status: ongoing
---
…and a Long Beautiful Story for the Road.

Chicago, Illinois to Logan, Utah
It was a setup. We met in a restaurant called the Jib Room in Marsh Harbour on the island of Abaco in the northern Bahamas. I'm from the Bahamas, but I'd recently moved to Chicago for grad school and was back visiting over the Christmas break. The friend who invited me was annoyingly persistent, though, so I came out anyway and ended up spending the dinner talking across the table to a handsome-but-humble entomologist from Utah. We swapped email addresses at the end of the meal, and I wrote him a month or two later to clarify the difference between a mosquito and a cranefly. We hit it off in text and kept emailing each other, almost daily as I remember, but strictly as friends.

The next August I was visiting Abaco again, and so was my entomologist friend. We arranged to have lunch together, but it wasn't until I saw him walking across the parking lot towards me that I suddenly realized, "Holy cow, this is a date! How'd that happen? Wait a second, he's a nice guy, and I'm kind of crazy. Is this going to work?" I was flung into a mild state of panic. Add to this, his father (who had retired to the Bahamas years before) was the local meteorologist and his stepmother ran a popular radio network over the VHF, and the situation suddenly seemed much more stressful. Particularly when the stepmother in question found out about our lunch date and innocuously suggested we extend it to dinner, at which time we could join them at the Jib Room (again) for a steak.

Lunch was cute and awkward. We sat on the beach and drank a couple of beers and didn't know what to say to each other when not separated by computer screens. That evening I put on my best face to attend steak night at the Jib Room, but I was nervous. Really nervous.

So nervous, in fact, that a few bites into my meal I forgot to chew properly, tried to swallow, and got a big wad of steak jammed in my throat. I tried to swallow again. No dice. I tried to cough it up. That wasn't working either. I ran through the symptoms in my head: "Can't swallow, can't cough, certainly can't speak—airway completely blocked. This is what choking to death feels like, and I have four-and-a-half minutes before brain death unless somebody in this restaurant knows the Heimlich maneuver!"
It seemed to me that my date was such a nice guy that if anyone knew how to save lives, he probably did. I stood up, poked him in the chest, and started making flailing gestures with my arms. After a vexing few seconds he figured it out. It's funny, but I have about a three-second memory lapse at this point. I remember turning around and him putting his fist up against my diaphragm… and then I remember being able to breathe again, turning back around and sitting down and drinking my beer and eating about half of the rest of my steak and cutting it up very, very small and chewing it very, very well. I don't remember the actual Heimlich maneuver, and I don't know what ever happened to the steak that was caught in my throat—it just went away.

That was a pretty effective ice-breaker. Up until that point I had serious reservations about getting into a relationship with this handsome-but-humble entomologist. It would be long distance. He's a nice guy. His parents were a big deal in my hometown. I'm kind of crazy and I don't have a good history of being able to maintain relationships. But I could be dead. Or I could at least try dating this rather nice man who just saved my life. Because I could be dead! And he still seems interested in me, even after having had to apply the Heimlich. And you know, I could be dead right now. We finished the dinner, went back to the place I was staying, and had hot monkey sex for the next 48 hours.

When I went back to Chicago and he went back to Utah, we started figuring out how to work this thing. I was a little less than a year into a two-year master's degree, so there was going to have to be some adjustment. It turned out there were plenty of direct flights between Salt Lake City and Chicago, and he was able to fly out and visit me every six weeks or so. I'd take the blue line out to O'Hare and meet him, and then he'd come stay with me for a long weekend in my tiny expensive efficiency apartment in Lincoln Park, we'd have hot monkey sex and order delivery food the whole time and I'd send him back to Utah sore and satisfied.

I think what kept us going was the fact that we are both natural text communicators. I still wrote him almost every day, and my emails to him became a journal of my life. He wrote back less often, but still fairly frequently, and I figured he was a good sport to read the reams and reams of verbiage that I obsessively sent him. We were a good intellectual and emotional fit, at least with 1,500 miles between us. When my father died in the UK during my last semester as I was trying to write my thesis, my long distance Bug Doctor was the rock that kept my sanity from washing out from underneath me.

I flew to the UK for what would turn out to be the last couple of weeks of my father's life, but Dad stubbornly refused to die while I was there. Spring break rolled aroun, and Mum sent me home to Chicago so that I could keep my plans of flying out to Utah to see my guy over the official vacation. I flew back to O'Hare, spent a night in my apartment and was back at the airport the next day waiting on my flight to Salt Lake when I saw I'd missed a call from my mother. My father had died 45 minutes before. She said I should go see my man, and that the funeral would be the following weekend. I flew to Utah, hitched a ride down to Capitol Reef National Park where my entomologist was on field work, spent a week hiking and crying in the jaw-droppingly beautiful red rock desert, flew back to Chicago for a night, then back to the UK for two nights and the funeral, and then back to Chicago to try and figure out why the hell my thesis was still relevant to myself or anyone else on the planet.

I took a two-week extension, finished my thesis, and then hung out in Chicago until my entomologist had finished up his field work. He flew out, helped me pack my life into a U-Haul, and we drove back to Utah across the Great Plains to figure out if we could make a go of it living in the same town.

The short answer is yes, and we're still together 13-and-a-half years later, happily married. The long answer is a lot more involved and features a talented relationship counselor. My Bug Doctor and I have talked about how we managed to somehow sidestep or overcome our individual damage to become a functioning couple, and in truth it seems like the long distance portion of our relationship was key to that. I really was kind of crazy… but so was he. We were both really damaged and frightened, and we both had developed reflexes to jettison anyone who got too close before the iron vise of commitment could shut its jaws around us. Being long distance (and going through so much non-relationship drama) kept those reflexes from being triggered. The Heimlich maneuver episode helped both of us bypass our doubts and fears, and the space of the Great Plains between us diluted them into a non-issue. By the time they kicked in with a vengeance we'd already been married two years, and it just seemed like good sense to try and salvage the investment rather than break things off and move on.

These days we are a very close couple, with a level of trust and communication that I don't see in many other relationships. I feel really, really lucky—and it was definitely worth sticking with it across all those miles.

Length of long-distance relationship: 18 months
Status: Ongoing 
(Some submissions have been edited and condensed.)
Update, 6/21/16: A previous version of this story stated that the longest distance between two partners was 11,767 miles (Coventry, England to Christchurch, New Zealand). It is actually 12,371 miles (Santiago, Chile and Xi'an, China). We regret the error.