There's Only One Government Agency With Its Own Special Anthem
The 1980s-era ditty is strangely catchy.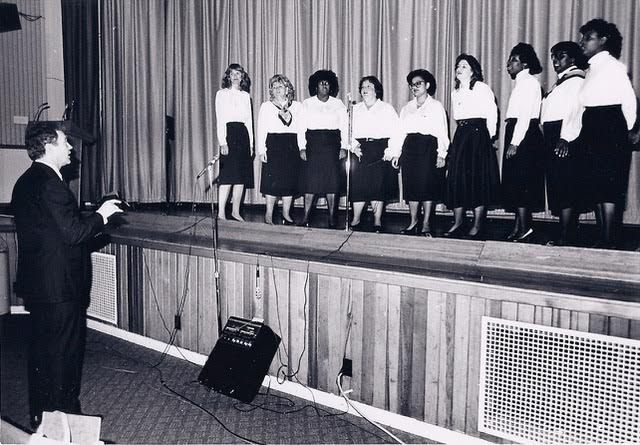 Government agencies are not renowned for their soulfulness. Hidden beneath opaque acronyms—DOL, PBGC, OSHRC, FMSHRC—the only hint of color these monolithic administrative bodies tend to display is the bureaucratic red tape that binds them.
But in a sea of otherwise dehumanized agencies one has set itself apart. The Federal Aviation Administration, better known as the FAA, regulates all aspects of civil aviation—airports, air traffic controllers, even commercial space vehicles. But where it differs from the rest of the acronymic morass is that it is the only government agency to have its own theme song.
"We're forty-some thousand strong,
Working together as we sing this song.
We are the people who can do the job when it's on the line.
We always know just what it takes, every hour of every day,
to keep you flying safe across this land and around the world."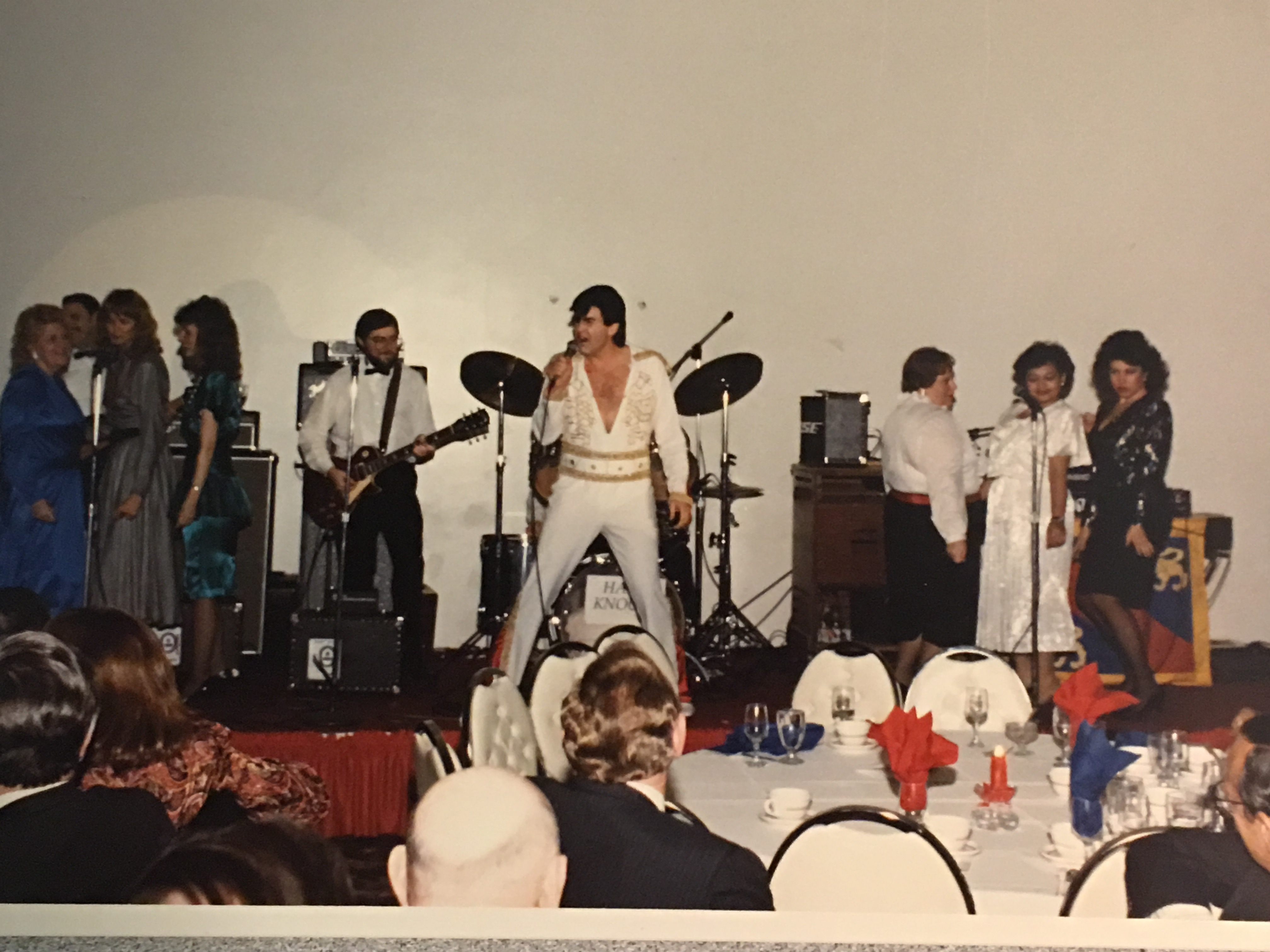 So goes the first verse of the FAA Theme Song, also known by the alternative title, "The People of the FAA." It's a catchy ditty, a Sly and the Family Stone-esque tune that sounds as if it had drifted in from a 1960s variety show, having stopped off via Sesame Street along the way. It actually stems from the 1980s, when John Hanks, a former Public Affairs Director of the FAA, decided his agency needed a lift.
Hanks was renowned around the agency's Washington offices for dressing up as Elvis Presley and performing at annual jamborees. It was while trying to drum up support for a savings bond drive that he first stumbled on the idea of forming a group made up of FAA employees. After posting ads in the FAA newsletter and around the agency's headquarters, Hanks pulled together an all-female group of 10 employees to perform a thematically appropriate composition entitled "Bonds Will Keep You Together".
In the only extant video of this song, the group—which became known as the FAA Chorale—can be seen shimmying and singing while wearing matching flight attendant uniforms of blue suits, white tops, and red scarves. For a few brief minutes they provided an alternative reality to government drabness, performing at bond drives year after year, not just at the FAA but across other agencies too.
Enthused by how well the FAA employees performed together, Hanks began working on his magnum opus as the 1980s drew to a close. "I am a child of the '60s pop culture," Hanks says of his influences. Inspired by the dense "Wall of Sound" productions of producer Phil Spector, he composed a song that was both salutation and exultation.
"It was designed to bring the FAA employees closer together in the common purpose we had in our mission of aviation safety," he notes.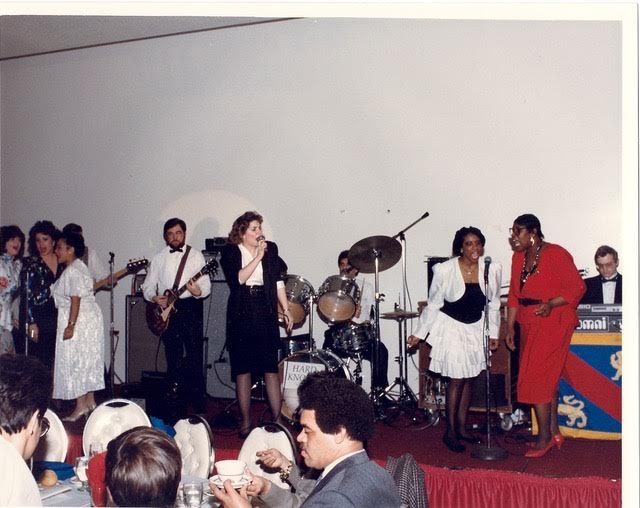 This may seem a tall order, but it was not one that Hanks shied away from, confronting the agency's mission head-on with verses such as:
"We're planning and building a way
to make tomorrow even safer than today.
While flying grows, so do we and that's what it's all about.
We want to help you get back home
in a jumbo jet or flying alone.
We make it safe up in the sky so you'll relax when you fly."
The song was a huge success. "The employees loved it," recalls Hanks, and even the FAA's administrator—a distant figure in the agency—wrote to Hanks to thank him. The FAA Chorale went on to perform at numerous events across the country, including at one of Nancy Reagan's "Just Say No" anti-drug rallies, following the headliner, Latoya Jackson, onstage.
There was really no precedent for such an anthem. While songbirds in the military have crafted dozens of themes and songs, organizational anthems within civilian agencies is much rarer. Indeed, such songs in praise of organizational acuity are much more common within private industry. Corporations once sponsored traveling musical revues—with budgets that often surpassed Broadway shows—to tout their products. (At American Standard Company's The Bathrooms Are Coming show from 1969, songs like the delicate ballad "My Bathroom" were first, and last, sung.)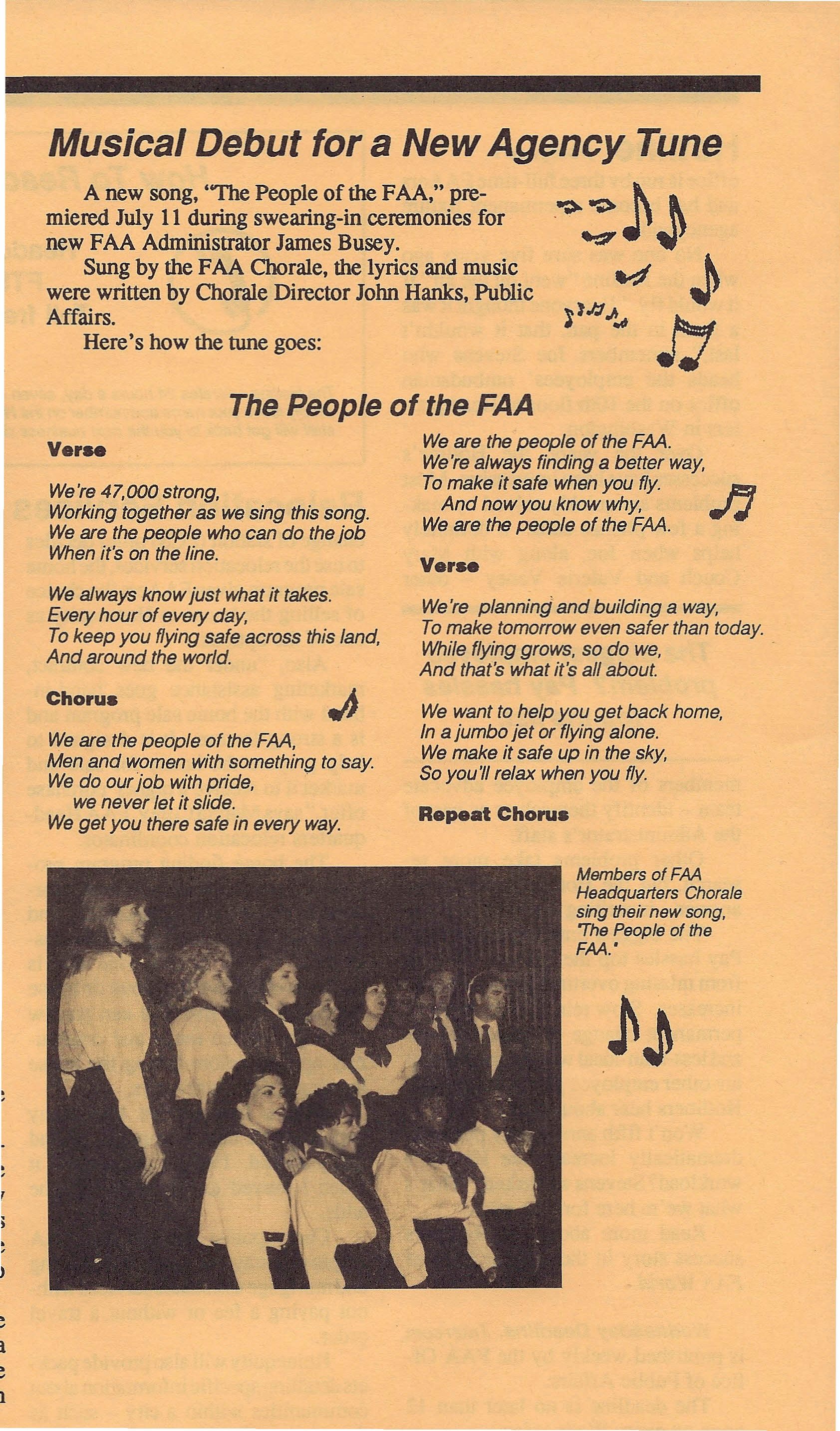 By the 1980s, though, corporate anthems had become more closely associated with Japanese firms, where they were sung to reinforce company spirit and improve overall morale, often being performed alongside morning exercises. The FAA is unique in being the only government agency to blow its own horn, literally.
While the song's appearance on YouTube has seen ungenerous commenters associating it with a misuse of governmental funds, these criticisms are misplaced. The song cost nothing to the taxpayer except the time, effort, and enthusiasm of Hanks and his musicians. You may think the tune is cheesy, the singers a tad off-key, but perhaps if the DHS, EPA or even FBI had anthems of their own, that showed the rest of the country they were normal people doing normal things, the popular antipathy towards government might be ever-so slightly lessened.
Thanks to John Hanks and the Chorale, the FAA became, for a short while, just a bit more human.