These Autograph Albums Are Filled With Ghostly Inkblots
Can you decipher the signatures within these splattered, ambigious shapes?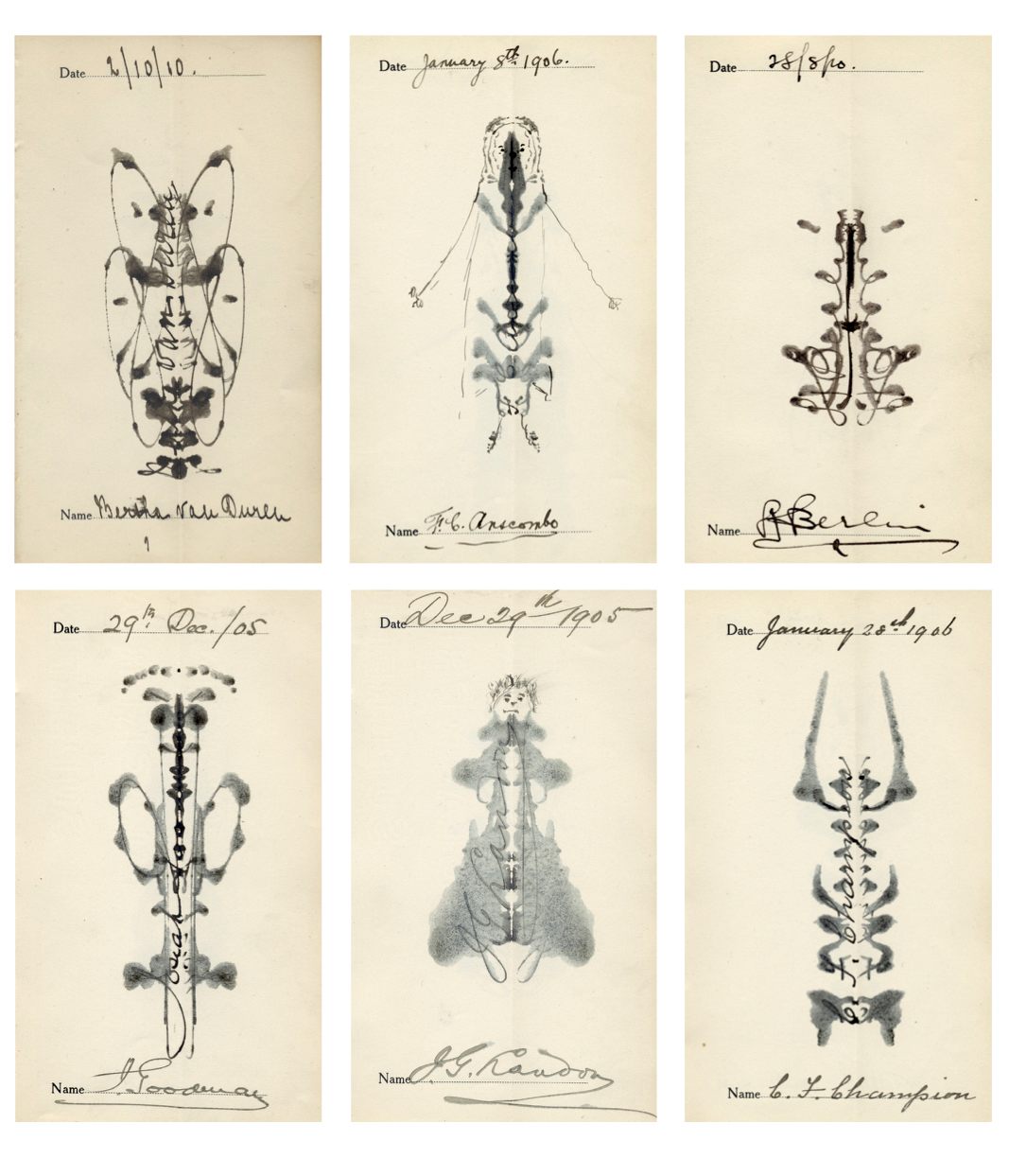 A signature can reveal a lot about a person. At least that's what many believed in the early 20th century when people collected signatures of friends, family, and celebrities in autograph albums. But there was one particular book that bled the ink of an autograph into creatures, coffins, bats, and skeletons.
Titled The Ghost of My Friends, it is a book of "ghost signatures," the well-inked swirls of a cursive autograph transformed into strange, elegant, and devilish inkblots. The smudges and splatters found in a booklet are akin to that of a Rorschach inkblot, but the linear thin tracks of a fountain pen give these ghostly inkblots a unique look.  The Ghost of My Friends was a popular item in London and New York, yet its exact purpose and place in psychological testing remains a mystery.
Signatures are more easily deciphered in some blots than others. Featured in Psychobook, edited by Julian Rothenstein, published by Princeton Architectural Press 2016. (Photo: Redstone Press Collection)
Inkblots began gaining popularity around the mid-19th century, when German poet Justinus Kerner accidentally dropped ink on paper. The nebulous shapes sparked images of "hades" and "hell," inspiring Kerner to write an entire series of poems published in 1890.
Simultaneously, people were generally interested in collecting autographs, filling albums in parlors and haggling celebrities to get their signatures. The Ghost of My Friends was a response to the fascination of inkblots and "a good way to get genuine autographs from celebrities otherwise tired of requests," suggests Kathy Haas, associate curator at the Rosenbach Museum and Library in Philadelphia, on the library's blog.
"The best in this kind are but Shadows." (Photo: MS-383, Local History Ephemera Collection, Special Collections and Archives, University Libraries, Wright State University, Dayton, Ohio)
The first known copy was published in London in 1905. It was compiled and authored by Cecil Henland, who had also authored other books including The Mind of a Friend and The Book of Butterflies. Not much is known about Henland aside from her marriage to Lieutenant Colonel Arthur Percival and her avid collecting of keepsakes. To set the tone of The Ghost of My Friends, Henland preludes the book with an eerie Shakespeare quote ("The best in this kind are but Shadows") and a poem by Gerald Villiers Stuart, appropriately titled "Ghosts":
"Shadows form in our ghostly past; Ho! Ho! young man. Ho! Ho! From forgotten graves they will rise at last; It is so, young man, it is so. You may run, you may dodge, you may Twist, you may bend, The flying phantoms win in the end; Ho! Ho! old man, Ho! Ho!"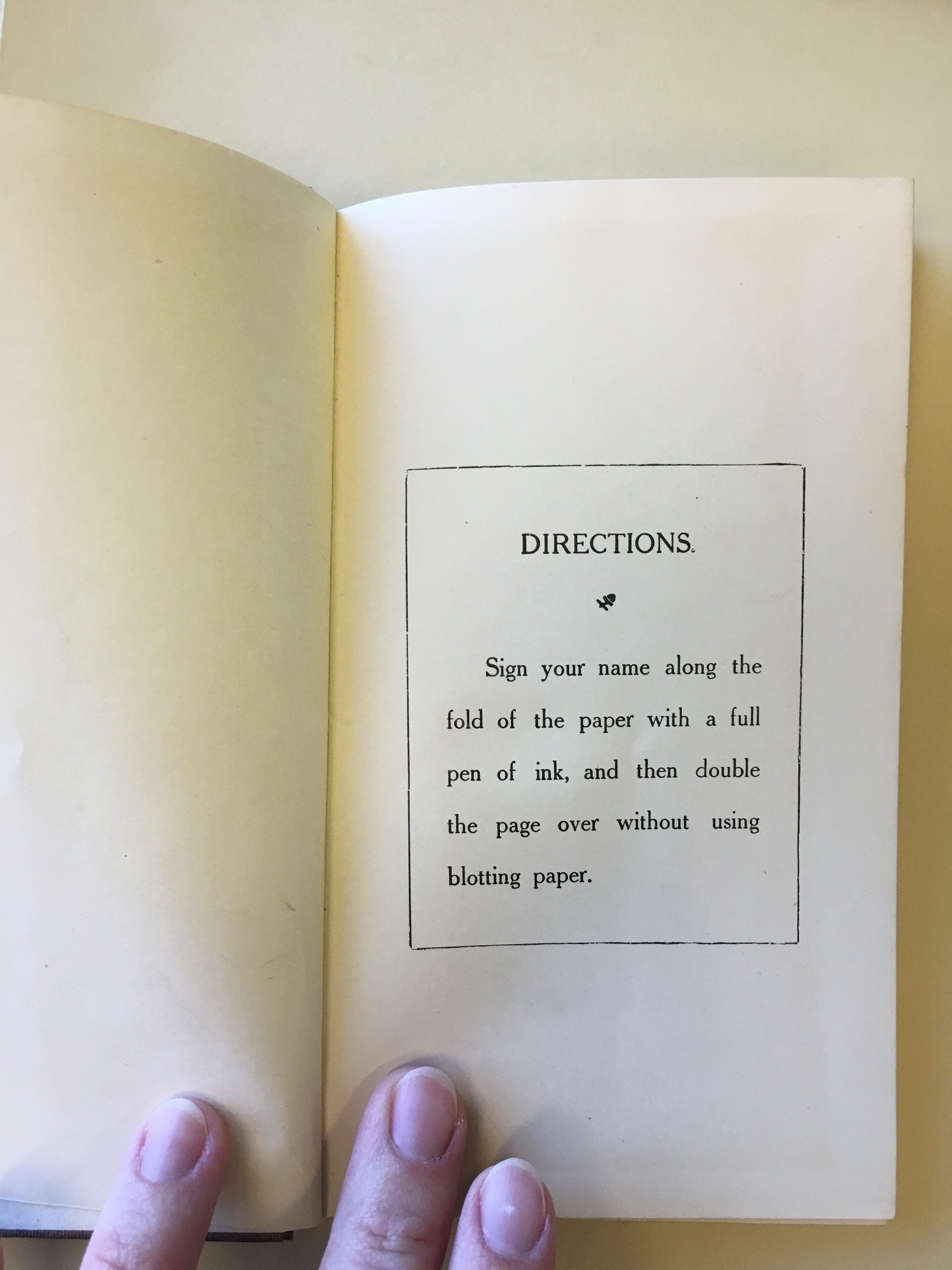 Simple directions. (Photo: MS-383, Local History Ephemera Collection, Special Collections and Archives, University Libraries, Wright State University, Dayton, Ohio)
There is nothing written on the intent of the book, only the simple instructions to "sign your name along the fold of the paper with a full pen of ink, and then double the page over without using blotting paper." The book consists of 48 blank glossy pages—optimized for the ink to bleed instead of soaking into the paper—that have two lines to print the name and date. Slow-drying Indian ink and fountain pens gave the best result on the glazed paper.
Inky birds, duchesses, monsters, and other creatures and objects your mind may interpret are found within The Ghost of My Friends, making it difficult (and in some cases impossible) to tease out the original signatures. For example, the cover and the first ghost signature, which vaguely resembles a stretched, dilapidated frog, is of an unknown "Ghost of a Celebrated General."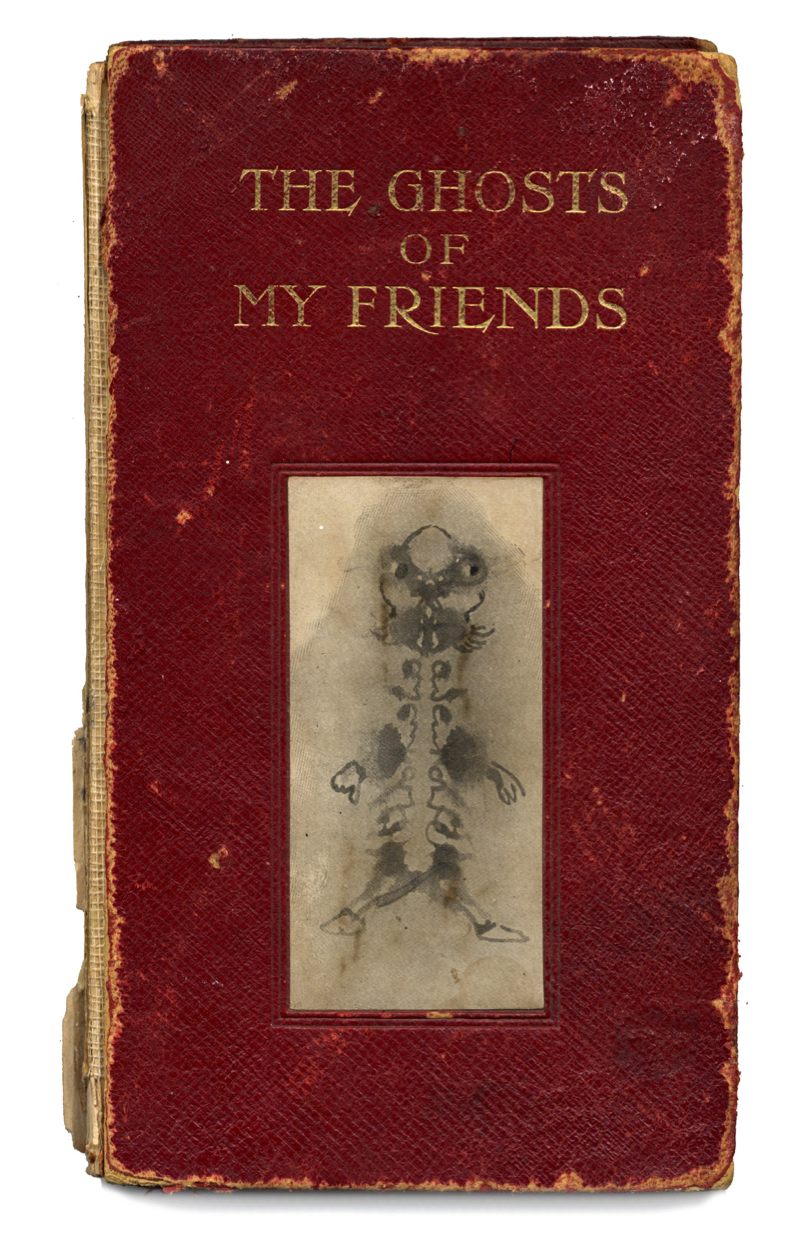 A filled book looks like a homemade alternative to the projective Rorschach inkblot test that has been commonly used to analyze personality traits and emotions. However, archivists and scholars are unsure if the ghost signatures were ever meant to be interpreted as a psychological test.
"It seems likely that Hermann Rorschach was familiar with this popular parlor game where you friends would sign a page in ink and then fold the page in half to create a unique inkblot that looked, as Mark Twain wrote in 1905 'something that looked like a skeleton,'" says Julian Rothenstein, the editor of the recently published Psychobook which features ghost signatures from a copy of The Ghost of My Friends.
Some rare, pricey copies of The Ghost of My Friends contain high-profile autographs. As Rothenstein mentions, Mark Twain wrote a letter in 1905 to his daughter Clara describing the ghost autograph fad, even sending one of his own to her. Winston Churchill, actress Sarah Bernhardt, American bass singer and Civil Rights activist Paul Robeson, and Australian opera singer Dame Nellie Melba are even commemorated in inkblot form.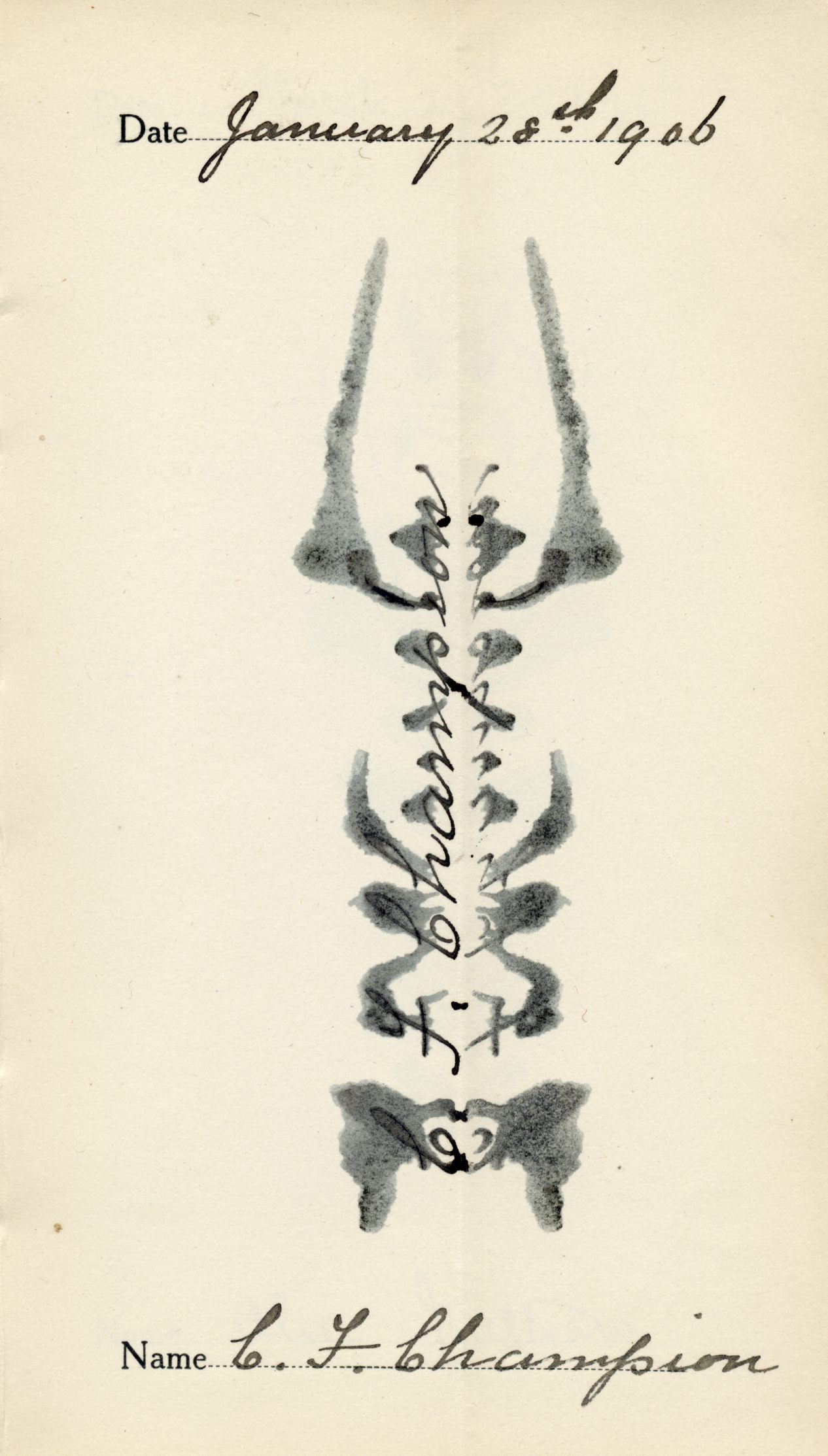 The strange autograph book was a short-lived fad, but it was enough to distribute an ample amount of copies throughout the Northern America and England. Books have been found in Cleveland, Ohio and Ontario, Canada, while about 40 known copies are held in libraries in the United States. It's quite easy to recreate ghost autographs of your own. Fans of the original The Ghost of My Friends, Reflections of My Friends, make and sell modern replicas of the book.
Today, the signatures found in this haunted early-19th century book can be considered true "ghost autographs," the names and people forever immortalized. Maybe after all these years, The Ghost of My Friends could reveal something about the inscribers: "Ghost autographs might be the starting point for all sorts of discoveries," says Rothenstein.   
Object of Intrigue is a weekly column in which we investigate the story behind a curious item. Is there an object you want to see covered? Email ella@atlasobscura.com.