What Tookoolito Taught Explorers About the Arctic
In the mid-19th century, white ship captains relied on the Inuit woman and her husband to survive the unforgiving conditions of the Northwest Passage.
For Women's History Month, Atlas Obscura is living on the edge with Women of Extremes, our series dedicated to those who dared to defy expectations and explore the unknown.
In 1845 Captain Sir John Franklin led the HMS Erebus and HMS Terror to navigate the Northwest Passage. Both ships promptly disappeared and the 128 crew and their captain were never heard from again. It was a mystery that gripped the Western world and demanded an explanation. Charles Francis Hall believed he was the man to solve this mystery and set out to do so, voyaging north on numerous occasions to search for clues.
But this isn't Franklin's story. And it's not Hall's story. We aren't interested in Franklin's disappearance or in Hall's mysterious death as he searched for the missing explorer and his crew in 1871. We're here for what happened after Hall's demise when the surviving crew aboard the USS Polaris became locked in ice on Smith Sound in October 1872. We want to know how, when the ship's hull was crushed, 19 crew members spent six months stranded on the Arctic ice floes and survived.
That is Tookoolito's story. The local knowledge and resourcefulness of the Inuit guide and her husband, Ebierbing, saved the lives of the Polaris crew.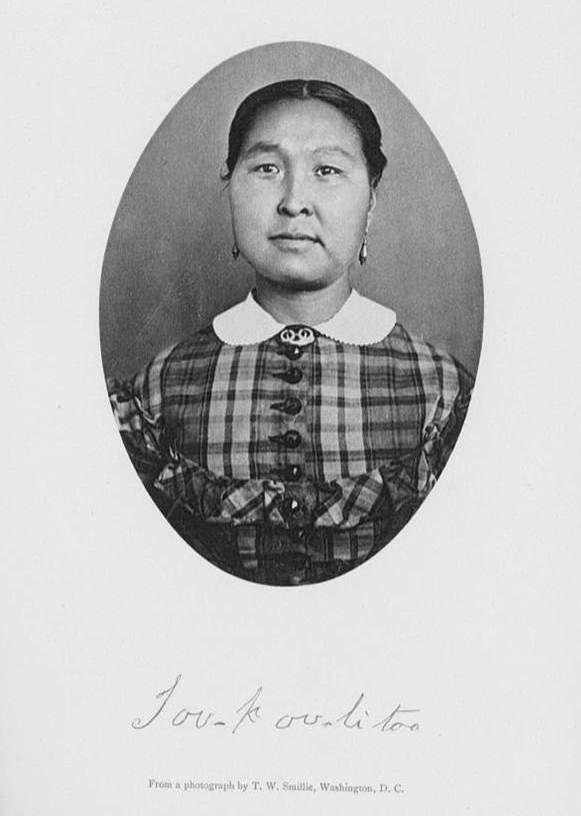 According to John Bennett and Michelle Filice writing in the Canadian Encyclopedia, Tookoolito— also known as Hannah and Taqulittuq—was born in 1838. She worked as a translator and guide, along with Ebierbing whom she had wed when they were both teenagers. Recognized by the Canadian government as Persons of National Historic Significance, Tookoolito and Ebierbing significantly contributed to non-Inuit knowledge of the North, Bennett and Filice write.
Their first meeting with Hall came in 1860 when his ship, George Henry, was wintering in the Davis Strait between Greenland and Baffin Island. With time to pass, Hall spent the days with the Inuit, learning about their culture, as Chauncey Loomis, the late Dartmouth professor and Arctic historian explains in Weird and Tragic Shores, The Story of Charles Francis Hall, Explorer.
"The arrival of a remarkable Eskimo couple made his education easier," Loomis writes. "They were Ebierbing, called Joe by whalemen, and Tookoolito, called Hannah, and Hall's meeting with them was an occasion of moment in his life." (Although once commonly used to refer to the Inuit and Yupik peoples, the term "Eskimo" is now deemed offensive and no longer used.)
Loomis writes that the pair's reputation as guides had preceded them, but Hall was surprised by what he perceived as Tookoolito's "refinement," that is, the European customs she had embraced while working as a guide to English explorer Thomas Bowlby and later traveling in England. "[Her] voice was that of a refined woman… [he saw] a woman dressed in crinoline and wearing a large bonnet," Loomis says of their meeting.
"Tookoolito adopted English customs and ways of life—such as drinking tea and wearing English clothing—she still maintained her Inuit culture," explain Bennet and Filice. She had adopted some Victorian attitudes, too. "'I wish no one would swear…It is a very bad practice, I believe,"" Tookoolito reportedly exclaimed, according to excerpts from Hall's diary.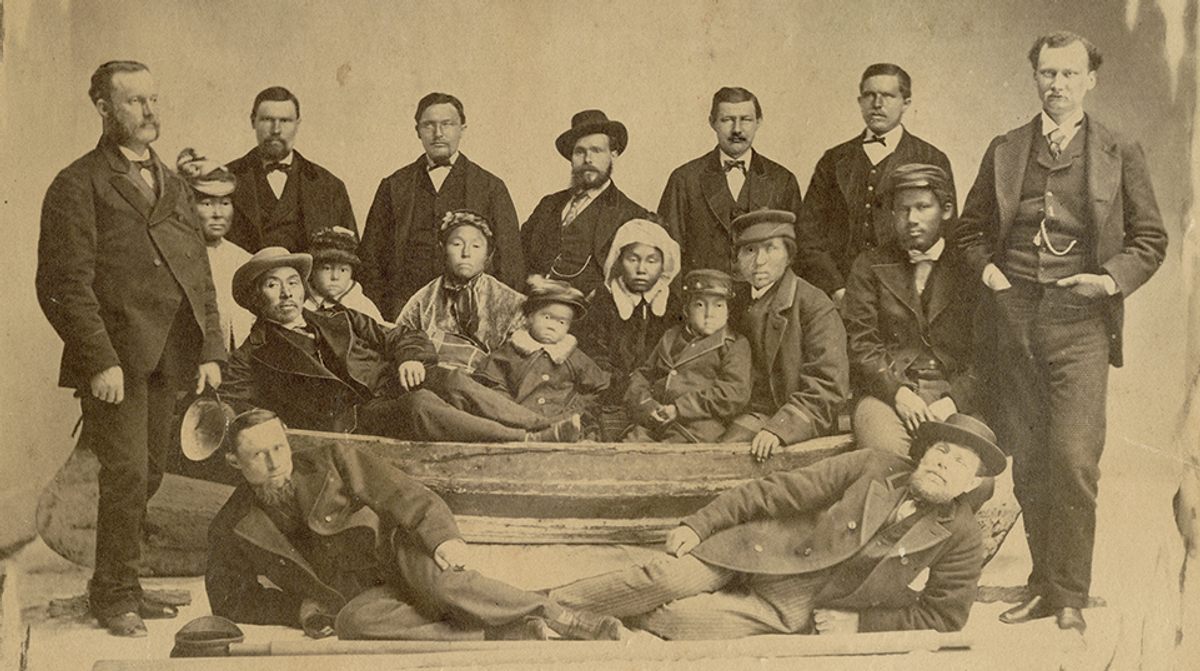 Tookoolito and Ebierbing were there to teach Hall the customs of their own region, and in doing so, ensure the survival of his men. Tookoolito cut off Hall's beard so it wouldn't become crusted with ice during a storm, and later, when the party were starving during their first shared expedition in in the early 1860s and Hall asked to eat the rotten strips of whale meat Tookoolito had saved for their sled dogs, she prevented him from eating them and becoming violently ill.
Recounting how the group had survived this first Arctic trip, Loomis writes that "Hall, of course, had also been preserved by the 'native Innuit [sic] tribes of the icy North' themselves; without Ebierbing and Tookoolito, he inevitably would have died."
The pair's association with Hall would last over a decade, the relationship only ending upon Hall's death. During that time, Tookoolito gave birth to a baby boy and then another, both of whom died. She and Ebierbing adopted a young girl (exact age unknown) before Hall's last expedition in 1871. Their daughter was with them during the terrible six-month ordeal on the ice.
The group is believed to have drifted about 1,200 miles* off course, surviving due to the hunting skills of Ebierbing and the common sense of Tookoolito. They were eventually rescued in the Labrador Sea by a sealing ship.
Tookoolito and Ebierbing's daughter's health was compromised by her time in the wilderness, and she died in 1875. Tookoolito retired, moving to Groton, Connecticut, a region of the country she had visited with Hall on an East Coast lecture tour in the fall of 1862; Tookoolito and Ebierbing were exhibited as curiosities from the Arctic. She died in 1876, at age 38. Ebierbing returned to the Arctic, accompanying an American expedition in 1878 to find the Northwest Passage before his own death around 1881.
The hardships and early deaths of Tookoolito, Ebierbing, and their children are an all too familiar story in the history of native peoples and Western expansion. Arguably, their names should be remembered longer than those of Hall and Franklin. Without Tookoolito, these white men would very likely have frozen, starved, or otherwise perished long before the history books had ever heard of them.
*Correction: A previous version of this story misstated the distance the crew of the USS Polaris drifted. It was an estimated 1,200 miles.