The Evolving Art of Well-Dressing
Tissington's famed plant-based installations have moved beyond traditional biblical scenes.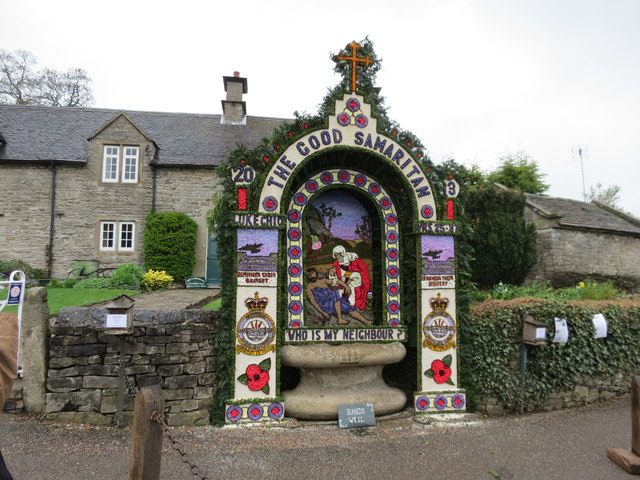 In May of 2012, as they do every spring, thousands of people flocked to the village of Tissington, to ooh and aah what is widely considered to be the best set of well-dressings that Central England has to offer. The craft, which is unique to the Derbyshire region, sees artists spending days pressing flower petals, leaves, and other natural materials onto boards that have been caked with clay, forming intricate illustrations that are then propped up on top of the village's water sources. The creations only last about a week before they fall apart.
That year, tourists walked between Hands Well—an illustration of the Old Testament verse in which the prophet Samuel anoints King Saul with a flask of olive oil—and Yew Tree Well, which showed Jesus, clothed in purple robes, cradling a lamb. Then they headed over to Town Well, where some of them were in for a surprise. Instead of a Biblical figure, Town Well's artwork centered on the Gruffalo, the fuzzy, toothy star of the popular children's book of the same name. Where other well-dressings were captioned with "The Lord's My Shepherd" or "Samuel Anoints Saul," the legend arcing over this one read "Oh help! Oh no! It's a Gruffalo!"
"There was some controversy" over this particular well-dressing, says Rosemary Shirley, a senior lecturer in art theory and practice at Manchester Metropolitan University. "It was done by a young designer, and there was a certain amount of hemming and hawing. But it was also this amazing moment—a bit of a break with the past."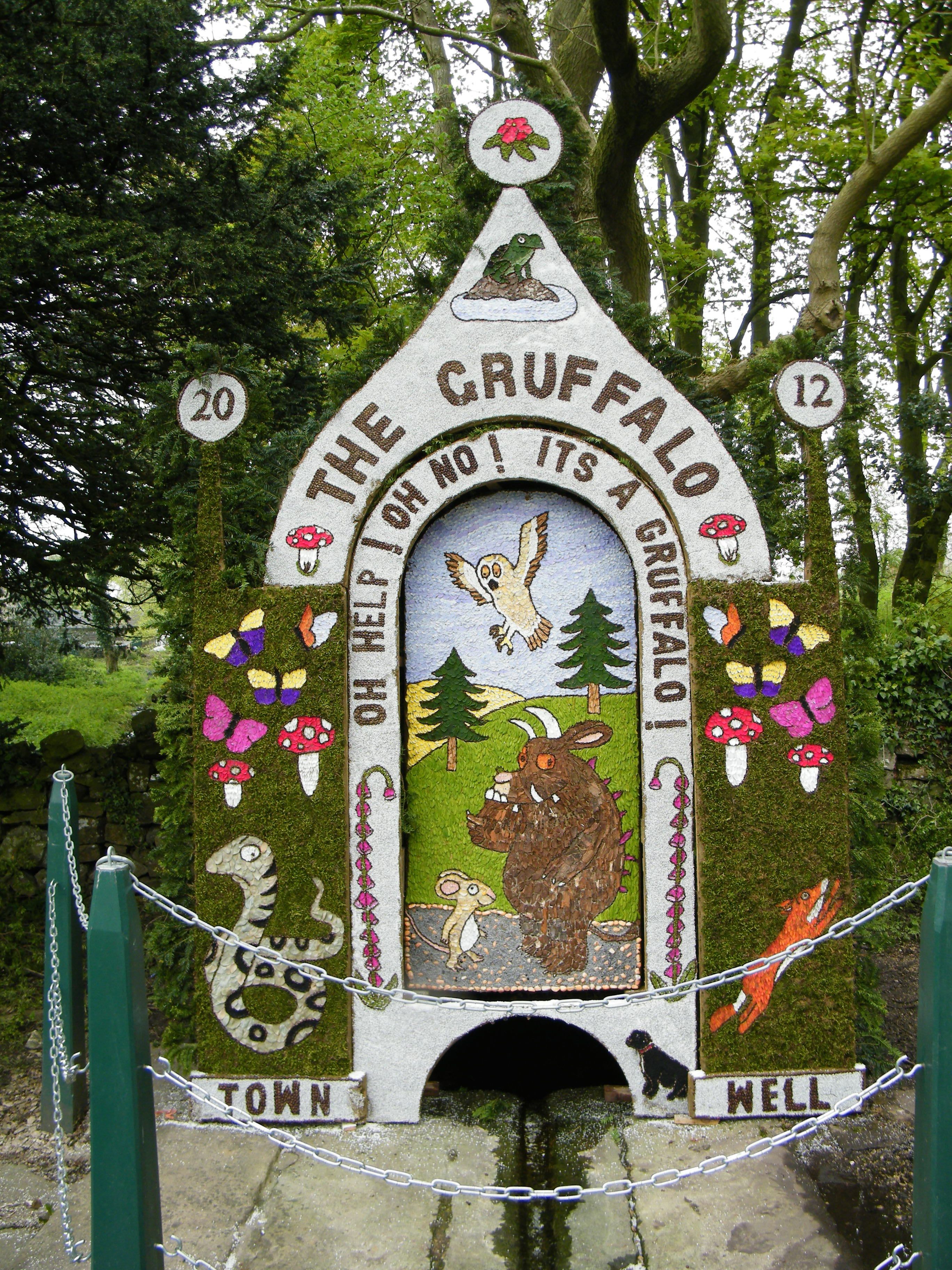 Shirley has been fascinated by well-dressing for most of her life, ever since she first encountered it on a primary school trip, where it struck her as surreal and somewhat outside of time. "It always felt as if it was something strange that I had imagined—like, 'What was that? Did I make it up?'" she says. As this initial fascination has grown into a more scholarly interest, she has watched the art form change in turn, its traditional themes making room for more modern concerns, even as much of the methodology stays the same.
No one is quite sure when well-dressing began. As Shirley writes in a recent article, the first recorded mention of it comes from 1818, when a scenery enthusiast named Ebeneezer Rhodes wrote of "an ancient custom" in Tissington involving "boards… covered in moist clay into which the stems of flowers are inserted… to form a beautiful mosaic work, often tasteful in design, and vivid in colouring." The village itself cites two possible years of origin: 1348, when an outbreak of plague skipped the village due to their pristine water supply, and 1615, when that same water supply saved everyone from a drought.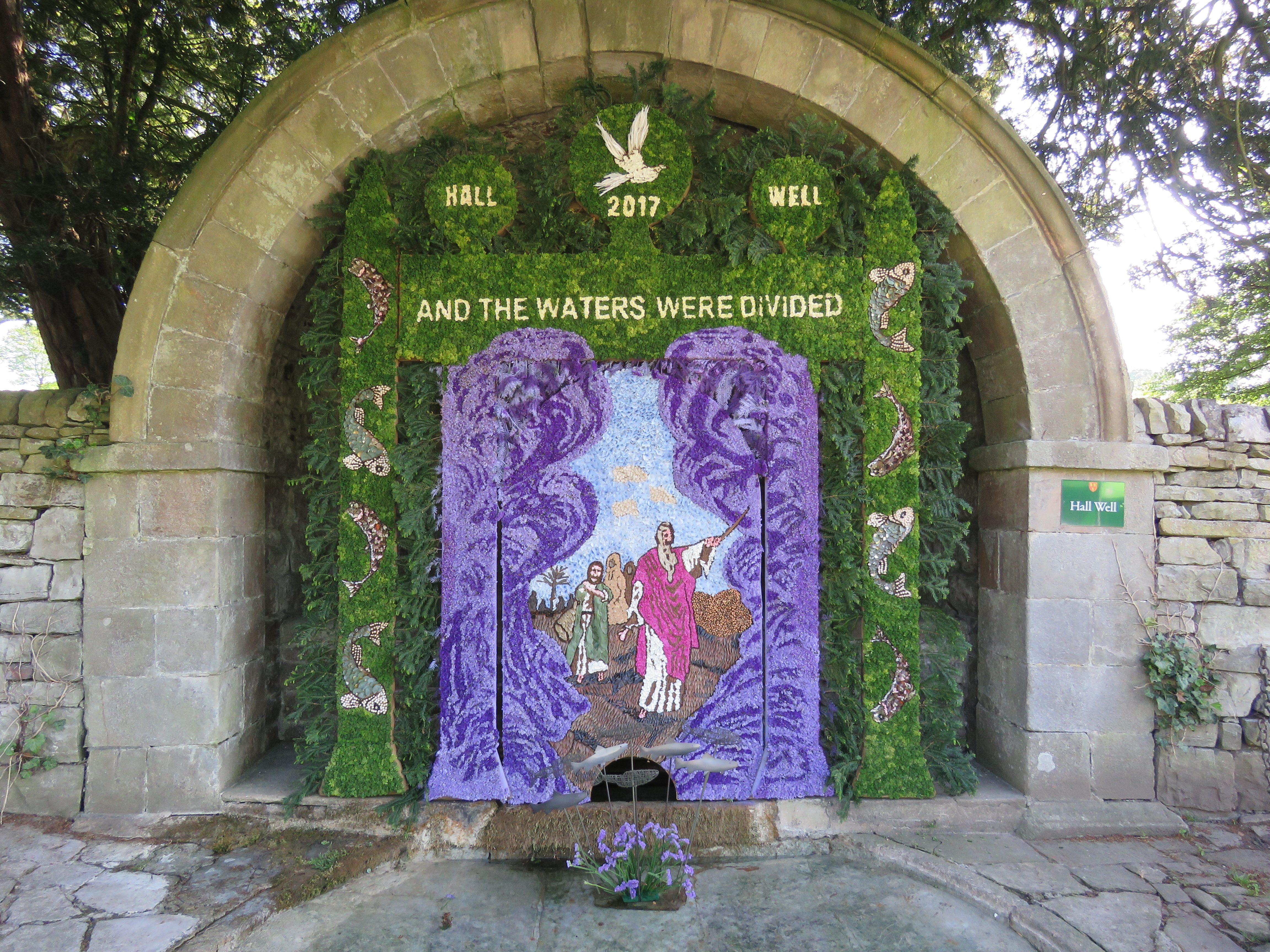 Over the intervening centuries, the custom has spread to villages across Derbyshire. According to welldressing.com, which features an exhaustive calendar, there's a display going on at one village or another from early May straight through until the end of August. But most people agree that Tissington still sets the gold standard. "They've always been very elaborate, and very detailed," says Shirley.
To uphold this reputation, designers in Tissington plan their well-dressings all year. "If someone buys [a designer] a bunch of flowers, she's thinking 'Ooh, could I dry these? What color would they turn?'" Shirley says.
The process begins in earnest in late April or early May, a week before Ascension Day, when the artworks first go on display. The artists start by floating large, variously shaped timber boards in the village pond until the wood swells with water. They then dig up clay from a seam under a nearby field, stomp on it until it's pliable, and then spread it over each board "until it resembles a wax tablet," writes Shirley.
Then comes three days of pedal-to-the-metal, petal-to-the-board decorating. Teams of villagers crowd around the boards, "painting" their designated picture with materials they've gathered and prepared over the course of the year. First come either coffee beans or alder cones, to form solid black outlines that correspond to a drawing the designer has made.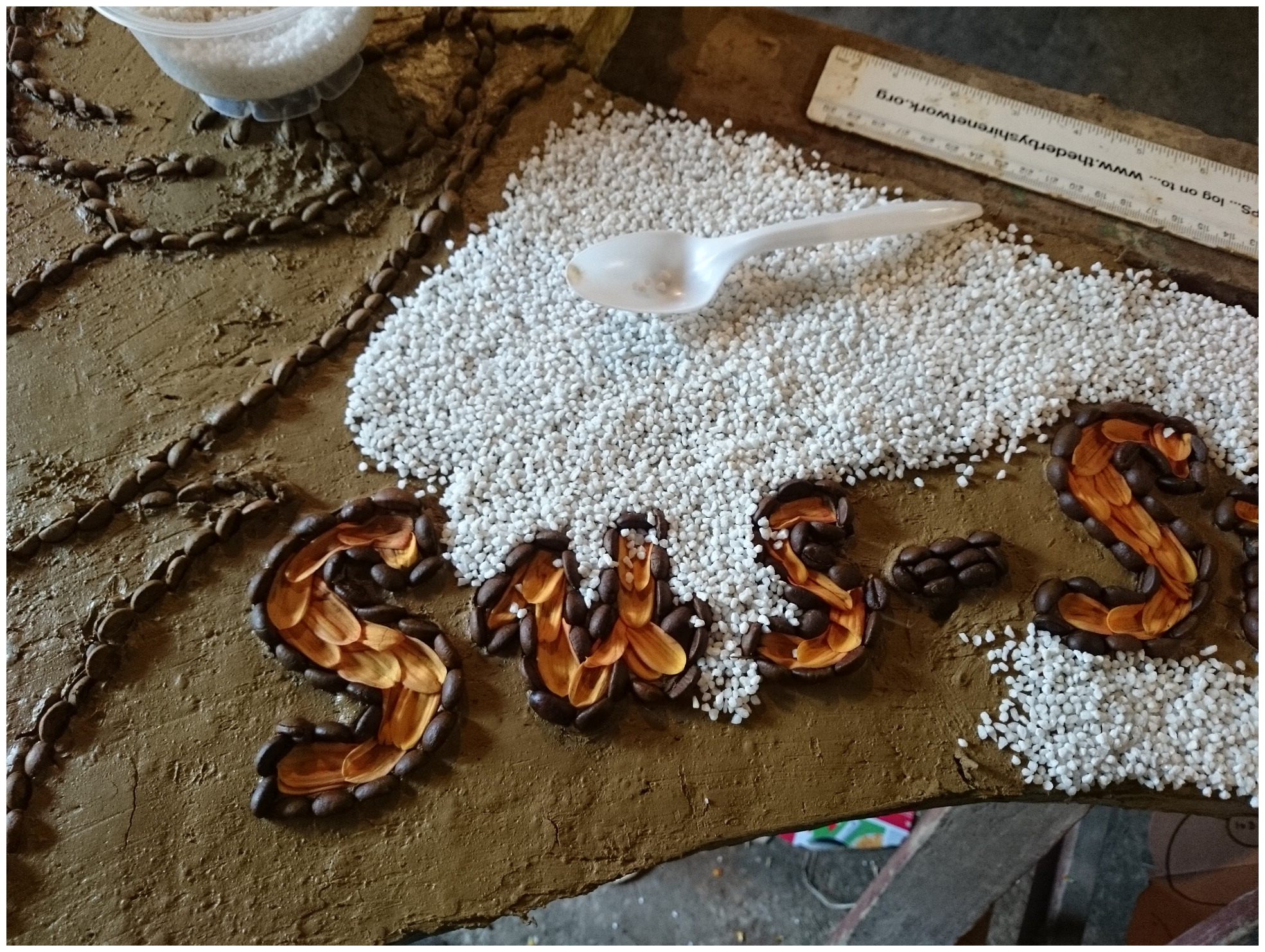 These are then filled in by flower petals, leaves, catkins, and other bits from nature, all chosen for their color and texture. (Over the years, Shirley writes, some more traditional elements have been swapped out for less natural ones: where well-dressers once made clouds out of a shiny white local stone called fluorspar, it has become expensive and hard to find, and they now often substitute white fishtank gravel from China.) The petals are overlapped like roof tiles, so that if rainstorms come, the water slides right off.
Throughout, the decorators share news and gossip, breaking occasionally for homemade tea and cakes. "It's a really addictive process," says Shirley, who helped build a well-dressing in 2016, as part of her research. "It's slighty meditative—there's a rhythm to it. And when you've finished, it's very satisfying." Perhaps because of this, Tissington's well-dressers tend to take up the task again and again, passing on knowledge and techniques to their children and other newcomers. "The format they use has not changed for about 200 years," says Shirley.
Their subject matter, however, is slowly shifting. "Traditionally in Tissington, there's a Biblical centerpiece," says Shirley, but over the past couple of decades, the designs have begun branching out. In the year 2000, every well in Tissington was dressed religiously: wishing Jesus a happy second millennium, or celebrating St. Francis's "Circle of Days." Fast forward 12 years, and you've got details themed around the Olympics and the Queen's Diamond Jubilee, not to mention that full-sized ode to the Gruffalo.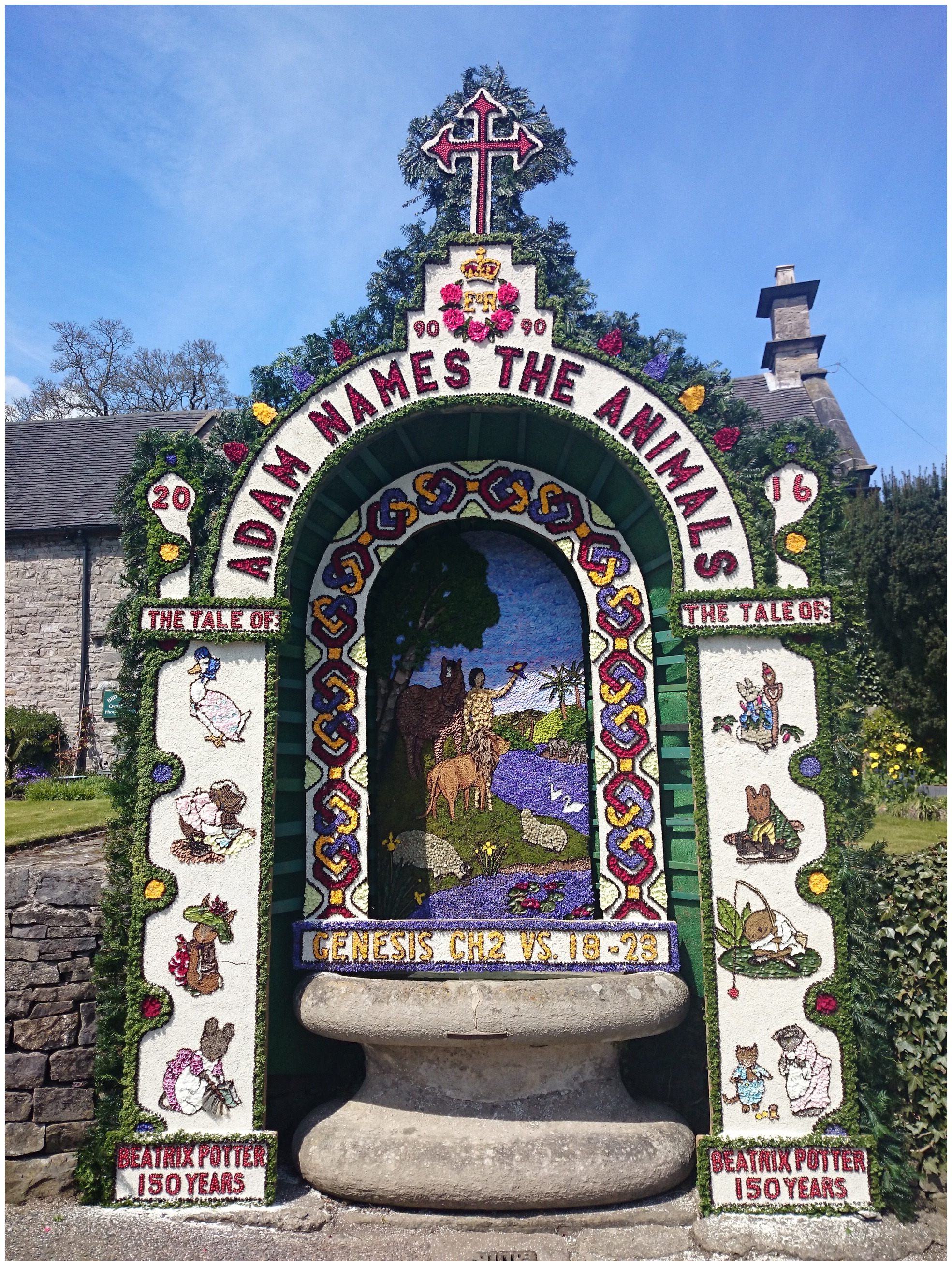 Often, designers will meet in the middle, as with one beloved 2016 specimen that combined Adam's Naming of the Animals with illustrations of Peter Rabbit and Jemima Puddle-Duck, to honor the 150th anniversary of Beatrice Potter's birth. (This year, there were dressings themed around zoo animals, World War I, and another popular children's book, A Squash and a Squeeze.)
Though they may stray from strict tradition, most of these more modern themes don't lose sight of a broader goal: to "project the idea of an English village," says Shirley. Military history, royalty, and even children's book monsters sit within this framework of, "safe and cozy things or themes that reflect a traditional or nostalgic idea of British identity—things that people want to see when they're engaging in a day out in the countryside."*​ This bounded flexibility is helping the art form thrive: about 35,000 tourists visited Tissington this past well-dressing season. "There's more well-dressing in 2017 than there was in 1950," says Shirley.
At least a little of that burgeoning interest might be attributed to the Gruffalo. "It turned out to be the most popular [that year]," says Shirley. "It has gone down in well-dressing myth."
*Update 9/7: This story has been updated since it was first published. A quote from Rosemary Shirley has been expanded to clarify the relationship between well-dressing themes and British tradition.