What Happens When Sister Cities Break Up?
In October 2018, the Japanese city of Osaka broke off its 60-year relationship with San Francisco, California.
For 60 years, the cities of San Francisco, California, and Osaka, Japan, enjoyed a robust cultural partnership. The two port enclaves were "sister cities," a designation that illustrates one of several post-World War II attempts to embrace ethnic diversity and multiculturalism.
Like all sister cities, Osaka and San Francisco's bond was built around the sharing of ideas and heritage. In the past, this has taken many forms, from student exchanges and remote learning programs to ambassadorial delegations, all of which have been used over the course of the six-decade relationship to foster cultural understanding. But this sororal connection became strained in the fall of 2017, when a statue honoring "comfort women," who were enslaved in Japanese brothels during World War II, was constructed in San Francisco. After a year of repeated threats, Osaka mayor Hirofumi Yoshimura sent a 10-page letter to San Francisco mayor London Breed in October 2018 in which he wrote, "I am afraid to announce that the City of Osaka must hereby terminate its sister city relationship with the City and County of San Francisco."
But what does it mean for sister cities to breakup? And what does it mean, more specifically, for Osaka and San Francisco?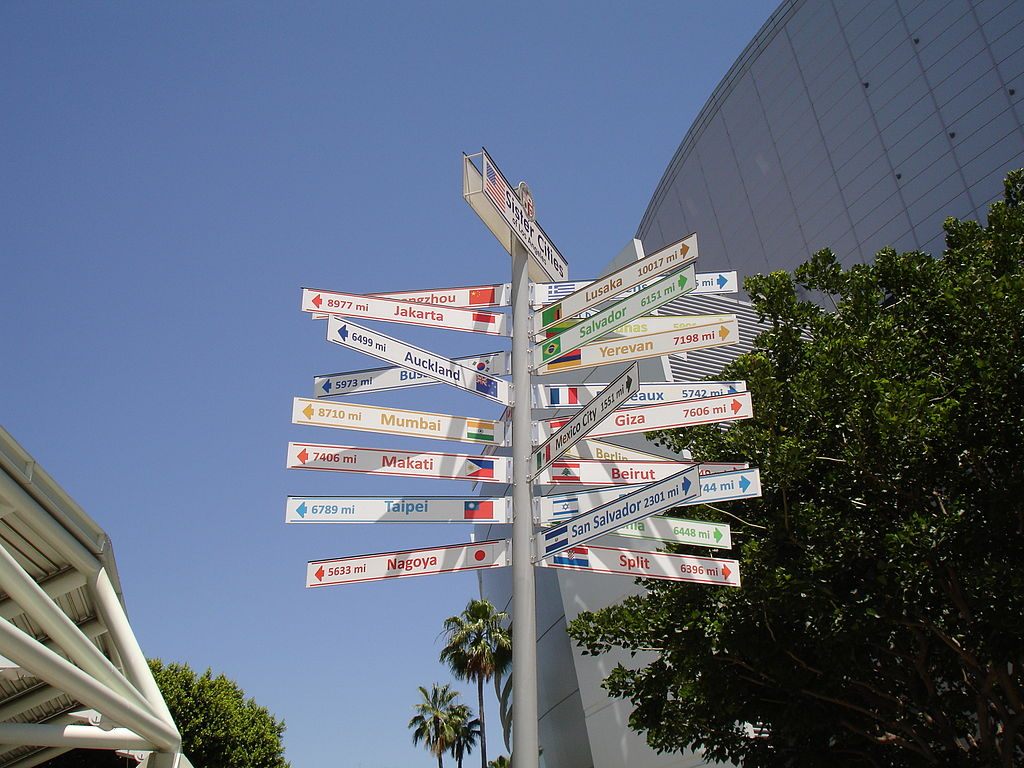 While the concept of "sister cities" predates World War II—with Toledo, Spain, and Toledo, Ohio, signing a twinning agreement in 1931—these relationships have flourished in the decades since the conflict. In 1956, U.S. President Dwight Eisenhower created the Sister Cities International program to improve relationships between countries around the globe. The nonprofit is the national membership organization for all sister cities, counties, and states that exist in the United States with ties to 140 countries across the planet. The U.S. president is considered the honorary chairman of the organization, even though it is not officially part of the federal government.
(A note about the lexicon here: The term "sister city" is usually utilized in reference to a relationship involving a city in the Americas, whereas elsewhere, other terms, including "twin towns," are used.)
Individual sister-city relationships are orchestrated by smaller associations across various U.S. cities under the support and guidance of SCI. The sister-city relationship is usually one that has taken a few years to put together and organize, from establishing lines of communication to agreeing on what the actual partnership will entail. During this period the two cities are known as friendship cities, which is considered the first step to sisterhood. SCI also has a cities-seeking-cities personals page where lonely cities can find partners. Once the relevant representatives sign a memorandum outlining the relationship, it becomes official.
Some of the earliest sister-city relationships were formed out of humanitarian efforts. When American towns began noticing how British people sent relief packages to European countries recovering from the war, they decided to do the same. In 1955, one year before the formation of SCI, the city of St. Paul, Minnesota, became the first American city to establish a relationship with an Asian city by entering a sister-city agreement with Nagasaki, Japan. Minnesotans immediately began sending medical supplies to Nagasaki, which was still suffering a decade after the atomic bombing.
Today, these relationships take on many forms. While they can spawn from superficial similarities, such as two cities sharing a name, they can be mutually beneficial for both cities' economies and their diaspora communities. In Charleston, South Carolina, the Spoleto Festival USA brings performers, opera singers, and other artists from its sister city of Spoleto, Italy, every year, generating millions of dollars in tourism. The relationship between San Antonio, Texas, and Kumamoto, Japan, led to the creation of a Toyota manufacturing factory in the Lone Star city in 2003.
One of the core principles of the SCI program, as Eisenhower envisioned it, was to create a program where politics could not interfere. "As far as we are concerned, and obviously as far as President Eisenhower's thoughts were, in establishing sister-city relationships, these relationships would be above politics," says Kathleen Kimura, co-chair of the SF-Osaka Sister City Association.
However, it's not always possible for these exchanges to remain apolitical. When the city of Lansing, Michigan, learned about the discrimination against LGBTQ individuals taking place in St. Petersburg, Russia, the city council voted to sever the sisterly relationship (though some said it had already been defunct). In the city of Laguna Niguel in Orange County, California, the mayor was forced to put their relationship with Al Qa'im, an Iraqi town, on hiatus in 2014 after learning the latter city had been taken over by ISIS.
But the question still remains: What does it actually mean for two sister cities to split? The answer is, frankly, not a whole lot.
According to SCI's Partnership Agreement Toolkit, for a U.S. city wishing to end a relationship, letters must first be sent from the highest ranking official in that city to the mayor of their international sister informing them of the decision. Next, SCI must be notified by that U.S. city's mayor in writing. The relationship is then removed from all directories and listings. If a foreign city has no desire to maintain a sister-city relationship, SCI again must be notified by the U.S. city's mayor so the partnership can be removed. In similar fashion, a hiatus can be applied, if two cities wish to remain sisters, but maintain an inactive relationship.
But even after going down that formal path to termination, it's extremely difficult to end a genuine decades-long bond with the swoop of a pen. While Kimura says the Osaka-San Francisco decision is disappointing, her organization will continue to work with Osaka and so will the city of San Francisco.
"Typically the relationships become personal relationships between dozens and sometimes hundreds and thousands of people within the cities," says Anthony Al-Jamie, President of SoCal Sister Cities Organization, a group that connects cities in Southern California with international siblings. "Those can't come to an end when one mayor says he wants to cancel something." Mayors aren't permanent political figures, Al-Jamie also notes, and often these bonds outlast those elected to office.
In the case of Osaka and San Francisco, the break-up stems from the construction of what is known as the "Column of Strength" statue. It depicts three young women standing atop a pedestal holding hands in a circle facing outward. The trio represents the thousands of women from China, Korea, and the Philippines who were forced into sexual slavery at brothels known as "comfort stations." On the ground, gazing up at them, is a statue of Kim Hak-Sun, the first woman to go public about her life in those comfort stations.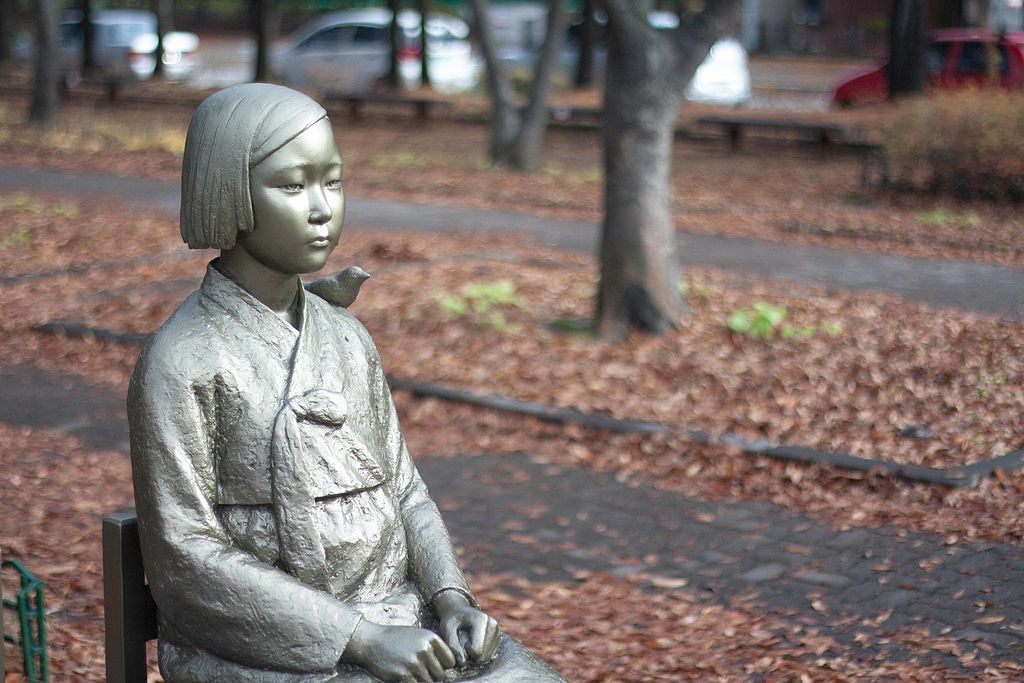 Brothels were a staple of the Japanese military between 1932 and 1945. Japanese, Korean, Filipino, and Chinese women and children were kidnapped, coerced, tricked, or sold by their families into sexual enslavement. They made up a majority of the enslaved individuals, but women and girls were also taken from Burma, Thailand, Vietnam, Malaya, Taiwan, Portuguese Timor, the Dutch East Indies, and many other Japanese-occupied territories. It's estimated that less than 10 percent of women relegated to comfort stations survived the war.
It wasn't until 1993 when the Japanese government formally acknowledged the operation of comfort stations during the war. However, there have still been ongoing denials. In 2007, Japanese Prime Minister Shinzo Abe stated that women were not forced to work in the stations.
This is also not the first time that a statue dedicated to comfort women has angered Japan. In 2011, one was erected in front of the Japanese embassy in Seoul, South Korea, then another outside the country's consulate in Busan in 2017. The latter incident angered the Japanese government so much that they removed two diplomats from South Korea and threatened the validity of a compensation package to the victims which consisted of one billion yen (around $9 million). When Taiwan unveiled its own statue in 2018, the government issued several statements again calling for it to be taken down and lambasting it as "one-sided history."
Although Kimura says she understands the political pressure Yoshimura is under, she adds that she did express to him during a visit that these links were supposed to be above political discord. Going forward, Kimura says that the SF-Osaka Sister City Association will continue with student ambassador programs and people-to-people exchanges.
"I think that there is great hope that the relationship," she says. "The official relationship will be repaired ultimately. "