How to Win a Hair-Freezing Contest in Northern Canada
"Finally, I could have zero-gravity hair!"
Even in the dark, subarctic winters of the Yukon Territory, hot water flows from the depths of Earth's crust into Takhini Hot Springs at the toasty temperature of 116 degrees Fahrenheit. The natural hot tub, which attracts hundreds of locals and tourists annually, lies just outside the city of Whitehorse. For most of the year, visitors spend hours relaxing in the mineral-rich and odorless waters, which are privately owned by the company Takhini Hot Pools. But much more is at stake during winter months, when the pools become heated arenas for the world's only frozen-hairdo competition.
The Hair Freezing Contest is a challenge of both art and science. Participants dunk their heads underwater, emerge into the frigid air, and style their locks into stiff, eye-catching sculptures. Depending on one's creativity and luck with the elements, the results range from frosty, mop-like tangles to dramatically manicured spikes.
"All this rising steam collects on your hair and freezes really quickly when it meets the cold air," says Andrew Umbrich, co-owner of Takhini Hot Pools. "You can get good results within 15 minutes if it's cold enough."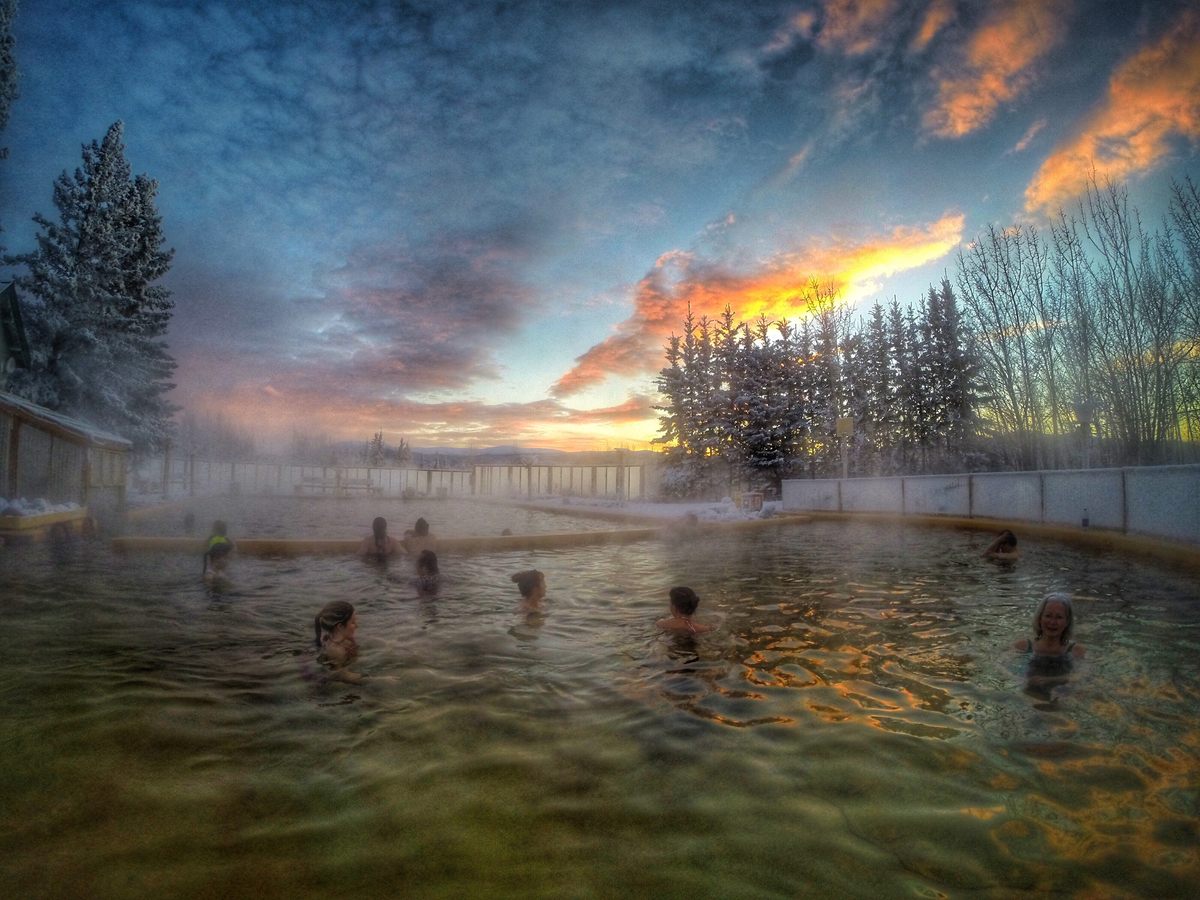 It's worth splitting hairs when deciding on a final look: Winners for this year's contest, which opened last December and closed earlier this month, earn $2,000 (in Canadian dollars), free soaks, and a 12-punch pass for a new facility set to open this fall. Hair must be completely frozen—a feat best achieved when the air is 40 below zero. Once coiffed, entrants ring a wireless doorbell to notify a staff member to photograph them.
"We want to see white frost everywhere," Umbrich says, adding that the superficial layer of ice causes no damage. "People try to put snow on their heads and pass it off, but that never works. You want to try to defy gravity as much as possible, mold and sculpt the hair into a specific look."
Humans have enjoyed the springs for centuries, starting with members of the Ta'an Kwäch'än First Nation. The council's former leader, Chief Jim Boss, is said to have kept an old bathtub on the site; during the Klondike Gold Rush, he asked the Canadian government to recognize and protect his people's lands, but was ignored. In 1907, two white settlers laid claim to the hot springs, purchasing them at two dollars per acre with the federal government's consent. (The dispute was not settled until 1993.) Later owners introduced all sorts of amenities, from hot dogs to swimming lessons, that have come and gone.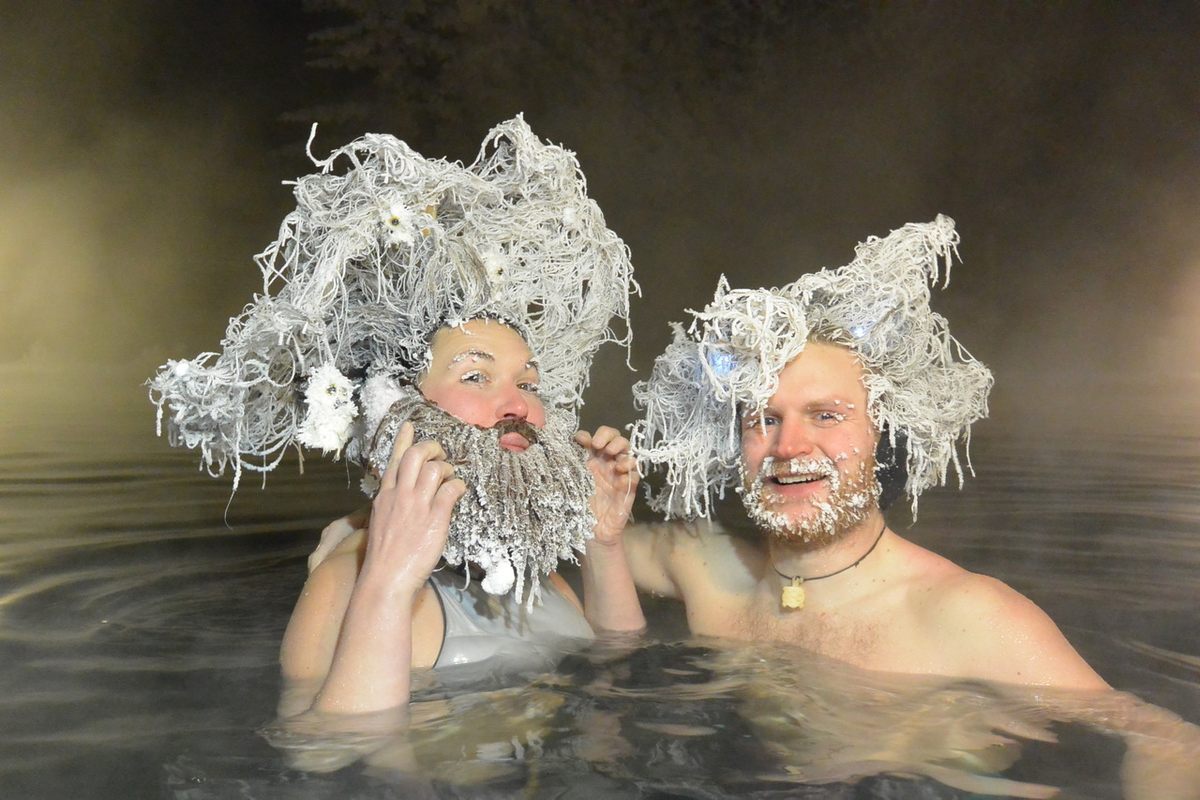 The Hair Freezing Contest began in 2011. At the time, a manager believed it would generate buzz for the business during the region's coldest months—and it has gradually ushered in an era of unprecedented prosperity. "We get a lot of darkness in the Yukon, and we're quite isolated, so people can get a lot of cabin fever," Umbrich says. "The contest can't even really happen in most places of the world as we're in a pretty unique location."
The first three rounds were relatively small affairs—around 15 participants each, vying for a $100 award. But when Umbrich and his wife took over in 2014, they ramped up marketing. Since then, the competition has grown steadily, as has the prize money. This year drew close to 300 participants, some from as far away as Australia and Taiwan. They compete in five categories: Best Male, Best Female, Best Group, Most Creative, and People's Choice, which is determined by an online vote. The contest's international presence is steadily growing, Umbrich says, but 70 percent of entries are still from locals.
Nanae Takano first visited the springs in 2017, shortly after she moved to Whitehorse from Tokyo. "I was kind of negative about the extreme cold," she says. "And then my friend told me about this competition. It was absolutely exciting and an unforgettable experience."
Like many other inventive hair molders, Takano came armed with props: a comb and a pair of chopsticks. She used these to buttress her nearly 20-inch-long tresses, submerging her body every five minutes to stay warm. After nearly 30 minutes of attempts, with help from a friend, she shaped her hair into a near-perfect straight line. With slightly curled ends, the hefty 'do almost resembles a bird in flight. The final photograph earned Takano top prize in that year's Most Creative category.
"I used to play with my hair and create funny hairstyles with shampoo in my childhood," she says. "But my hair was too heavy to create the zero-gravity look, and it didn't last long. This helped one of my dreams come true. Finally, I could have zero-gravity hair!" With a little patience and stamina, you can too.