The Architect Baking Bread Along the Border Wall
Ronald Rael just finished building his first horno with migrants seeking asylum.
At first glance, an horno does not make much of an impression. Spanish for "oven," it looks like little more than mounds of mud: Imagine a giant avocado pit halved and placed flat-side down with a window cut out of it. And yet, award-winning designer Ronald Rael wants to build hundreds of these centuries-old furnaces.
Pedacito de la Tierra, or A Little Piece of Home, in partnership with the humanitarian-aid organization Alight, is Rael's third art installment in a series of projects along the U.S. Border wall. In 2009, he imagined a Burrito Wall, with an area to accommodate a food truck and built-in tables on opposite sides of the border wall that would allow Mexicans and Americans to share a meal. The project was never executed, so Rael reimagined the concept: In 2019, children bounced up and down on three pink seesaws that straddled the border wall. This was Rael's Teeter-Totter Wall.
Rael's most recent project, inspired by his grandmother, focuses on building hundreds of hornos for migrants waiting in Mexico to receive American asylum. He wants to honor their heritage and build community in the border shelters, and on November 11, 2020, he and migrant breadmaker Juan Carols Delgado slid loaves into the first horno, which they built together in Nogales, Mexico.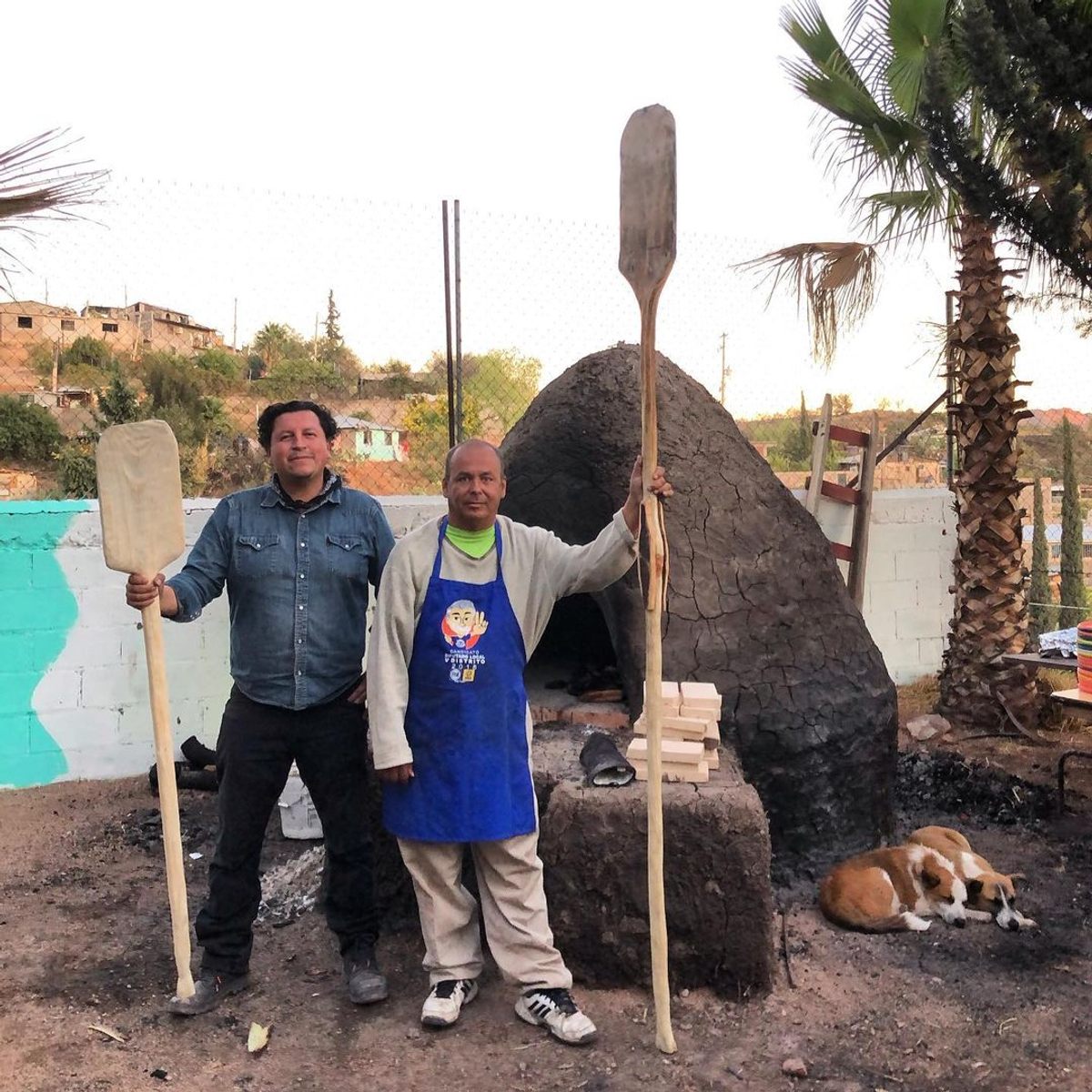 "My great-grandmother was [often] called upon to cook for weddings, funerals, and church events," says Rael. "The year I discovered that she cooked on an horno was the same year that her beautiful adobe-ruin home finally fell to the ground."
Hornos are a traditional cooking method of Latin America and the American Southwest, including in Colorado, where Rael grew up and still lives. (They arrived in the Americas with the Spanish, who got them from the Moors.) But most have shared the fate of his great-grandmother's house, whose collapse Rael viewed as a literal depiction of how history and culture can disappear without proper care or champions of their legacy.
As he got to work, Rael came to appreciate that an horno's modest appearance belies the complex architectural skills required to build one. The difficulty arises from their domed roofs, which are made from sandstone cut into blocks, adobe bricks made of clay, straw, and sand, or lava rocks.
"It's really hard work, to be honest," Rael says. "An adobe brick is heavy and weighs about 40 pounds. And it's several hundred of these you're picking up."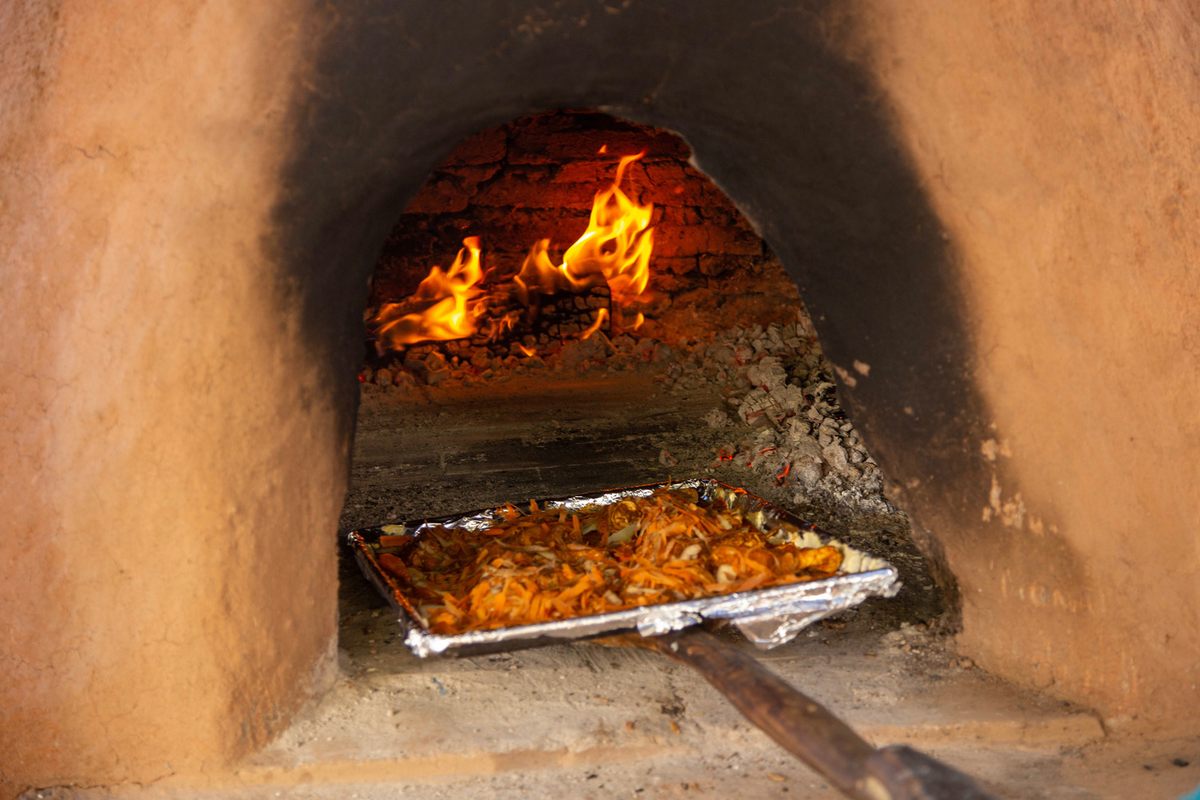 Rael came up with the idea for Pedacito de la Tierra at the start of 2020. By November he was in Nogales, Mexico, building the first horno at Casa de la Misericordia. Upon arrival, Rael asked residents to raise their hands if they were familiar with adobe houses and hornos. Almost every hand went up. Rael realized he would be learning from the residents, and his project would be a collaboration. When they started laying bricks, one of the migrants stood out: Delgado.
Delgado hails from a family of breadmakers in Guatemala. The knowledge to build an horno was passed from one generation to another until it reached Delgado. While Rael had the architectural knowledge to create, Delgado had the experience to build. Alongside a handful of helpers, the two went to work.
Rael and Delgado leveled a mound of gravel, then placed bricks on top of the rock formation to create a drainage system. From there they stacked bricks, one by one, in the shape of a circle. (Each of the base's six layers consisted of around 20 bricks.) They formed a cooking surface with dirt and rocks, threw sand into every hole for stability, and moved upward with precision to avoid collapsing the roof from asymmetries. A mortar of mud and straw helped bond everything together, and they gave the mixture time to dry and crack, so they could fill those holes and repeat the process until the tears disappeared.
"When I'm building these hornos, part of me is transported back in time," says Rael. "I'm thinking about the stories that are being made and shared around the horno."
After three days of construction, the group gathered for their first meal using the horno. More than 60 people celebrated with estofado de pollo, a Peruvian chicken-stew dish. Rael says the food reflected the migrant culture currently represented at the shelter, but it also served a more utilitarian requirement. It fit the organization's budget of 53 cents per meal.
Because so much of the material needed to build and operate an horno comes from the earth, Rael says food will taste different depending on where an horno is built. The clay and wood impart different flavors, and cultures use hornos in different ways. He compares this flavor complexity to terroir in wine.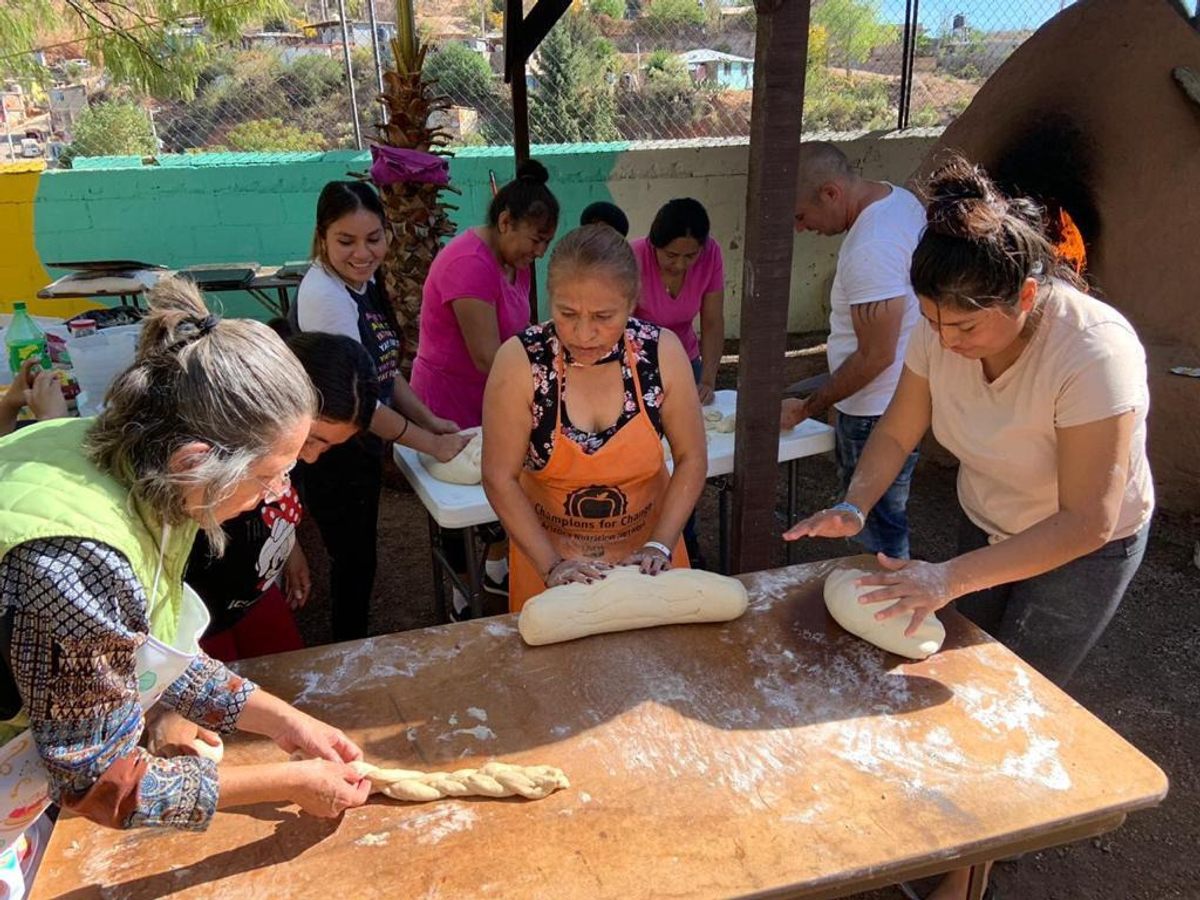 "In migrant shelters, there are people from many different countries, not just Latin America," says Rael, who met migrants from far-flung places like Russia at Casa de Misericordia. "Something we thought would help bring them together was food—cooking and sharing recipes."
Rael describes the first horno meal at Nogales as magical. People from different parts of the world set tables, cooked, and cleaned up together. Connections were made and stories were told. They were not just migrants, but mothers, fathers, comedians, teachers, builders. Rael hopes to build hundreds more hornos along the border.
"We forget about the movements of people, food, and trade that made [the U.S.] beautiful," says Rael. "If we were more welcoming, we'd have more beauty."
Gastro Obscura covers the world's most wondrous food and drink.
Sign up for our email, delivered twice a week.