The 'Pie Designer' Baking Up a Diverse Vision of America
Lauren Ko is as American as mango pie.
When Lauren Ko says she's a pie designer, she often gets quizzical looks—until she opens Instagram. Her account, Lokokitchen, which functions like a baker's portfolio, is flush with a mesmerizing kaleidoscope of colors, geometric patterns, and scrumptious fillings that make one thing clear: Her pie game is on another level.
Ko's colorful creations have won her big-name acclaim—she's been featured in The Washington Post, Vogue, and Martha Stewart. But her most recent project, My American Pie, tells the stories of Americans from all over the country, from the verdant hills of Kentucky to the lively shores of Rockaway Beach in New York City. Working with the collaboration lab ResidNYC, Ko took stories sourced by the lab and baked them into a celebration of America's diversity.
"The traditional image of an American is usually Caucasian with blonde hair and blue eyes," says Ko, "but there are lots of people who identify as American."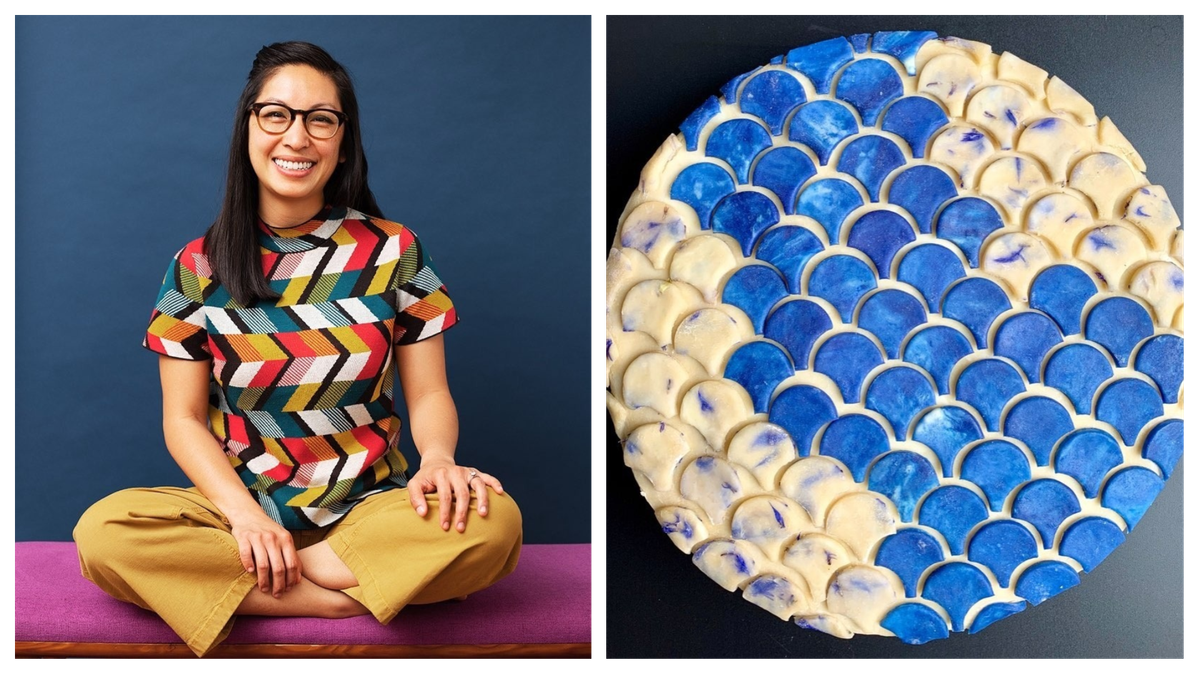 Ko kicked off the series on Instagram last July with her own pie, which she filled with mango, a nod to her picking the fragrant fruit as a kid. In her post, she's vulnerable about growing up in a multicultural household. "I'm not just Chinese, I'm not just Honduran and not just American, but all of that plays and factors in together to create my own story," Ko says.
A poignant aspect of Ko's My American Pie project is that her obsession didn't start with nostalgic childhood memories; in fact, she didn't grow up making pies at all. "There's this kind of irony that I make pies for a living," Ko says, "because, in my Chinese-Honduran family, there's not a lot of traditional apple pie going around."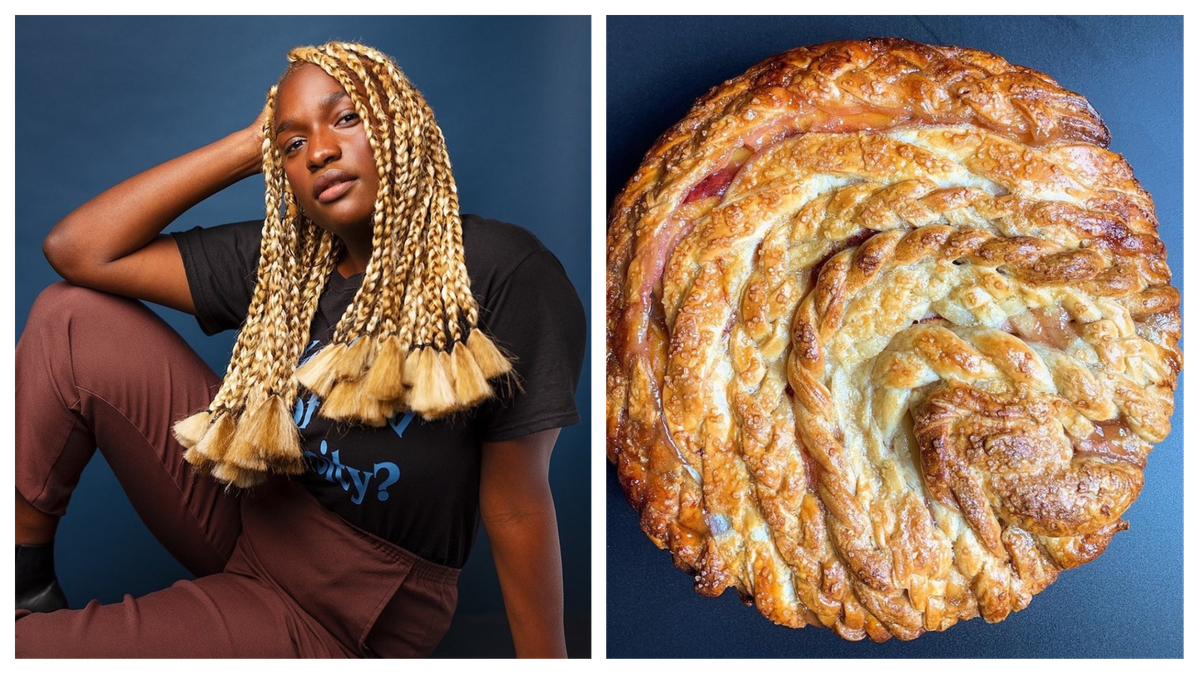 Posting her story was somewhat risky—Trump's immigration policies were dominating the news, and Ko already receives her fair share of vitriol. "I write stupid captions, and my account is lighthearted and fun," she says, "but I still see that ugly part of the internet's underbelly." Ko knew she was onto something, though, when her post received almost 41,000 likes and 2,000 comments, more than any of her other posts. "It spoke to how much people need to hear—and tell—these stories."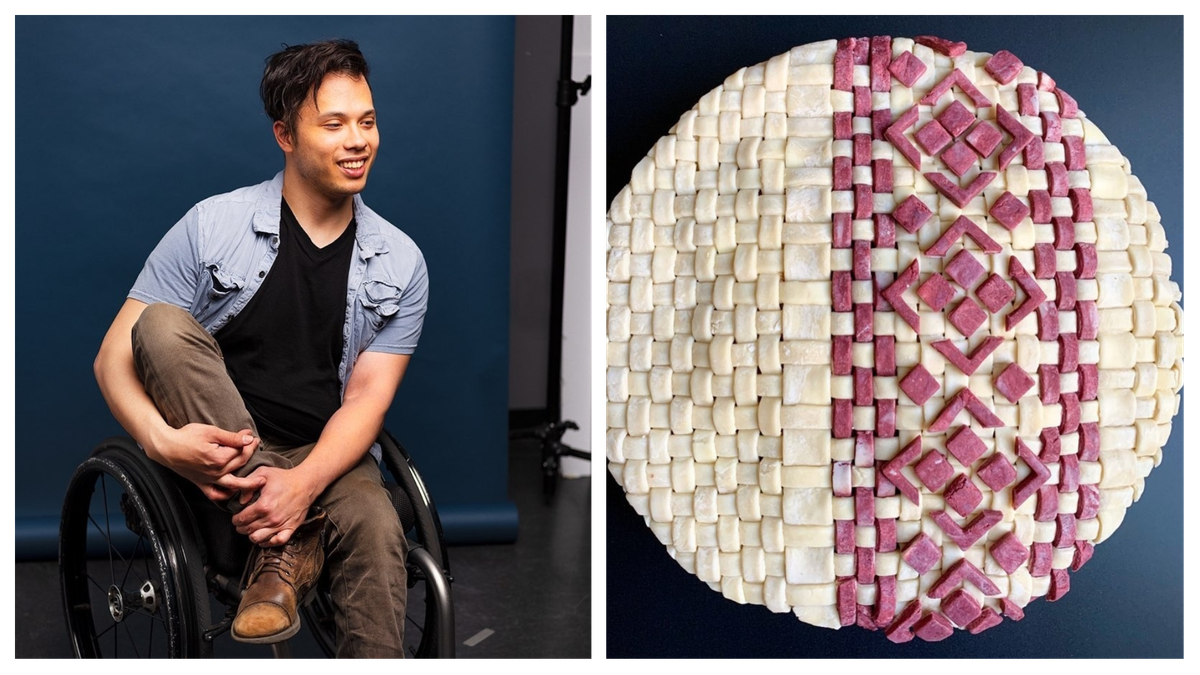 At a time when people are questioning what it is (and who can claim) to be American, it was important for Ko to illustrate that being American contains multitudes. Ko took each person's story—brimming with layers of culture, identity, and tradition—and conducted research to mold each narrative into edible form. "I would focus on a design inspired by one culture or aspect of their story, and then a filling that incorporated a little more of their narrative," Ko says.
For Peter's story, Ko recreated a Croatian embroidery pattern with a savory lumpia filling, which honored his Croatian and Filipino roots. For Dominique's pie, Ko grilled peaches and warmed them with cinnamon and ginger, playing on Dominique's memories of summertime BBQs. The peaches sit underneath a braided dough that mimics Dominique's blond braids and doubles as the symbolic bonds in African-American communities that she reflects fondly on.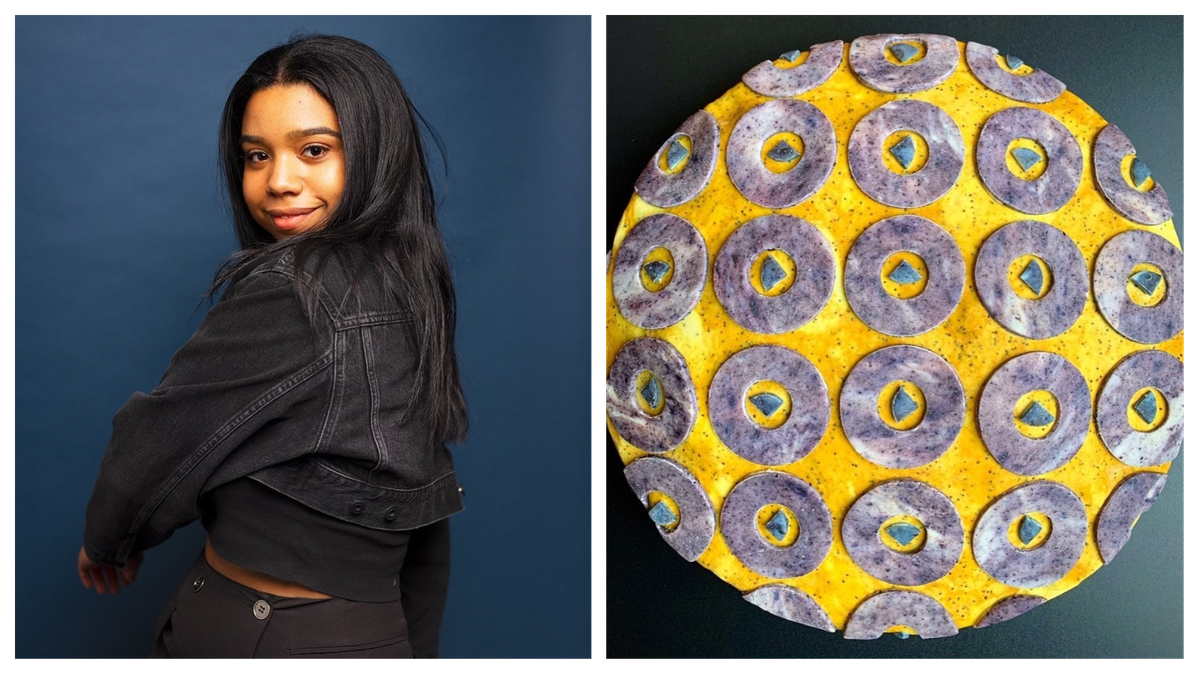 While designing the West African, Ankara-print pie inspired by Maia, who is Black, Filipino, Lebanese, and Liberian, Ko found herself connecting unexpectedly with Maia's story. "My cultural background doesn't intersect with hers, but I was able to draw on some of her warm memories in the kitchen with her grandmother and relate to that," Ko says. "There are always facets of people's stories that we can identify with and hold on to, and I'm hoping that people reading these stories and looking at the images feel that same way."
While Ko is brainstorming new ideas with ResidNYC, she'd like to extend the series. As she continues to spread a bit of humanity and joy on the Internet, Ko reflects on what she's learned. "You have to let people tell their own stories and not narrate for them or dictate what they share," she says. "There's power in people using their own words to say what they want."
You can join the conversation about this and other stories in the Atlas Obscura Community Forums.
Gastro Obscura covers the world's most wondrous food and drink.
Sign up for our email, delivered twice a week.