Oakland's Favorite Monster Is Back—and Greener Than Ever
A restoration project has given a once-iconic sculpture a new lease on life.
In 2015, Oakland's most infamous monster was a washed-up husk. Its chartreuse color had faded to a drab white. Several of its knobbly concrete limbs had begun to crack. Orange shadows of rust had crept into its steel mesh frame.
It had become a menace, for all the wrong reasons, and the city had fenced it off for public-safety purposes.
But this year, after a long restoration project, the monster has finally been let out of its cage. And lo—it looks better (and greener) than ever.
The chunky, undulating sculpture affectionately known as the Mid-Century Monster was the midcentury brainchild of an Oakland parks administrator named William Penn Mott Jr. He wanted kids to have somewhere to play on the shores of Lake Merritt, according to Landscape Architecture Magazine.
Tired of seeing the same old swings and slides on playground structures everywhere, Mott commissioned the local artist Robert Winston—known for his rippling, free-flowing jewelry—to make a large piece of public art. Mott asked Winston to design something big enough that it could make kids feel like they were climbing trees.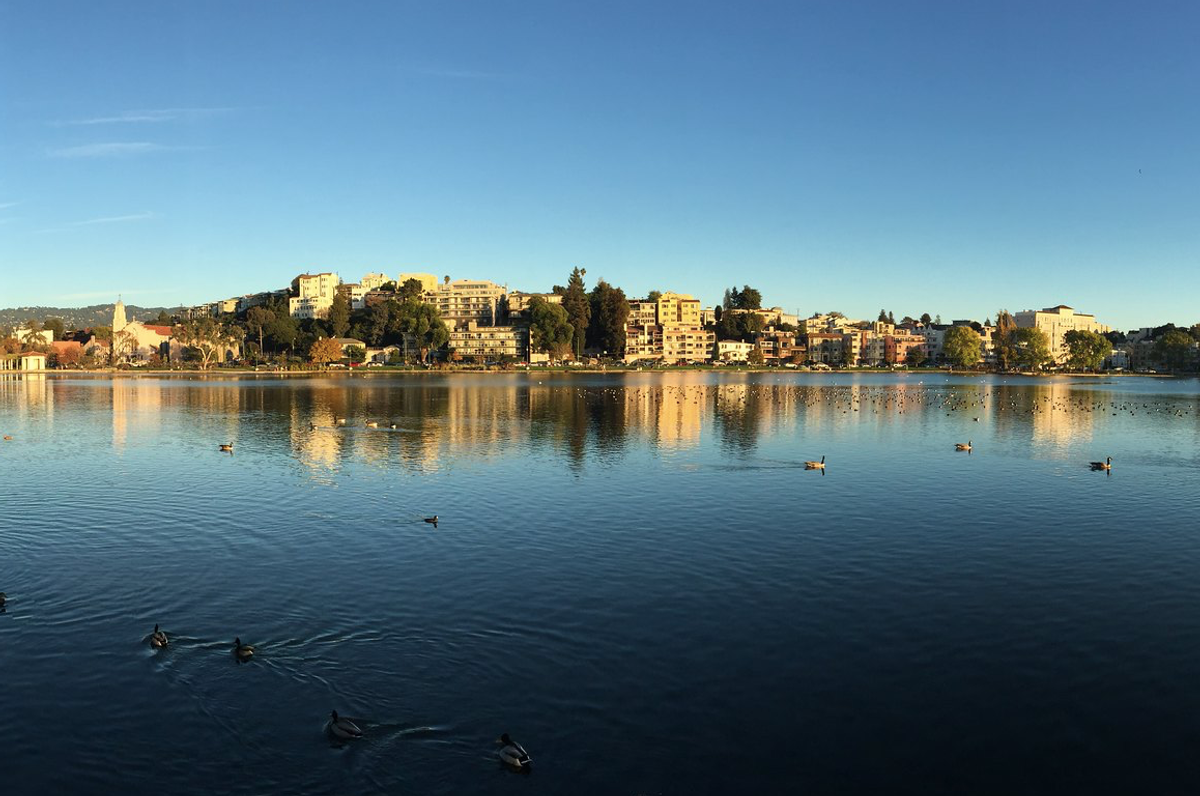 Winston was up to the challenge. He designed a 40-foot-long structure, with angles and bends perfect for children to climb on, and all elegance of an Isamu Noguchi sculpture. In 1952 he completed the monster, which he painted light green. Two years later it graced the shores of the tidal lagoon.
The sculpture quickly became an Oakland icon, gracing the cover of Sly and the Family Stone's 1968 album Dance to the Music. The cover shows the band members peering down from the monster's green haunches.
But over the years the Mid-Century Monster fell into disrepair, weathered by time, use, and, well, weather. Its slow deterioration landed it behind a chain-link fence, where for years it was largely forgotten.
But then one day Oakland native Adrienne Schell read about the Mid-Century Monster in a children's book called My City Is Oakland, by Kamaria Lofton. She'd never seen the sculpture herself, because it was tucked away in a corner of Lakeside Park that she'd never been to.
"After I visited and saw the state that it was in, I was curious to learn more," Schell writes in an email. "I dug for information about it in the Oakland History Room at the main branch of our local library and was so fascinated by how it came to be."
She soon changed her jogging route around the lake so that she would pass by the derelict monster. Then one day this year, much to her delight, she saw workers repairing it.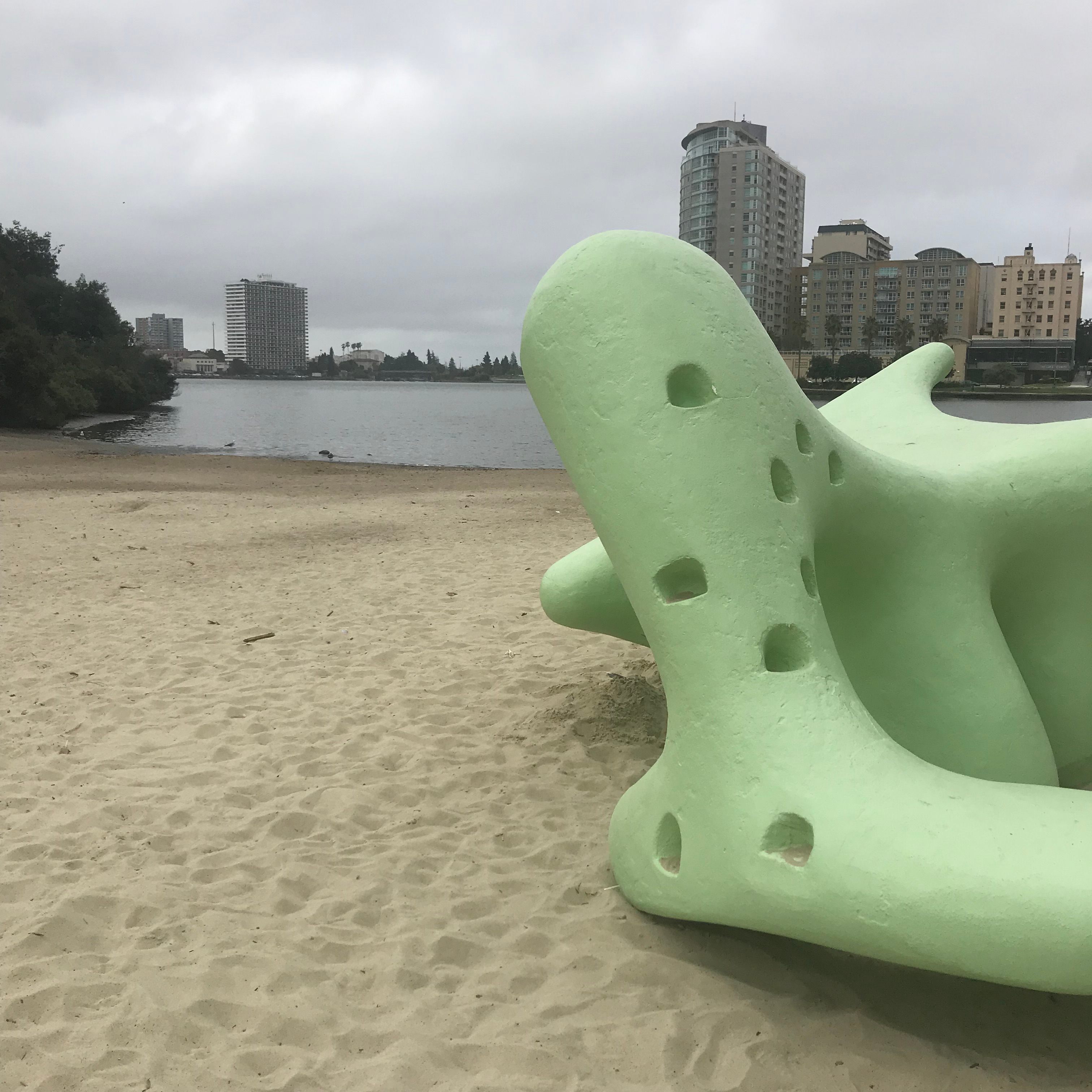 Like all the best monsters, Lake Merritt's has groupies. Co-founded by Susan Casentini and Kyle Milligan, the Lake Merritt's Mid-Century Monster Fan Club—a group so dedicated that it even has T-shirts—spearheaded a renovation and repainting effort. It kicked off in January, and was completed in just a few months. Now the monster is back in all its green glory.
To celebrate the beast's return, the fan club is throwing a party this Saturday, July 28. Ample time is scheduled for selfies with the monster, whose unveiling will be scored by Oakland's municipal band. Everyone is welcome, and participants are encouraged to bring their own hula hoop.
For now, at least, the monster's future looks bright (green) once again.