L.A.'s Most Derided Piece of Public Art Is About to Light Up Again
Reviving the Triforium.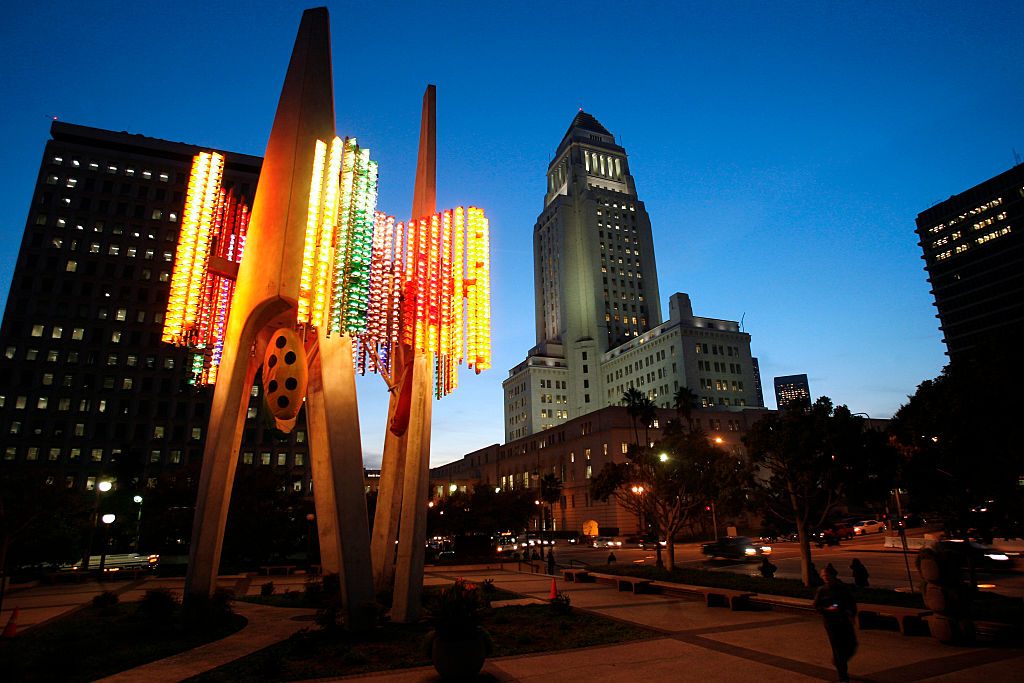 In the winter of 1975, the Triforium had its debut performance in downtown Los Angeles. The artist Joseph Young, a muralist and sculptor, had designed the six-story tower as a "polyphonoptic" instrument, covered in 1,494 colored glass prisms that would light up in response to sound.
But the Triforium never quite worked as he or the city, which commissioned the work, intended. Its primitive, custom-designed computer couldn't execute Young's intentions; the sound came out wrong, and the lights rarely synced as they should have. Expensive and over-budget, from its debut, "it was a political pariah," says Tom Carroll, who hosts a YouTube show called Tom Explores Los Angeles. Fixing the tower's technical issues, keeping the lights in working condition—all that would have taken more money. Instead, the Triforium, mocked, derided, unappreciated, was left to slowly decline.
But there have always been those who loved the Triforium and believed in Young's vision. For many years, Carroll, along with Claire Evans and Jona Bechtolt, musicians who built and run 5 Every Day, an app for fascinating things to do in L.A., had been dreaming of hosting performances at the space, a gesture to what might have been. In 2015, they threw a 40th birthday party for the Triforium, complete with a professionally made cake featuring the sculpture's image. At this event, they discovered they had tapped into a current of passion for this underdog piece of art.
"People really wanted to see it turned on," says Evans.
On Friday, it will be. In 2016, the Triforium Project—composed of this trio, along with non-profit allies—won an LA2050 grant to start to restore it, and they have spent the past two years working with the city to do just that, with the aim of finally showing the public what Young meant it to be. Over the course of three Fridays in October and early November 2018, musicians will perform with the Triforium, which is being rigged so that it will light up in response to sound.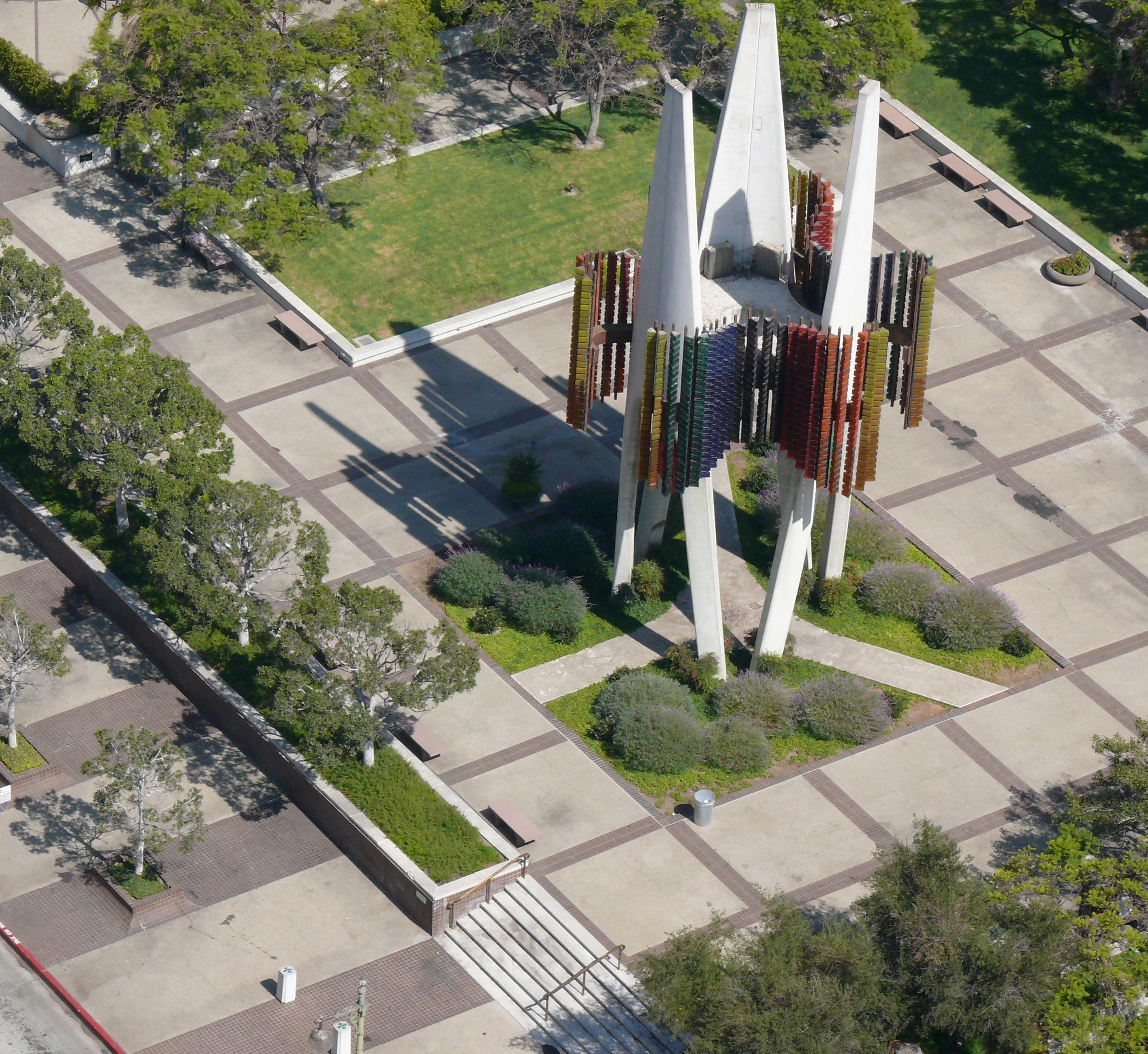 This is not a full restoration; that would take a million dollars, the team says. But they have had access to the original notes, programming documentation, and computer system components that Young used to create the Triforium. Back in the 1970s, a computer used 8-bit tape, in binary code—picture a roll of paper tape with holes cut into it. Working with legacy computer experts to manually transcode tapes and recreate the program, the Triforium Friday team now has an emulator that replicates the original and will translate sound into light in real time.
The wiring for the lighting system, though, is 40 years old and encased in concrete pylons. Given the decay of time and the risk of turning it on, the team is using custom-built LED triangles that sit atop each hand-blown glass prism to light it up. Each LED has an individual controller connected to the computer system; the lighting system acts as a kind of "exoskeleton" for the original sculpture.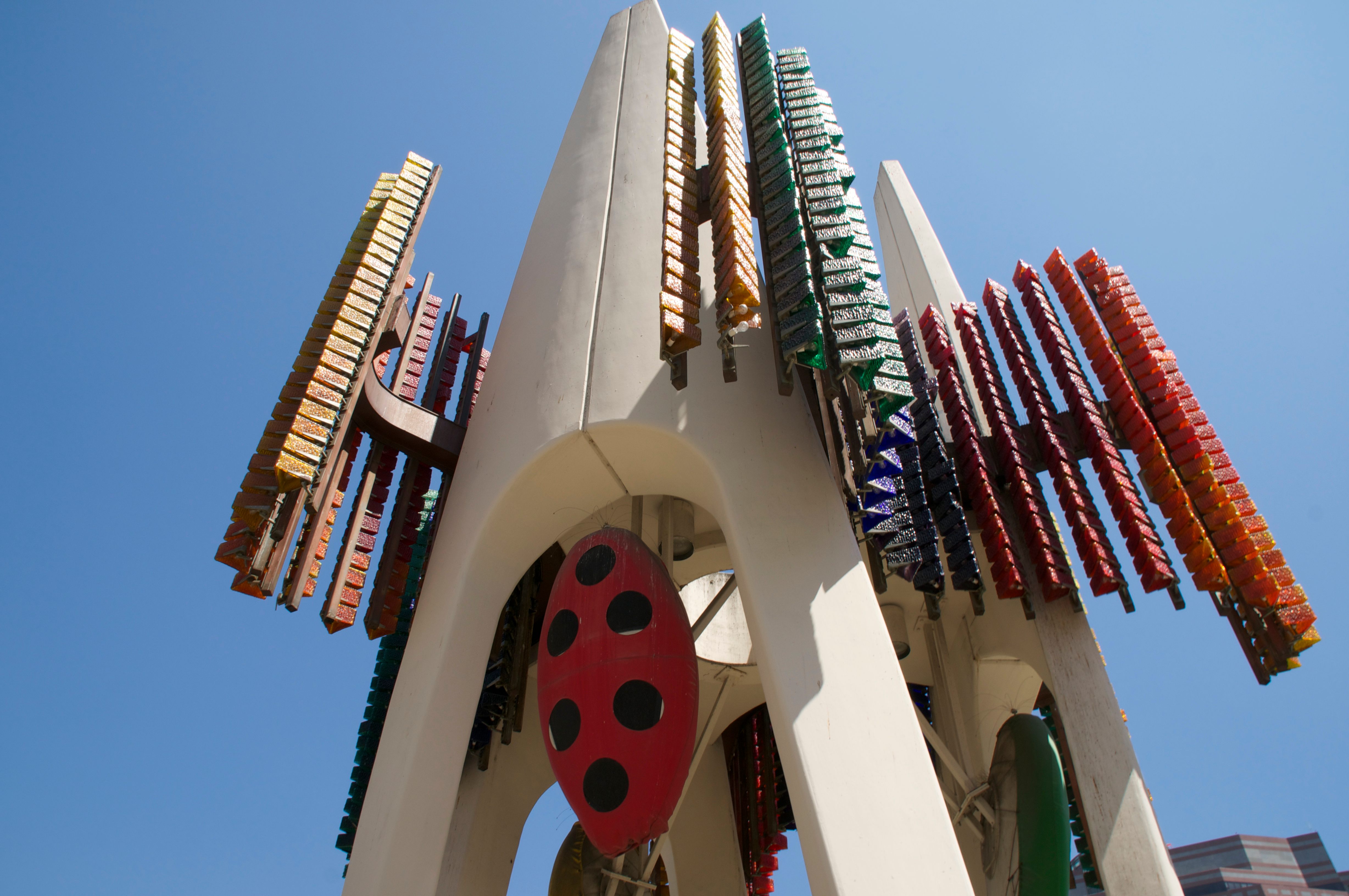 When creating a line-up for the performances, the Triforium Friday team sought people who who represent a range of sounds—everything from opera and string quartets to ambient music and professional whistling. Lining up acts, they say, was the easiest part of the project.
"We're artists ourselves and have played every kind of venue," says Bechtolt. They knew if they were asked to perform with the Triforium they would say yes, immediately. "People are going to be excited to play on an instrument that's entirely unique," he says.
In the days leading up to the launch, Carroll, Bechtolt, and Evans have been working around the clock as midwives for the Triforium's rebirth. All day long, people in cherry-pickers have been installing the LED exoskeleton. But if everything goes according to plan, on Friday, October 19, the Triforium will light up with sound, working, perhaps for the first time, as originally intended.
"I've always been fascinated by yesterday's visions of the future," Evans says. "Young was a utopian thinker and idealist. He thought art and music, light and sound, would be mediated into one art form, thanks to technology. I feel a responsibility as a member of his future to be as cool and as civically engaged as he imagined."