Why Presidential Debates Are Consistently Held at Obscure Colleges
Norwood—I mean, Longwood University—anyone?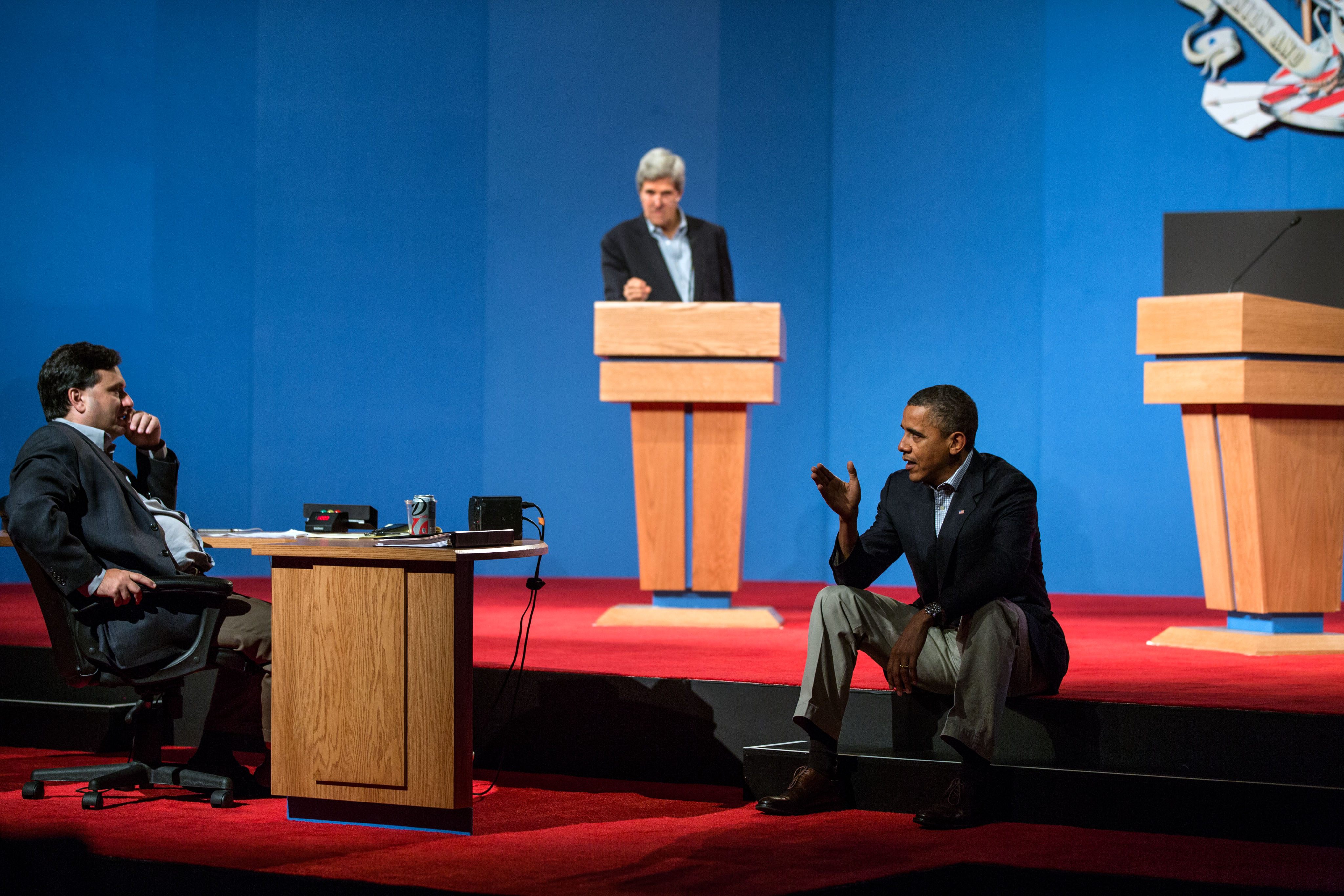 Obama speaks with an advisor ahead of a debate in 2012. (Photo: Public domain)
As viewers nervously tuned into the first presidential debate in September, the first question might well have been about the venue itself. Why are we watching these candidates at Hofstra University? At this point, the school's most salient feature might be hosting presidential debates, having been the only venue to have hosted debates in three consecutive election years. 
But if Hofstra University seemed a bit random, the second debate's venue might have been even more esoteric: tiny Longwood University, in Virginia. 
In recent years, there have been a spate of strange academic settings. Washington University, in St. Louis, has been a popular choice, along with a series of seemingly haphazard hosts, including St. Anselm College, in Goffstown, New Hampshire; Centre College, in Danville, Kentucky; Lynn University, in Boca Raton, Florida; and Belmont University, in Nashville. 
It wasn't always this way. Probably the most famous presidential debate of all time, the 1960 clash between Richard Nixon and John F. Kennedy that might've decided the election, was held in a Washington, D.C. television studio. And almost all of the debates up until 1988 were held in a variety of convention centers, auditoriums, and theaters. 
So what changed? The short answer is money.
The Kennedy-Nixon debate, the first between major party nominees, was sponsored by television networks, and the debates in 1976, 1980, and 1984 (there were no debates in 1964, 1968, or 1972) were each sponsored by the League of Women Voters. But beginning in 1988 a new entity took over: the Commission on Presidential Debates (CPD), a nonprofit formed then by Republicans and Democrats in part to help ensure that debates would keep happening. 
But as the debates became more formalized, they also became more expensive, in part to support the CPD and its staff. Venues like theaters make money by staging a show and charging admission, but presidential debates cost $4 million or more to produce. And very few pay to get in. 
All of which makes little sense for a private venue, but a lot of sense for colleges, who both have the money to spend and aren't out to make money themselves, only garner publicity. The commission, in turn, gets a venue with a neutral sheen, in addition to one that gestures at harmless intellectual pugilism. What is college for? Mindless debate, mostly.
The CPD doesn't have any shortage of options, or colleges willing to pay up. Hofstra spent around $5 million this year to host the debate, or about the same amount they spent in 2012. Longwood University, in Farmville, Virginia, which hosted the vice presidential debate, paid $5.5 million for the privilege, a number equal to about 10 percent of the university's entire endowment. Washington University, which hosts the second presidential debate, and the University of Nevada-Las Vegas, which hosts the final debate on October 19, will pay similar numbers. 
Where does all that money go? Around $2 million for each debate goes back to the commission, in the form of a host fee, which the commission uses to fund its staff.
The rest is spent on production costs, which aren't small. This is because the CPD requires a lot for the debates, which include thousands of spectators, in addition to hundreds of journalists and political operatives, as well as countless television crews. 
Have a look at the CPD's requirements for debate hosts, which they update each election cycle: 
A debate hall of at least 17,000 square feet that is air conditioned.

A large parking area close to the debate hall for 40 television remote trucks, trailers and/or satellite trucks up to 53 feet in length.

A media filing center, located either in the same facility as the debate hall or extremely close to the debate hall that is a minimum of 20,000 square feet (may be a tent). This space must be air conditioned.

A media parking lot, located approximately one-quarter to one mile away from the media filing center, that can accommodate approximately 500 passenger vehicles.

An accreditation center of at least 3,000 square feet, located one-half to one mile away from the debate hall, with parking for 75 vehicles.

Nearby hotels that can provide 3,000 rooms for the event.

Good air and ground transportation networks.

The host's guarantee of complete city services, including public safety personnel.
Which is how you end up at Longwood and not Harvard, which doesn't need the publicity nor any potential headaches. But for Longwood—a public institution of around 5,000 students whose most famous alumni might be the former NBA player Jerome Kersey—it can be well worth it.
Taylor Reveley, Longwood's president, likened it to buying a television ad during the Super Bowl. 
"Hosting one of these crucial debates is a genuinely once-in-a-lifetime opportunity," Reveley told PBS.
Some of the people Longwood might be trying to get their name out to are the candidates themselves. On Tuesday, when Mike Pence, the Republican vice presidential nominee sought to thank the university, he didn't quite get it right. 
"Thank you," Pence said, "to Norwood University for their wonderful hospitality."