For Sale: A Winsome Map Showing the Way to Pooh Corner
Explore the "100 Aker Wood" for only $200,000.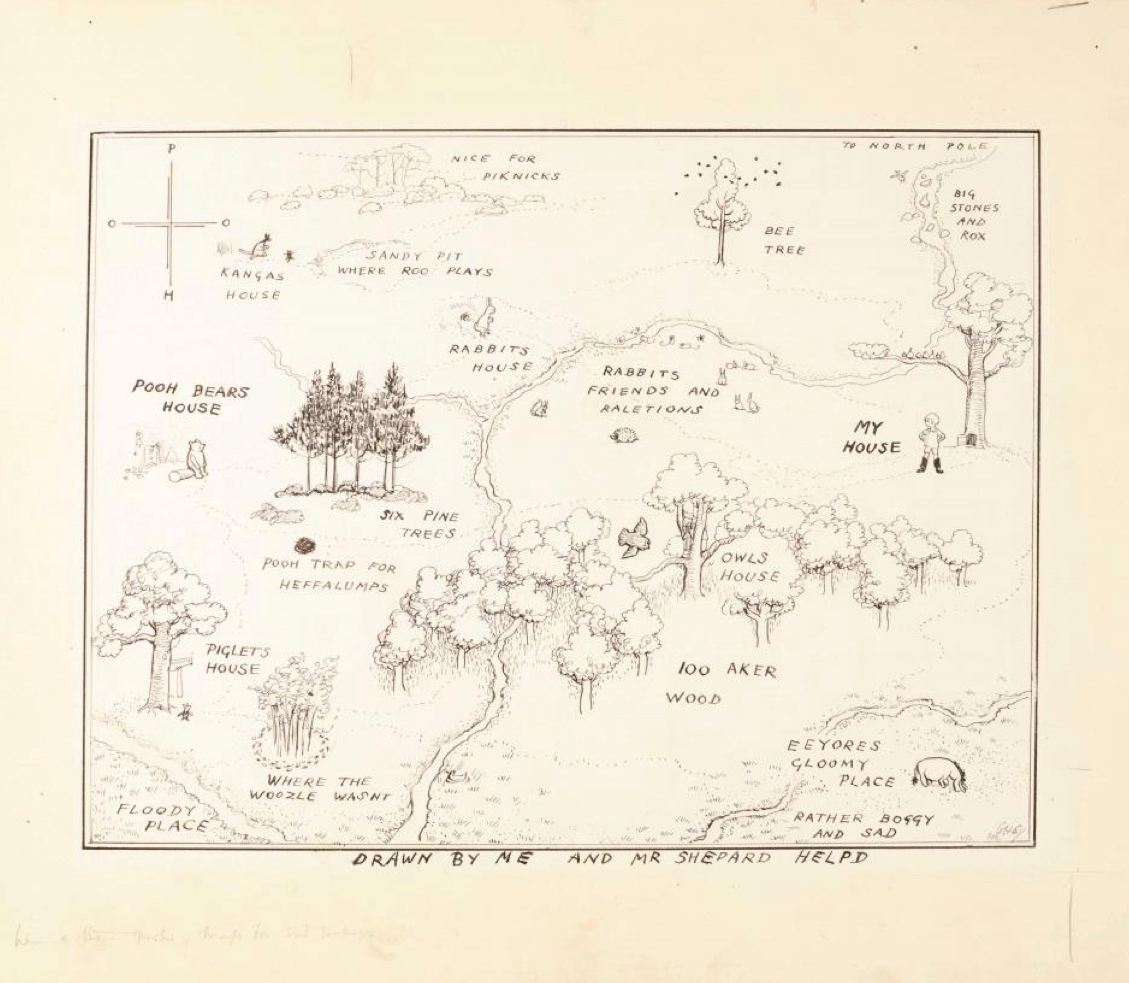 "Once upon a time, a very long time ago now, about last Friday, Winnie-the-Pooh lived in a forest all by himself." So begins A. A. Milne's first book about the beloved "bear of very little brain," first published in 1926. Eventually, this slim clothbound volume would launch three other books (one of which made the New York Times bestseller list—in Latin), six feature films, and a raft of other adaptations.
But all the adventures of a boy and his bear started here, alongside illustrations by the English artist E. H. Shepard. In its opening pages, a map shows the way around the Hundred Acre Wood, sometimes stylized as "100 Aker Wood." There's "Where the Woozle Wasnt" and the route to the North Pole. Now, for the first time in nearly 50 years, the original map is on sale at the British auctioneer Sotheby's, along with four other illustrations. They are expected to fetch as much as $580,000 together when they go on sale at the auction house in July, the BBC reported.
It's a lot of money for a map—but then, this isn't any old map. If you're down in the dumps, it leads the way to Eeyore's Gloomy Place ("rather boggy and sad.") If you're anxious about dangerous beasts on your way there, Pooh Trap for Heffalumps should put your mind at ease. And if you're just here for a good time, the "sandy pit where Roo plays" is located just south of a woody grove. (Bonus: It's "nice for piknicks.")
Last time the map went on sale, in 1970, it fetched around $35,000 in today's dollars. It is now expected to raise more than five times that—a handsome investment for the private collector who bought it 48 years ago. In fact, Sotheby's senior specialist Philip Errington told the BBC, there's been a renewed interest in illustrations from the Pooh universe. "They've never been brought out in the U.K. or the U.S. with illustrations by anyone else apart from E. H. Shepard," he said. "That is the power, and ability of the illustrator, and why this is probably the most famous map in English literature."
For those who don't have $200,000 burning a hole in their pocket, the map features prominently in the 1966 Disney adaptation. And after August, you'll be able to see the whole gang back together in the forthcoming feature film Christopher Robin—though its tagline, "Out of the Wood and Into the City," suggests that this map may not be much use.