For Sale: A Cigar Puffed by Winston Churchill in 1953
When the politician dropped it in a London theater, an usher swooped in to save it.
One night in January 1953, Winston Churchill and his wife, Clementine, went on a date. The pair headed to the Coliseum, a theater and cinema in London's West End, to take in the musical Call Me Madam. When the couple arrived, their fellow audience members clambered from their plush-red seats to greet the couple with a standing ovation. Churchill, who was in his final years as British Prime Minister, grinned and flashed his signature two-finger victory sign, the Daily Telegraph reported at the time. At some point that evening, the politician also puffed on a cigar. When it tumbled to the ground, an usher named Violet King picked it up and pocketed it. More than a half-century later, the saliva-soaked memento is going under the hammer at Hansons Auctioneers on December 11.
Churchill's love of cigars was legendary. He was often photographed with one hanging out of his mouth, and his tastes were wide-ranging. In Churchill Style: The Art of Being Winston Churchill, Barry Singer—a writer who also runs a New York City bookshop entirely devoted to texts by or about Churchill—describes how, after economization called for scaling back on his beloved, pricey Cuban cigars, the politician reached for affordable American varieties. In 1935, he purchased 900 Royal Derby Longfellows from a New York cigar stand in a single order. Singer reports that, in a letter, Churchill described the brand as "both mild and cheap," and declared that he liked them very much.
Recalling Churchill's visits to the White House, Eleanor Roosevelt reflected, "It was astonishing to me that anyone could smoke so much and drink so much and keep perfectly well." Though his public image was often jaunty, pugnacious, and tough, Churchill wasn't always as hardy as the former First Lady made him out to be. He was "susceptible to pneumonia," Singer writes, but wasn't interested in giving up cigars. When Churchill flew, Singer continues, "he kept close by him a specially constructed oxygen mask that allowed him to take oxygen and smoke a cigar at the same time."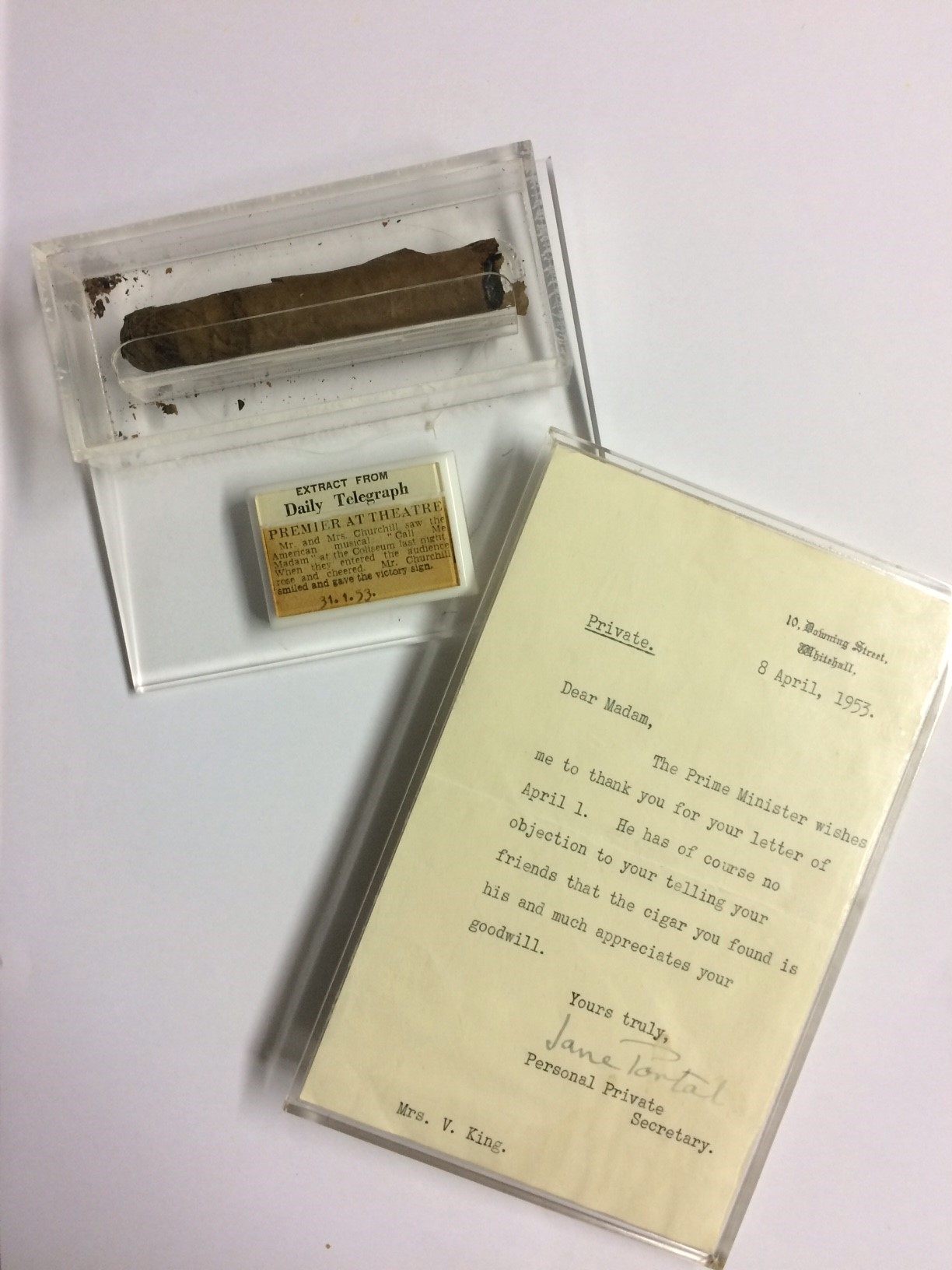 This particular cigar has a buttoned-up provenance, because soon after King took the cigar home with her, she wrote to Churchill, asking him to certify the authenticity of her find. Jane Portal, Churchill's private secretary, wrote back on stationery from 10 Downing Street, assuring King that Churchill "has of course no objection to your telling your friends that the cigar you found is his." King's family held onto the reply, and the note is presented alongside the partially puffed cigar.
Auction houses sometimes fold cigar sales into other ones, pairing them with, for instance, fine wines. Sotheby's and Christie's have both auctioned off cigars, and the 347 lots at a 2014 auction in London brought in more than $860,000, Cigar Aficionado reported, with bidders shelling out the most for pre-embargo Cuban cigars in pristine condition. "The demand for highest quality pre-embargo unique cabinets and boxes is at record levels," Mitchell Orchant, managing director of C. Gars Ltd., which managed the auction, told the publication.
Hansons hasn't published any information about when or where this cigar was made, or by whom. Its condition couldn't be considered pristine—it is partially smoked, after all, and its little storage box is flecked with sloughed-off bits. The auction house expects it to fetch between $6,340 and $7,609 (or £5,000 to £6,000). Previous sales of Churchill cigars have commanded a range of sums, the BBC reported, from $12,000 to nothing at all.
Come December, you could own a remnant of Churchill's treasured vice—a souvenir much more intimate than a ticket stub. "His cigars are said to have bolstered him through the major challenges he faced," says Charles Hanson, owner of Hansons Auctioneers, in a release. "He puffed away at home, at work, and as we now know, even at the cinema."