This Century-Old Wartime Crater Is Still Visible From Space
The massive Lochnagar Crater, as seen from a satellite.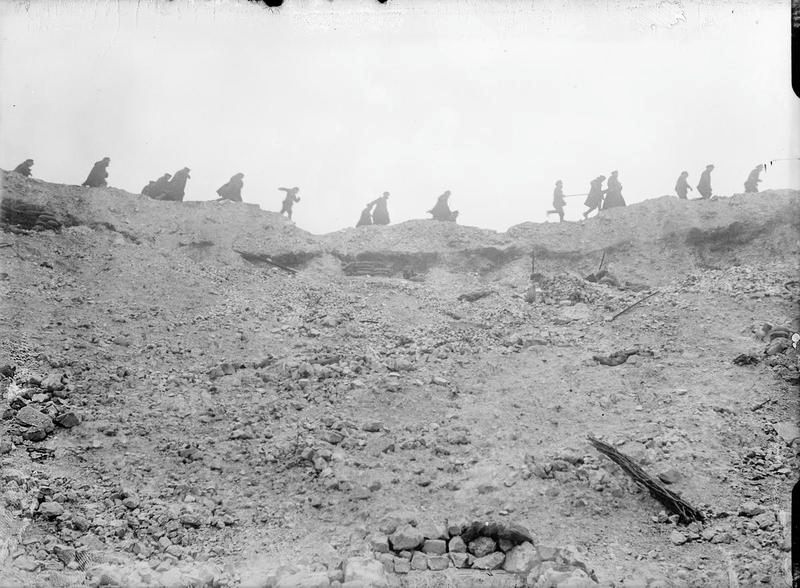 One hundred years after the end of World War I, the effects of the war are still visible on the landscape of the Western Front, like a stubborn scar.
They're evident on the ground: In Vimy Ridge, France, for instance, what first appear as grassy patches of gently rolling hills are actually the divots blasted by explosions; unexploded munitions, along with shards of shrapnel still turn up in fields and waters, and are collected so-called "iron harvests." (Portions of Belgium are so littered with this explosive debris, The New York Times reported in 2014, that "almost every construction project poses a danger.") The effects are also evident a bit higher up—the squiggly trenches of Beaumont-Hamel, France, are still etched into the earth and have been photographed by drones.
A recent satellite image collected aboard the Landsat 8 proves that some of the damage from the Battle of the Somme is also visible from space.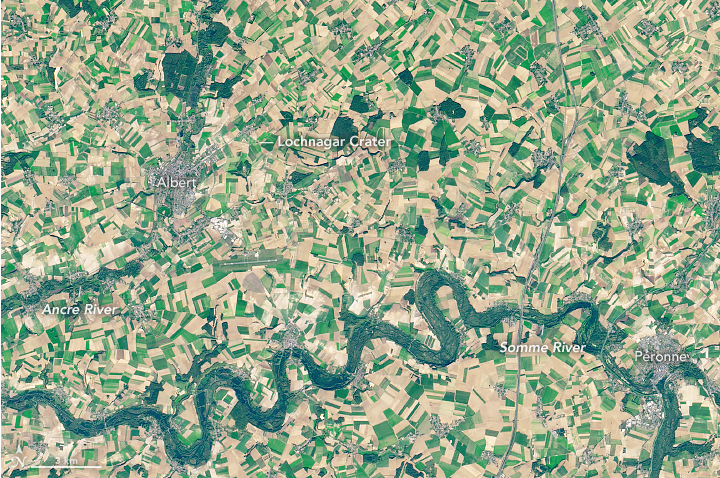 In an attempt to attack and neutralize nearby German forces, British teams dug a mine under enemy strongholds and packed the tunnels with 60,000 pounds of explosives. When these detonated, on July 1, 1916, debris shot 4,000 feet up into the air—more than twice the height of One World Trade Center. Cecil Lewis, an officer in the Royal Flying Corps, recalled that "the whole earth heaved and flared."
When things settled, the explosion left behind the Lochnagar Crater, an impression 70 feet deep and 330 feet wide. It was a bloody day. Though British troops gained control of the crater, surviving German troops fired at the soldiers who advanced toward them.
A century on, the crater is visible from high in the sky. It appears as a black dot close to the town of Albert in this image, created by NASA's Earth Observatory in October using the Landsat data from the U.S. Geological Survey. It's a testament to the long life of war—in memory, and the land itself.